Weekly Market Recap - April 10, 2020
S&P Climbs Over 300 Points This Week - Finishes 12.38% Higher
The S&P closed last week at 2,480 and traded up to 2,787 this week, a rise of 307 points or 12.38% from last Friday's close.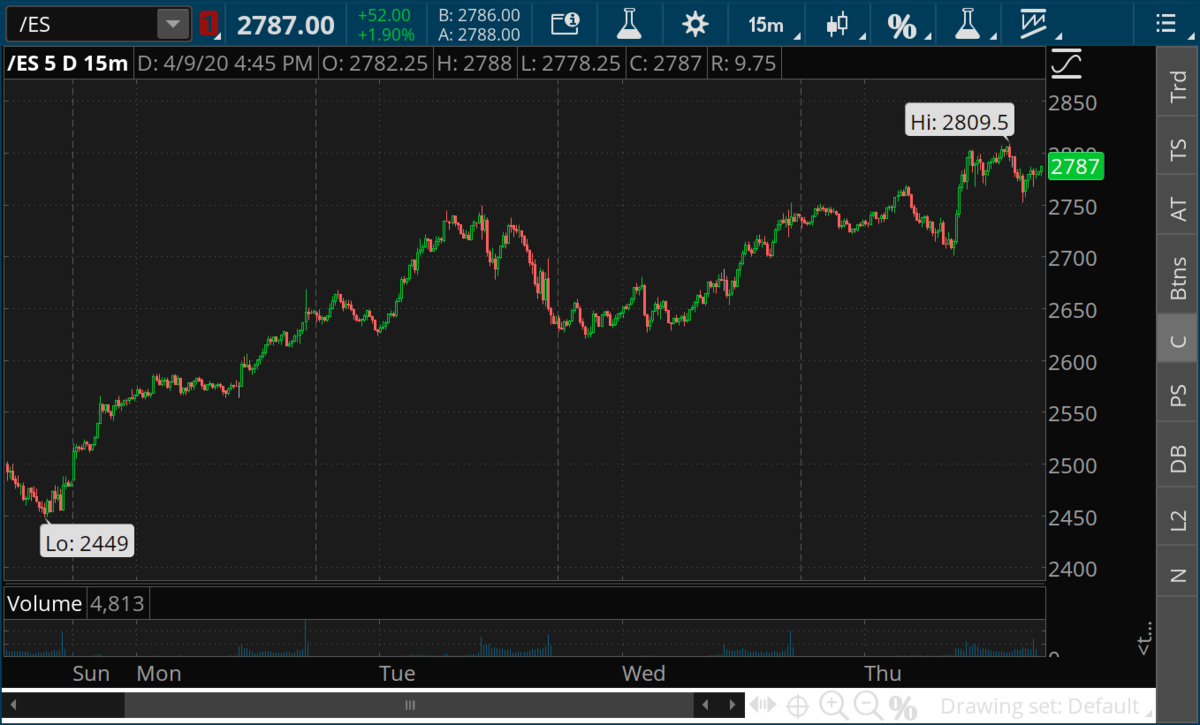 The Fed announces details of $2.3 trillion in programs aimed at helping businesses and state and local governments.
The Federal Reserve on Thursday announced a bevy of new moves aimed at getting another $2.3 trillion of financing into businesses and revenue-pinched governments.
Among the Fed's measures were details regarding its Main Street business lending program and several other initiatives it is undertaking to backstop the reeling U.S. economy. The central bank also provided more detail on its market interventions, including plans to buy corporate bonds both at an investment-grade level as well as high-yield, or junk, bonds.
Source:
CNBC
US Cases Exceed 466,000 - New York state now has more coronavirus cases than any country outside the US
New York state has at least 161,807 confirmed cases, overtaking Spain, Italy, France and Germany. The United States leads as the country with the most confirmed cases, clocking in at over 466,000. US deaths approach 17,000.
Total confirmed cases worldwide now sits at 1,619,495. Total deaths exceed 97,000.
New York state, though it beats out every country but the United States in terms of confirmed cases, has fewer deaths than countries like Spain, France, and Italy. Spain's reported 15,843 deaths, according to the latest tallies, while Italy has reported 18,279 and France has 12,228.
New York City, which has become the epicenter of the outbreak, has had at least 5,150 deaths, according to the latest tallies from Johns Hopkins University.
Source: Johns Hopkins University
US Statistics: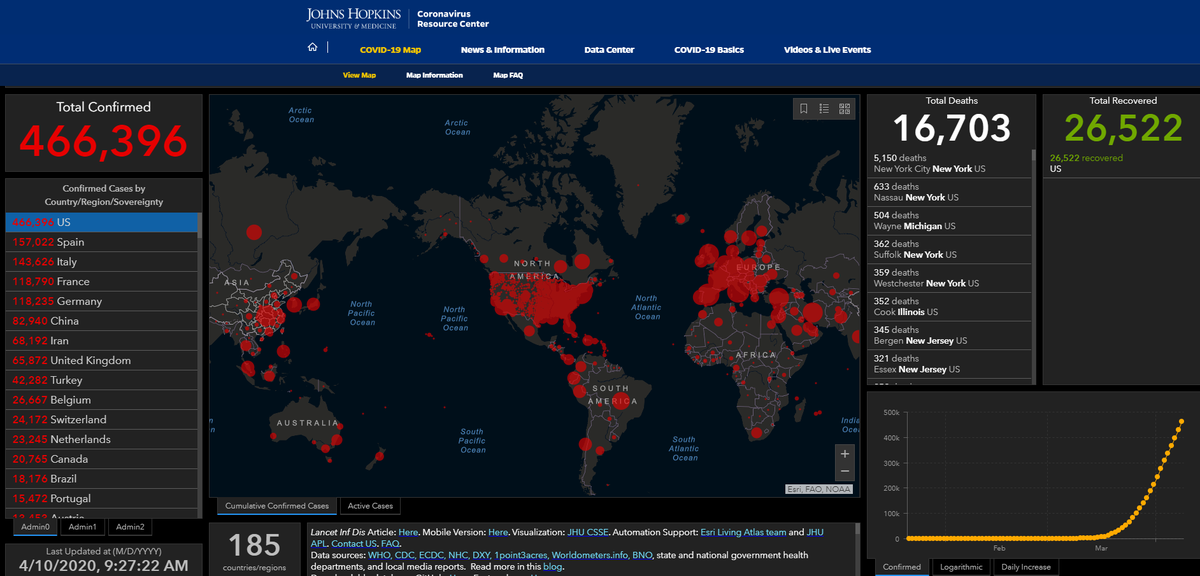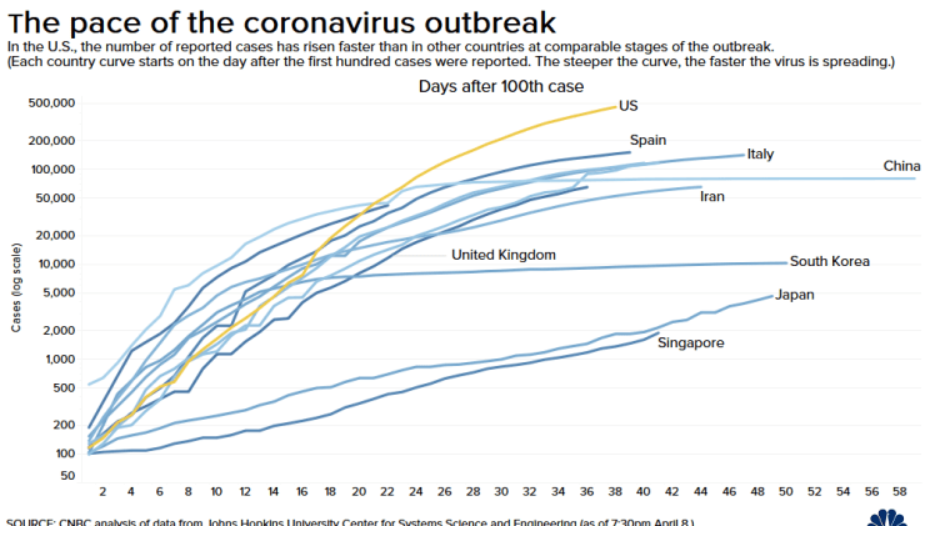 All the Indices have now gained back 50% of their recent losses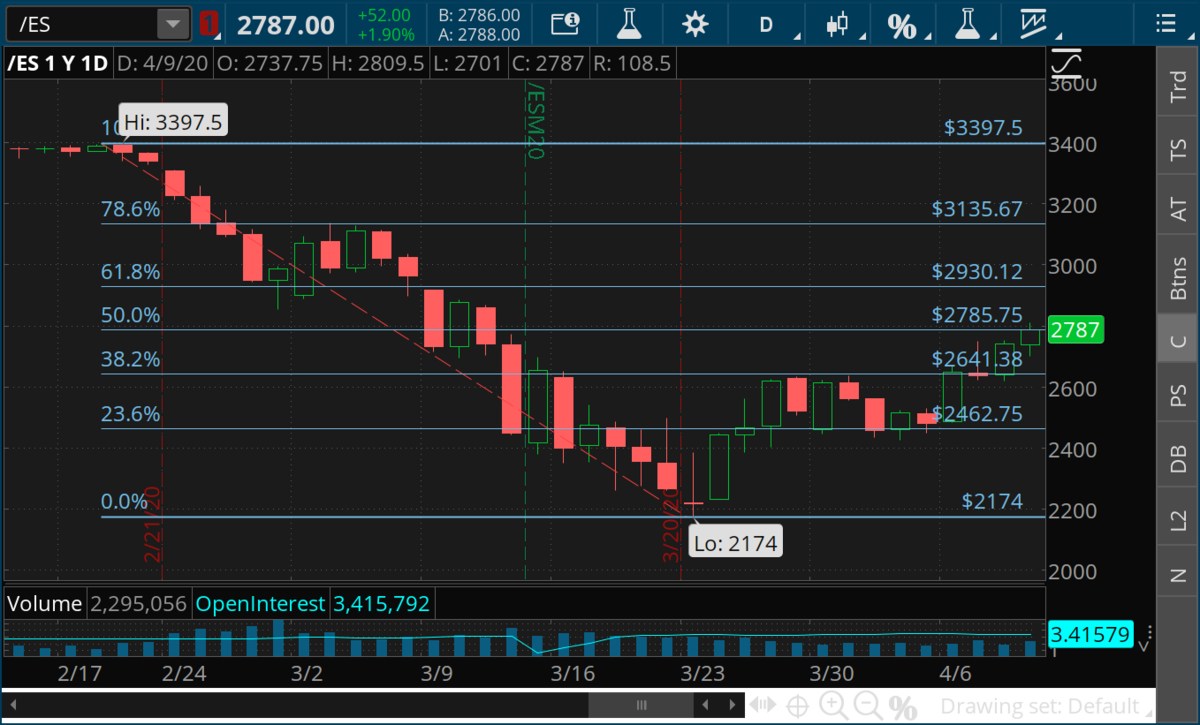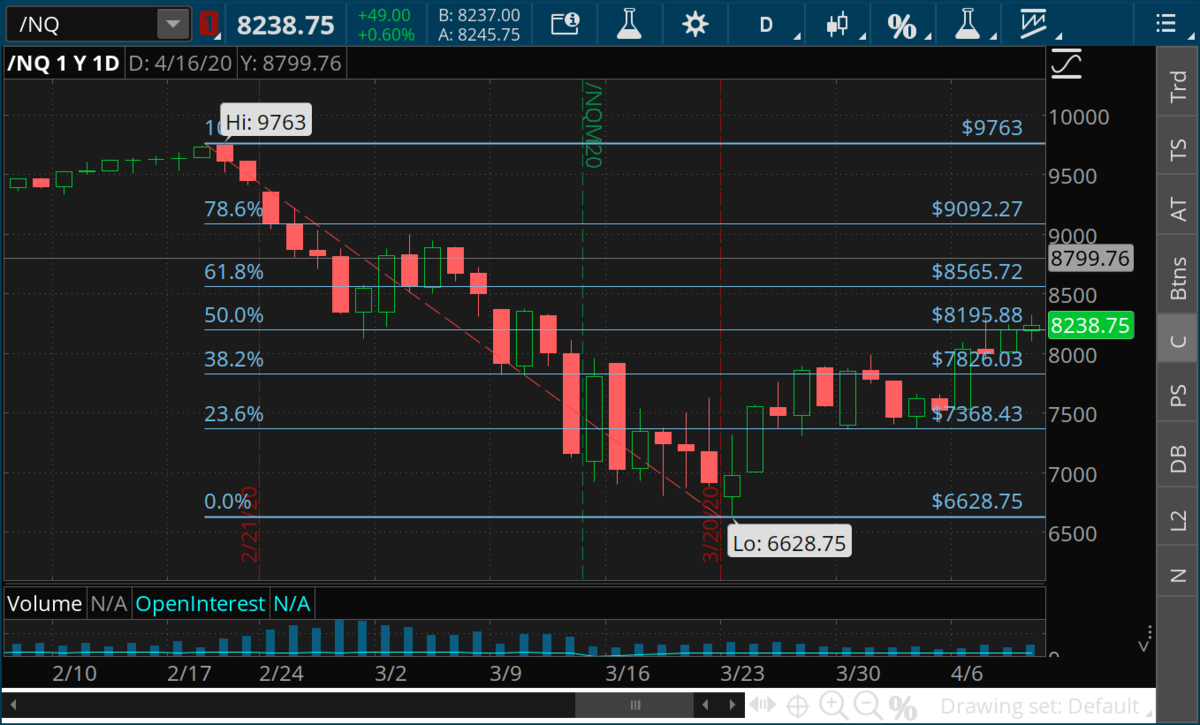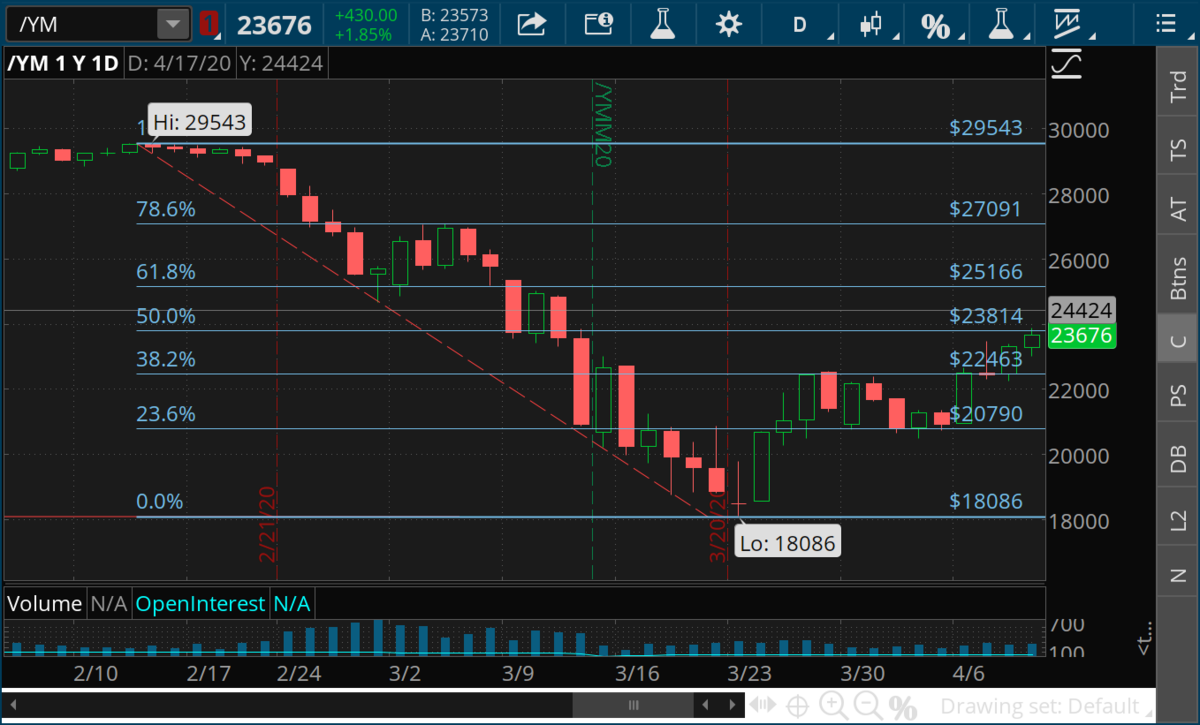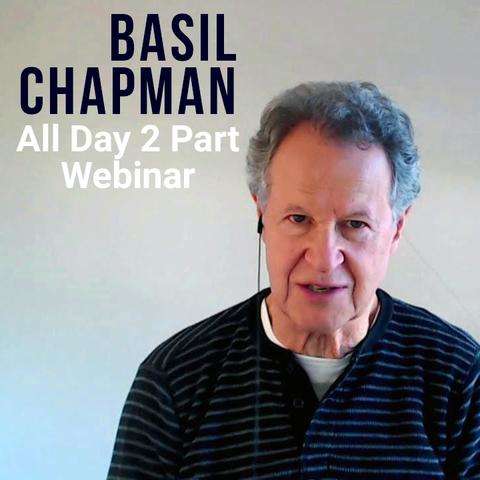 Basil Chapman Live all-day webinar Wednesday 9 - 4:30pm ET
On Wednesday, April 15th, 2020, Basil Chapman will present an all-day, 2-part Webinar session called:


"Technical Tools Based on The ChapmanWave Methodology Explained Live - A detailed all-day Online Course - And Following Your Choice of Positions"
Part 1 From 9:00 a.m. ET to Noon ET
Part 2 From 1:00 p.m. ET to 4:00 p.m. ET
4:00 - 4:30 p.m. ; Review and prepare for the next day's trading session
Topics covered:
Easy technical tools that can give buy and sell signals
We will alternate choices of positions based on requests
How to use technical tools that can initiate and keep you in the trade
Each technique will be discussed and practiced in detail
Questions will be answered immediately
When you sign up you instantly receive: An emailed 'booklet' with key ChapmanWave (CW) techniques will be sent to participants when you sign up to begin preparing for the all-day webinar.


When you sign up you also gain access to 1-month of Basil's daily newsletter, The Opening Call!

Current subscribers will receive their next month of The Opening Call for free.


THIS ALL-DAY WEBINAR WILL BE ARCHIVED IF YOU ARE UNABLE TO ATTEND ALL 7 HOURS LIVE!


Click here
for all the details on this course and to sign up today!
Oil continues to trade with dramatic volatility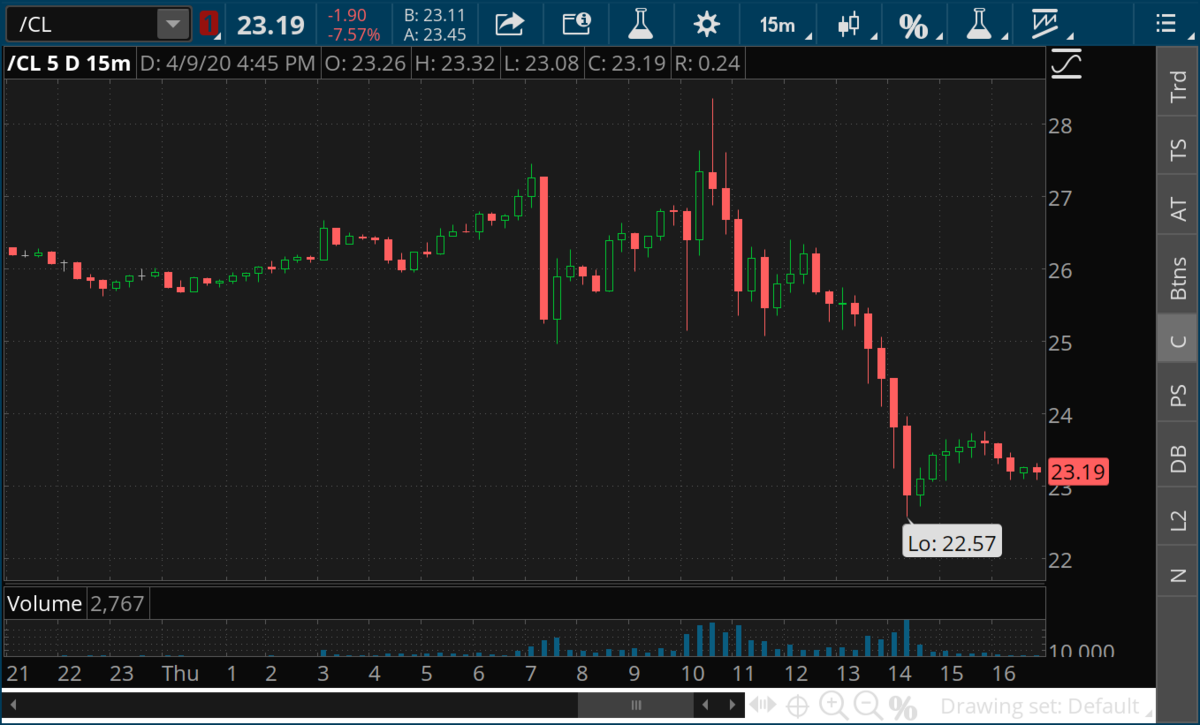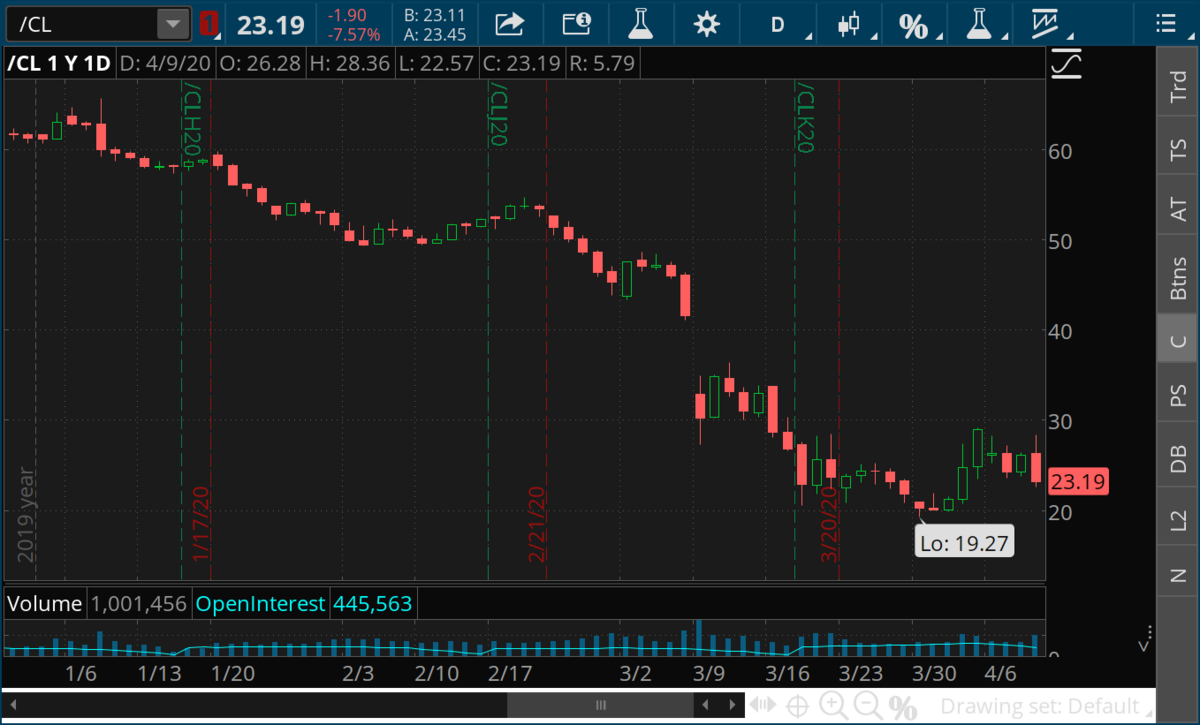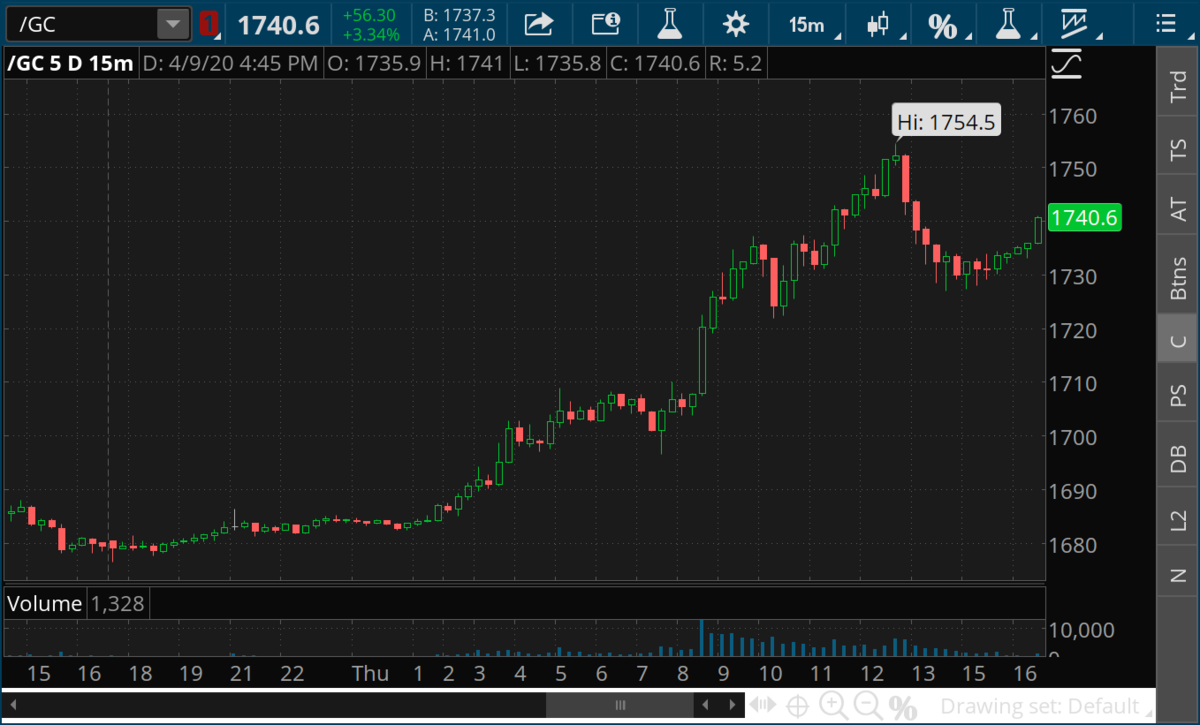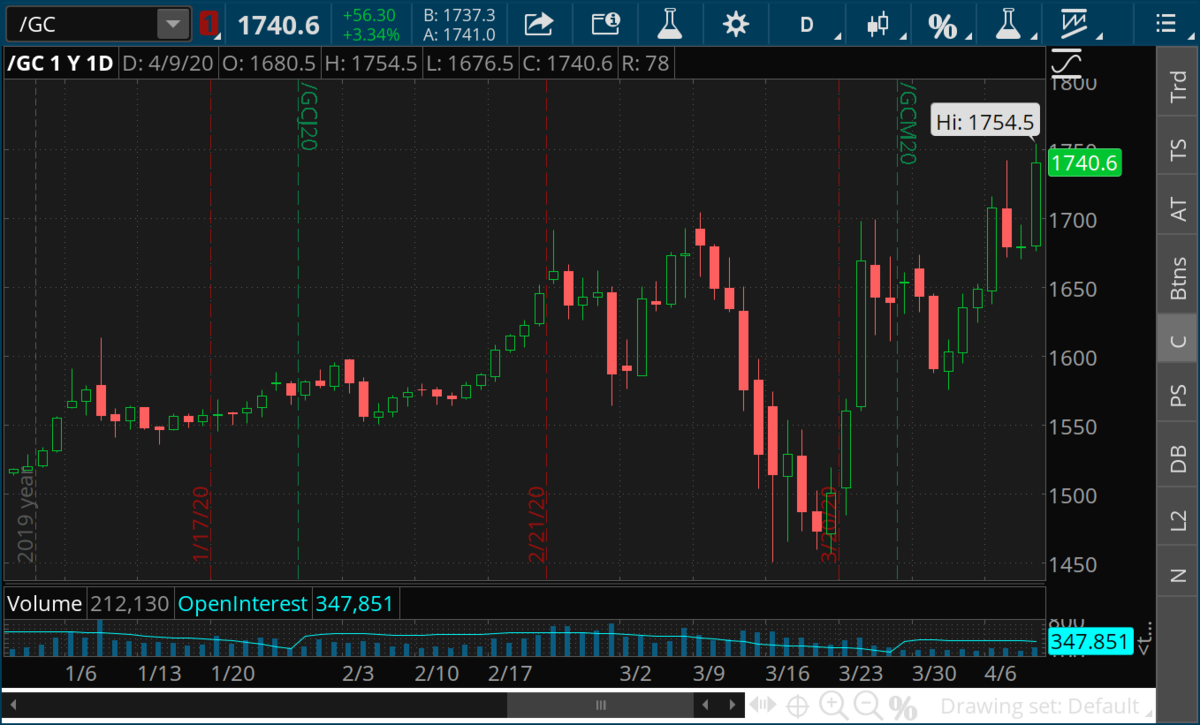 GC Monthly approaching all-time highs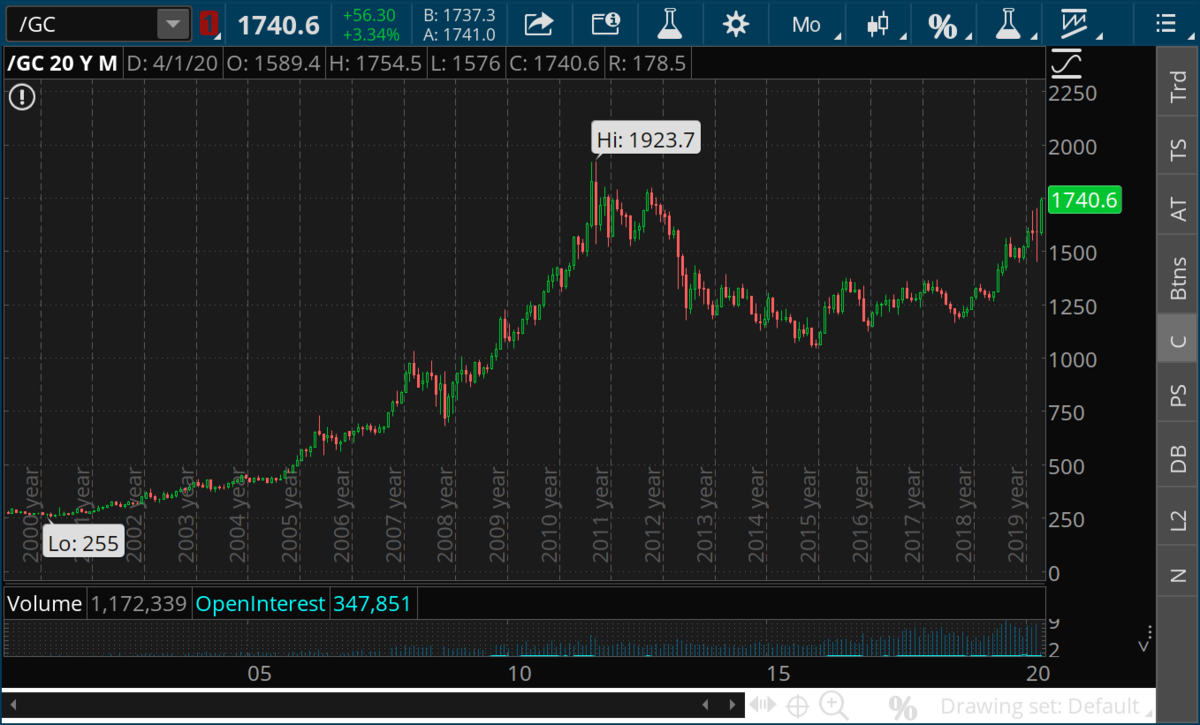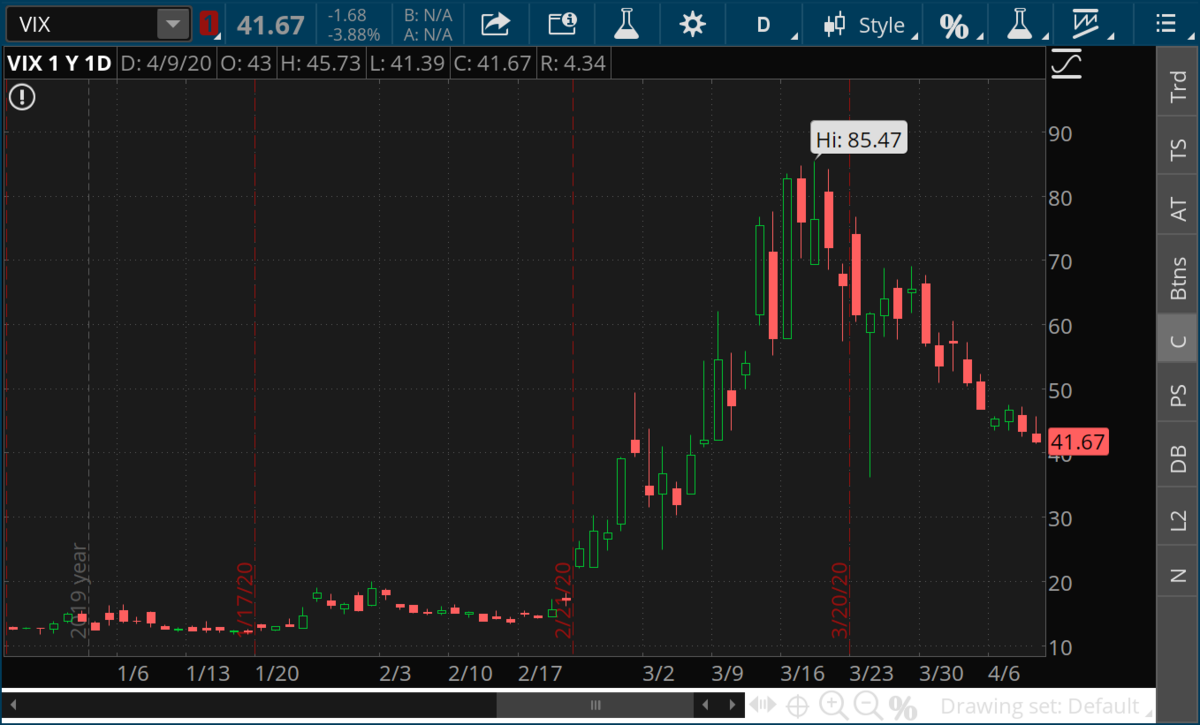 JPMorgan now sees economy contracting by 40% in second quarter, and unemployment reaching 20%
JPMorgan economists issued an even more dire forecast, now foreseeing a 40% decline in the nation's gross domestic product for the second quarter and a surge in April's unemployment rate to 20% with 25 million jobs lost.

In an earlier forecast, they said second-quarter GDP would be down 25%.

The economists, however, continue to see a second-half recovery, based on the assumption that disruptions from the pandemic fade by June. They note that the number of people seeking unemployment benefits has totaled 16.8 million in just three weeks.

"With these data in hand we think the April jobs report could indicate about 25 million jobs lost since the March survey week, and an unemployment rate around 20%," they wrote, "Given the expected hit to hours worked this quarter we now look for -40.0% annualized real GDP growth in 2Q, down from -25.0% previously."
They expect the third quarter to rebound with growth of 23%, and a fourth-quarter increase of 13%. They forecast a 10% decline in the first quarter. The economists said they will finalize their employment forecast for April in coming weeks.
Source:
CNBC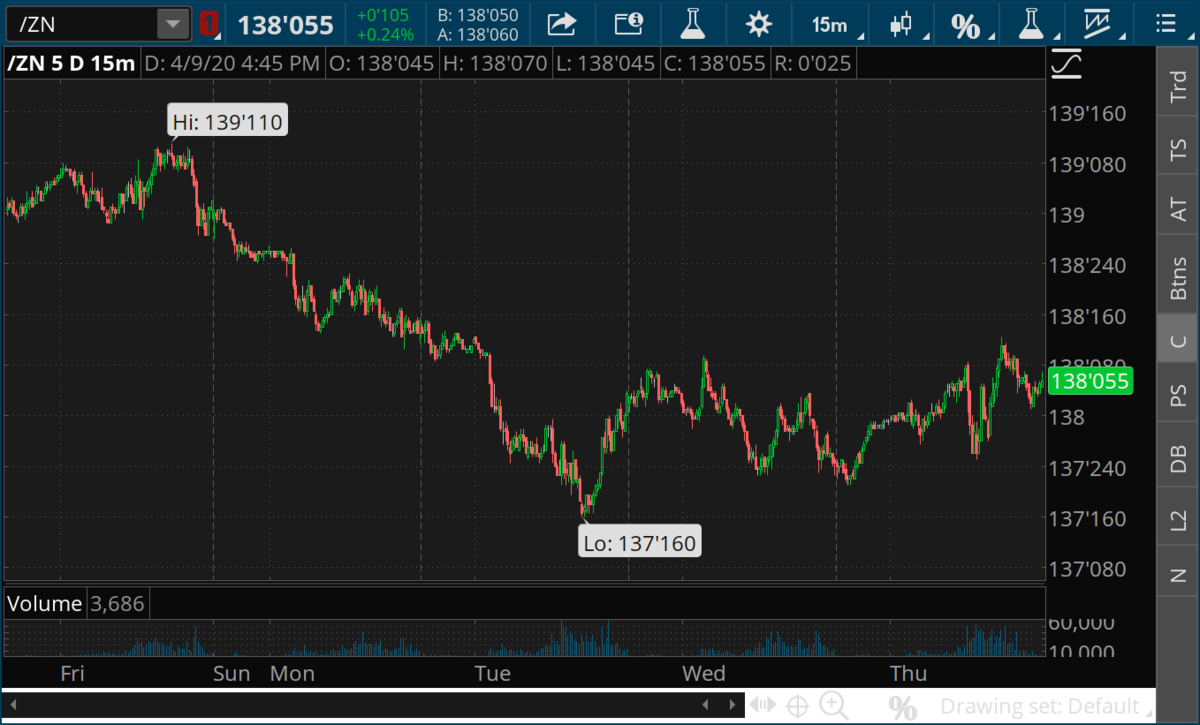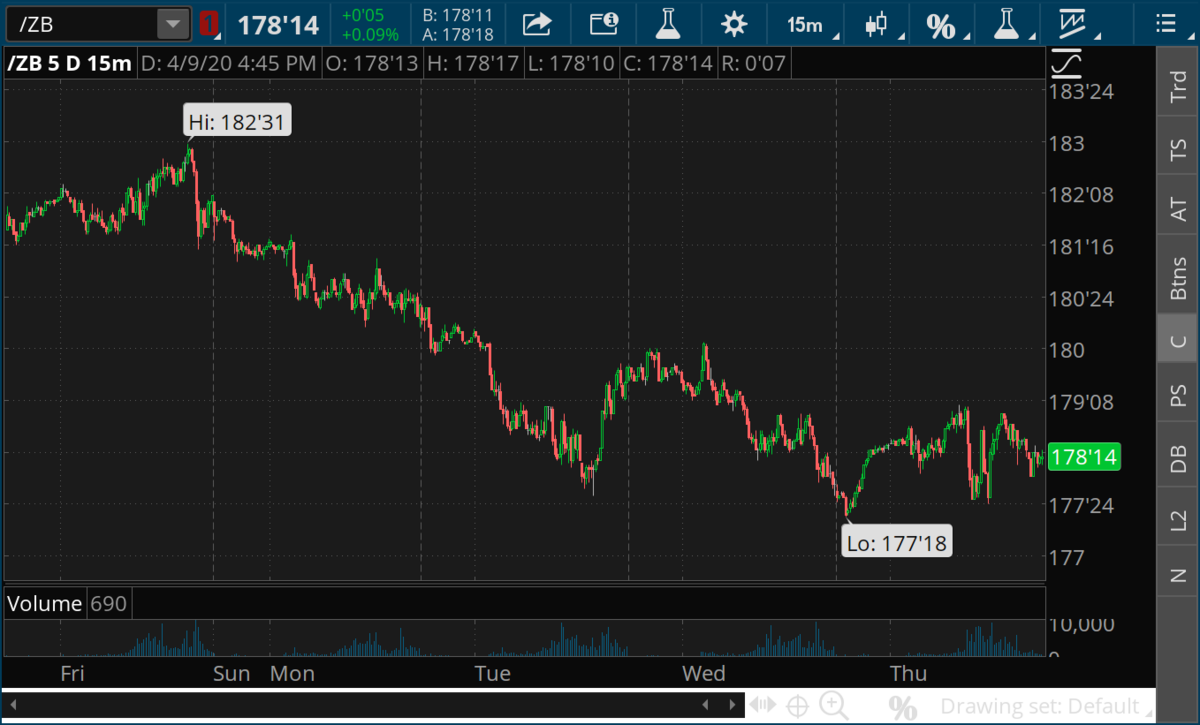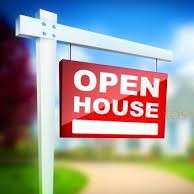 TFNN Tiger's Den Open House
1 comment