TFNN teaches traders and investors of all skill levels investing systems, strategies, and techniques allowing them to successfully trade the financial markets.


Get the training you need to protect and grow your money.


Featured Content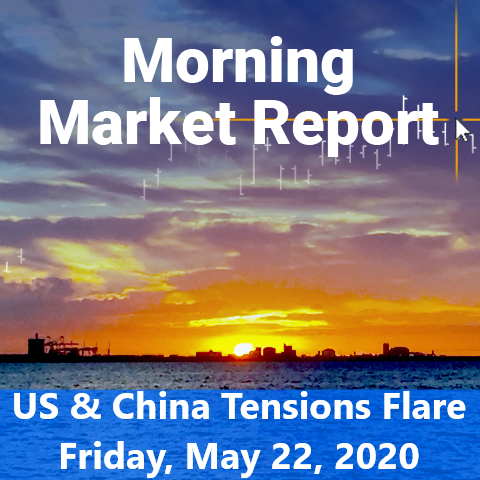 Morning Market Report
by Tommy O'Brien

Hong Kong Plunges More Than 5% as Beijing Imposes New Security Lawsyear


China is poised to impose a new national security law on Hong Kong after months of anti-government protests in the territory. The move has sparked worries that Beijing is tightening its grip on Hong Kong.
China also announced at its annual parliamentary meeting that it will not set a GDP target for 2020.
Hong Kong's Hang Seng index plunged 5.56% by the close on Friday.

Nvidia reports revenue up 39% from last year

Its gaming segment was up 25% year-over-year to $1.9 billion, the company said. But its fastest growing segment is related to its chips for data centers, which are used for computationally intensive tasks, such as machine learning. Nvidia said that segment grew 80% year-over-year, topping $1 billion for the first time with revenue of $1.14 billion.


EPS: $1.80, adjusted
Revenue: $3.08 billion
Wall Street had anticipated adjusted earnings per share of $1.69 on revenue of $3 billion.

Netflix will start cancelling inactive members' subscriptions


Netflix will start asking customers who haven't used its platform in the past year if they want to keep their subscriptions.
If a customer doesn't respond, Netflix will automatically cancel the subscription.
Click here
for all the charts of the markets and equities making moves this morning!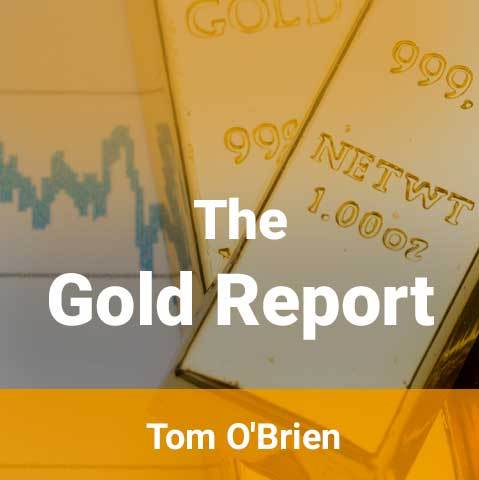 The Gold Report
by Tom O'Brien

The Gold Report is Tom O'Brien's award winning weekly newsletter for metals and gold and silver mining equities.

Gold Report Subscriber Archive Webinar w/ Tom O'Brien Now Available to all subscribers when you sign up!

"The Next Leg Up in Gold is $1,794 - Find Out Why"

Topics included in this webinar archive:


How the bond market moves the gold market
Where are the Gold demand trends coming from
How gold outperforms fiat currencies over time
Gold trades an average of $110B a day in value

Tom O'Brien publishes his weekly Gold Report every Monday morning for subscribers, consisting of coverage of the XAU, HUI, GDX, the Dollar, Bonds, the South African Rand, as well as 25 different mining equities, with specific buy sell recommendations.


As a precious metal, gold is still king. It continues to hold the most effective safe haven and hedging properties across the global major trading hubs of the London OTC market, the US futures market, and the Shanghai Gold Exchange!


Click here
to sign up for a month of the Gold Report with a 30-day money back guarantee included!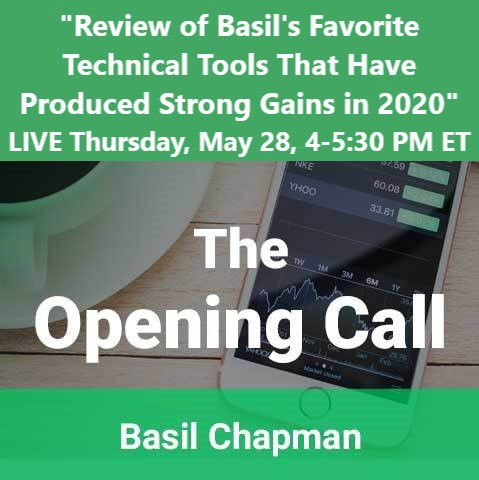 The Opening Call
by Basil Chapman

Subscribers gain instant access to Basil's upcoming webinar:

"A Review of Basil's Favorite Technical Tools That Have Produced Strong Gains in 2020"

Thursday, May 28, 2020 4 - 5:30 p.m. EST


Basil will discuss his favorite technical tools that he's used this year to produce solid gains so far for subscribers to his daily trading service, The Opening Call.
In this 90 minute live webinar Basil will allow his subscribers to look over his shoulder as he breaks down the technical tools that he combines with his ChapmanWave when initiating trades, and placing stops and exit targets...
TOPICS COVERED:
How we have used time/price relationships
The cup and v-shaped pattern worked on the way up, the inverse should work in a market consolidation
Selectivity will become key, unless leadership broadens
Sectors that have been under the radar
How the longer-term outlook is evolving
This 90-minute live webinar will be archived for all Opening Call subscribers.
Click here
for all the details and to try out Basil Chapman's daily trading service, The Opening Call with a 30-day money back guarantee!
Trading & Investment Newsletters
Learn all skill levels investing systems, strategies, and techniques to successfully trade the financial markets.


Get the training you need to protect and grow your money.
Learn More
SUBSCRIBE TO OUR NEWSLETTER
Promotions, new products and sales. Directly to your inbox.