Market Recap - January 31, 2020
Dow Falls 600 in Worst Day Since August on Coronavirus Fears
The Dow dropped 603 points, or 2.1%, in the 30-stock average's worst day since August. The S&P 500 was down 1.8% while the Nasdaq Composite dropped 1.6%.

Closing numbers for major indices:
Dow 30: 28,256.03 -603.41 (-2.09%)
Nasdaq: 9,150.94 -148.00 (-1.59%)
S&P 500: 3,225.52 -58.14 (-1.77%)

Commodity prices:
Oil: 51.68 -0.46
Gold: 1,590.80 +1.60
Silver: 18.02 +0.03

Notes and Bonds:
10 year Note: 1.51% -0.045
30 Year Bond: 1.997% -0.029

Currencies:
USD Index: 97.39 -0.48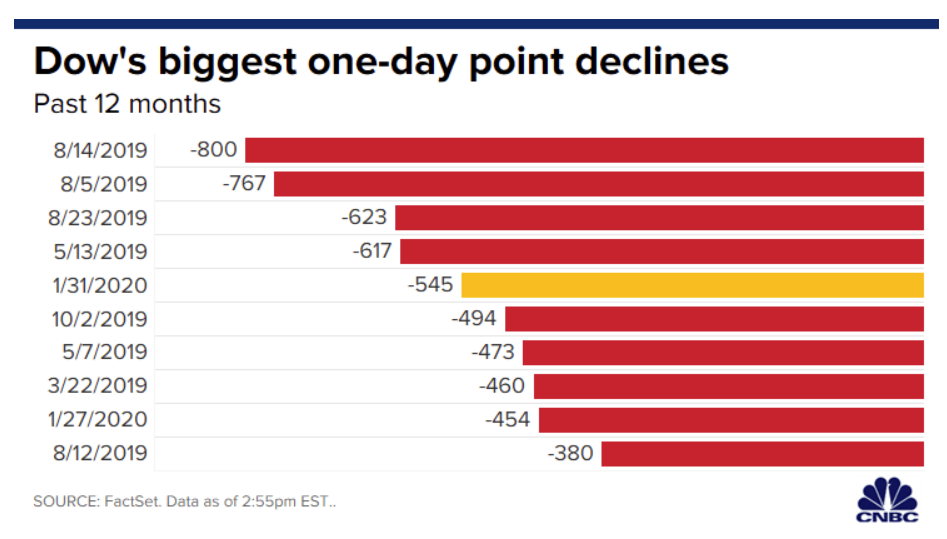 Tom O'Brien's 4 p.m. TigerTV Market Update
The Morning Market Kickoff Now Live at 8:30 a.m. EST on TigerTV
The Morning Market Kickoff with Tommy O'Brien
Monday through Friday 8:30 - 9 a.m. EST!
Tune in Monday morning live to find out everything you need to know for the week ahead!
Trump imposes travel restrictions, mandatory quarantines over coronavirus outbreak
"The Trump administration on Friday declared the coronavirus a public health emergency in the United States, and announced that people who pose a risk of transmitting the disease will temporarily be suspended from entering the U.S.

Health and Human Services Secretary Alex Azar said that President Donald Trump signed an order for the U.S. to deny entry to foreign nationals who have traveled to China within the past two weeks, aside from the immediate family of U.S. citizens.

Azar, speaking to reporters at the White House, also said that any U.S. citizens who have been in China's Hubei province — home of Wuhan, the epicenter of the virus — within the last 14 "will be subject to up to 14 days of mandatory quarantine to ensure they're provided proper medical care and health screening."

The risk to the American public is "low" at this time, said Robert Redfield, the director of the Centers for Disease Control and Prevention.

Azar called the measures "fairly incremental" and "appropriate, preventative steps." Yet, officials said they wanted to ensure it would remain a low risk to Americans.

Acting Homeland Security Secretary Ken Cuccinelli, another member if the White House task force on the coronavirus, said incoming flights from China will be limited to just seven airports beginning Sunday."

Source: CNBC
Amazon Crushes Earnings - Ends Day at $996 Billion Market Capitalization
Revenue grew 21% to $87.44 billion for the quarter, which indicates the company's investments in speedier shipping are leading to more purchases. Amazon CEO Jeff Bezos said "more people joined Prime this quarter than ever before" and that the company now counts more than 150 million paid Prime members around the world. Amazon last gave an update on Prime subscribers in April 2018, saying it had more than 100 million members in the program.

AMZN hit a high of $2,133.74 after their earnings last night, before closing the day at $2,008.72.
Earnings per share: $6.47 per share vs. expectations of $4.03 per share, according to analysts
Revenue: $87.44 billion vs. expectations of $86.02 billion
Amazon Web Services: $9.95 billion vs. expectations of $9.81 billion
Source: CNBC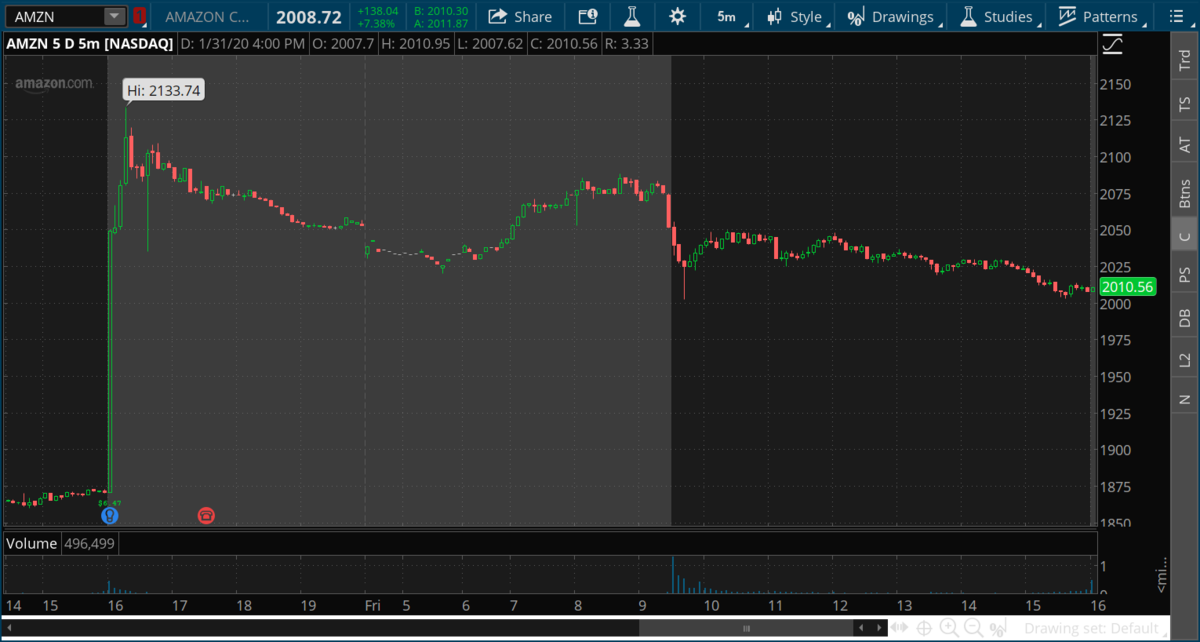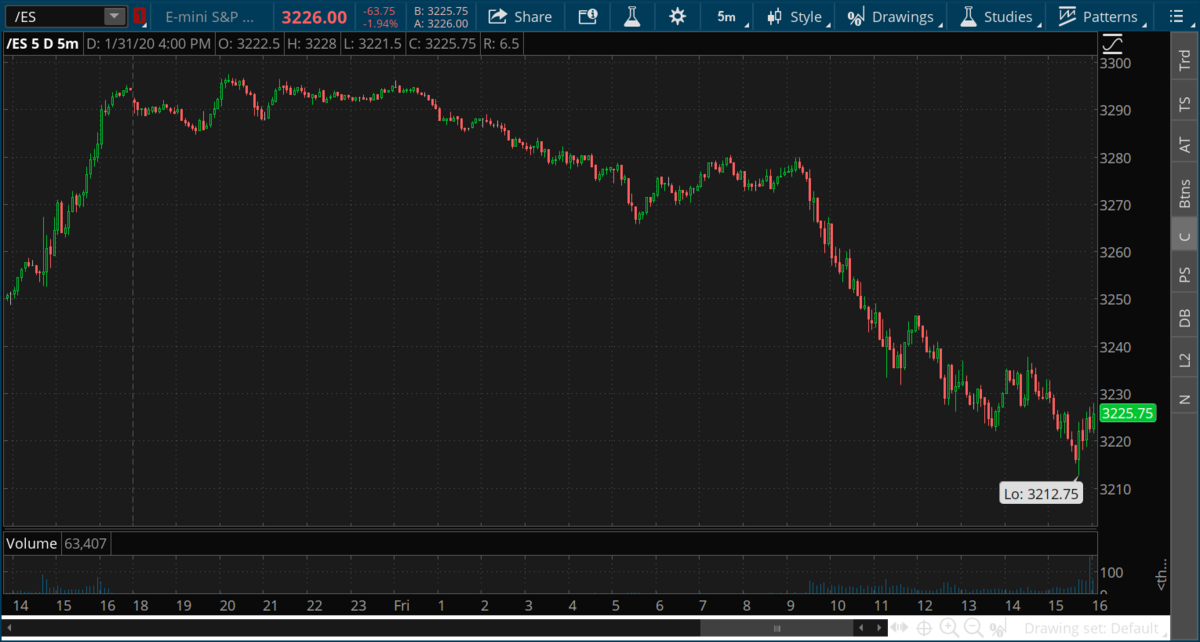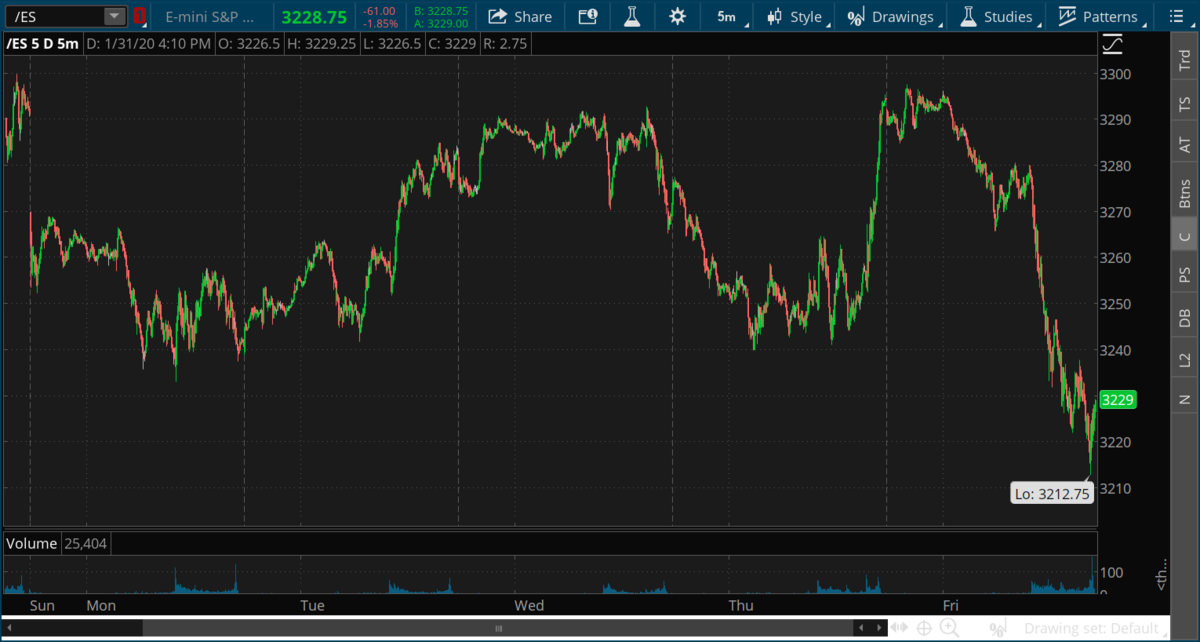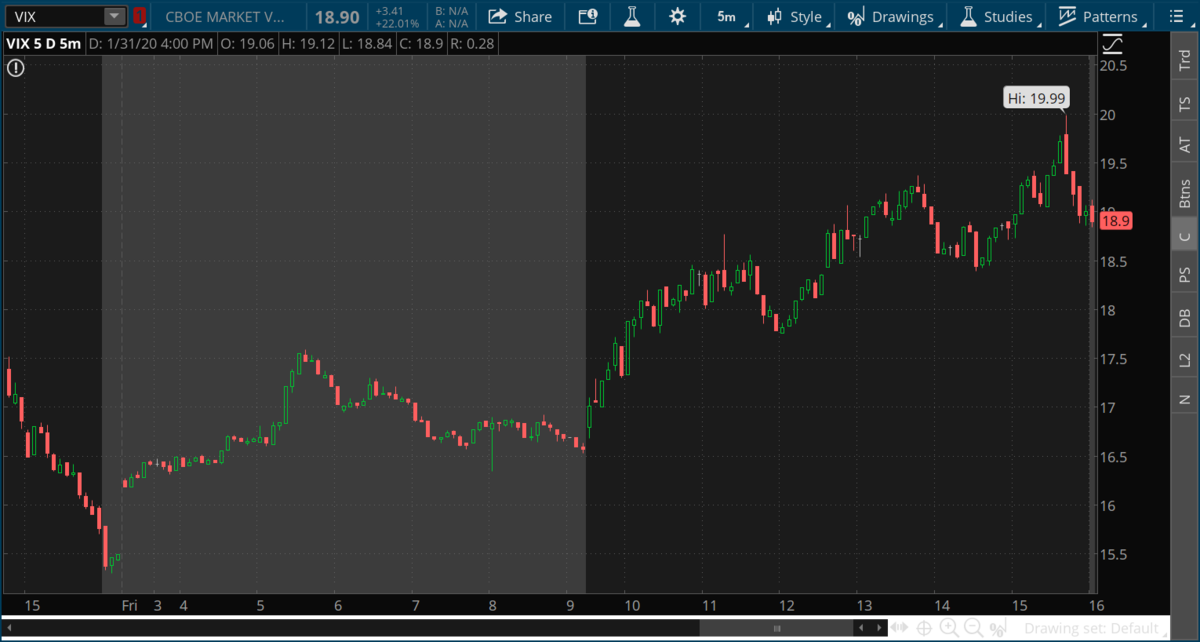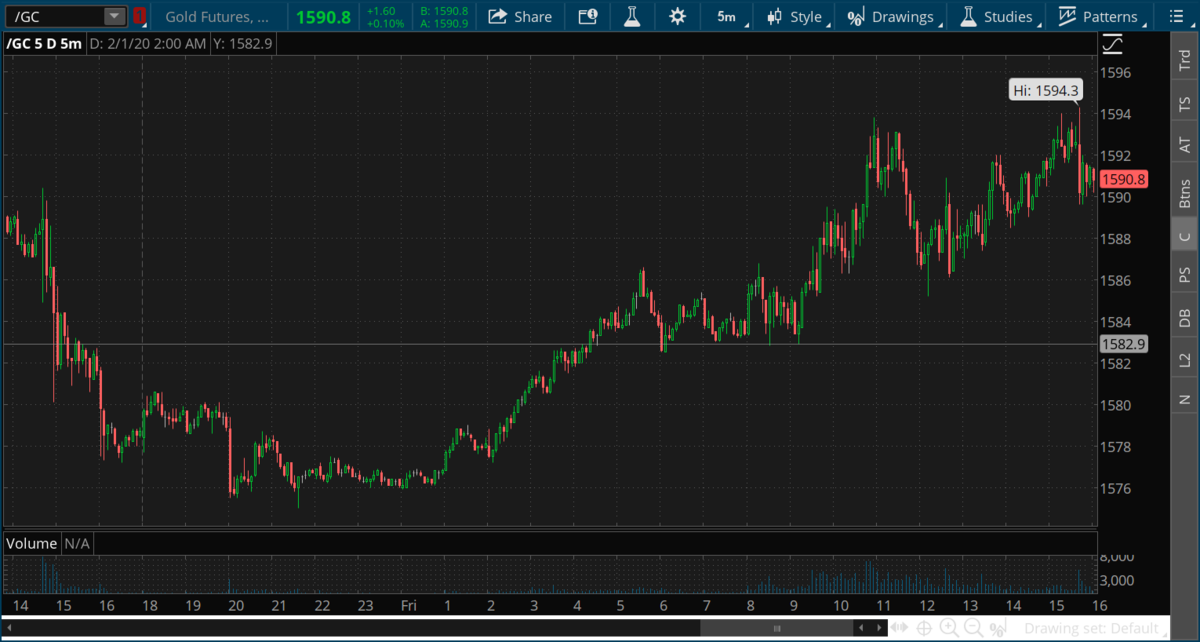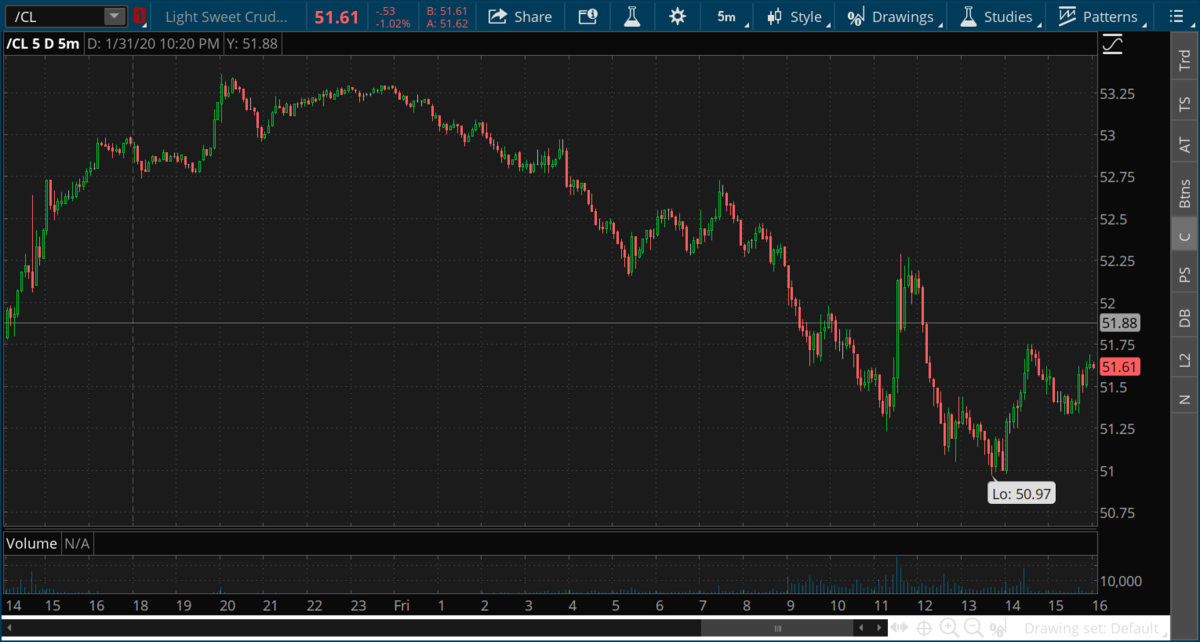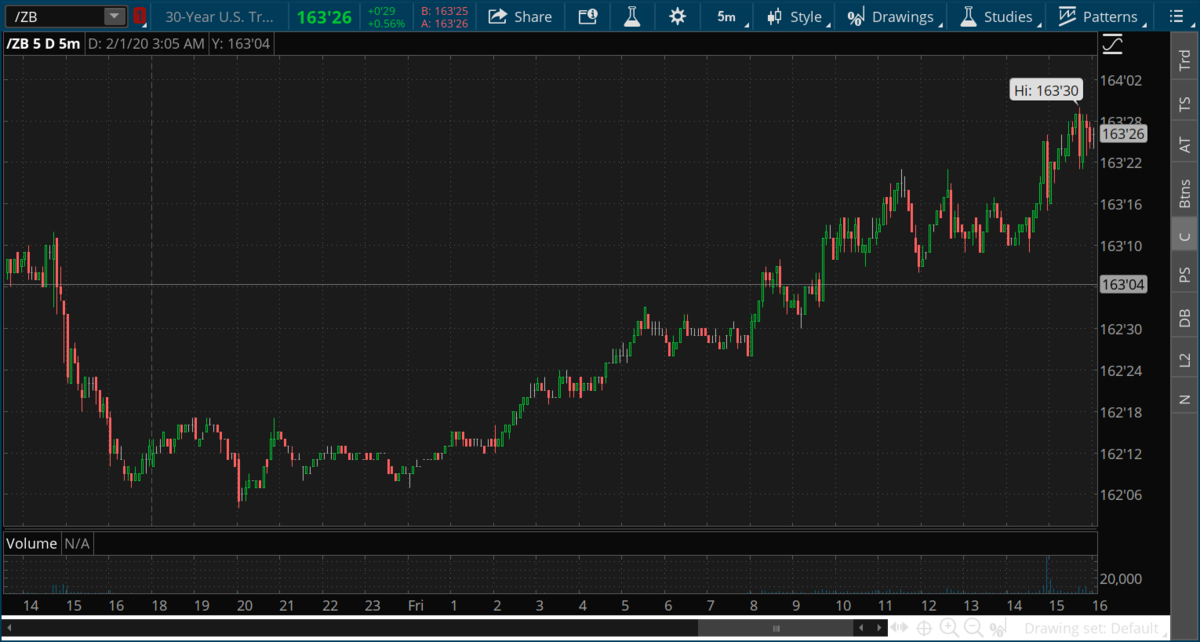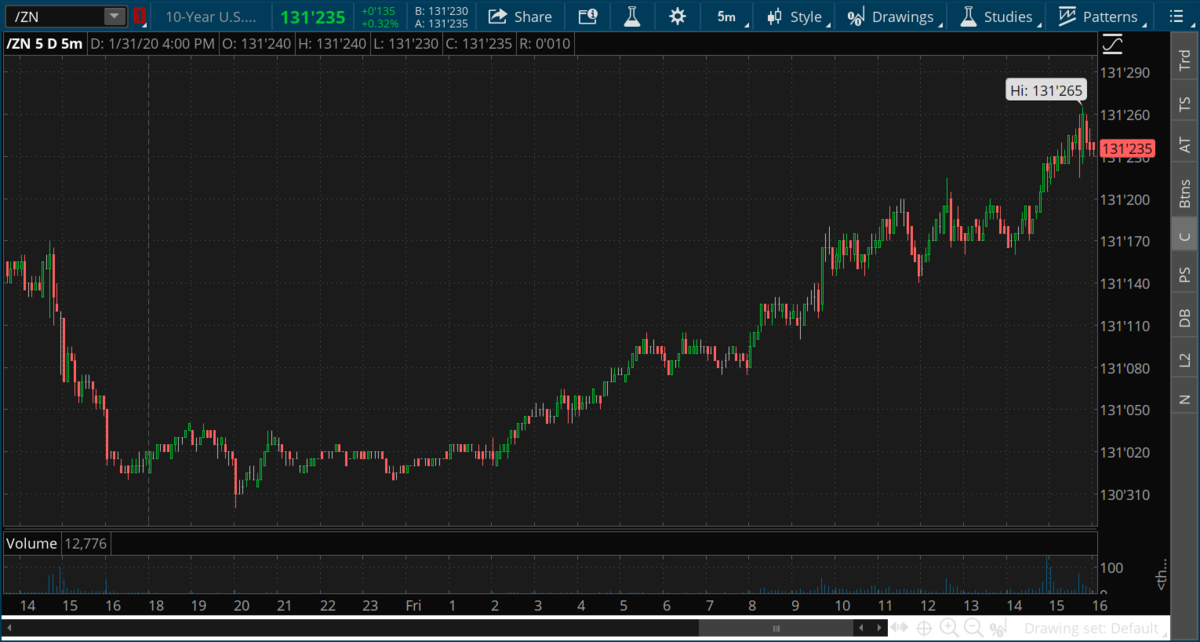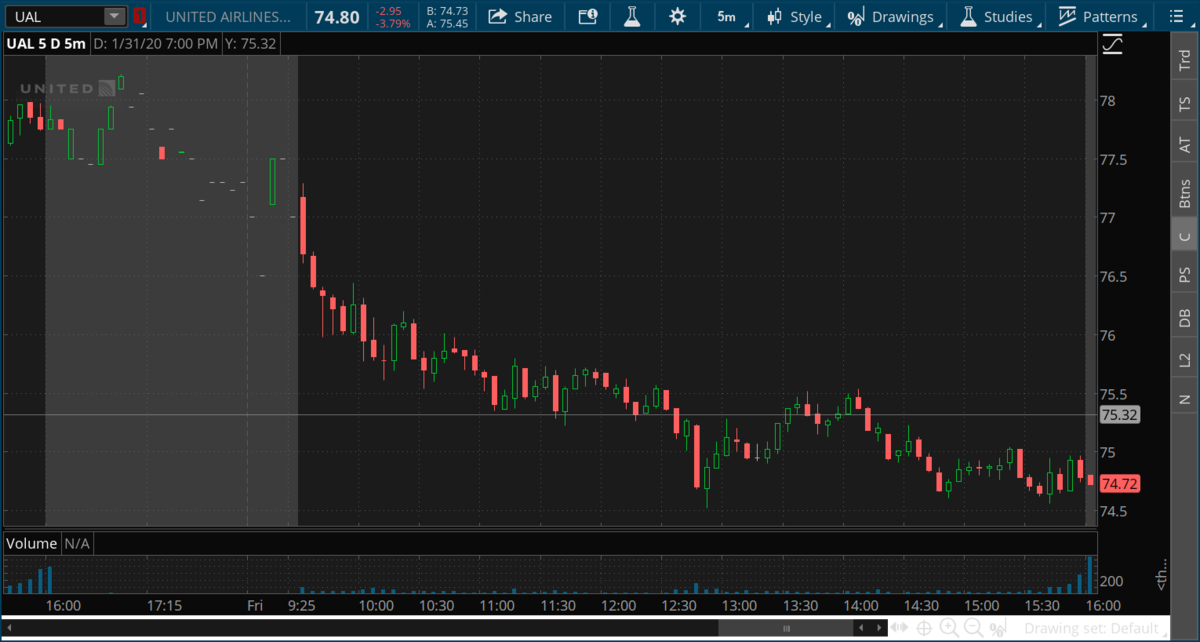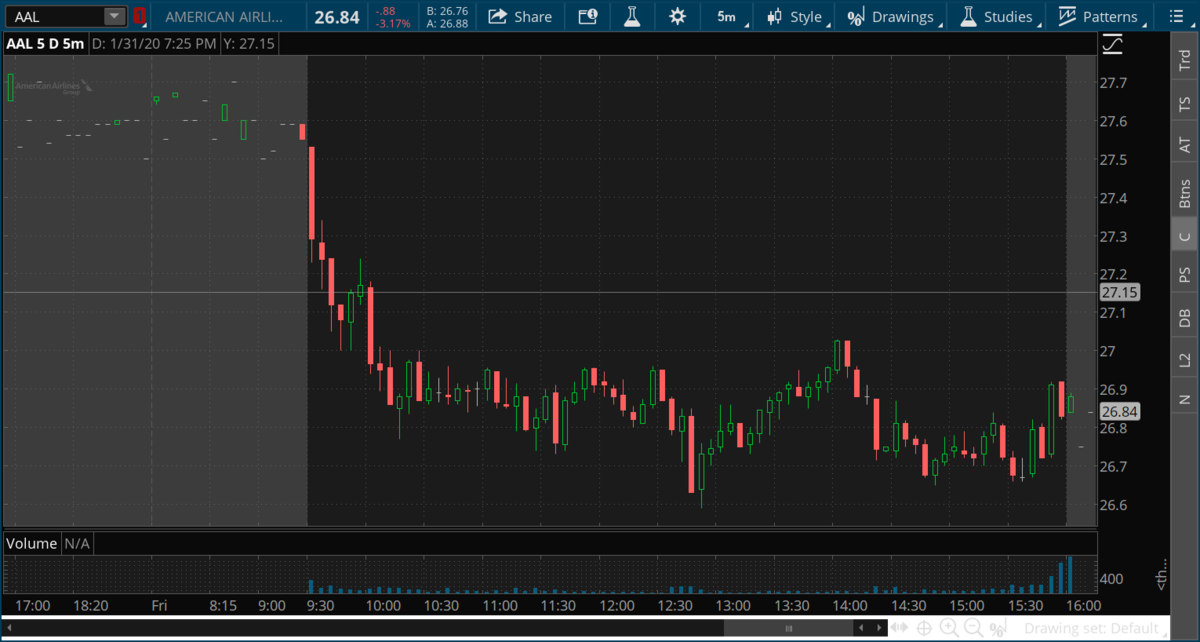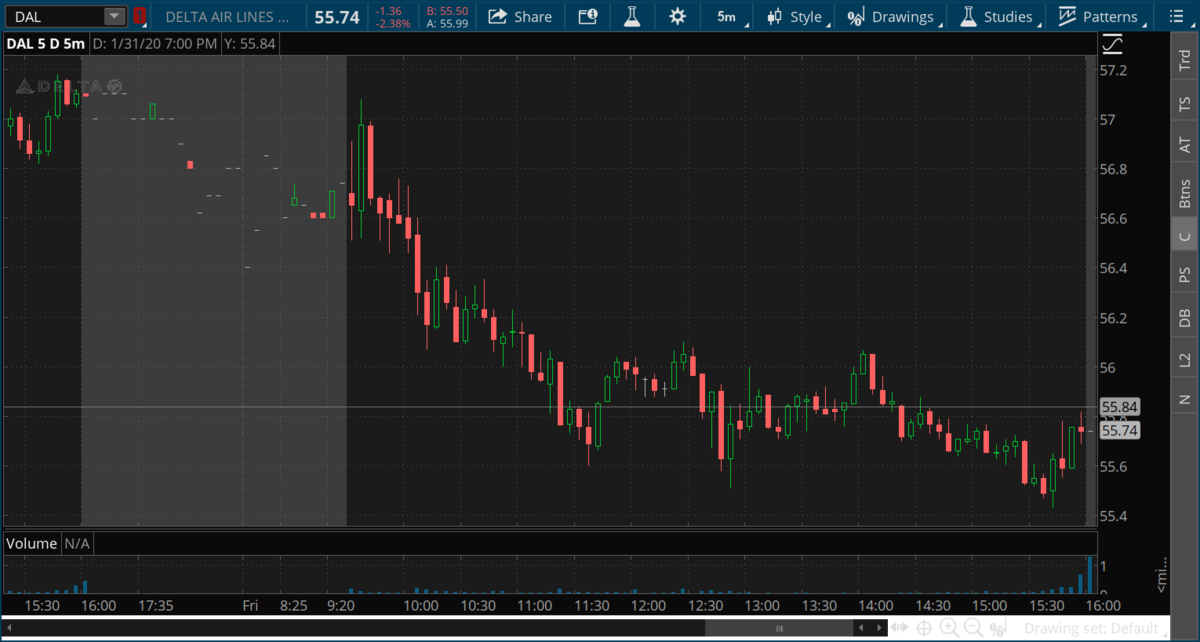 Stocks Making Moves Today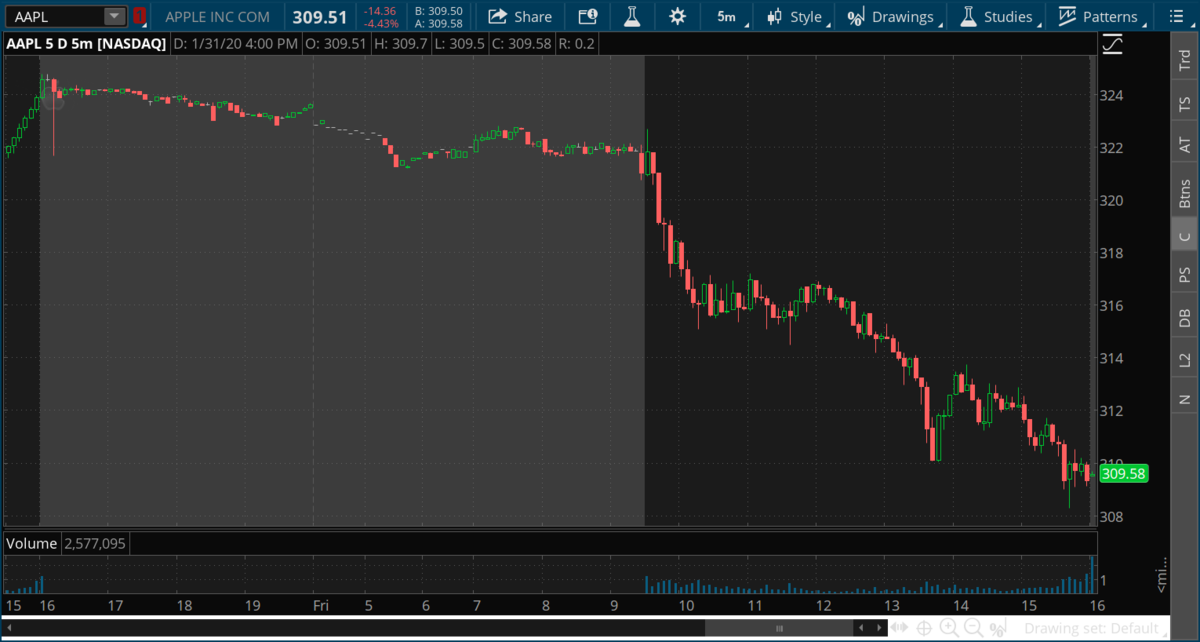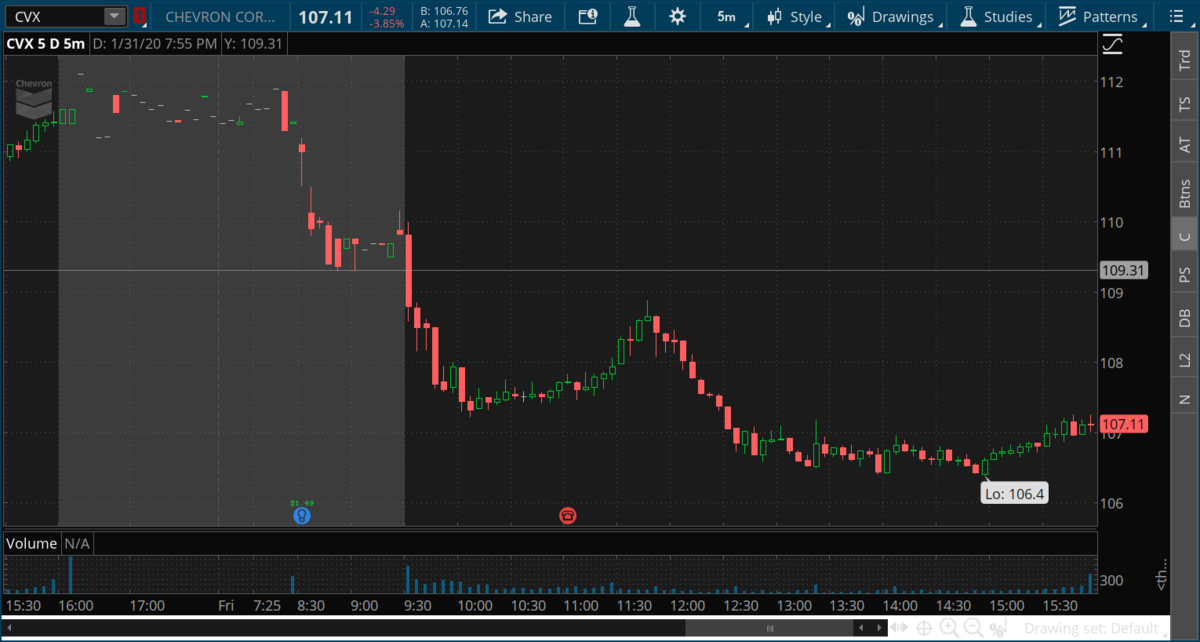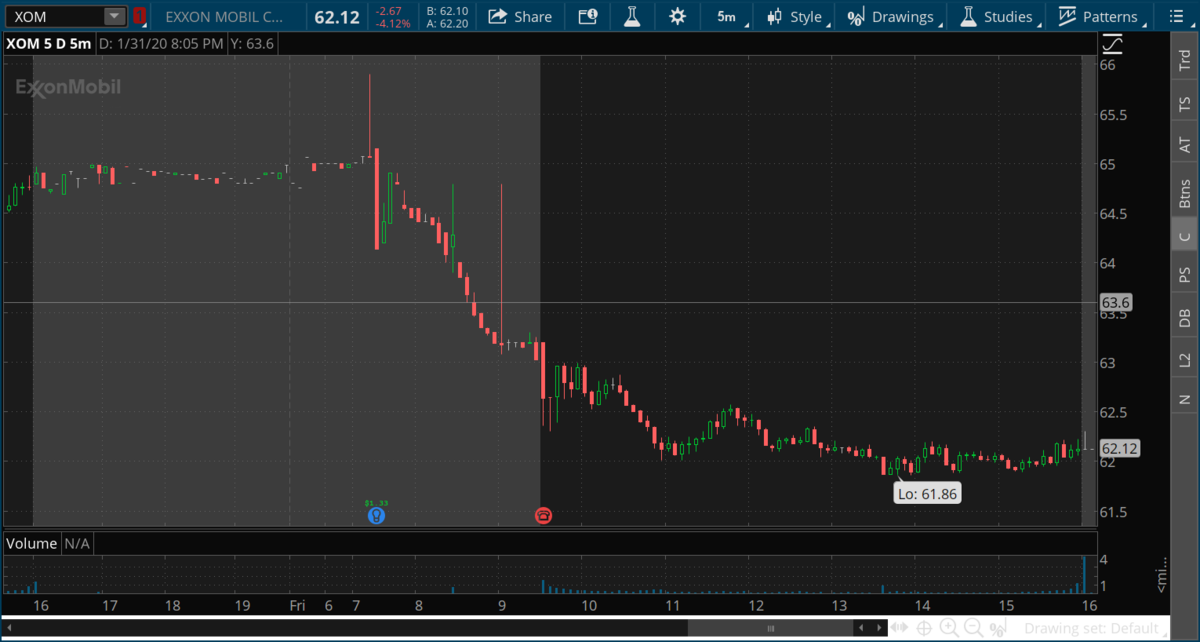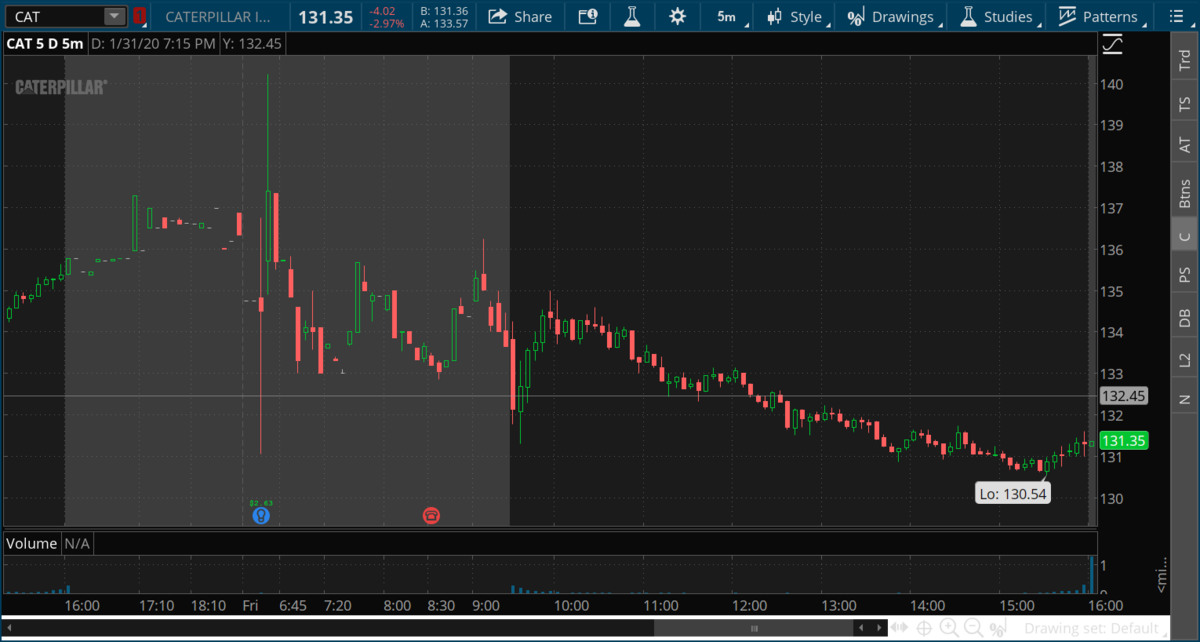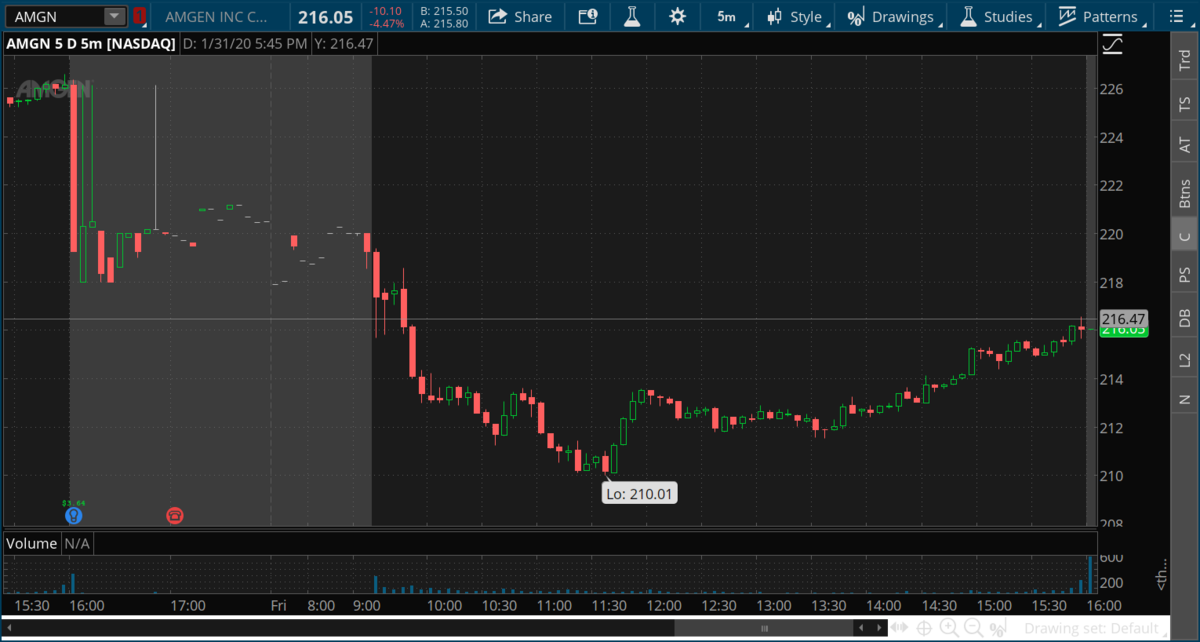 See you Monday morning for live programming on
TigerTV
at 8:30 a.m. EST at TFNN.com!
Catch up on all of TFNN's shows by visiting our
TFNN YouTube page
and don't forget to subscribe!
Thanks,
Tommy O'Brien
TFNN