Market Recap November 26, 2019
S&P 500, Nasdaq, and DJIA Close at Records Again
All the major indices finished in record territory again on Wednesday!

Monday closing numbers for major indices:
Dow 30: 28,164.00 +42.32 (+0..15%)
Nasdaq: 8,705.17 +57.24 (+0.66%)
S&P 500: 3,153.63 +13.11 (+0.42%)

Commodity closing prices:
Oil: 58.14 -0.27 (-0.46%)
Gold: 1,461.40 -6.40 (-0.44%)
Silver: 16.89 -0.15 (-0.91%)

Notes and Bonds:
10 year Note: 1.767% +0.027
30 Year Bond: 2.189% +0.011

Currencies:
USD Index: 98.33 +0.08 (+0.08%)
15-Minute Chart of the ES for Wednesday Trading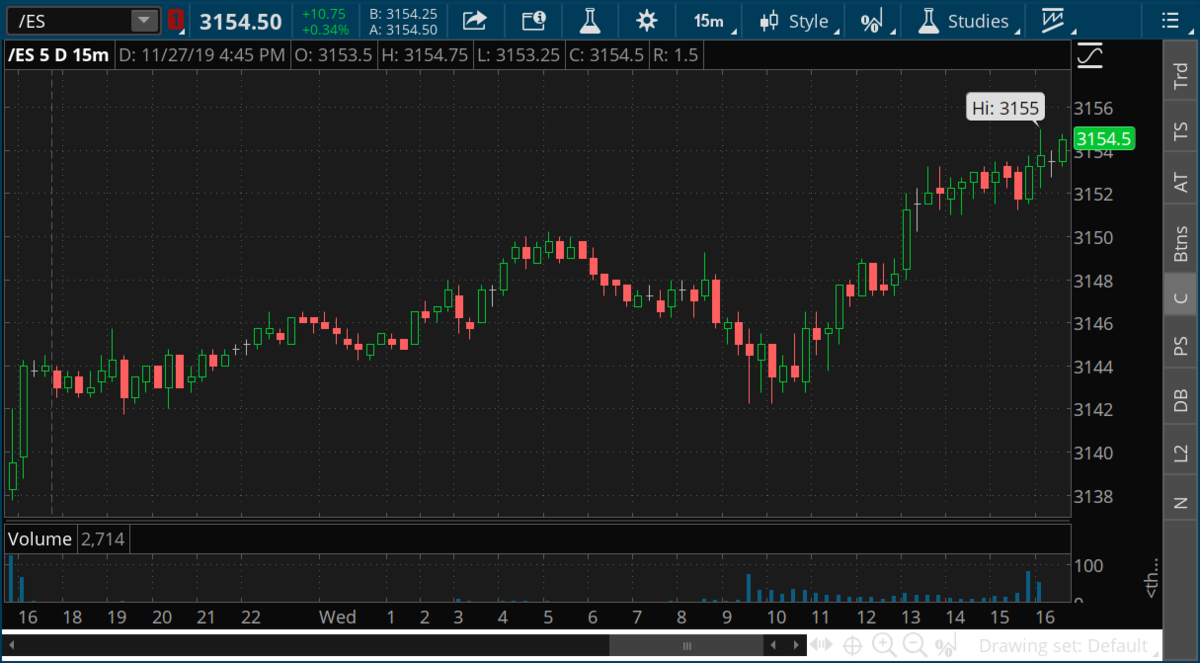 Economic Numbers Wednesday:
8:30 a.m. Initial claims

8:30 a.m. Durable goods

8:30 a.m. Real GDP Q3

10:00 a.m. Personal income

10:00 a.m. Pending home sales

1:00 p.m. 7-year note auction

2:00 p.m. Beige boook

After the bell: John Deer (DE) earnings
Equities Making Moves Tuesday
Best Buy Beats Expectations and Raises Forecast
EPS, adjusted: $1.13 vs. $1.03 expected
Revenue: $9.76 billion vs. $9.70 billion expected
Same-store sales growth: 1.7% vs. 1.3% expected
The company raised its forecast for fiscal 2020 adjusted earnings to a range of $5.81 to $5.91 per share from a prior estimate of $5.60 to $5.75 per share.

BBY finished Tuesday trading at $81.57 up $7.32 or +9.86%.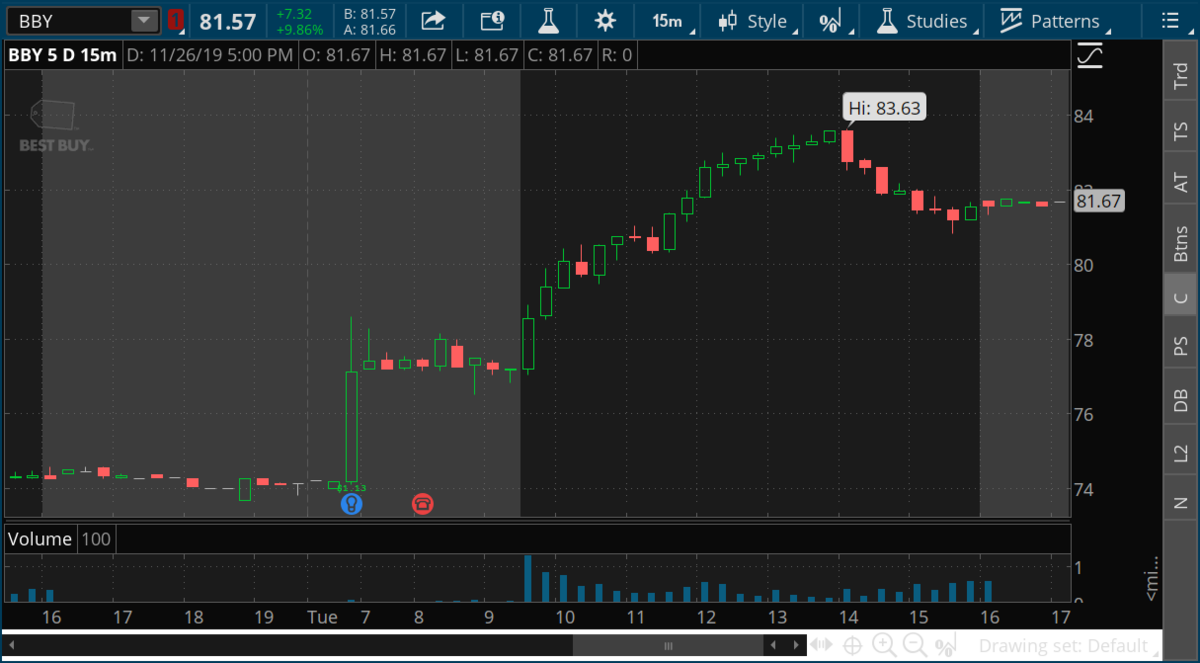 Dollar Tree Cuts Forecast, Blaming Tariffs
The company now sees fourth-quarter earnings per share in a range between $1.70 and $1.80. This is well below analysts expectations of $2.02 per share, according to Refinitiv.

The discount retailer said the tariffs slapped on Chinese imports will add $19 million, or 6 cents per share, to its costs of goods for the fourth quarter of 2019.

"The decrease from prior implied fourth quarter guidance represents the expected effects of...the continued uncertainty regarding trade and the related tariffs," the company said in a release.

DLTR finished Tuesday trading at $95.26 down $17.13 or -15.24%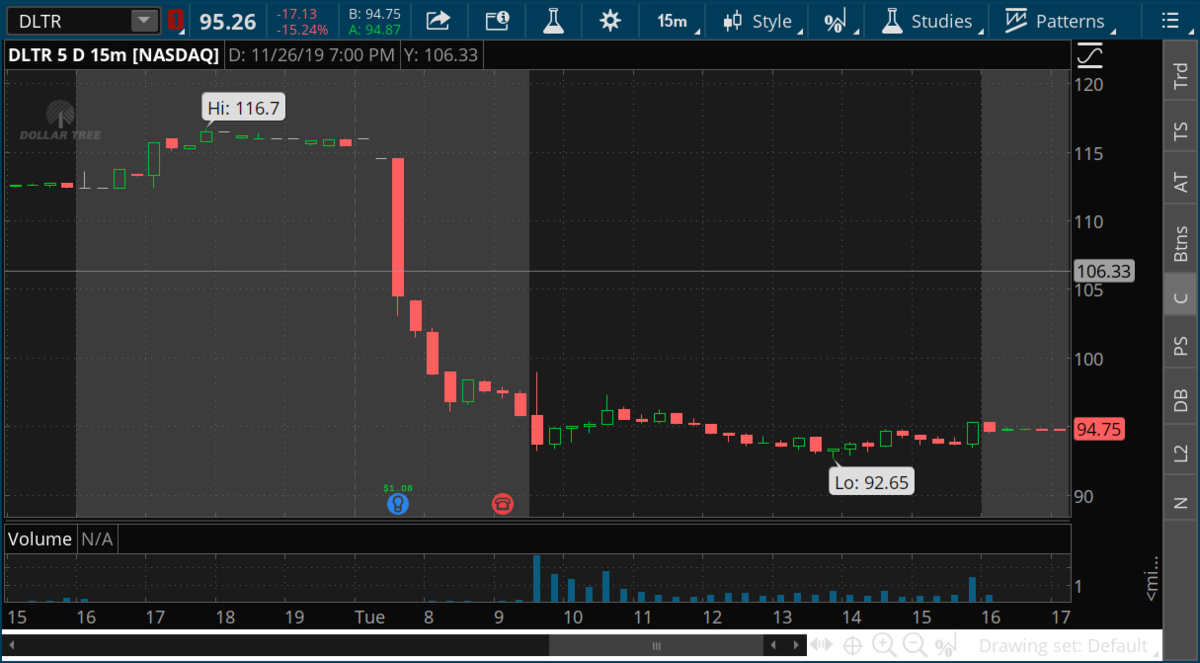 Dick's Sporting Goods Shares Skyrocket on Earnings Beat and Raised Outlook
Earnings per share: 52 cents, adjusted, vs. 38 cents expected
Revenue: $1.96 billion vs. $1.91 billion expected
Same-store sales: up 6% vs. growth of 2.9% expected
Dick's says e-commerce sales were up 13% during the third quarter, thanks to more apparel and footwear sales.

DKS shares finished Tuesday trading at $46.77 up $7.34 or +18.62%.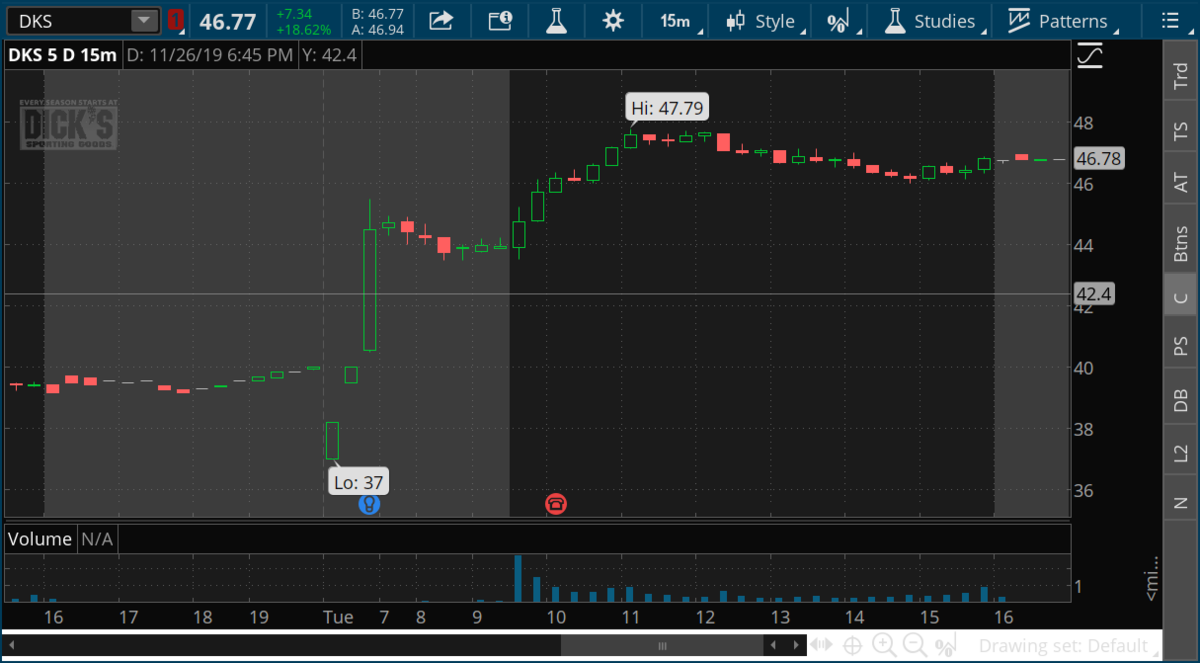 See you Wednesday morning for live programming on
TigerTV
at 9am EST at TFNN.com!
Catch up on all of Tuesday's shows by visiting our
TFNN YouTube page
and don't forget to subscribe!
Tommy O'Brien
TFNN