Morning Market Report - January 14, 2020
JP Morgan earnings crush analysts' estimates as bond trading revenue surges by nearly 90%
J.P. Morgan Chase posted profit and revenue that exceeded analysts' expectations on a surge in fourth-quarter trading revenue.

CEO Jamie Dimon said the bank produced record fourth-quarter revenue. Bond trading revenue surged 86% to $3.4 billion, exceeding the $2.61 billion estimate by roughly $800 million, as fixed-income desks were humming, particularly in securitized products and rates.

The bank said Tuesday that fourth-quarter profit rose 21% to $8.52 billion, or $2.57 a share, compared with the $2.35 estimate of analysts surveyed by Refinitiv. Managed revenue climbed 9% to $29.2 billion, compared with the $27.94 billion estimate. Shares of the bank gained 1.3% in premarket trading.

Source: CNBC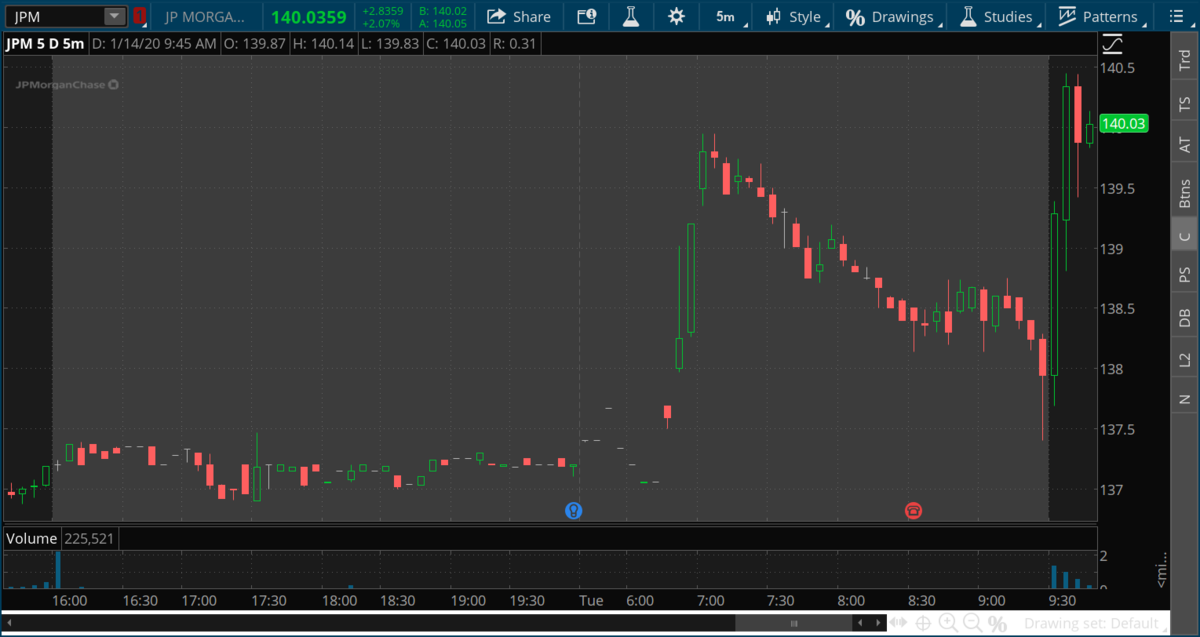 Citigroup earnings beat expectations on 49% fixed-income trading surge
Citigroup reported fixed-income trading revenue of $2.9 billion, easily surpassing a FactSet estimate of $1.24 billion.

The bank's global consumer business also grew by 5% to $8.5 billion as branded cards sales expanded by 10% in the fourth quarter.

Here's what analysts are expecting to see from the banking giant's results:
Earnings: $1.90 per share vs. $1.84 per share expected by Refinitiv
Revenue: $18.378 billion vs. Refinitiv forecast of $17.855 billion
Fixed income trading: $2.9 billion vs. FactSet estimate of $1.24 billion
Equities trading: $516 million vs. $673.7 million forecast
Source: CNBC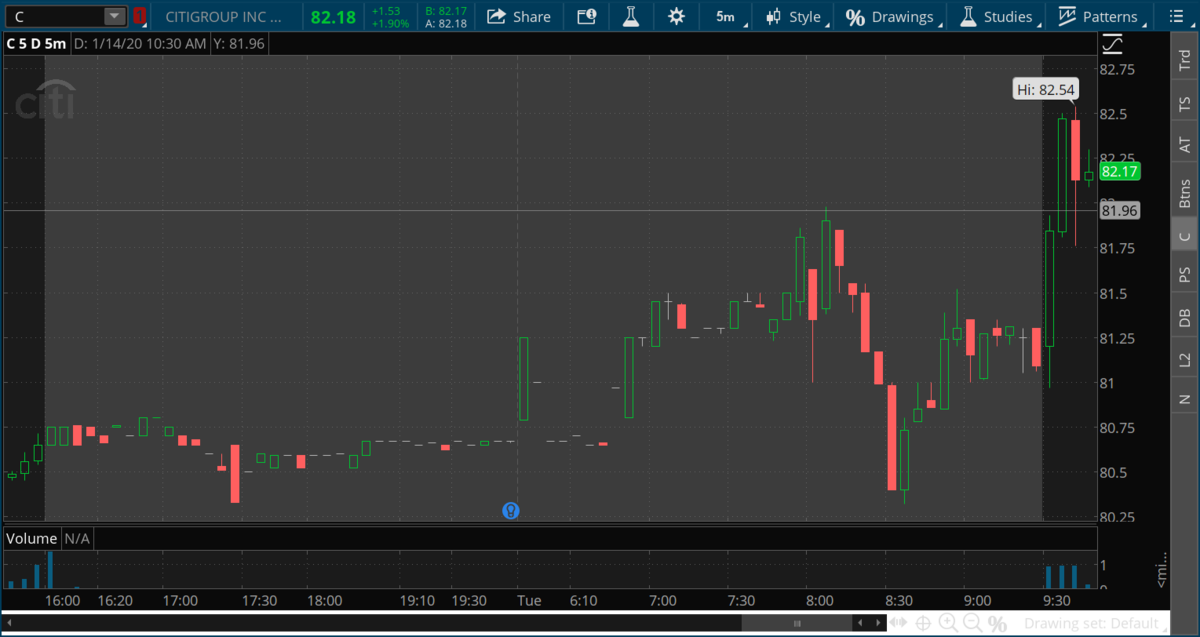 Wells Fargo fourth-quarter profit drops 50% as legal fees, low interest rates weigh on results
Quarterly profit at the Wells Fargo was $2.87 billion, compared with $6.06 billion in the year-ago period, a decline of more than 50%.
Earnings: 93 cents per share versus $1.12 per share forecast by Refinitiv
Revenue: $19.86 billion versus $20.14 billion forecast by Refinitiv
The bank also took a financial loss in part related to the retail sales scandal that has plagued Wells Fargo since 2016. The company booked a $1.5 billion charge for legal costs related to litigation stemming from its fake-account problems and others.


Source: CNBC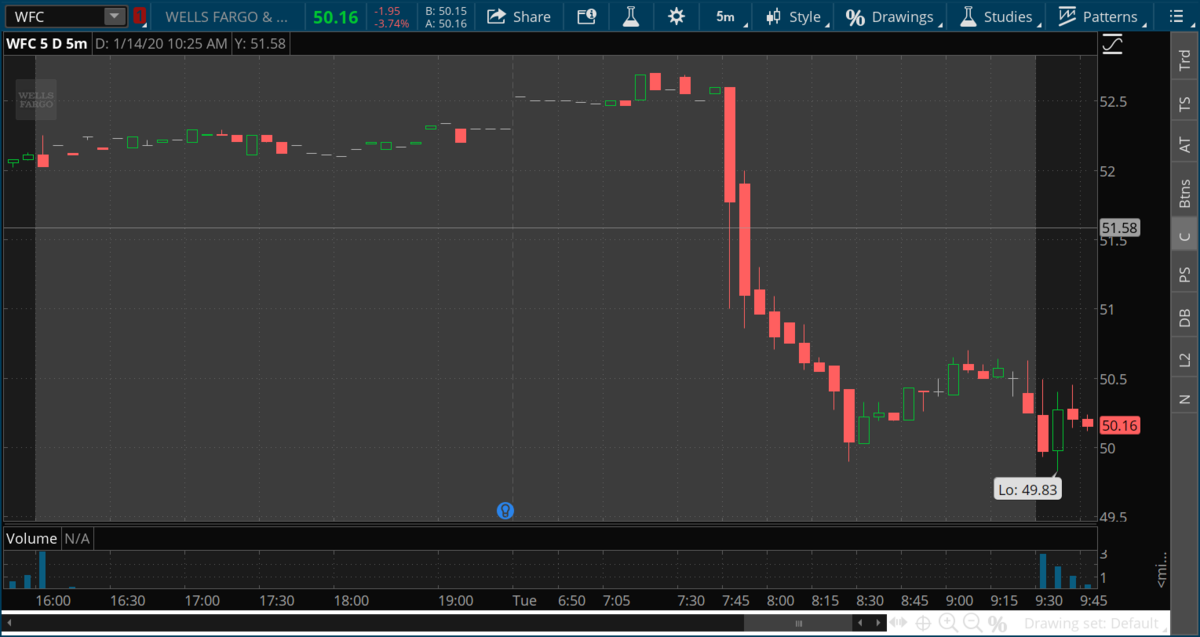 Delta's fourth-quarter profit beats estimates thanks to cheaper fuel and strong travel demand
"Delta reported adjusted earnings of $1.70 a share, compared with analysts' expectations of $1.40 a share, the company said in releasing its results before the market opened Tuesday.

On an unadjusted basis, Delta reported net income of $1.1 billion, up 8% from $1.02 billion during the fourth quarter of 2018. Revenues in the three months ended Dec. 31 rose 6.5% from a year earlier to $11.44 billion, slightly above analysts' estimates. Revenue from Delta's premium cabins, such as business class grew 9% to $3.7 billion, more than twice the clip that main cabin revenue grew, which was $5.24 billion in the fourth quarter."

Source: CNBC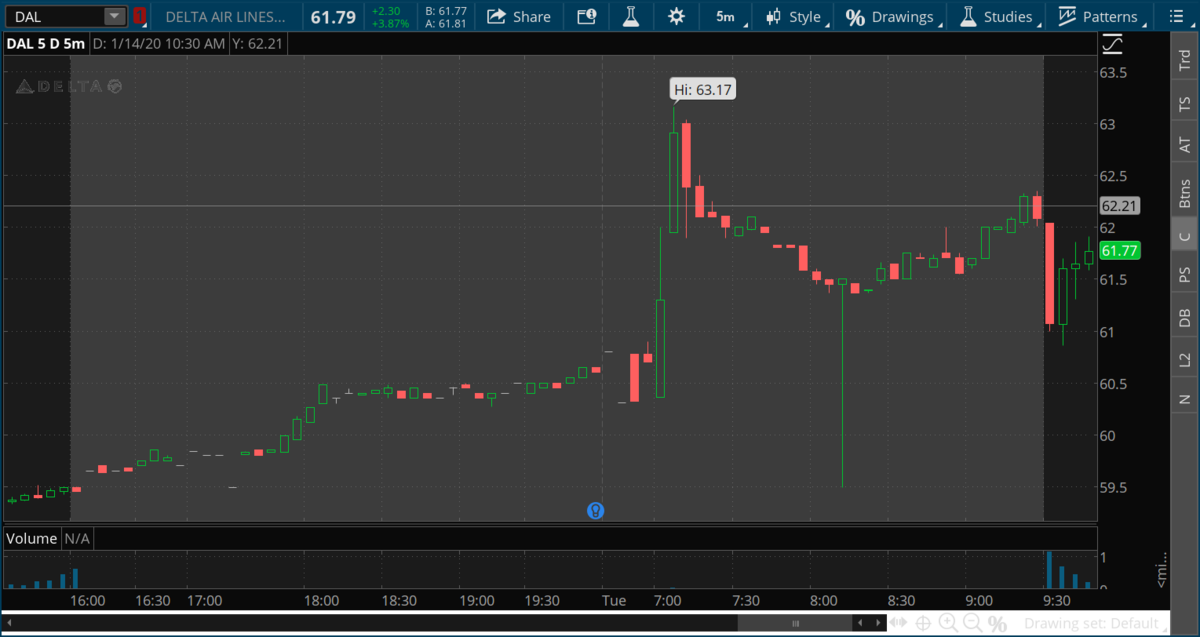 Tommy O'Brien's 9 am EST TigerTV Market Update
US consumer prices increase moderately in December
The consumer price index increased 0.2% last month after climbing 0.3% in November, the Labor Department said.

The Labor Department said on Tuesday its consumer price index increased 0.2% last month after climbing 0.3% in November. The monthly increase in the CPI has been slowing since jumping 0.4% in October. In the 12 months through December, the CPI rose 2.3% after gaining 2.1% in the 12 months through November.

Economists polled by Reuters had forecast the CPI would rise 0.3% in December and advance 2.3% on a year-on-year basis.

Excluding the volatile food and energy components, the CPI edged up 0.1% after gaining 0.2% in November.

"Underlying inflation in December was held back by declines in the costs of used cars and trucks, airline tickets and household furnishing and operations, which offset increases in the prices of healthcare, apparel, new motor vehicles, recreation, and motor vehicle insurance.

In the 12 months through December, the core CPI increased 2.3%, the largest gain since October 2018, after rising 2.3% in November.

The Fed tracks the core personal consumption expenditures (PCE) price index for its 2.0% inflation target. The core PCE price index rose 1.6% on a year-on-year basis in November. It undershot its target in the first 11 months of 2019. December PCE price data will be published later this month."

Source: CNBC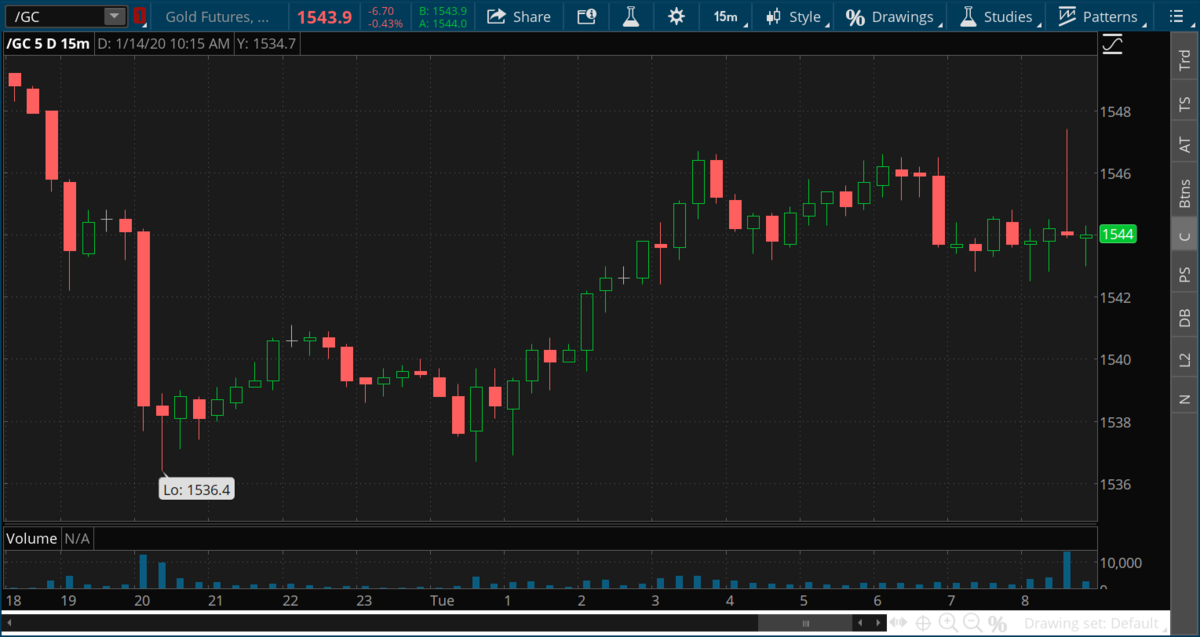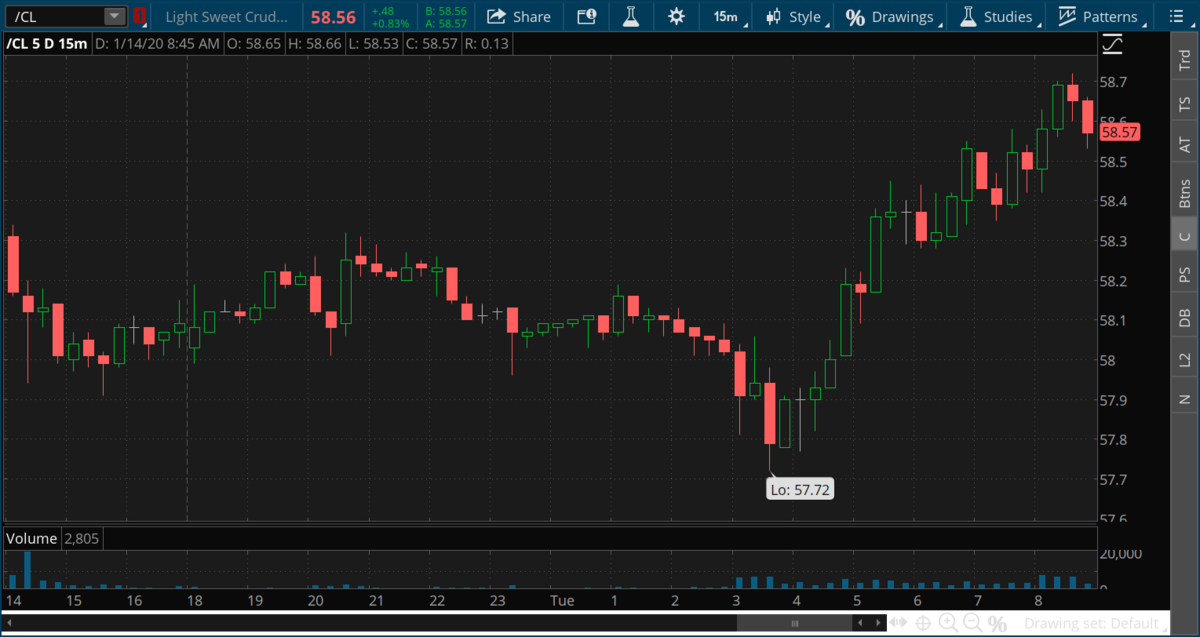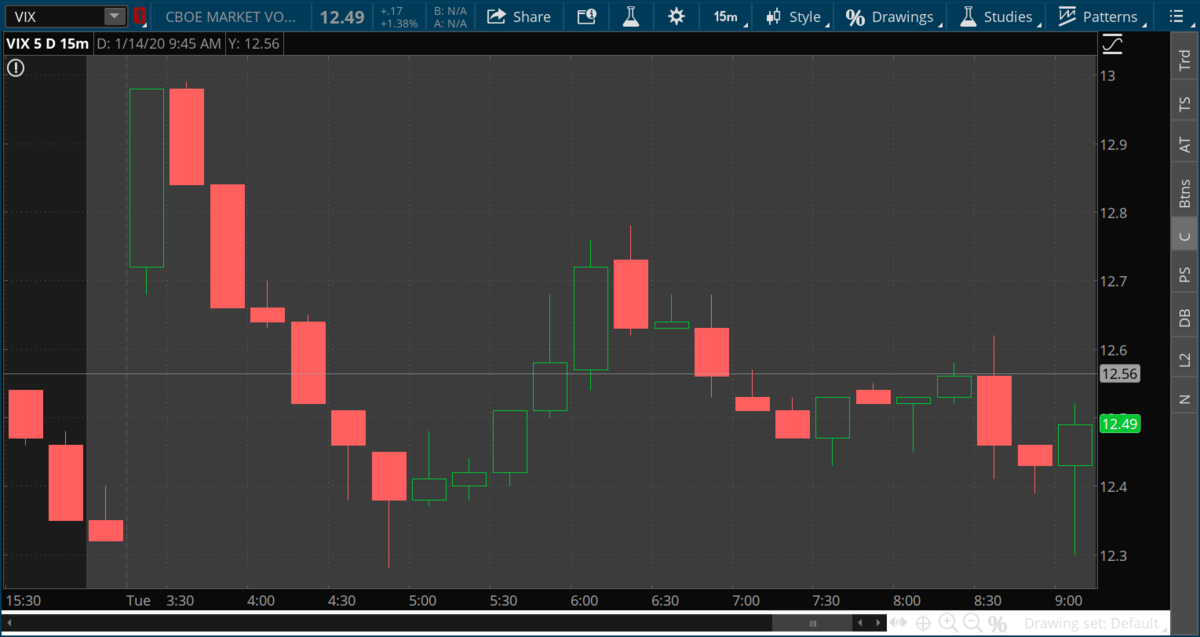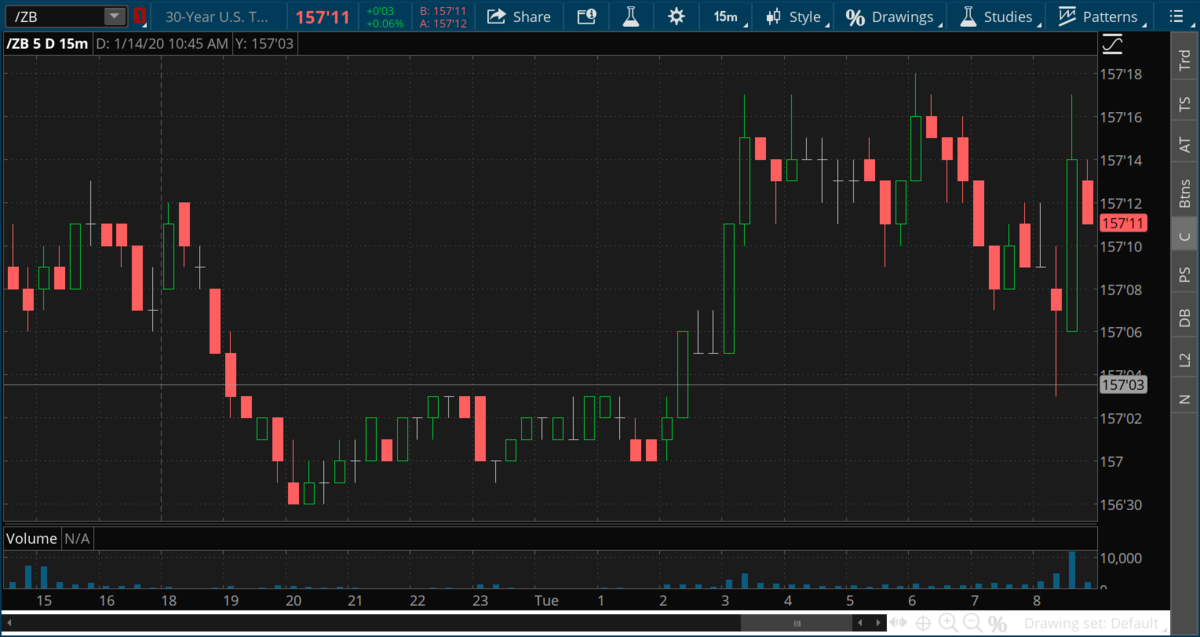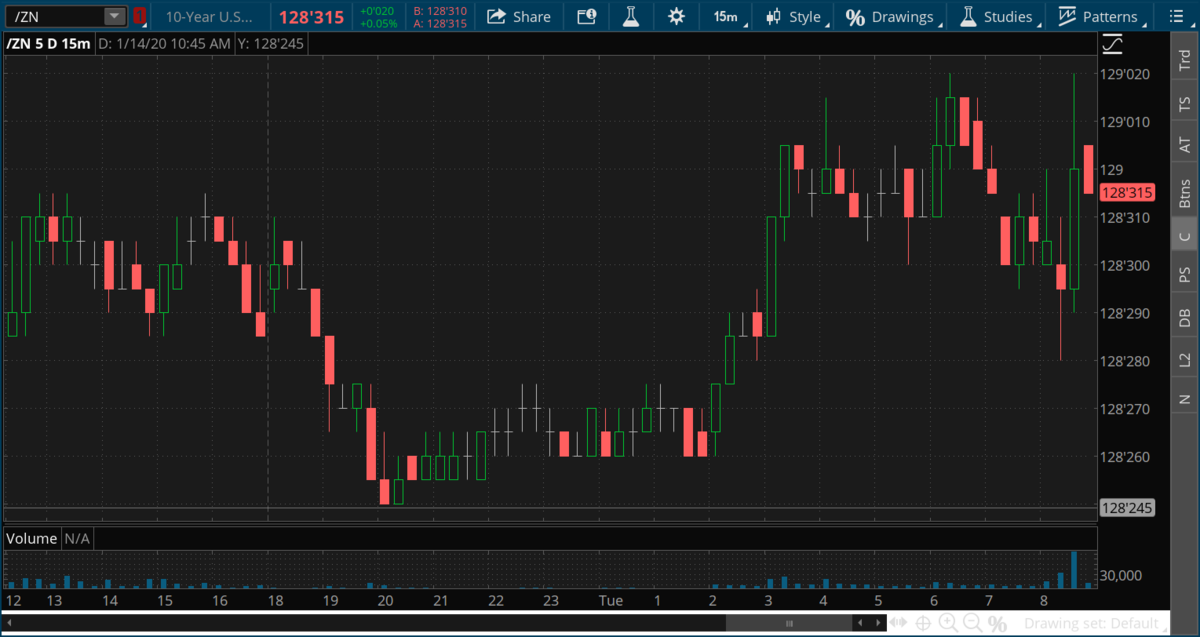 Stocks Making Moves this Morning