Morning Market Report - February 5, 2020
S&P Climbs Toward Record Levels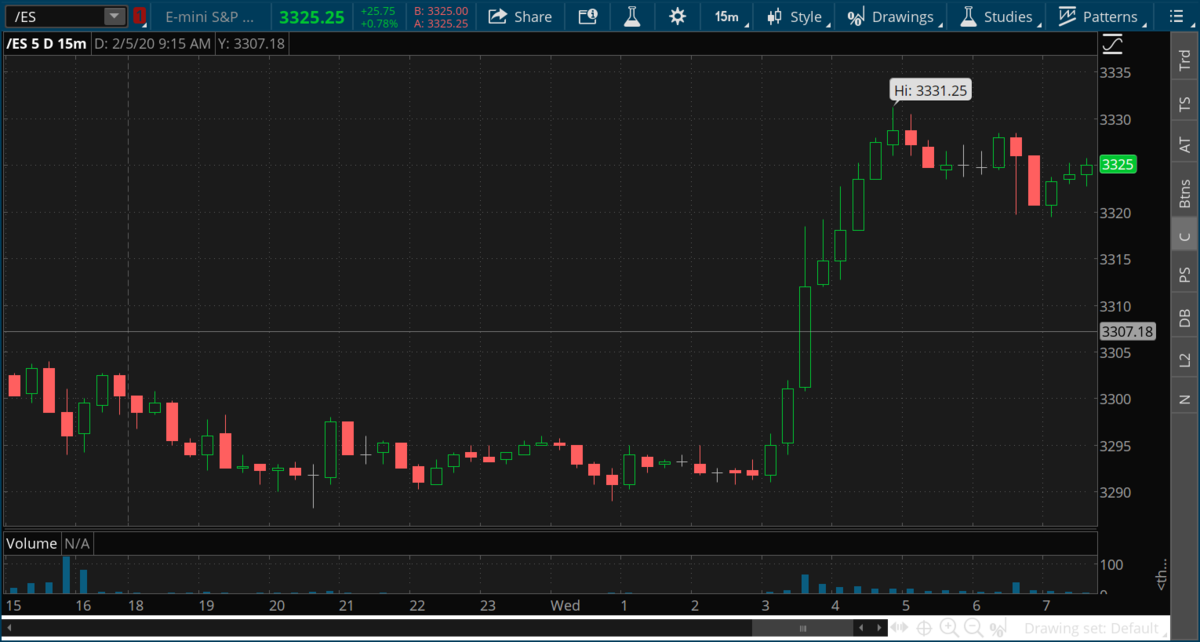 ES futures so far in 2020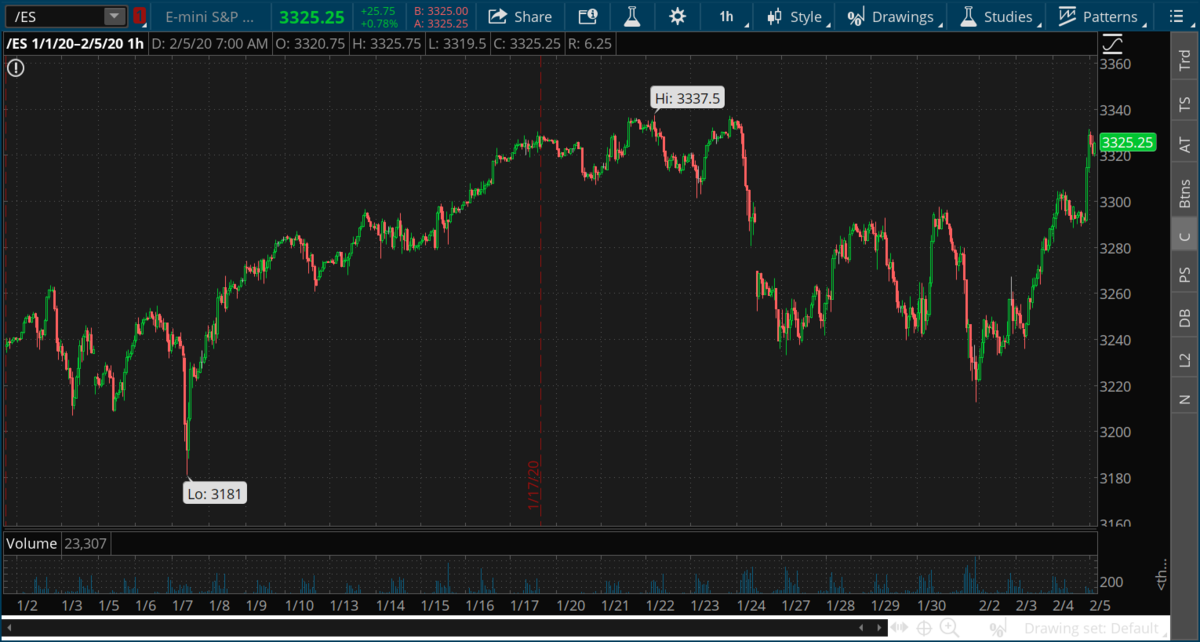 Coronavirus cases rise near 25,000
Total cases: About 24,324
Total deaths: 490

China National Health Commission said that as of Tuesday night, a total of 24,324 cases have been confirmed and 490 people have died in the country.


Source: CNBC
Tesla shares dip as it plans delay to Model 3 deliveries in China due to coronavirus
A Tesla executive said that cars initially scheduled for delivery in early February will be delayed due to the outbreak of the new coronavirus.
Source: CNBC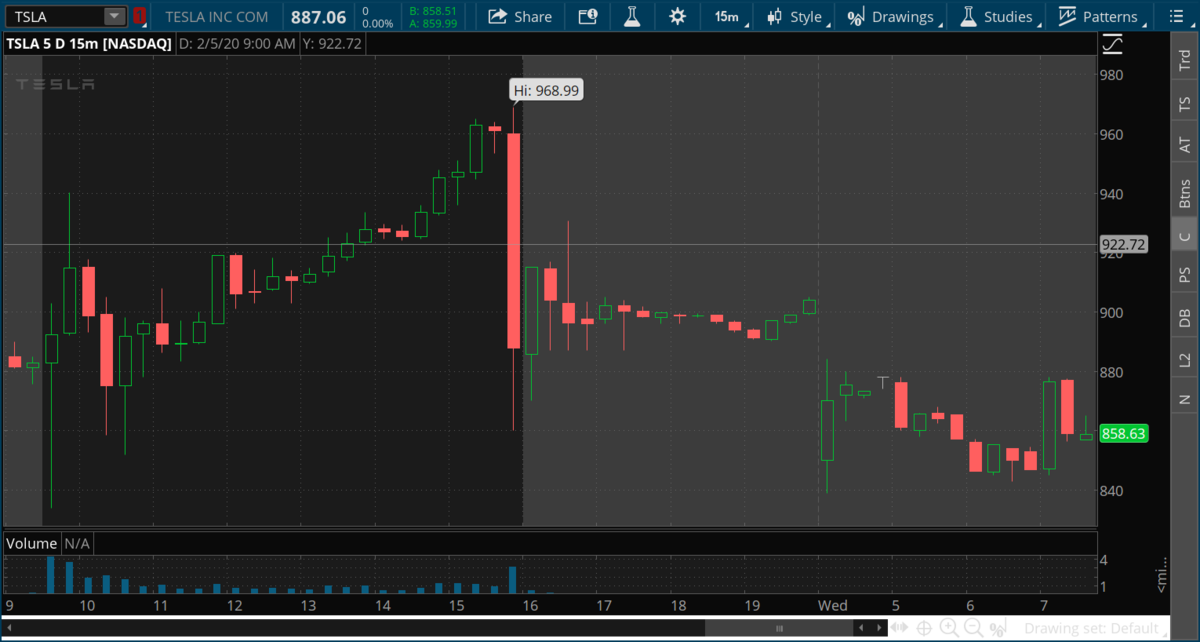 Disney adds 28 million subscribers to Disney+ streaming service
Disney+ now has 26.5 million subscribers, which is up from the 10 million sign-ups it registered for the service after it launched November 12. CEO Bob Iger said on the company's earnings call that by Monday, that number had climbed to 28.6 million subscribers. Disney said the average monthly revenue per paid Disney user was $5.56.
Earnings per share: $1.53 per share vs. $1.44 per share expected, according to analysts surveyed by Refinitiv
Revenue: $20.86 billion vs. $20.79 billion expected, per Refinitiv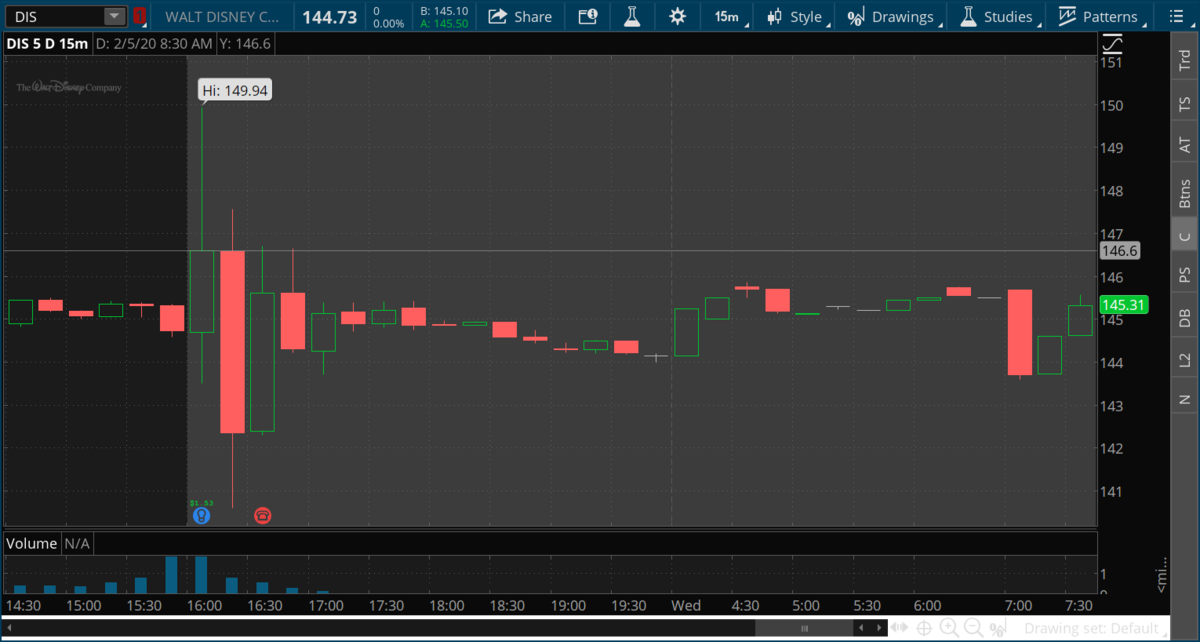 Ford loses $1.7 billion in fourth quarter, disappoints on 2020 forecast
Ford is projecting full-year earnings of between 94 cents and $1.20 a share, or adjusted earnings before interest and taxes of $5.6 billion and $6.6 billion.
Adjusted earnings: 12 cents per share versus 15 cents per share expected
Automotive revenue: $36.7 billion versus $36.49 billion expected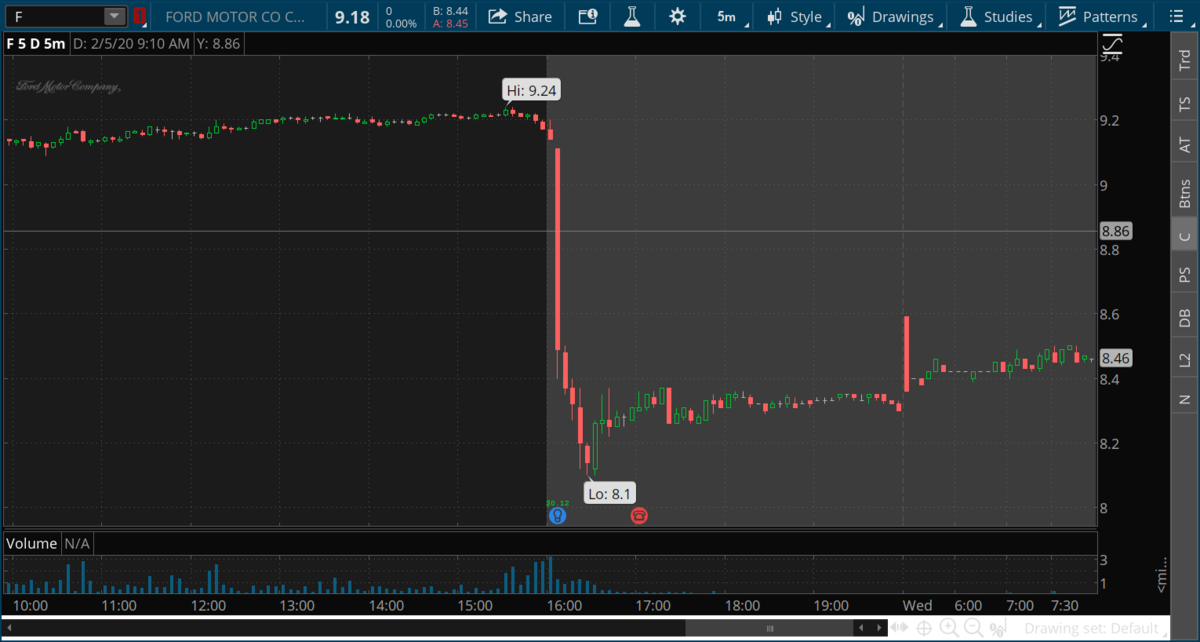 Snap tanks on revenue shortfall
Earnings: 3 cents per share vs. 1 cent per share forecast by Refinitiv
Revenue: $561 million vs. $563 million forecast by Refinitiv
Global daily active users (DAUs): 218 million vs. 215 million forecast by FactSet
Average revenue per user: $2.58 vs. $2.62 forecast by FactSet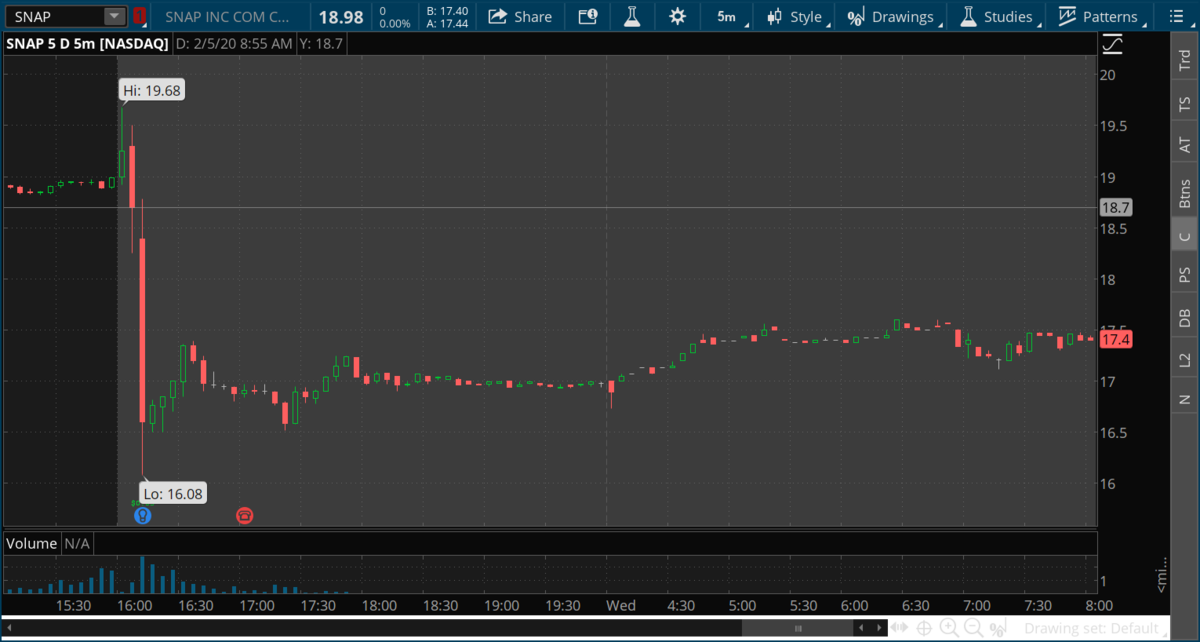 Chipotle earnings beat Wall Street estimates as carne asada helped boost sales
Earnings per share: $2.86, adjusted, vs. $2.75 expected
Revenue: $1.4 billion vs. $1.4 billion expected
Same-store sales: 13.4% vs. 9.5% expected
Net sales rose 17.6% to $1.4 billion, meeting expectations. The burrito chain's digital sales, including those from delivery, grew by 78.3% in the quarter. Digital orders accounted for nearly a fifth of the company's sales during the fourth quarter and exceeded a billion dollars for fiscal 2019.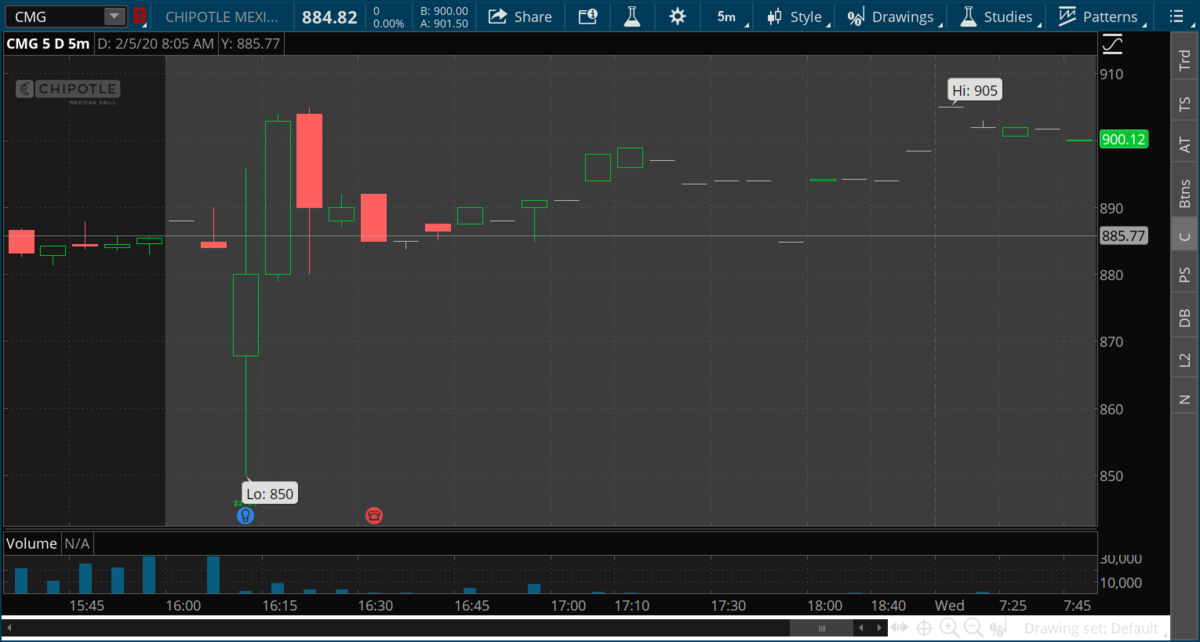 General Motors earnings: 5 cents per share, vs 1 cent EPS expected
Adjusted earnings: 5 cents per share compared to 1 cent per share expected.
Revenue: $30.8 billion compared to $31.04 billion expected.

General Motors lost $194 million in the fourth-quarter heavily due a 40-day labor strike against the company that cost it four weeks of vehicle production and eroded any profit.

The strike, according to the automaker, cost it $2.6 billion in earnings before interest and taxes during the three months ended Dec. 31, shaving $1.39 per share off of its EPS on an adjusted basis. The impact for the year was $3.6 billion.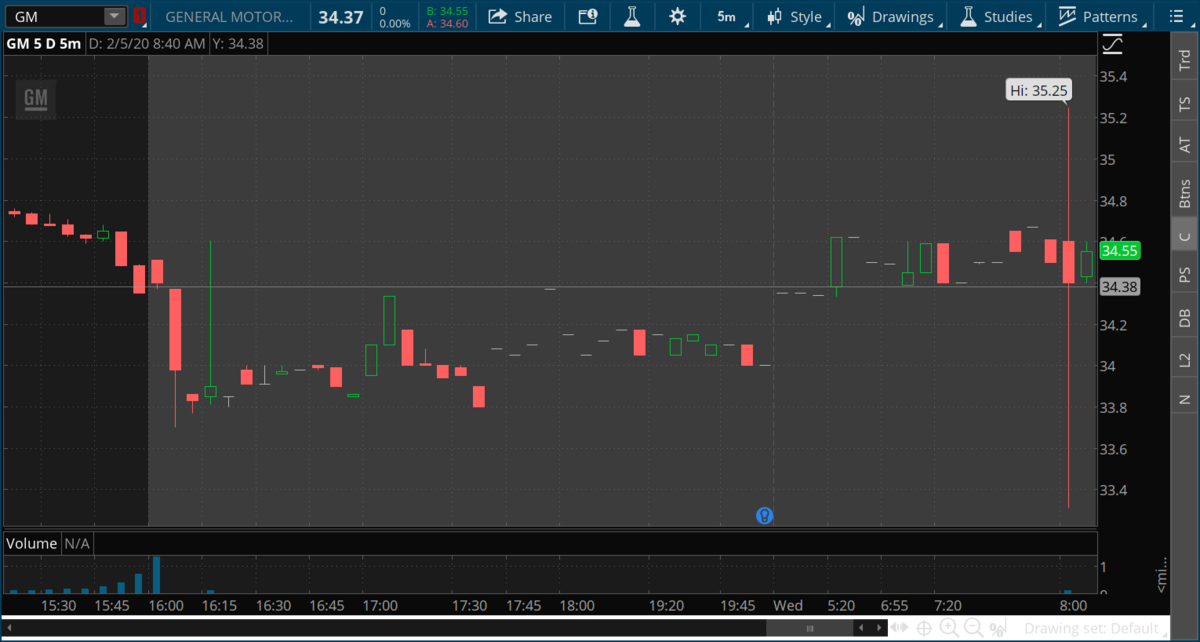 Macy's to close 125 stores, cut 2,000 corporate jobs, in hunt for growth
"The department store chain announced Tuesday it plans to shut 125 stores over the next three years and slash about 2,000 corporate jobs, as it closes its Cincinnati headquarters and tech offices in San Francisco.

Macy's said it plans to exit weaker shopping malls, and instead shift its focus toward opening smaller-format stores in strip centers. Macy's has shuttered more than 100 stores since 2015.

With a smaller base of stores, Macy's said net sales in fiscal 2022 are expected to be within a range of $23.2 billion to $23.9 billion, while earnings per share, on an adjusted basis, will be between $2.50 and $3.00. Same-store sales, on an owned plus licensed basis, are forecast to be down 1% to flat."

Source: CNBC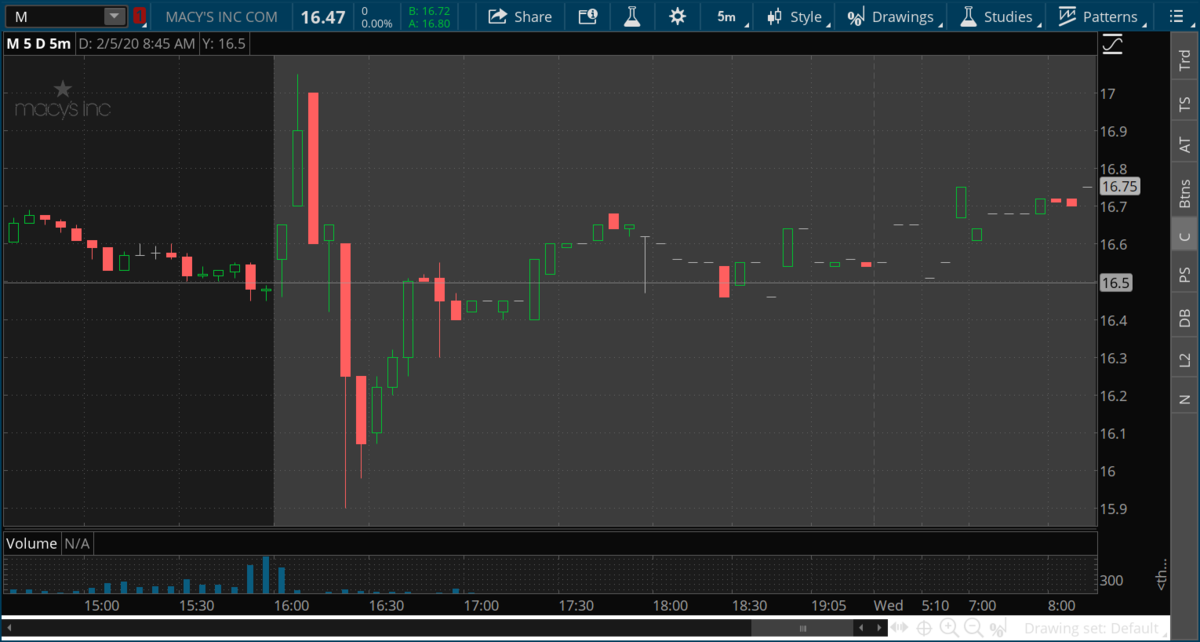 Weekly mortgage refinance applications spike 15% as interest rates plunge to lowest in nearly 4 years
"Mortgage rates last week hit their lowest level since October 2016. Refinance applications, which are most sensitive to weekly rate moves, jumped 15% for the week and were 183% higher than a year ago. Demand hit the highest level since June 2013.

The average contract interest rate for 30-year fixed-rate mortgages with conforming loan balances ($510,400 or less) decreased to 3.71% from 3.81%, with points remaining unchanged at 0.28 (including the origination fee) for loans with a 20% down payment. That is the lowest level since October 2016. The rate was 98 basis points higher one year ago."

Source: CNBC
TigerTV Now Starts Live at 8:30 a.m. EST
Tommy O'Brien's 9 a.m. TigerTV Market Update