Morning Market Report - February 6, 2020
China to halve retaliatory tariffs on hundreds of US goods worth about $75 billion
Retaliatory duties on some U.S. goods will be cut from 10% to 5%, and from 5% to 2.5% on others, according to a statement from China's Ministry of Finance. The adjustments will take effect from 1:01 p.m on Feb. 14, it said, without specifying which time zone it was referring to.

The statement on the Ministry of Finance website said the move was made in order to "advance the healthy and stable development of China-U.S. trade." A separate article on the website noted the cut in tariffs was timed in conjunction with a U.S. decision in January to halve tariffs on Feb. 14 for $120 billion of Chinese goods — from 15% to 7.5%.

Source: CNBC
Coronavirus cases rise above 28,000
As of Wednesday night, China says a total of 28,018 cases have been confirmed and 563 people have died in the country.
China says 19 foreigners have been infected by the fast-spreading coronavirus.
Source: CNBC
US weekly jobless claims drop to a 9-month low
"Initial claims for state unemployment benefits decreased 15,000 to a seasonally adjusted 202,000 for the week ended Feb. 1, the lowest reading since last April, the Labor Department said on Thursday. Claims data for the prior week was revised to show 1,000 more applications received than previously reported.

Economists polled by Reuters had forecast claims dipping to 215,000 in the latest week."

Source: CNBC
Tesla shares extend losses
A Tesla executive said Wednesday that cars initially scheduled for delivery in early February will be delayed due to the outbreak of the new coronavirus.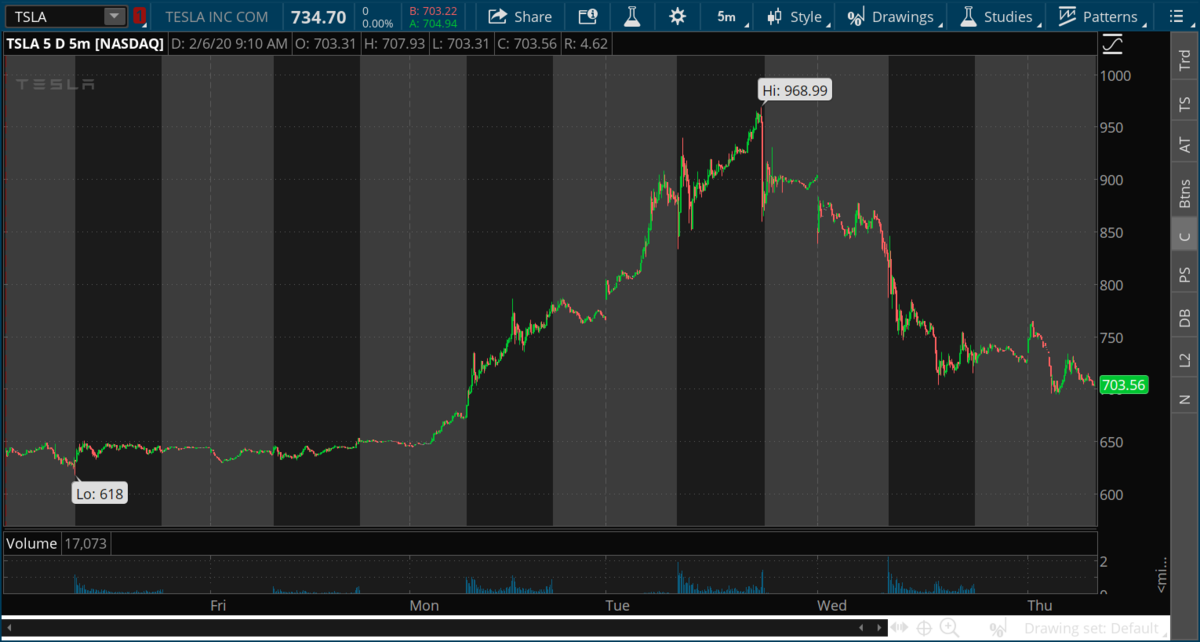 Twitter trades higher on strong user data
Earnings per share: 25 cents per share vs. 29 cents expected, according to Refinitiv consensus estimate
Revenue: $1.01 billion vs. $996.7 million expected, according to Refinitv
Monetizable Daily Active Users (mDAUs): 152 million vs. 147.5 million total expected, according to FactSet and StreetAccount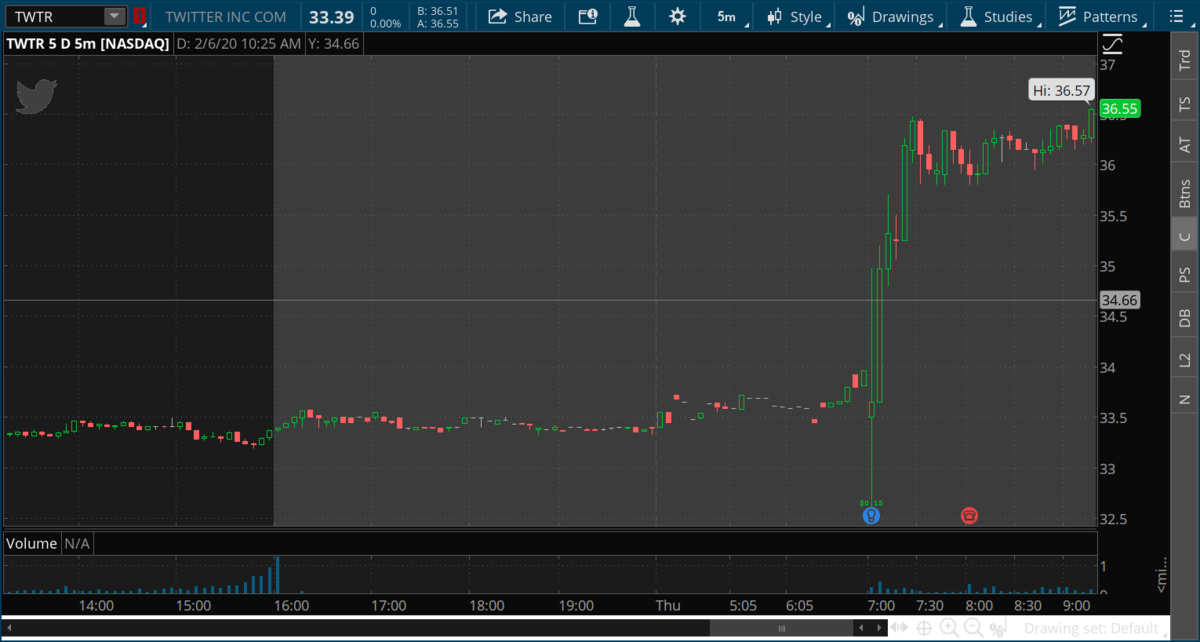 Yum Brands trades lower on weak sales at Pizza Hut with earnings miss
Earnings per share: $1, adjusted, vs. $1.13 expected
Revenue: $1.69 billion, vs. $1.66 billion expected
Same-store sales: 2%, vs. 2.3% expected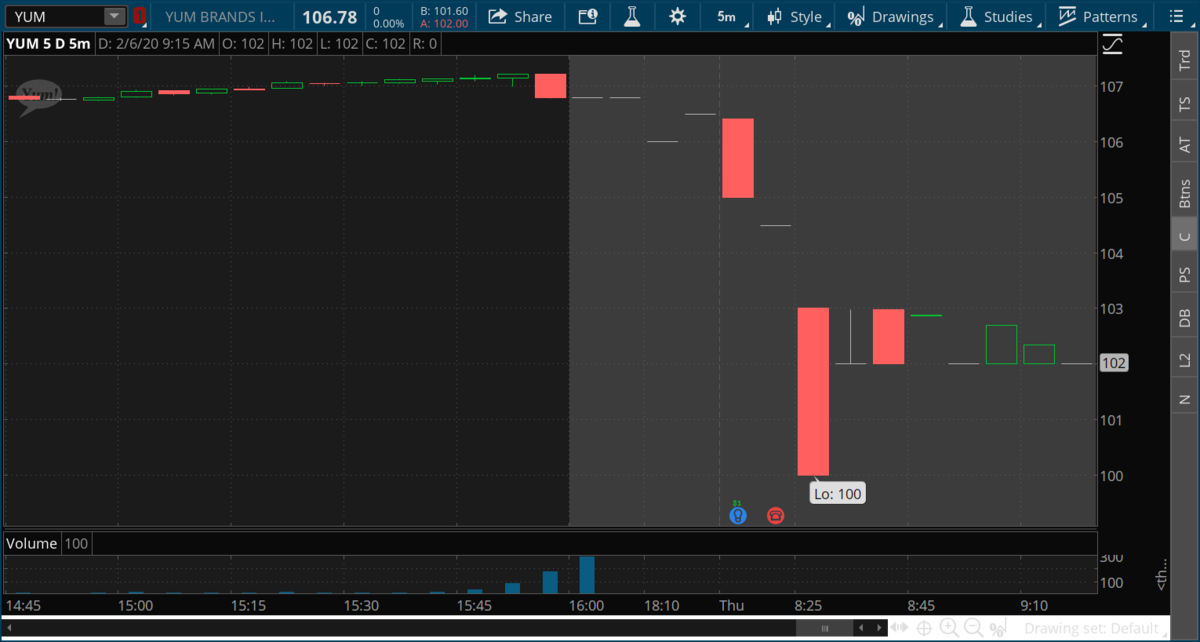 Peloton stock plummets after the company reports widening loss, slowing revenue
In its second earnings report since going public in September, Peloton said its net losses widened to $55.4 million, or 20 cents per share, from a net loss of $55.1 million a year earlier. Analysts had expected an even bigger loss of 36 cents per share.

The company also said revenue rose 77% to $466.3 million from $262.9 million a year earlier. Analysts predicted total revenue of $423 million.

Although the revenue growth topped predictions, it was a slower pace than in the prior quarter, when revenue more than doubled year over year.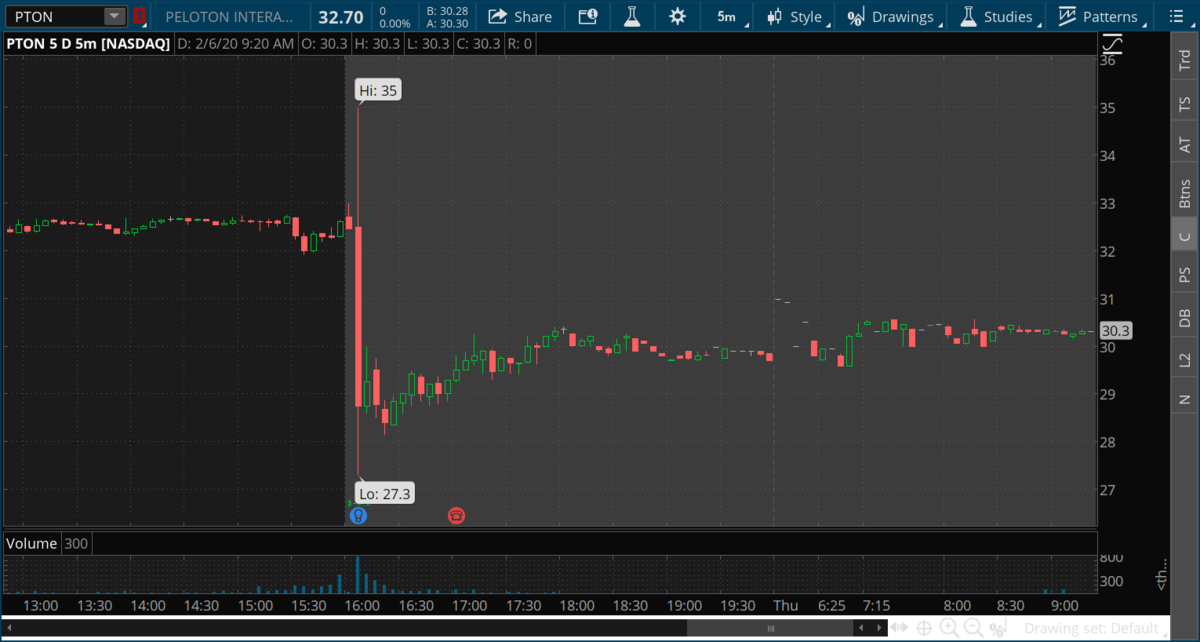 TigerTV Now Starts Live at 8:30 a.m. EST
Tommy O'Brien's 9 a.m. TigerTV Market Update