Steve Rhodes Special Dow Report 07-24-22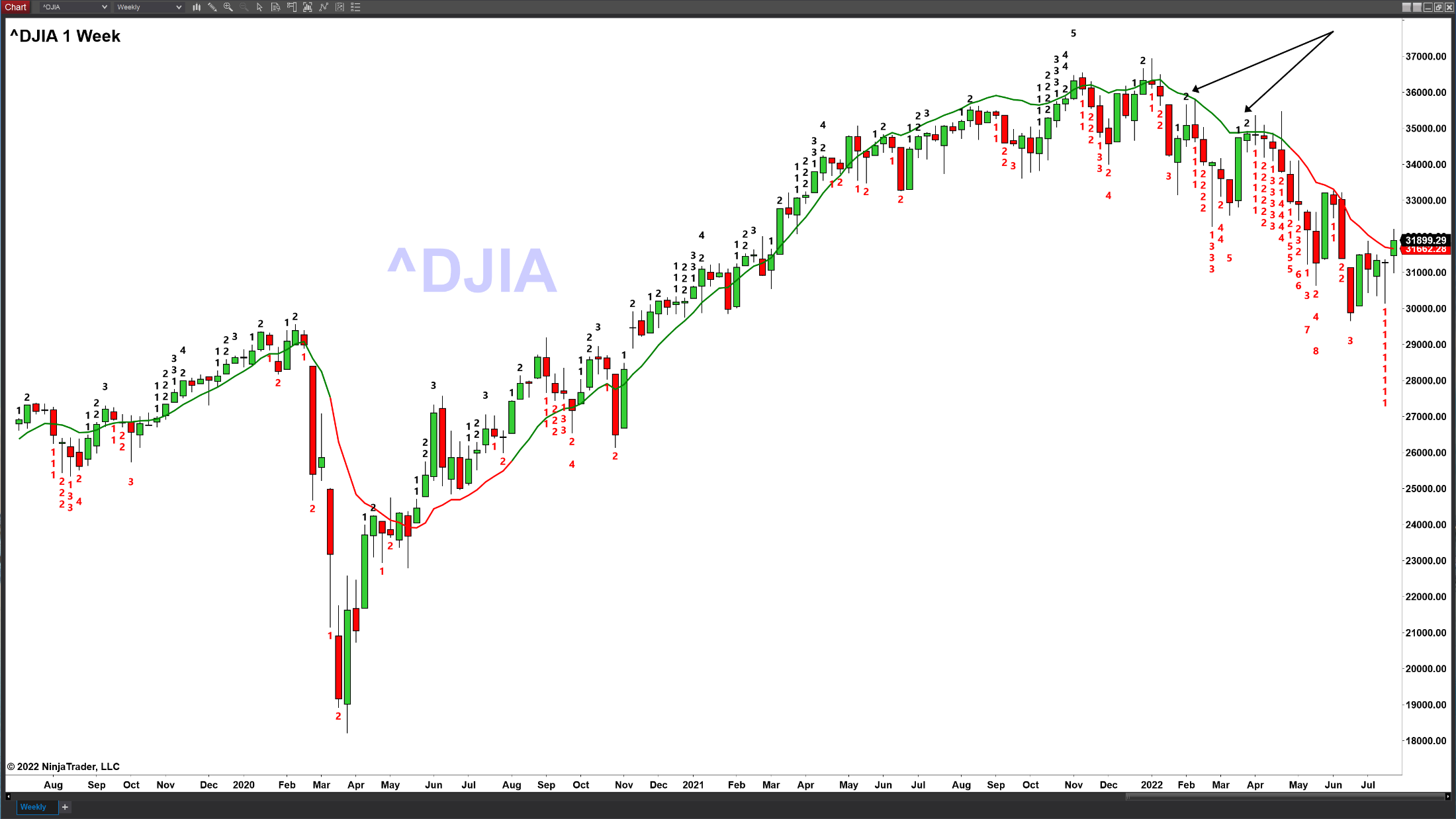 The black numbers on this weekly chart for the DOW identify consecutive weekly closes where the close of the current week closes above the close of the prior week. The red numbers identify consecutive weekly closes below the prior weeks close. Since the DOW's top, which formed during the first week of 2022, the DOW has had two, 2-week counter trend rallies (black arrows). This week's close is week one of that pattern. But perhaps more important, is the fact that this weeks close was a close above its Oscillator Unchanged Line (red green line), something that has not occurred in 2022. This suggests that a change in trend is unfolding. We will come back to that in a moment.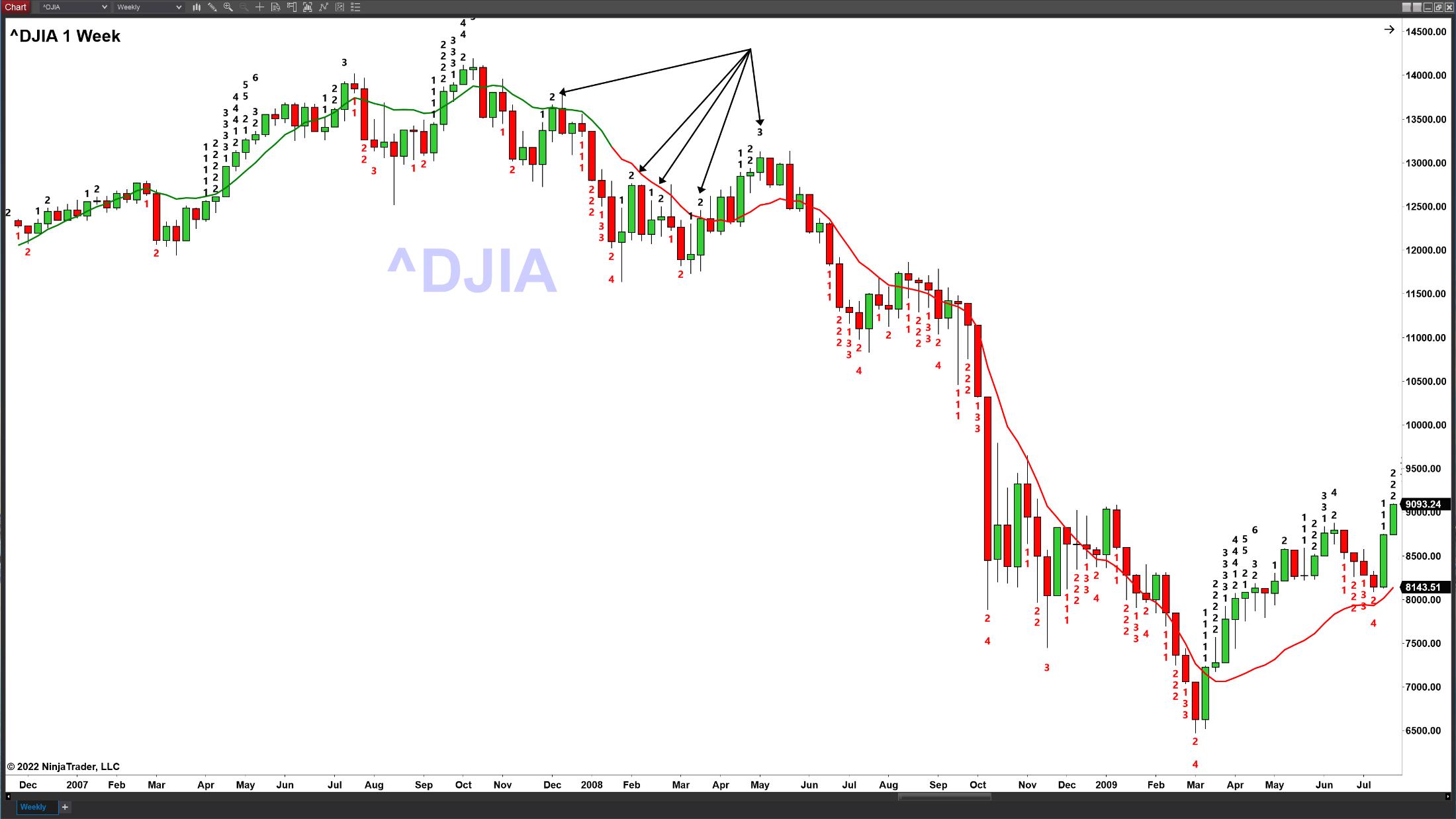 This is the weekly chart for the DOW for the 2007-2009 bear market. During this bear market, there were four, 2-week counter trend rallies and one, 3-week counter trend rally. It's important to understand that in bear markets, counter trend moves tend to happen over 2-3 bar sessions.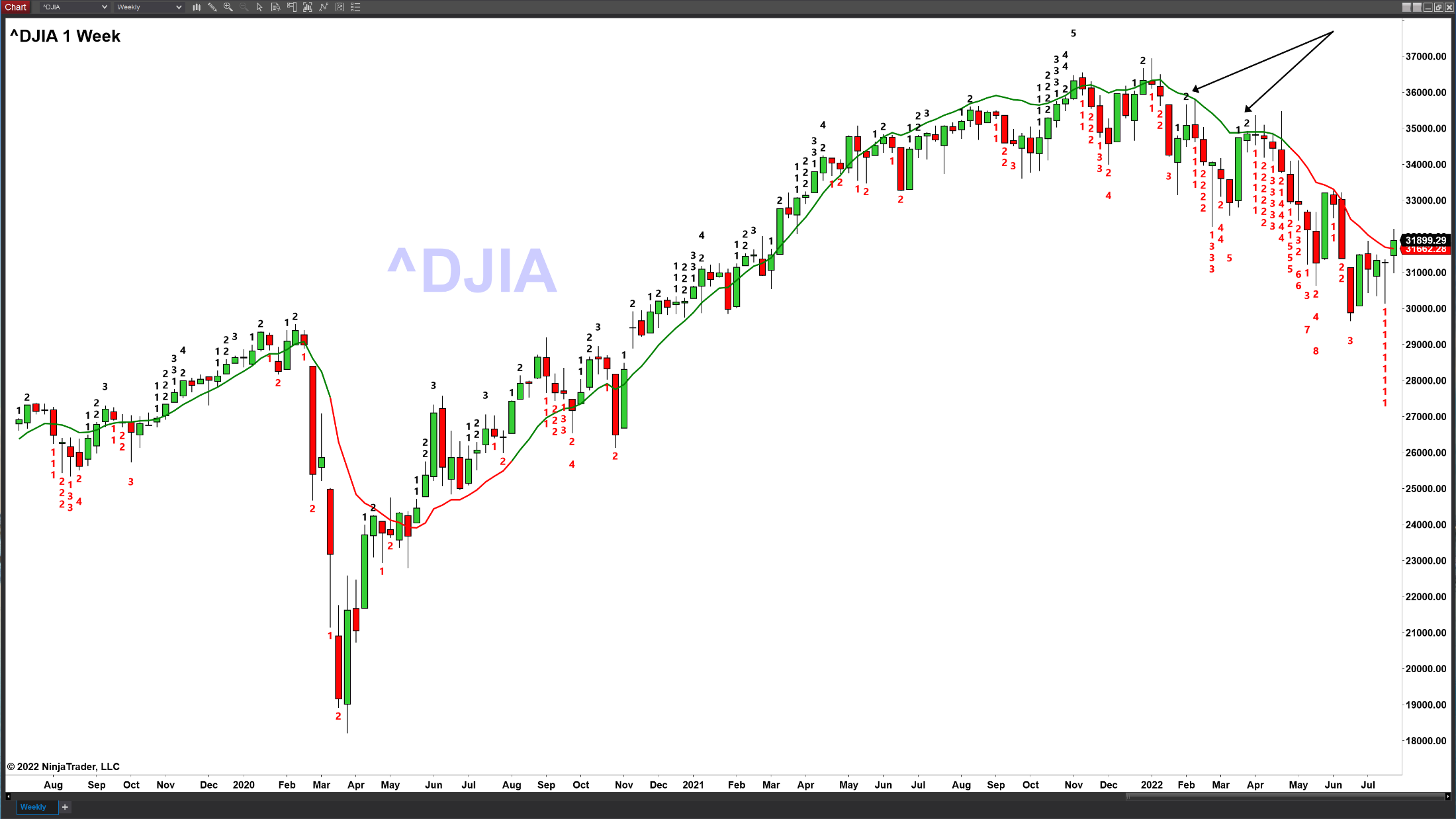 The green/red line on this weekly chart for the DOW is referred to as the Oscillator Unchanged Line. An oscillator measures the difference between two things. In this case, it's the difference between the 19 & 39 period exponential moving averages of price. When price is above a green OUL, conditions from a momentum standpoint are bullish, and when price is below a red OUL, conditions are bearish. A close above a red OUL, suggests that a further counter trend move is likely and hence the idea that we should see at least a 2-3 week rally. However, a close above its OUL this week, could be signaling a change in trend, which then leads us to the potential for a 2-3 month rally.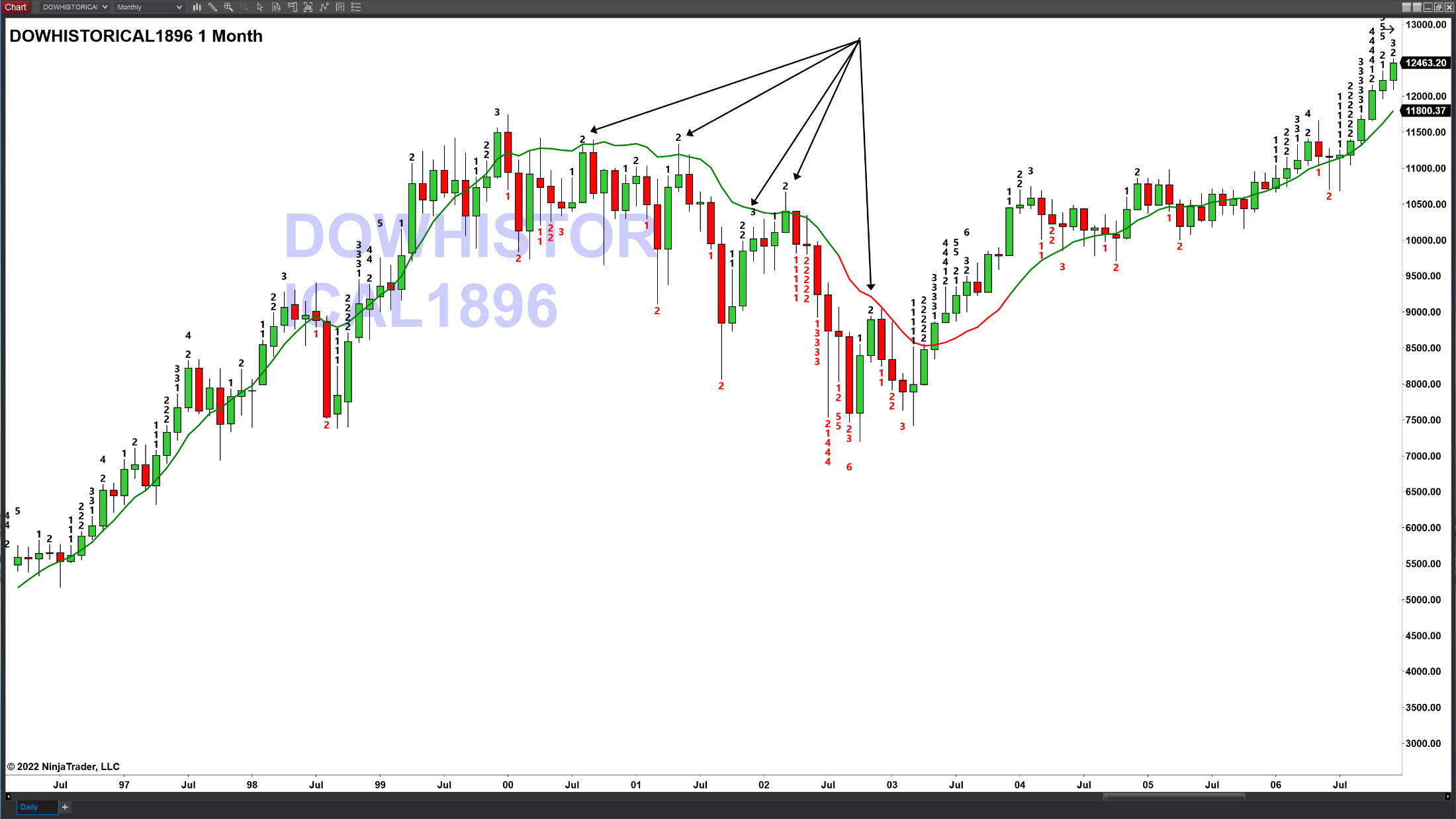 During the 2000 bear market, there were four instances that marked a 2-month rally and one instance that marked a 3-month rally. We can also see that the rally price targets were the monthly OUL (smoothed line). Again, in a bear market, counter trend moves tend to happen in a series of 2 or 3 bar moves.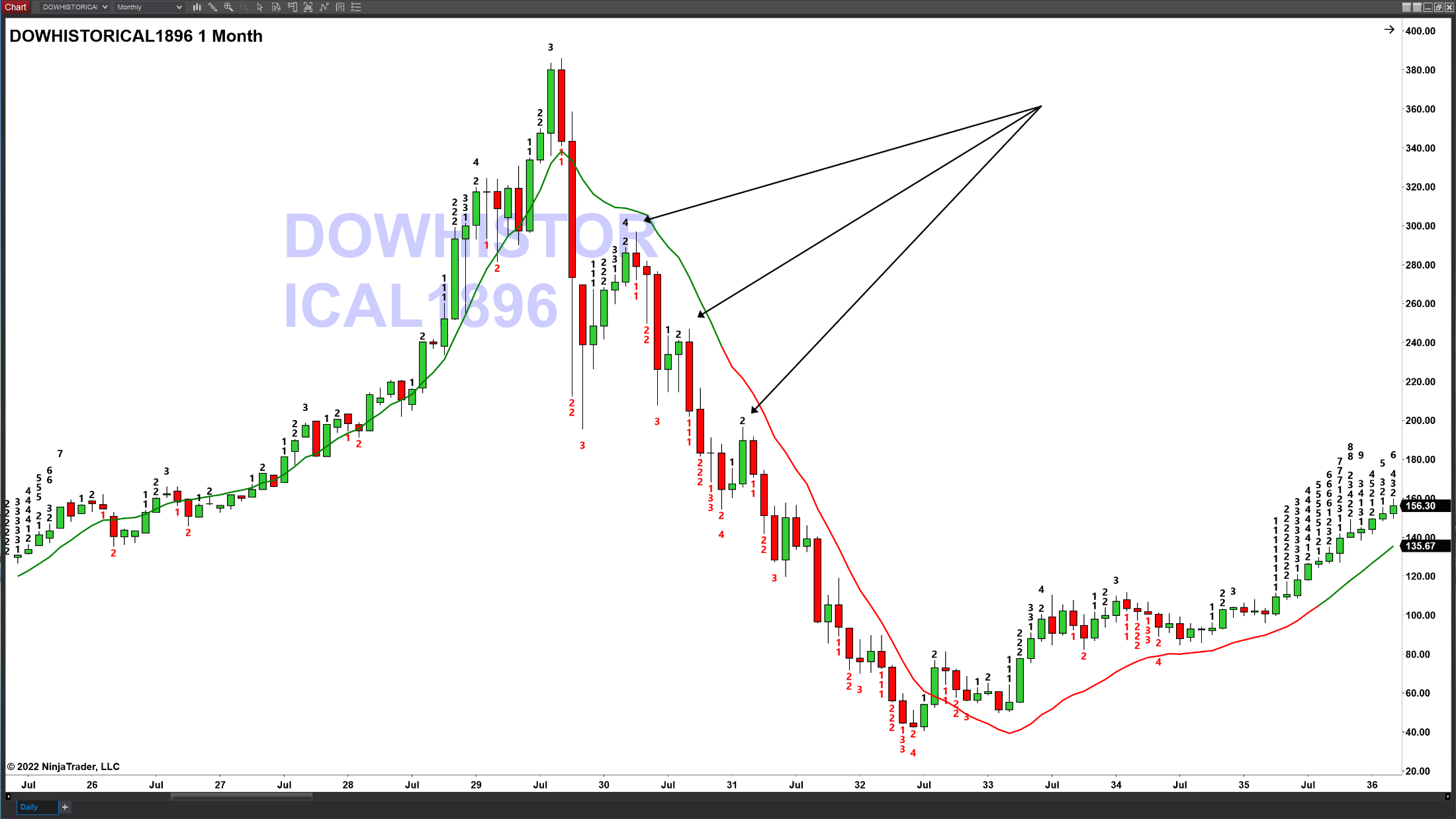 The 1929 bear market generated two, 2-month counter trend moves and one, 4 month counter trend move.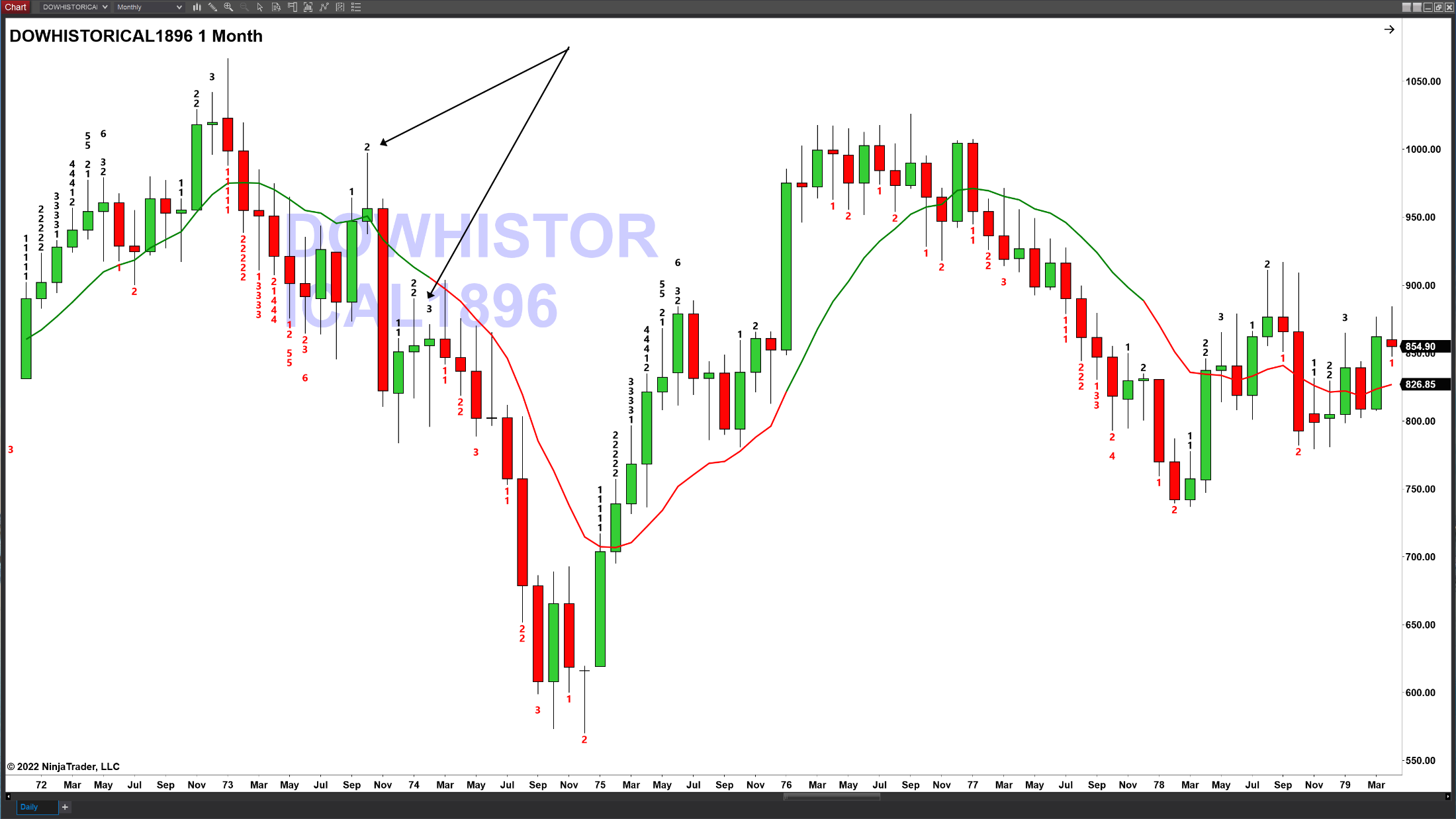 The bear market that began in 1973 generated one, 2-month rally and one, 3-month rally.
This is a great pattern to be aware of, which tends to work best for weekly and monthly time frames.
Another pattern worth noting is how is the DOW performing in major currencies. Although you and I may think in terms of U.S. dollars, traders in Europe think of the DOW priced in euros or Pound, whereas in Japan its in terms of Yen.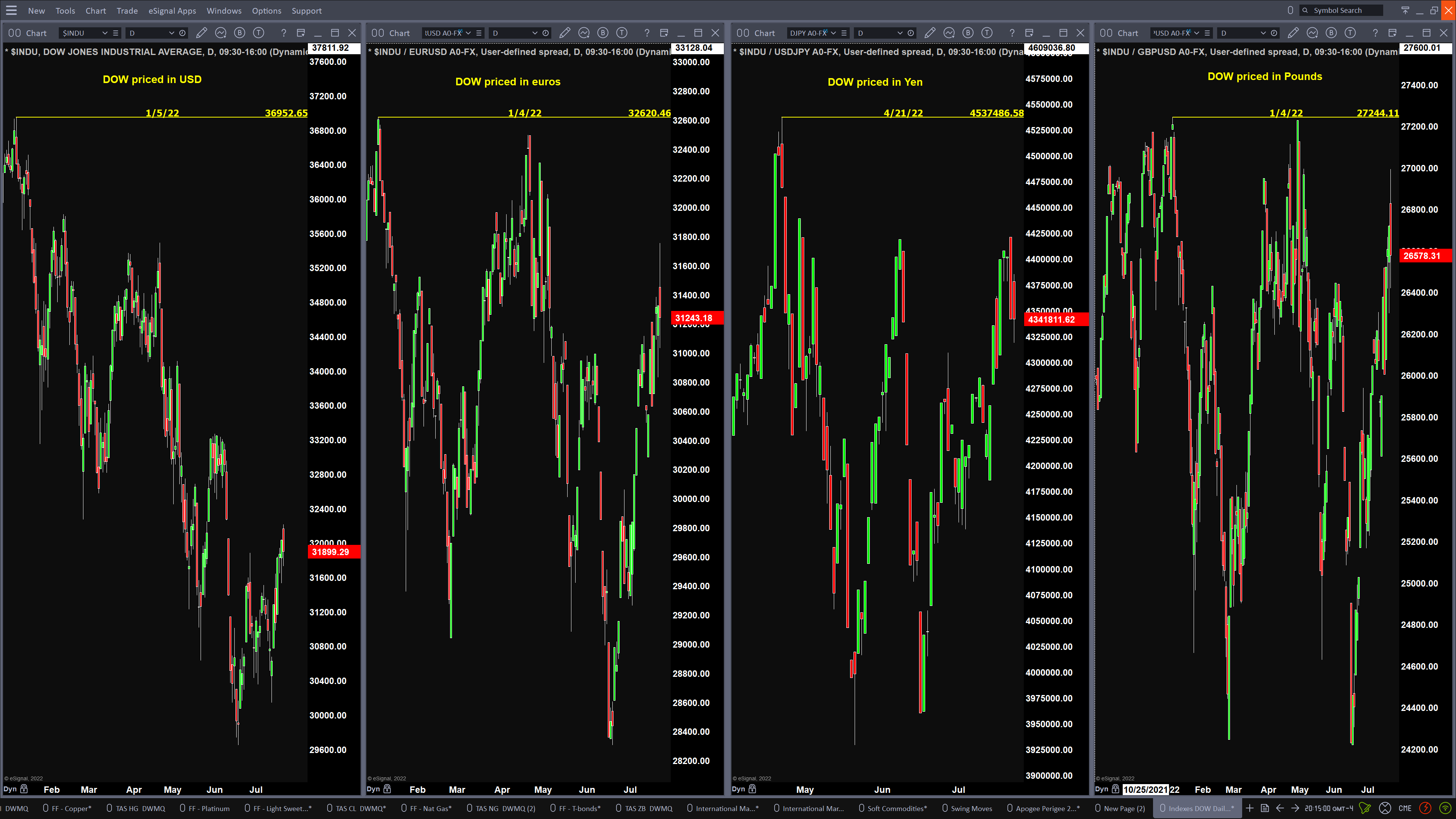 This is a daily chart for the DOW priced in the four major currencies.
 Note that the DOW priced in Yen formed a new all-time high in April of this year vs. the others forming their high at the beginning of January. This suggests that we have not seen a major top for the DOW just yet. When major tops form, they tend to top in all major currencies on or very near the exact same day.
 We can also see that the DOW has performed quite well in the other major currencies and quite frankly looks more bullish than bearish and therefore the idea of a 2-month rally in terms of U.S. dollars doesn't seem far fetched at all.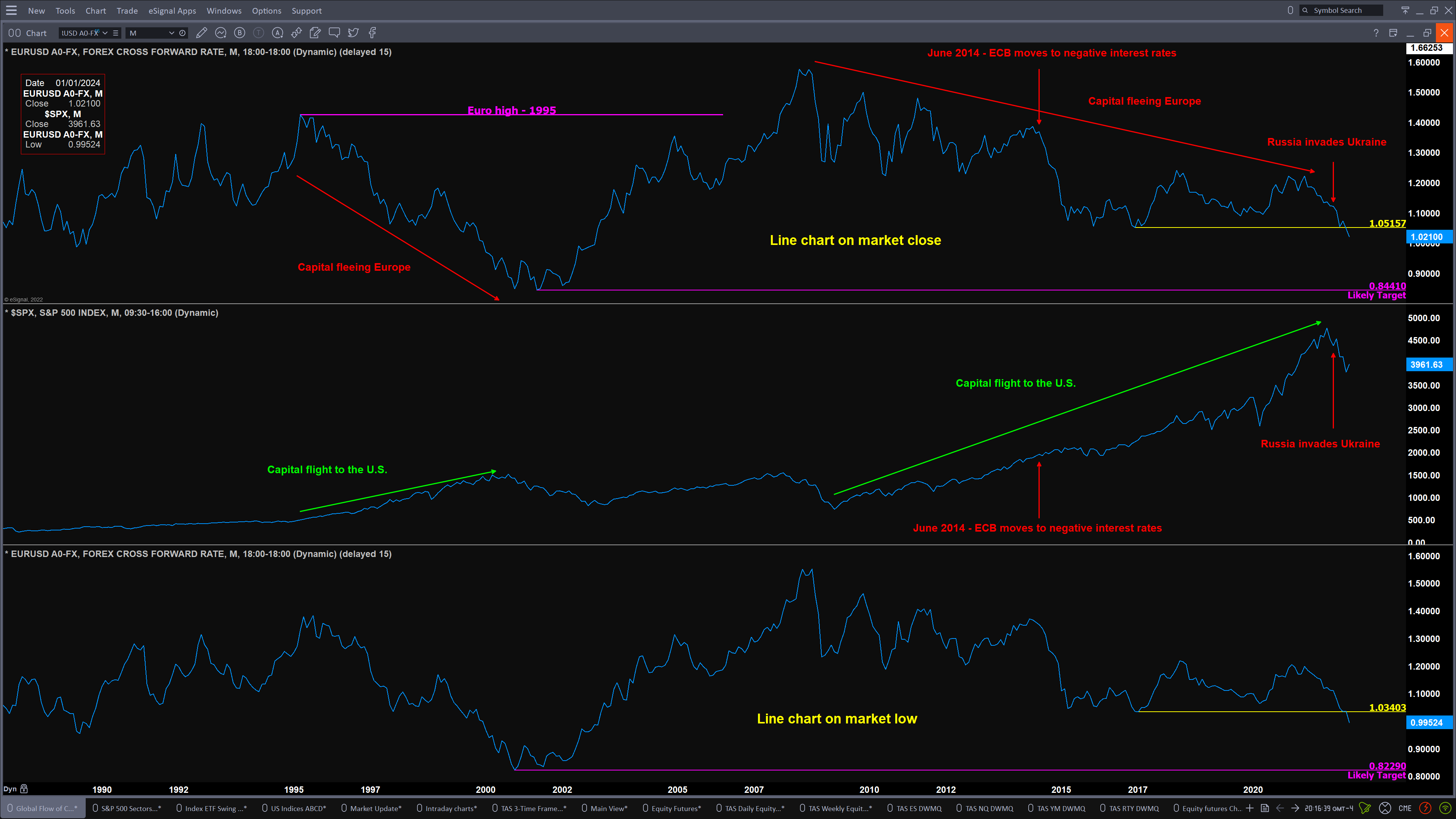 This happens to be a monthly chart for the S&P 500. The move higher in 2000, often referred to as the dot com bubble was really more about capital fleeing Europe to the U.S. The roaring 20's was really all about capital fleeing Europe, which is also what has been unfolding since 2008. I know that most analysts like to say that the bull market run since the 2009 bottom is being caused by the fed, but the fact is, capital has been fleeing Europe and when the ECB (European Central Bank) moved to negative interest rates, U.S. markets picked up steam to the upside. This chart shows that the euro is below its 2017 lows and thus the flight of capital out of Europe continues.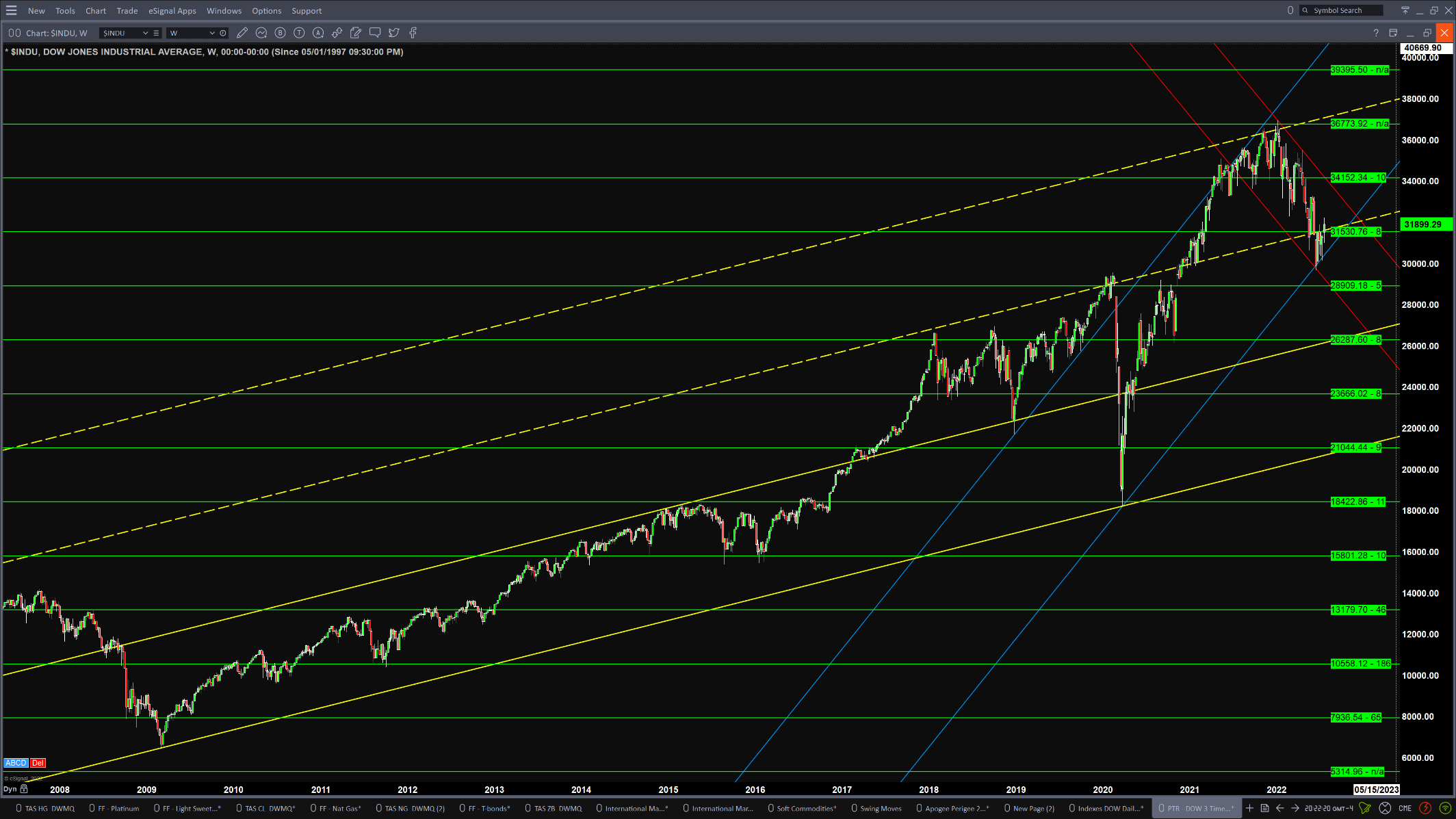 This is a weekly chart of the DOW with its horizontal and diagonal trading range boundary lines (HTR and DTR).
 We can see that price closed back above its weekly HTR at 31530 (green line). This brings the 34152 area into play, its next higher HTR.
 We can also see that price closed above its rising DTR (yellow dashed line) which also suggests a further move higher.
 Also noted on this chart is the current descending DTR for the current bear market (red lines). The top of the DTR would be another price target on a 2-month rally.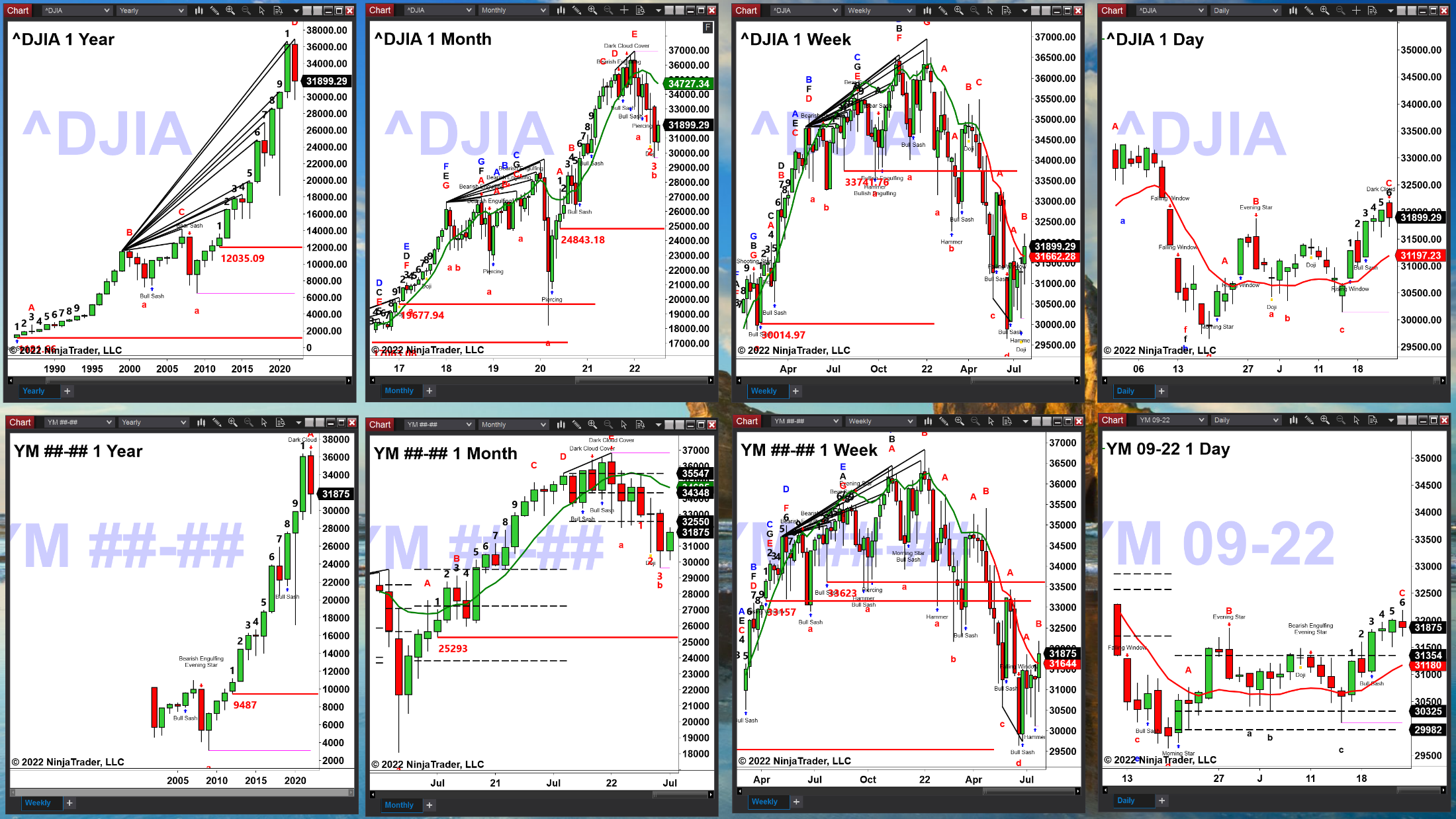 This set of charts looks at the DOW cash index (Dow Jones Industrial Average) as well as the DOW equity futures contract (YM). The black diagonal lines identify what I refer to as the Rhodes Momentum Indicator (RMI). Every bear market in history has formed with a RMI present for either the daily , weekly or monthly time frames. The monthly time frame had a confirmed RMI top and four weeks ago, the weekly chart confirmed a RMI bottom and therefore with price now above resistance, its OUL (red green line), it should lead to the 2-3 week rally, or more likely a 2-3 month rally.
Click here to try out my newsletter Mastering Probability now with a 30-day money back guarantee!
Disclaimer: Trading in securities such as stocks, options, indexes, currencies, and futures involve risk and should not be undertaken without due diligence and serious independent study. Options, stocks, currencies, and futures trading, involve substantial risk. Subscribers may carry out their trading based on what they learn from "Mastering Probability" however all risks of potential financial losses are the customer's responsibility. TFNN, Corp. and/or Steve Rhodes will be in no way liable for financial losses resulting from trading decisions based on this newsletter. Past performance is no guarantee of future results. Reproduction in whole, or in part, is not permitted without prior written consent. Copyright 2022 all rights reserved.