Rocket - Correct Update - KSS, WMT, HD 11-16-20
Trading Update - November 17, 2020
HD, WMT, and KSS are all out with their numbers this morning. Our two credit spreads are looking good. HD had amazing numbers but is showing weakness as expected. WMT also had great numbers and is trading up a bit. KSS is trading flat to lower on their numbers, which were pretty much in line with expectations.

Home Depot reported Q3 US same-store sale up 24.6%, estimate was 19.3%. HQ Q3 sales were $33.54 Billion vs. $31.83 Billion expected. Q3 EPS $3.18 vs $3.05 estimate.

WMT posted Q3 EPS of $1.34, estimate was $1.19; Revenue at $134.7 Billion vs $131.5 Billion; Comp sales of 6.4% vs Estimate of 4%.

We will look to close our two credit spread trades in HD and WMT on the open - they've both moved in our direction while the earnings premium will be sucked out - let the markets open for a few minutes then look to close both of these options trades for a profit. The bid/ask spreads can be very wide on out of the money options when the market opens following their earnings release - these credit spreads should only cost us pennies to close. I will send out an update early this morning - but I don't want you to wait for me to exit this trade if given the option for almost our max profit achieved overnight.

KSS needs more action to the upside for our position - when the market opens place an order to sell our call spread at breakeven of $1.16 - we will need the equity to spike higher on the open for this to get hit but anything is possible the morning following earnings. KSS posted adj EPS of $0.02 when the market was looking for a loss of ($0.43) per share. Kohl's same-store slaes down 13.3% vs. down 11.7% estimate; Revenue of $3.979 Billion vs expectation of $3.884 Billion. KSS also reinstated their dividend in first half of 2021. KSS is trading down slightly at $25.65 as of 7:45 am EST.

Stay tuned for updates!

Options Trades:
Sold a HD Nov 20th $285-$287.50 call spread for $0.47 credit. ( Max profit $47 - Max loss $203)
Sold a WMT Nov 20th $146-$147 put spread for $0.23 credit. (Max profit $23 - Max loss $77)
Bought a KSS Nov 20th $26.50 - $31.00 call spread for $1.16 debit. (Max loss $116 - Max profit $334)

Short Term portfolio:
None

Long Term portfolio:
Long half position in DIS at $118.63. Disney is trading at $144.67. Stop is $98.45.
Long half position in UBER at $31.50. Uber is trading at $49.21. Stop is $26.24.
Long half position in MCD at $216.91. MCD is trading at $216.73. Stop is $189.50.


Timer Digest Signals: S&P: Bearish Gold: Bullish Bonds: Bullish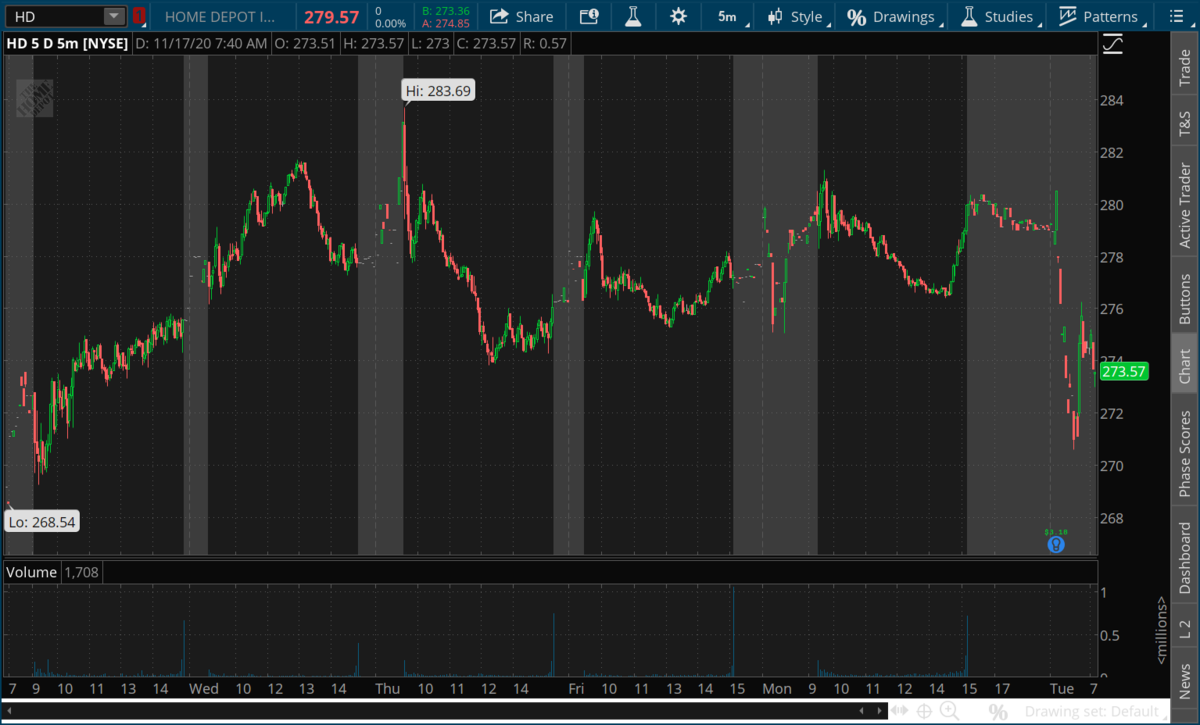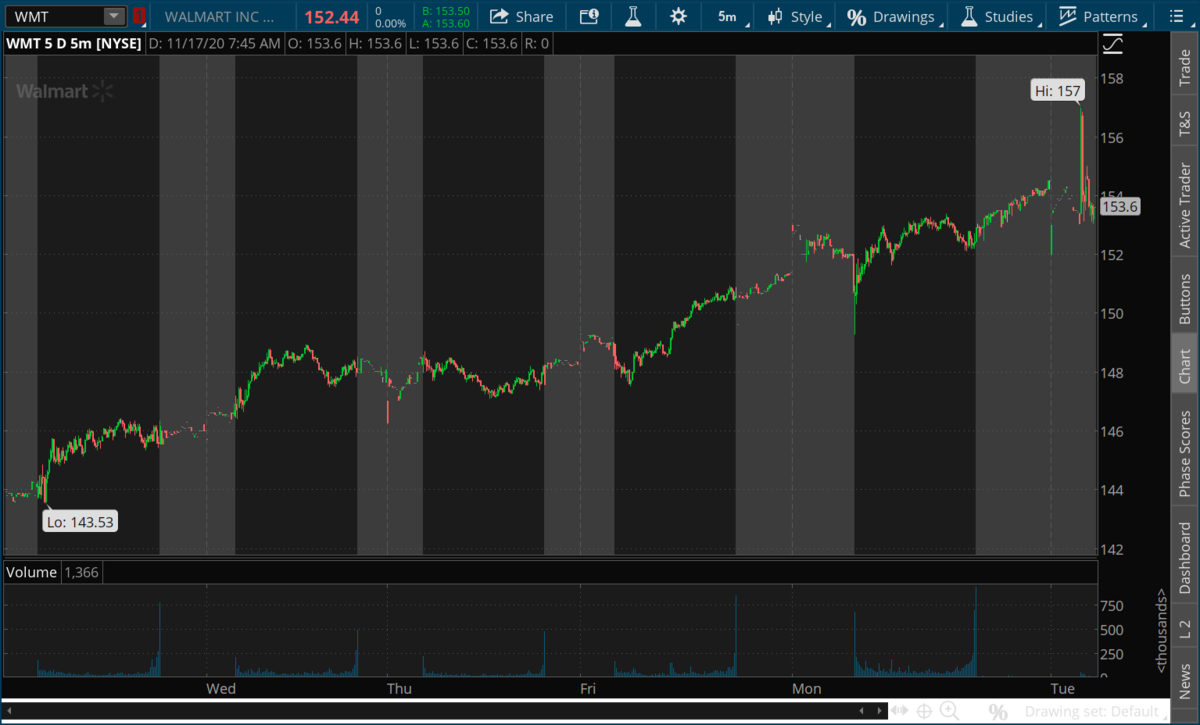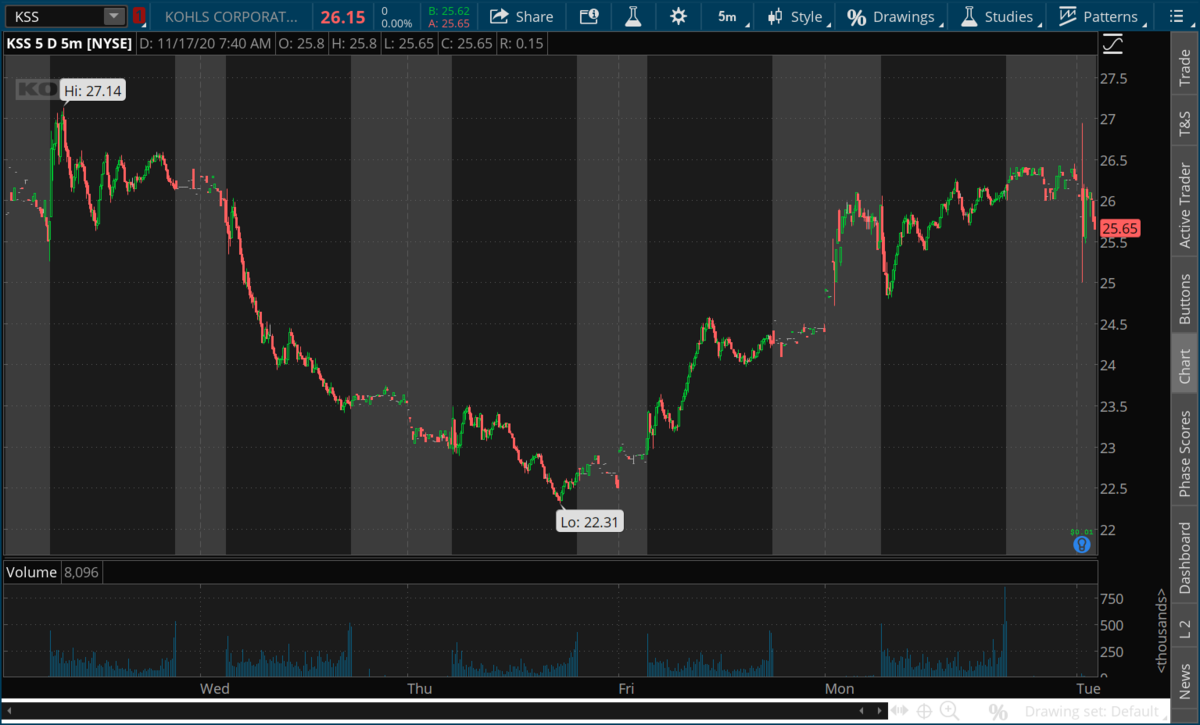 Disclaimer: Trading in securities such as stocks, options, indexes, currencies, and futures involve risk and should not be undertaken without due diligence and serious independent study. Options, stocks, currencies and futures trading, involve substantial risk. Subscribers may carry out their trading based on what they learn from "Rocket Equities & Options" however all risks of potential financial losses are the customer's responsibility. TFNN, Corp. will be in no way liable for financial losses resulting from trading decisions based on this newsletter. Past performance is no guarantee of future results. Reproduction in whole, or in part, is not permitted without prior written consent. Copyright 2020 all rights reserved.