Rocket Equities & Options Report New Buy 02-01-21
Monday Report - February 1, 2021
New buy in long term equity portfolio - WMT

We are buying half a position in WMT today for our long term equity portfolio. WMT is now valued at $399B market cap. On a relative fundamental business, I see a great deal of room for them to grow. On a technical basis, WMT has pulled back to confluence.

WMT has now pulled back about a .382 from the run that began on July 7th of last year, and almost a .618 from its run that began on August 27th. This is called confluence; when 2 different Fibonacci retracement areas exist at the same price level. This level is right at about $140, where WMT closed Friday. Buy WMT at the open with a half position. I emphasize a half position, because we saw last week the very real threat that the market accelerates lower on a broad basis and there is no need to step in with a full position right now.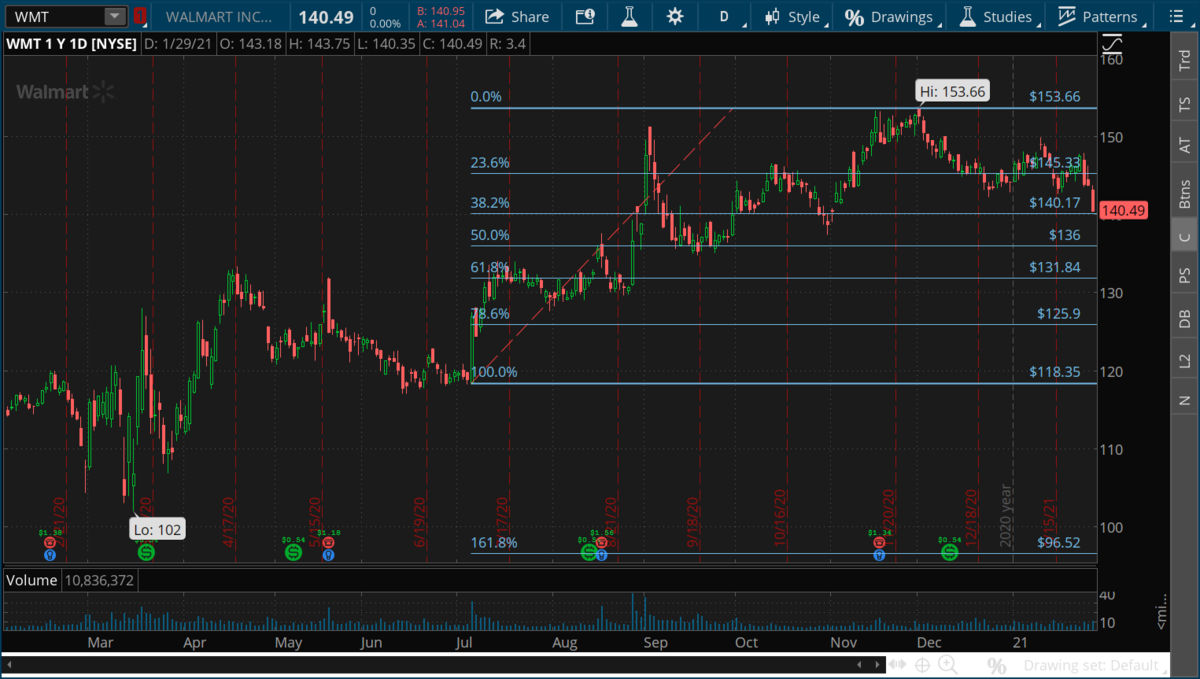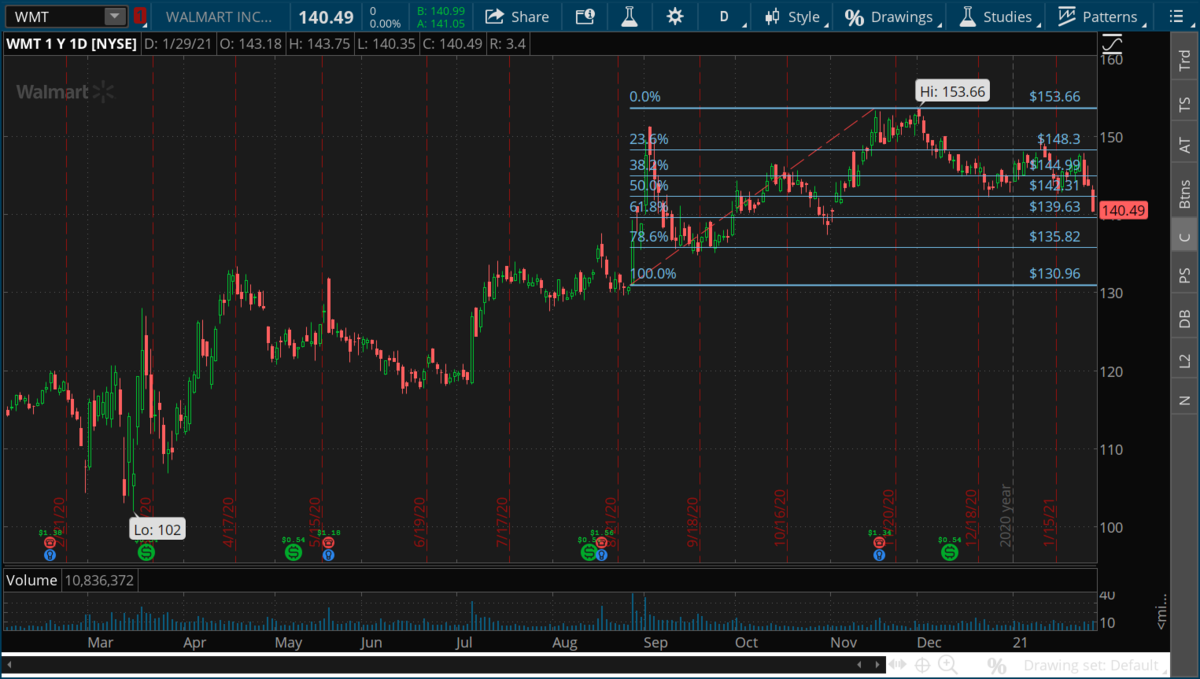 The S&P Futures are positive about 40 points or 1% right now, up almost 90 points from the lows of last night. Volatility is here to stay for a bit. On a daily basis you can see how marginal the pull back has been so far in the S&P. This is still a big week of earnings and news, with AMZN & GOOG after the close Tuesday, among many other notable companies, and we also get the January jobs report out Friday morning.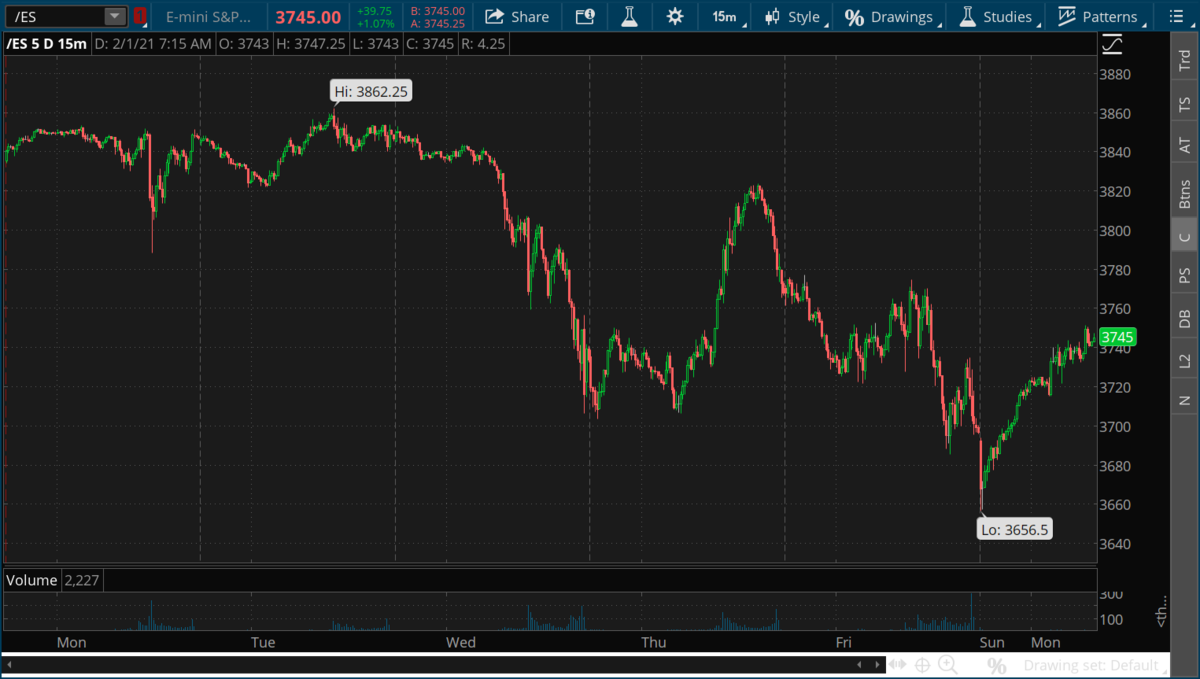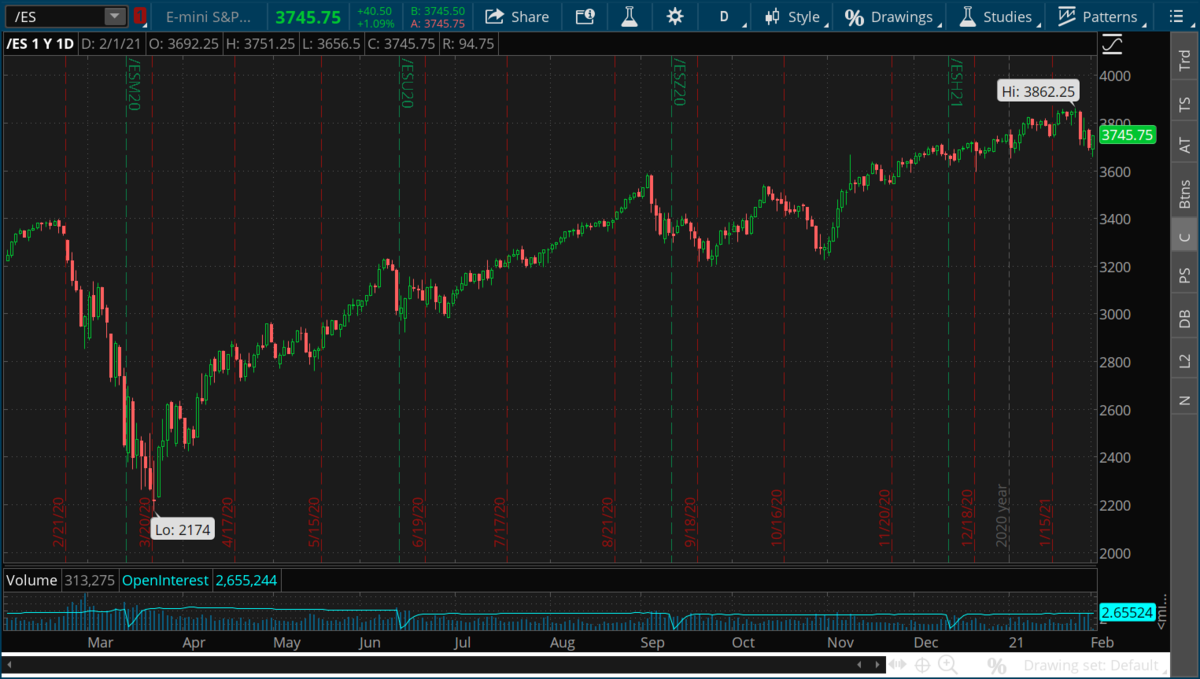 VIX still above 30 this morning with markets up more than 1%.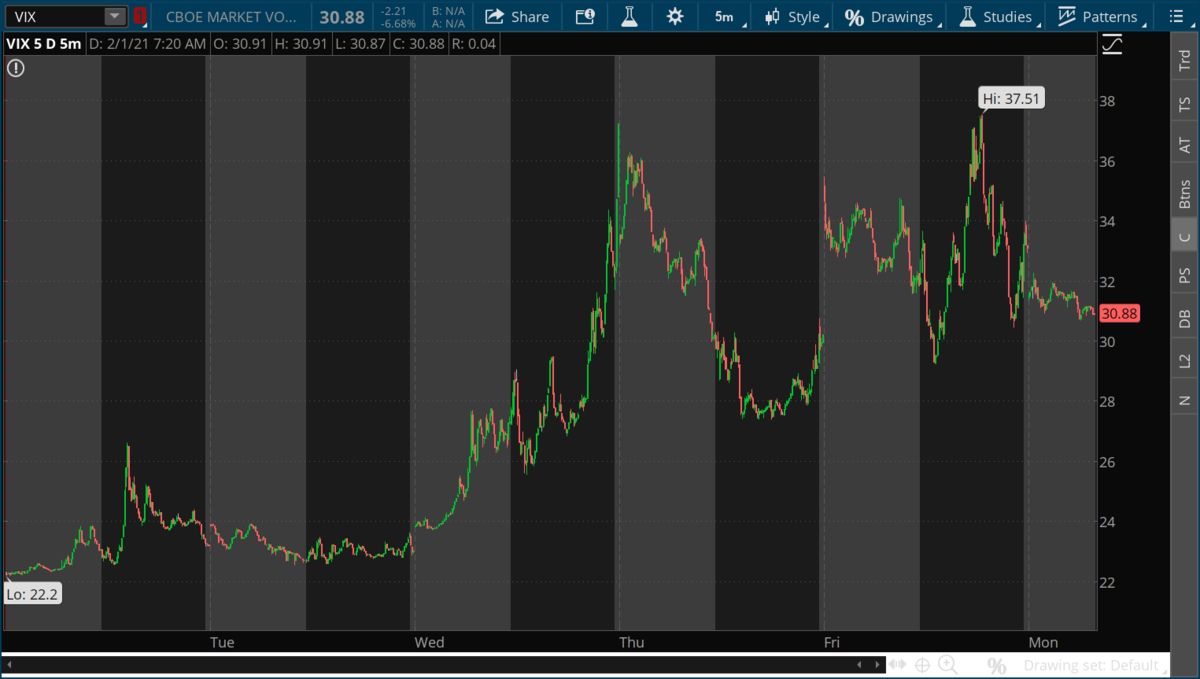 The Reddit WSB traders seems to have set their sights on Silver and the market is rocking this morning. Be careful in this market if you're trading it as we've seen the types of moves that are possible in both directions. When trading a commodity, the volatility swings could be even harsher than in equities.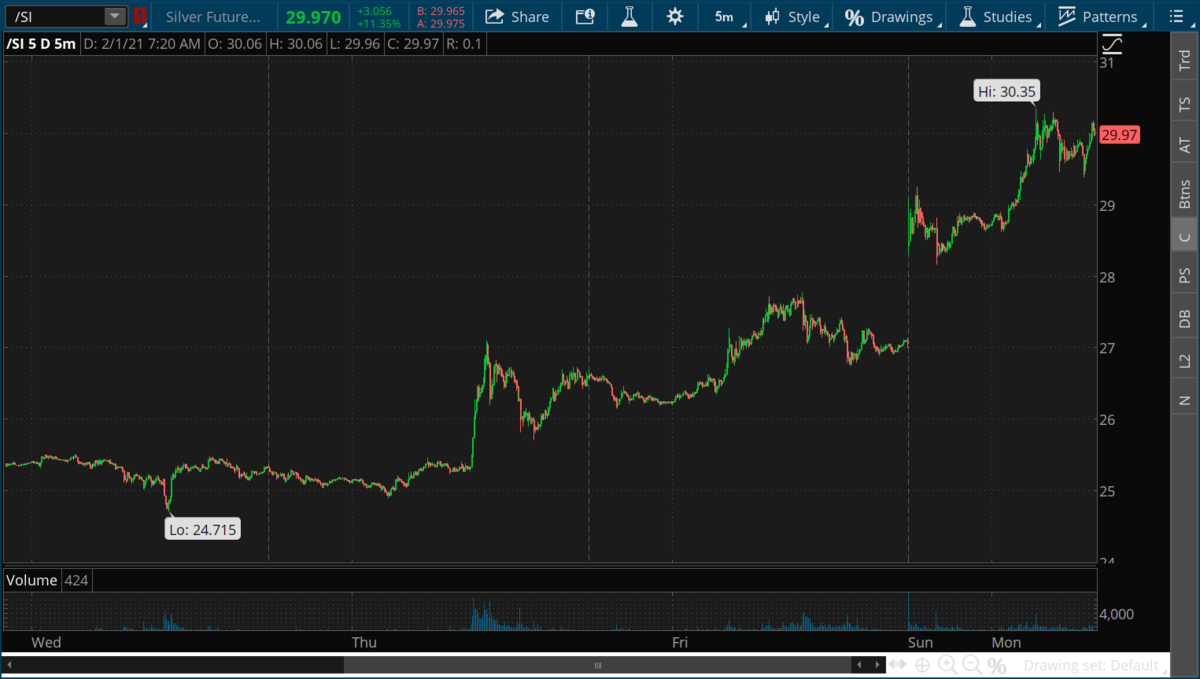 Disney traded down to almost $160 last week before bouncing - the risk is that it comes back to full the gap at about $158, which would be a .382 retracement from the run that began in November. Longer term, I see a nice acceleration in Disney once their parks are able to resume some form of normalcy and movie theaters open back up. We are staying in this equity for the foreseeable future.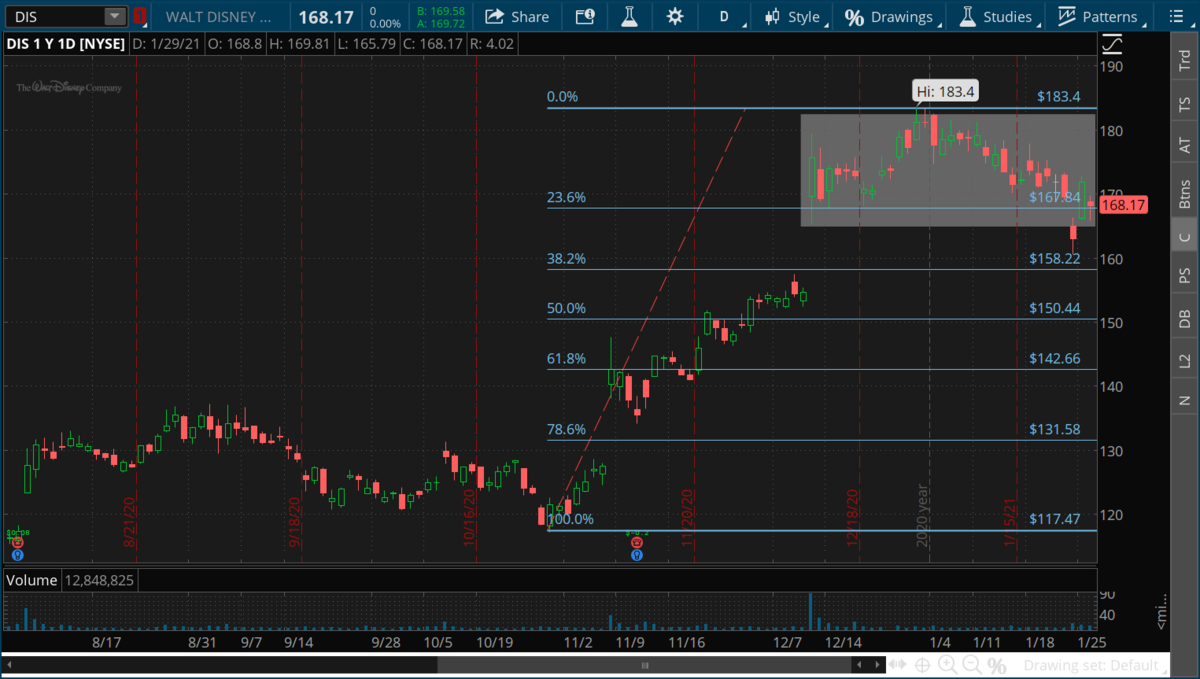 Uber continues to consolidate in this area from $48 to $55. Uber continues to show that it wants higher price with volume at or near the highs.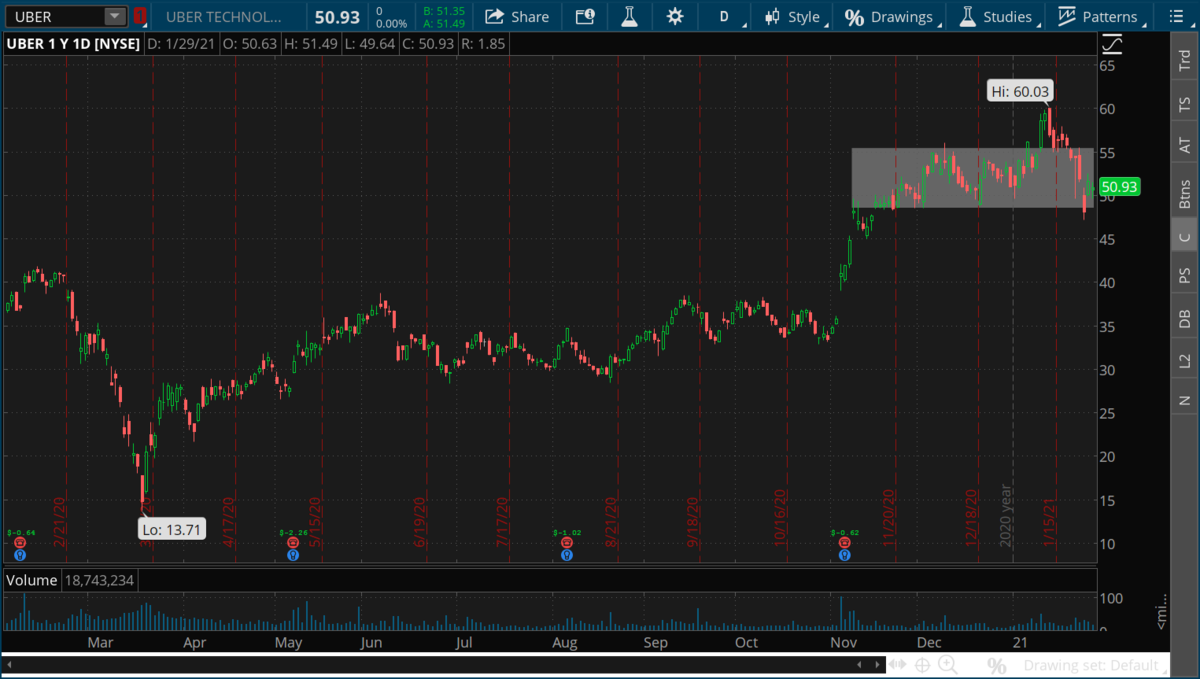 MCD traded nicely Friday with almost a $5 bounce from its low of $203.11 mid-day to close at $207.84. MCD is trading above $209 this morning.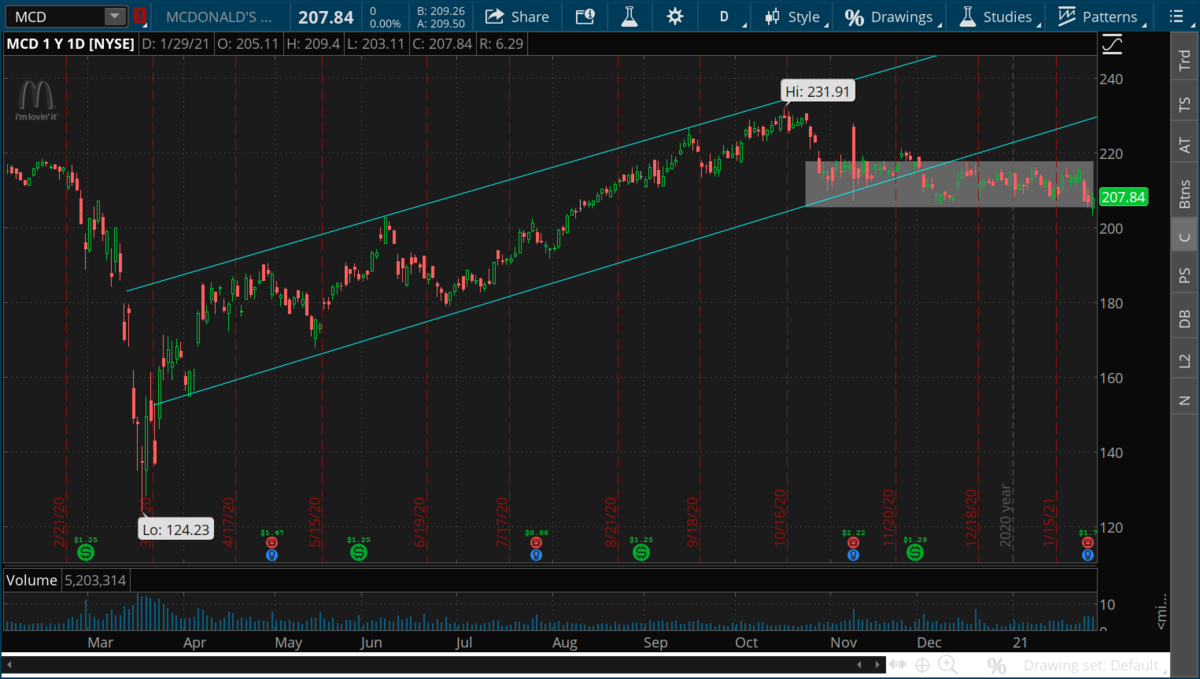 CRM continues to trade nicely, above its recent fill of its gap, which is also the exact .382 retracement from its entire run from March to the $284.50 hihg.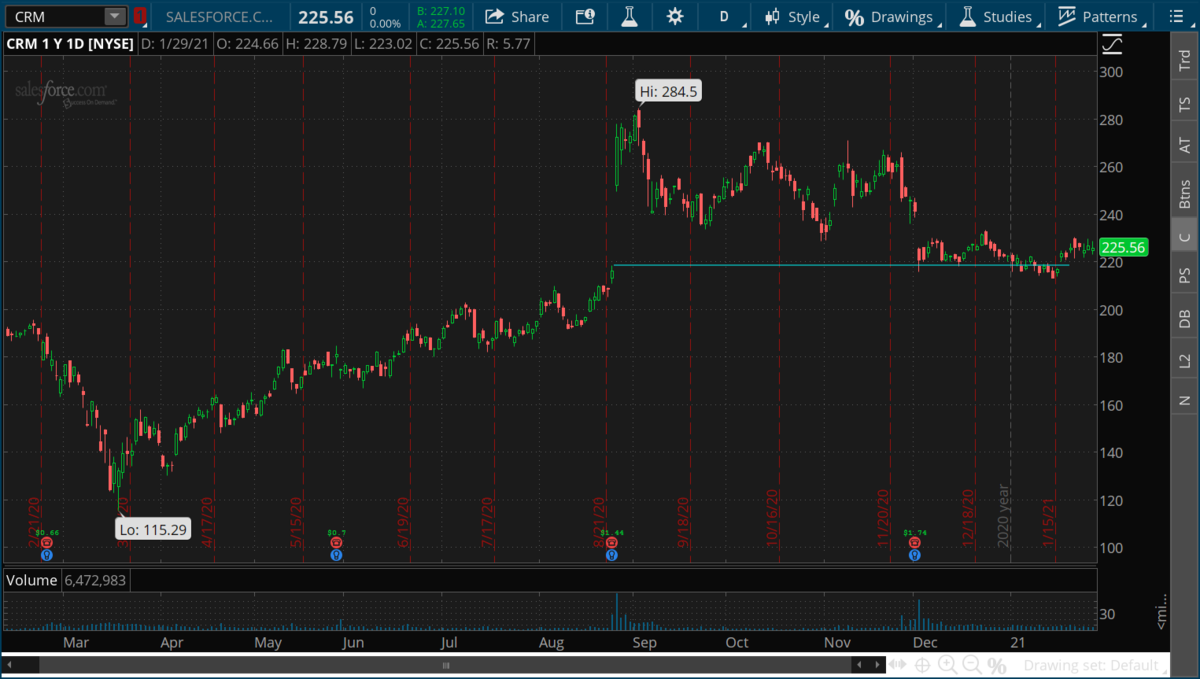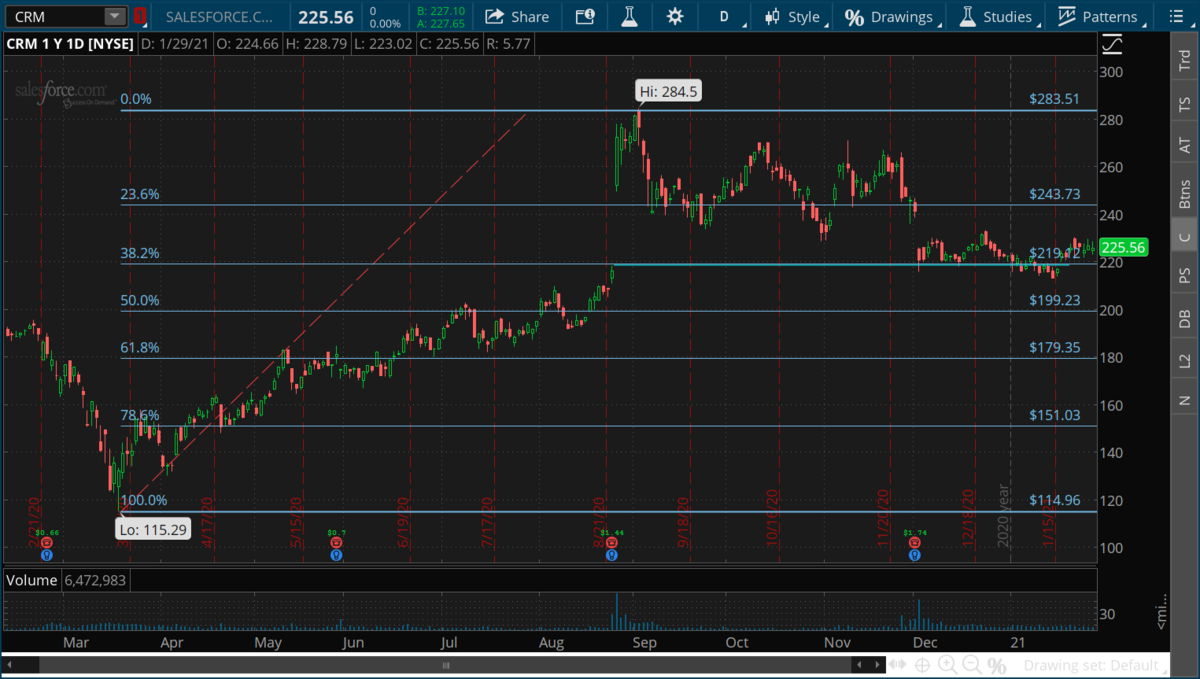 Options Trades that expired Friday:
AAPL $155 - $157.50 Credit Call Spread for $0.40 credit ($2.10 max risk). Expired Friday for a $0.40 or 19.05% profit.

Short Term portfolio:
None active

Long Term portfolio:
We are buying half a position in WMT today at market open. I will update with a stop shortly. WMT is trading at about $141 pre-market this morning.
We are effectively long CRM at $215.35. CRM is trading at $227.30. Stop is $193.64.
Long half position in DIS at $118.63. Disney is trading at $169.49. Stop is $98.45.
Long half position in UBER at $31.50. Uber is trading at $51.44. Stop is $26.24.
Long half position in MCD at $216.91. MCD is trading at $209.26. Stop is $189.50.
Disclaimer: Trading in securities such as stocks, options, indexes, currencies, and futures involve risk and should not be undertaken without due diligence and serious independent study. Options, stocks, currencies and futures trading, involve substantial risk. Subscribers may carry out their trading based on what they learn from "Rocket Equities & Options" however all risks of potential financial losses are the customer's responsibility. TFNN, Corp. will be in no way liable for financial losses resulting from trading decisions based on this newsletter. Past performance is no guarantee of future results. Reproduction in whole, or in part, is not permitted without prior written consent. Copyright 2021 all rights reserved.