Rocket Equities & Options 03-22-21
Monday Report - March 22nd, 2021
Markets have started Monday trading higher, as yields have pulled back a bit. The 10 Year Note is currently yielding 1.695%.

We sold 2 credit spreads in FIVE and FDX last week - they both moved quickly against us after earnings, yet were were able to get out of one position with a small loss and other position breakeven. You can see how selling these credit spreads when there are large amounts of volatility priced into the premiums affords you the ability to absorb some of the moves even when the share price goes the wrong direction. The one position we paid the premium for last week, NKE, expired for a loss. Anytime you are buying an out of the money option you have to realize that you're going to make money less than 50% of the time. It's not easy mentally making trades that you know you will most likely lose, but as long as we keep our risk vs. reward in place, then when those trades do come in for us, the cumulative profitability will greatly outweigh the losses we incur.

DIS is trading at $194.70. We bought DIS at $118.63. DIS is trading just off its all-time high as the market waits for the actual opening of Disney Land in California, as well as Disney World in Orlando getting back to normal business. Movie theaters still have a few months until showings start delivering thriving crowds this summer. Disney is well within its uptrend channel and is looking to trade to the $226 price area.

CRM is trading at $215.42. We bought CRM at $215.35. CRM traded mixed last week, and it positive today with yields pausing their rise. CRM has shown nice support at about the $205 price area, which correlates to the breakout area from August of last year. We want to see CRM get back above the low made on Feb 26th of $216.34, which had large volume. This correlates closely to the low from December 2nd, which is at $215.63. We want to see CRM accelerate back above both those price points with volume.

WMT is trading at $131.44. We bought WMT at $140.91. WMT is still trading within its wide bar from its breakout area on August 27th, which traded almost 40 million shares. The $135 price area in WMT acted as support back in September, and we may see that area now act as a bit of resistance. We want to see WMT accelerate above the recent high of $134.75 made on March 15th. If WMT rises above this level with volume then we will be in an ABC up to $138.50 area, which is also right near the low made on February 1st. The $140 area also correlates to a couple of gaps on a daily basis that could provide some resistance. WMT is perfectly positioned to benefit from the stimulus bill passed, while providing some exciting growth prospects through their goals of starting a 'bank of Walmart'. WMT also has a dividend yield of 1.67% right now at this price level.

MCD is trading at $226.36. We bought MCD at $216.91. MCD continued its acceleration higher last week, breaking away from its consolidation area. MCD may see some resistance at the $227.85 price area, which is the high from November 9th. We want to see is trade through this area with strength, which would send it towards the all-time high of $231.91. MCD is now up more than 11% from the lows made just 12 trading days ago. You can see how every equity in this market is vulnerable to the volatility when it begins, even strong companies with solid dividends. MCD has a dividend yield of about 2.32% right now at this price level.

UBER is trading at $56.63. We bought UBER at $31.50. UBER traded higher with strength last week. UBER had pulled back a bit recently on optimism of the market opening back up, potentially hurting their food delivery business, but as I stated in last week's letter I saw this pullback as overstates, and the market corrected higher last week. Uber's food delivery business may take a bit of a short-term hit as we overcome COVID, but their ride sharing business is about to explode and the chart is pushing all time highs rightfully so. Next stop for Uber is its high of $64.05.

Earnings season is wrapping up, but we still have some companies reporting that are on our radar this week:

Tuesday: Adobe (ADBE) and GameStop (GME) after the close

Wednesday: General Mills (GIS) before the market open. Restoration Hardware (RH) after market close.

Thursday: Darden Restaurants (DRI) before the market open.

Stay tuned for updates!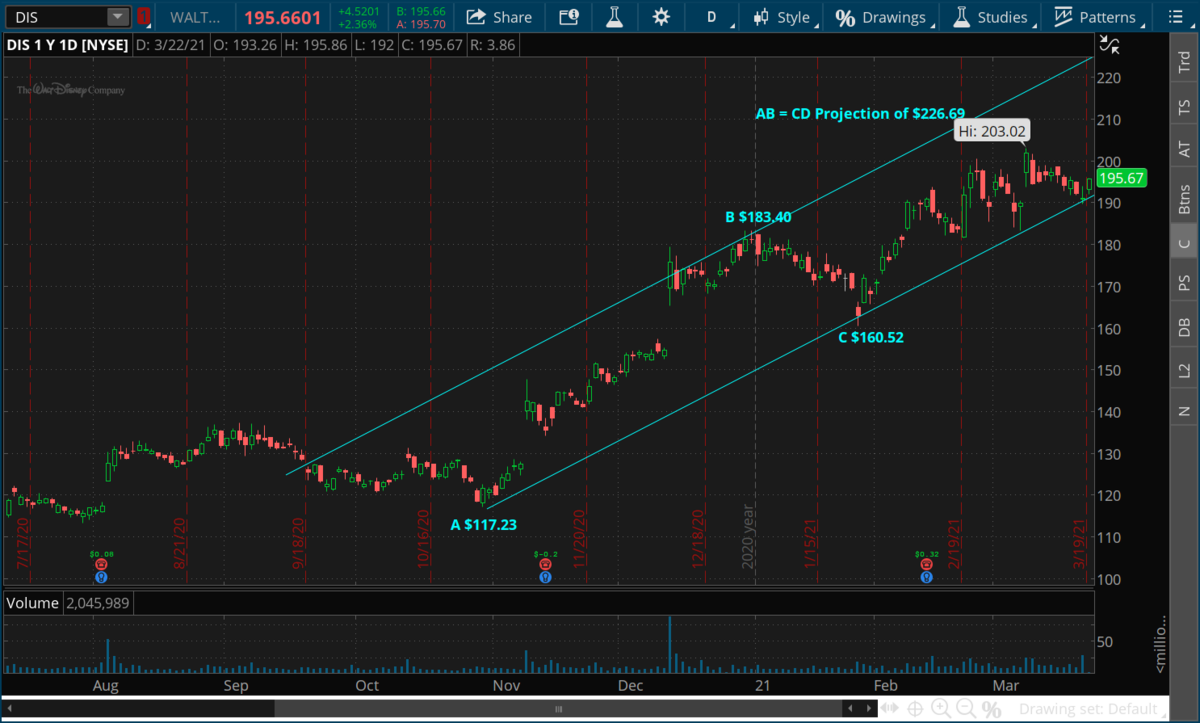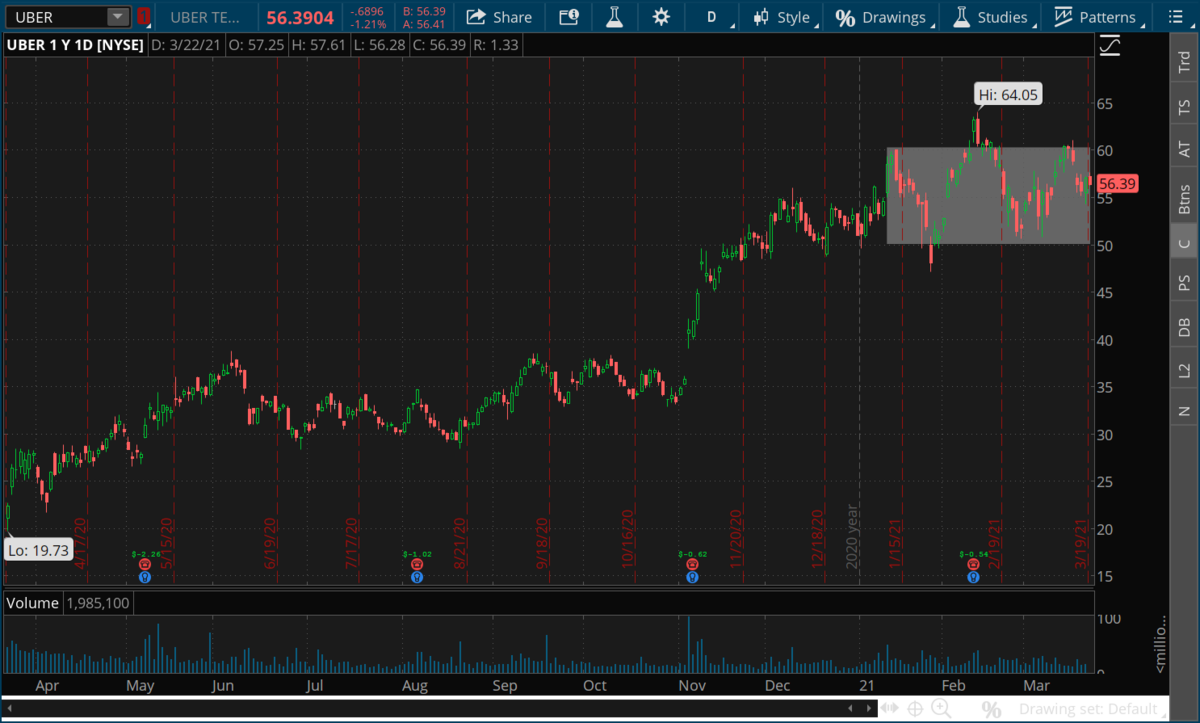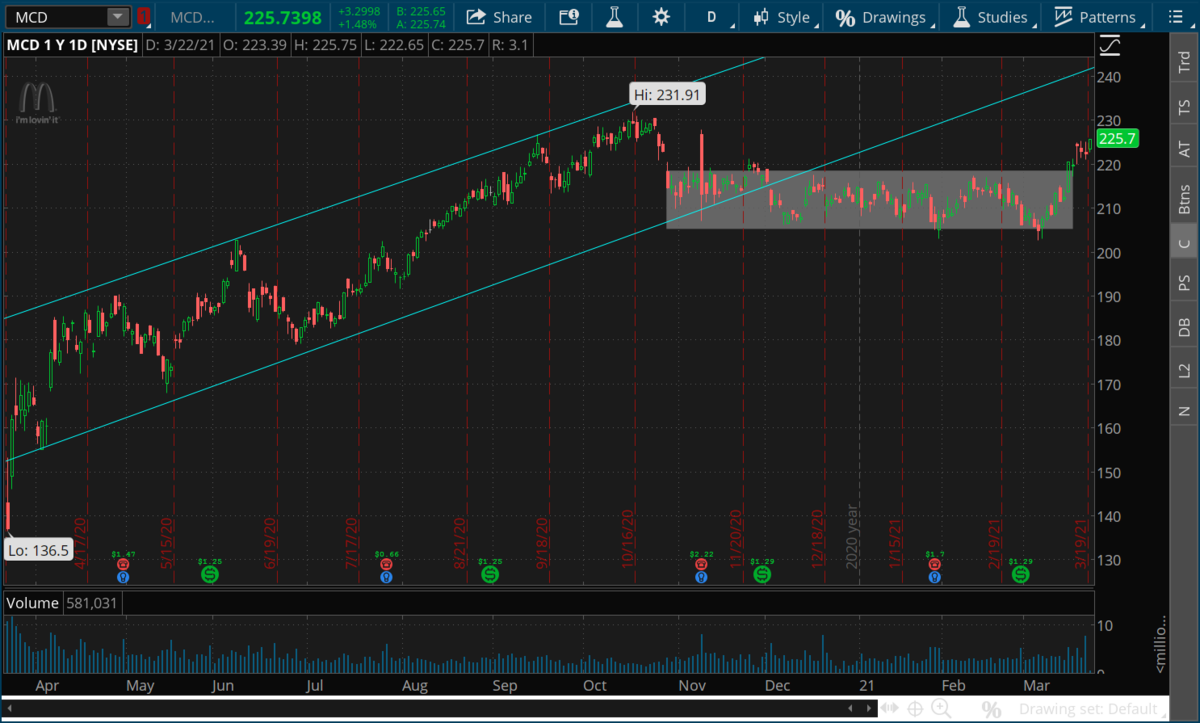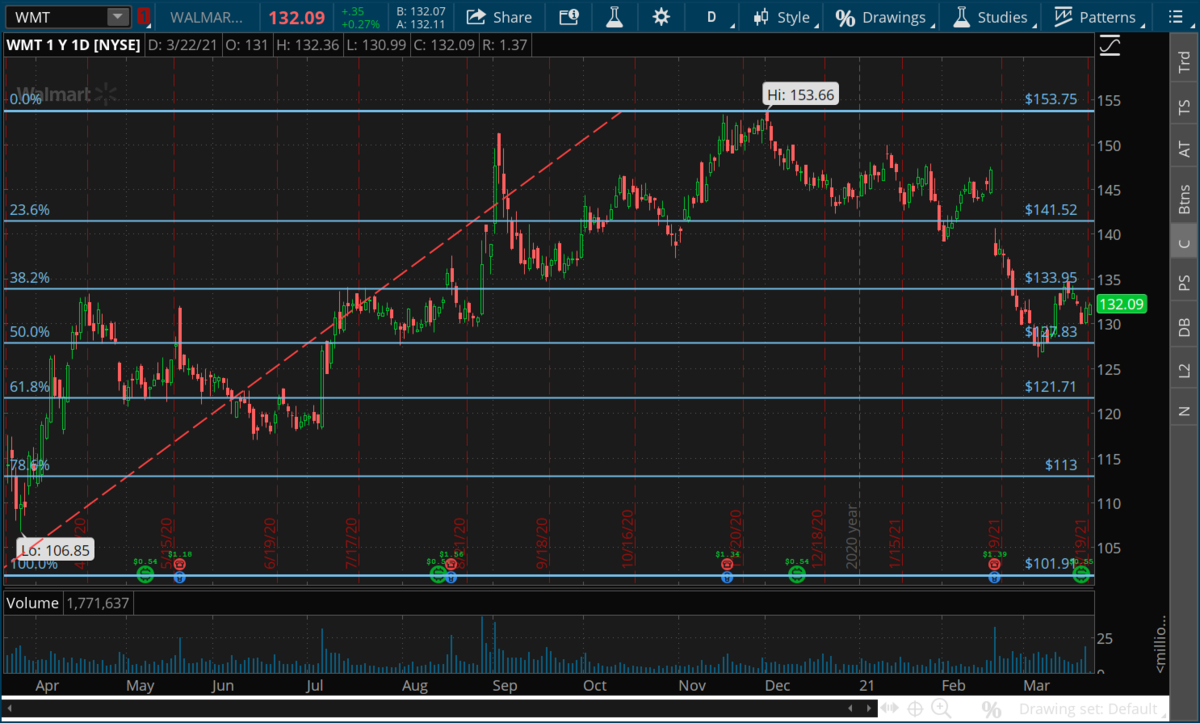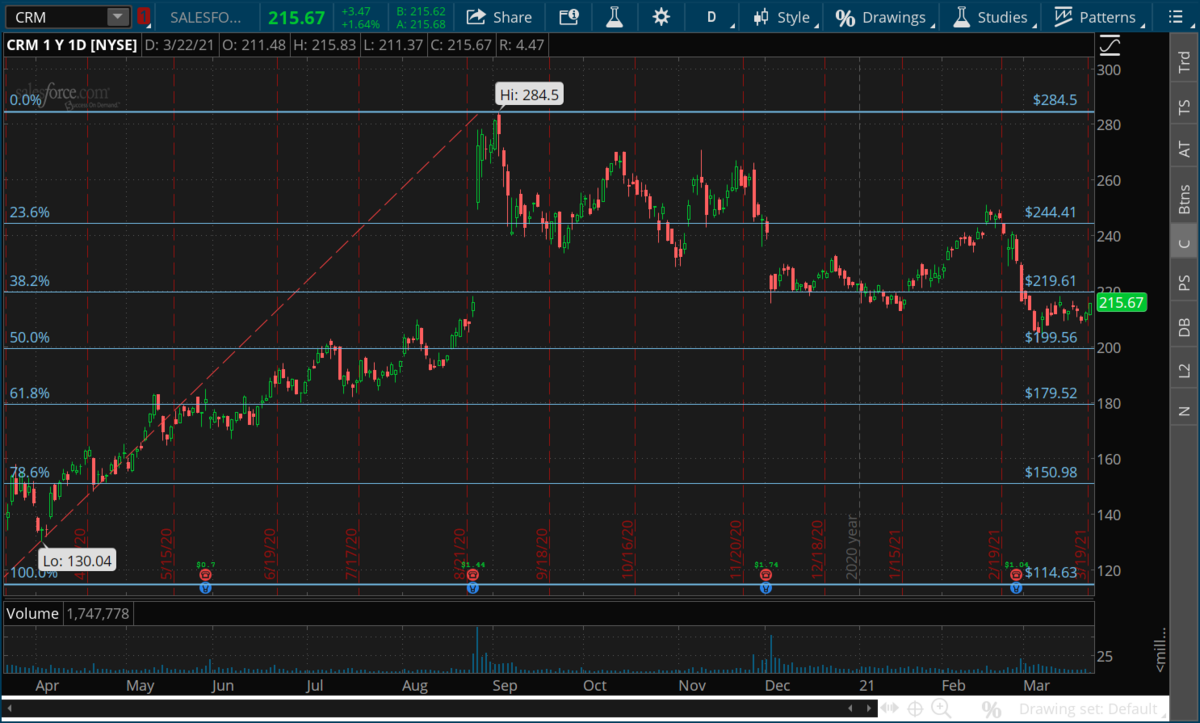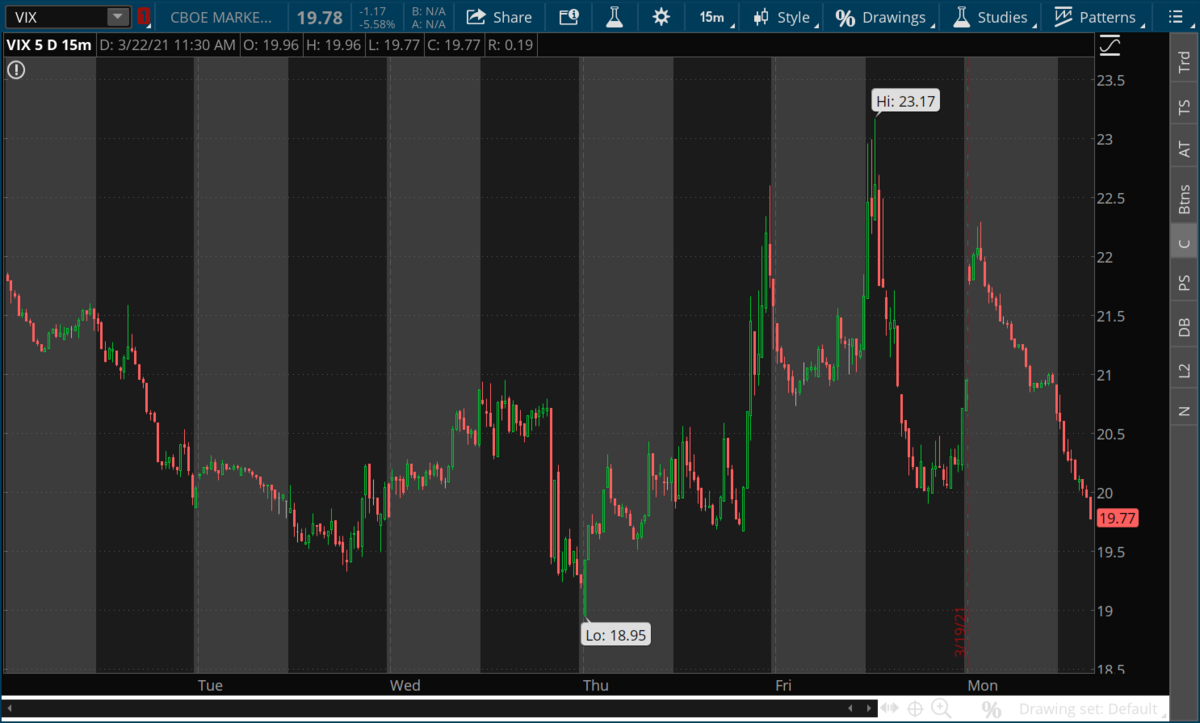 VIX daily near post-COVID lows made last week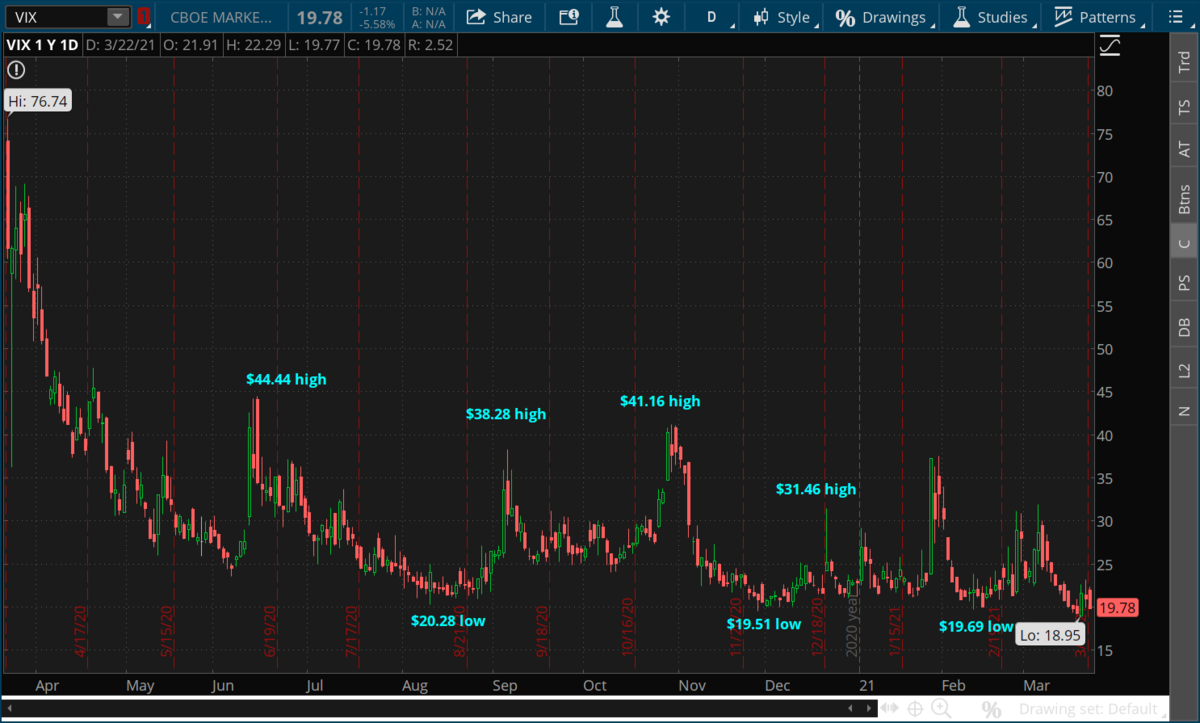 Gold - $1695-$1700 is support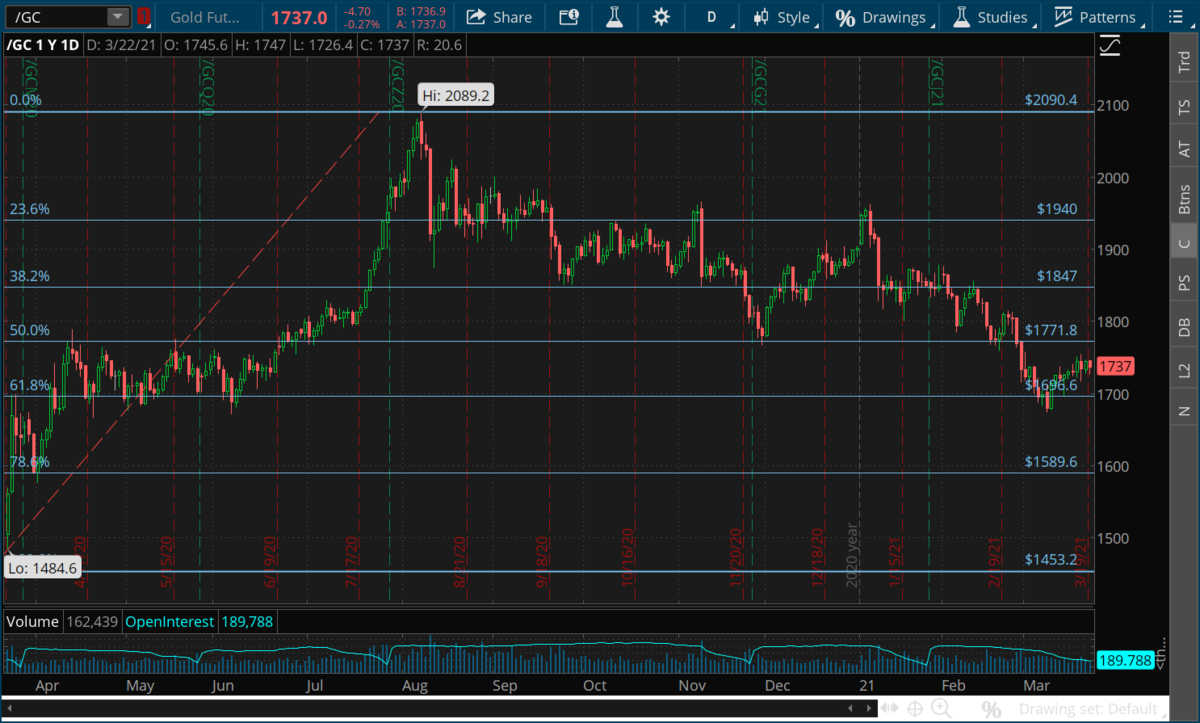 10-Year Note Daily Price Chart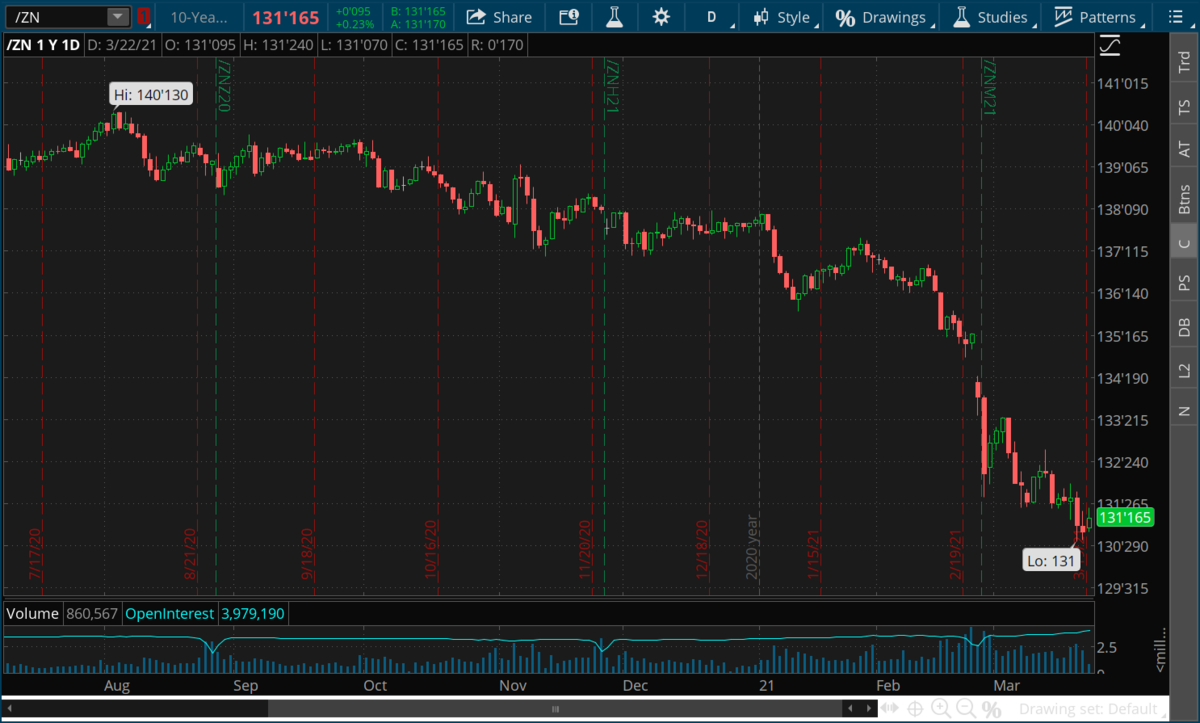 10 Year Note weekly chart back to the highs from 2019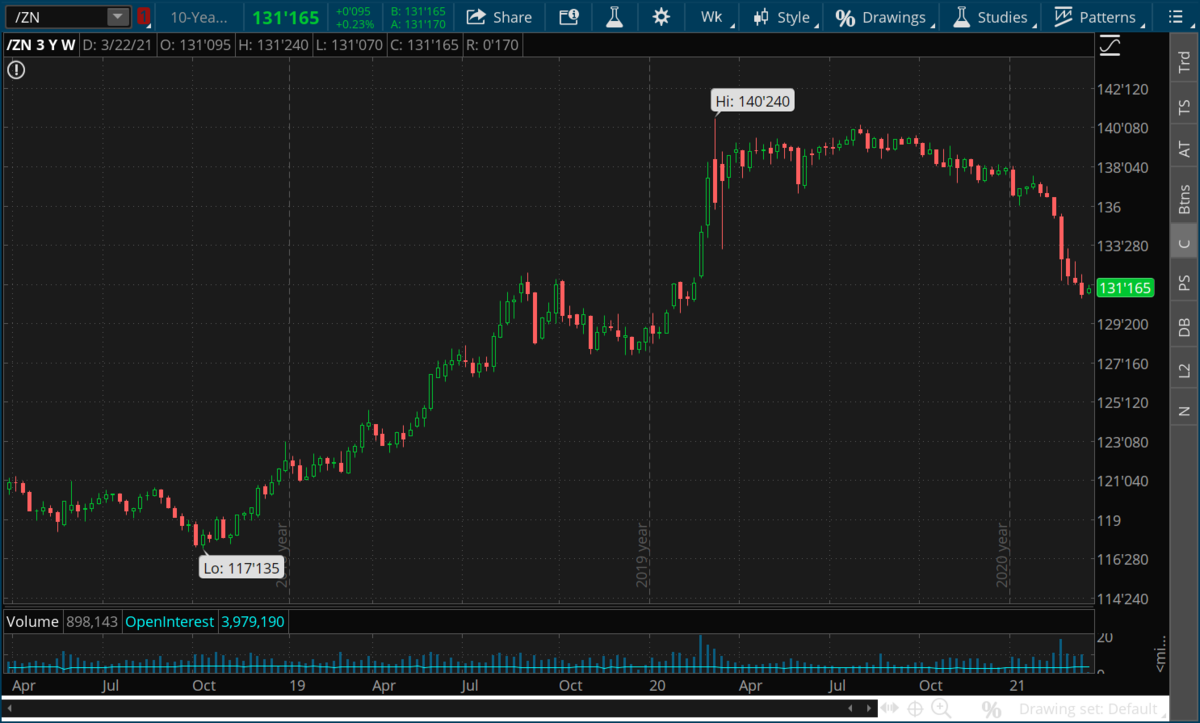 Options Trades Last Week:
Sold a FIVE Credit Call Spread $200 - $205 for $1.60. Got out at $2 for a $0.40 or 13.33% loss.
Sold a FDX Credit Call Spread $280 - $285 for $1 - got out for $1 for breakeven.
NKE Mar 19 Debit Call Spread $146 - $157.50 - expired for a loss of $2.45 or 100%.

Short Term portfolio:
None active

Long Term portfolio:
Long half position in WMT at $140.91. WMT is trading at $131.51. Stop is $125.31.

We are effectively long CRM at $215.35. CRM is trading at $215.47. Stop is $193.64.

Long half position in DIS at $118.63. Disney is trading at $194.12. Stop is $98.45.

Long half position in UBER at $31.50. Uber is trading at $56.49. Stop is $26.24.

Long half position in MCD at $216.91. MCD is trading at $225.75. Stop is $189.50.
Disclaimer: Trading in securities such as stocks, options, indexes, currencies, and futures involve risk and should not be undertaken without due diligence and serious independent study. Options, stocks, currencies and futures trading, involve substantial risk. Subscribers may carry out their trading based on what they learn from "Rocket Equities & Options" however all risks of potential financial losses are the customer's responsibility. TFNN, Corp. will be in no way liable for financial losses resulting from trading decisions based on this newsletter. Past performance is no guarantee of future results. Reproduction in whole, or in part, is not permitted without prior written consent. Copyright 2021 all rights reserved.