Rocket Equities & Options Report 03-29-21
Monday Report - March 29th, 2021
Markets have started Monday trading lower, with yields somewhat flat at 1.69% for the 10 year note. The market is closed Friday for Good Friday Holiday, so we have a shortened trading week.

CGC is trading at $31.84. We bought CGC last week at $31.68. CGC pulled back nicely to its .618 retracement from its recent run to highs of $56.50. NY legislators and the governor came to a deal last week regarding legislation, but actual sales may not begin in NY for the next year or two. Cannabis stocks are highly volatile right now as the market tries to figure out what multiples are appropriate for an industry still dealing with many legal obstacles, but this could be a nice entry. Keep your stop in place in this equity at $28.79. If the run higher is starting now then I don't expect we'll see this equity get below $29, if it does we'll sell and look to re-enter again at a later time.

DIS is trading at $184.42. We bought DIS at $118.63. DIS is trading just off its all-time high as the market waits for the actual opening of Disney Land in California, as well as Disney World in Orlando getting back to normal business. Movie theaters still have a few months until showings start delivering thriving crowds this summer. Disney broke its uptrend channel last week to the downside. We want to see Disney hold the $180 price area, where its show some support recently since its December 31st high of $183.40.

CRM is trading at $207.56. We bought CRM at $215.35. CRM traded lower last week with light volume. CRM has shown nice support at about the $205 price area, which correlates to the breakout area from August of last year. We want to see CRM get back above the low made on Feb 26th of $216.34, which had large volume. This correlates closely to the low from December 2nd, which is at $215.63. We want to see CRM accelerate back above both those price points with volume.

WMT is trading at $135.75. We bought WMT at $140.91. WMT is still trading within its wide bar from its breakout area on August 27th, which traded almost 40 million shares. The $135 price area in WMT acted as support back in September, and we are now back above that area. The next stop for WMT is the $140 area, whic correlates to a couple of gaps on a daily basis that could provide some resistance. WMT is perfectly positioned to benefit from the stimulus bill passed, while providing some exciting growth prospects through their goals of starting a 'bank of Walmart'. WMT also has a dividend yield of 1.63% right now at this price level.

MCD is trading at $225.34. We bought MCD at $216.91. MCD consolidated a bit last week as we near the highs made late last year of $231.91. MCD may see some resistance at the $227.85 price area, which is the high from November 9th. We want to see is trade through this area with strength, which would send it towards the all-time high of $231.91. MCD has a dividend yield of about 2.29% right now at this price level.

UBER is trading at $53.04. We bought UBER at $31.50. UBER traded lower last week on light volume, and continues to consolidate between about $50 - $60. Uber's food delivery business may take a bit of a short-term hit as we overcome COVID, but their ride sharing business is about to explode and the chart is pushing all time highs rightfully so. Next stop for Uber is its high of $64.05.

Earnings season is wrapping up, but we still have some companies reporting that are on our radar this week:

Tuesday: Lululemon (LULU) after the close

Wednesday: Walgreens (WBA) before the market open. Micron (MU) after market close.

Thursday: Carmax (KMX) before the market open.

Stay tuned for updates!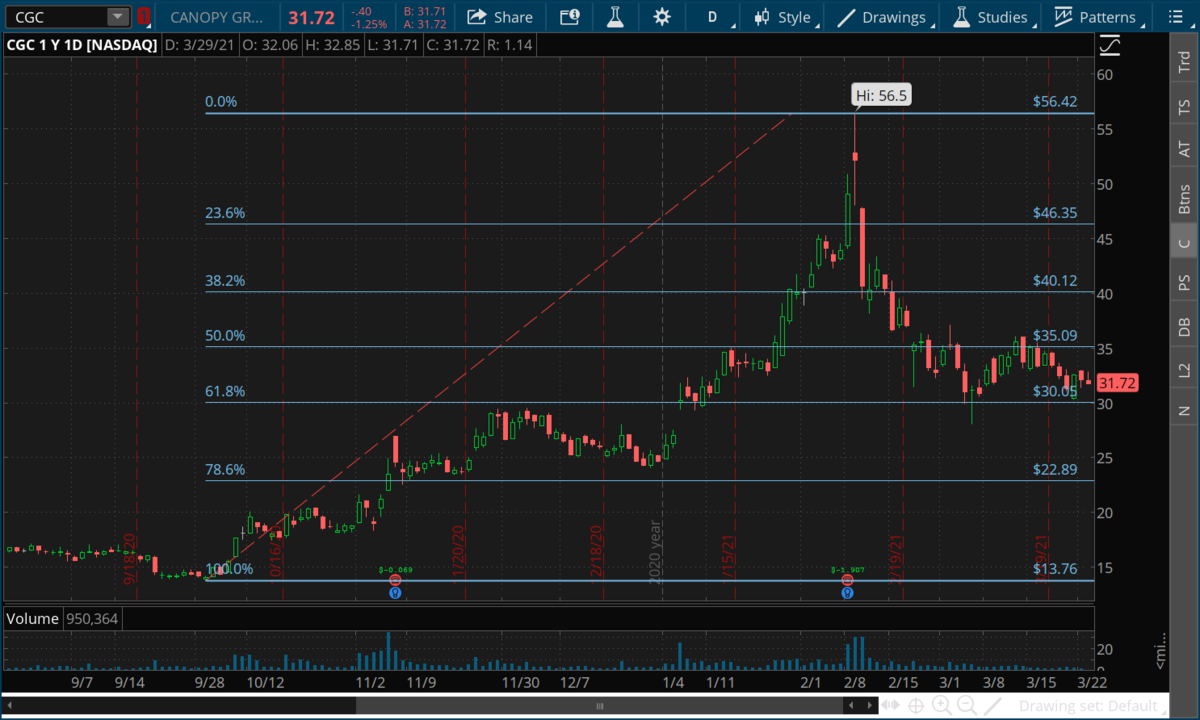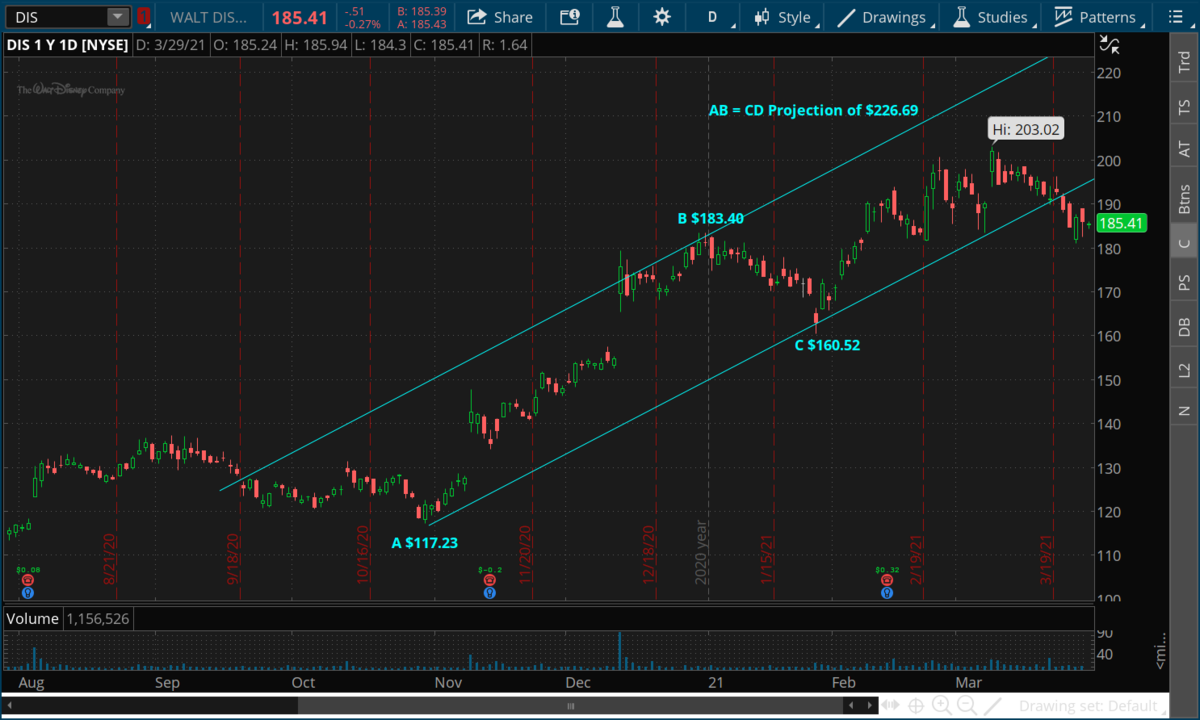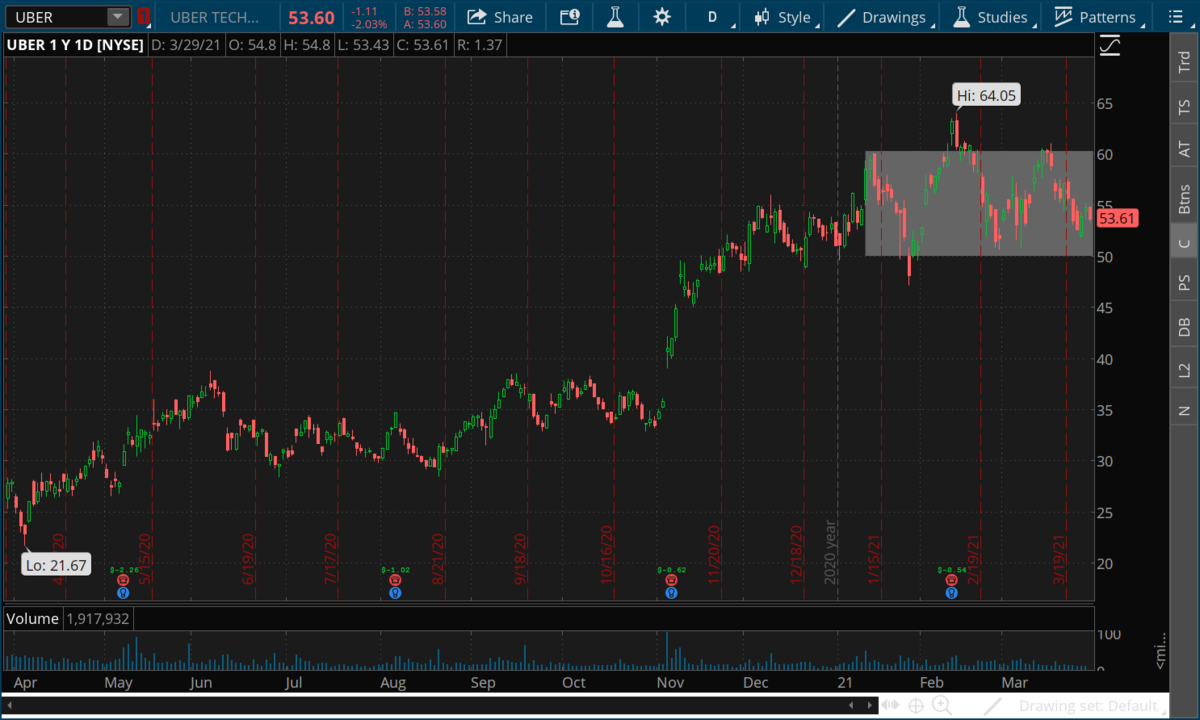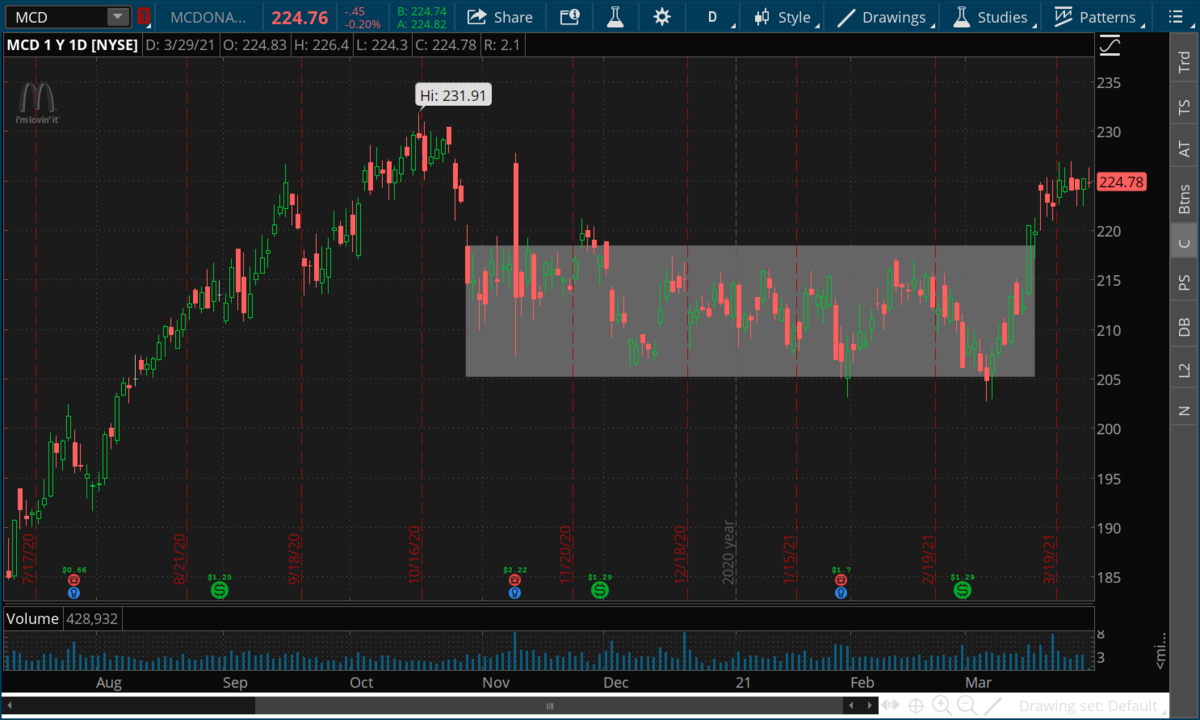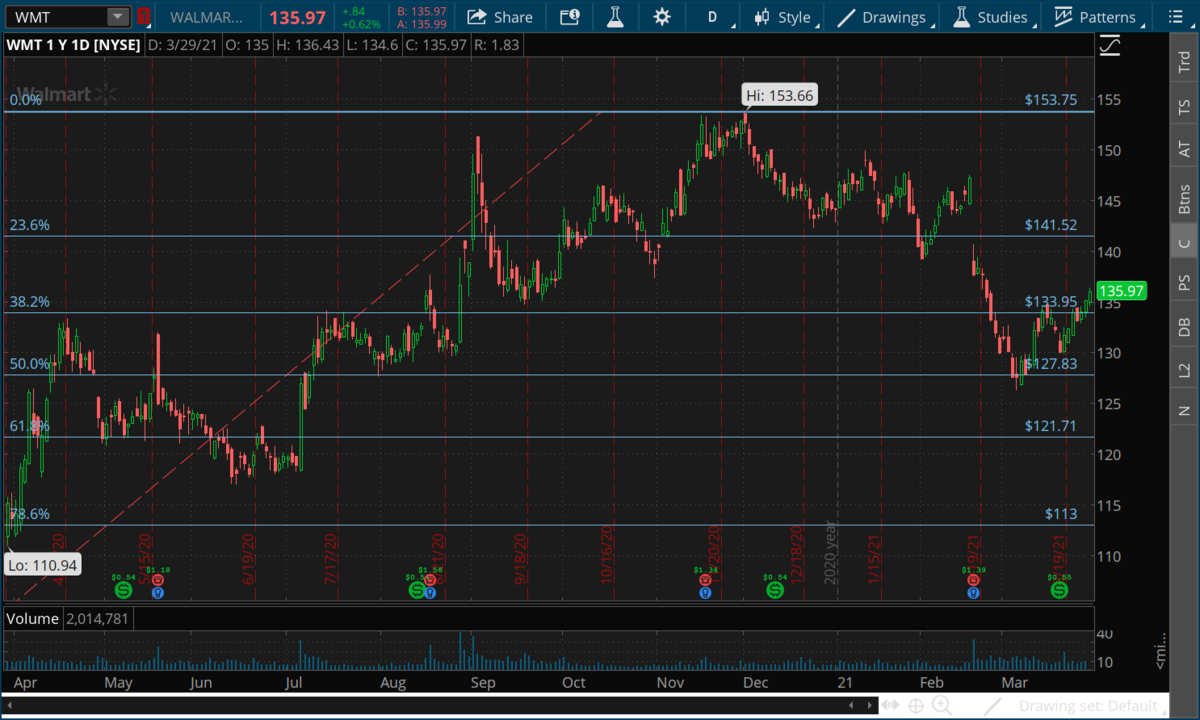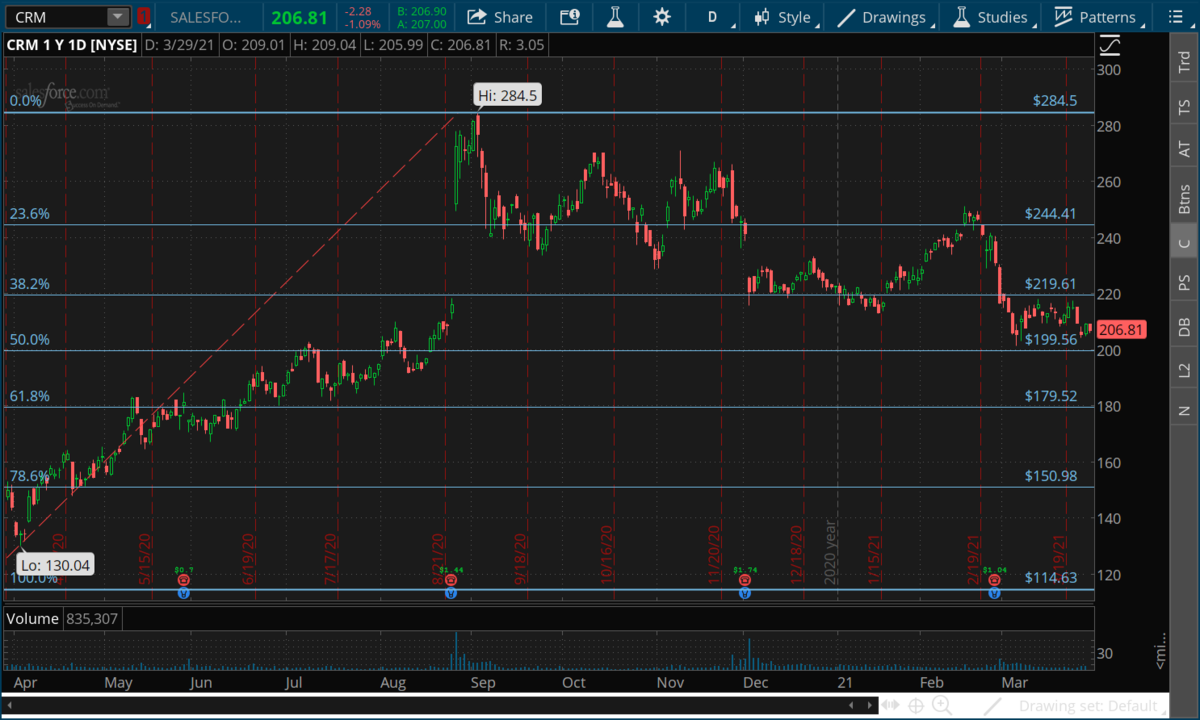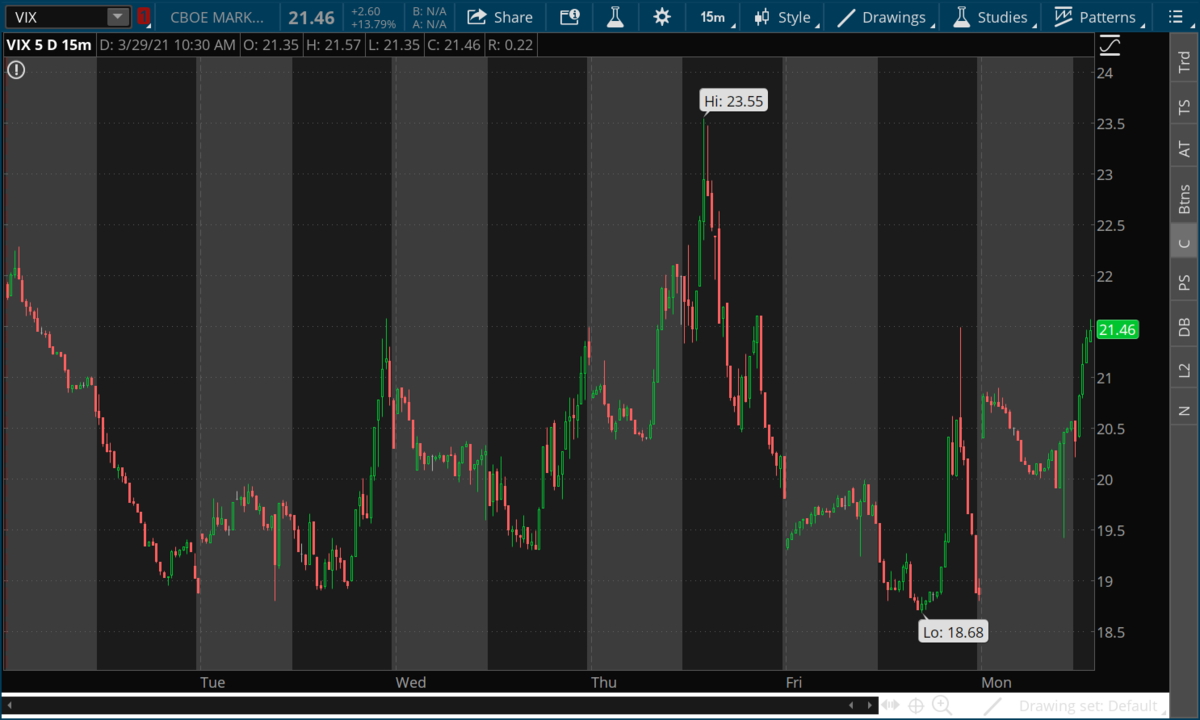 VIX makes a low of 18.68 Friday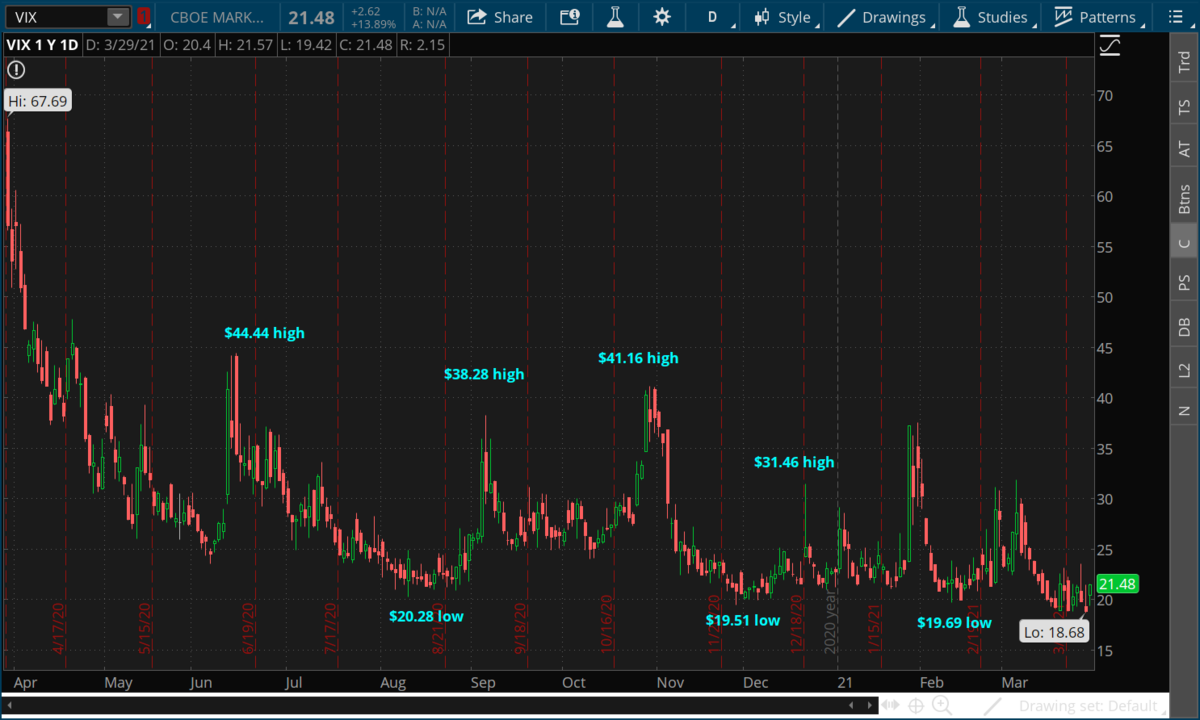 Gold - $1695-$1700 is support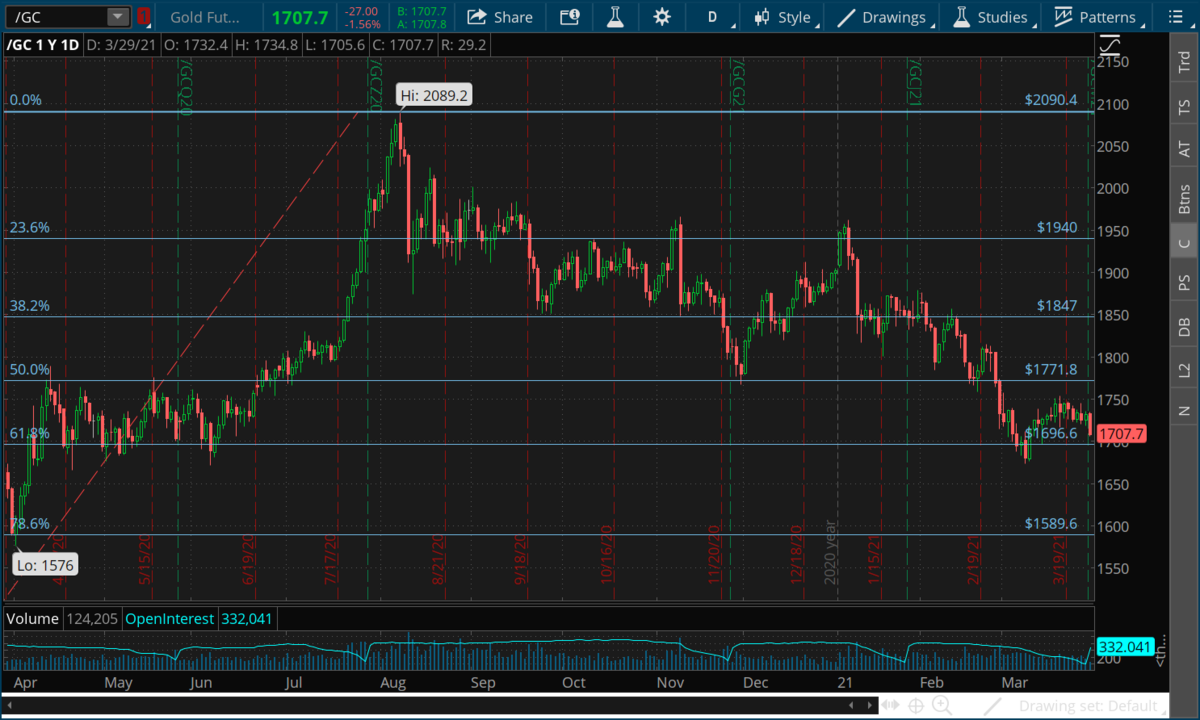 10-Year Note Daily Price Chart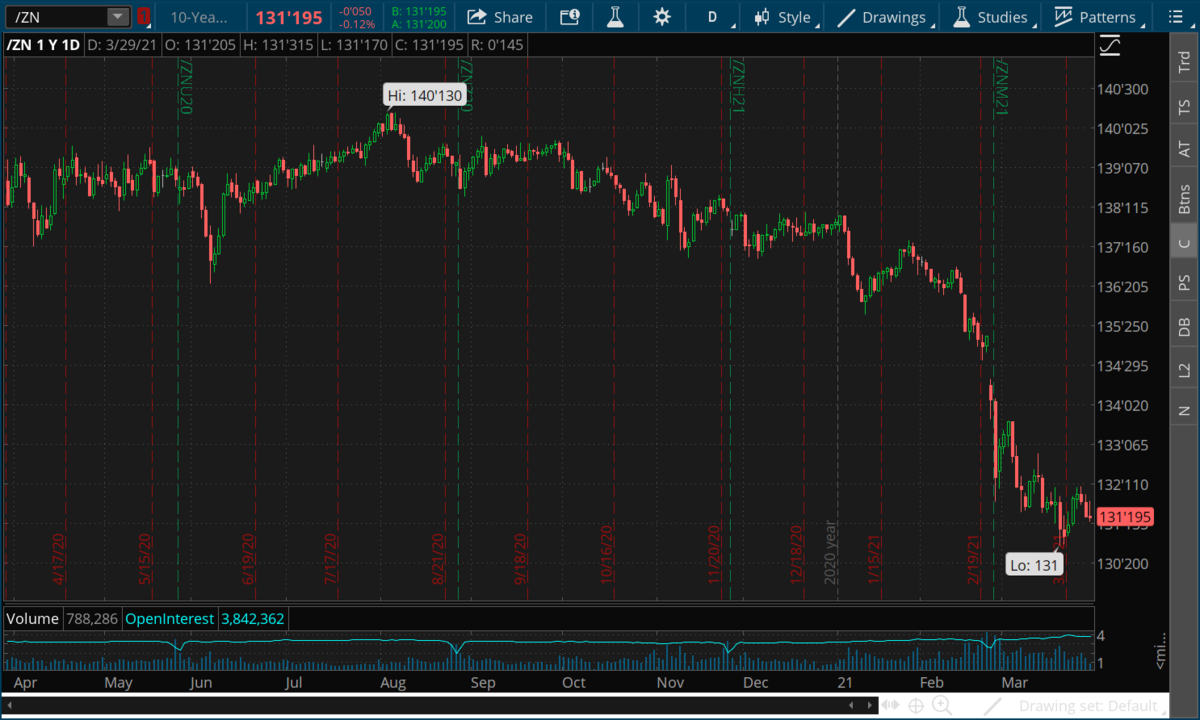 10 Year Note weekly chart back to the highs from 2019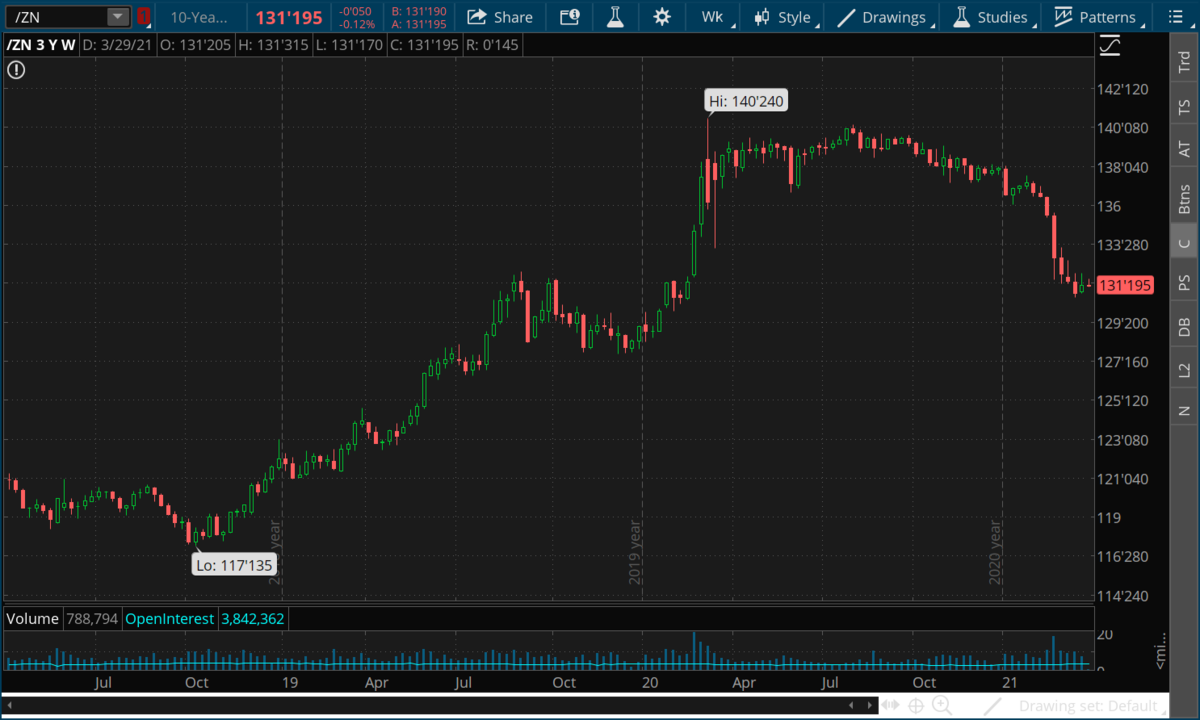 Options Trades:
None

Short Term portfolio:
None active

Long Term portfolio:

Long CGC at $31.68. CGC is trading at $31.72. Stop is $28.79.

Long half position in WMT at $140.91. WMT is trading at $135.32. Stop is $125.31.

We are effectively long CRM at $215.35. CRM is trading at $208.21 Stop is $193.64.

Long half position in DIS at $118.63. Disney is trading at $183.64. Stop is $98.45.

Long half position in UBER at $31.50. Uber is trading at $53.35. Stop is $26.24.

Long half position in MCD at $216.91. MCD is trading at $225.53. Stop is $189.50.
Disclaimer: Trading in securities such as stocks, options, indexes, currencies, and futures involve risk and should not be undertaken without due diligence and serious independent study. Options, stocks, currencies and futures trading, involve substantial risk. Subscribers may carry out their trading based on what they learn from "Rocket Equities & Options" however all risks of potential financial losses are the customer's responsibility. TFNN, Corp. will be in no way liable for financial losses resulting from trading decisions based on this newsletter. Past performance is no guarantee of future results. Reproduction in whole, or in part, is not permitted without prior written consent. Copyright 2021 all rights reserved.