Rocket Equities & Options Report 01-03-22
Rocket Equities & Options Report - January 3rd, 2022
The market has a reopening theme today with travel stocks higher, even in the face of thousands of flight cancellations over the weekend. Uber is up 4.4% right now. The airlines are up about 4-5% today, with banks also trading higher on rising yields to start of the trading year.

The 10 Year Note is down a full point at 129.15. The 30 Year Bond is down 2 points and 19 ticks at 157.27. The yield on the 10 Year Note has risen today from about 1.5% to 1.63% right now. That is a substantial move on a daily basis, and is especially interesting considering it is the first trading day of the year when we are suppposed to get Fed tightening and 3 rate hikes this year, followed by 3 more next year, and all of this is subject to change faster or slower. Could this be the year of rising rates? It's quite a start, and we'll see where we go from here but yields might bhe most important factor this year as the market tries to navigate a world where capital is not free for the first time in a while.

Wednesday, we get Fed minutes from the December meeting. We also get ADP private payrolls for December on Wednesday. Thursday, we get initial weekly jobless claims as always. And then the main event of economic numbers for the week is Friday, with Non-farm Payrolls out at 8:30 am EST Friday morning.

Stay tuned for updates as we let the market find its personality to start the year. My expecation is that there is plenty of volitility in store in both directions this year as the market digests rising rates and tries to overcome the persistent inflation and supply shortages of 2021.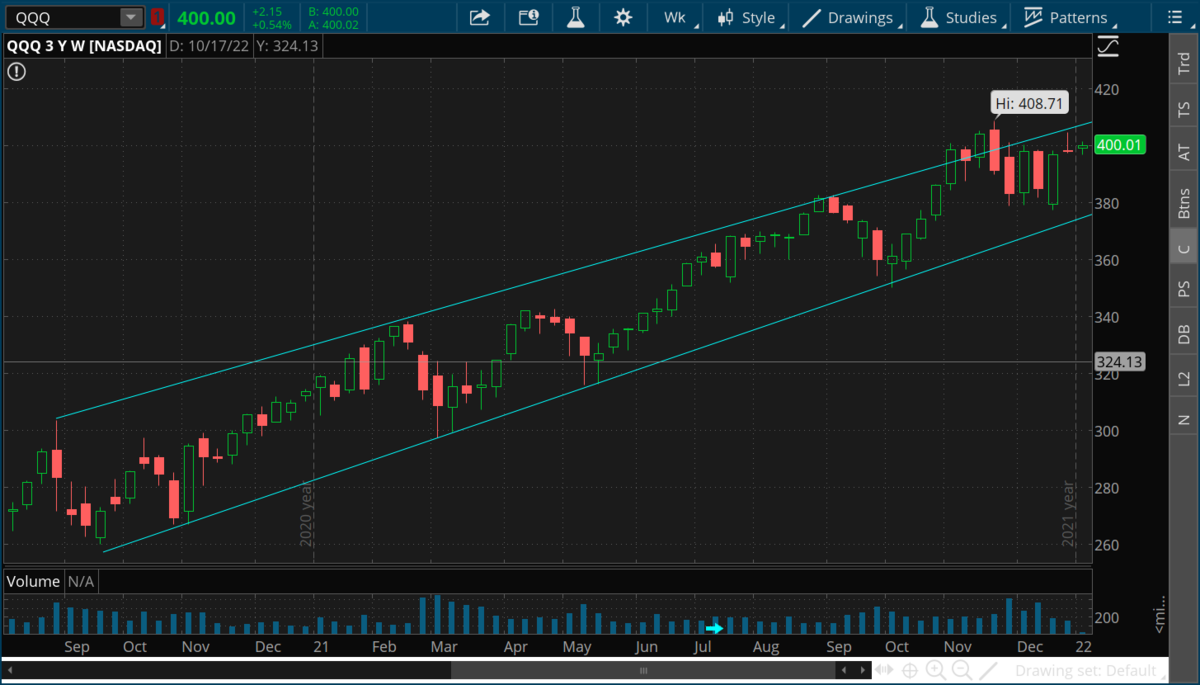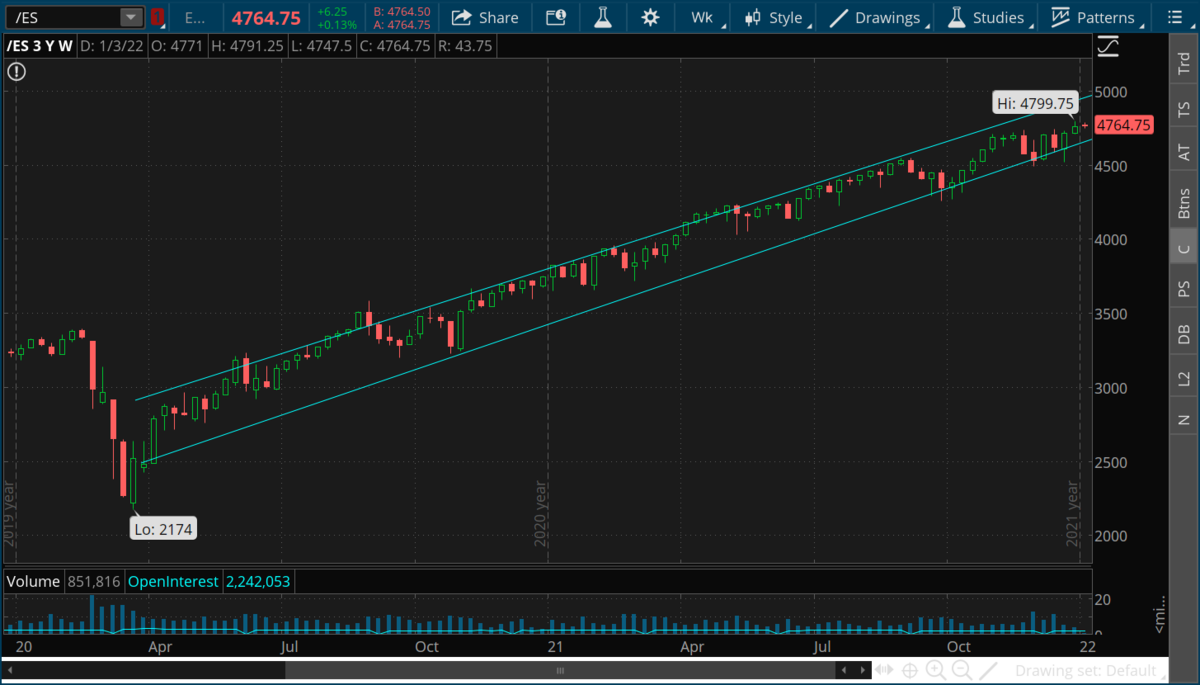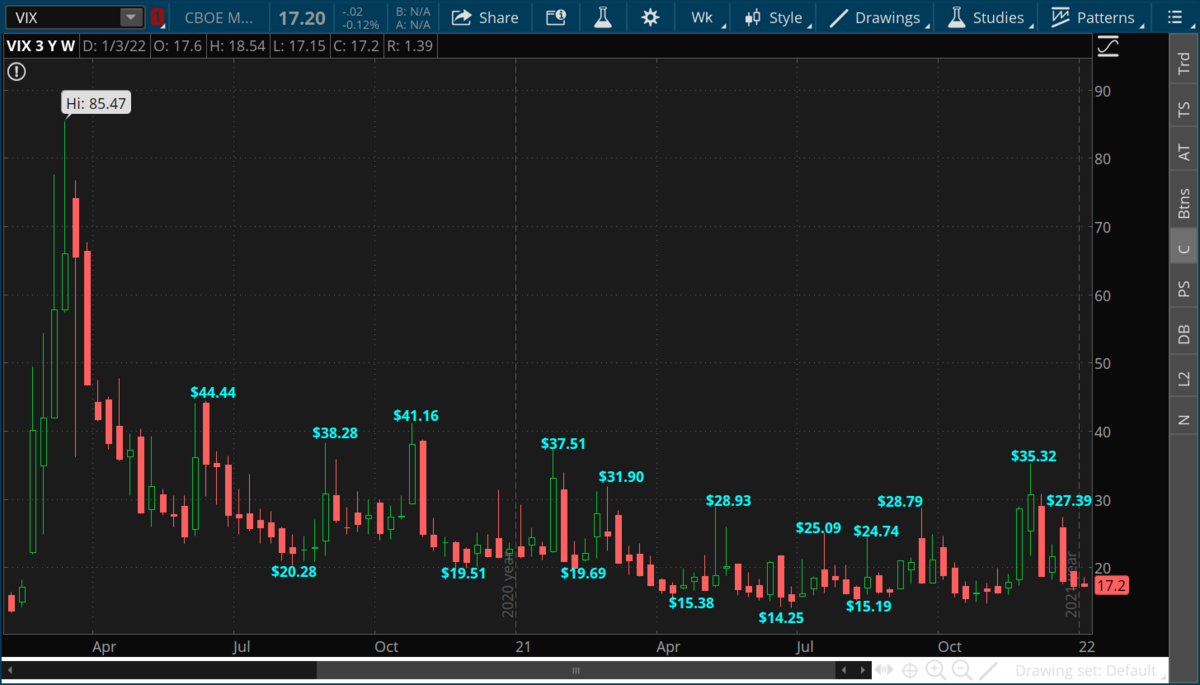 Gold trading lower to start 2022 - look for support at $1,770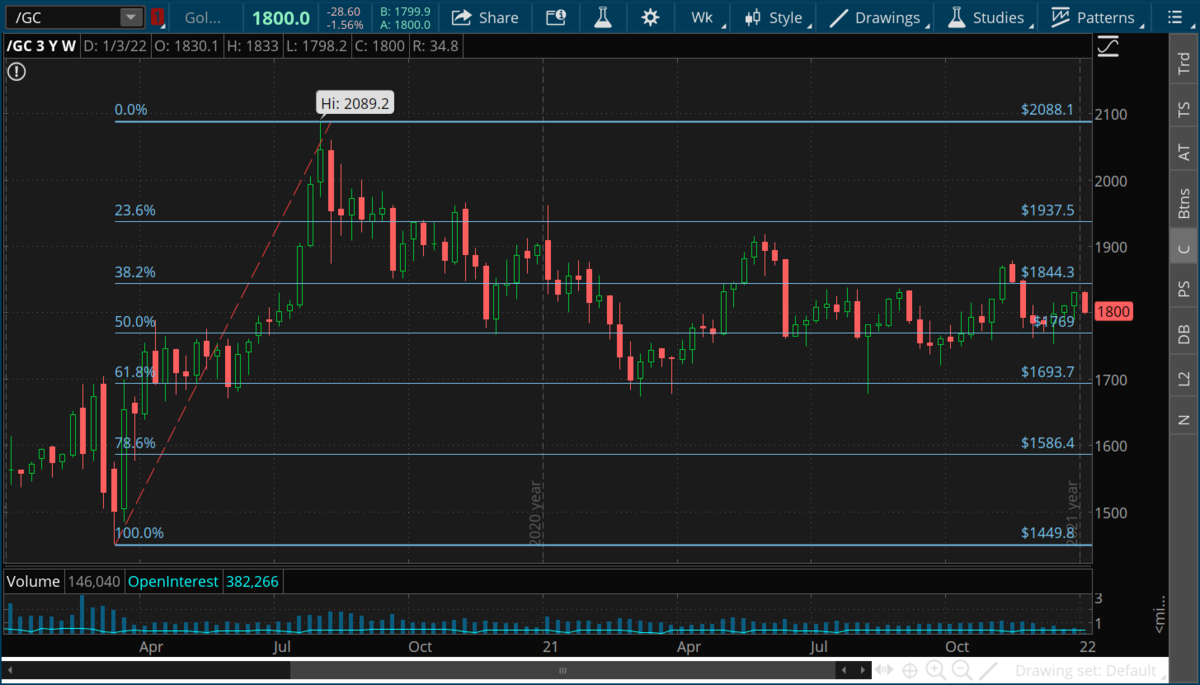 10 Year Note Weekly - Yielding 1.62%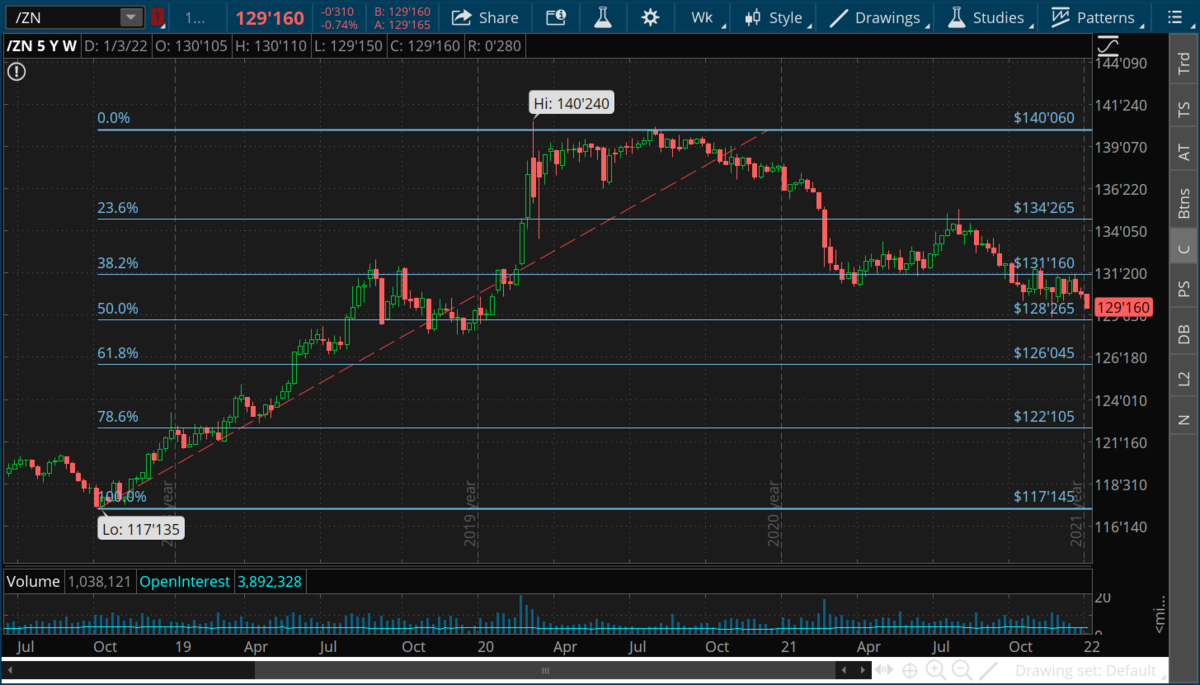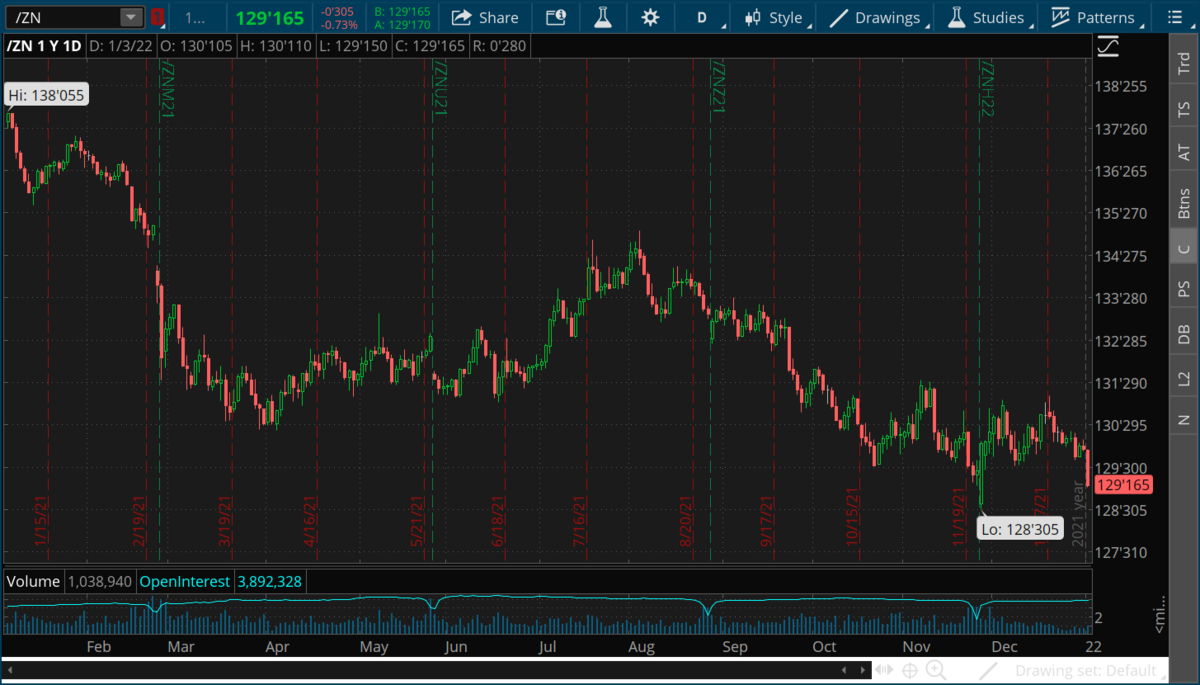 Disney traded higher this morning before giving back some of the gains. Disney is right at a .382 bounce from the pull back it has been in since November. We want to see Disney trade through this area with strength. Disney is scheduled to release their earnings Feb 10th.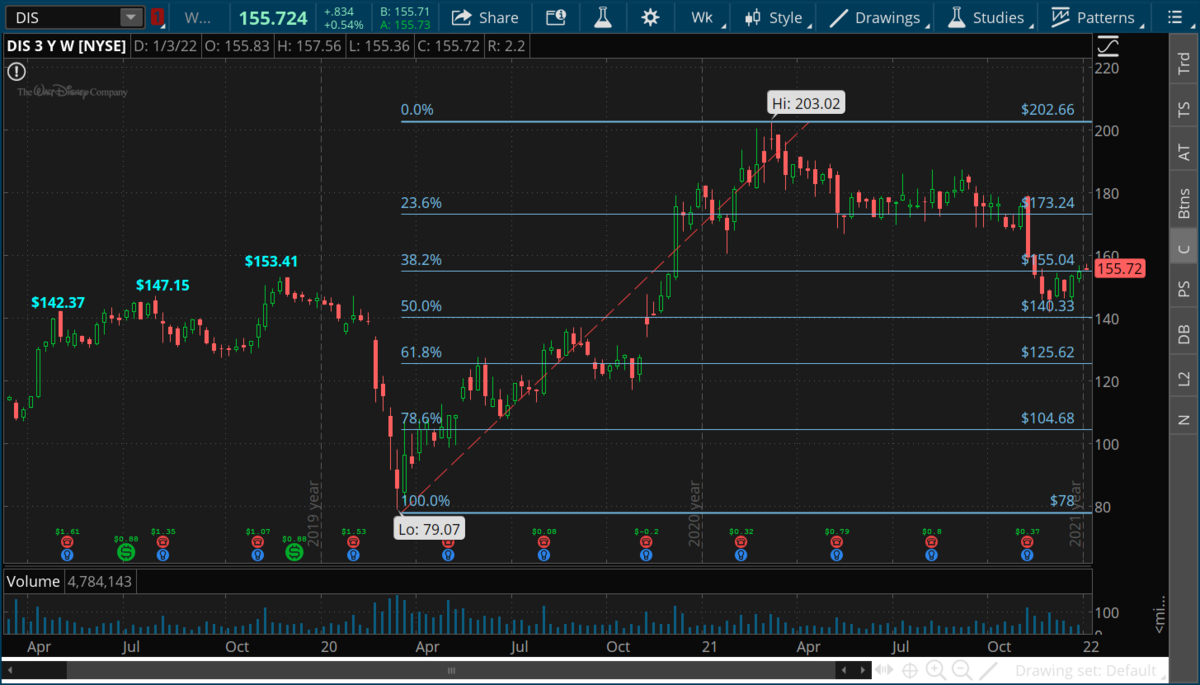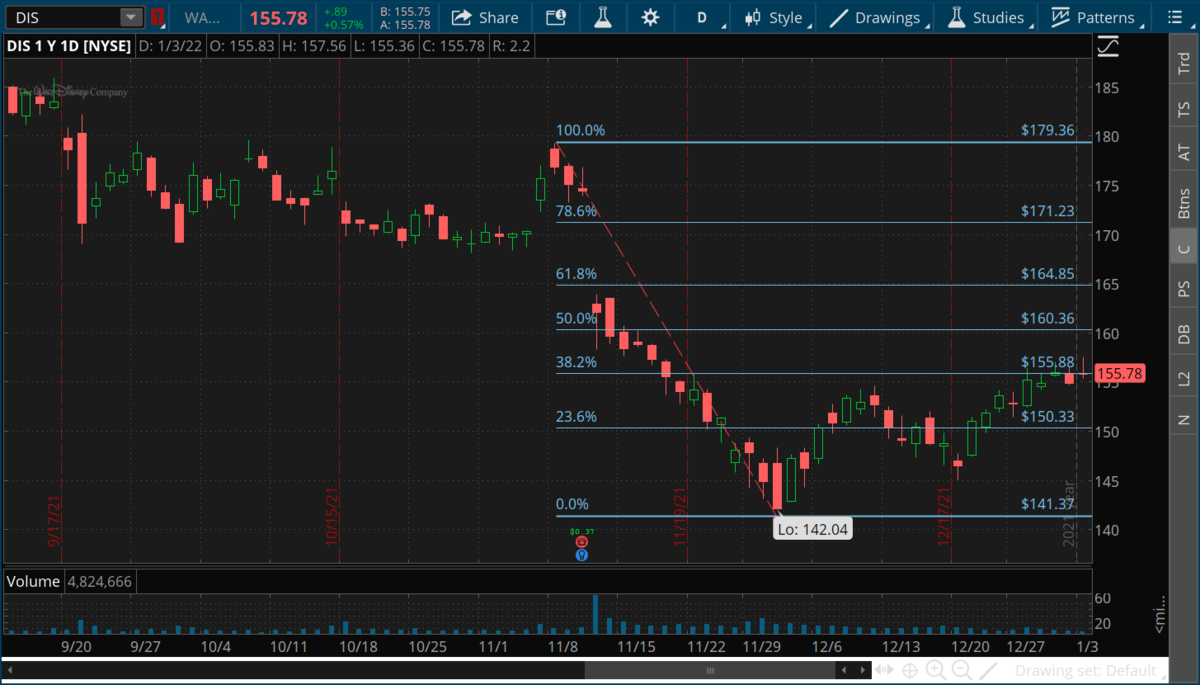 Uber is trading nicely higher today up about 4% as travel stocks get a pop. Uber may be forming an AB=CD formation on the daily basis, the B point is from December 23rd at $44.35 - we want to close above that with more than 21.7 million shares traded. Uber has already traded 17.6 million as of 1pm ET, and i just under that price point. That AB = CD would take Uber up to the highs from June of last year around $52. That's the next stop. Uber is scheduled to release their earnings February 9th.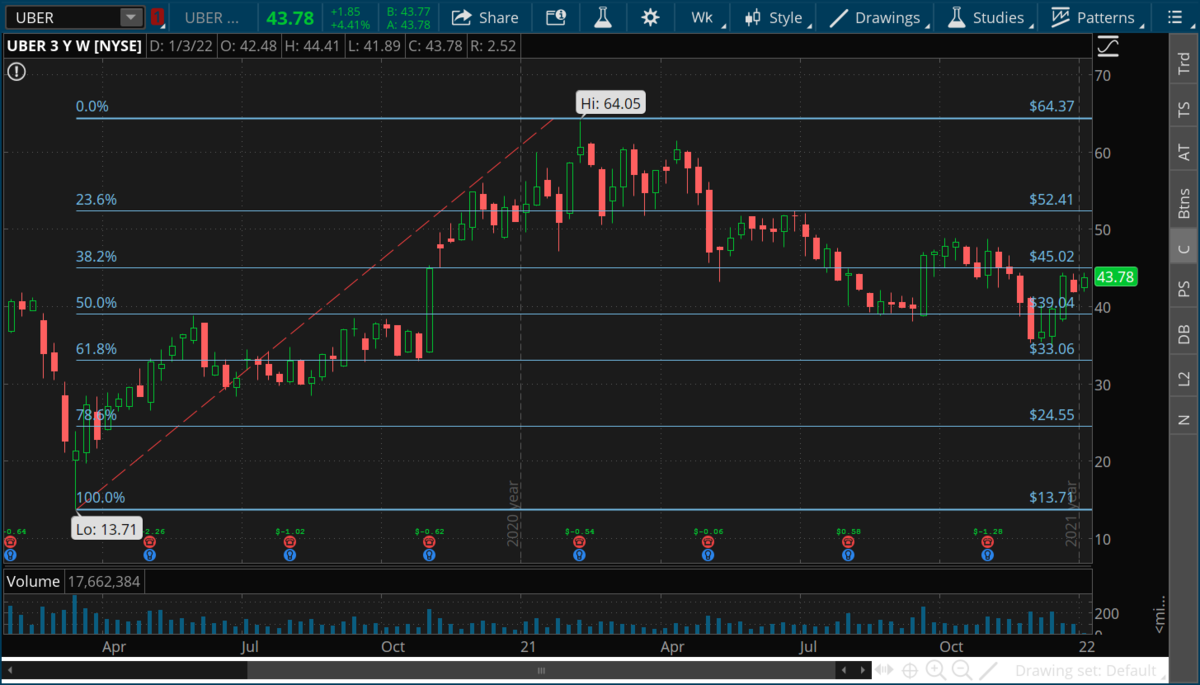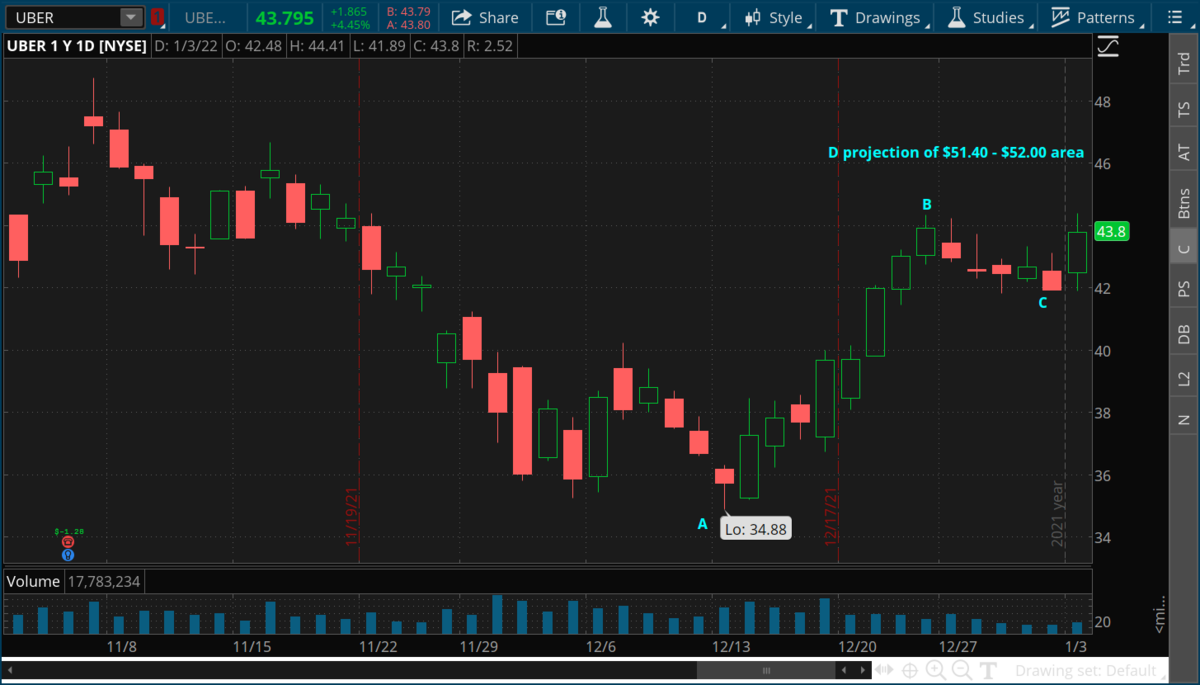 WMT traded nicely higher last week, bouncing off its lower trend line of strength. Next stop for WMT is to challenge the recent highs of December 16th at $146.53. Look for WMT to bounce as we come into the new year and challenge the all-time highs area of $153. WMT has a 1.52% dividend yield at this price. WMT has earnings Feb 17th.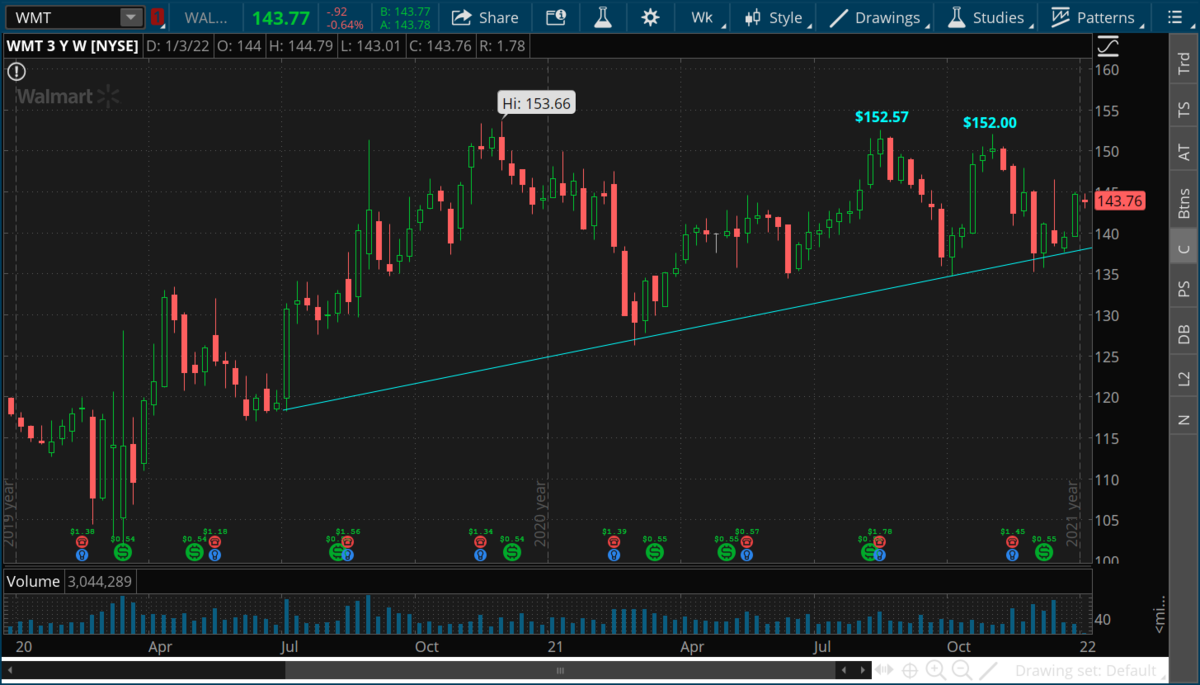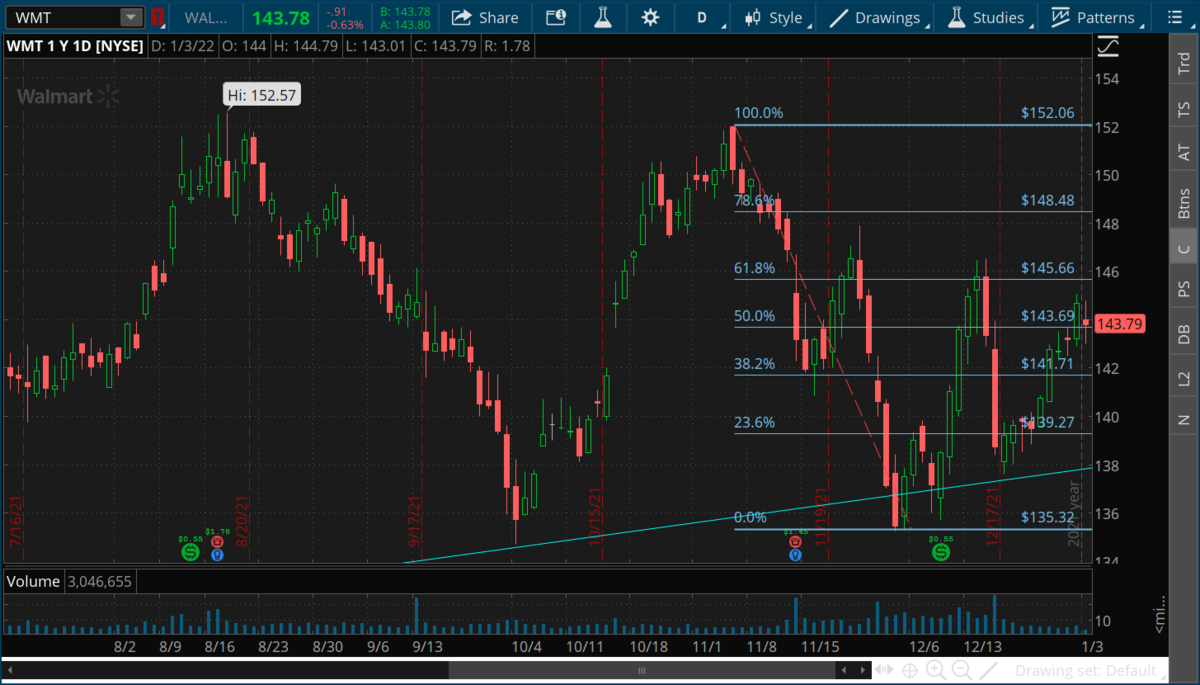 MCD traded to new all-time highs yet again this morning before retreating lower. MCD continues to trade higher with strength, although I don't like how today's bar looks bearish englufing on a daily basis. McDonald's has earnings January 27th. MCD has a 2.04% dividend.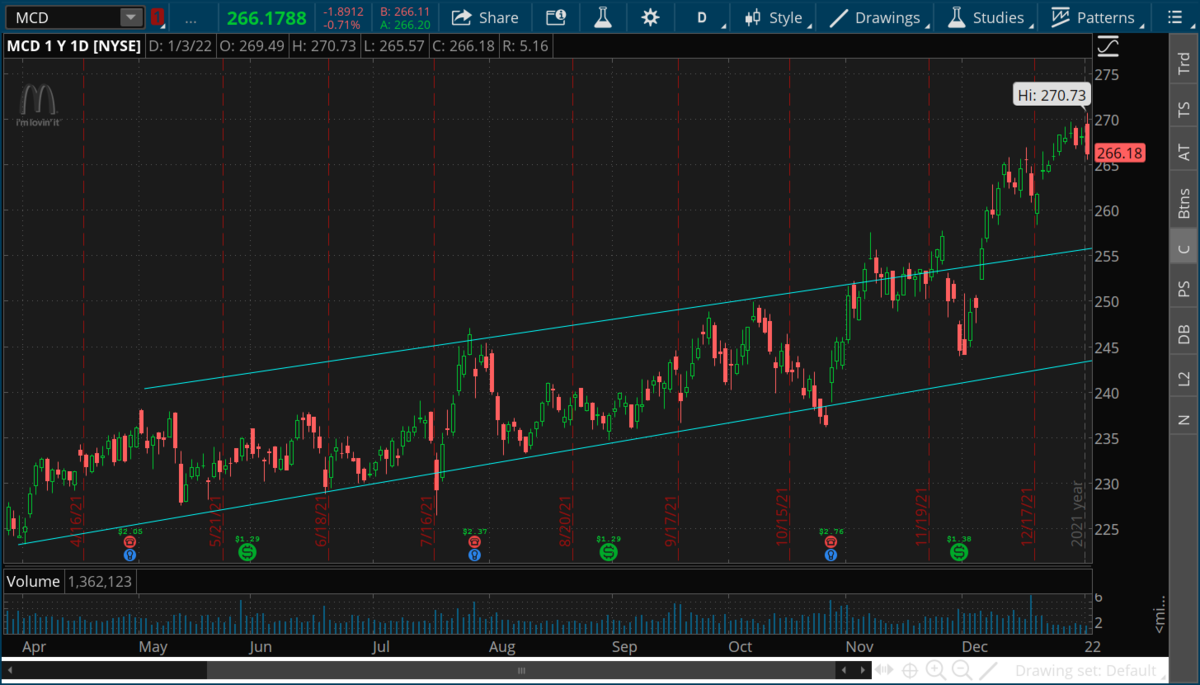 CRM traded lower on the open right to the .618 we've been talking about, and then popped nicely. We want to see some conviction to the upside with volume. CRM has earnings Feb 24th.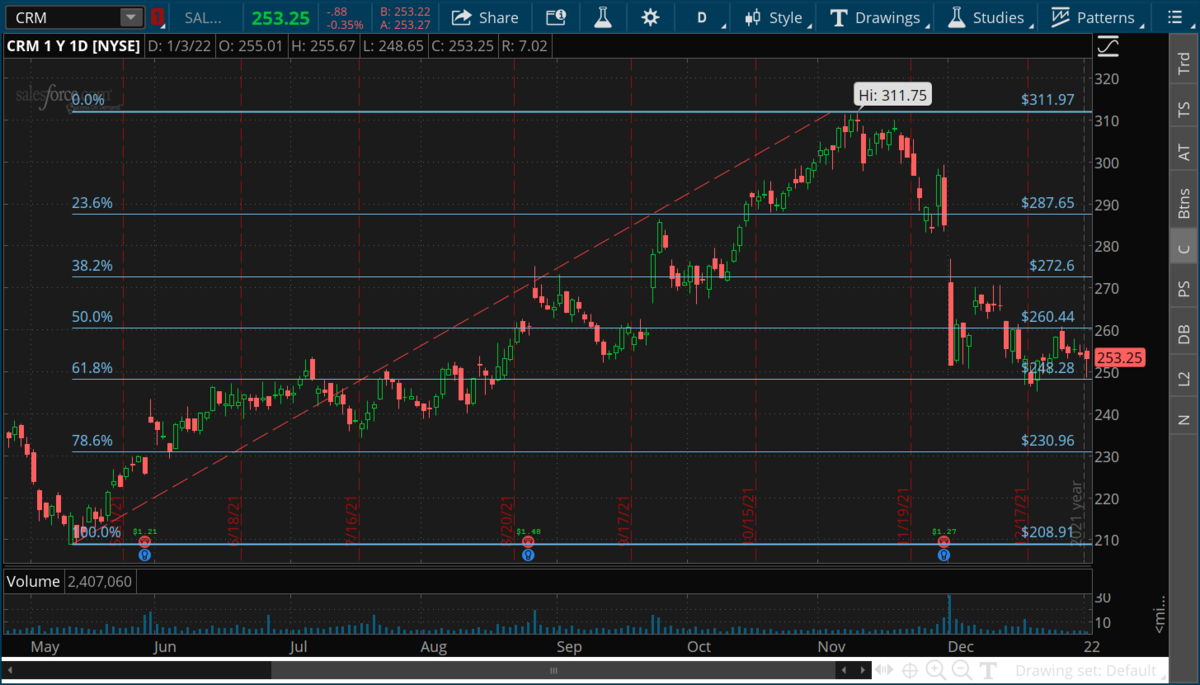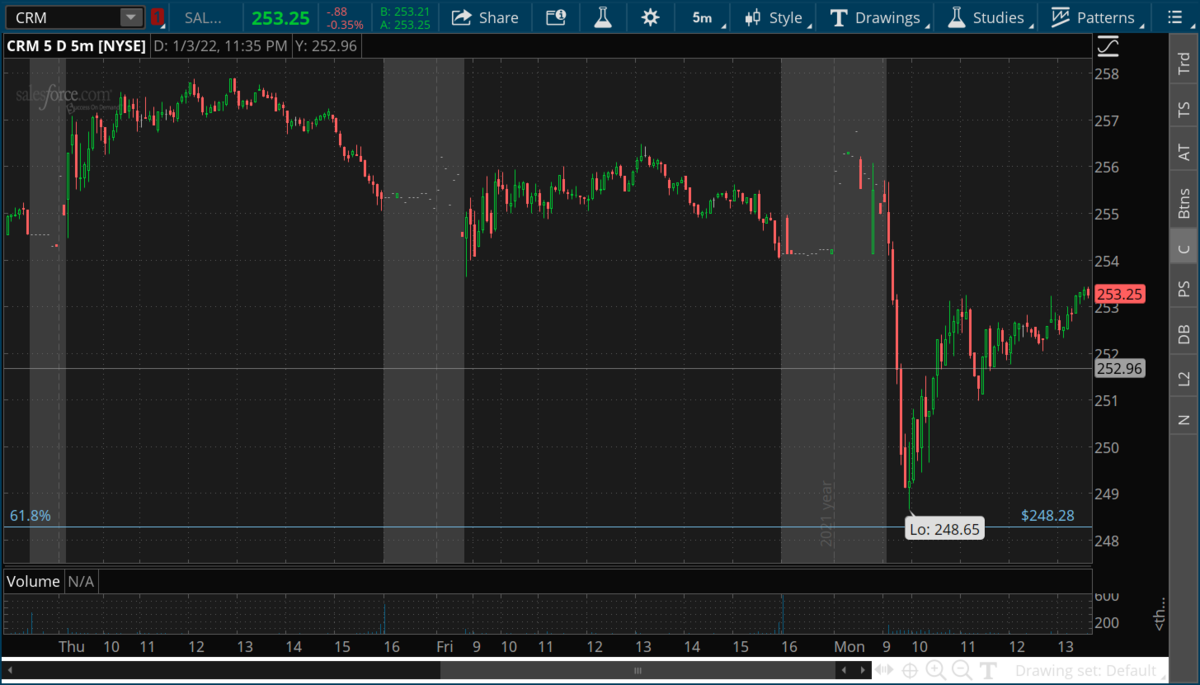 Equity portfolio
Long half position in WMT at $140.91. WMT is trading at $143.99. Stop is $125.31.

We are effectively long CRM at $215.35. CRM is trading at $253.27. Stop is $193.64.

Long half position in DIS at $118.63. Disney is trading at $156.05. Stop is $98.45.

Long half position in UBER at $31.50. Uber is trading at $43.84. Stop is $26.24.

Long half position in MCD at $216.91. MCD is trading at $266.71. Stop is $189.50.
Disclaimer: Trading in securities such as stocks, options, indexes, currencies, and futures involve risk and should not be undertaken without due diligence and serious independent study. Options, stocks, currencies and futures trading, involve substantial risk. Subscribers may carry out their trading based on what they learn from "Rocket Equities & Options" however all risks of potential financial losses are the customer's responsibility. TFNN, Corp. will be in no way liable for financial losses resulting from trading decisions based on this newsletter. Past performance is no guarantee of future results. Reproduction in whole, or in part, is not permitted without prior written consent. Copyright 2022 all rights reserved.