Rocket Equities & Options Report 01-10-22
Rocket Equities & Options Report - January 10th, 2022
The market has a reopening theme today with travel stocks higher, even in the face of thousands of flight cancellations over the weekend. Uber is up 4.4% right now. The airlines are up about 4-5% today, with banks also trading higher on rising yields to start of the trading year.

Last Monday, when I wrote the weekly letter for 'Rocket', the 10 Year Note was already down a full point to start the year at 129.15 and the yield was at 1.63%. Well, we now know that was just the start of things to come. We currently sit at 128.03 in the 10 Year with a yield of just under 1.80%.

Last Monday, the market had a reopening theme with tech stocks and growth stocks getting slammed while you had value stocks trading higher. That is not the case today. Today, they are selling everything.

Bloomberg had an article last week that pointed out that 40% of the Nasdaq COMP stocks are down 50% or more from their highs. That's a startling number consider we were just bumping up against all-time highs. You now take a look at how the F.A.N.G. stocks have been performing over the last week and you can see that the pain could be just beginning for the Nasdaq if the leaders of the ship can't right things. MSFT is down almost 13% from its highs. AAPL is down more than 8% from its highs. GOOG is down more than 12% from its highs. NVDA is now down 25% from its highs. FB is down 17% from its highs. TSLA is down more than 18% just over the last 6 days, and 21% from its all-time highs. If the leaders of the Nasdaq, and the general market, start to falter then the pull back could be substantial considering ES futures aren't even 5% off their highs yet, and even the QQQ isn't even 10% off its highs yet.

Earnings start this week, with Delta airlines on Thursday and the banks on Friday. We get inflation data this week with CPI and PPI, and we also get retail sales Friday, and then next week earnings really kick off. We will have plenty of opportunities for trading this year. This is just the beginning of the market trying to figure out what is fair value in an environment with at least 3-4 potential hikes this year.

The headline unemployment rate is at 3.9% and the CPI was up 6.8% for November, the largest 12 month increase since 1982. There would have to be a monumental change in our economy to avoid 3-4 hikes this year. Inflation is here and unemployment is under 4%. You don't have to be a market genius to look at just those stats and realize that pressure will be on the Fed to hike, and maybe faster than they'd like to.

The S&P and QQQ have both broken below thier longer term channel lines as you can see on the charts below. We'll see if they can rebound quickly or if this is a decisive break to lower prices. If markets do get a bounce, it'll be important to see how these markets react as they climb back up to test the channel lines they've broken out of.

Stay tuned for updates!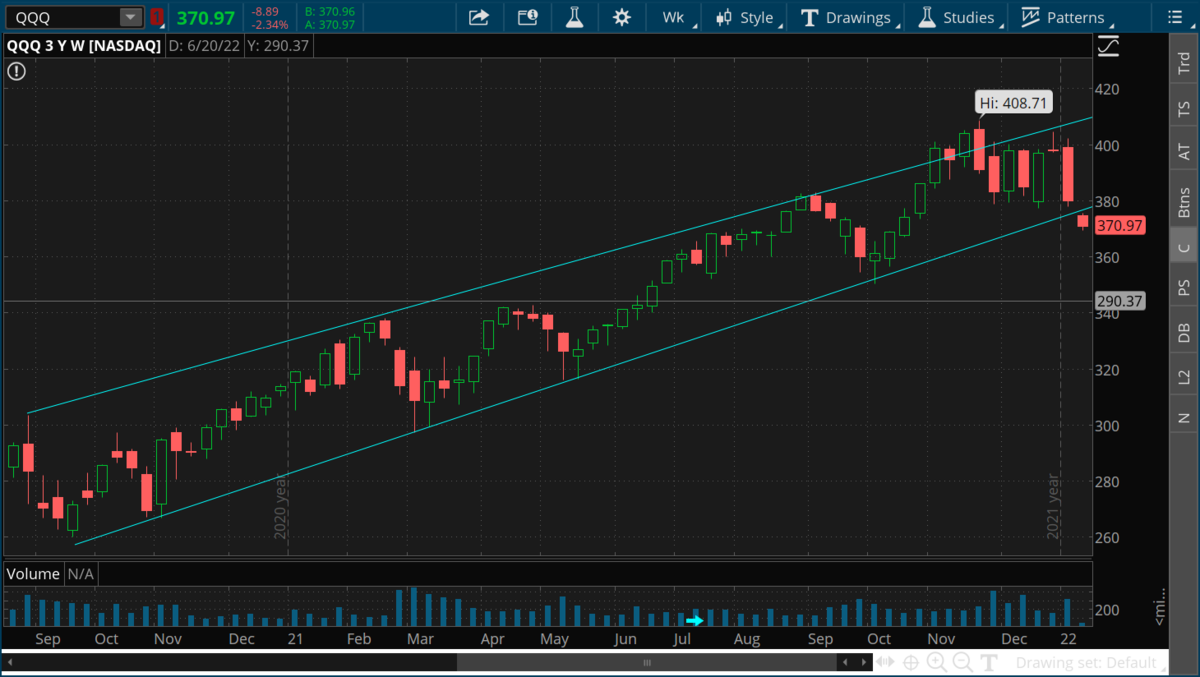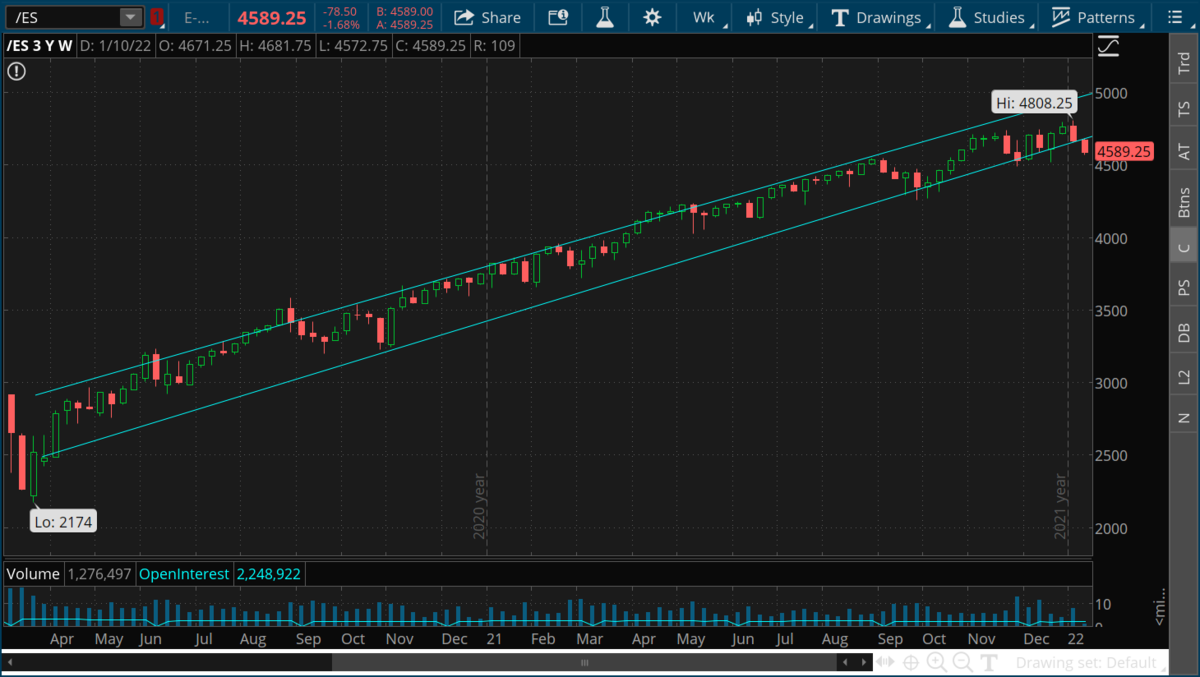 Gold trading lower to start 2022 - look for support at $1,770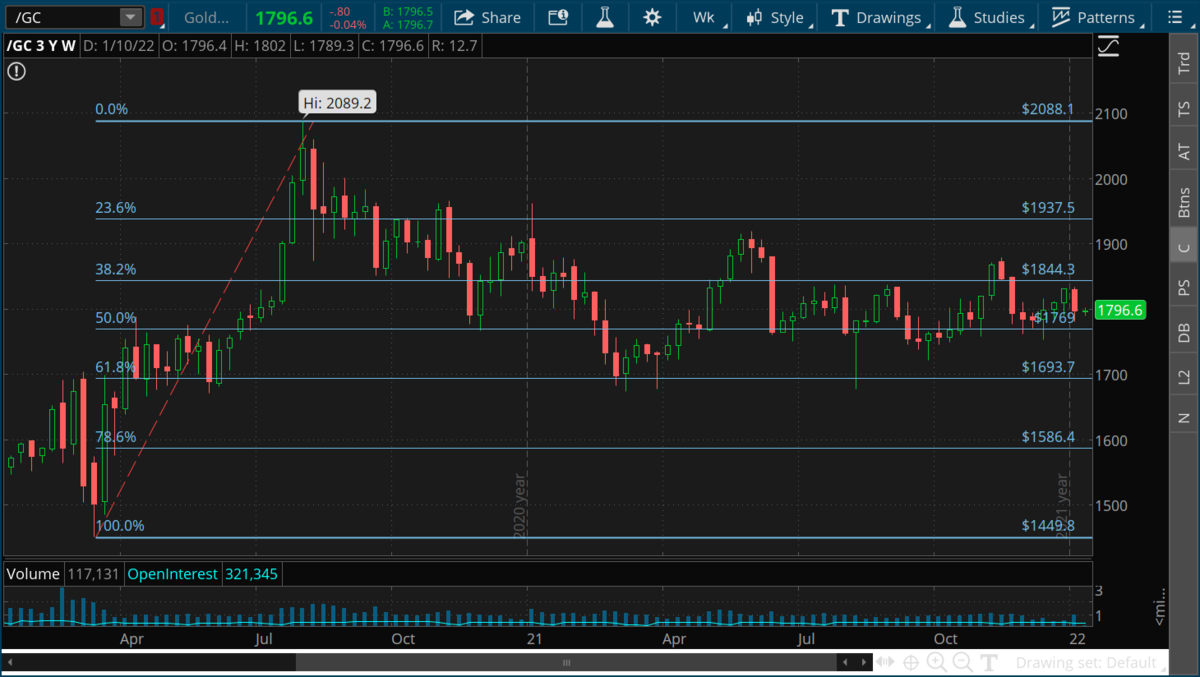 10 Year Note Weekly - Yielding 1.79%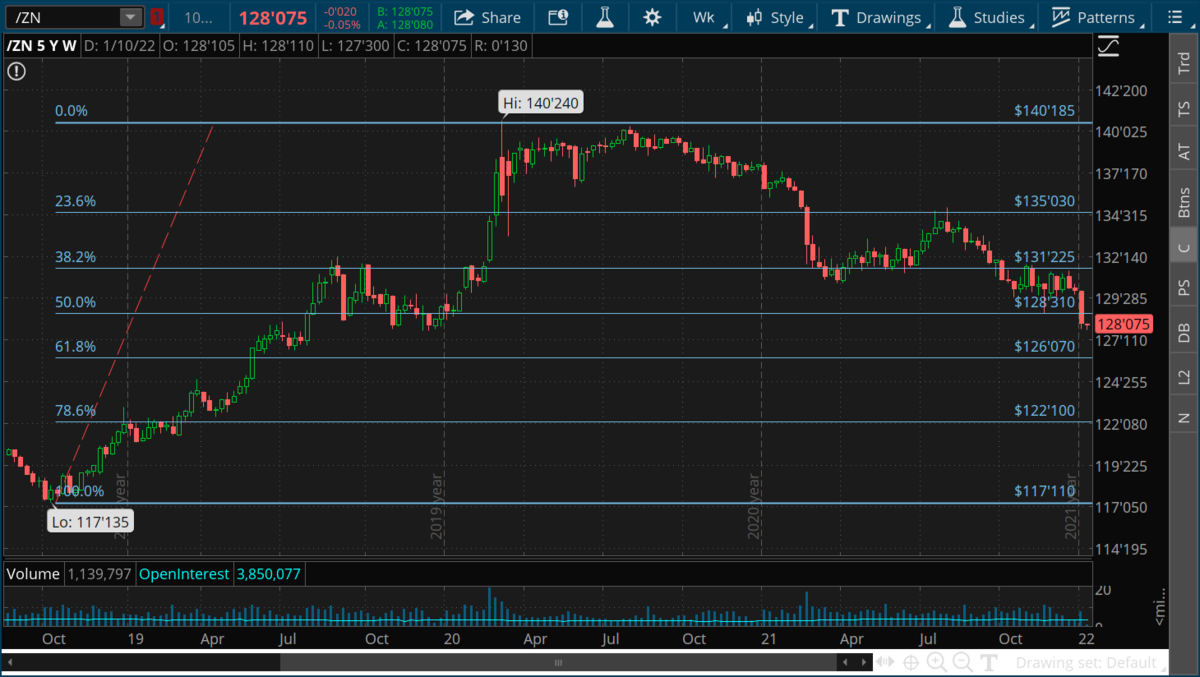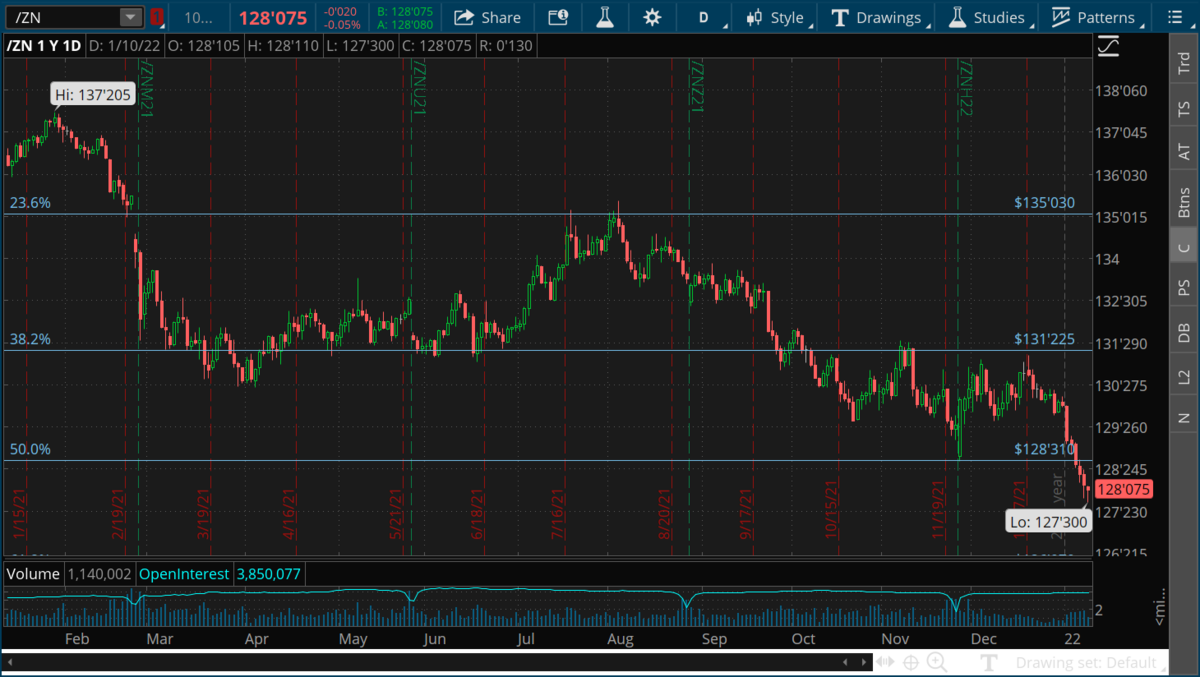 Disney has held up well this week compared to many other market participants. After a year of under performance in 2021, Disney looks to be well positioned for life resuming a more normal tempo and a rotation.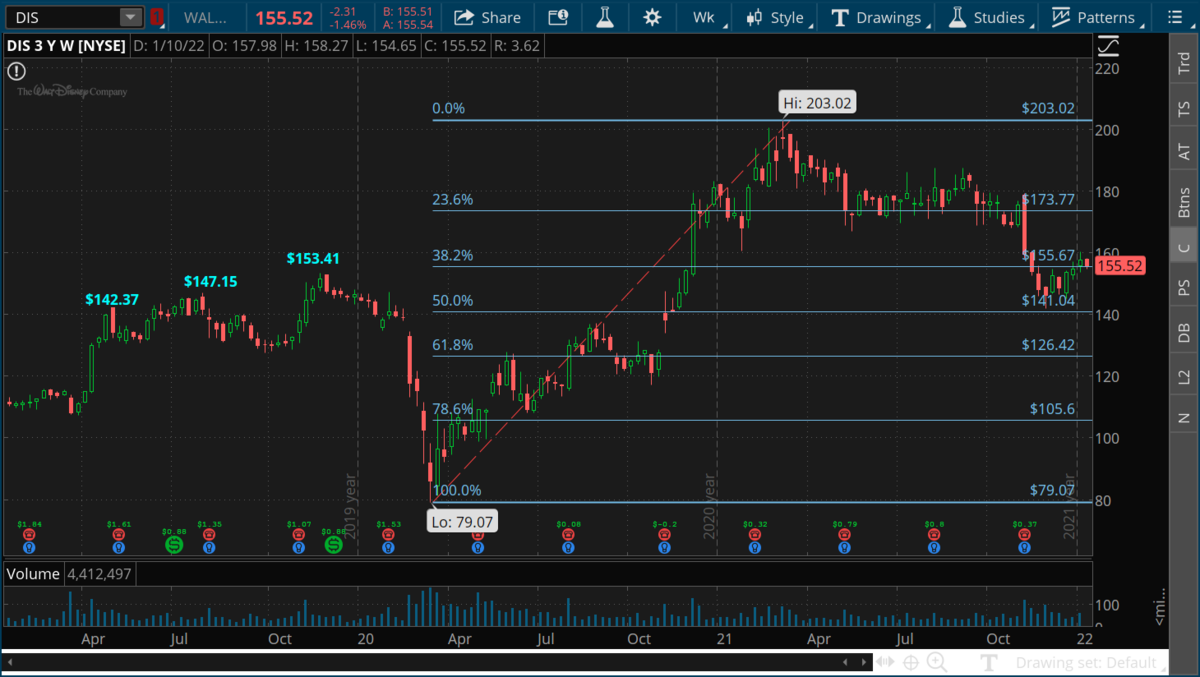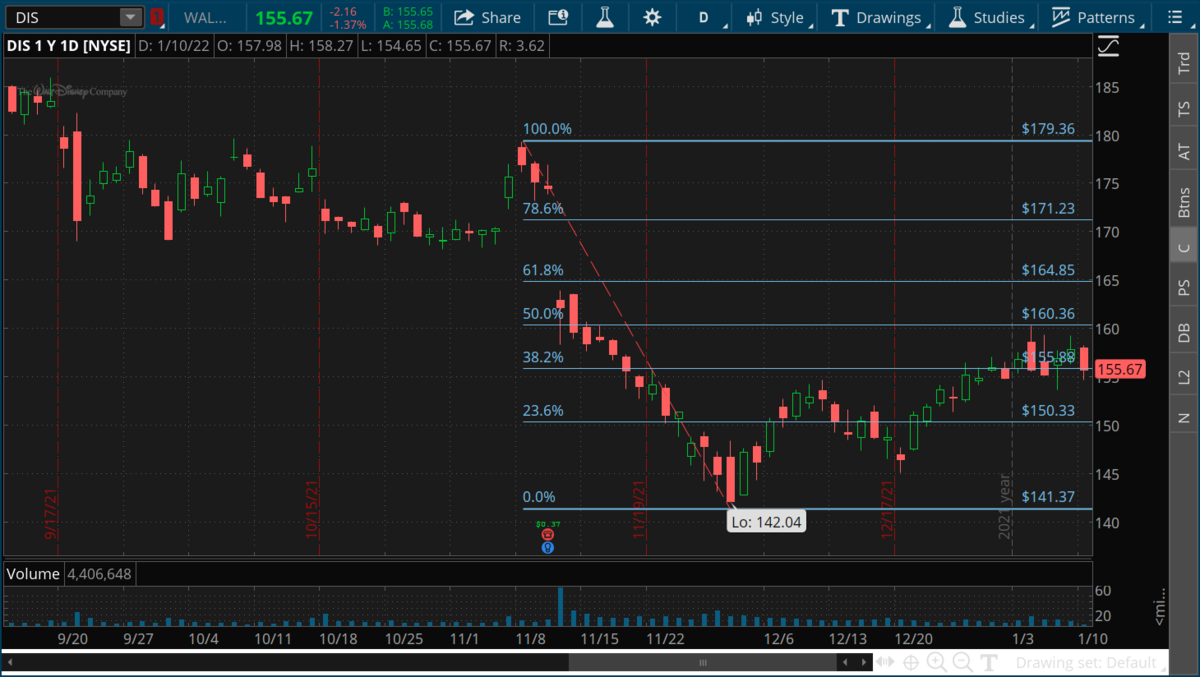 Uber benefited from the re-open trade that began last week, before pulling back with some of the growth stocks. The fact that Uber is positive today says a lot with the market getting pummeled. We want to see Uber hold the $40 price level.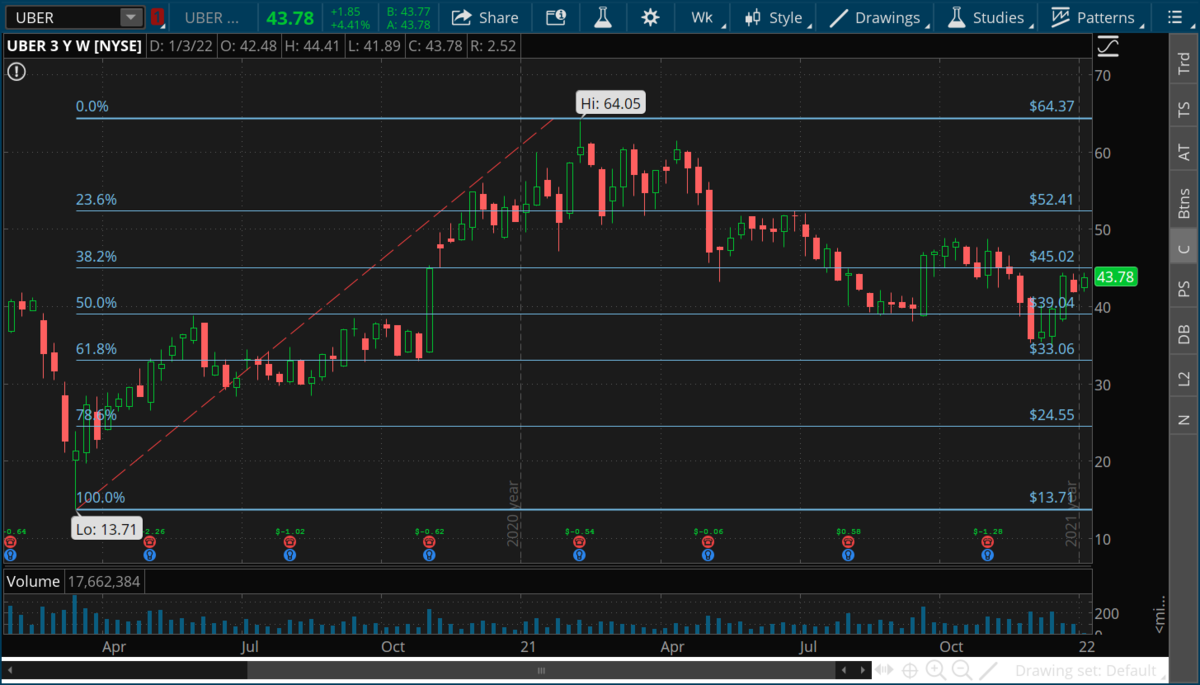 WMT has started the year off with some decent action considering where the general market has done. Next stop for WMT is to challenge the recent highs of December 16th at $146.53. Look for WMT to bounce as we come into the new year and challenge the all-time highs area of $153. WMT has a 1.52% dividend yield at this price. WMT has earnings Feb 17th.
MCD traded to new all-time highs last week before pulling back a bit. MCD continues to trade higher with strength. We'll see how the volume looks as the week progresses. McDonald's has earnings January 27th. MCD has a 2.07% dividend.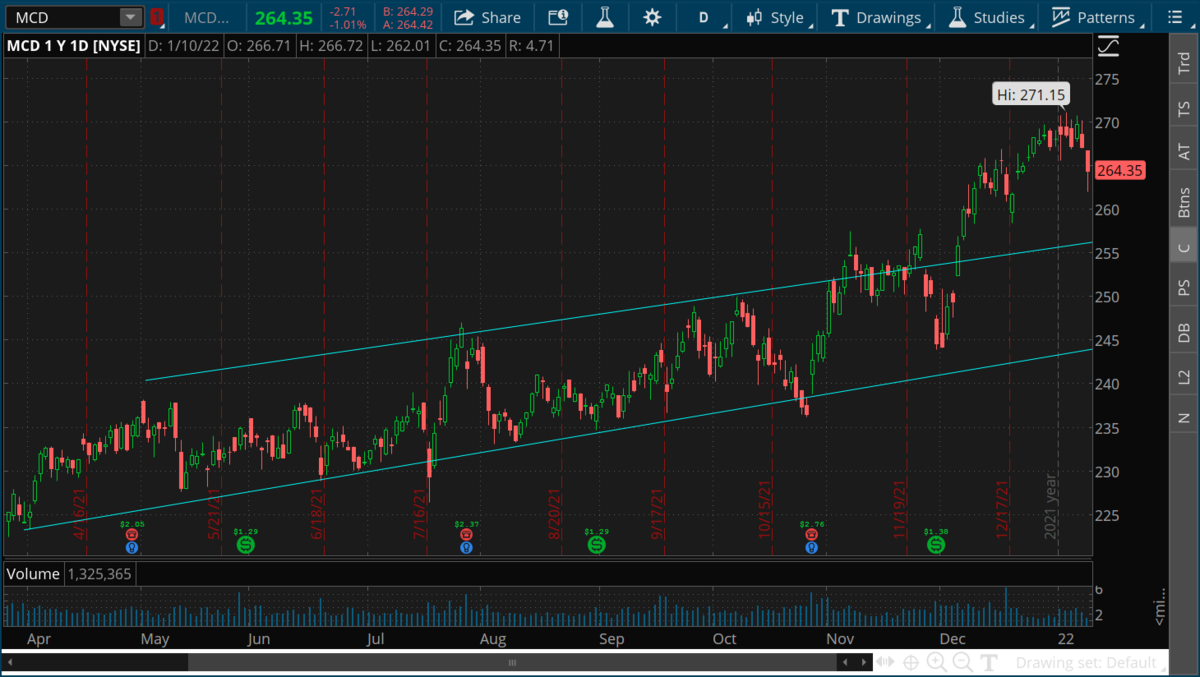 CRM has been a disaster of a pull-back and there's no other way to put it, down more than 12% for 2022. You can always learn from your trades, even when they don't go how you imagined. CRM is now down about 28% from its peak. Look for CRM to find a bid between $220 and $200. We got into this equity at about $215. Keep your stop in place at $193.64.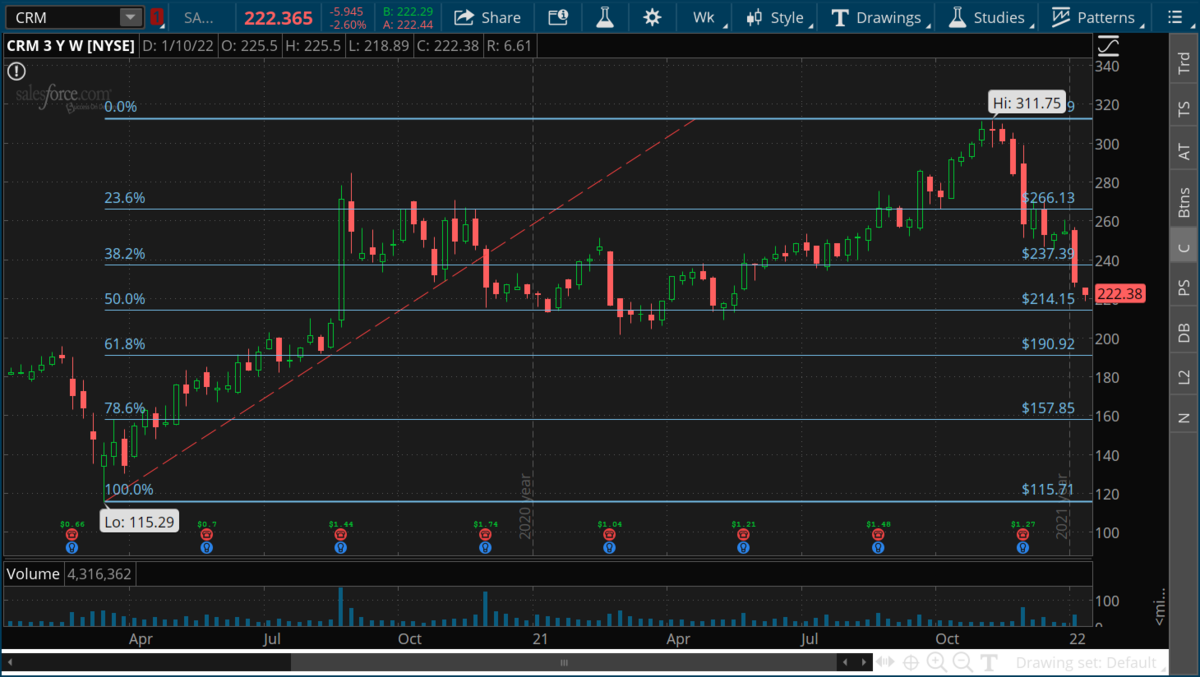 Earnings this week
Wednesday: KB home (KBH) after the close

Thursday: Delta Air Lines (DAL) before the open

Friday before the open: Wells Fargo (WFC), JPMorgan (JPM), BlackRock (BLK), Citigroup (C)
Equity portfolio
Long half position in WMT at $140.91. WMT is trading at $144.28. Stop is $125.31.

We are effectively long CRM at $215.35. CRM is trading at $222.70. Stop is $193.64.

Long half position in DIS at $118.63. Disney is trading at $155.78. Stop is $98.45.

Long half position in UBER at $31.50. Uber is trading at $41.85. Stop is $26.24.

Long half position in MCD at $216.91. MCD is trading at $264.15. Stop is $189.50.
Disclaimer: Trading in securities such as stocks, options, indexes, currencies, and futures involve risk and should not be undertaken without due diligence and serious independent study. Options, stocks, currencies and futures trading, involve substantial risk. Subscribers may carry out their trading based on what they learn from "Rocket Equities & Options" however all risks of potential financial losses are the customer's responsibility. TFNN, Corp. will be in no way liable for financial losses resulting from trading decisions based on this newsletter. Past performance is no guarantee of future results. Reproduction in whole, or in part, is not permitted without prior written consent. Copyright 2022 all rights reserved.