Rocket Equities & Options Report 01-31-22
Rocket Equities & Options Report - January 31st, 2022
Markets look to have potentially found at least a short-term bottom last week, yet again we come into a 5 day period full of important companies reporting earnings and economic data to be released. We get the jobs number for January out this Friday, and with the spike in Covid cases due to Omicron I expect this number to be weaker than some expect. Economists are only looking for about 150K jobs added with unemployment remaining at 3.9%. Don't be surprised if we get a number near zero to negative for the month of January.

Chairman Powell sounded as confident as possible recently that the underlying strength in this economy is not like the last time the Fed had to raise rates, and even a weak January number won't change his sentiments. The Fed has 2 mandates, maximum employment and stable prices. Read that last sentence again: "maximum employment and stable prices". It is very difficult to imagine that stable prices are not the only concern for months or years to come, especially considering where unemployment is and how tight the labor market is right now. I'm stating the obvious, yet don't think that a weak January jobs number will do anything to pause the Fed's lift off. Higher rates are coming, and there would have to be substantial damage done to the job market before the Fed starts worrying about maximum employment anytime in the near future.

AAPL crushed it out of the park last week, and this week we have AMZN, FB, and GOOG among many others that are reporting. Between just those 3 tech companies, they are expected to report almost $250 billion in revenue over a 90-day period. The VIX almost made it to 40 last week and is opening trading this morning at about the 29 price range.

Markets are mixed this morning to kick off trading as we have tech stocks barely in the green, with the Dow and ES futures slightly in the red. Stay tuned for updates this week!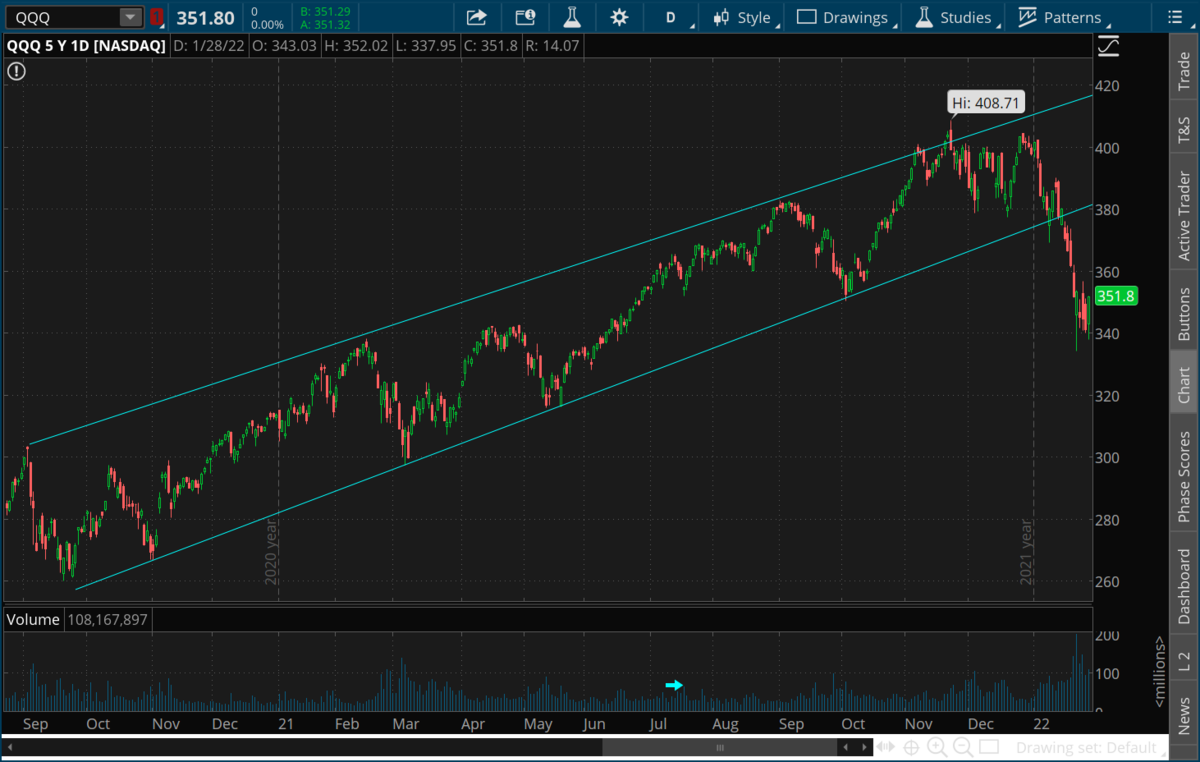 QQQ Daily zoomed in on the recent trading action
Volume spiked at lows Monday and then trailed off throughout the rest of last week.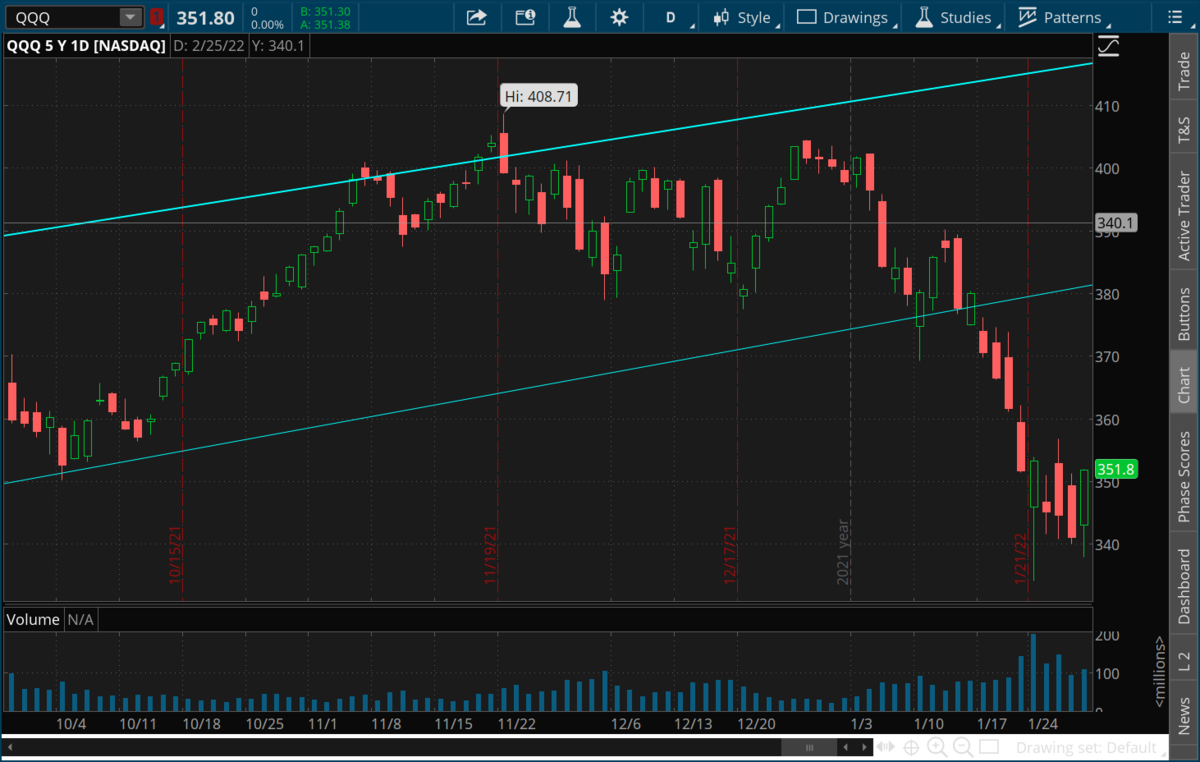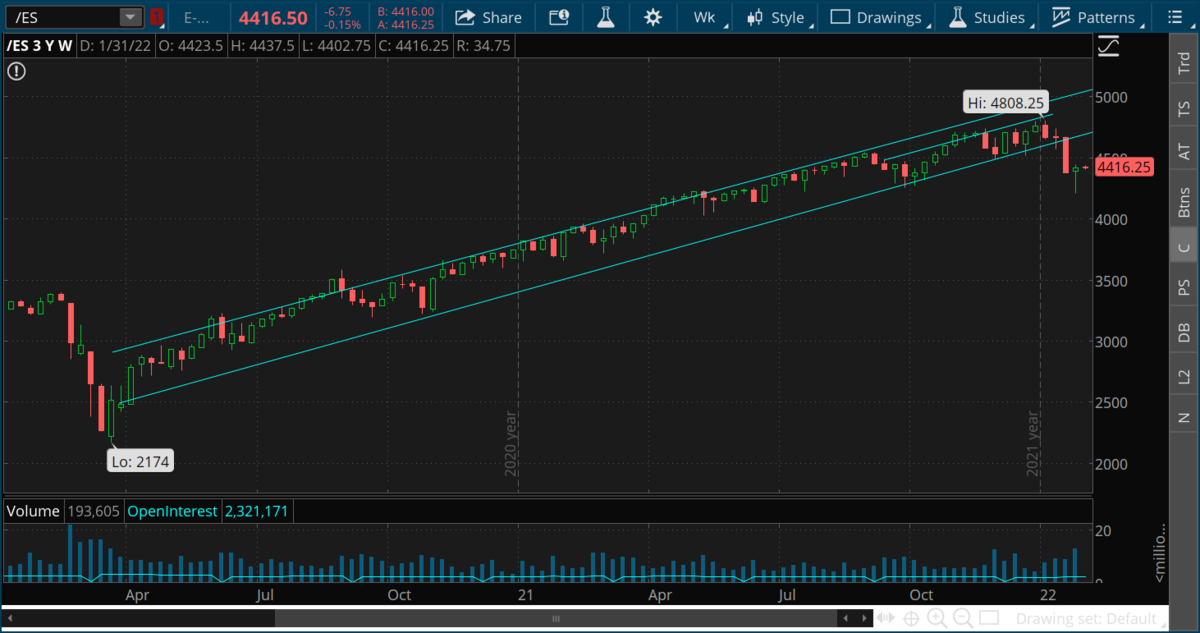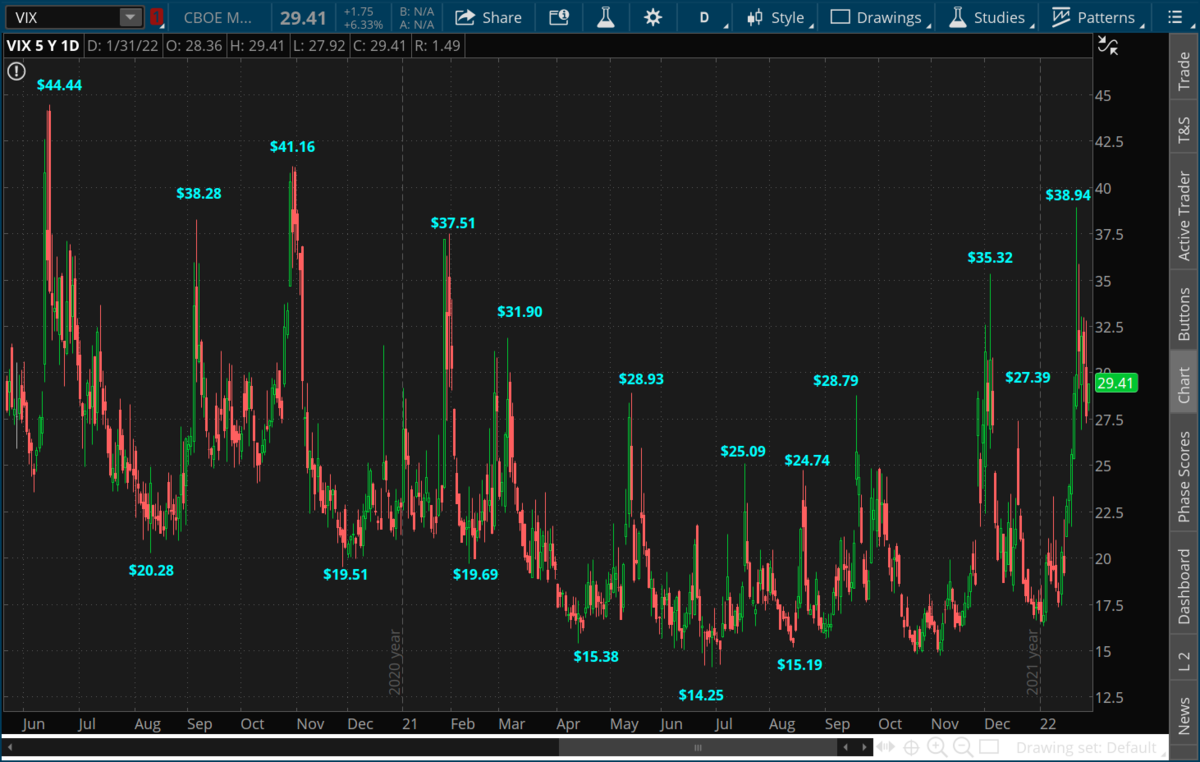 Gold trading back to support near $1,770.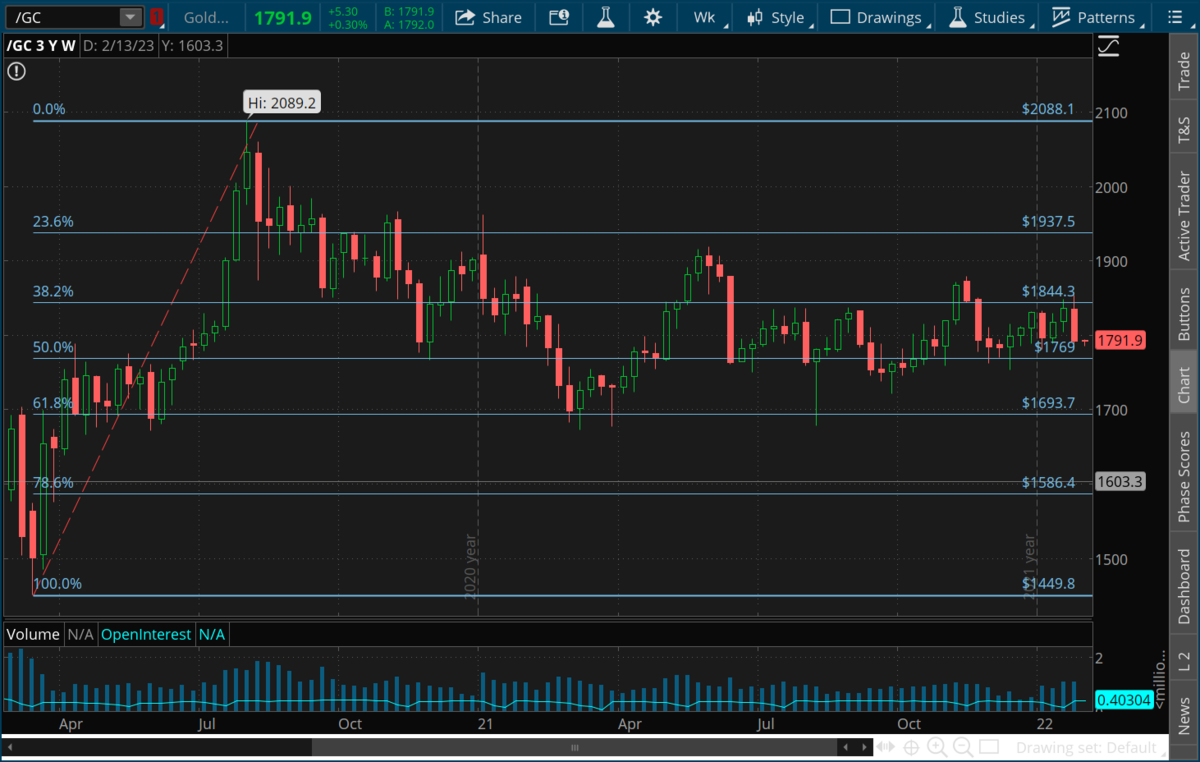 10 Year Note Weekly - Yielding 1.787%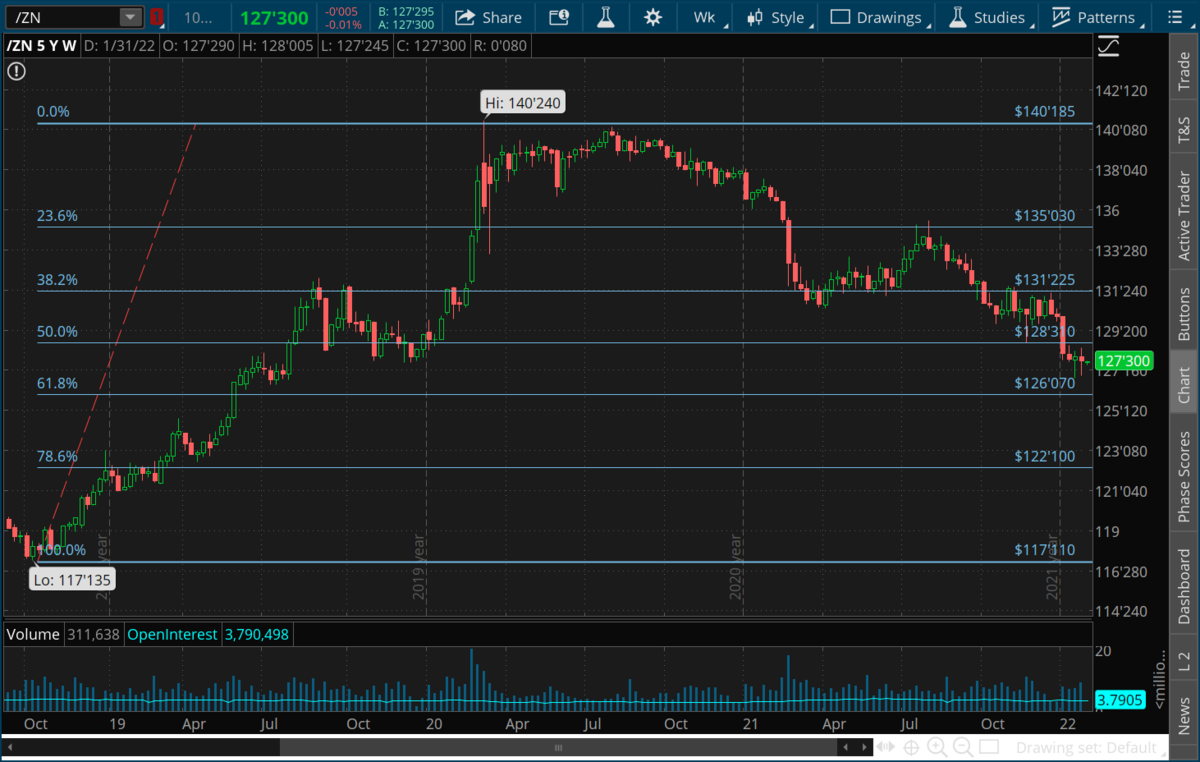 Disney traded back to near the .618 of its entire run higher from the Covid lows of March of 2020. Disney underperformed last year, and I look for them to beat this year as the market rotates to some portion of travel stocks. Disney is especially exposed with their parks and movie theater business, but we are right on the verge of normal life returning in my opinion.

The Omicron variant has spread so quickly, that once it passes I see the country beginning a path back to some version of post covid normal, and travel stocks will eventually begin to price this in.

Disney is nicely positioned to benefit as they have all the growth of their streaming business, while being able to capitalize on American's desire to get back out in the world.

My family got Covid this last week, which is why I was out Thursday and Friday. I'm still getting over a dry cough and some congestion, but thankfully everyone is doing well and I will try to make it through my program this morning at 9am ET. I can tell you that personally, with 2 young kids under 5 years old in my house that have not yet had the chance to get vaccinated, we were not yet comfortable being around large groups, and had hoped to get them the vaccine before their eventual exposure. Unfortunately, Omicron had other plans. But, now that we have all been exposed, we still plan on practicing appropriate safety measures, but it is a game changer that we will now be much more comfortable with our unvaccinated kids being around potential larger groups of people, and Disney is actually a conversation we are having right now, which was not on the table prior to the kids receiving some form of immunity. I'm sure our family is not the only one experiencing this transition right now. Disney announces earnings February 9th.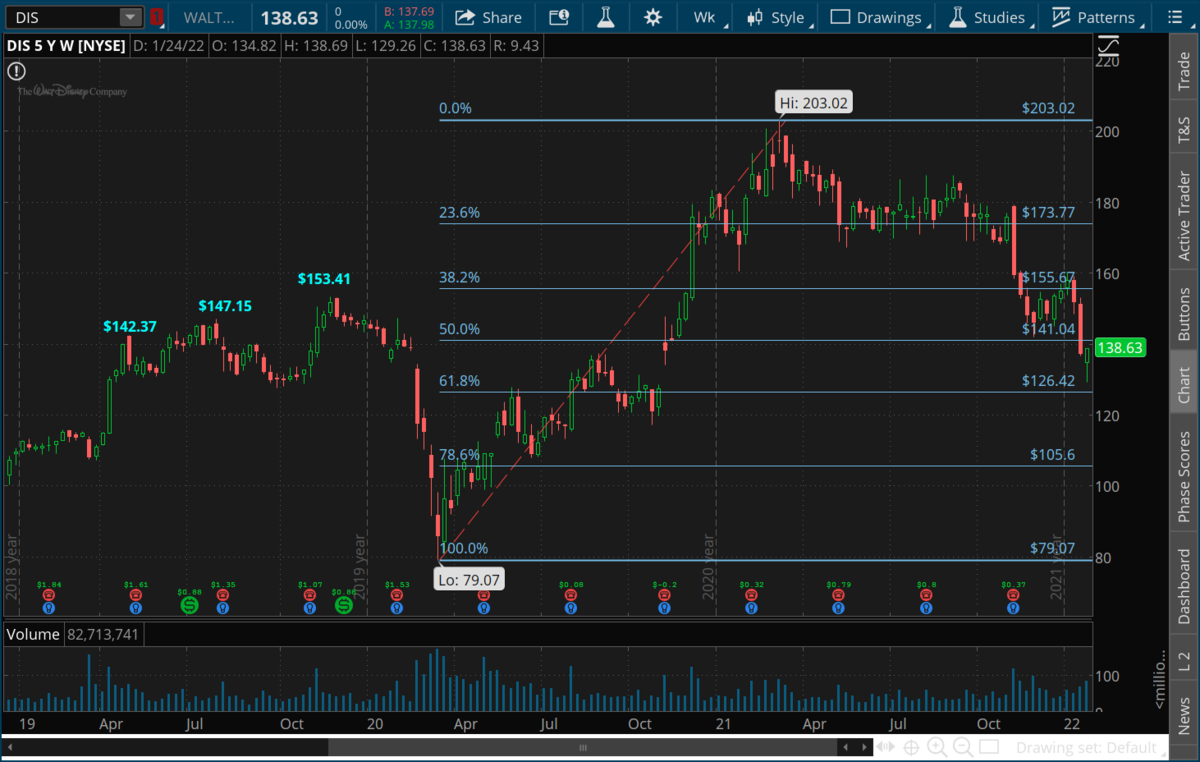 Uber also traded right back to the exact .618 of the entire move higher, before bouncing late last week. Uber traded to a low of $32.81 last week, and the .618 sits at $32.76. As we overcome the recent Omicron variant, we are about to enter the endemic stage of this pandemic where we will learn to adapt and live with Covid, and I imagine travel stocks and reopening stocks may be set up for a rotation sometime soon. Uber announces earnings February 9th.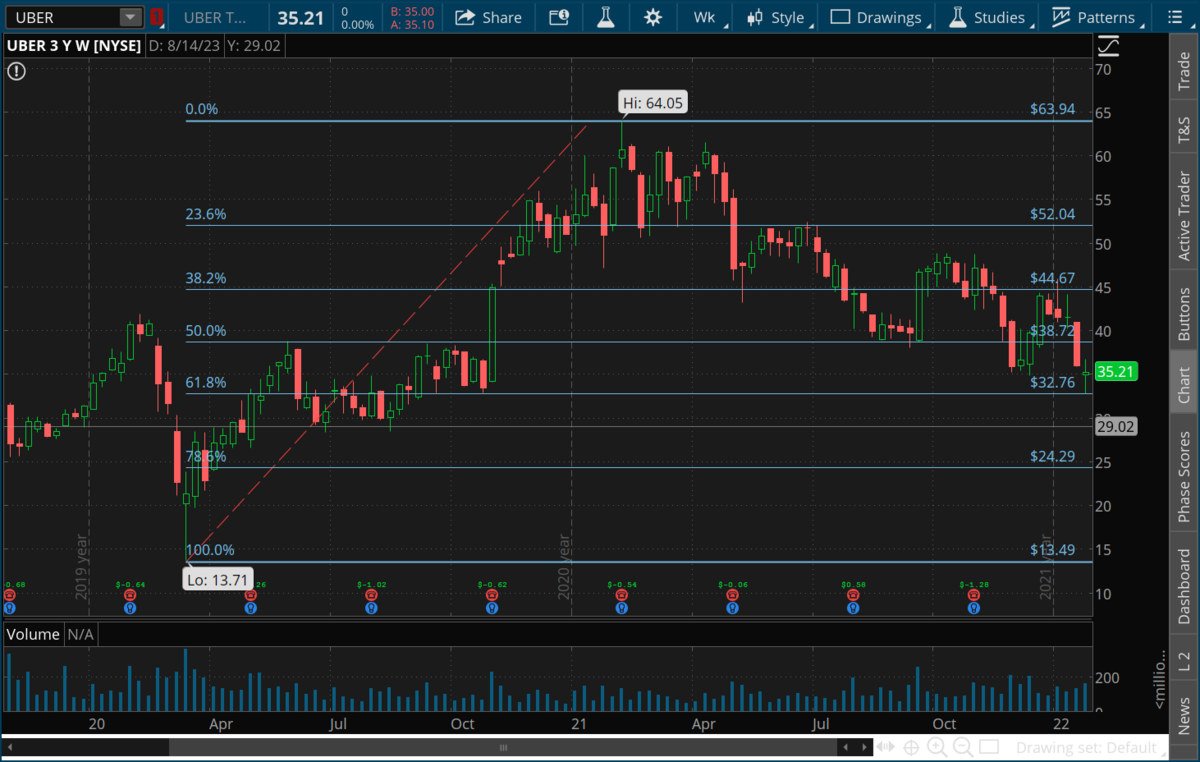 WMT traded below its recent trend line last week before bouncing. We want to see WMT get back above this line. WMT is out with their earnings February 17th. WMT has a 1.60% dividend.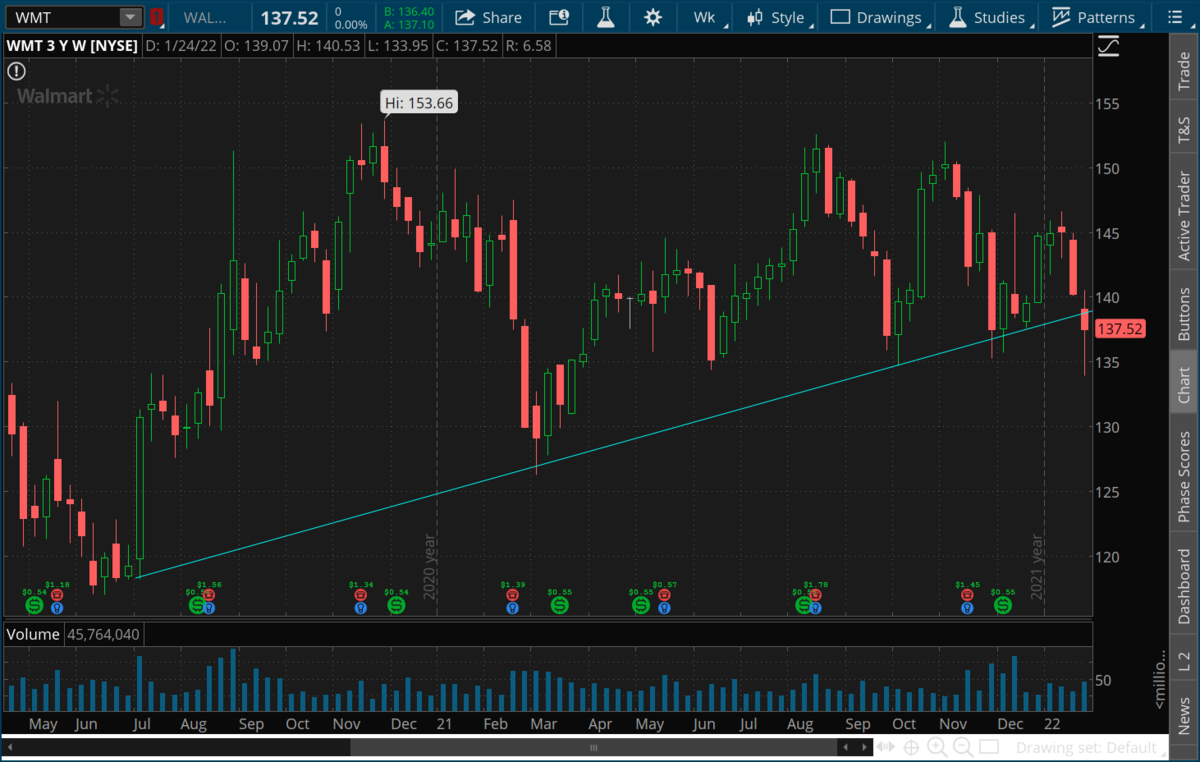 MCD reported earnings last week and bounced nicely right off the bottom of its channel. MCD continues to be one of the strongest equities in our portfolio and comes with a 2.16% dividend.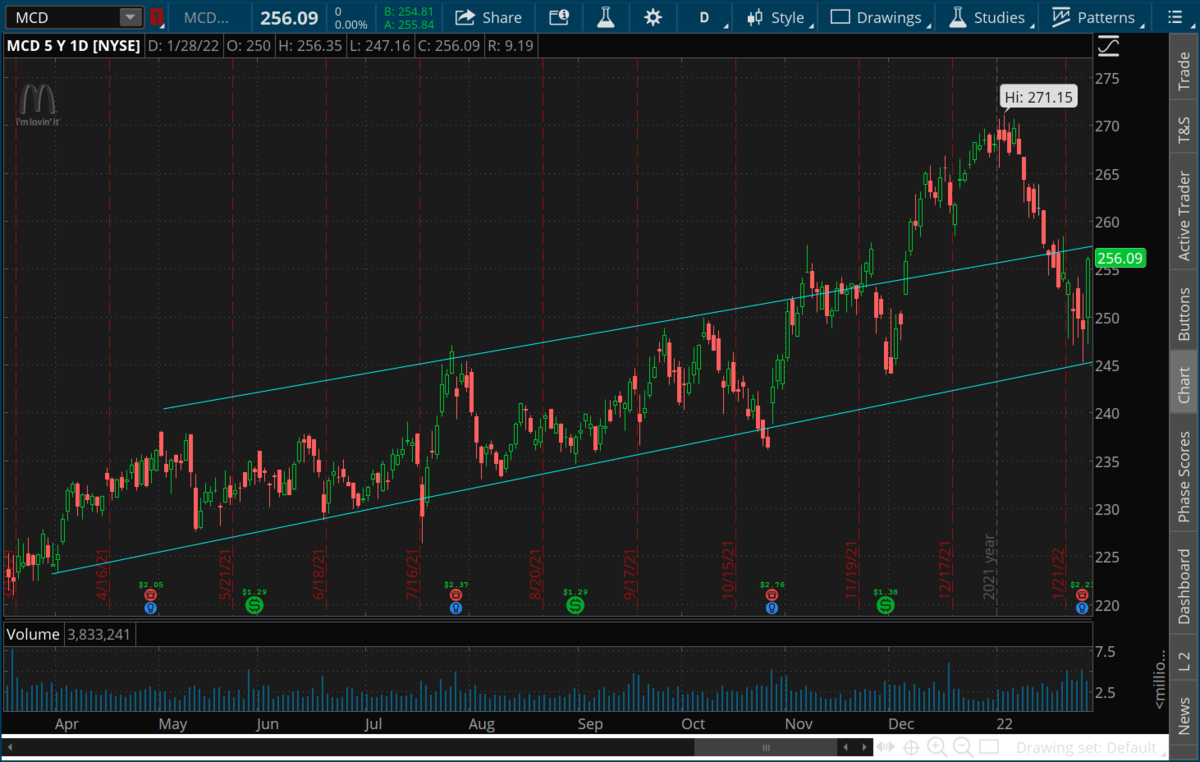 CRM has been a disaster of a pull-back and there's no other way to put it as growth stocks have been crushed. In the long term, CRM is a well positioned growth stock with top management, and their acquisition of Slack will pay dividends in the future. CRM looks to have found a bid between $220 and $200. We got into this equity at about $215. Keep your stop in place at $193.64.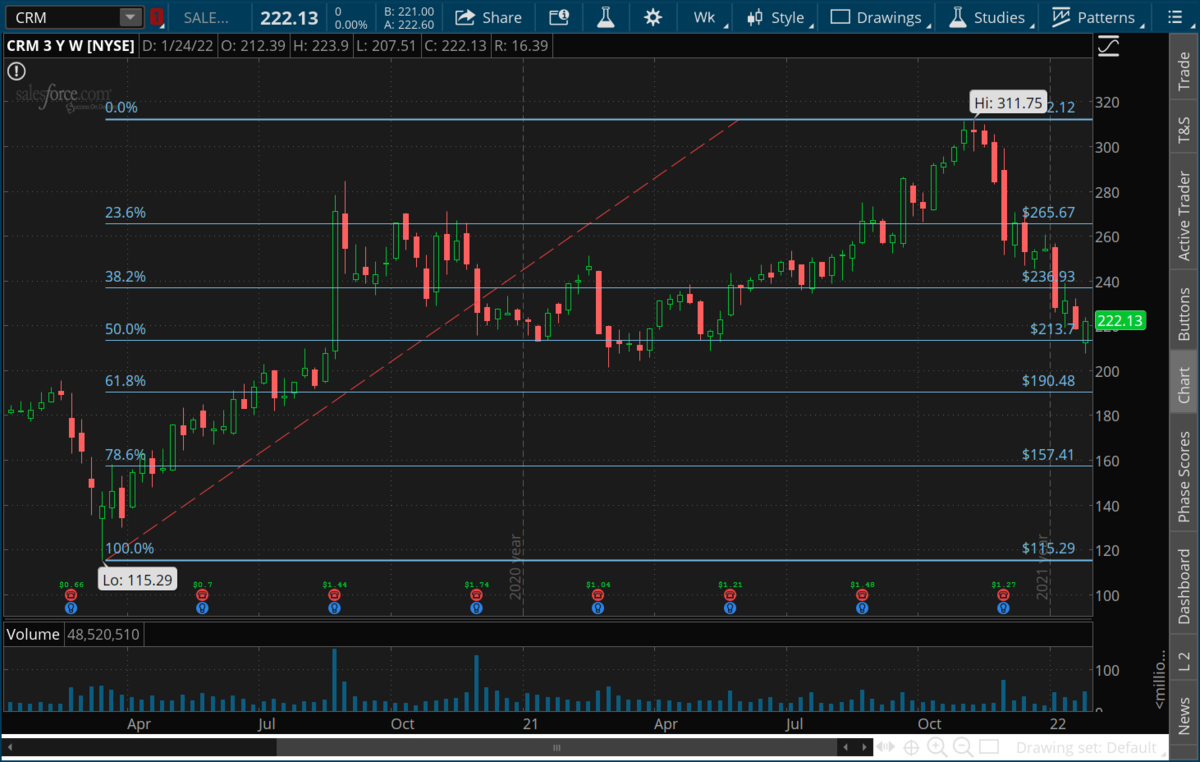 Earnings on our radar this week
Tuesday pre-market: UPS
Tuesday after the close: GOOG, GM, SBUX, AMD, PYPL, EA

Wednesday pre-market: ABBV
Wednesday after the close: TMUS, QCOM, FB

Thursday after the close: F, AMZN
Equity portfolio
Long half position in WMT at $140.91. WMT is trading at $137.52. Stop is $125.31.

We are effectively long CRM at $215.35. CRM is trading at $222.13. Stop is $193.64.

Long half position in DIS at $118.63. Disney is trading at $138.63. Stop is $98.45.

Long half position in UBER at $31.50. Uber is trading at $35.21. Stop is $26.24.

Long half position in MCD at $216.91. MCD is trading at $256.09. Stop is $189.50.
Disclaimer: Trading in securities such as stocks, options, indexes, currencies, and futures involve risk and should not be undertaken without due diligence and serious independent study. Options, stocks, currencies and futures trading, involve substantial risk. Subscribers may carry out their trading based on what they learn from "Rocket Equities & Options" however all risks of potential financial losses are the customer's responsibility. TFNN, Corp. will be in no way liable for financial losses resulting from trading decisions based on this newsletter. Past performance is no guarantee of future results. Reproduction in whole, or in part, is not permitted without prior written consent. Copyright 2022 all rights reserved.