Rocket Equities & Options Report 02-09-22
Disney & Uber Report Earnings Tonight - February 9, 2022
2 equities we currently own report earnings tonight after the bell, and both are trading higher today with DIS up almost 2.9% today and UBER up 4.5%. Both stocks underperformed in 2021 and I expect them to trade higher as the re-open trade seems to be taking place, with a rotation into travel and leisure stocks.

We get the CPI data for January tomorrow morning before the open, and the expectations are for 7.2% year over year, with a 0.5% rise on a monthly basis. Look to the monthly number to see if inflation is above or below expectations. The VIX is trading near $20, at the lowest level since January 14th, as the market seems to have realized hikes are priced in, and unless we get a shock inflation number tomorrow, which I do not expect, the talk of 50 basis point hikes is probably unwarranted, at least at this time with this data.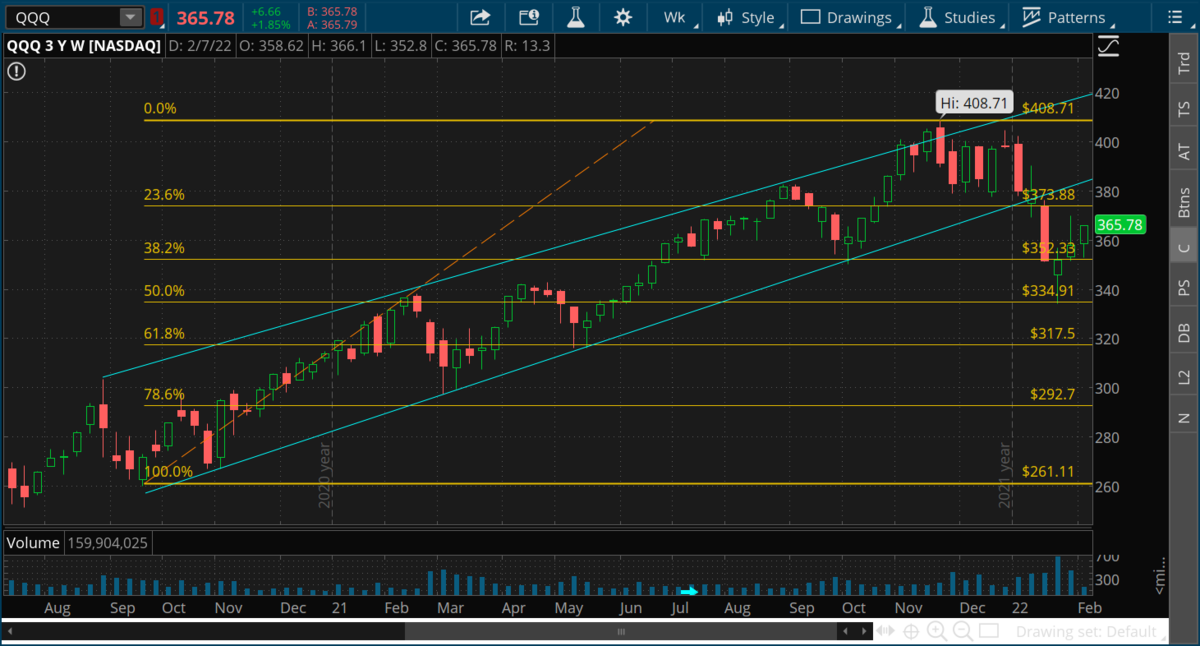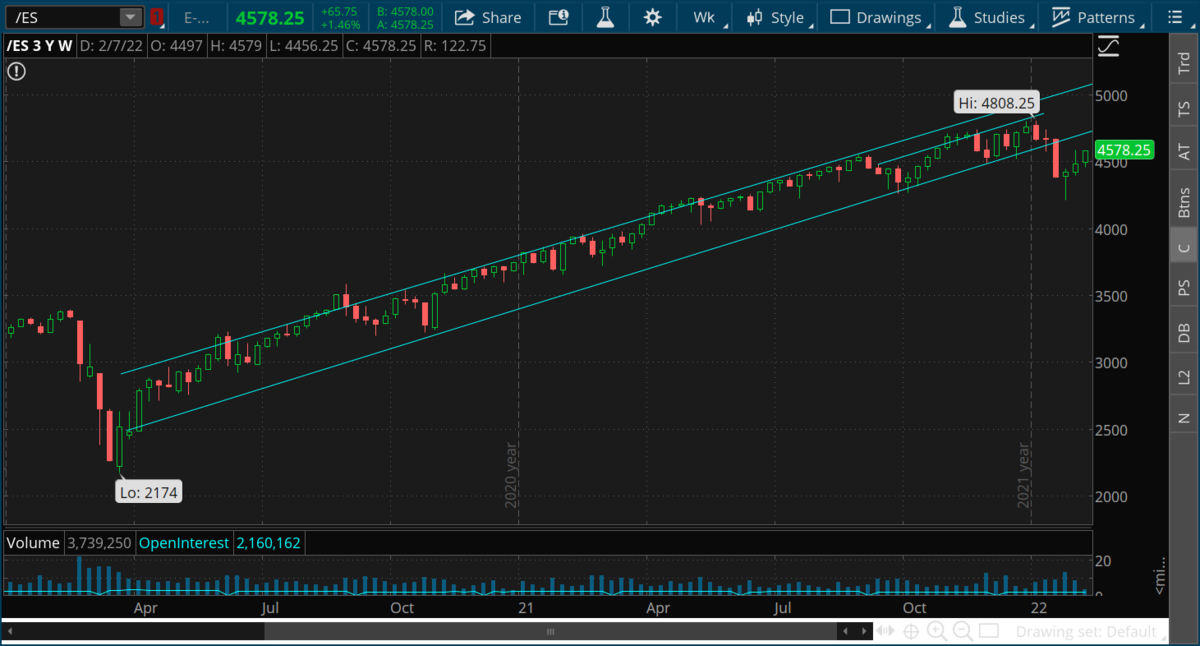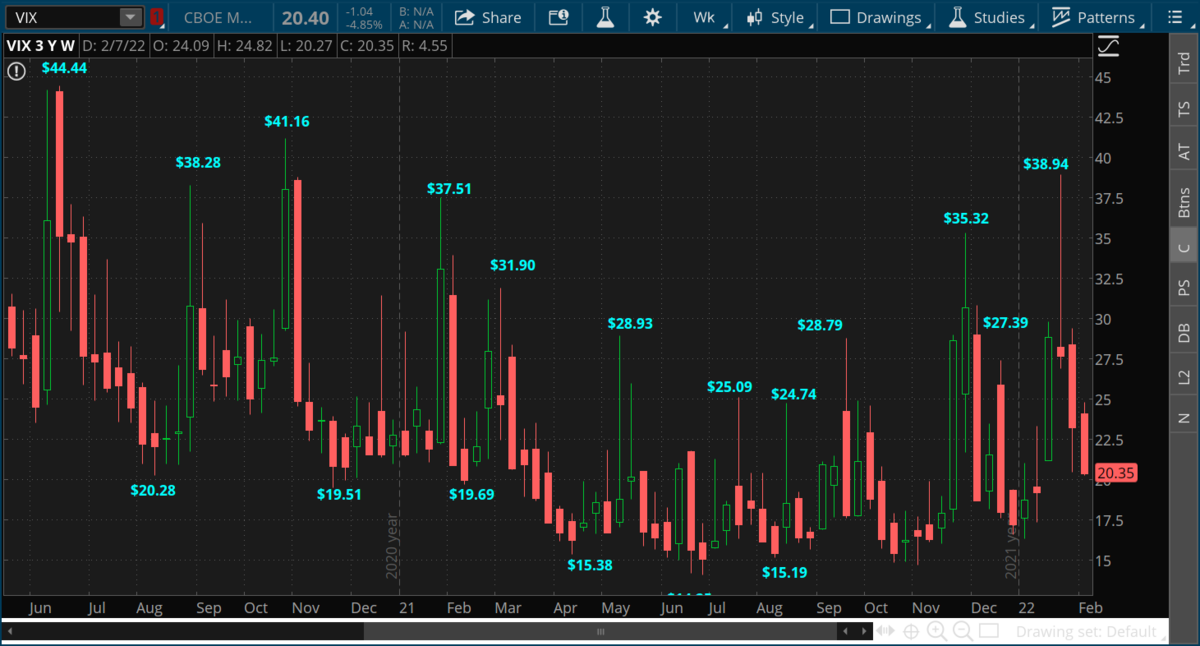 Gold trading back to near the top of its recent range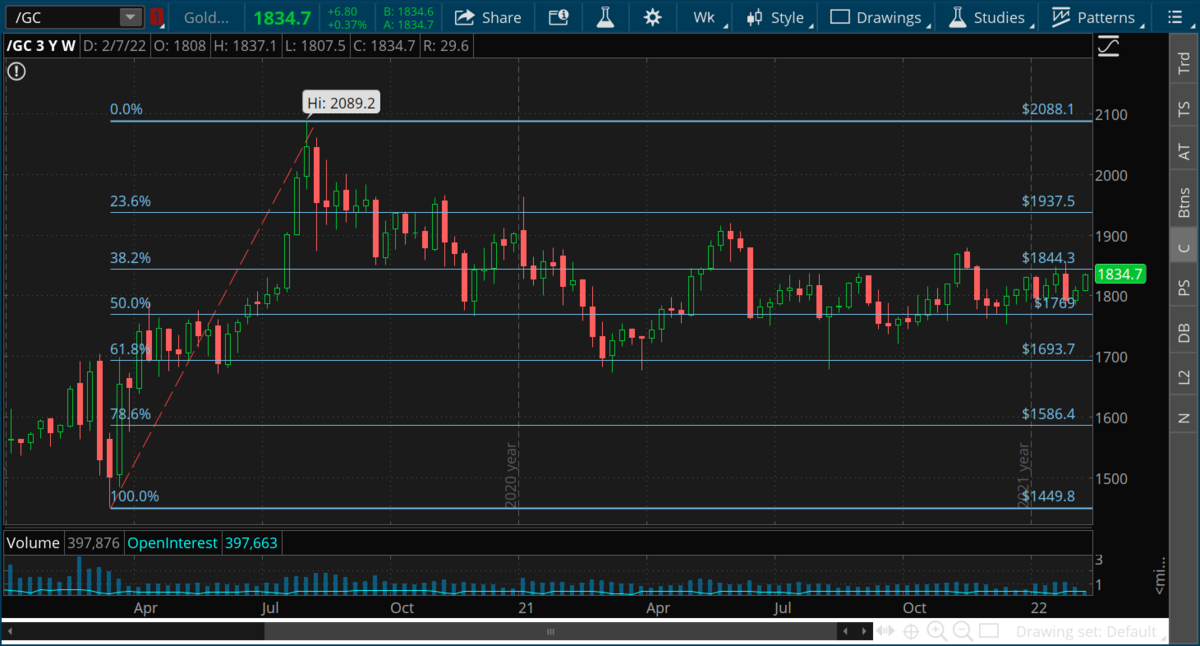 10 Year Note Weekly - Yielding 1.925%
Trading right back to the .618 of the entire move higher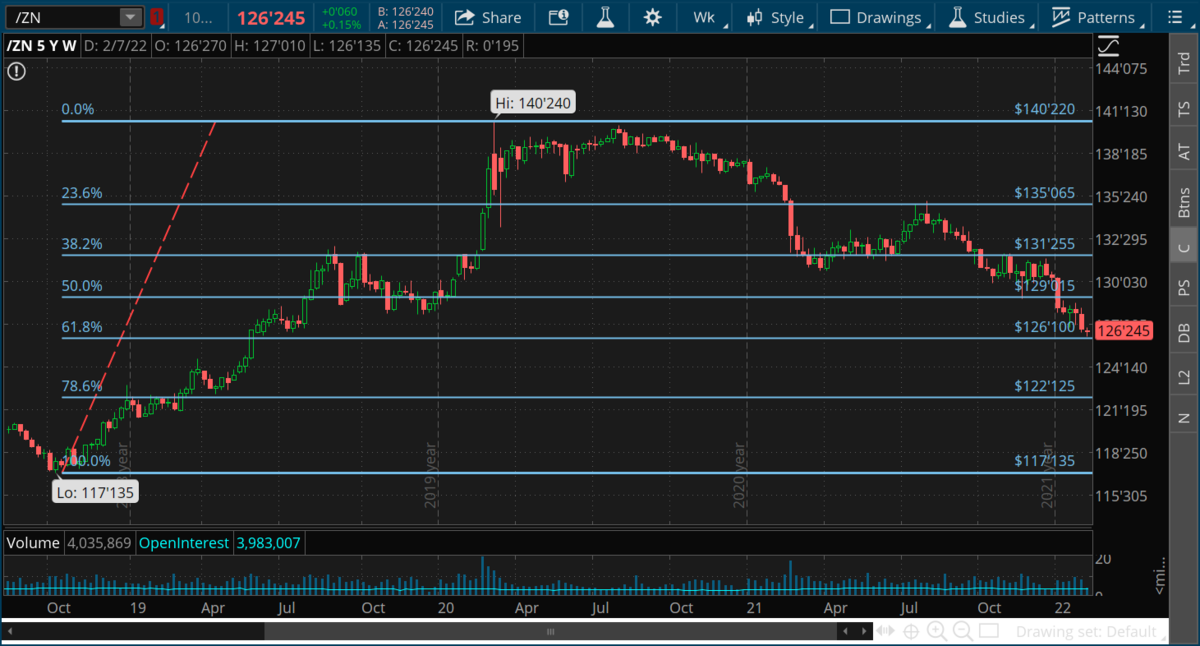 Disney is out with earnings after the bell tonight, and they've basically already told the market that Disney+ subscribers will grow at a slower pace than usual, until at least the end of this year. Lots of focus will be on the parks business and what the guidence will be going forward as the economy opens back up and we look the endemic phase of this pandemic. Disney traded to within a few dollars of its .618 and has bounced nicely. Next stop is the $155-$160, where it spent some time in early January, and then onto fill the gap left open between the $165 - $175 area.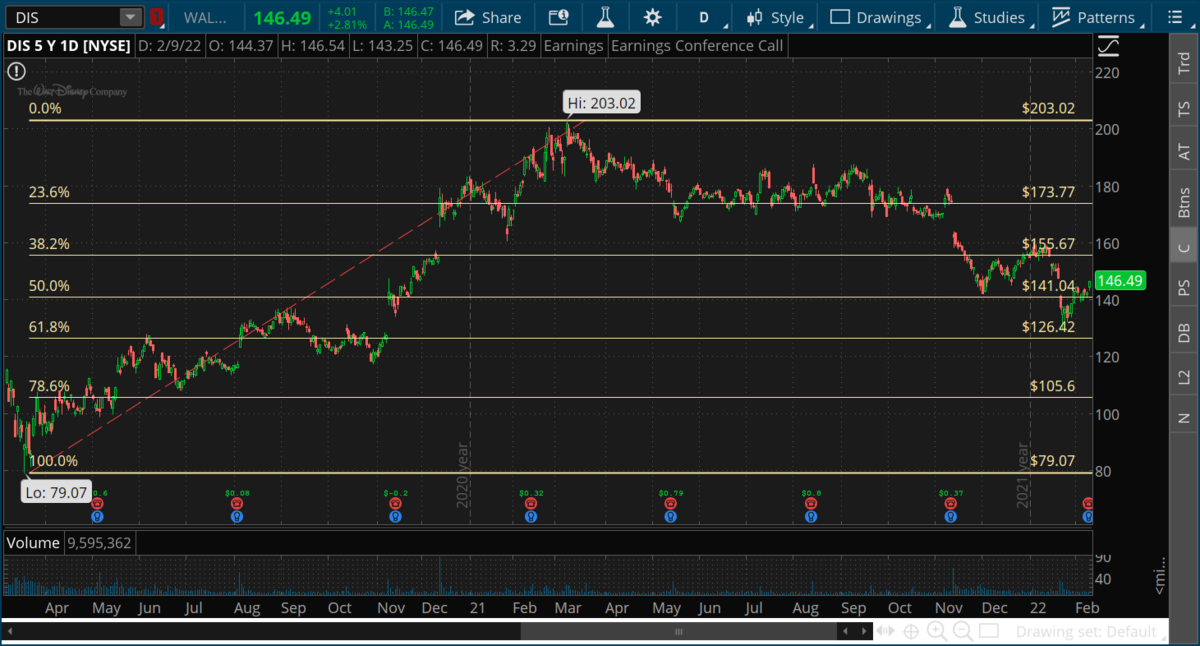 Disney closing the recent gap - next stop is $155-$160 area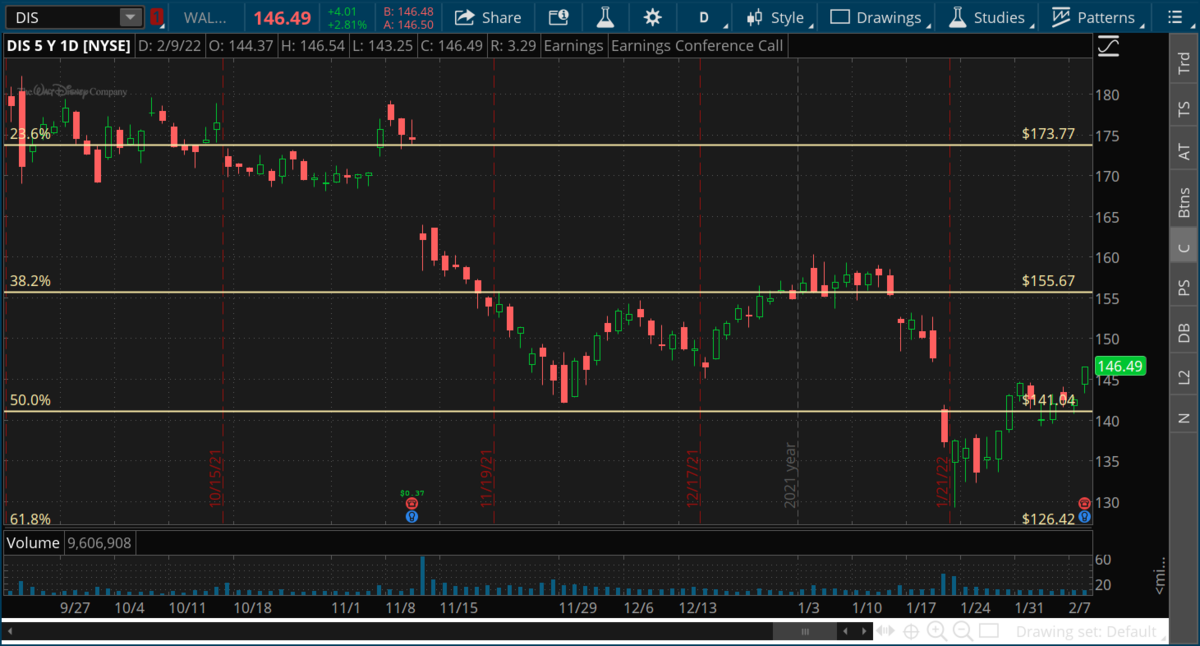 Uber also traded right back to the exact .618 of the entire move higher, before bouncing higher over the last 2 weeks. LYFT reported earnings last night and while they beat on the top and bottom line, they missed on active riders with only 18.73 million active riders in the quarter, vs. the expectation of 20.2 million riders by Wall St. However, revenue per rider of $51.79 exceeded the expectation of $46.54. LYFT is still under Q4 of 2019 levels when they had 22.9 million active riders. LYFT guided for first quarter revenue of $800-$850 million, when the market was looking for almost $1 billion. With all of that said, LYFT is up 6% today and UBER is up 4.40% right now. The rotation into travel and leisure stocks could still be near the start, as they have underperformed for an extended period of time and could have room to run compared to the rest of the market.

Uber reports tonight after the bell, and they have a lot more going on than LYFT, when it comes to Uber Eats, and international exposure.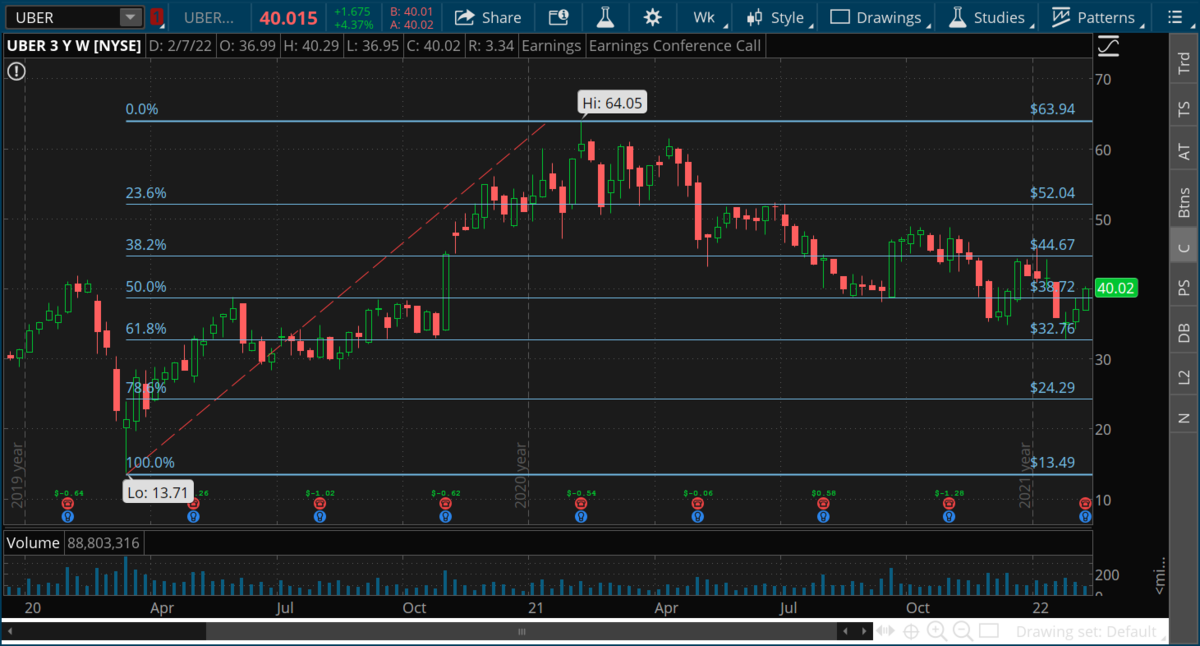 WMT has been oscilating near its trend line for the last few weeks. We want to see WMT get back above this line. WMT is out with their earnings February 17th. WMT has a 1.60% dividend.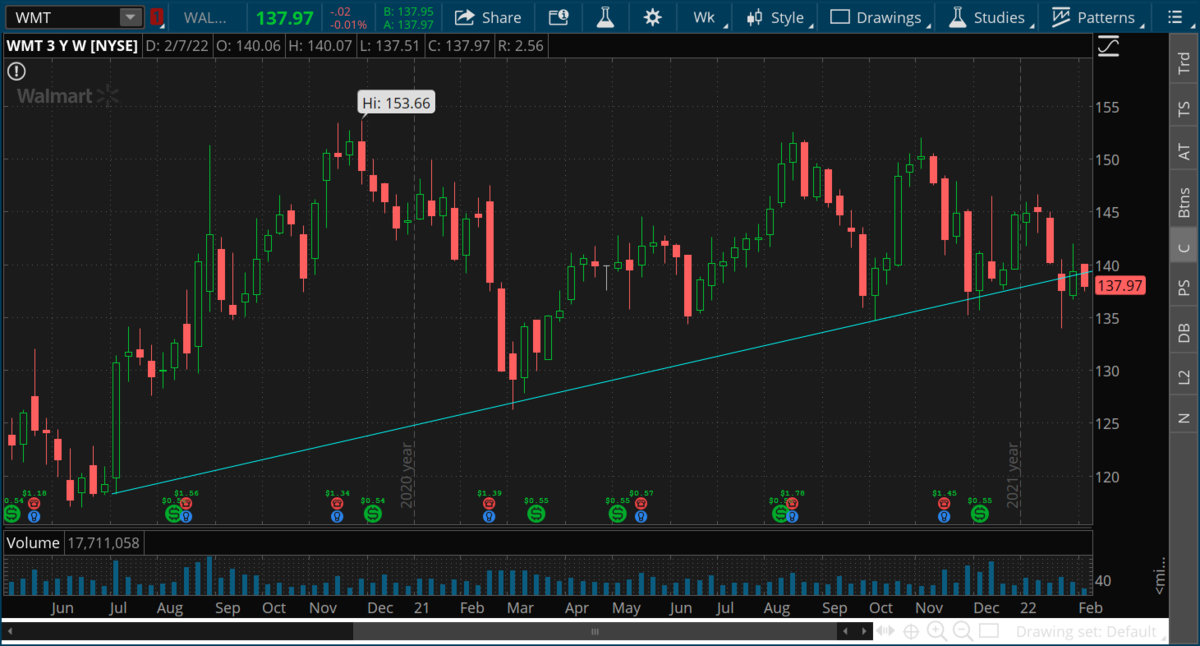 MCD continues to be one of the strongest equities in our portfolio and comes with a 2.11% dividend. MCD got back abov its channel line, look for it to test the top of its channel line and bounce higher for another leg up higher.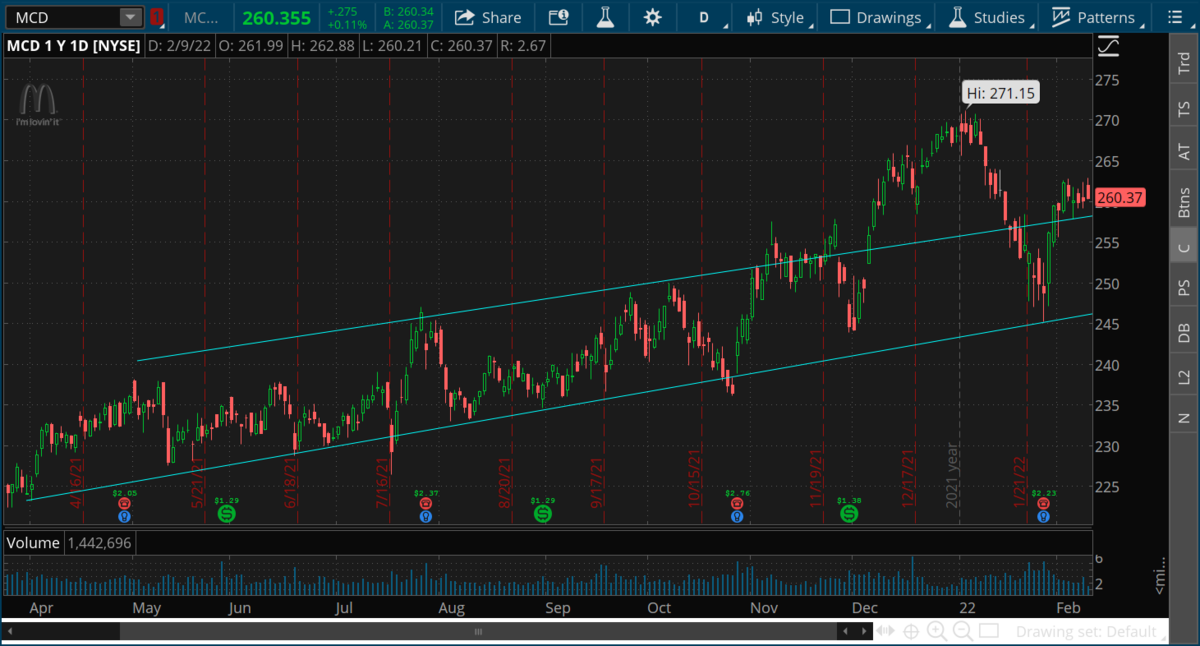 In the long term, CRM is a well positioned growth stock with top management, and their acquisition of Slack will pay dividends in the future. CRM has traded back to its 50% retracement and found a bid, right where it found support early last year. We got into this equity at about $215. Keep your stop in place at $193.64.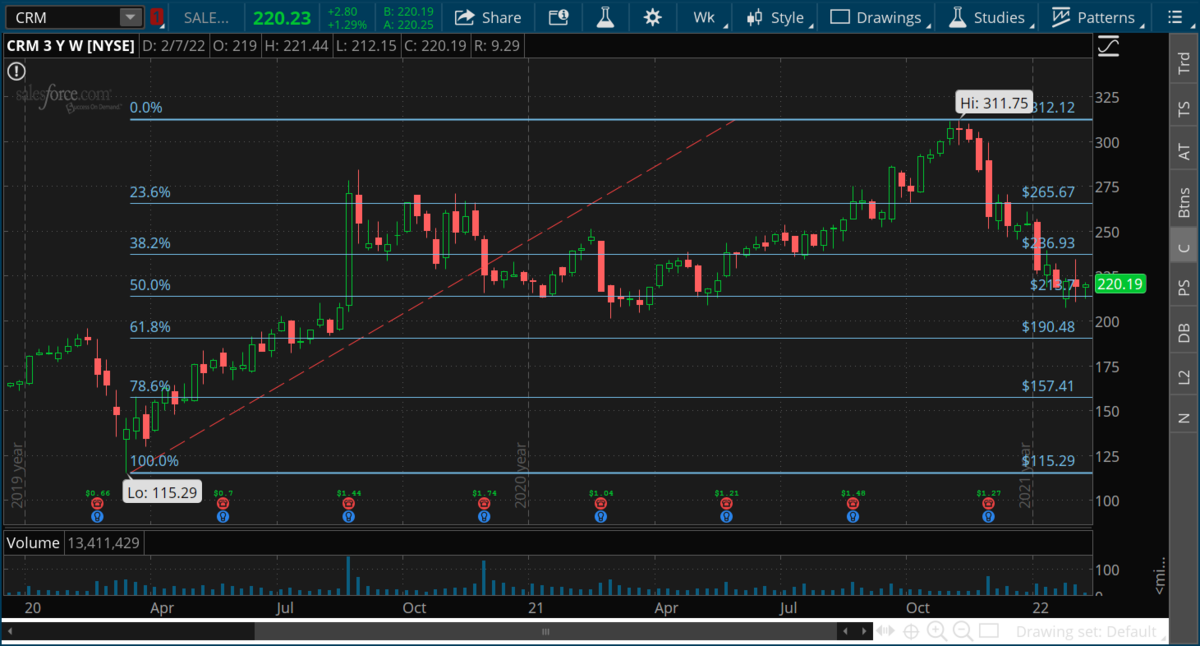 Earnings on our radar this week
Tonight after the close: DIS, UBER

Thursday pre-market: Coca-Cola (KO), Blue Apron (APRN), PepsiCo (PEP), Kellogg Co. (K)
Thursday after the close: Expedia Group (EXPE)

Friday pre-market Under Armour (UAA).
Equity portfolio
Long half position in WMT at $140.91. WMT is trading at $137.90. Stop is $125.31.

We are effectively long CRM at $215.35. CRM is trading at $220.25. Stop is $193.64.

Long half position in DIS at $118.63. Disney is trading at $146.58. Stop is $98.45.

Long half position in UBER at $31.50. Uber is trading at $40.05. Stop is $26.24.

Long half position in MCD at $216.91. MCD is trading at $260.41. Stop is $189.50.
Disclaimer: Trading in securities such as stocks, options, indexes, currencies, and futures involve risk and should not be undertaken without due diligence and serious independent study. Options, stocks, currencies and futures trading, involve substantial risk. Subscribers may carry out their trading based on what they learn from "Rocket Equities & Options" however all risks of potential financial losses are the customer's responsibility. TFNN, Corp. will be in no way liable for financial losses resulting from trading decisions based on this newsletter. Past performance is no guarantee of future results. Reproduction in whole, or in part, is not permitted without prior written consent. Copyright 2022 all rights reserved.