Rocket Equities & Options Report 03-23-22 New Buy CGC
Rocket Equities & Options Report - March 23, 2022 New Buy CGC
We are going long Canopy Growth Corp. (CGC) on the open. This may be a quick trade if the market catches a pop or we may hold a bit as the stock has been beaten down over the last year and is nearing a valuation of just $2 billion.

This is a high risk trade because of the volatility present any time you dabble in MEME stocks that the reddit retail traders can manipulate, but the risk vs. reward is attractive on this equity. GME was up 30% yesterday and was up big overnight as well. AMC was up 15% yesterday and was up overnight also. They ran CGC all the way up to $56.50 last year, so I'm willing to risk a couple of dollars on this equity.

Place an order to buy CGC on the open at $8.00 or better. CGC is currently trading at around $7.50. Let it open first and see where it trades then place the order. These stocks are wild. Don't even think of placing a market order. Our stop will be just under its recent low at $5.47.

CGC currently has a short % of the float of more than 19%, which is very similar to AMC at also just above 19%. GME has a short % of float above 25% right now.

The ES is up 9.3% since the lows made just last Tuesday. That is quite a bounce. Over that same week, the VIX has declined from almost 34 yet still sits at an elevated level of 22.94, probably rightfully so with the moves this market is making and the uknowns in play with war, inflation, rate hikes, supply shortages, etc all in play. The 10 year yield is now near 2.4%, having risen from 1.698% on March 4th. That's more than a 0.7% rise in less than 3 weeks time.

Earnings season is wrapping up this week. We get consumer sentiment data on Friday morning. And then we start it all over again next week as we get Non-Farm Payroll data for March on Friday, April 1st. CPI data for March will be out April 12th, mark that date on your calendar as well, as with rising gas prices we should see a headline CPI number that will be shocking to many, but I imagine the core number will get a lot more attention this time around. Stay tuned for updates!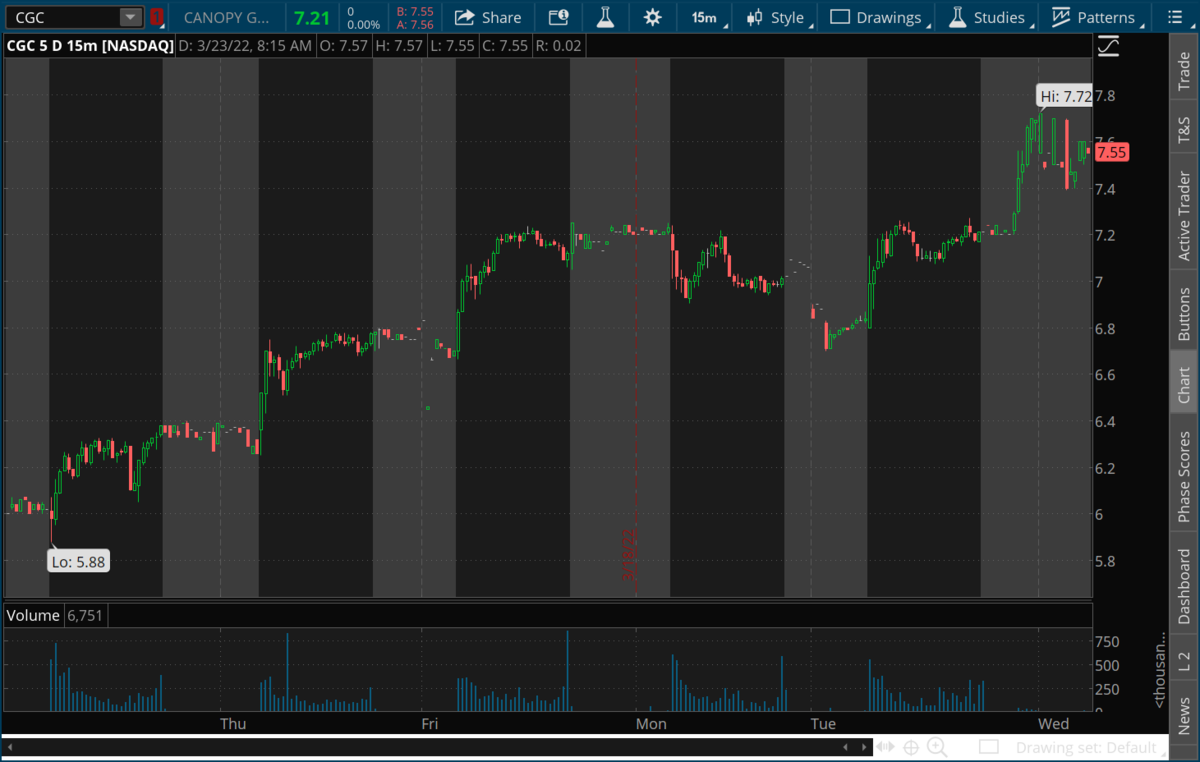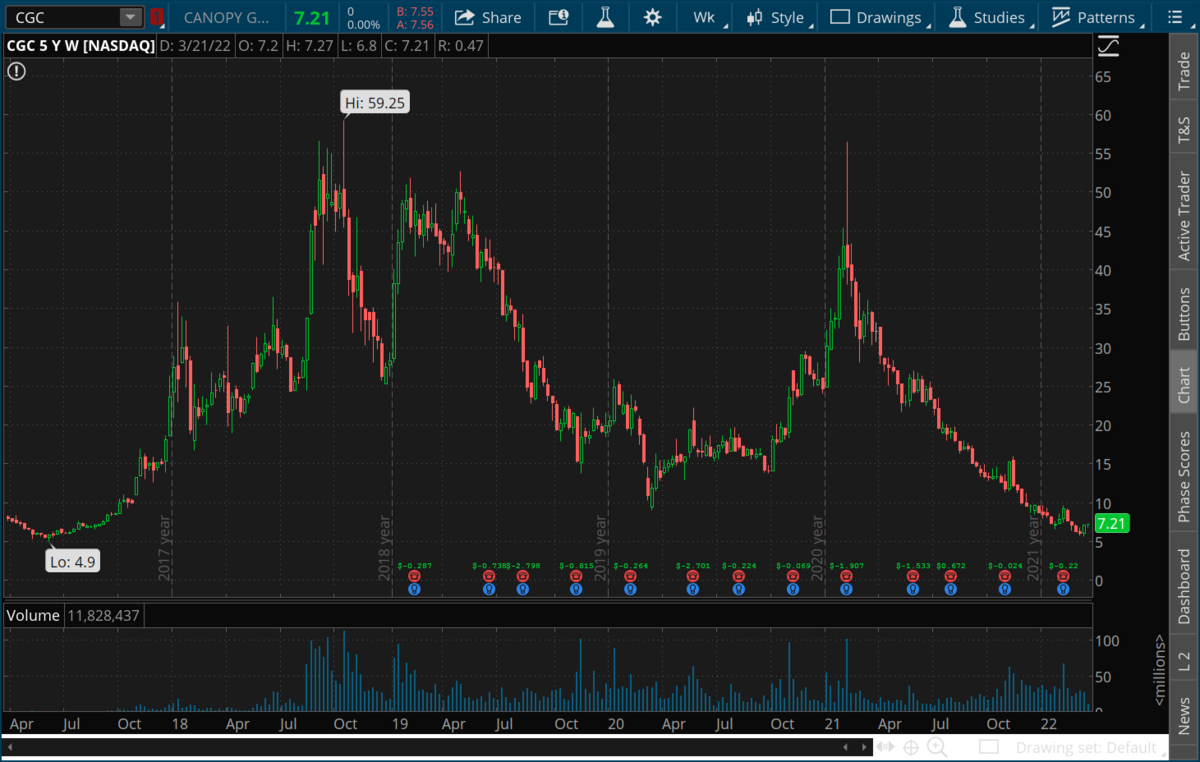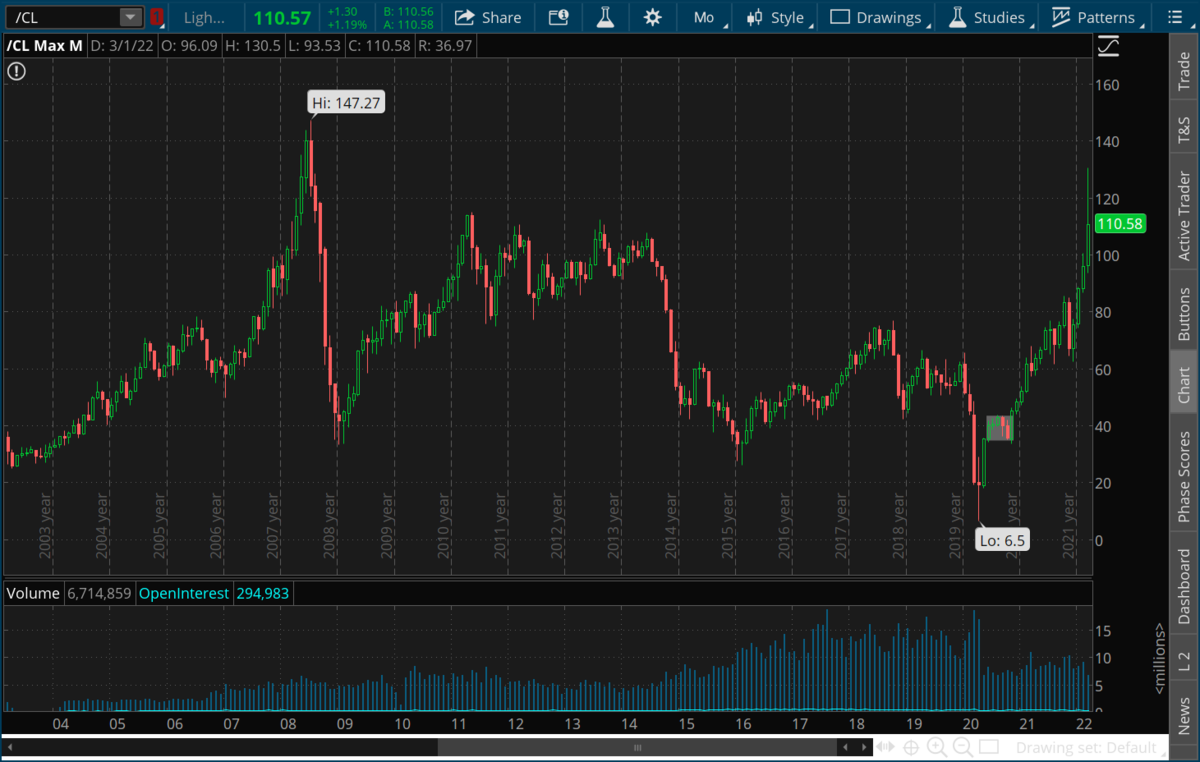 QQQ Weekly
The QQQ is up over 41 points from its low of $315.71 made just over a week ago. That's a 13.2% rise in just 6 trading days. Simply Amazing.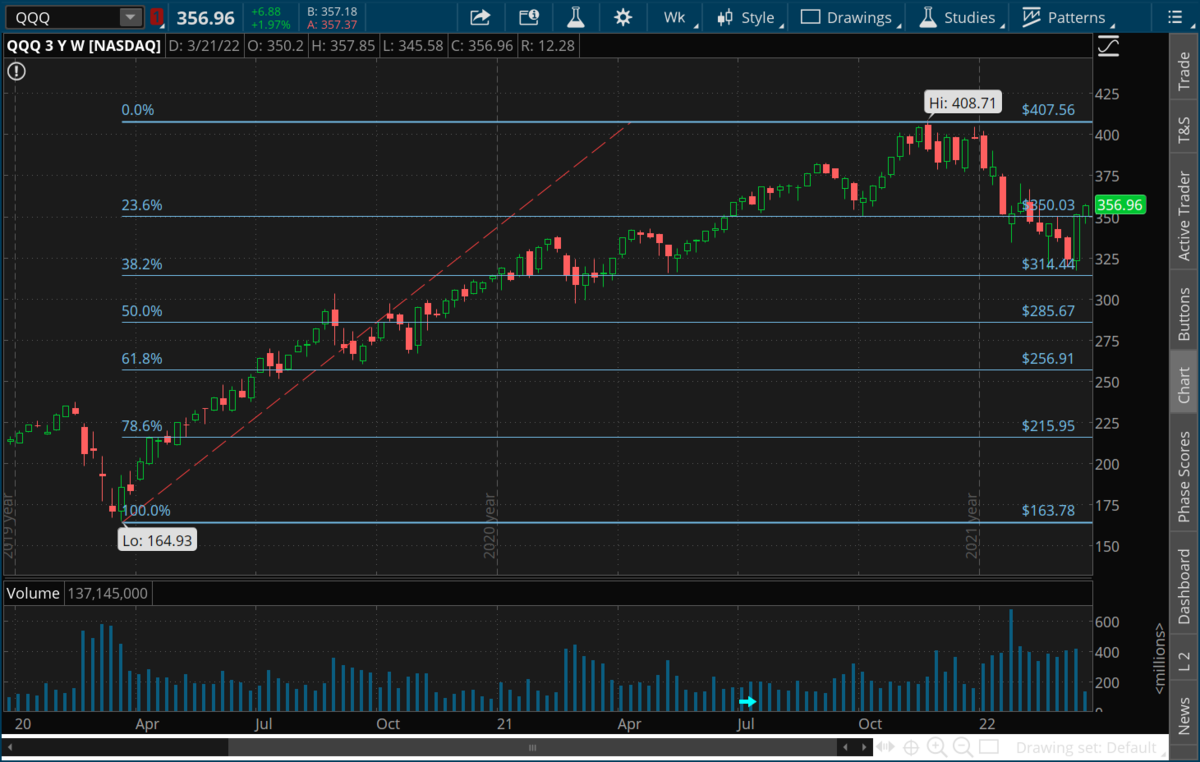 ES Weekly
The NQ Futures missed their .382 by just a couple of points. That same level would bring the S&P near the 3,800 price level, or more than 700 points from where the market currently sits.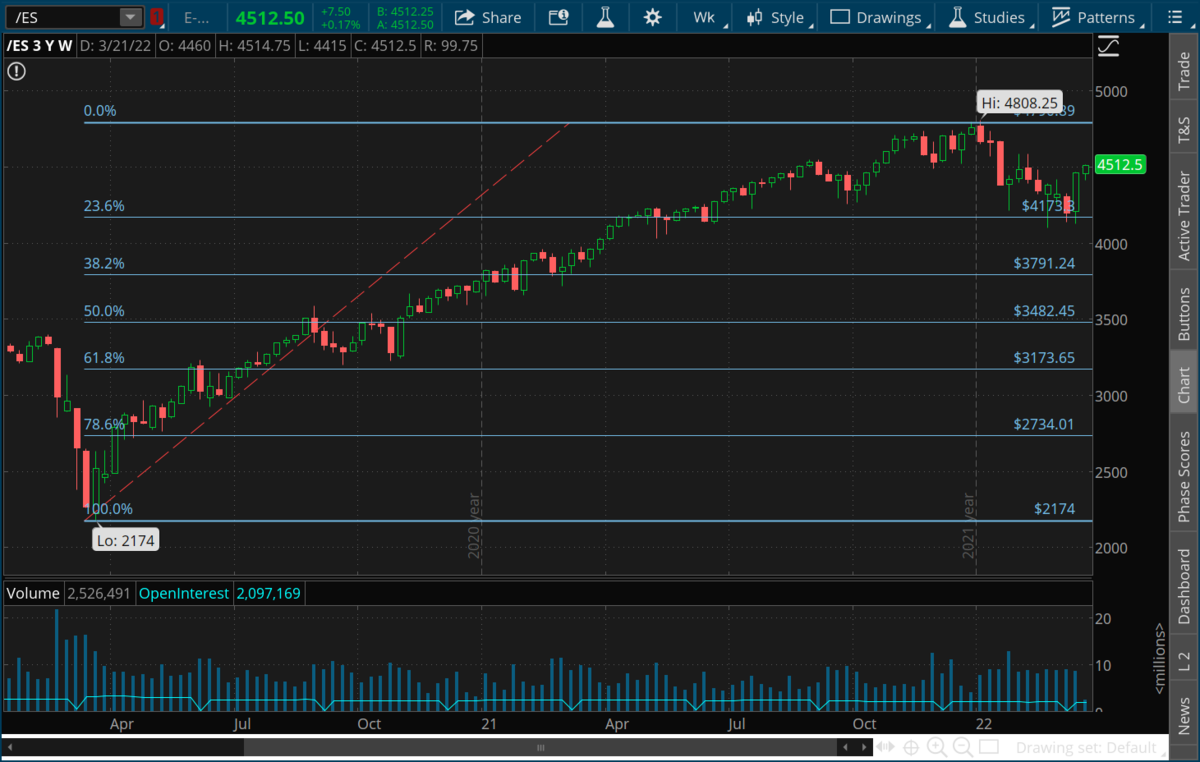 ES Daily
The ES is up more than 9% from its recent lows made just over a week ago, yet its coming into an area of potential resistance near 4,549. This area correlates to its previous highs in February, as well as its .618 retracement from its move lower so far this year.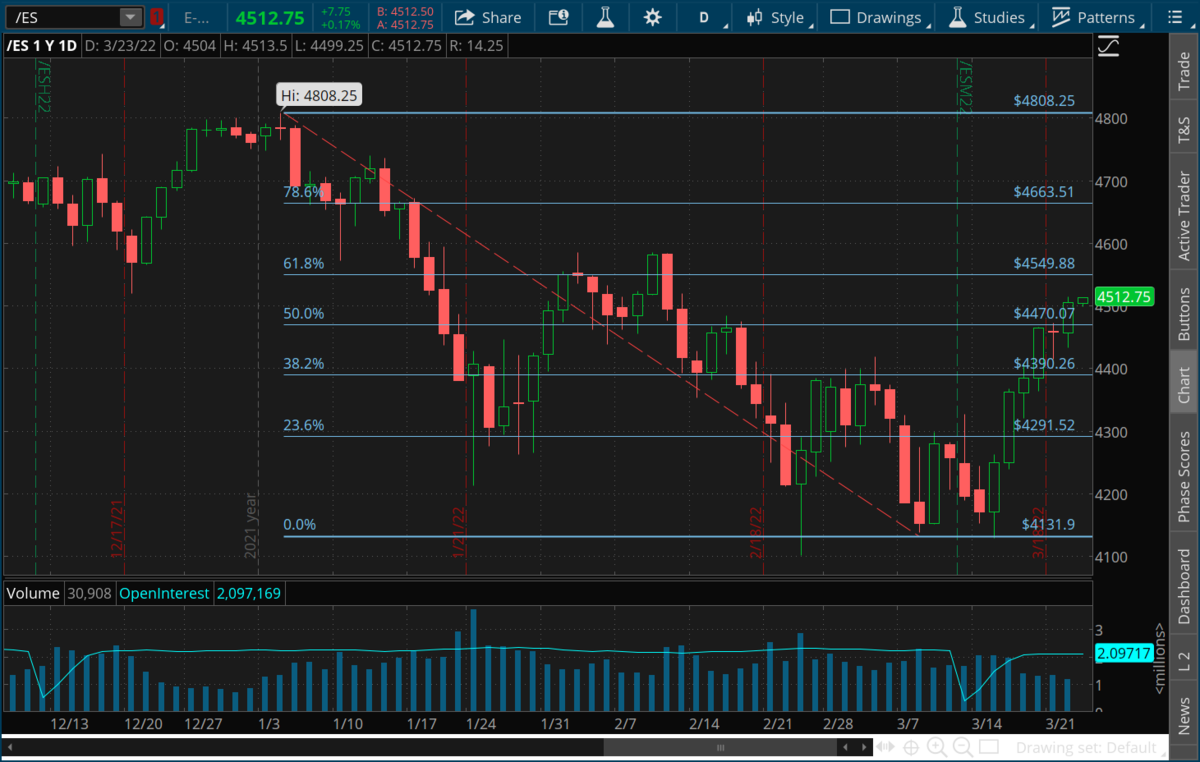 VIX
THe VIX looks like it has topped and is on its way to the 20 area.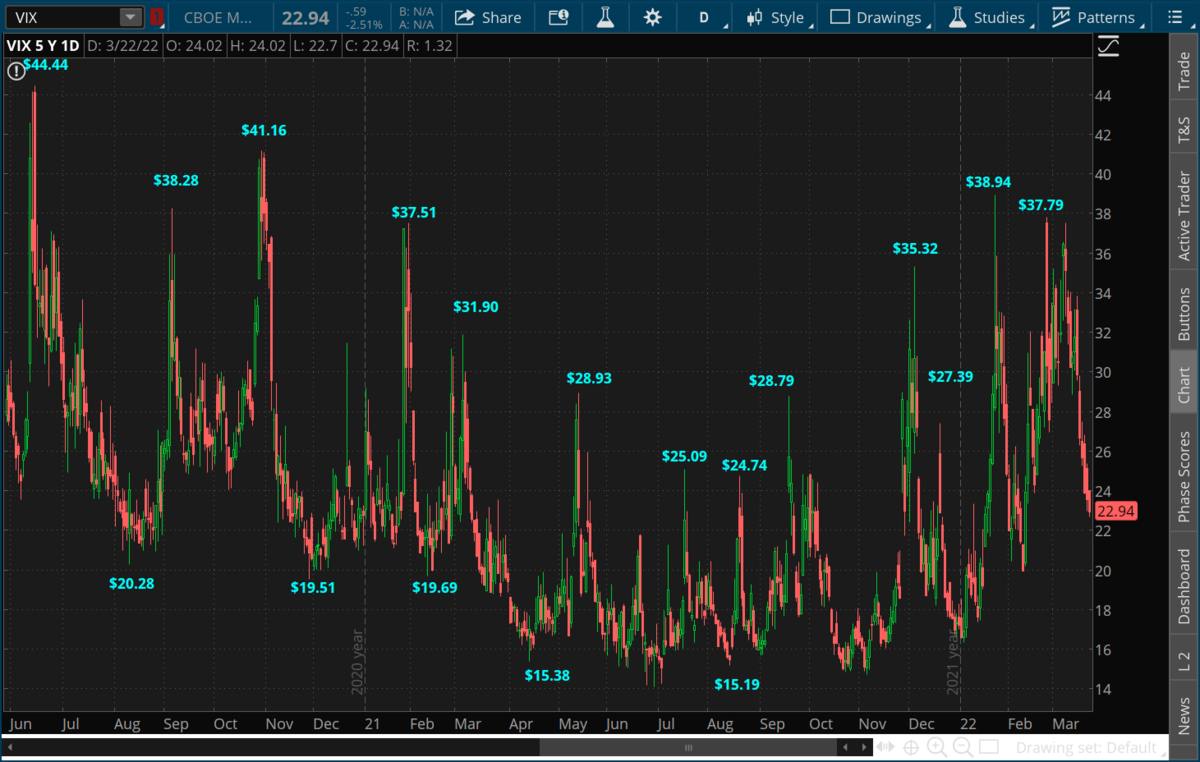 Gold
Gold pulled back right to the .618 area of its recent run higher and has found support in the $1,900 to $1,920 range.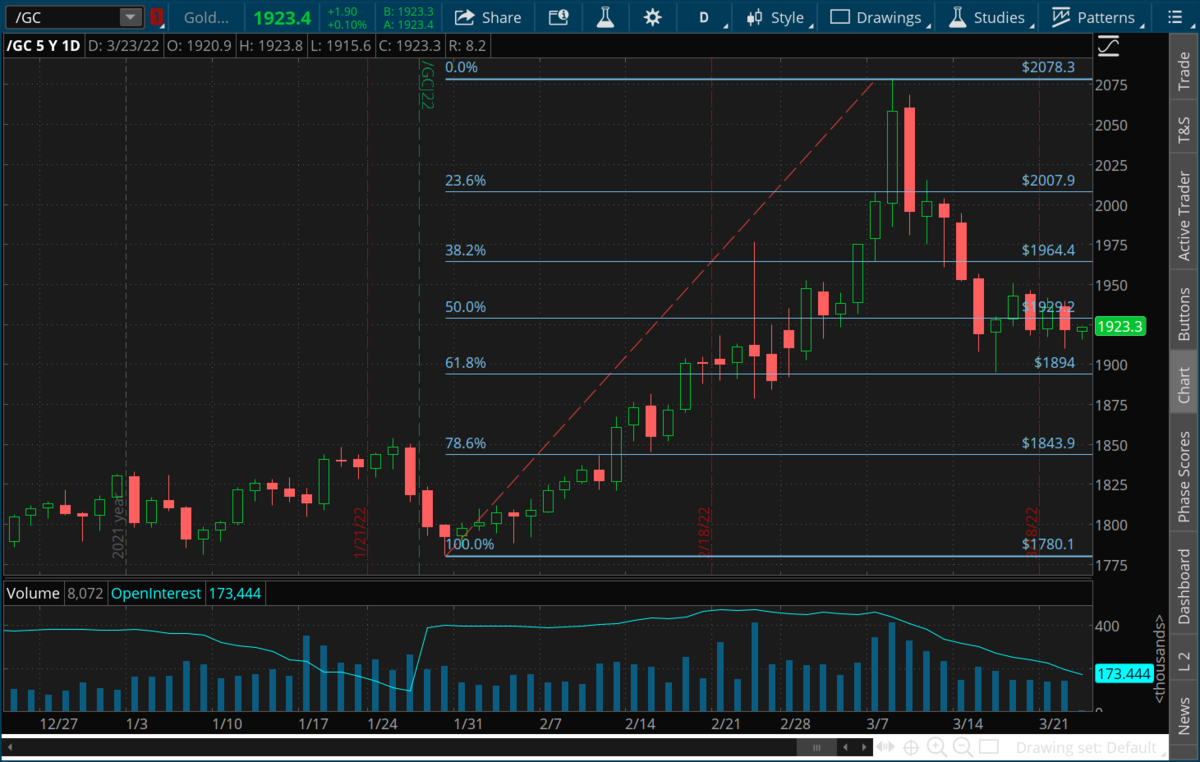 10 Year Note Weekly - Now Above 2.4%
The price action in Notes has been remarkable, accelerating out of its channel and crashing lower to push yields from 1.698% to 2.412% as I write this.. I expect we may get a bounce, and maybe the price gets back within the downard channel again, but lower prices and higher yields are coming at us all for the foreseeable future.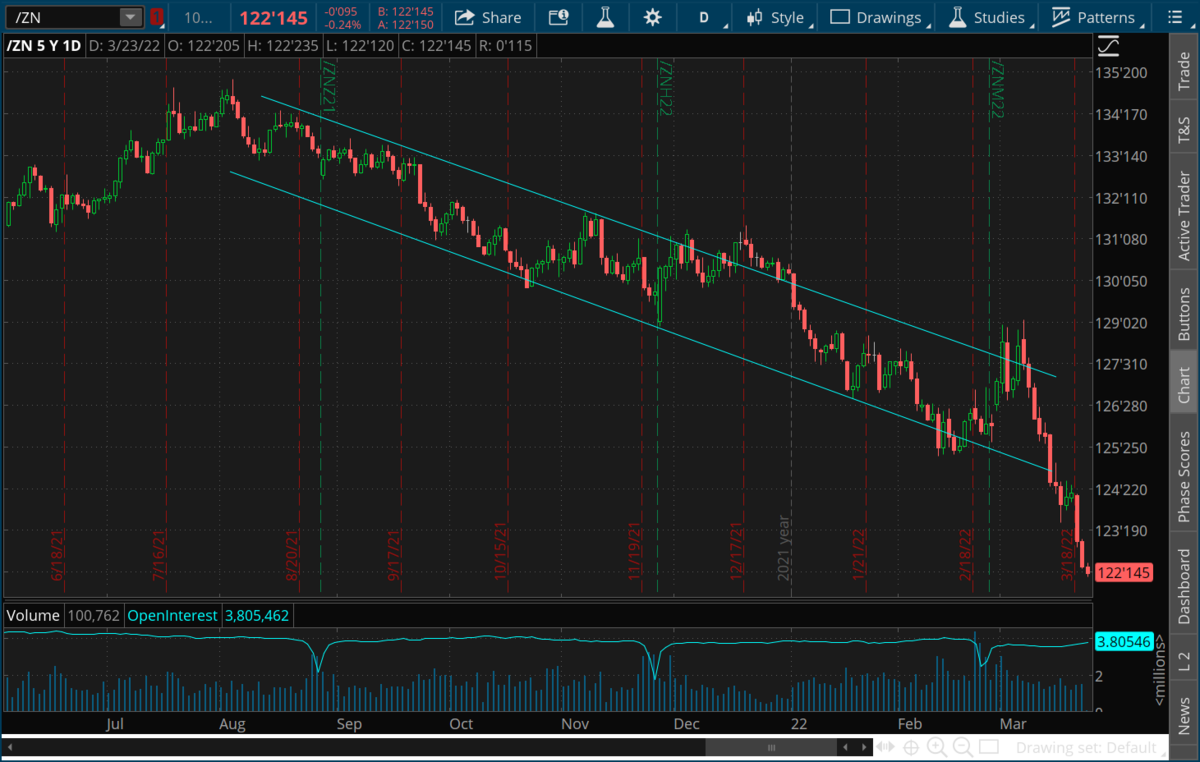 Disney has pulled back on light volume. Next stop is the $155-$160 area, where it spent some time in early January, and then onto fill the gap left open between the $165 - $175 area.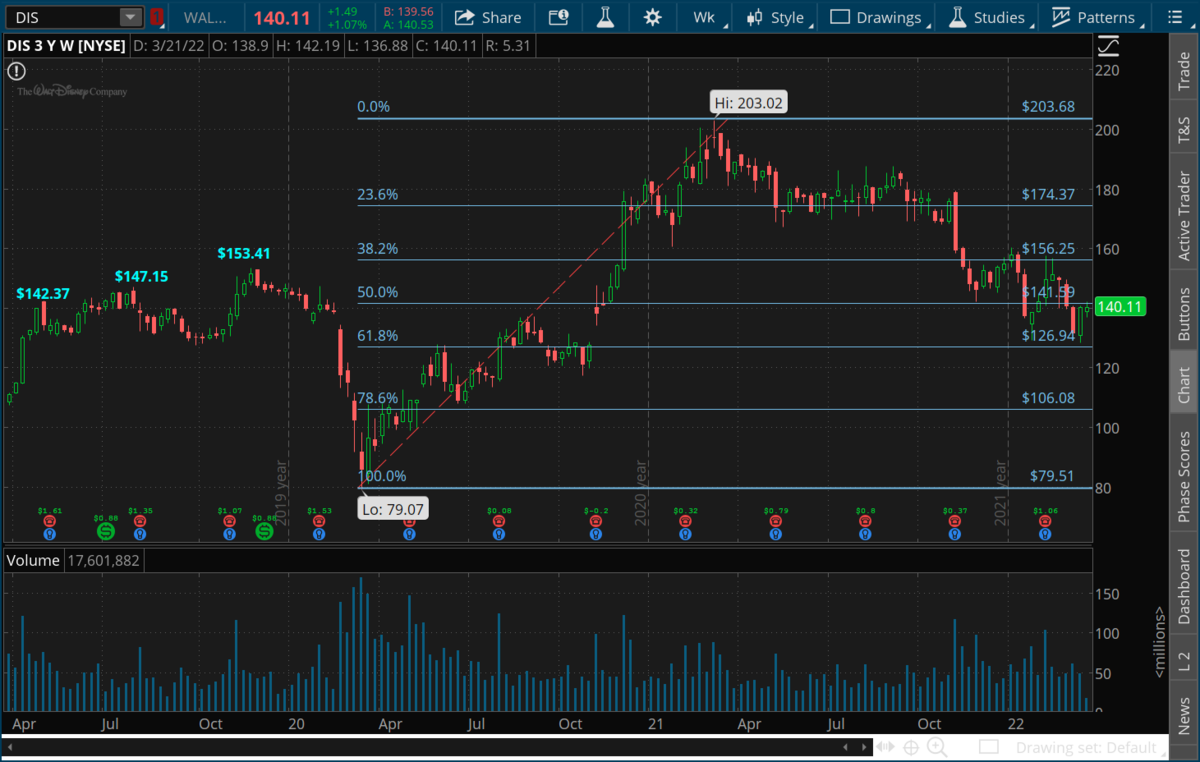 Uber continues to consolidate near its .618 of its larger move. We need a sign of strength in Uber.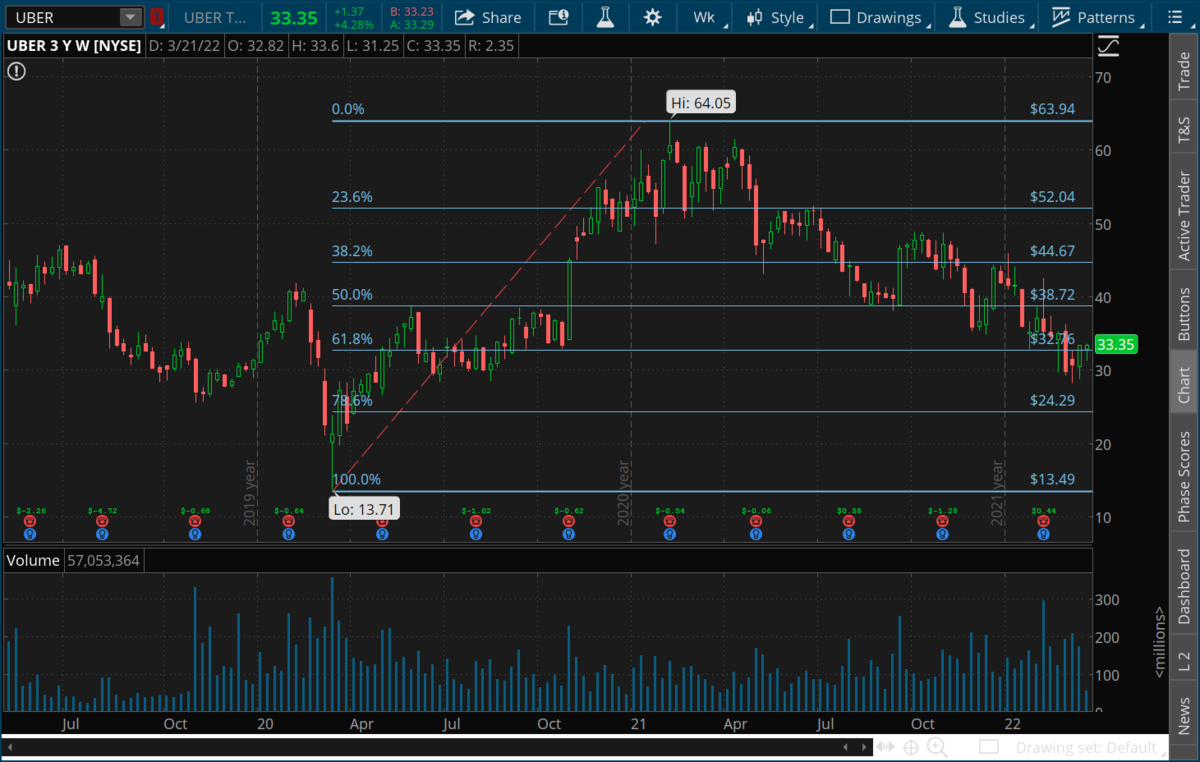 WMT has built a consolidation area from the .318 price area of $134 to the upper boundary of about $150. WMT looks to be heading back to the $150 area. WMT has a 1.56% dividend.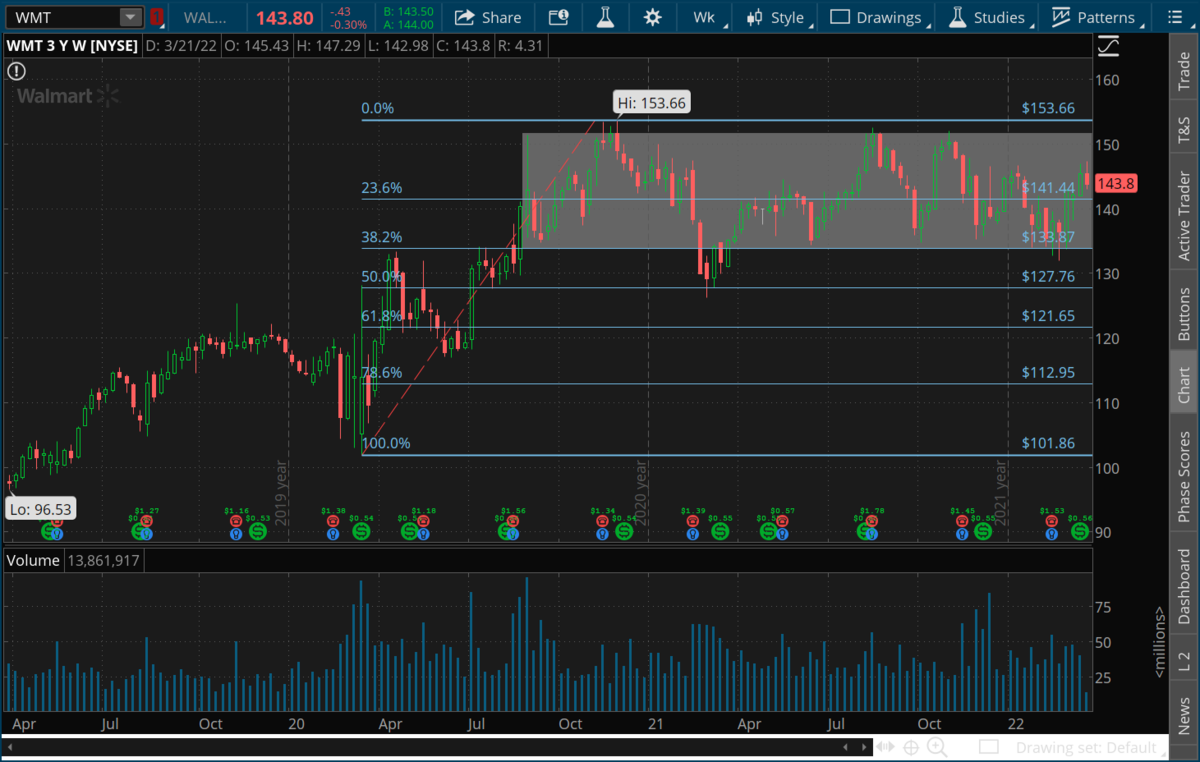 MCD bounced in a nice area of confluence between the .382 of the larger move, which is at about $216, and the .618 level of the smaller move, which was at about $228. MCD still has some volume at its recent lows, we'd like to see a nice pop with strength. MCD has a 2.32% dividend.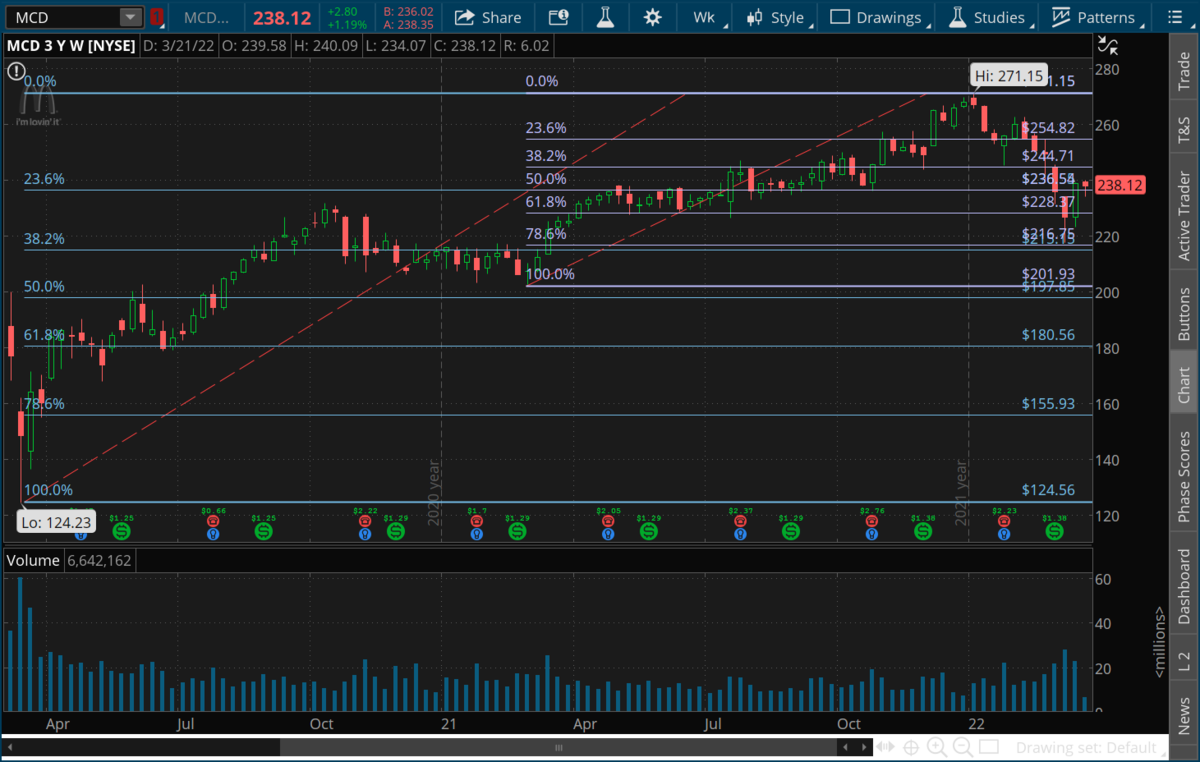 Equity portfolio
Buy CGC at the open at $8.00 or better. The stop is $5.47. CGC is trading near $7.50 pre-martket.

Long half position in WMT at $140.91. WMT is trading at $143.80. Stop is $125.31.

Long half position in DIS at $118.63. Disney is trading at $140.11. Stop is $98.45.

Long half position in UBER at $31.50. Uber is trading at $33.35. Stop is $26.24.

Long half position in MCD at $216.91. MCD is trading at $238.12. Stop is $189.50.
Disclaimer: Trading in securities such as stocks, options, indexes, currencies, and futures involve risk and should not be undertaken without due diligence and serious independent study. Options, stocks, currencies and futures trading, involve substantial risk. Subscribers may carry out their trading based on what they learn from "Rocket Equities & Options" however all risks of potential financial losses are the customer's responsibility. TFNN, Corp. will be in no way liable for financial losses resulting from trading decisions based on this newsletter. Past performance is no guarantee of future results. Reproduction in whole, or in part, is not permitted without prior written consent. Copyright 2022 all rights reserved.