Rocket Equities & Options Report 04-05-23
Rocket Equities & Options Report
By Tommy O'Brien
April 5, 2023
What's most amazing right now is the pull back in yields over the last few weeks, especially on the short end of the curve. The 2-year yield as now approaching 3.7%, and that's from above 5% within the last month. This market right now is in complete divergence with the Fed, which has said they will keep rates higher for longer to tame generational inflation.
We got ADP payrolls today at 145,000 added for March, just below the 210,000 that had been expected. Wages are still rising at a fast pace, but not as fast as in recent months. If you stayed in the same job you're up almost 7% from March of 2022, and if you changed jobs you're up almost 14% - those are still some pretty amazing wage increases.
I am looking to get short the ES at about the 4,179 price-point, we almost got there yesterday before the market sold off. This would be a 1 to 1.618 expansion of the recent pull-back, as well as a test of the February highs.
Markets are closed on Friday, which is when we will get the Non-farm payrolls released for the month of March. We then start earnings next week with many of the big banks out with their numbers next Friday April 14th, and then we really get into the earnings season in the following weeks with the big tech companies out toward the end of the month.
Patience will be key as this market has plenty of big moves in both directions coming down the line as yields and the Fed must come to terms with the divergence in their pricing, and we get to see whether the market is right or the Fed is right when it comes to how long them can keep rates high even as the economy starts to show signs of weakening and pull backs.
Stay tuned for updates!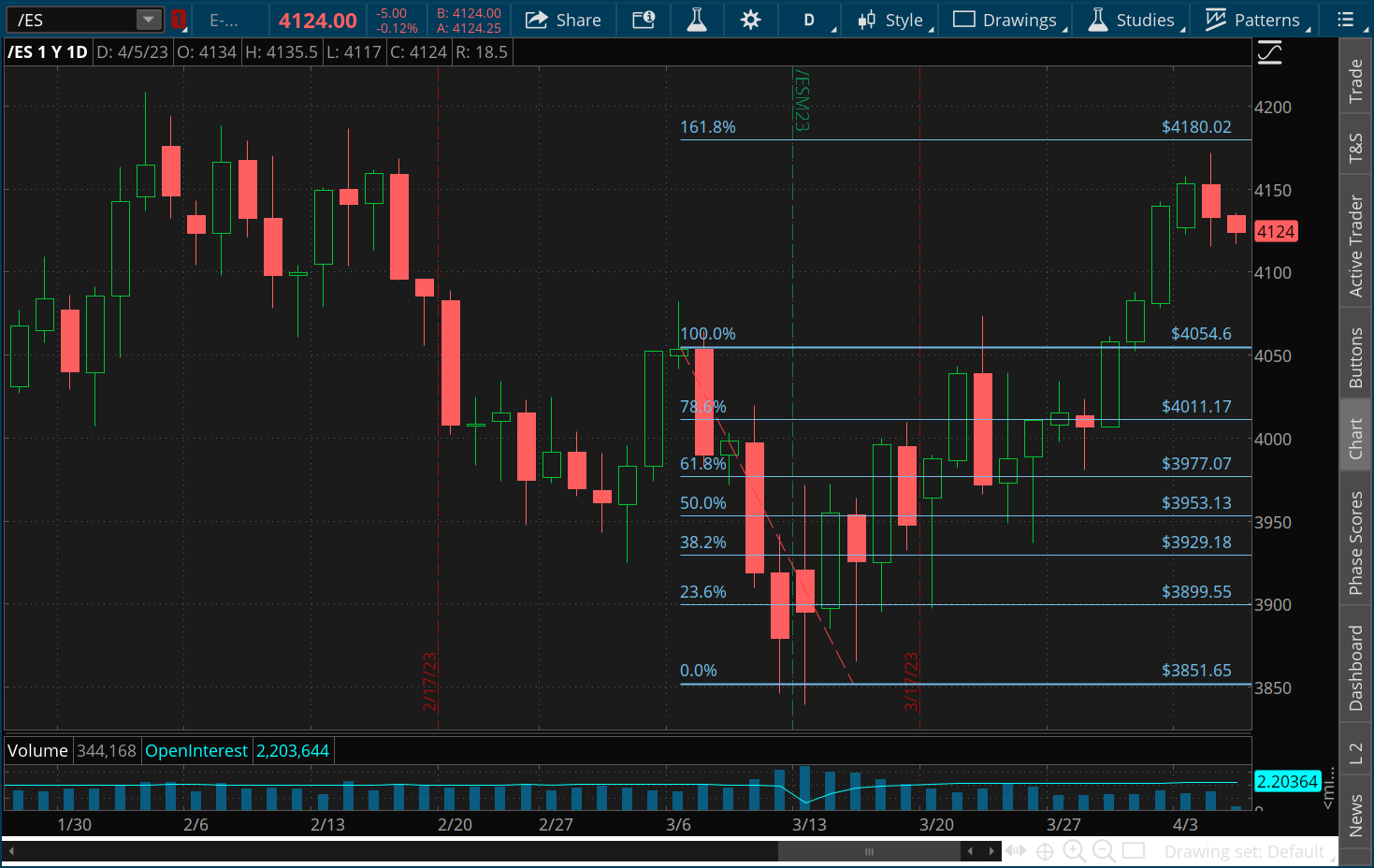 Positions:
None active
We bought a SPY March 31st $400 Put at around $2.20 that expired worthless last week.
Disclaimer: Trading in securities such as stocks, options, indexes, currencies, and futures involve risk and should not be undertaken without due diligence and serious independent study. Options, stocks, currencies, and futures trading, involve substantial risk. Subscribers may carry out their trading based on what they learn from "Rocket Equities & Options" however all risks of potential financial losses are the customer's responsibility. TFNN, Corp. will be in no way liable for financial losses resulting from trading decisions based on this newsletter. Past performance is no guarantee of future results. Reproduction in whole, or in part, is not permitted without prior written consent. Copyright 2023 all rights reserved.