Rocket Equities & Options Report 04-26-21
Monday Report - April 26, 2021
Markets have started Monday trading slightly higher with a big week of tech earnings ahead, and a FOMC meeting and rate decision due Wednesday. TSLA kicks things off tonight, with MSFT and GOOG Tuesday, AAPL and FB Wednesday, and finally AMZN on Thursday. Many other companies report as well like SBUX, V, AMD, QCOM, TWTR, FSLR, among many others.

By market capitalization, this is by far the biggest week for earnings with $18.5 trillion in market capitalization reporting their earnings. By comparison, last week was about $5.3 trillion, and next week is about $5.04 trillion, and then no other week is above $3 trillion total. MSFT is pushing almost $2 trillion market cap right now and actually stands a chance of catching AAPL, as AAPL sits at just $2.26 trillion. It'll be interesting to see how they both perform this week. There are some pretty lofty expectations right now for this entire market, and we'll get to see how the market interprets the reality of their numbers and their outlook.

DIS is trading at $184.00. We bought DIS at $118.63. Disney continues to bounce off the $183 area, which correlates to its highs from December 31st. Disney got down to $178.86 last week and bounced nicely. DIS is trading just off its all-time high as the market waits movie theaters and amusement parks to again reach capacity, which is hopefully not too far in the distant future. Movie theaters still have a few months until showings start delivering thriving crowds this summer. We want to see Disney trade through the $190 area, which has been an area of short term resistance, with volume. Disney has strong support at the $183 price level.

CRM is trading at $235.38. We bought CRM at $215.35. CRM is already up almost 1% today, extending the nice run higher it had last week. Next stop is the high from February at $251.23.

WMT is trading at $138.31. WMT is pulling back today. We bought WMT at $140.91. WMT is facing some resistance at the $140 area, near the lower price point of the gap from February of earlier this year. WMT is perfectly positioned to benefit from the stimulus bill, while providing some exciting growth prospects. Next stop for WMT is $144.50, which will close the gap from February. WMT also has a dividend yield of 1.58% right now at this price level.

MCD is trading at $232.45. We bought MCD at $216.91. MCD traded to new all-time highs early this morning before pulling back. MCD is now in an ABC up formation which will take it up to $255.76. MCD passed its B point the week of April 5th with 14+ million shares traded on a weekly basis vs. 10.5M and 9.5M at its B point back in October of last year. MCD has a dividend yield of about 2.20% right now at this price level.

UBER is trading at $57.84. We bought UBER at $31.50. UBER continues to chop around near the upper boundary of its consolidation area. As I stated a couple weeks back in a previous letter... "Uber's food delivery business may take a bit of a short-term hit as we overcome COVID, but their ride sharing business is about to explode and the chart is pushing all time highs rightfully so. Next stop for Uber is its high of $64.05."

Companies reporting earnings that are on our radar this week:

Monday: TSLA

Tuesday: MMM, HAS, JBLU before the open; MSFT, GOOG, SBUX, AMD, and V after the close.

Wednesday: BA, YUM, DISCA before the open; AAPL, FB, EBAY, ORLY, QCOM, MGM, GRUB after the close

Thursday: CAT, CMCSA, MRK, BLMN, MCD, MA, DPZ, RCL before the open; AMZN and TWTR after the close.

Friday: CL, CLX, CVX, XOM before the open.

Stay tuned for updates!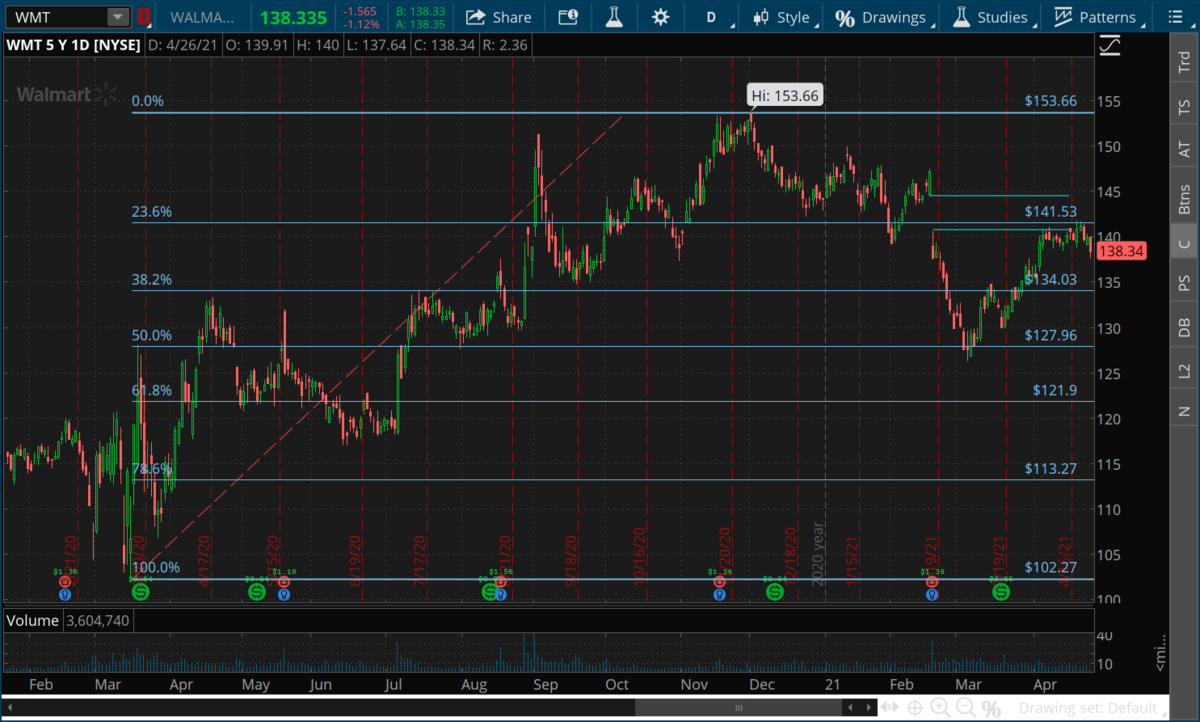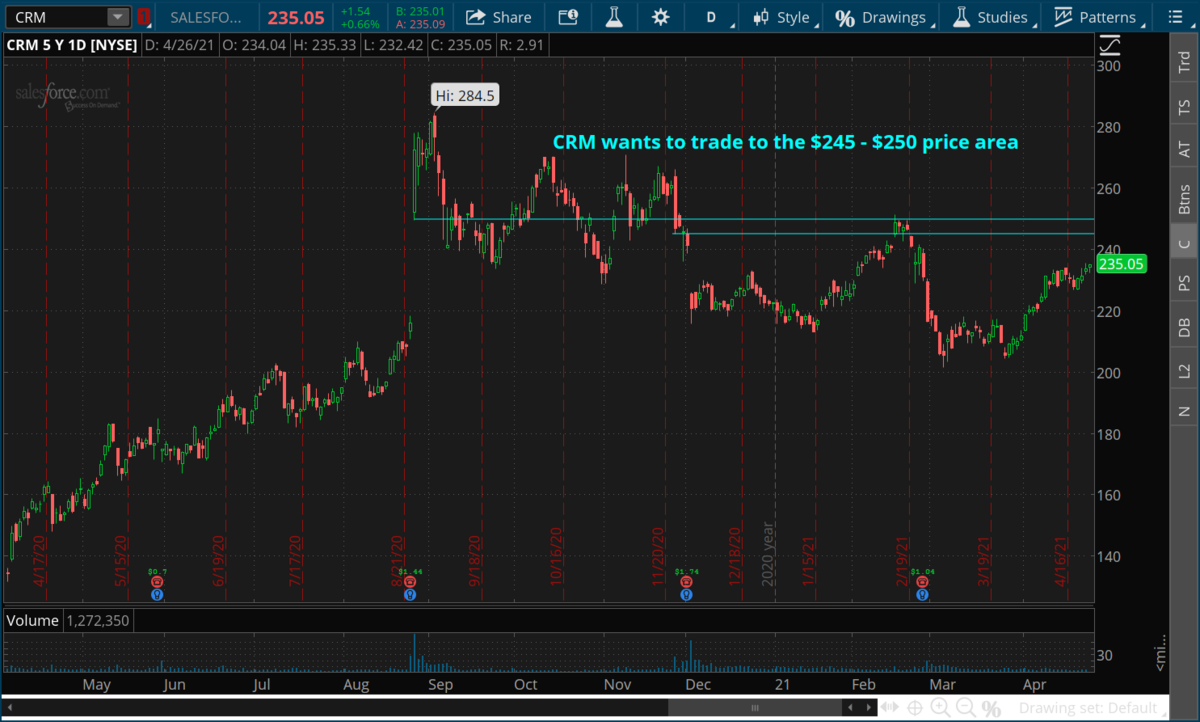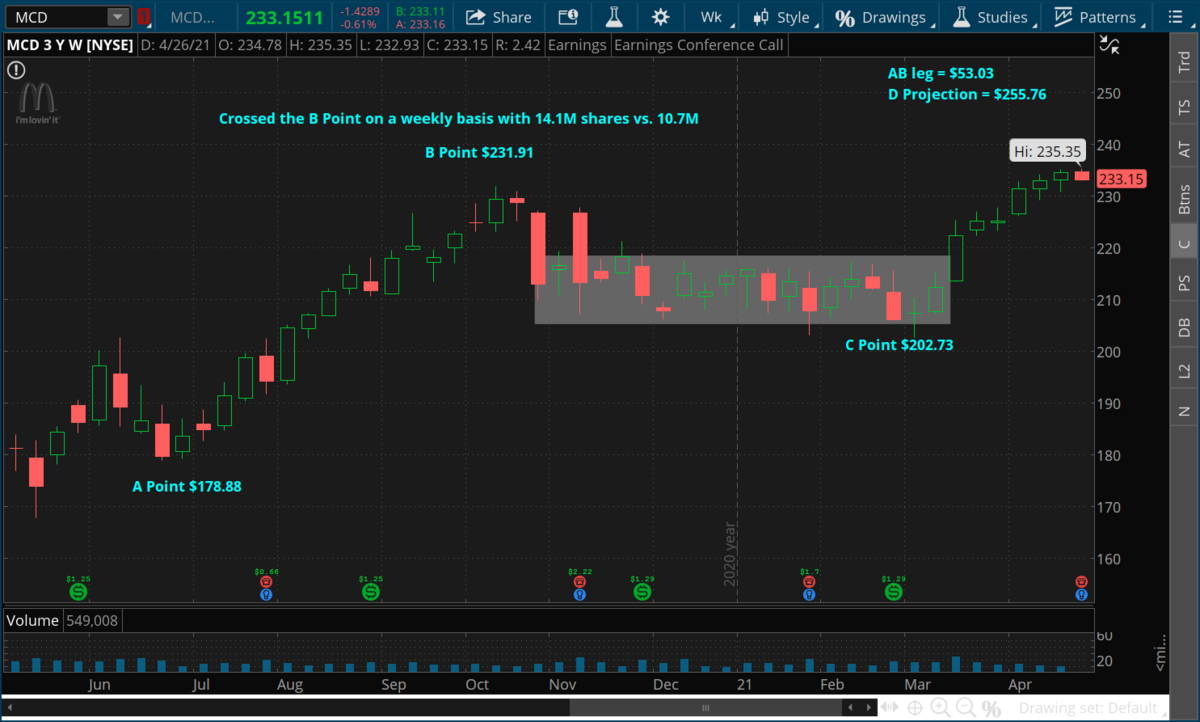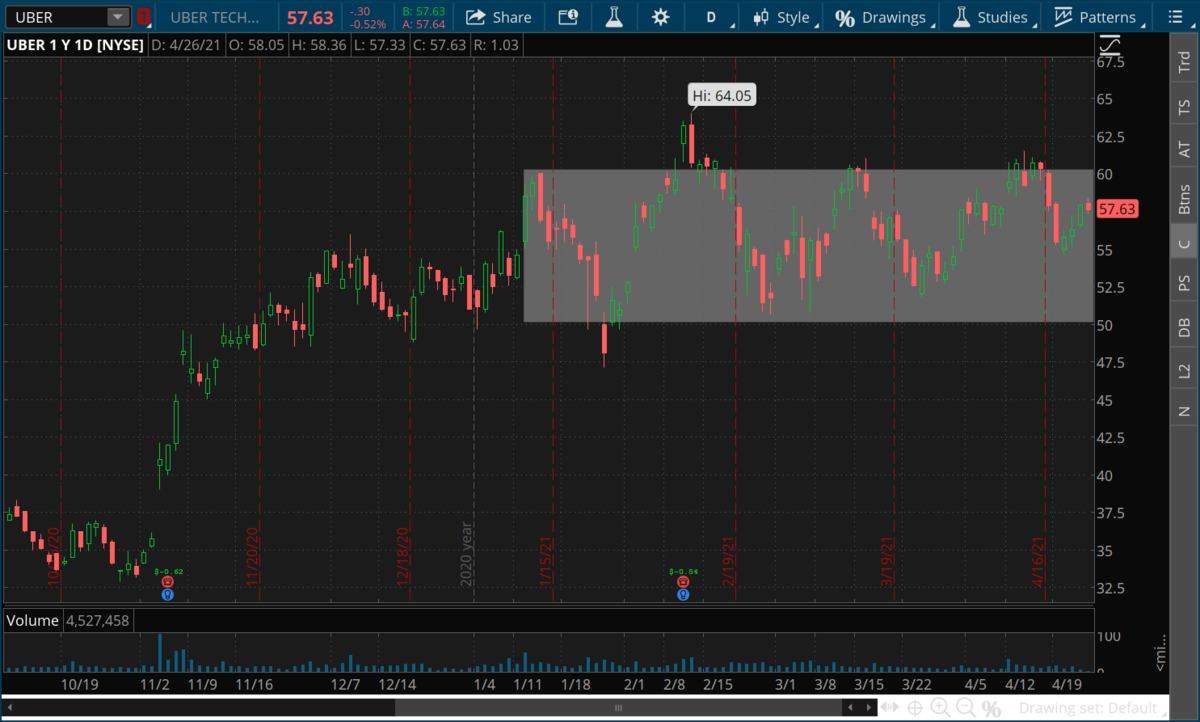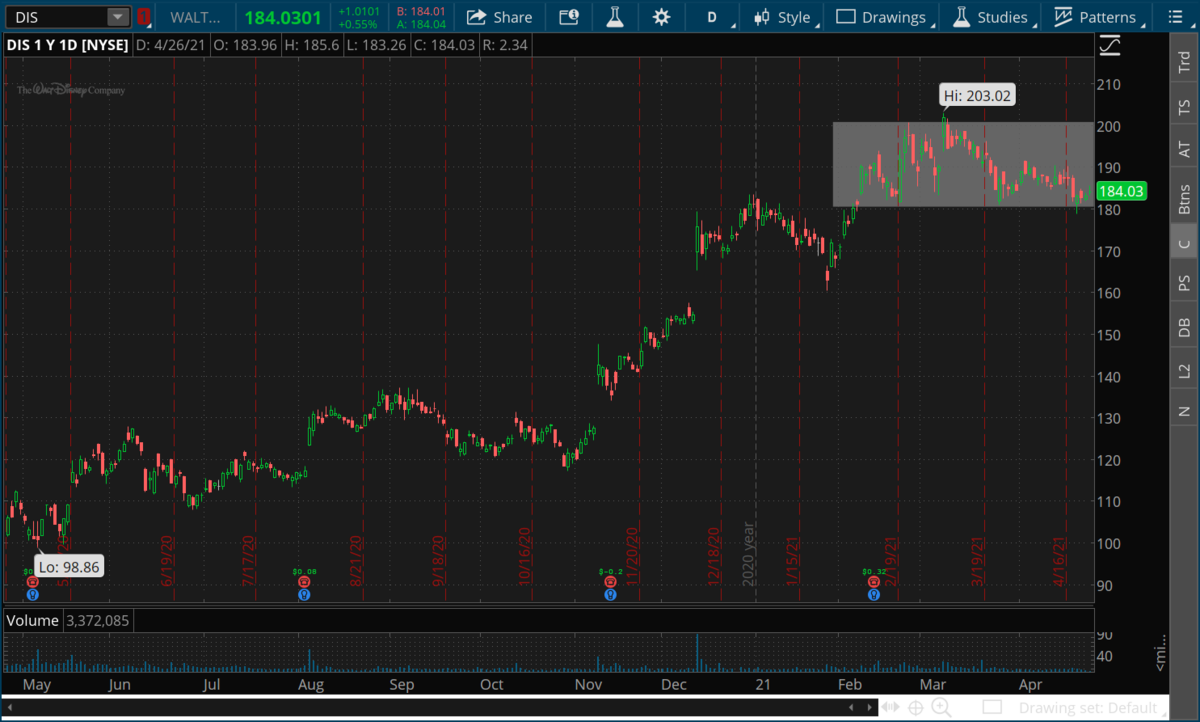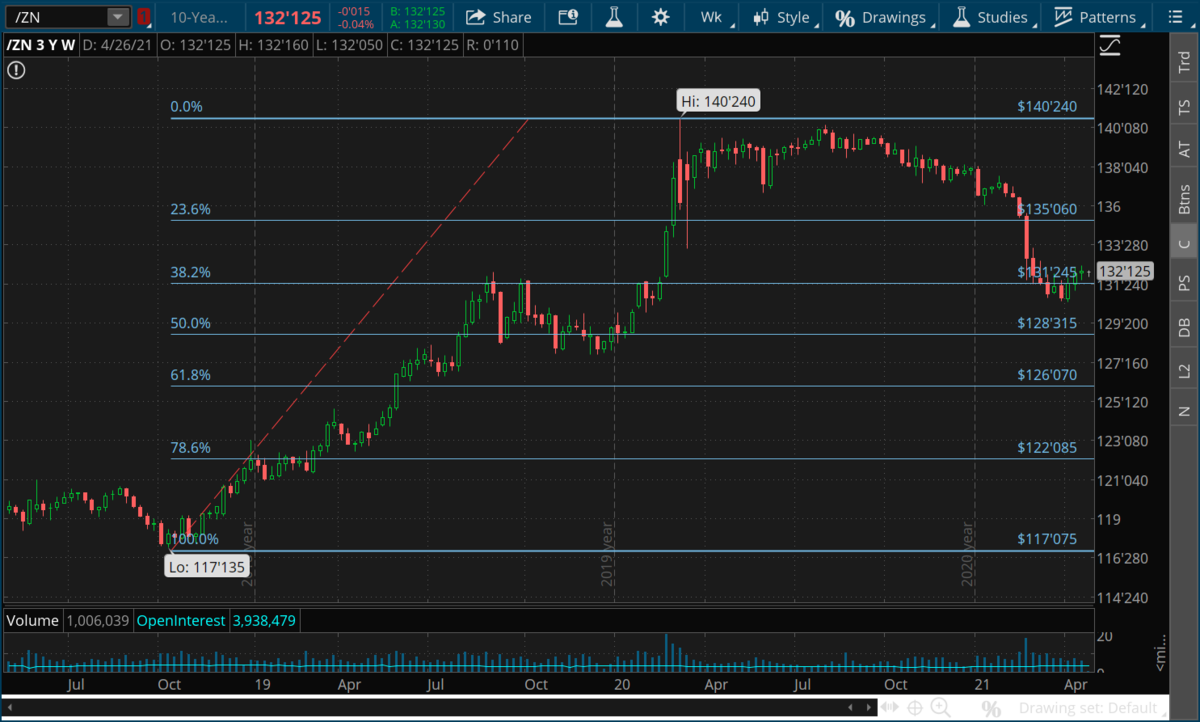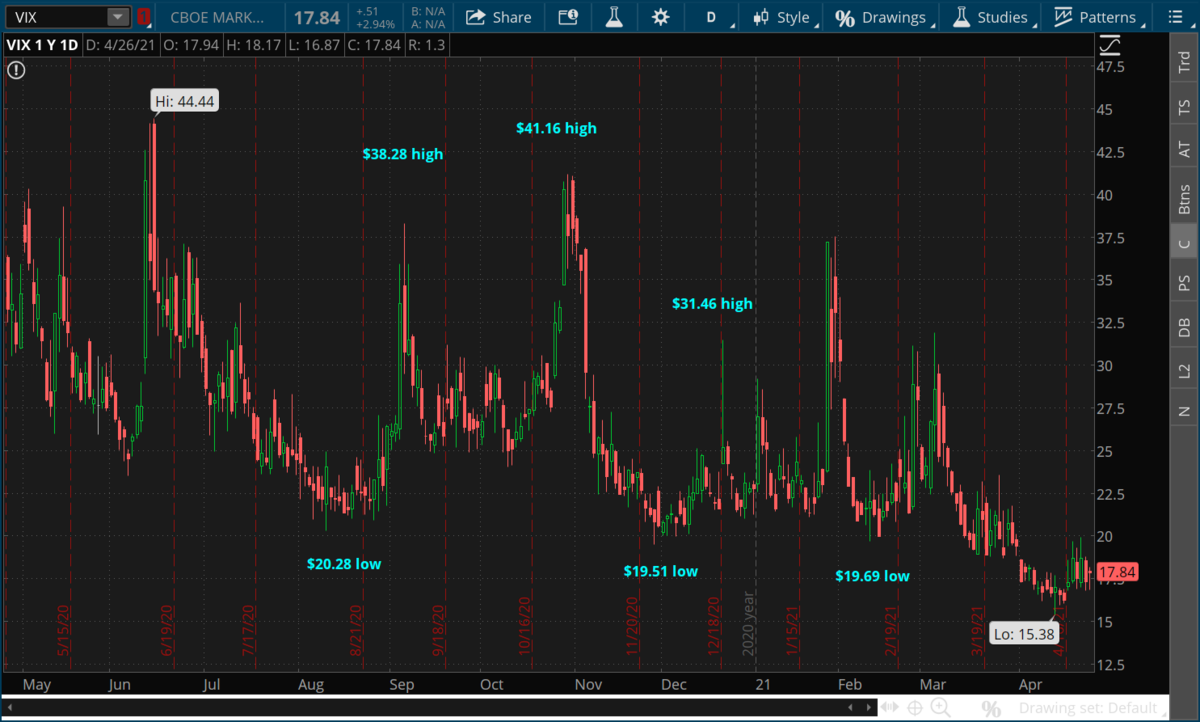 Options Trades:
We bought a SPY debit put spread from $417 - $415 for $0.70 and sold it last week at $1.40 for a $0.70 or 100% profit.

Short Term portfolio:
None active

Long Term portfolio:

Long half position in WMT at $140.91. WMT is trading at $138.18. Stop is $125.31.

We are effectively long CRM at $215.35. CRM is trading at $235.47. Stop is $193.64.

Long half position in DIS at $118.63. Disney is trading at $184.18. Stop is $98.45.

Long half position in UBER at $31.50. Uber is trading at $57.66. Stop is $26.24.

Long half position in MCD at $216.91. MCD is trading at $232.14. Stop is $189.50.
Disclaimer: Trading in securities such as stocks, options, indexes, currencies, and futures involve risk and should not be undertaken without due diligence and serious independent study. Options, stocks, currencies and futures trading, involve substantial risk. Subscribers may carry out their trading based on what they learn from "Rocket Equities & Options" however all risks of potential financial losses are the customer's responsibility. TFNN, Corp. will be in no way liable for financial losses resulting from trading decisions based on this newsletter. Past performance is no guarantee of future results. Reproduction in whole, or in part, is not permitted without prior written consent. Copyright 2021 all rights reserved.