Rocket Equities & Options Report 06-28-21
Monday Report - June 28th, 2021
The S&P and Nasdaq continued higher today setting record highs as we come into the jobs number Friday, and then the July 4th long weekend.
From last week's newsletter - "It seems like this market wants nothing to do with Fed tapering until it becomes painfully obvious that it's something we must address. It won't matter until it matters, but it definitely doesn't matter right now and the market is screaming that...This market is relentless." This still holds true with nothing in its way for now.
We have a few companies with earnings this week rounding out the quarter, but all eyes will be on the jobs number Friday. Unless there is some kind of substantial miss on Friday then I don't expect much fireworks before the long weekend. The largest worry to this market right now is Fed tapering and rates rising, which I don't see happening anytime soon, and I don't see the jobs number this week impacting that in any material way. If the Fed has to taper, it's going to be because of inflationary data turning non-transitory - but the market seems to think we are a far way away from that point right now and I tend to agree. This VIX is now sitting under its historical average of 16, trading at $15.95 as of the close.
We have just launched a Tiger Dollar Sale at TFNN that runs through July 4th weekend. Tiger Dollars can be used for any TFNN newsletter or service and are a great way to add savings to current or future subscriptions.
Click here
for all the details on the Tiger Dollar Sale.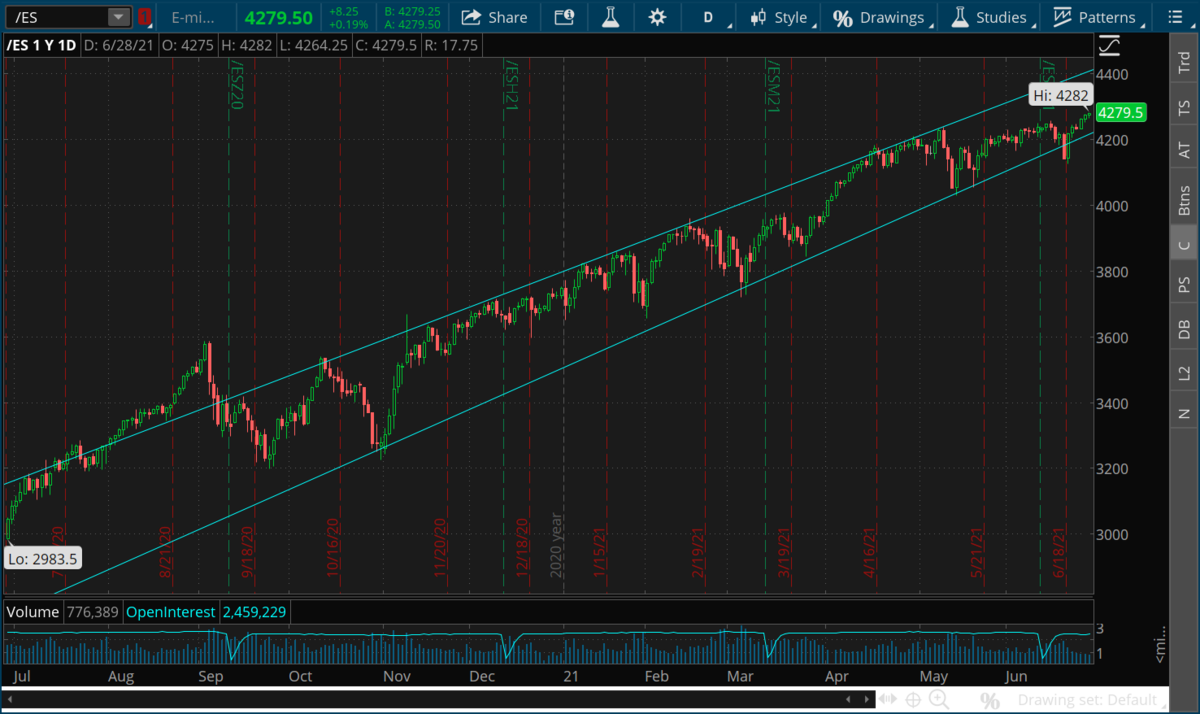 VIX Weekly
Vix continues to make lower lows and lower highs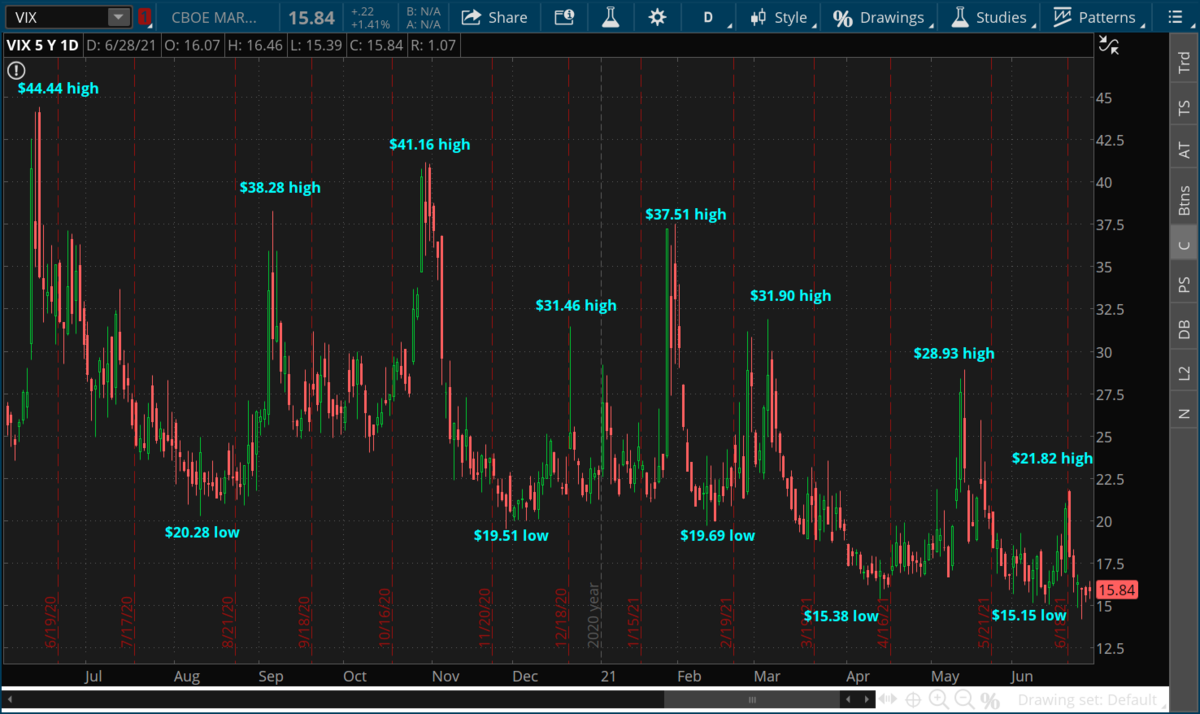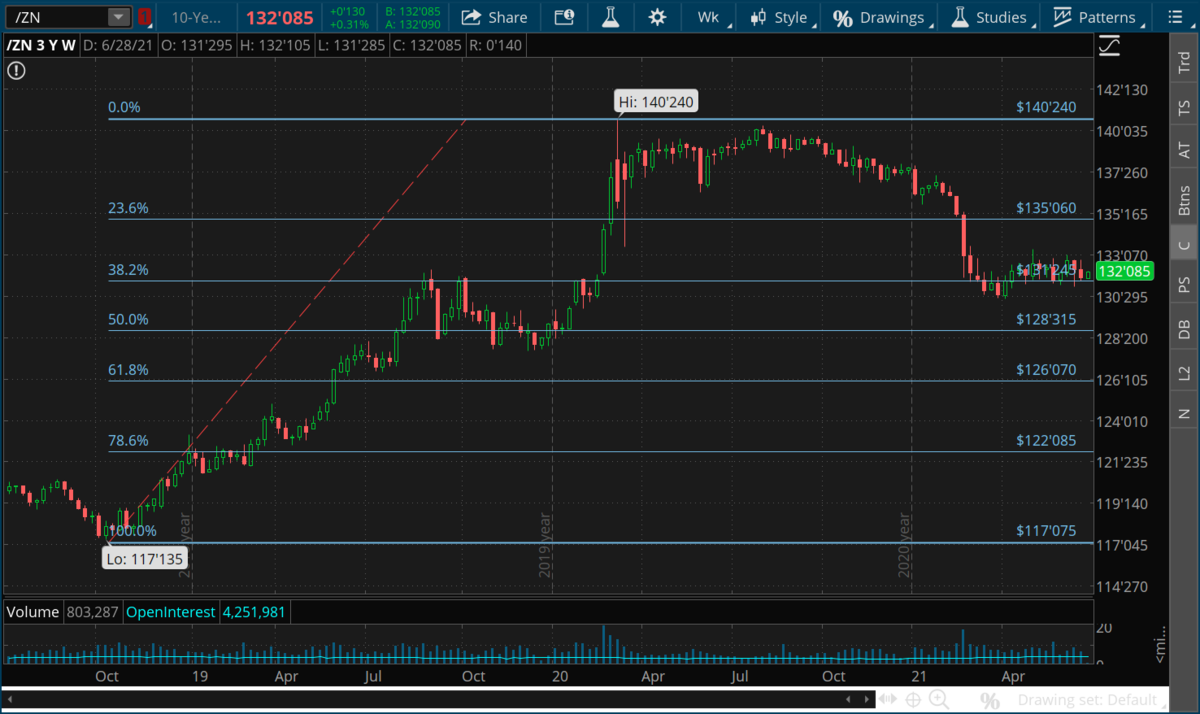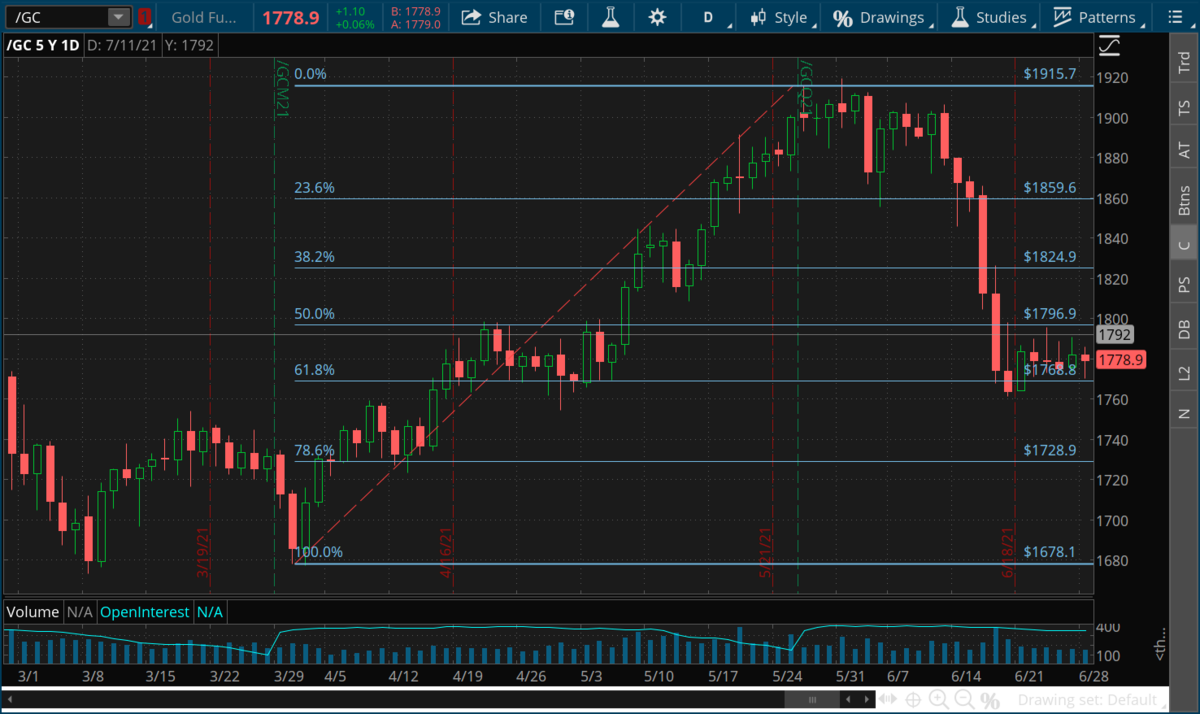 DIS is trading at $176.57. We bought DIS at $118.63. Disney has consolidated from the .382 of its run from the November lows. The next stop for Disney is $183.40 (the high from Dec 31st, 2020), which acted as support, and may now be an area of resistance as we trade up to that level. Disney was down about 1% today on news that they have indefinitely delayed a trial cruise of its Disney Dream set for Tuesday after getting inconsistent results in its coronavirus testing. The ship was to sail with 300 volunteer crew members in a demonstration to U.S. authorities that it could manage under new virus protocols.

Over the next 3-6 months look for Disney to accelerate their openings and the stock should begin to recognize that transition. Disney has some nice strength at about the $170 level. Fast and Furious 9 earned about $70 million at North American box offices this weekend, and that's with only about 80% of theaters open right now, strong numbers indicative of a movie industry that has a few potential hits possible this summer as we all get back outside.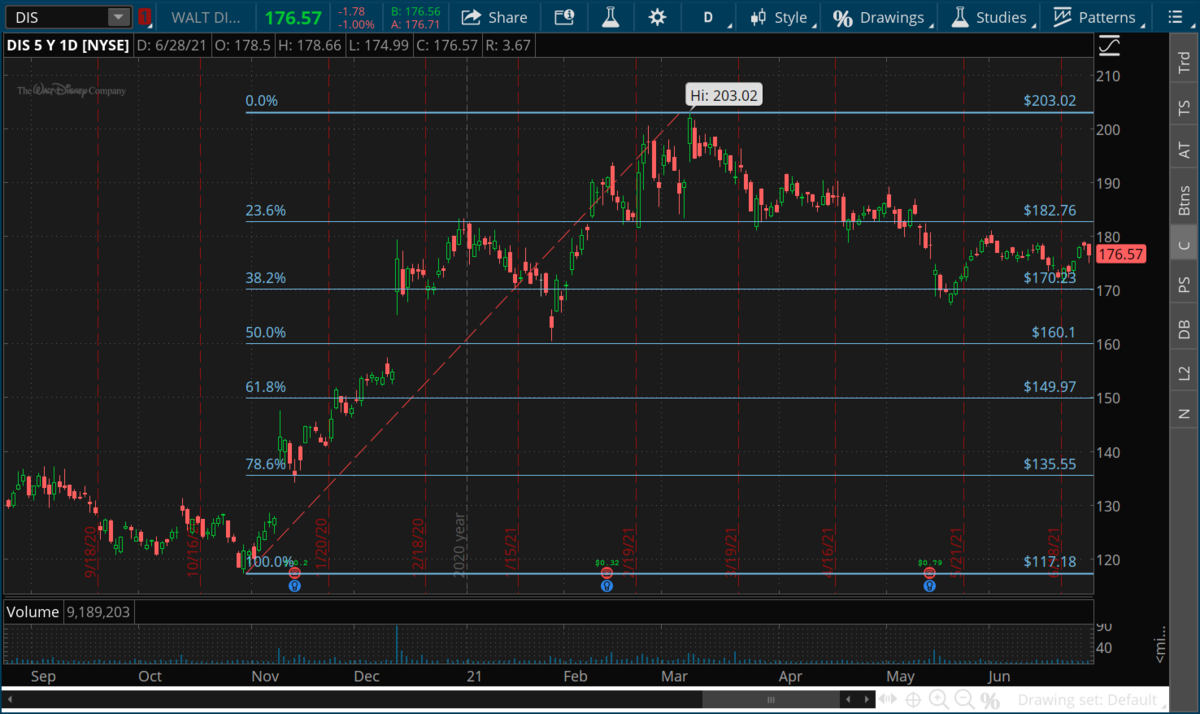 UBER is trading at $51.11. Uber continues to consolidate near the $50 price point, after having bounced nicely from its recent low of $43.17. Uber had pulled back to the .618 from its entire run higher from November of last year. Uber had also pulled back to a .382 of its entire run from the Covid lows from March of 2020. This is a nice area of confluence at about $45, which also correlates to the high from the week of November 2nd. Uber rejected lower price on May 27th when it traded 51 million shares. Uber is building cause to break above this high volume bar, with that price level being $51.69. Uber closed at $51.73 Friday, and pulled back just under that level today to $51.11.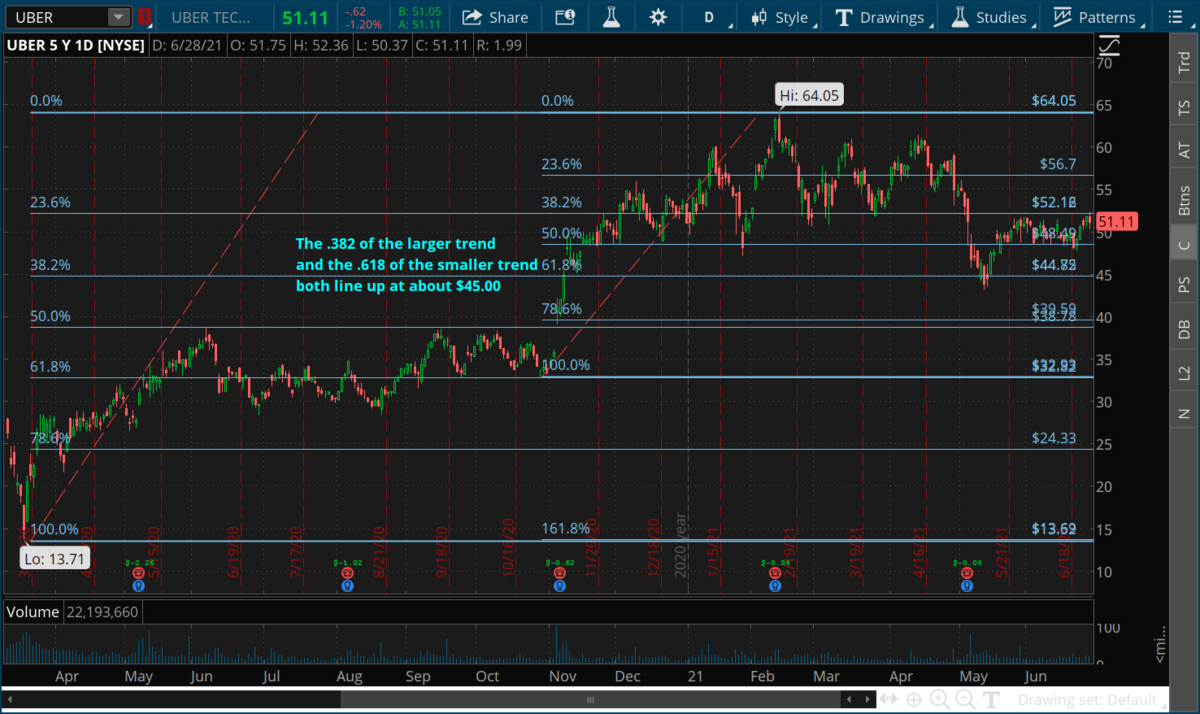 WMT is trading at $138.10. We bought WMT at $140.91. WMT traded nicely higher last week. WMT has been struggling to get above the $150 area, which correlates to the gap left open from their earnings in February. WMT bounced right near the 50% retracement from its recent run higher beginning in March. WMT also held the lows of May 13th, which is at $135.76. WMT also has a dividend yield of 1.59% right now at this price level.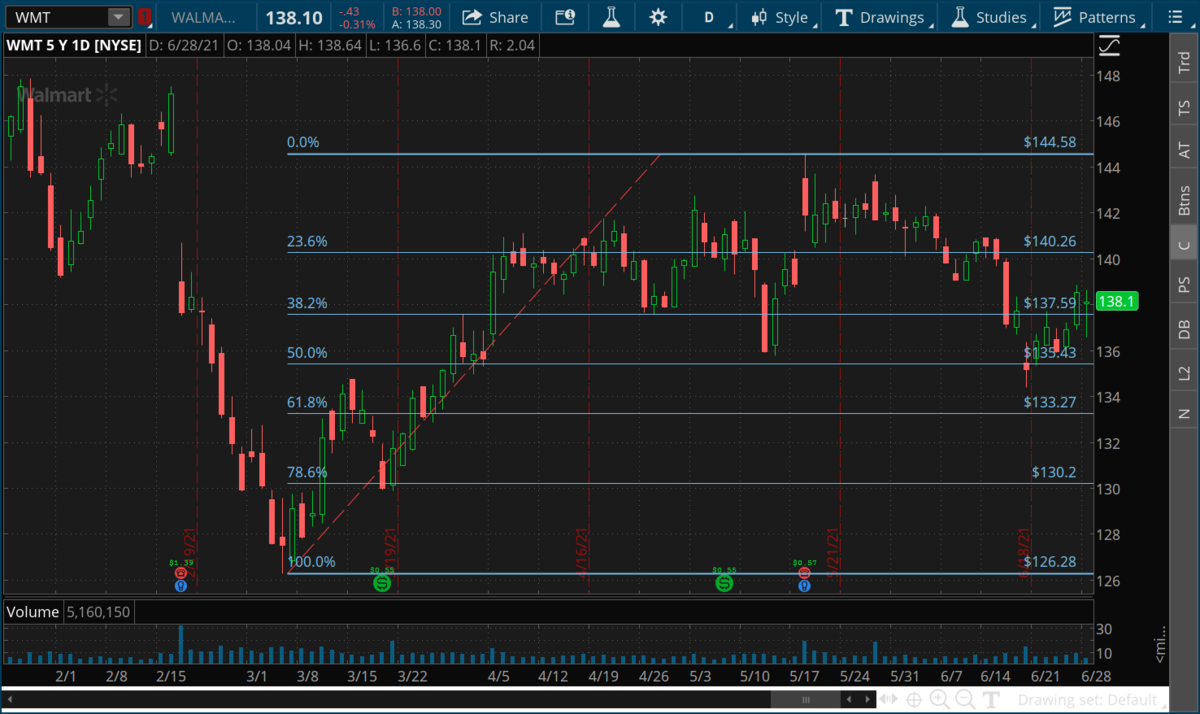 MCD is trading at $231.09. We bought MCD at $216.91. MCD continues to consolidate after making all-time highs on May 3rd. MCD is in an ABC up formation, which will take it up to $255.76. MCD passed its B point the week of April 5th with 14+ million shares traded on a weekly basis vs. 10.5M and 9.5M at its B point back in October of last year. MCD is consolidating near its B point before trading higher. MCD has a dividend yield of about 2.22% right now at this price level.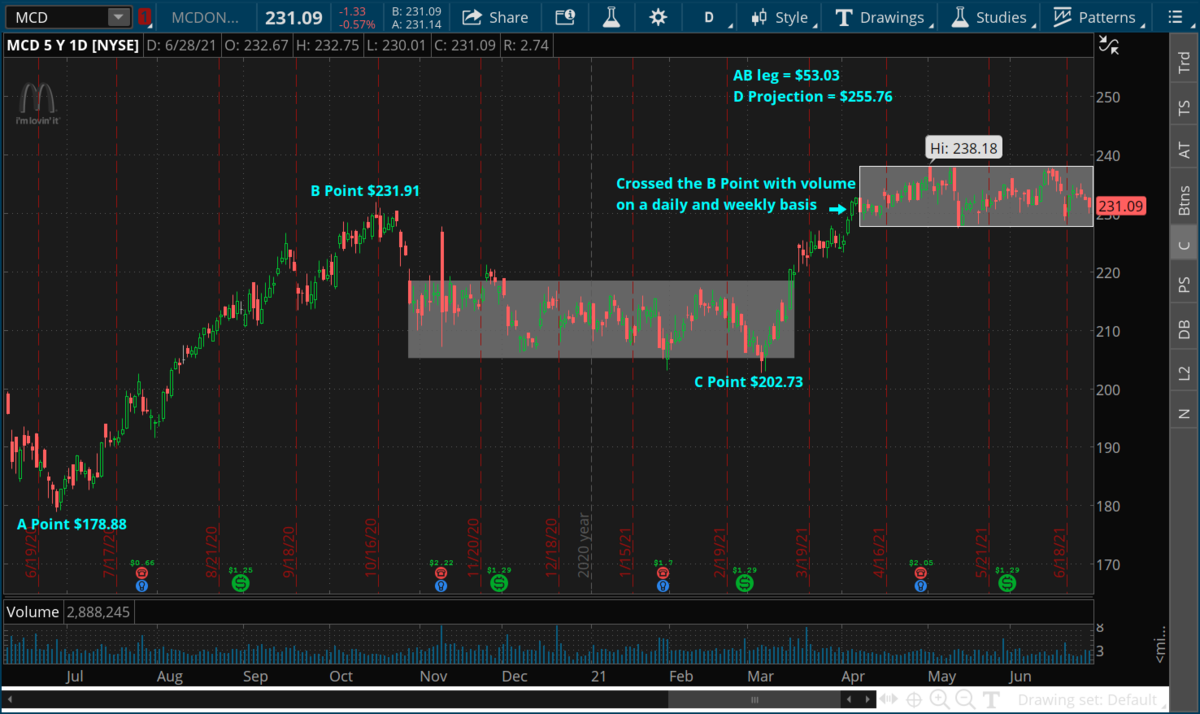 CRM is trading at $244.57. We bought CRM at $215.35. CRM was stuck in a downtrend channel line from the highs of $284.50, and it just broke out of that channel May 28th, came back and tested the channel line on June 3rd, and now it has bounced nicely to the upside from that area. A former TFNN host, the channel king Bud Rolfs, used to explain this exact formation of how stocks break out of channel lines and this is a textbook case. Look for CRM to continue the run to the upside as it goes for its all time high of $284.50.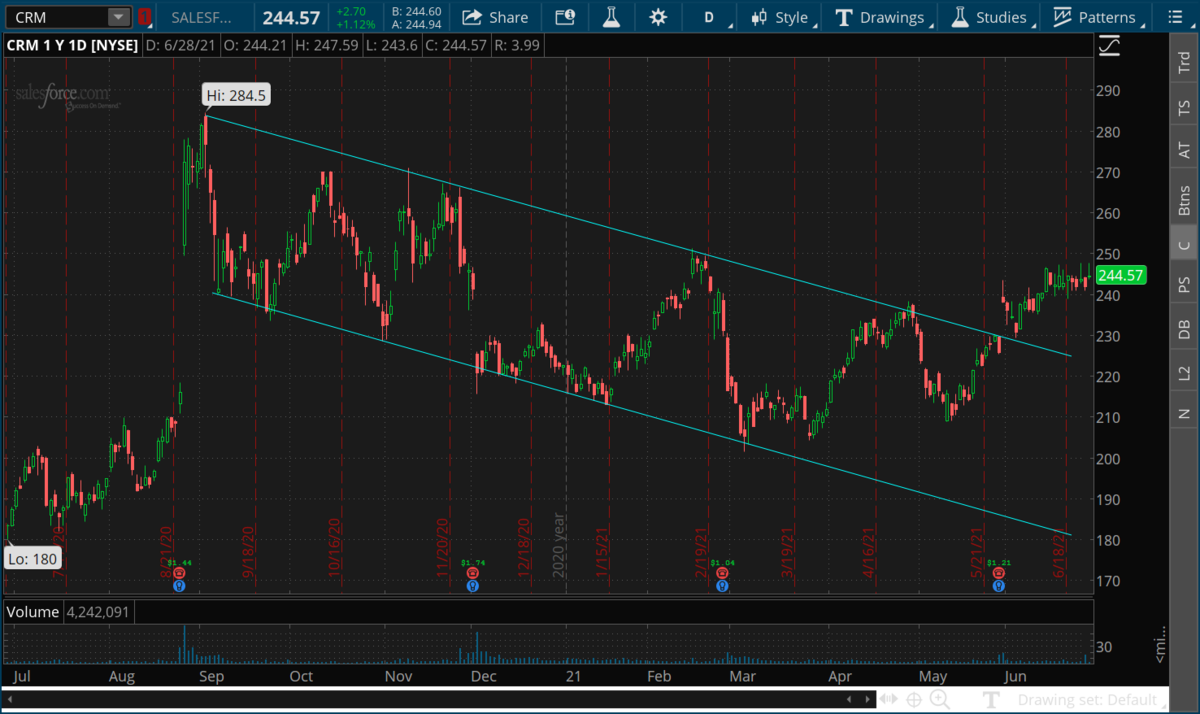 Earnings on our radar this week:

Wednesday before the open: Constellation Brands (STZ), General Mills (GS), Bed Bath & Beyond (BBBY)

Wednesday after the close: Micron (MU)

Thursday before the open: McCormick (MKC)

Thursday after the close: Walgreens Boots Alliance (WBA)

Stay tuned for updates!

Options Trades:
None

Short Term portfolio:
None active

Long Term portfolio:

Long half position in WMT at $140.91. WMT is trading at $138.10. Stop is $125.31.

We are effectively long CRM at $215.35. CRM is trading at $244.57. Stop is $193.64.

Long half position in DIS at $118.63. Disney is trading at $176.57. Stop is $98.45.

Long half position in UBER at $31.50. Uber is trading at $51.11. Stop is $26.24.

Long half position in MCD at $216.91. MCD is trading at $231.09. Stop is $189.50.
Disclaimer: Trading in securities such as stocks, options, indexes, currencies, and futures involve risk and should not be undertaken without due diligence and serious independent study. Options, stocks, currencies and futures trading, involve substantial risk. Subscribers may carry out their trading based on what they learn from "Rocket Equities & Options" however all risks of potential financial losses are the customer's responsibility. TFNN, Corp. will be in no way liable for financial losses resulting from trading decisions based on this newsletter. Past performance is no guarantee of future results. Reproduction in whole, or in part, is not permitted without prior written consent. Copyright 2021 all rights reserved.