Rocket Equities & Options Report 07-25-22
Monday Report - July 25th, 2022
The S&P sits near 4,000 as we come into a very important week for earnings and economic data, along with an expected Fed hike of 75 basis points on Wednesday, which would bring the target range from near 0% to a range of 2.25%-2.50% in less than 5 months.

The last CPI we have is 9.1% from June. Don't expect the chairman to sound too dovish until we see some real data that would allow them to let up off the breaks. We get a chance at some of that data later this week, with 2nd quarter GDP out on Thursday morning, as well as PCE for June on Friday morning, along with personal income, spending, and consumption, and the UMich consumer sentiment ex. It's gonna be non-stop earnings and data all week long and we will know a lot more about this market by Friday than we do today.

We are selling our MCD position today as of this letter. It is currently trading at $249.89. MCD reports earnings tomorrow. MCD has performed well for us, and we have traded lower from an area of resistance at $255 and are heading lower dramatically today with the ES positive as of 1pm ET. On a weekly basis, all the volume in MCD has been at the recent lows from March of this year ($217.68), as well as May ($228.34), and June ($232.17). On a daily basis the volume is also at the lows, with the recent June low registering 7.2M shares, the most since March of 2021. Sell MCD to close our equity positions.

The 10 Year Note is negative 7 ticks at 119.21, with a yield of 2.82%. We had some wild action in the Note and Bond market last week. I expect we have not seen the end of lower price and higher yield just yet.

Notable earnings this week:

Tuesday: MSFT, GOOG, KO, GM, MCD, UPS, CMG, V, RTX, MMM, BXP

Wednesday: META, BA, ETSY, QCOM, F, TMUS, BMY, SHW, CAKE

Thursday: AAPL, AMZN, HON, MA, CMCSA, PFE, INTC, ROKU, MRK, NOC, HOG, HTZ, KDP, VLO

Friday: AZN, SON

Stay tuned for updates as earnings season kicks into full gear!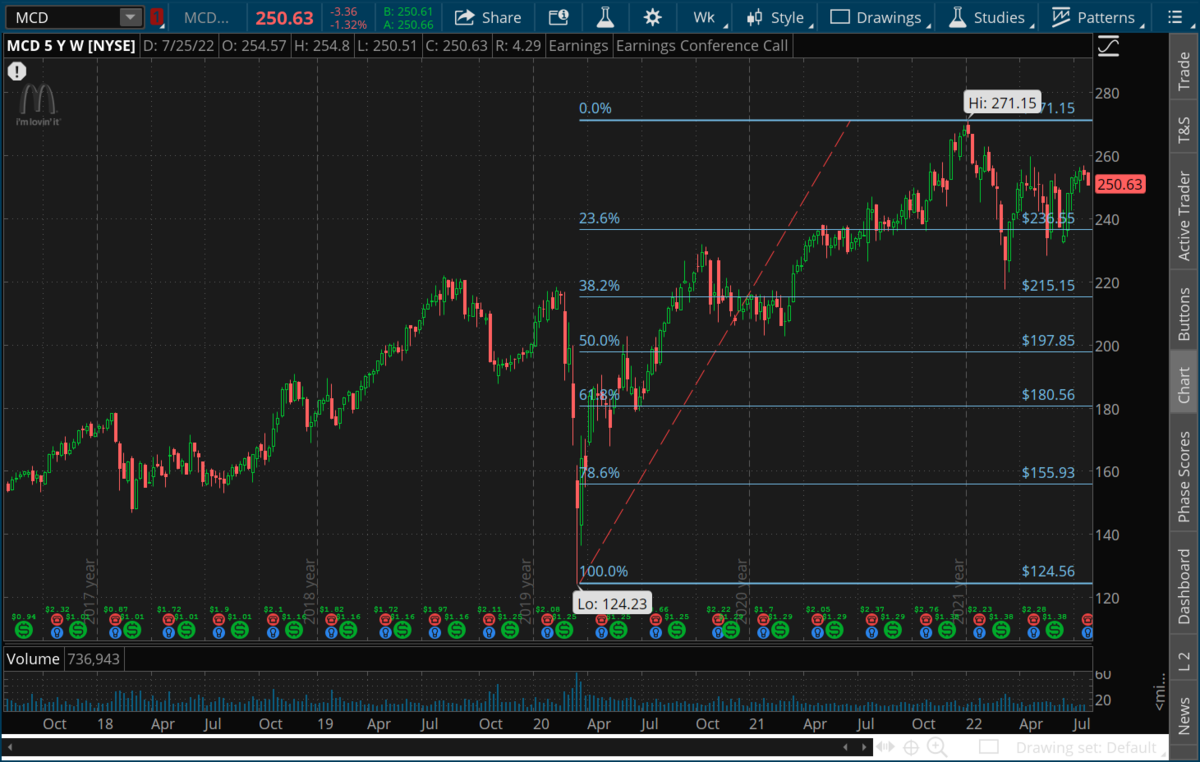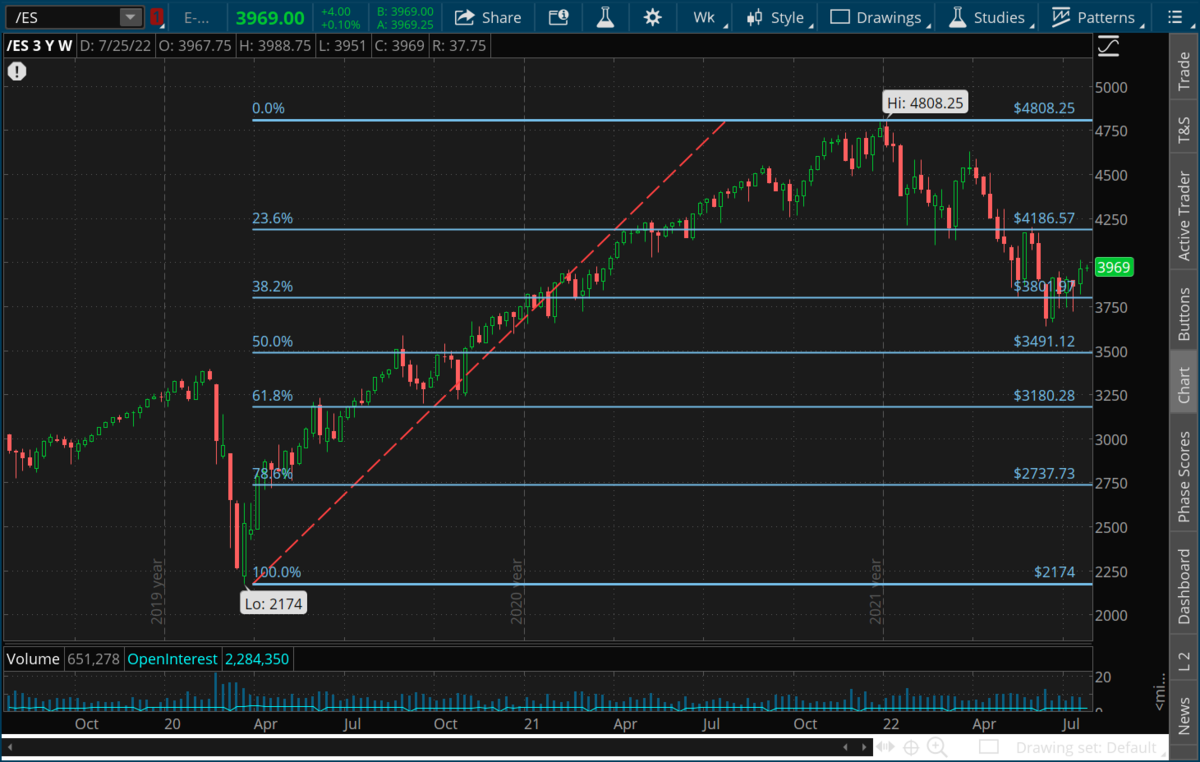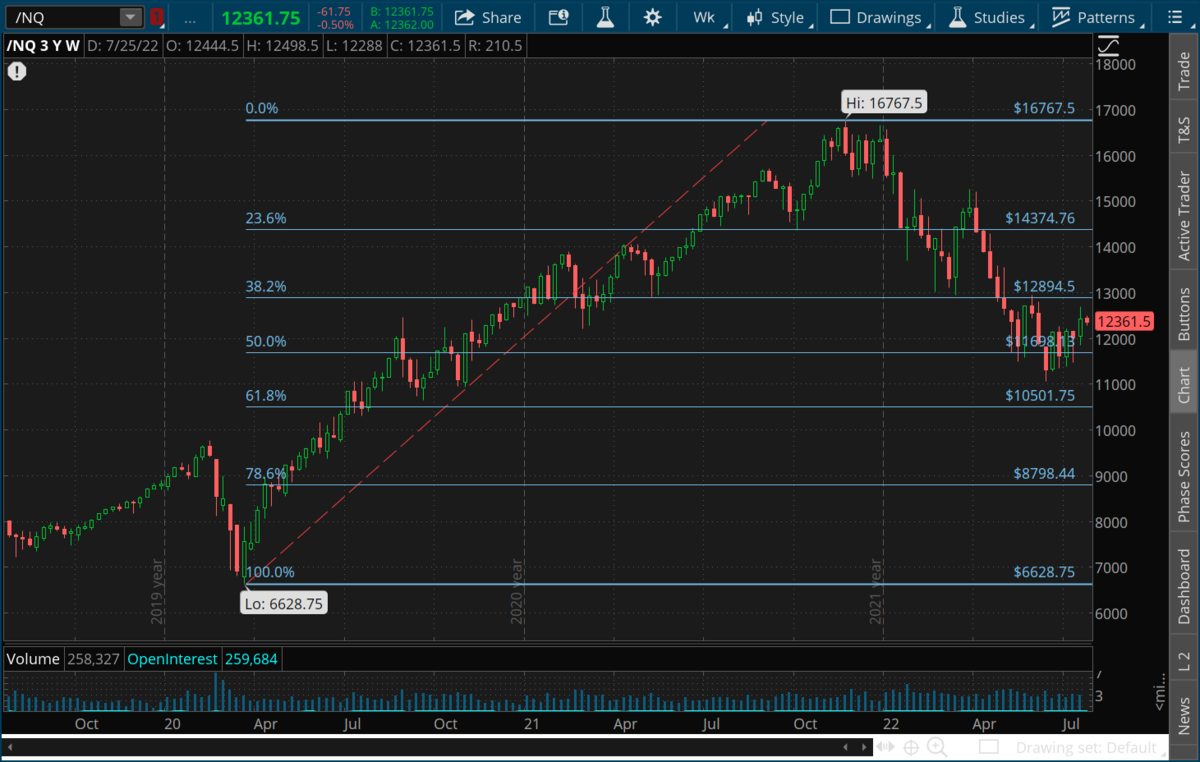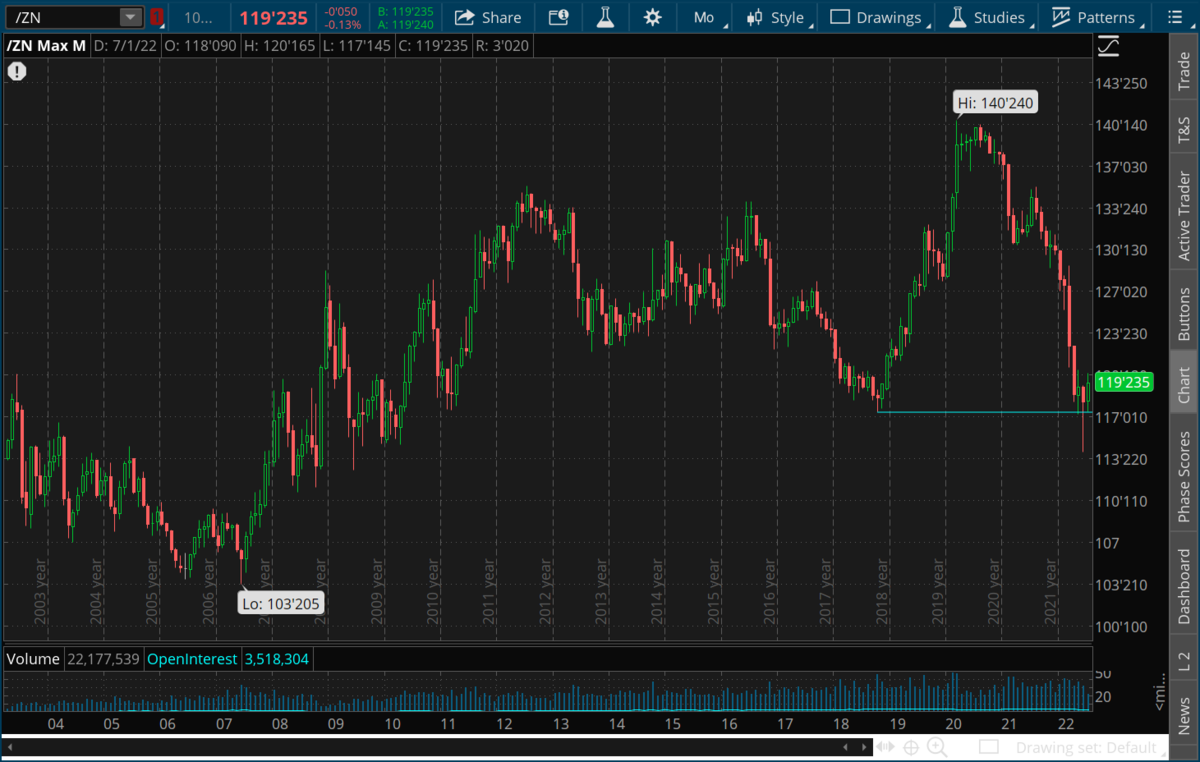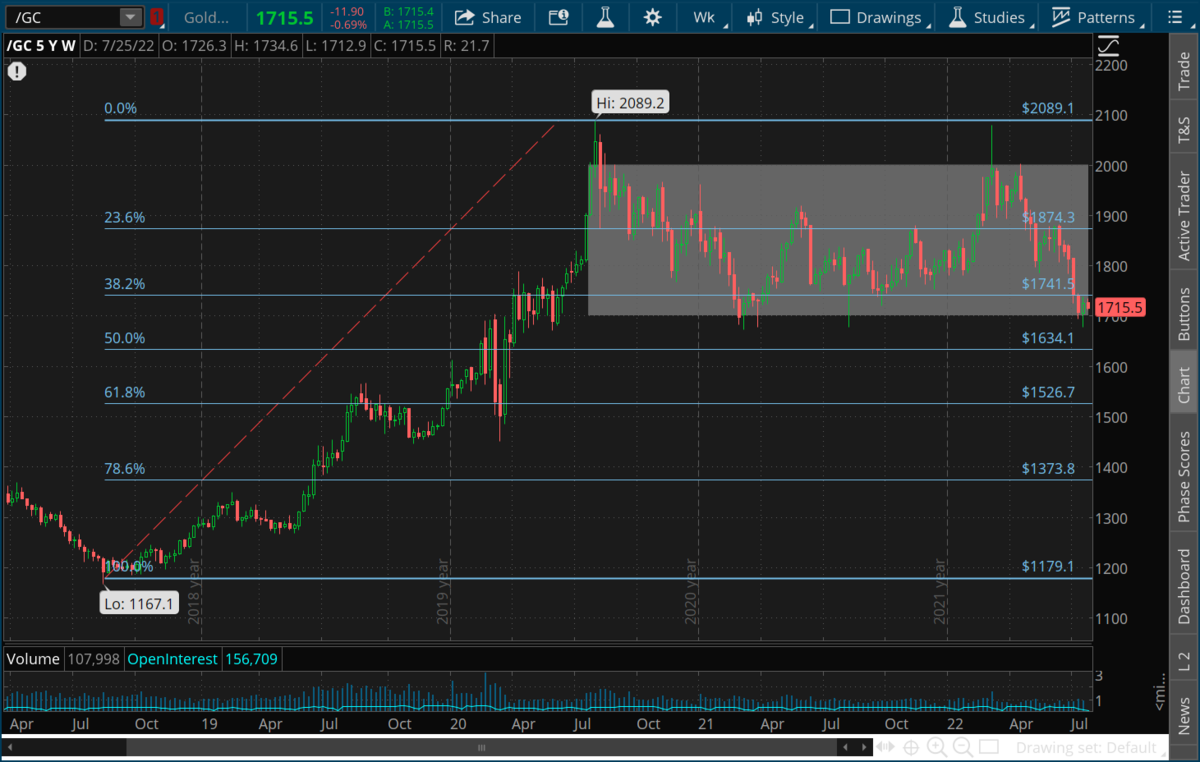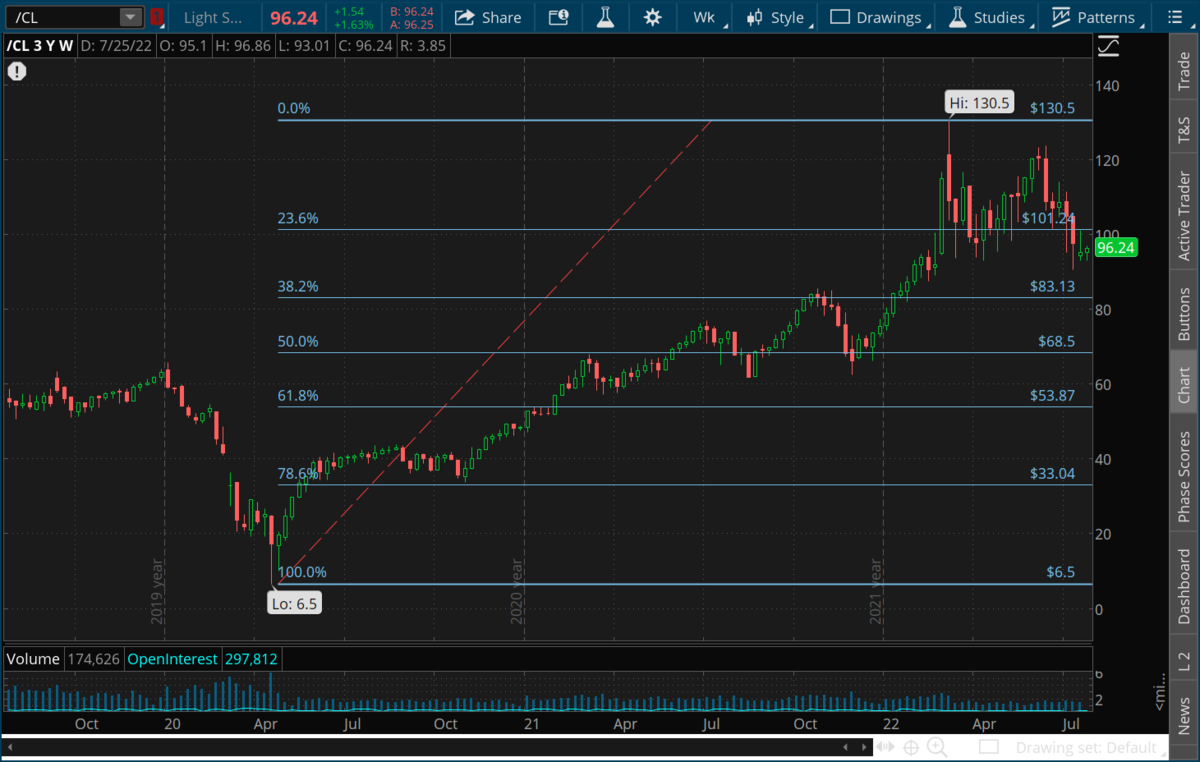 BTC Weekly
The bold blue line extending from the left is where BTC Futures started trading in 2017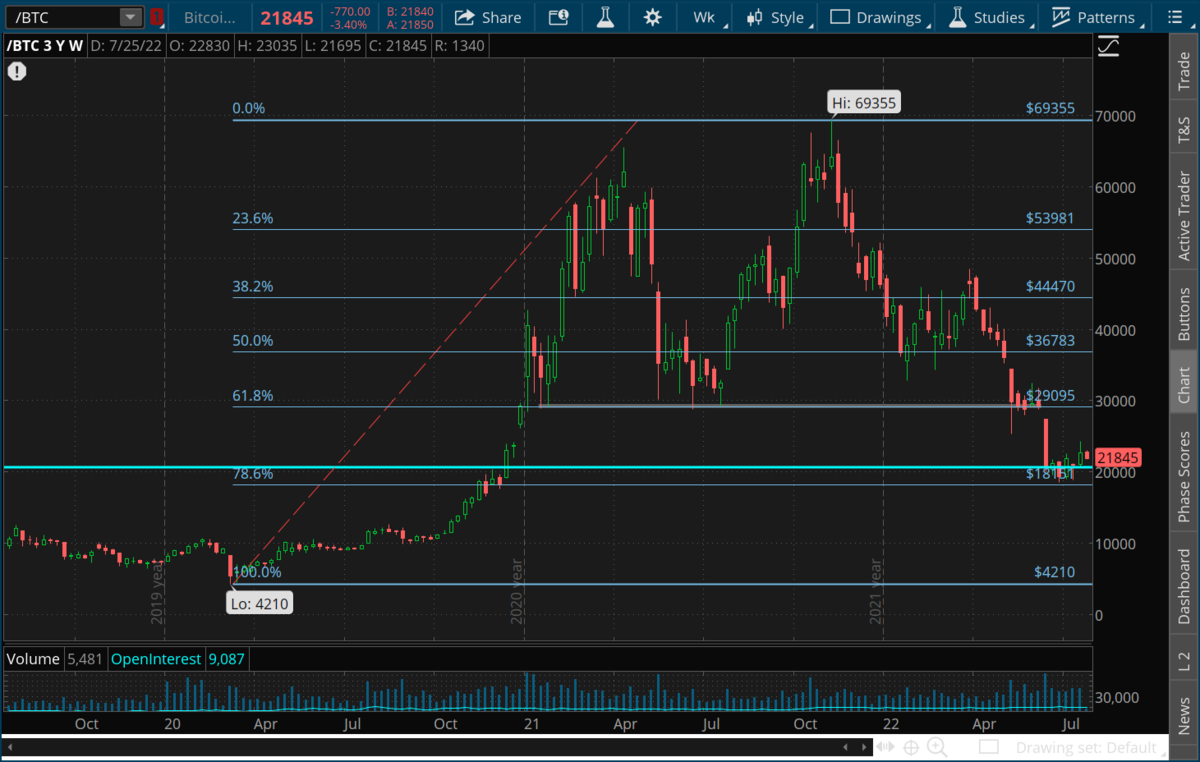 Options Trades:
None.

Equity portfolio:

Long half position in MCD at $216.91. MCD is trading at $249.84. Sell MCD to close our position ahead of earnings tomorrow.
Disclaimer: Trading in securities such as stocks, options, indexes, currencies, and futures involve risk and should not be undertaken without due diligence and serious independent study. Options, stocks, currencies and futures trading, involve substantial risk. Subscribers may carry out their trading based on what they learn from "Rocket Equities & Options" however all risks of potential financial losses are the customer's responsibility. TFNN, Corp. will be in no way liable for financial losses resulting from trading decisions based on this newsletter. Past performance is no guarantee of future results. Reproduction in whole, or in part, is not permitted without prior written consent. Copyright 2022 all rights reserved.