Rocket Equities & Options Report 08-30-21
Monday Market Update - New Trade QQQ Debit Put Spread
Markets started trading higher this morning with the S&P and the Nasdaq reaching new highs.

The VIX continues lower at $16.38 as we come into a big jobs number out Friday for the month of August.

The Fed next meets September 21st & 22nd, and from the indications that Fed minutes and Fed speak have given recently it seems highly possible that they could begin tapering some of the $120B in asset purchases come their next meeting. Raising rates seems like it is still far off in the distance as of now.

We have some divergence across the major indices with the Nasdaq100 bumping up against the upper boundary line of its channel, while the Dow may be closer to the bottom of its channel, and the S&P is smack right in the middle.

We are going short the QQQ today with a vertical put spread. If you want to just go short the QQQ you can do that too, but you'd have to manage your own stop and keep it pretty tight as this market is highly volatile and the reason why I like options is because you can set it with defined risk. The plan for this trade is that we are bumping up against the upper boundary line so don't give it much room if you plan on shorting vs. using options. I will only be providing updates for the option trade going forward as that is the official position within the newsletter. The premium in the options is not that bad right now with the VIX at $16.38.

The QQQ is currently trading at $379.80. We are buying a put spread in the QQQ from $380 to $360 expiring in October. This is a bearish trade in the Nasdaq100. The next 6 weeks could prove highly volatile, and the Nasdaq is up more than 20% YTD as we come into the final 4 months of the year. The potential for tax selling as the end of the year approaches is something we have to keep our eye on. We have a Fed meeting in late September, along with the September jobs number out in early October - I see both of these as potential volatile events for the market. And we obviously have Friday's jobs number that we will have exposure to as well.

Buy the QQQ Oct 15th $380 Put (Trading at $8.80).
Sell the QQQ Oct 15th $360 Put (Trading at $3.80).

This is will result in a $5 debit or $500 per contract pair. Our max risk is $500 per contract. Our max profit is $1,500 if the QQQ closes below $360 as of October 15th. Our breakeven is $375 in the QQQ. You can pay slightly more than $5 for this trade as the market is volatile right now but don't let it get too far away from you before entering.

We don't necessarily plan on holding this until expiration, if we get a quick move in our direction we could exit and claim our profits, but I wanted to be able to weather some volatility in the next 4-6 weeks as we look for the tech stocks to possibly just pull back a bit from the extraordinary run they've had over the last 12 to 18 months.

I will have the full report out later this afternoon going over our current equity positions.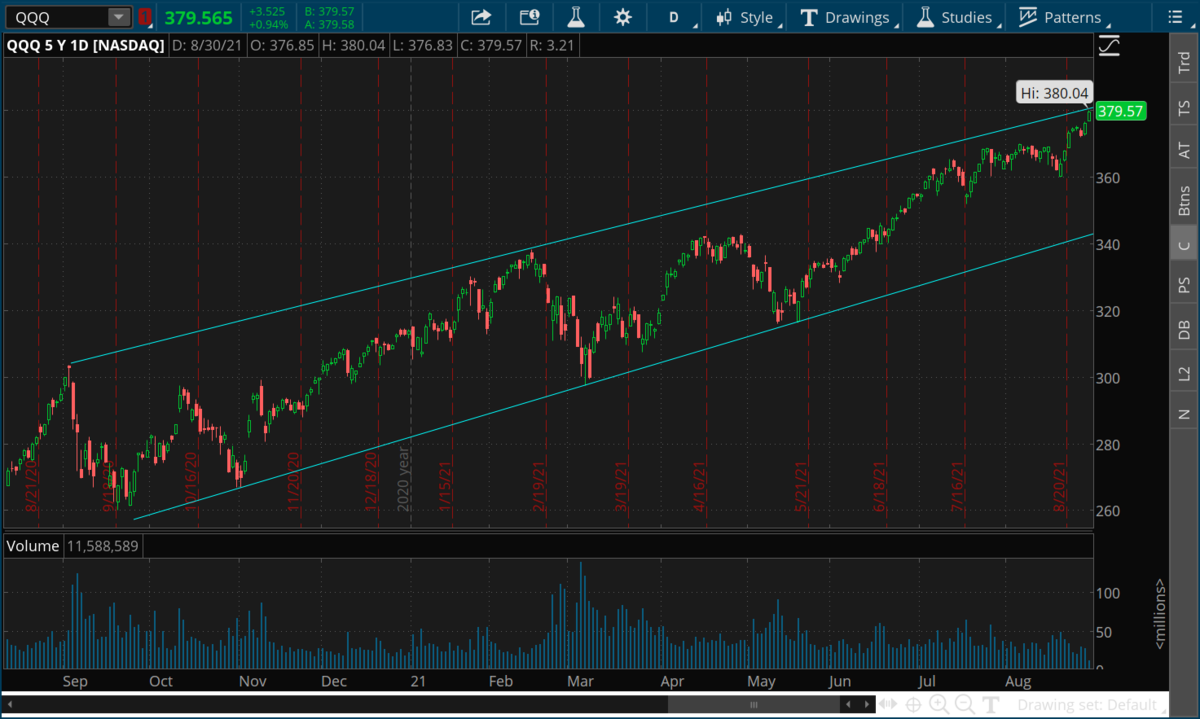 Options Trade Set Up
This is a QQQ vertical put spread from $380 to $360 for a cost of about $5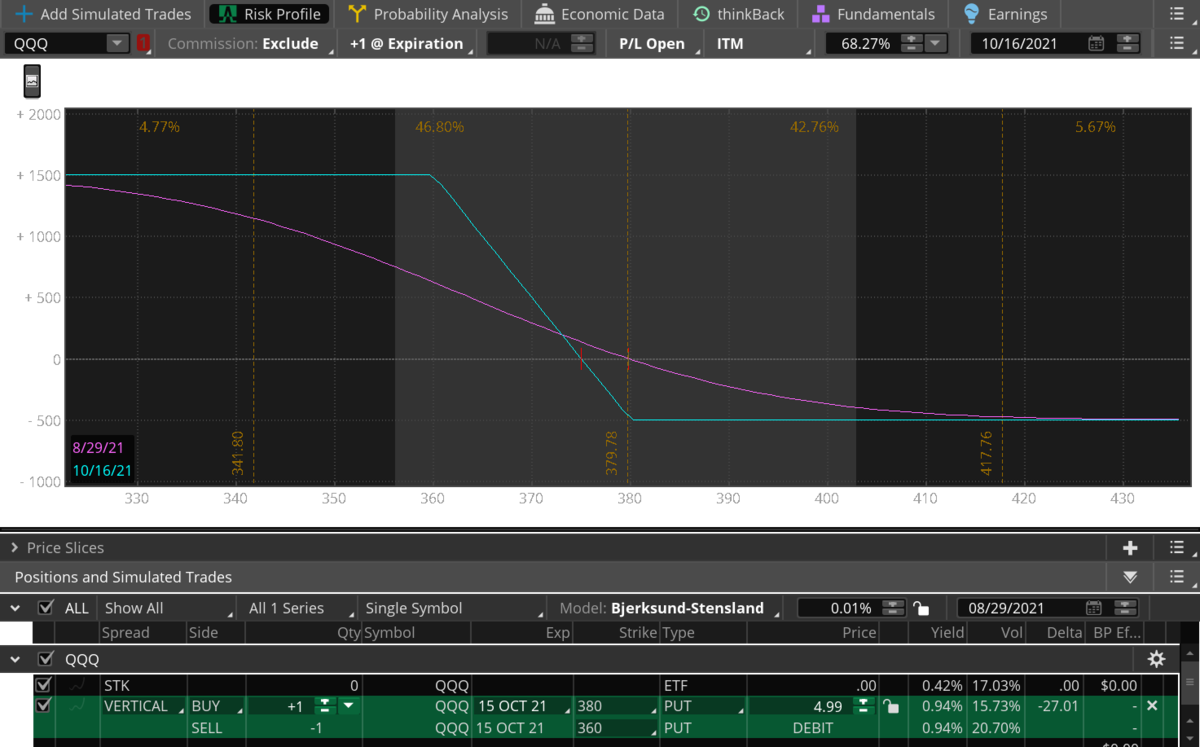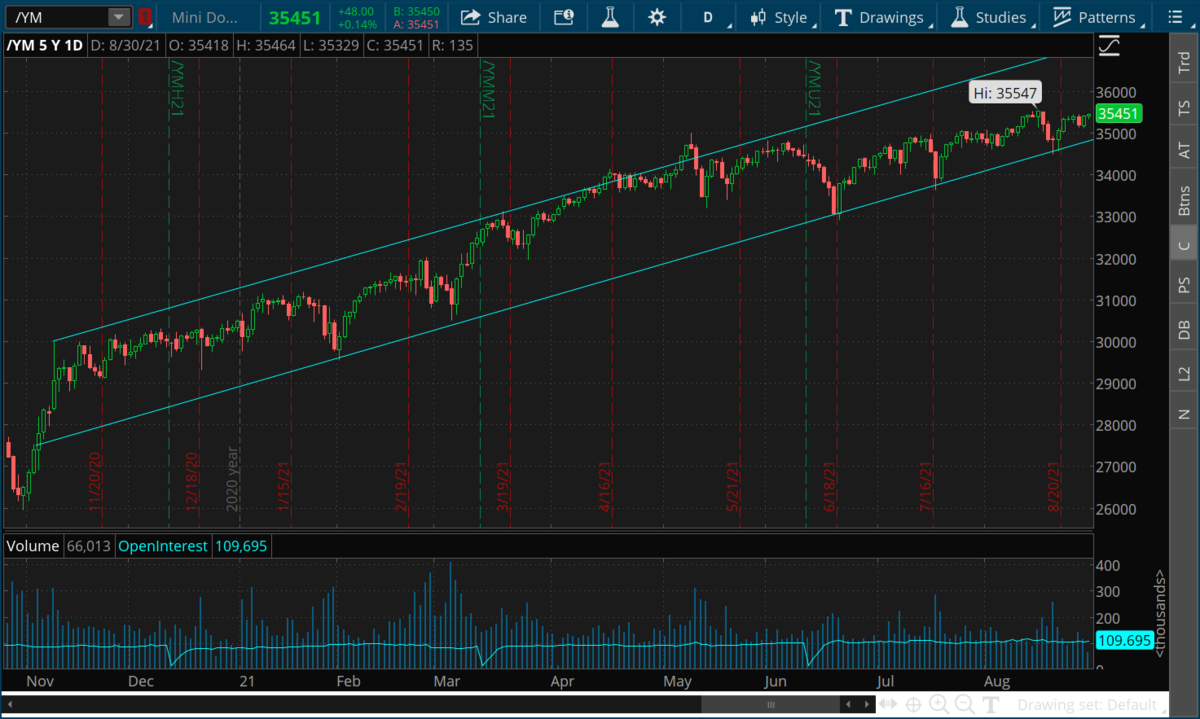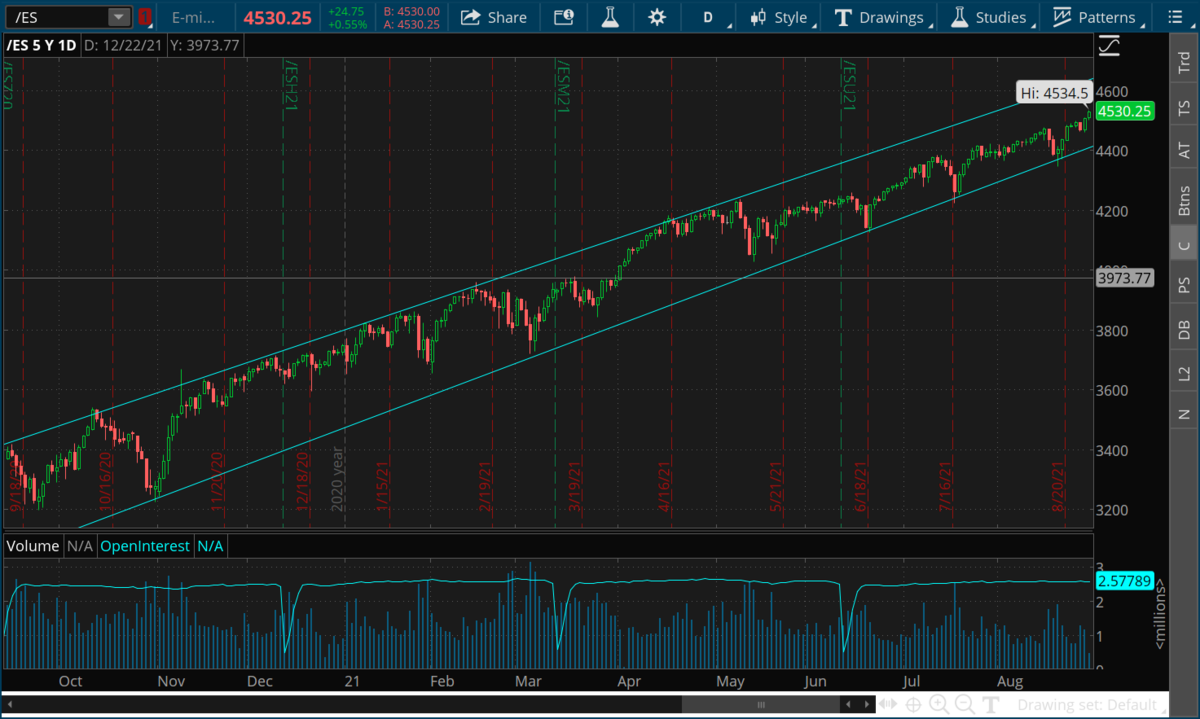 Disclaimer: Trading in securities such as stocks, options, indexes, currencies, and futures involve risk and should not be undertaken without due diligence and serious independent study. Options, stocks, currencies and futures trading, involve substantial risk. Subscribers may carry out their trading based on what they learn from "Rocket Equities & Options" however all risks of potential financial losses are the customer's responsibility. TFNN, Corp. will be in no way liable for financial losses resulting from trading decisions based on this newsletter. Past performance is no guarantee of future results. Reproduction in whole, or in part, is not permitted without prior written consent. Copyright 2021 all rights reserved.