Rocket Equities & Options Report 08-31-21 New Equity Trade
Equity Market Report - New Trade Zoom Video (ZM)
I like our QQQ put spread trade we initiated yesterday - we may not hold this trade for long if we get a move in either direction. NQ futures are about 100 points lower than the overnight high we made at 15,677.25 at 2:30am EST. NQ futures as of 8:20 am EST is trading at 15,578.25. When making trades like this one you have to be aware of the volatility priced into an options trade; this is an obvious statement yet worth repeating. If you're the one paying the premium then it's nice to have the VIX sitting at a very reasonable 16.50. The VIX made a low of 15.91 overnight. It's very difficult to use options to trade the market when it is already flying lower and volatility premiums have already spiked. That's usually when you consider the side of collecting premium because the moves priced in are so large that it is difficult to make money trading directionally.

We are initiating a new equity position buying Zoom (ZM) today. ZM came out with their earnings last night and they were okay, but the market is really punishing them overnight as the stock is trading down almost 14% at $299.85 as of 8:20 am EST. ZM is back to it's breakout area from one year ago.

Buy ZM on the open. The Stop will be $268.50. This will have a volatile open so be sure to use limit orders and not market orders.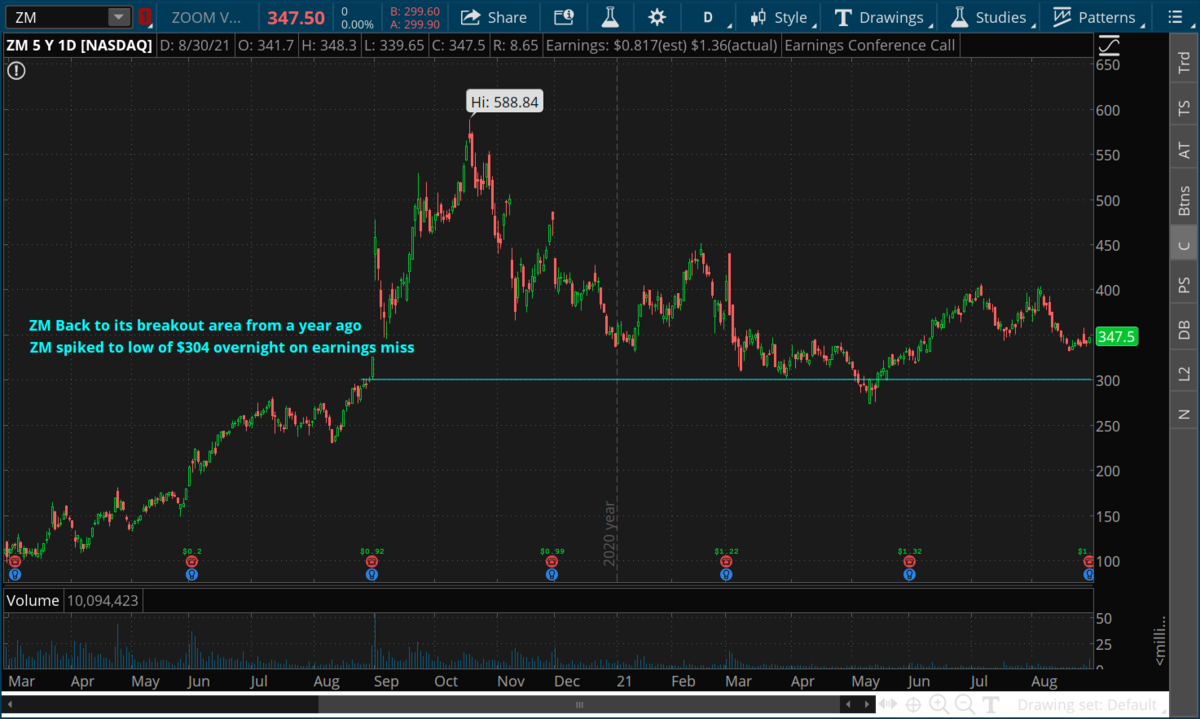 10-Year Note Yielding 1.294%
The 10 year traded to lower price last week with volume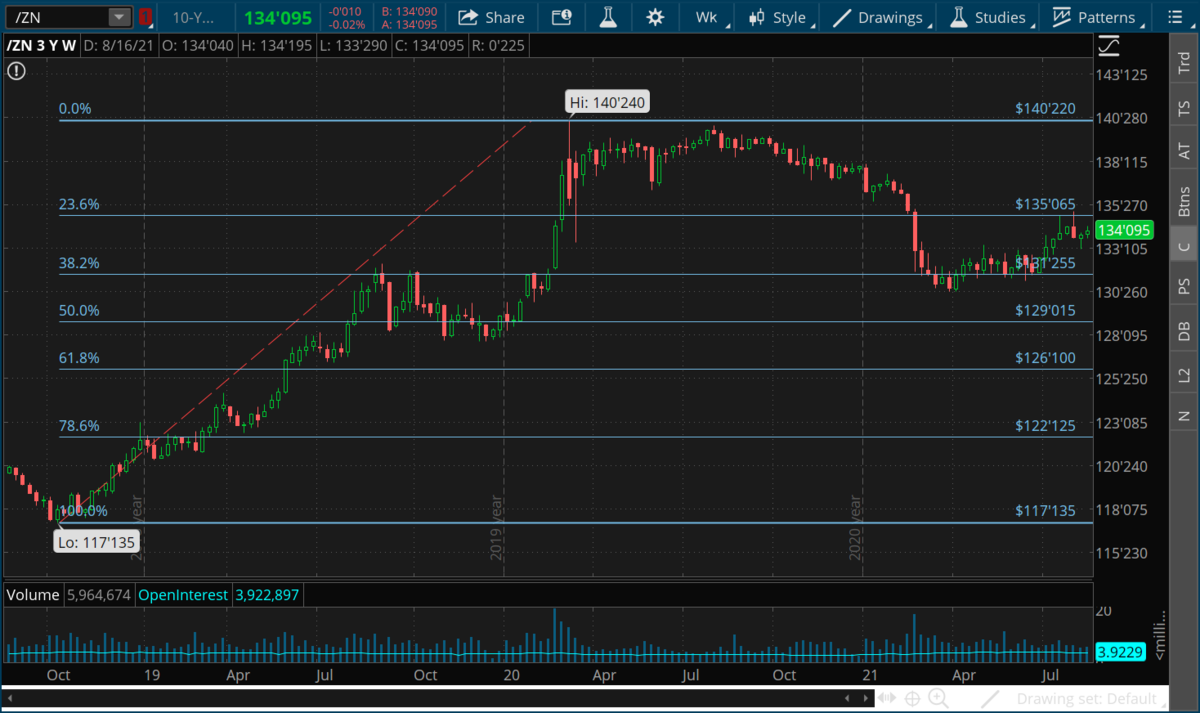 10 Year Daily
We have now retraced about a .382, if we reverse lower from here then this could be the start of lower price and higher yields coming at us.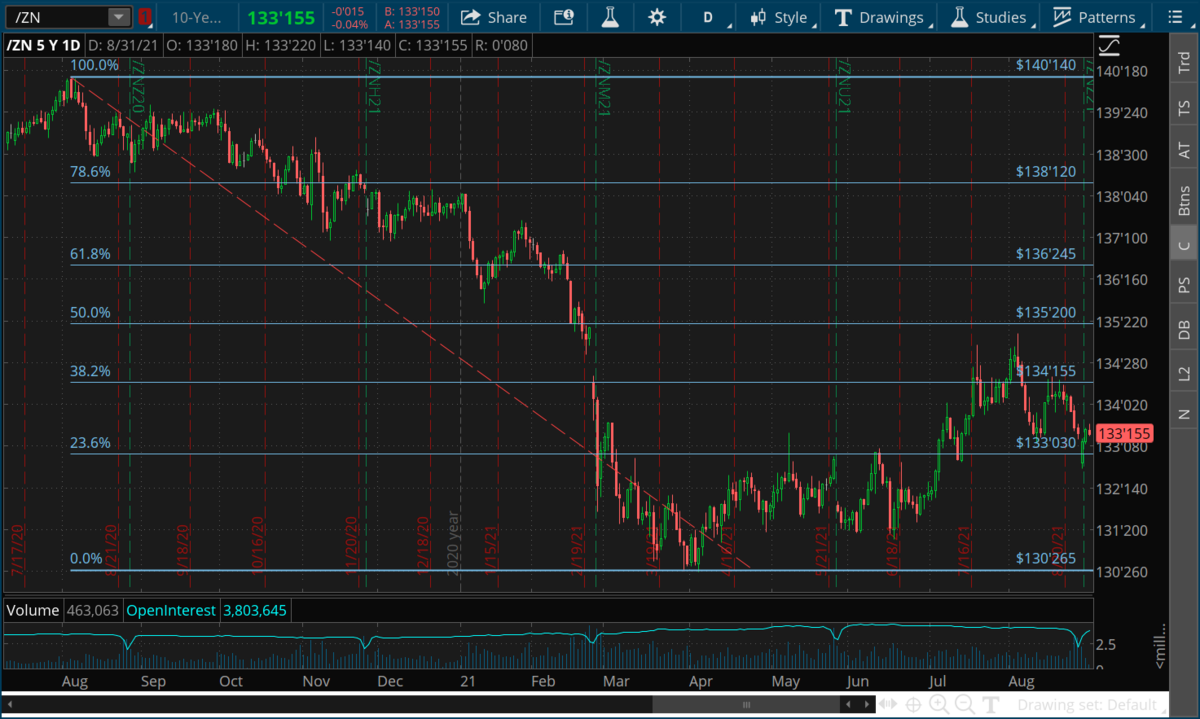 Gold Daily
Gold coming up to the $1827 area, which has acted as resistance over the last couple of months and also is the .618 of the move lower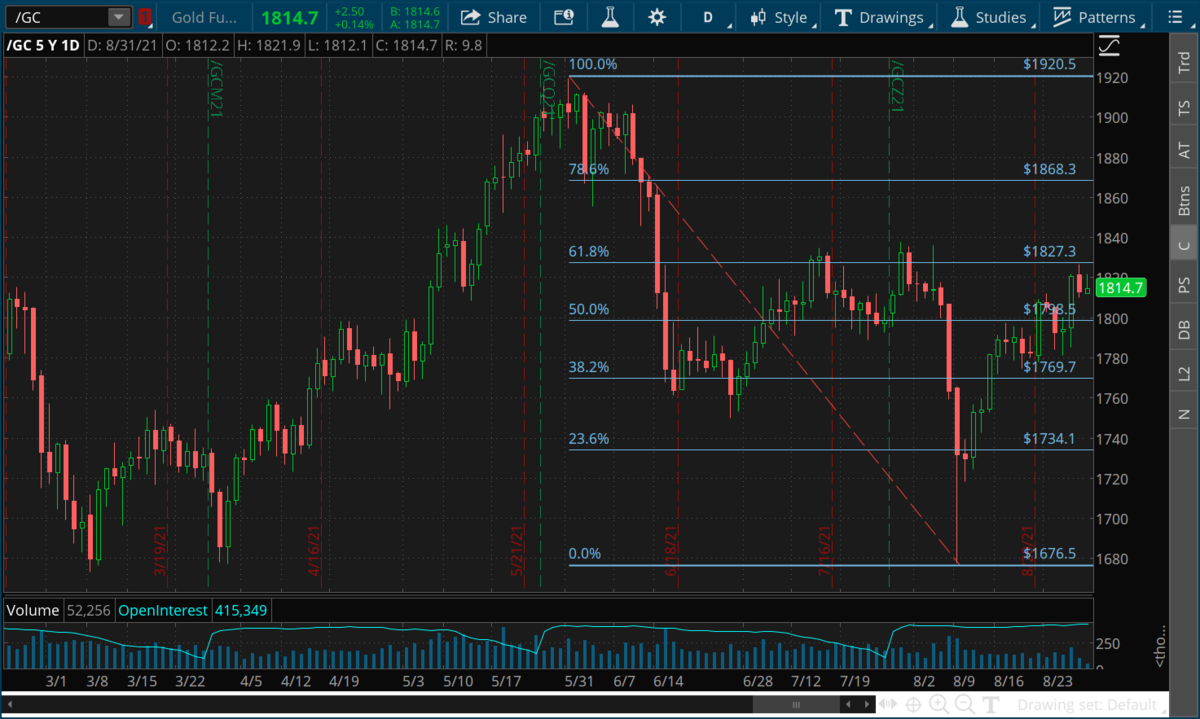 BTC
BTC now above the 50% line from its pull back from all time highs, next stop is the .618 at about $51,700.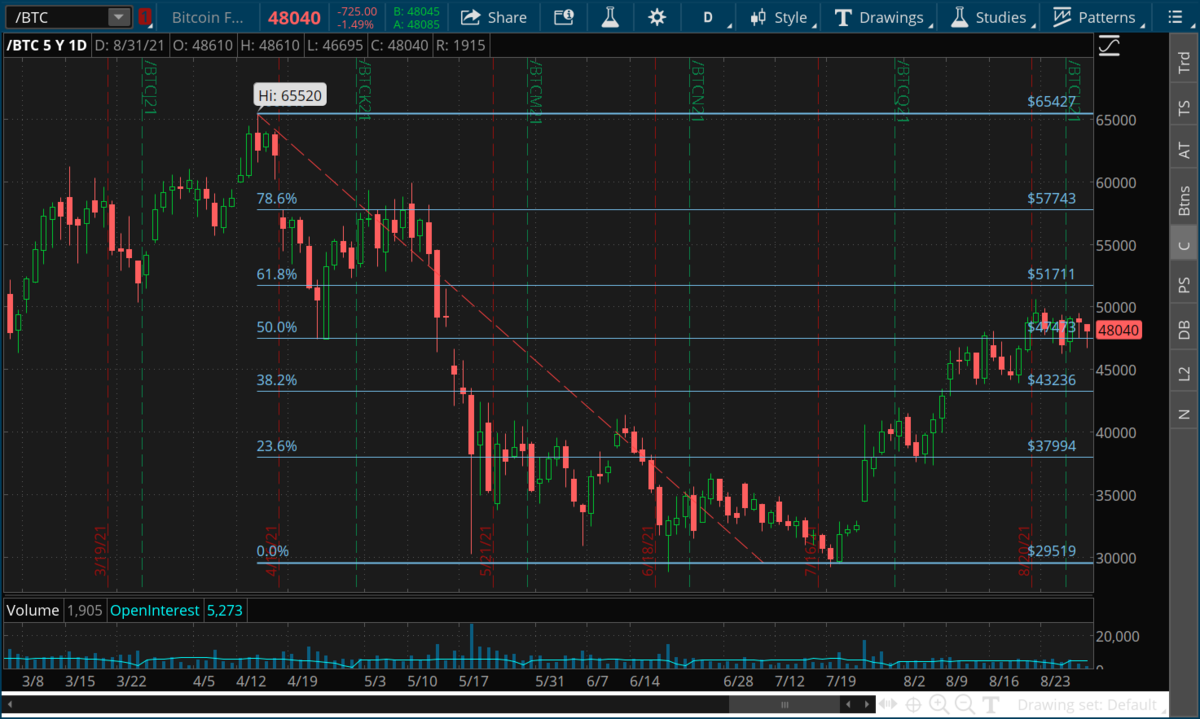 DIS is trading at $179.98. We bought DIS at $118.63. News broke Friday afternoon that Disney is considering licesning their brand to Caesar's or Draftkings for $3 billion plus the obligation to spend marketing money on the Disney networks. You can see the type of power and opportunity the brand represents for Disney. Disney is perfectly positioned to capitalize off of growing trends in streaming. There is no greater commodity than live sports when it comes to content. Hardly anyone cares about watching a sports game if it isn't live. ESPN, which Disney owns, has been forced to pay much higher costs for that content, but there is no replacing the brand they've built. And now sports gambling is legal so the possibilities are endless. Investors love the idea of just licensing their brand to another sports book rather than spending the money to build one themselves.

Disney is bumping up against the upper area of its recent consolidation.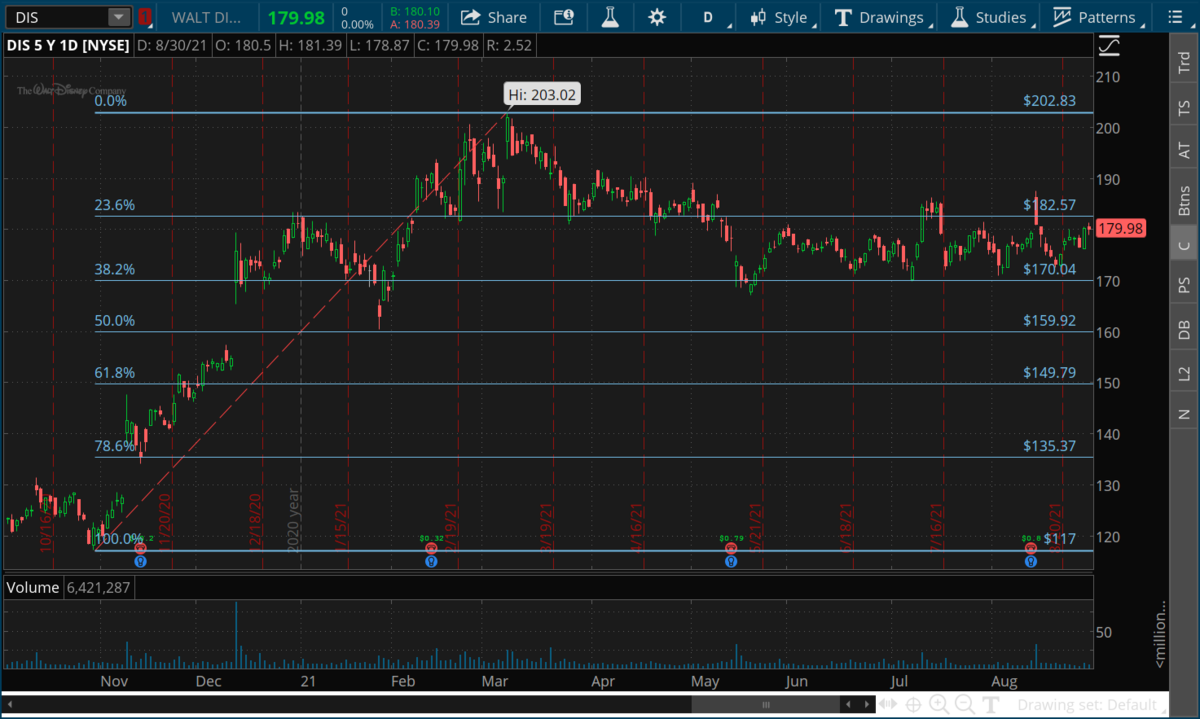 UBER is trading at $39.59. We bought Uber at $31.50. We want to see Uber get back above the $45 area with some volume. I am continuing to evaluate this position. We've given up substantial gains, unfortunately, but this is an equity within our long term portfolio, and it is extremely volatile because of the nature of their business during a pandemic.

We're back to about a 50% retracement from the entire run higher over the last year. This price area also correlates to an area of resistance from last year, which may become an area of support as Uber has pulled back. The high from June of 2020 was $38.78. The high from September of 2020 was $38.52. The high from October of 2020 was $38.35.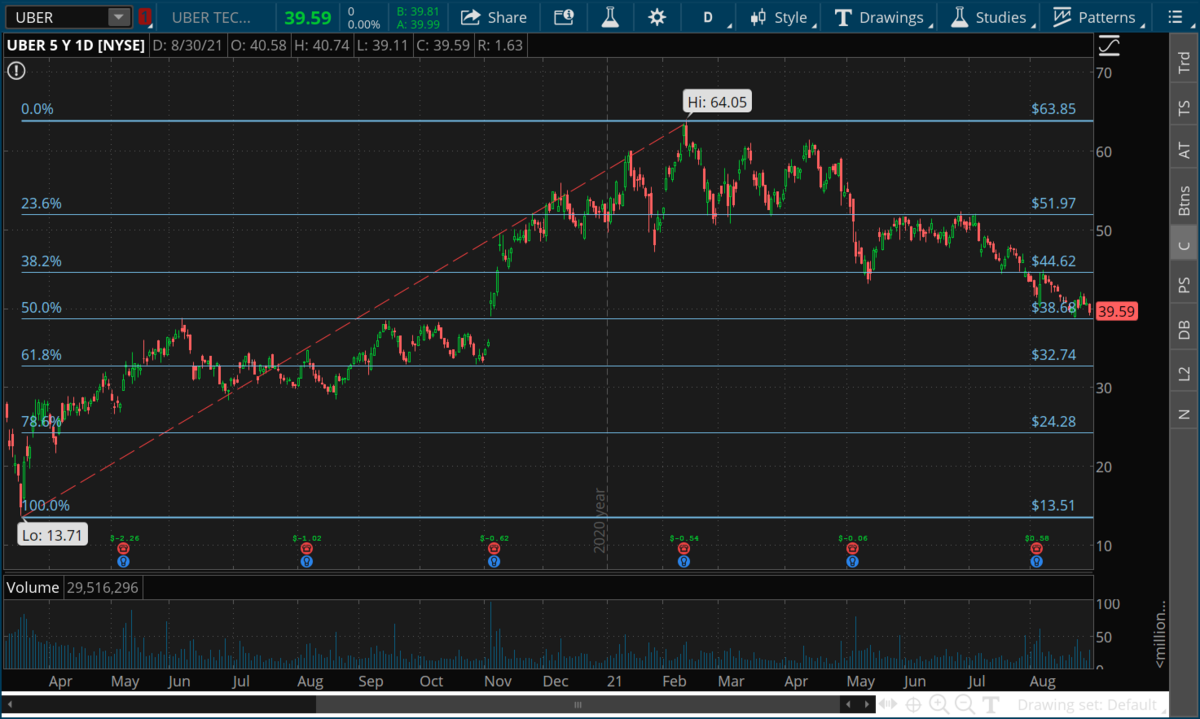 WMT is trading at $147.70. We bought WMT at $140.91. WMT pulled back on light volume last week almost reaching a .382 retracement of the recent run higher. WMT also has a dividend yield of 1.53%.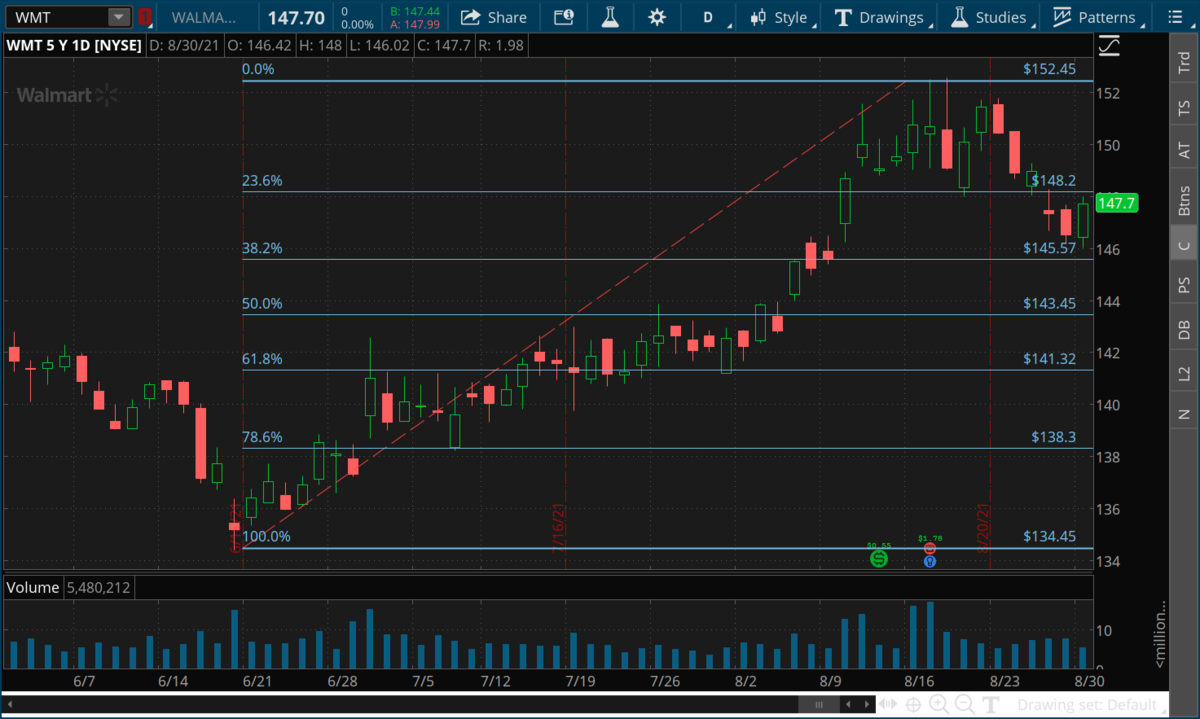 MCD is trading at $236.59. We bought MCD at $216.91. MCD has pulled back into its consolidation area after making new all-time highs last month. MCD is in an ABC up formation, which will take it up to $255.76. MCD passed its B point the week of April 5th with 14+ million shares traded on a weekly basis vs. 10.5M and 9.5M at its B point back in October of last year. MCD also has a dividend yield of 2.22%.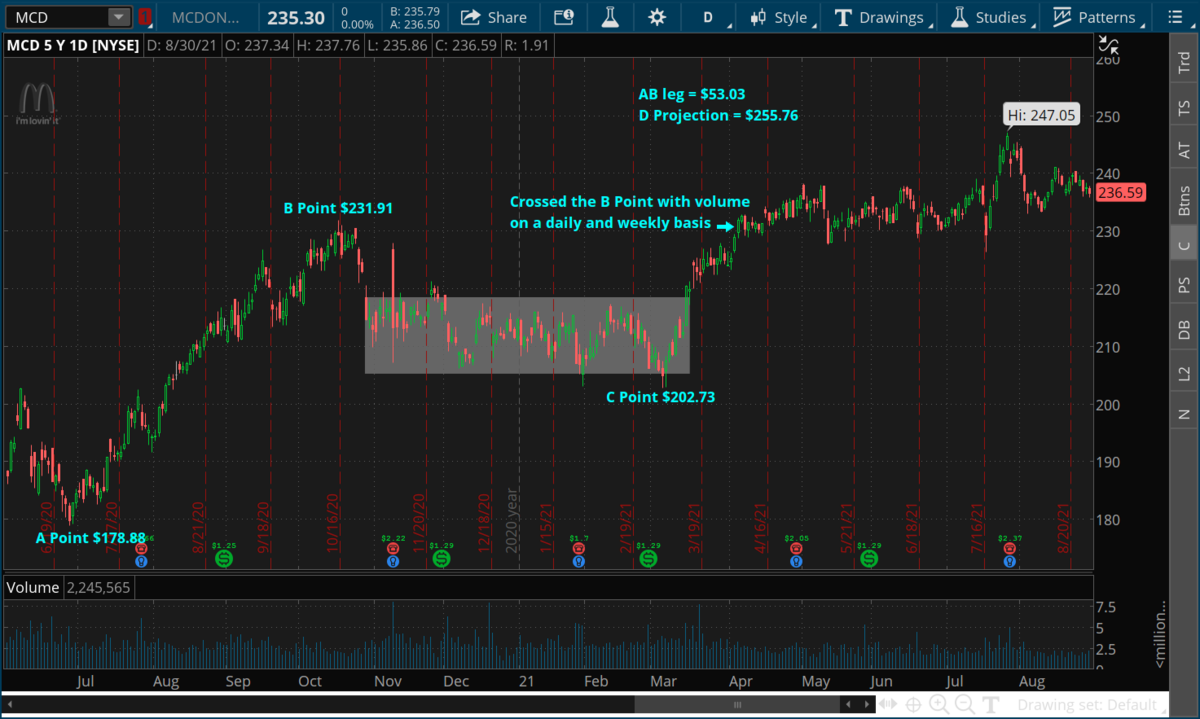 CRM is trading at $264.97. We bought CRM at $215.35. CRM came out with their numbers last week and spiked higher to $275.22 beffore giving back a decent chunk of their gains, yet still finishing the week almost 4% higher. CRM could be forming a nice ABC structure up to about $280, which places it right near all-time highs.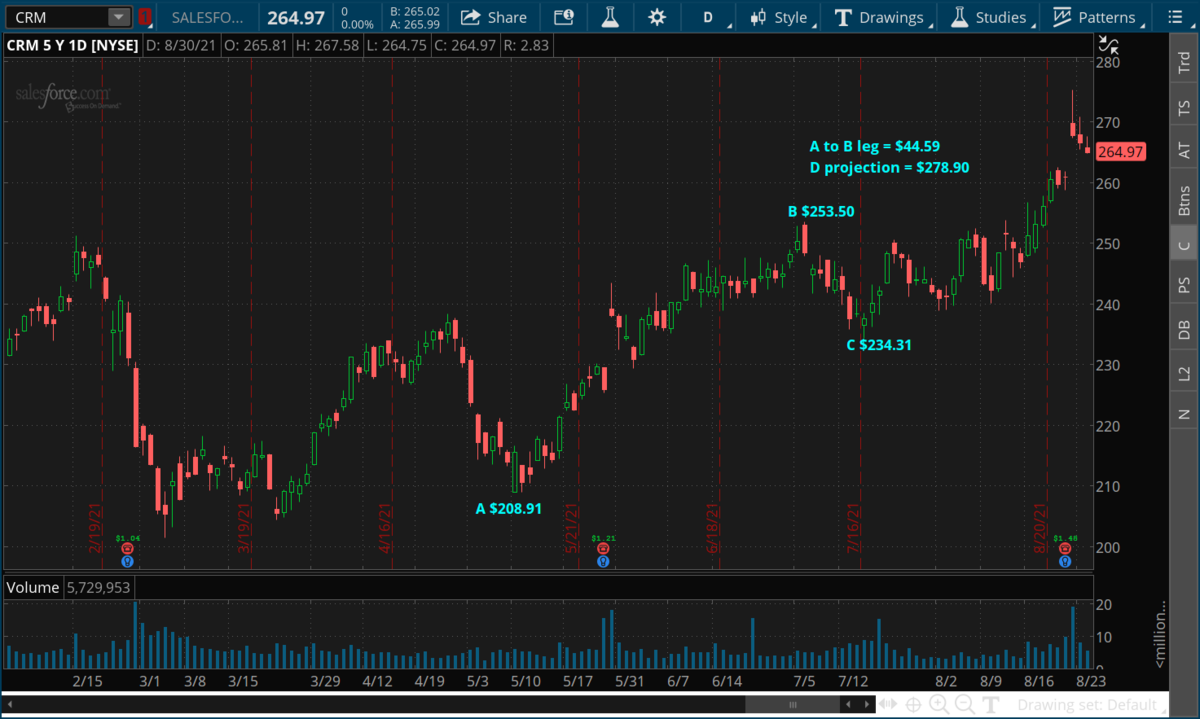 Options Trades:
QQQ Oct 15th $380 - $360 Debit Put Spread for $5.00.

Equity portfolio:

Buy Zoom Video (ZM) at the open today. ZM is trading at $297.68 as of 8:57am EST. The stop is $268.50.

Long half position in WMT at $140.91. WMT is trading at $147.70. Stop is $125.31.

We are effectively long CRM at $215.35. CRM is trading at $264.97. Stop is $193.64.

Long half position in DIS at $118.63. Disney is trading at $179.98. Stop is $98.45.

Long half position in UBER at $31.50. Uber is trading at $39.59. Stop is $26.24.

Long half position in MCD at $216.91. MCD is trading at $235.30. Stop is $189.50.
Disclaimer: Trading in securities such as stocks, options, indexes, currencies, and futures involve risk and should not be undertaken without due diligence and serious independent study. Options, stocks, currencies and futures trading, involve substantial risk. Subscribers may carry out their trading based on what they learn from "Rocket Equities & Options" however all risks of potential financial losses are the customer's responsibility. TFNN, Corp. will be in no way liable for financial losses resulting from trading decisions based on this newsletter. Past performance is no guarantee of future results. Reproduction in whole, or in part, is not permitted without prior written consent. Copyright 2021 all rights reserved.