Rocket Equities & Options Report 11-02-21
The Market Marches on to All-Time Highs
We have the 3 major indices making all-time highs today, with the Russell 2K not far behind at less than 1% away from it's all time high of 1,366 made back on March 15th of this year.

The QQQ is trending higher towards the upper boundary line of its channel line. It's pretty amazing how well channel lines can work sometimes. The QQQ traded down almost 8.5% from its high made in early September, touched the lower boundary line, and is now up almost 10% from the low made less than one month ago on October 4th.

We have a Federal Reserve needing that begins today, with an announcement due tomorrow at 2pm ET, and a 2:30pm ET press conference to follow with Chairman Powell. All expectations are that they will announce a tapering of their Bond purchases as they wind down that program over the next 6-8 months. We have the Non-Farm payroll number for October released Friday at 8:30am ET.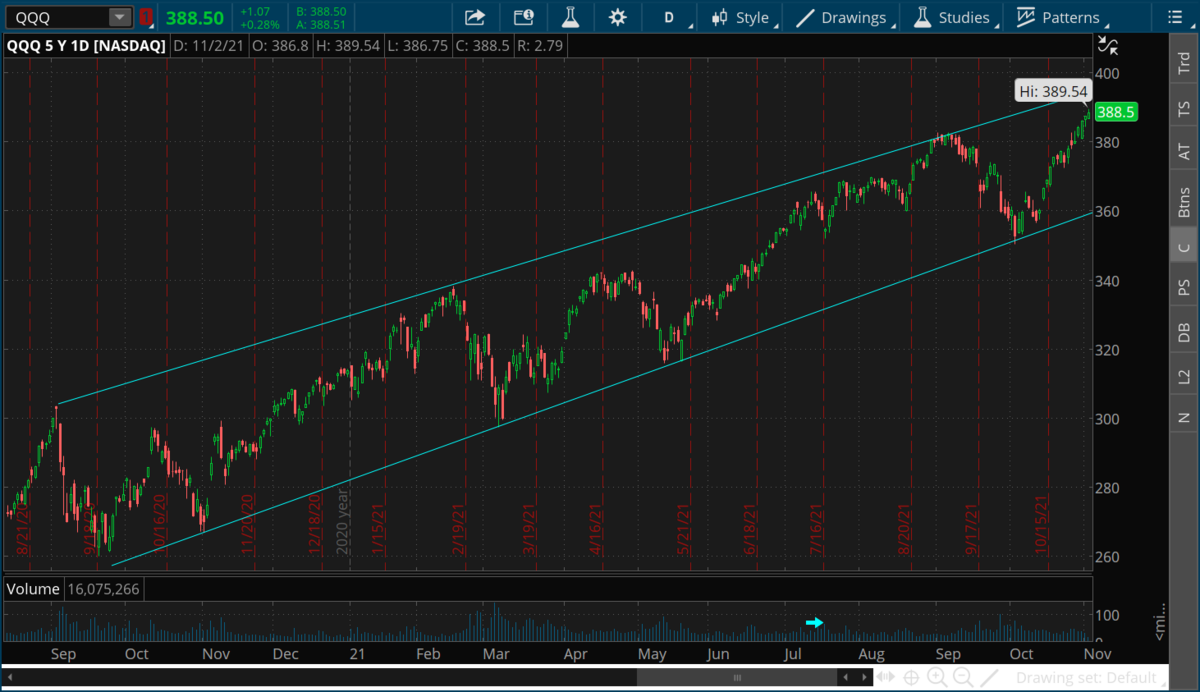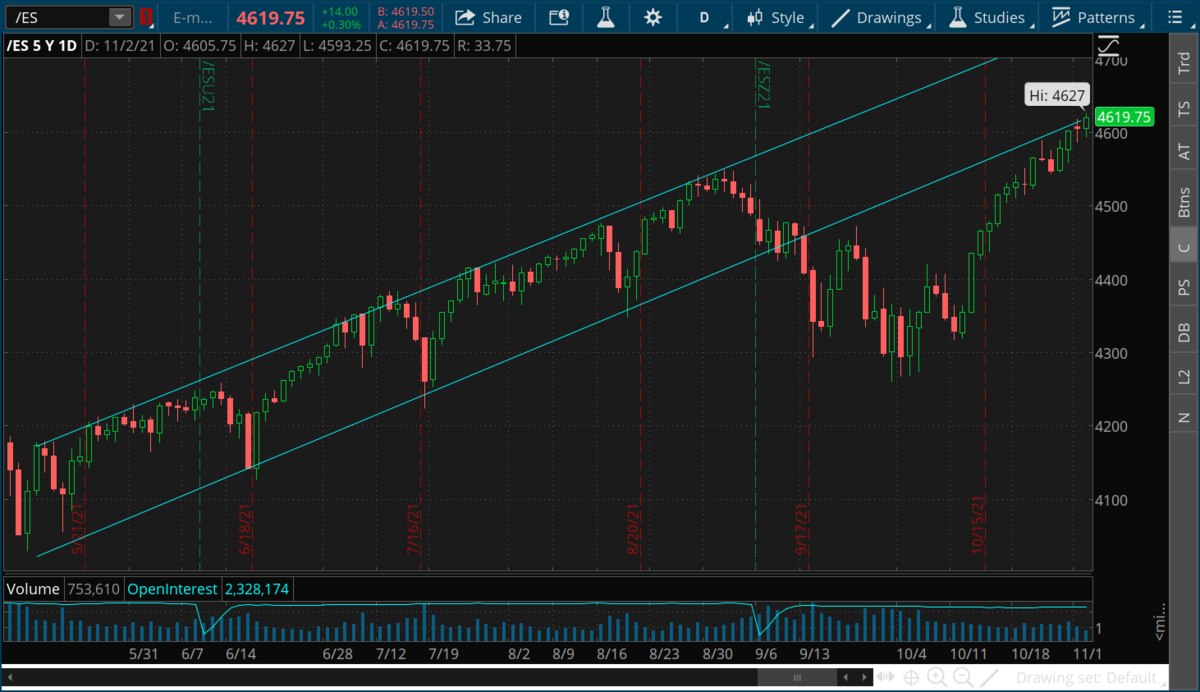 Disney continues to consolidate around the .382 with light volume. We want to see DIS stay above $167.10, which is the low from May of this year. Disney has earnings November 10th.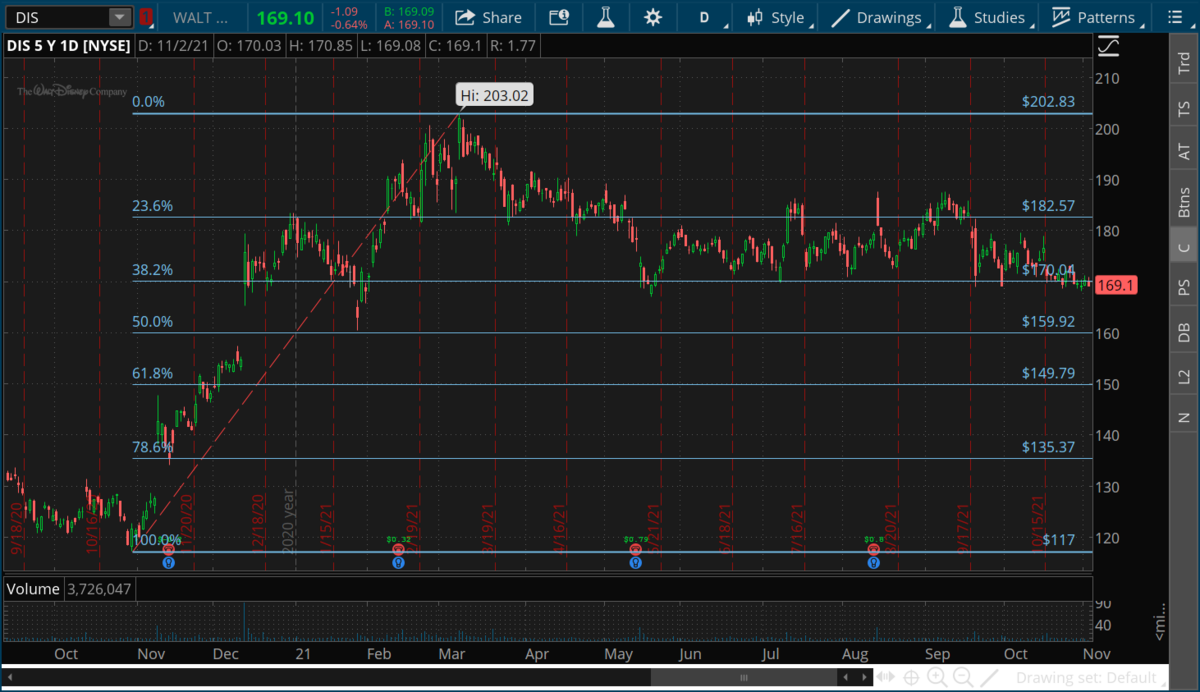 Uber is almost back to a .618 of its recent run higher. Uber is trading lower today on news of the car rental market heating up and Avis reporting a blowout quarter sending the company up over 200% at one point today (Symbol CAR). Lyft reports earnings tonight after the bell, which will impact Uber. Uber reports their numbers on Thursday, November 4th.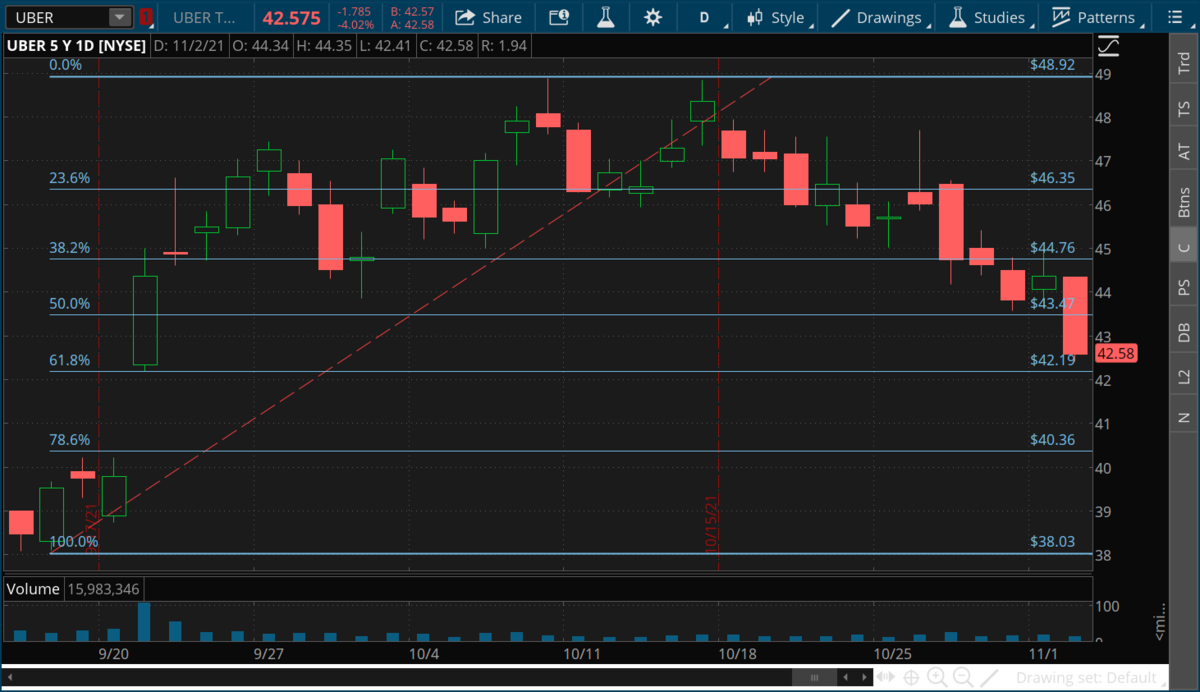 WMT continues to trade higher and is on its way to all-time highs of $153.66 made about one year ago in November of 2020. WMT has a dividend yield of 1.47%. WMT announces earnings November 16th.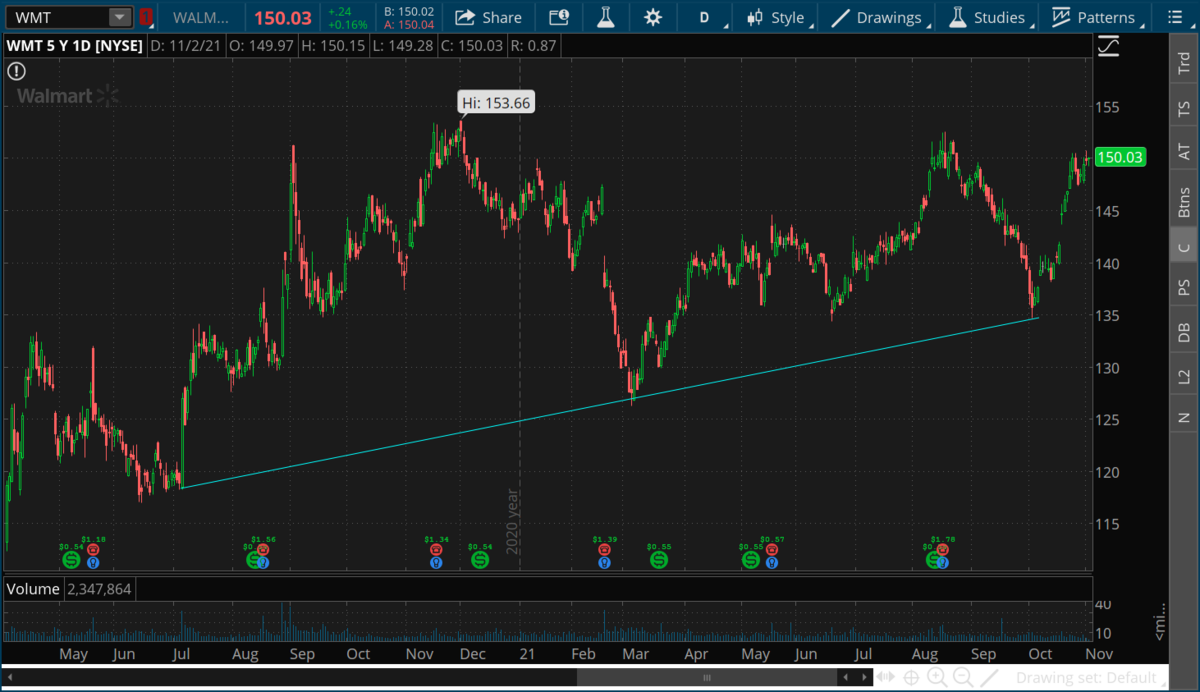 MCD announced solid earnings last week, and continues to trade higher with strength on its way to $255. MCD is facing some resistance at the top of this channel line that it will have to work its way through. MCD has a dividend yield of 2.20%.
CRM continues to make new all-time highs this week. This stock has traded from $210 in May to $300 in about 6 months so it may need to digest the gains a bit as it faces some resistance at the top end of its channel line but is still strong here and has shown no weakness lately. CRM announces earnings November 30th.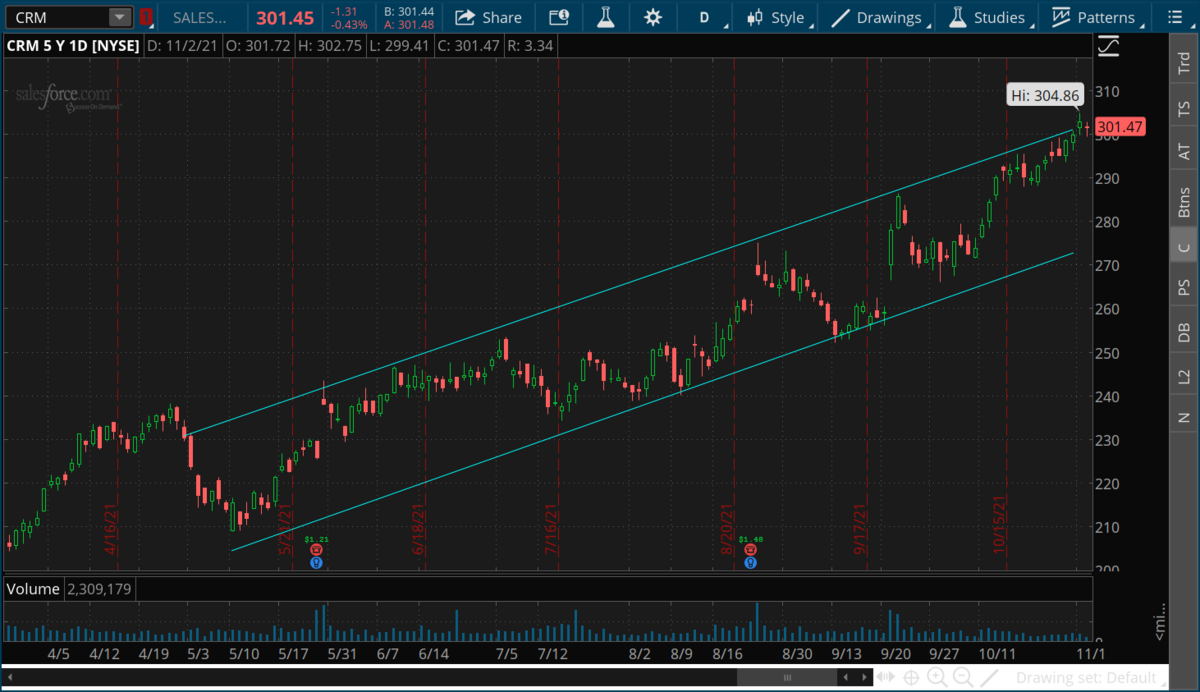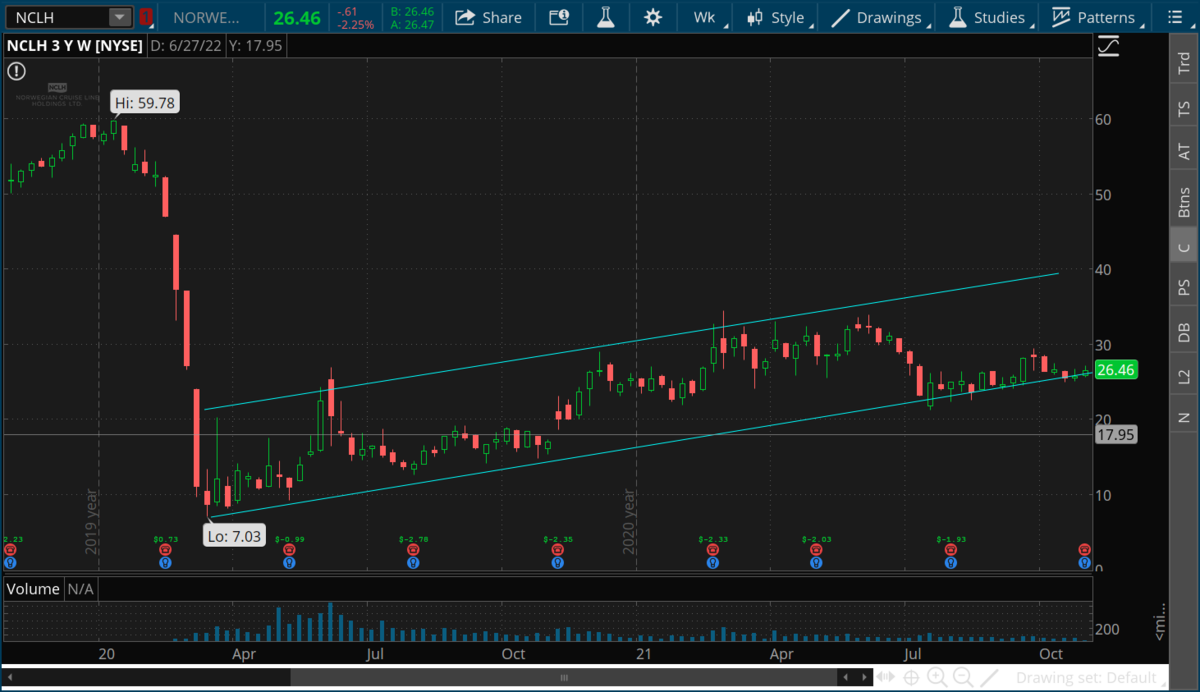 NCLH daily
NCLH had a nice sign of strength yesterday on the daily, with the most volume its had in over a month. NCLH is out with their earnings before the bell tomorrow morning.
Earnings on the radar this week
Wednesday after the bell: ETSY, MGM, QCOM, ROKU.

Thursday after the bell: ABNB, PINS, PTON, SHAK, SQ, WW, YELP.

Friday before the market: CGC, DKNG.
Equity portfolio
We bought NLCH $25.54. NCLH is trading at $26.60. The stop is $24.51.

Long half position in WMT at $140.91. WMT is trading at $150.02. Stop is $125.31.

We are effectively long CRM at $215.35. CRM is trading at $301.77. Stop is $193.64.

Long half position in DIS at $118.63. Disney is trading at $169.49. Stop is $98.45.

Long half position in UBER at $31.50. Uber is trading at $42.46. Stop is $26.24.

Long half position in MCD at $216.91. MCD is trading at $249.54. Stop is $189.50.
Disclaimer: Trading in securities such as stocks, options, indexes, currencies, and futures involve risk and should not be undertaken without due diligence and serious independent study. Options, stocks, currencies and futures trading, involve substantial risk. Subscribers may carry out their trading based on what they learn from "Rocket Equities & Options" however all risks of potential financial losses are the customer's responsibility. TFNN, Corp. will be in no way liable for financial losses resulting from trading decisions based on this newsletter. Past performance is no guarantee of future results. Reproduction in whole, or in part, is not permitted without prior written consent. Copyright 2021 all rights reserved.