Rocket Equities & Options Report 12-06-21
Rocket Equities & Options Report - December 6th, 2021
It's remarkable how doom and gloom the financial headlines have been while we have the major indices within literally a few percentage points away from all-time highs. I imagine volatility is here for a while as markets are having a hard time figuring out the trajectory of future inflation and economic activity.

The stock market is priced off of expected future earnings. It's particularly difficult right now for the market to reasonably estimate the impact that rising wages, supply chain issues, inflationary tendencies overall, fluctuating economic activity, lockdowns across the globe, and stimulus, will have on the value of future earnings and revenue growth. This provides a unique opportunity for volatility regardless of the overall direction of the market, but I think it is fair to say we have a two way market right now.

The 10-year yield is currently at about 1.43% right now as the Fed is expected to ramp up the tapering and inflation is running extra hot, with even the Fed chairman no longer comfortable with the term "transitory". We live in very interesting times right now, especially as traders and investors in the market.

Stay tuned for updates this week!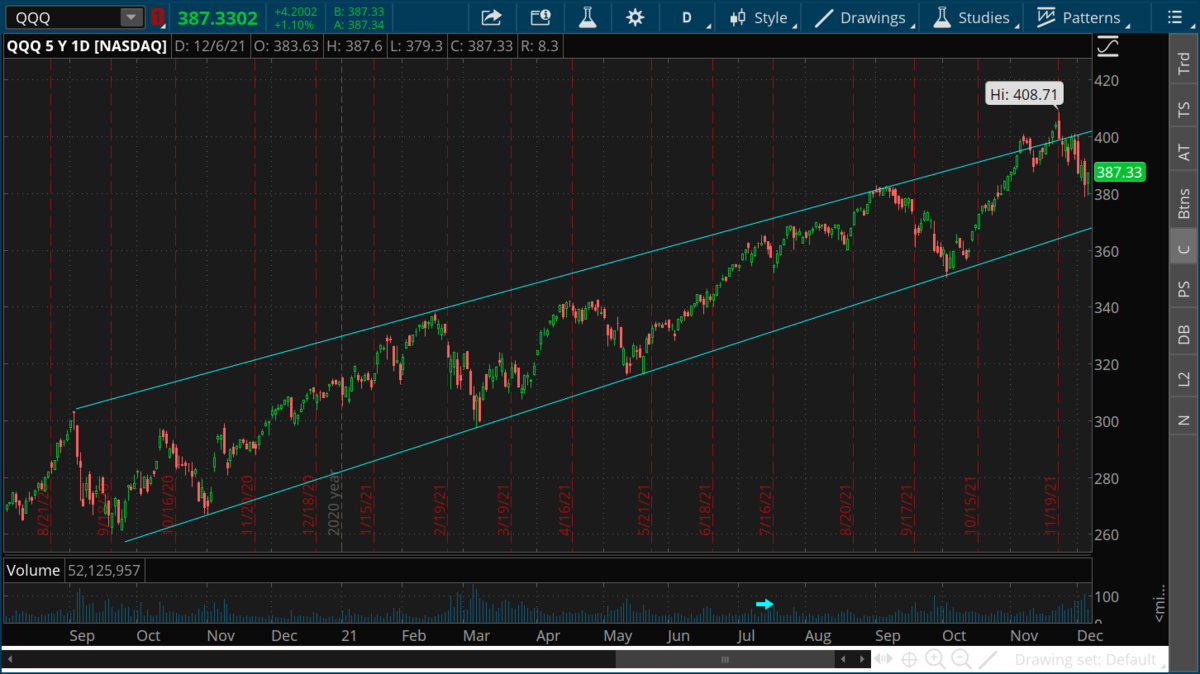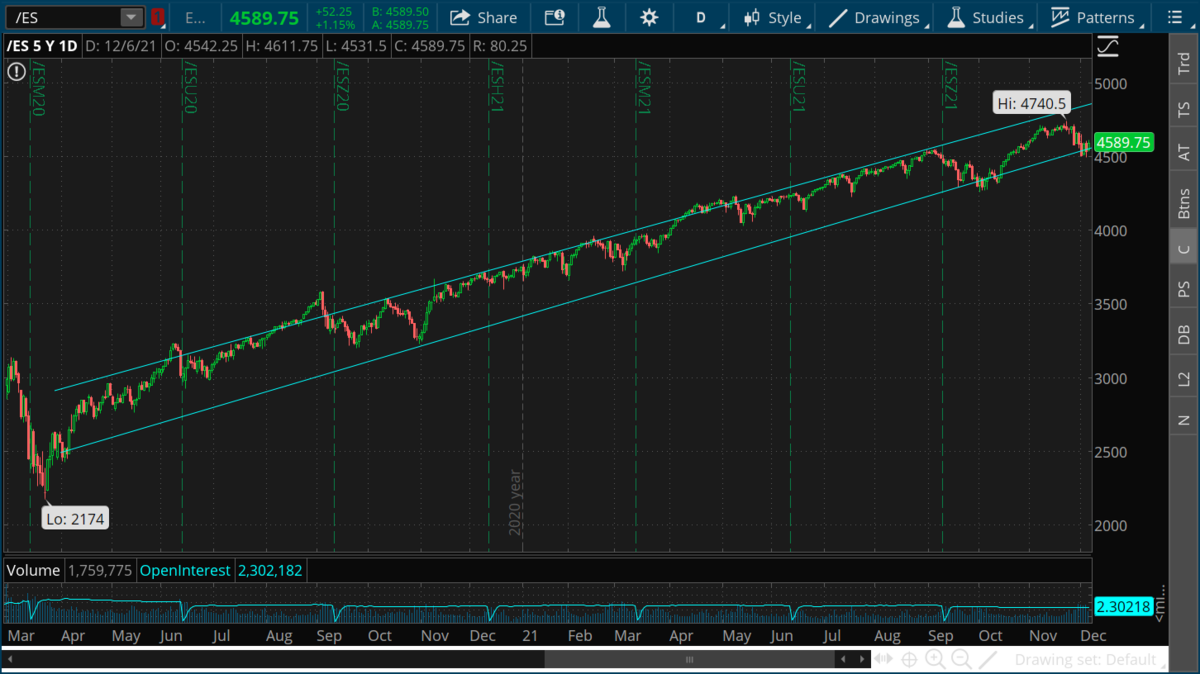 Disney traded to a low of $142.04 last week, actually trading all the way back to April of 2019 prices, and has bounced nicely from that area. Look for Disney to make a quick recovery to the $180 area as fears of the new variant could prove overblown in the weeks and months to come.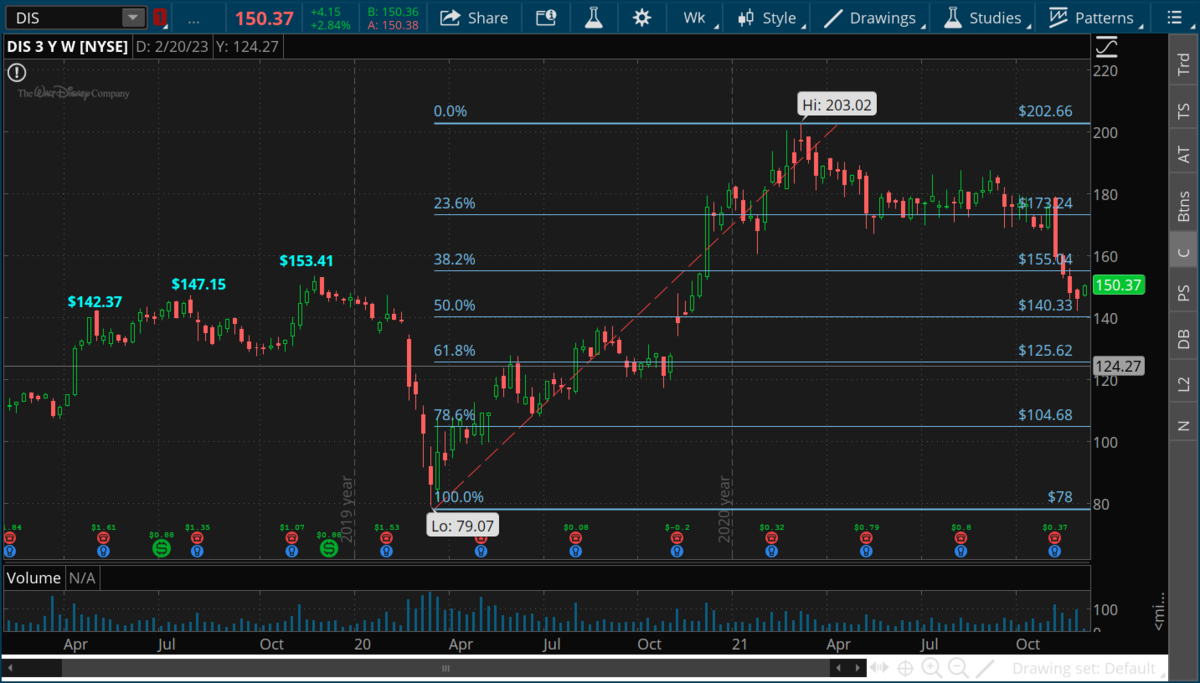 Uber is up more than 7% today as it continues its volatile trading. UBER traded into its breakout area from last November with lighter volume and has bounced nicely today with the market. Next stop for Uber is the $46.50 area, near its recent higher range, where it consolidated from September through early November of this year.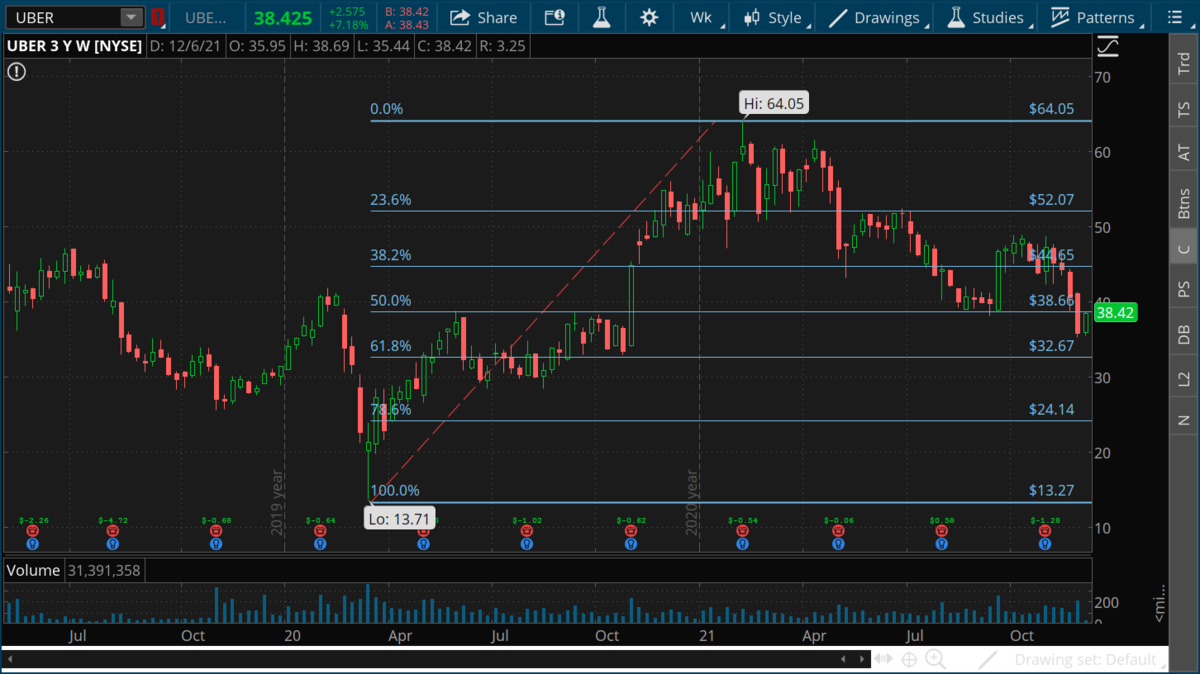 WMT is up more than 1% today with the market as it has bounced nicely off of its lower trend line. WMT has a 1.59% dividend yield at this price.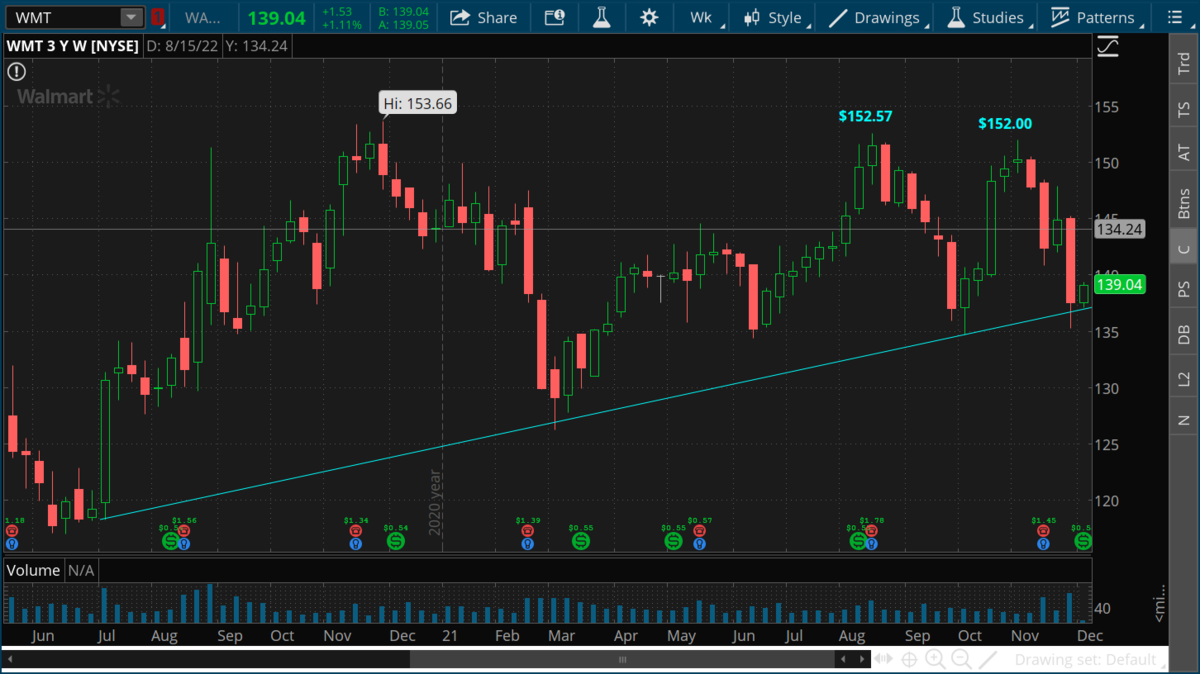 MCD has broken above its channel line today and is close to making new all-time highs. Look for MCD to retest the upper boundary line on lighter volume before trading higher. The real estate market continues to be on fire and MCD has benefited greatly from that trend recently, and I expect it will continue to do so.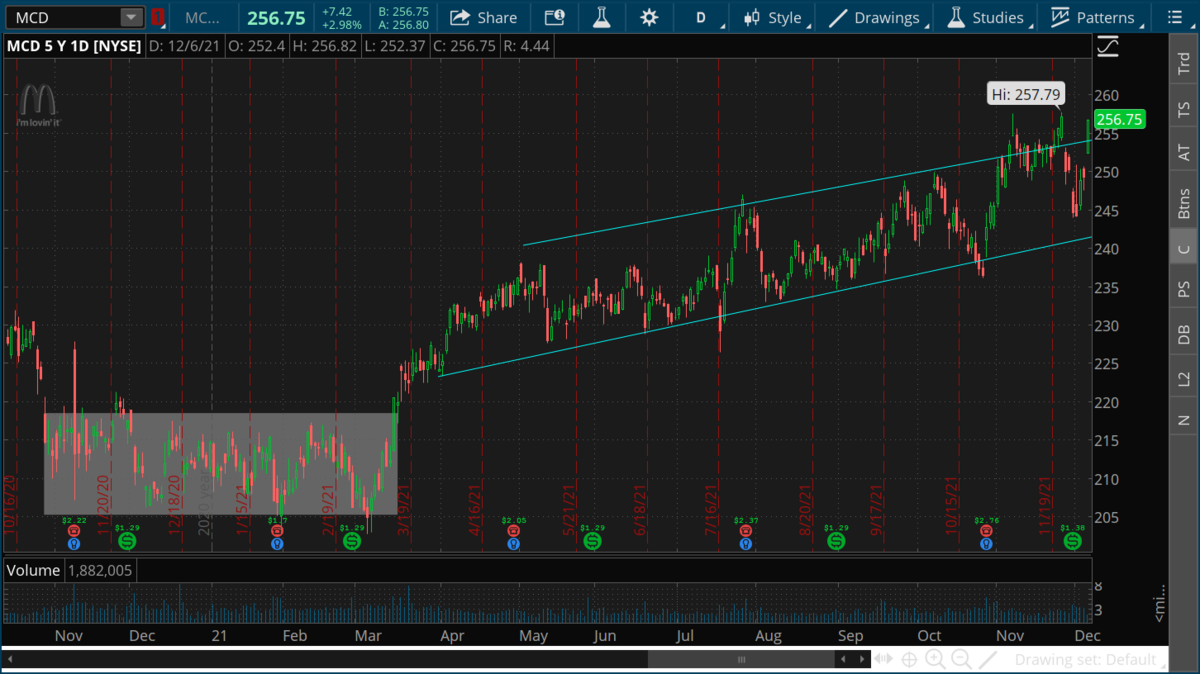 CRM provided 4th quarter guidance last week that missed analyst estimates and the stock traded lower.

"For the fiscal fourth quarter, Salesforce projected adjusted earnings of 72 cents to 73 cents a share on sales of $7.22 billion to $7.23 billion. Analysts on average were expecting earnings of 82 cents a share on sales of $7.24 billion, according to FactSet...Salesforce raised its full-year expectations, just as it did in its first-quarter and second-quarter reports; management now expects full-year revenue of $26.39 billion to $26.4 billion and adjusted earnings of $4.68 to $4.69 a share, after projecting earnings of $4.36 to $4.38 a share on sales of $26.25 billion to $26.35 billion three months prior." - MarketWatch

SaleForce was punished extremely harshly for missing during a week when markets were already jittery with a new variant and a Fed Chairman admitting inflation is a current problem that is now undeniable. CRM finished up more than $8 off of its low of $250.71 this morning. Look for CRM to consolidate for a bit before trading higher to the $280 area.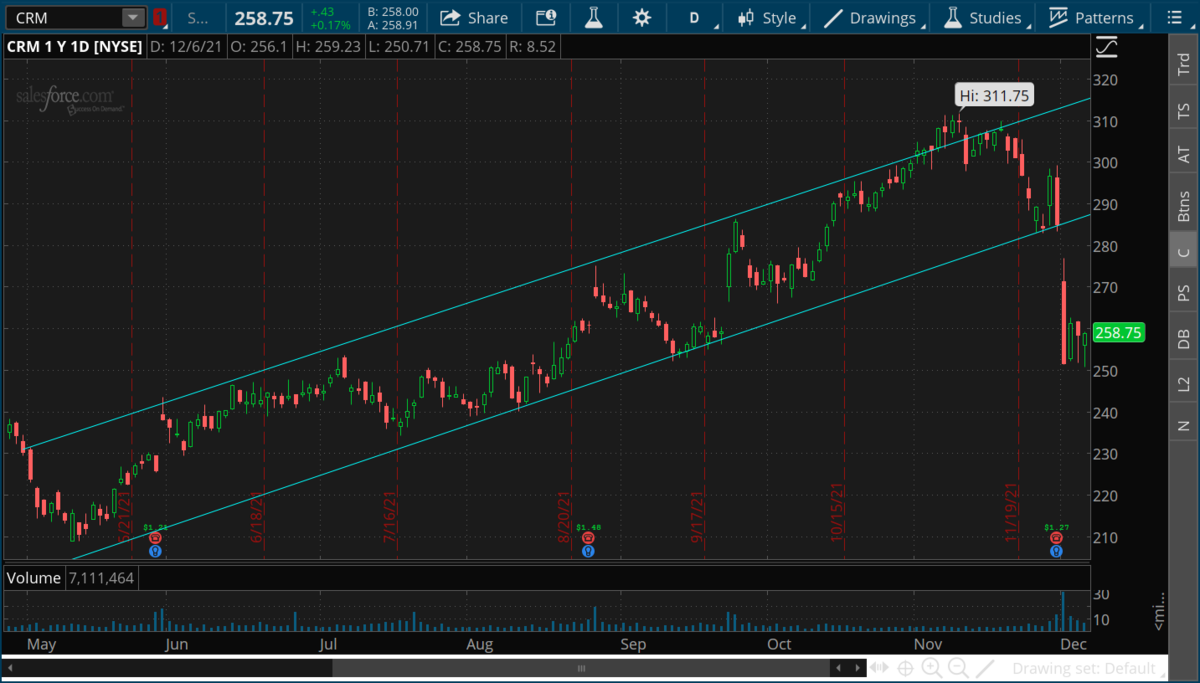 Earnings on the radar this week
Tuesday before the market: AZO
Tuesday after the bell: PLAY, TOL

Wednesday before market: CPB
Wednesday after the bell: GME

Thursday after the bell: AVGO, COST, LULU


Equity portfolio
Long half position in WMT at $140.91. WMT is trading at $139.00. Stop is $125.31.

We are effectively long CRM at $215.35. CRM is trading at $258.75. Stop is $193.64.

Long half position in DIS at $118.63. Disney is trading at $150.37. Stop is $98.45.

Long half position in UBER at $31.50. Uber is trading at $38.49. Stop is $26.24.

Long half position in MCD at $216.91. MCD is trading at $255.79. Stop is $189.50.
Disclaimer: Trading in securities such as stocks, options, indexes, currencies, and futures involve risk and should not be undertaken without due diligence and serious independent study. Options, stocks, currencies and futures trading, involve substantial risk. Subscribers may carry out their trading based on what they learn from "Rocket Equities & Options" however all risks of potential financial losses are the customer's responsibility. TFNN, Corp. will be in no way liable for financial losses resulting from trading decisions based on this newsletter. Past performance is no guarantee of future results. Reproduction in whole, or in part, is not permitted without prior written consent. Copyright 2021 all rights reserved.