Rocket Equities & Options Report - New Equity & Options Trade 10-20-21
TSLA (Tesla) Iron Condor Options Trade & Buying Equity NCLH (Norwegian Cruise Line)
TSLA has earnings after the bell tonight. Tesla has an implied move for this week of about $40 in either direction according to the implied volatility of the options that expire this Friday October 22nd.

We are going to sell premium and look for a small move on earnings in TSLA tonight. The stock has had quite a run recently from $546.98 on May 19th to $866.95 as of this letter.

Sell TSLA Oct 22nd $870 Call
Buy TSLA Oct 22nd $890 Call

Sell TSLA Oct 22nd $860 Put
Buy TSLA Oct 22nd $840 Put.

TSLA is currently trading at $865.95.

This is a 4 leg trade, you may have to give it $0.10 to $0.25 of price movement to get executed but don't go too far from a $15 credit - you can trade it as 2 separate options trades if you'd like as sometimes it is easier to get executed that way as opposed to all 4 at once - as we are basically selling a call spread and selling a put spread and looking for the market to stay even and we absorb the premium in the end. We collect a credit of about $15 per contract when we initiate this trade, which is our maximum profit. We achieve our max profit if TSLA expires between $860 - $870 this Friday. We break-even if TSLA finishes this week anywhere between $845 and $885. Our max loss is $5 or $500 per contract if TSLA closes the week below $840 or above $890.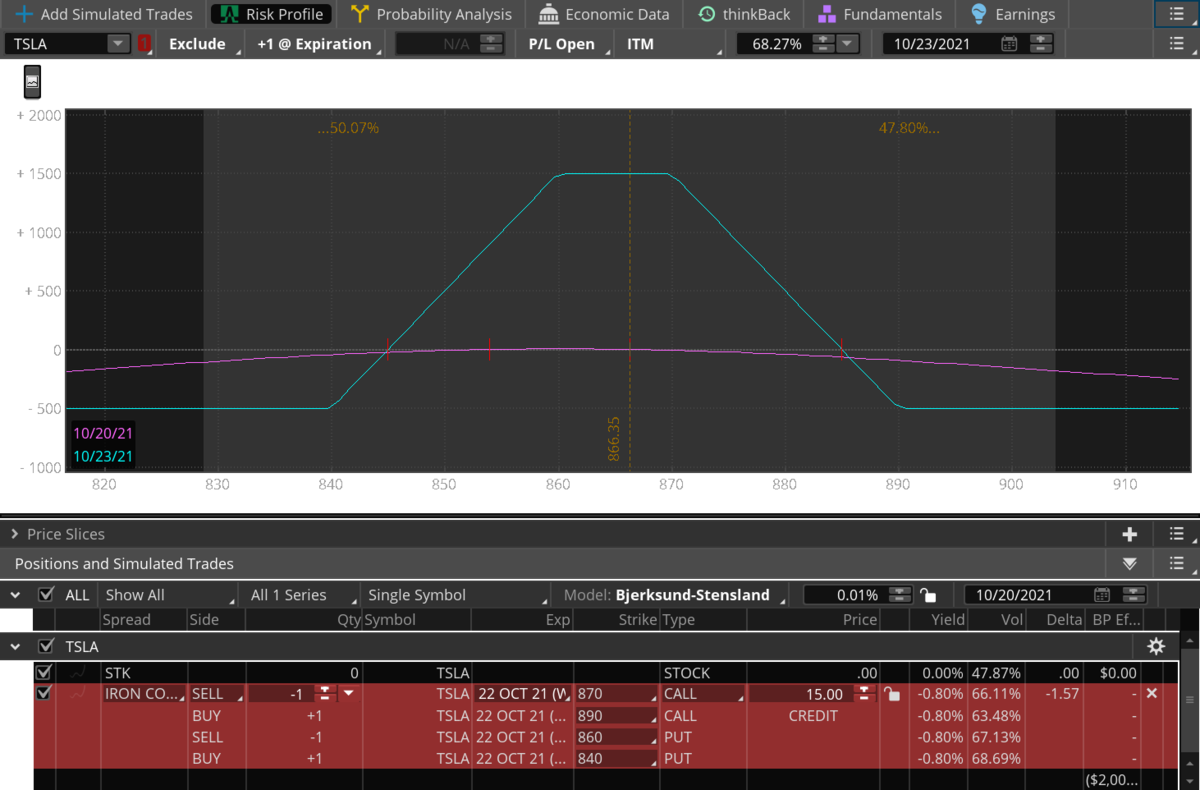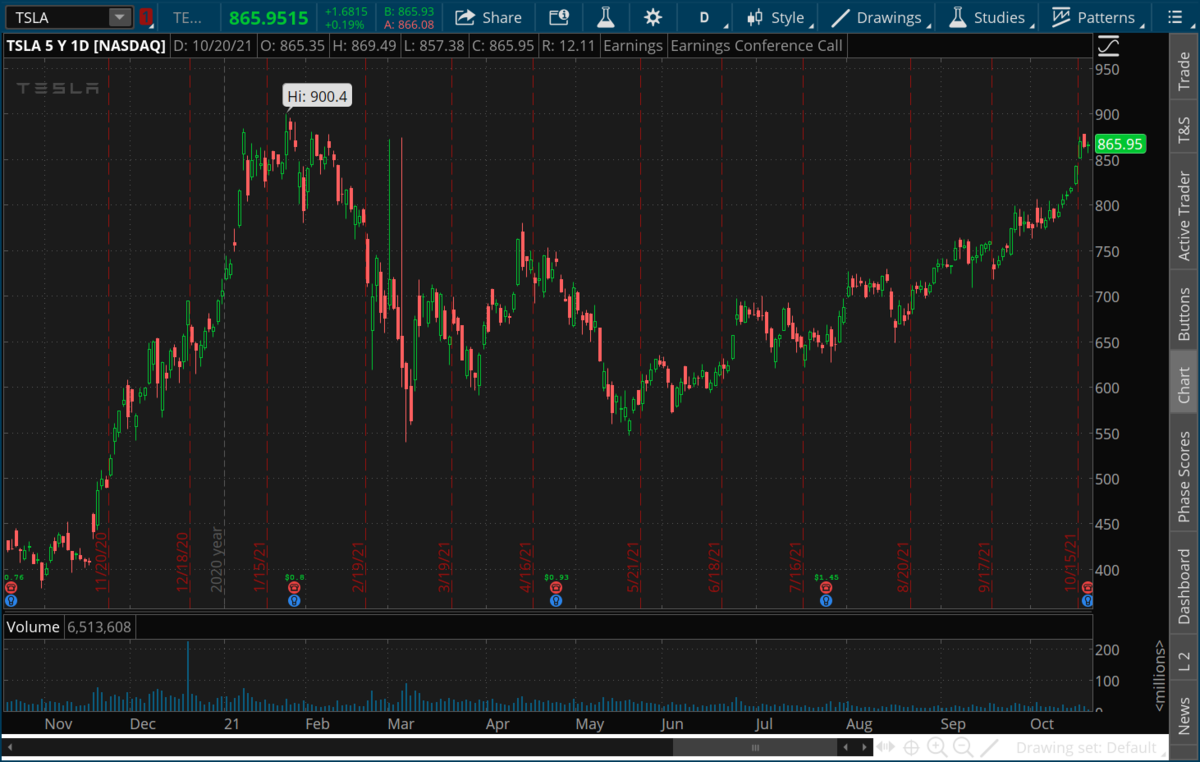 Buying the equity NCLH (Norwegian Cruise Line)
Buy NCLH as of this letter. It's currently trading at $25.54 and is right at the bottom of its channel line. NCLH announced earlier this month that as of April of next year they anticipate their entire fleet will be back in action. Eventually cruise ships will resume some form of normalcy, and the market is always a forward looking indicator, so eventually these equities will catch a bid. We will keep our stop tight and give it only about a dollar below our entry, as if this is the run higher then it shouldn't trade much below today's low. The stop is $24.51.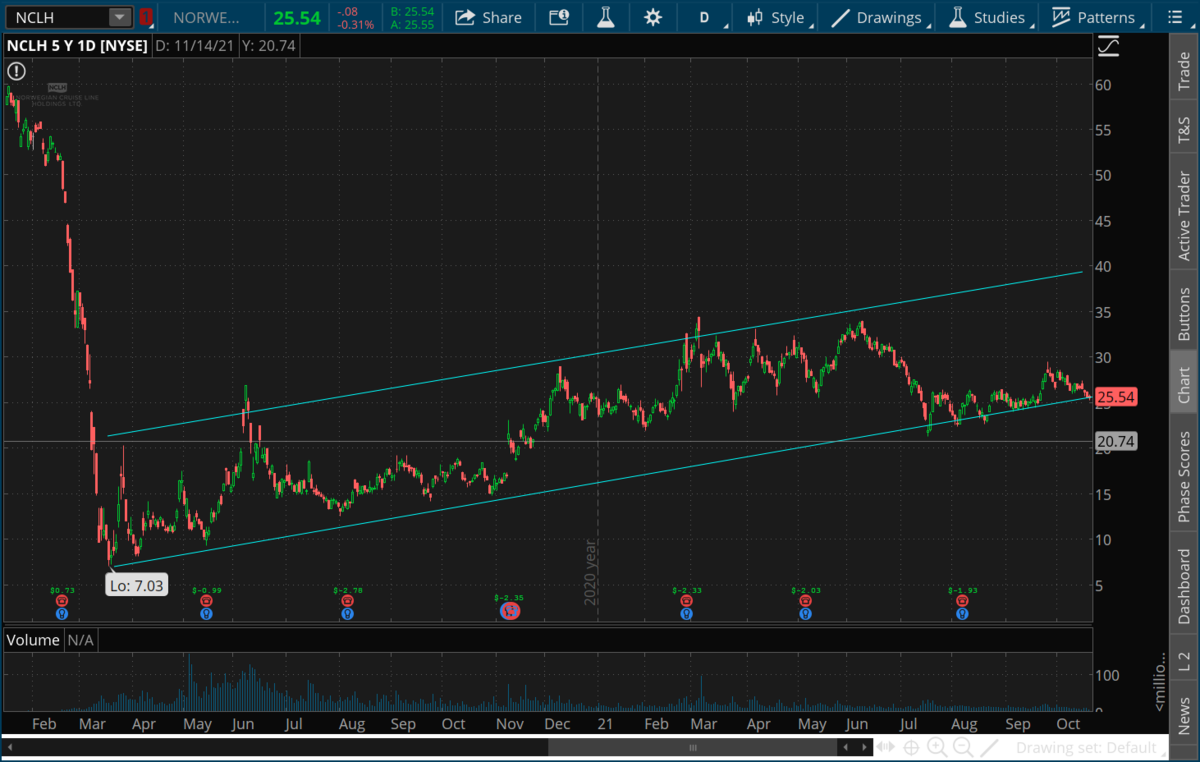 I will have a full report out later this afternoon. Earnings season is just beginning and the VIX is at $15.39, which is the lowest volatility since August 13th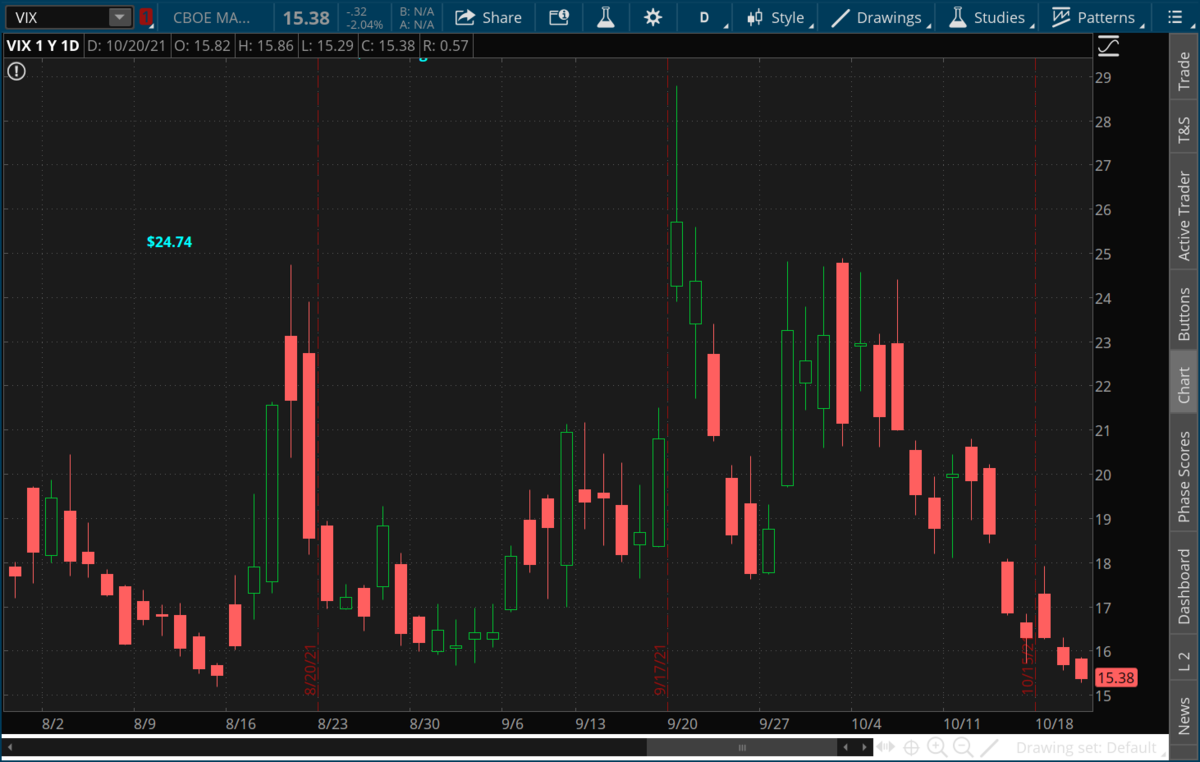 Options:
Initiating a TSLA Iron Condor for a credit of about $15 per contract or $1500. Our max risk is $5 or $500 per contract. TSLA is trading at

Sell TSLA Oct 22nd $870 Call
Buy TSLA Oct 22nd $890 Call

Sell TSLA Oct 22nd $860 Put
Buy TSLA Oct 22nd $840 Put

Equity portfolio:
Buy NCLH. It's trading at $25.54.

Long half position in WMT at $140.91. WMT is trading at $146.32. Stop is $125.31.

We are effectively long CRM at $215.35. CRM is trading at $290.53. Stop is $193.64.

Long half position in DIS at $118.63. Disney is trading at $170.11. Stop is $98.45.

Long half position in UBER at $31.50. Uber is trading at $46.23. Stop is $26.24.

Long half position in MCD at $216.91. MCD is trading at $240.71. Stop is $189.50.
Disclaimer: Trading in securities such as stocks, options, indexes, currencies, and futures involve risk and should not be undertaken without due diligence and serious independent study. Options, stocks, currencies and futures trading, involve substantial risk. Subscribers may carry out their trading based on what they learn from "Rocket Equities & Options" however all risks of potential financial losses are the customer's responsibility. TFNN, Corp. will be in no way liable for financial losses resulting from trading decisions based on this newsletter. Past performance is no guarantee of future results. Reproduction in whole, or in part, is not permitted without prior written consent. Copyright 2021 all rights reserved.