Rocket Equities & Options Introduction
Welcome to Tommy O'Brien's Rocket Equities & Options Report - July 13, 2020
Thank you for signing up for my new weekly and daily trading and investing report. I approach every investment and trade I make with a risk/reward analysis based on many probability estimates.

I will provide my clients with an in-depth analysis of all the markets, with a dedicated section for longer term investments that are ideal for value investors looking for ideas for their retirement accounts, and also with a focus on shorter term trades using options and equities for those looking for trading ideas with positive future expectations and are open to more risk and variance.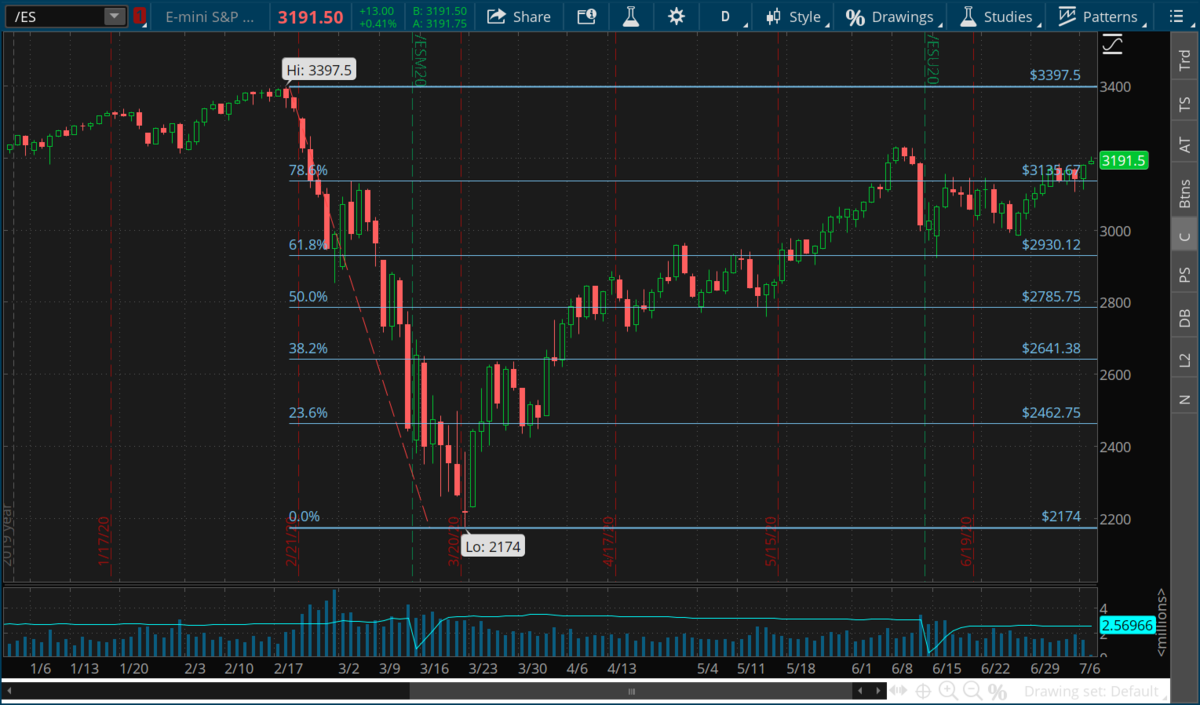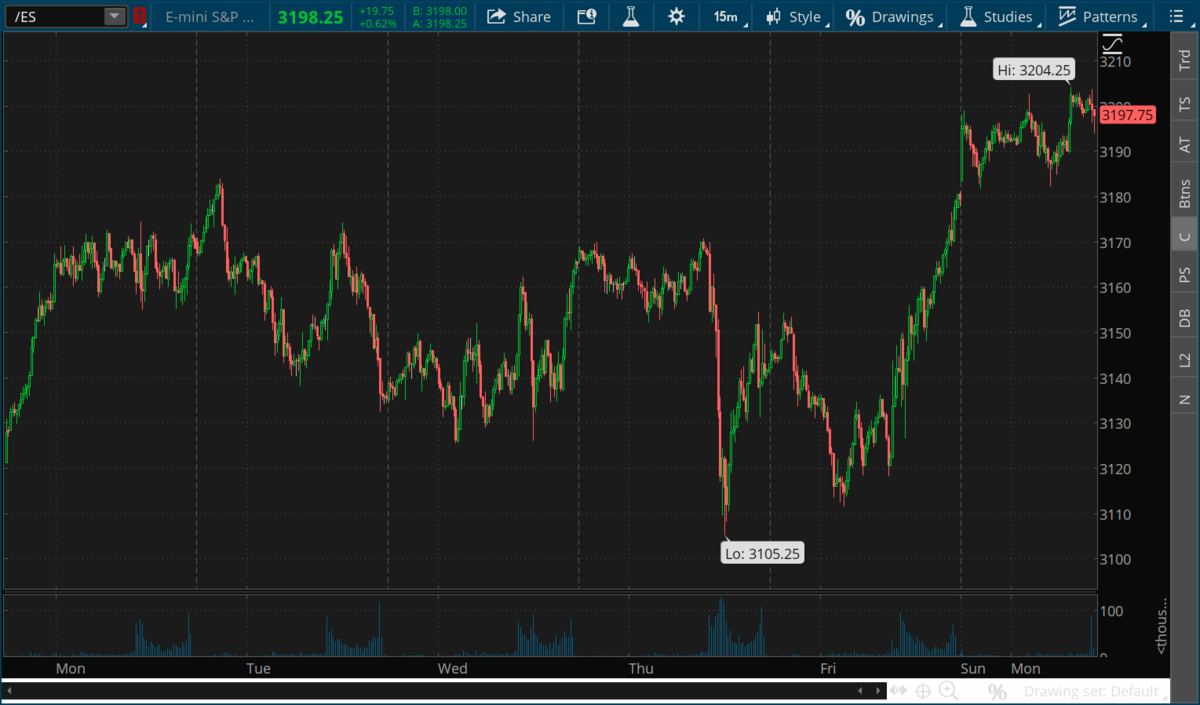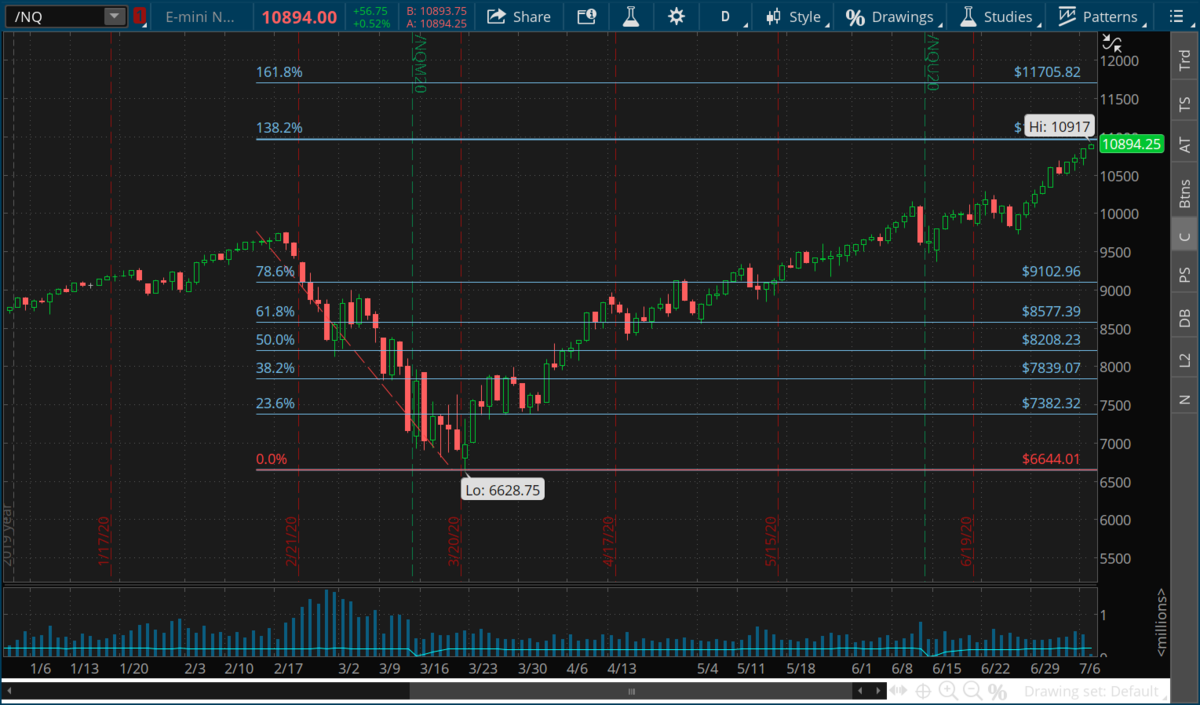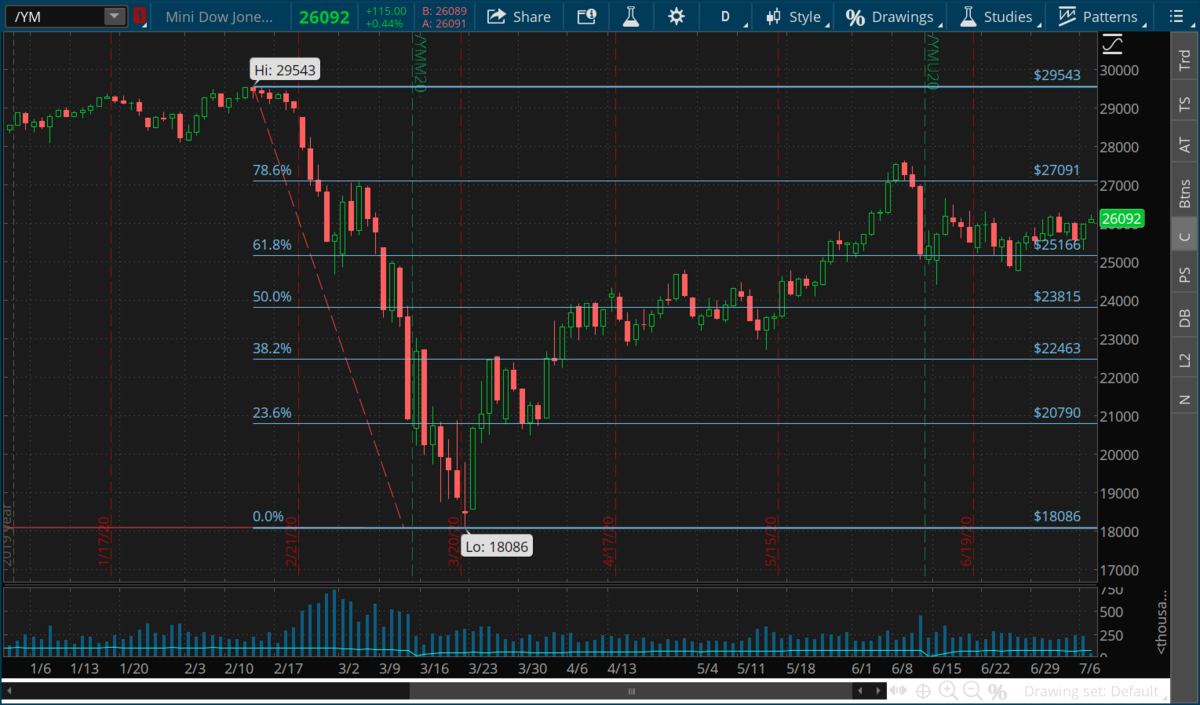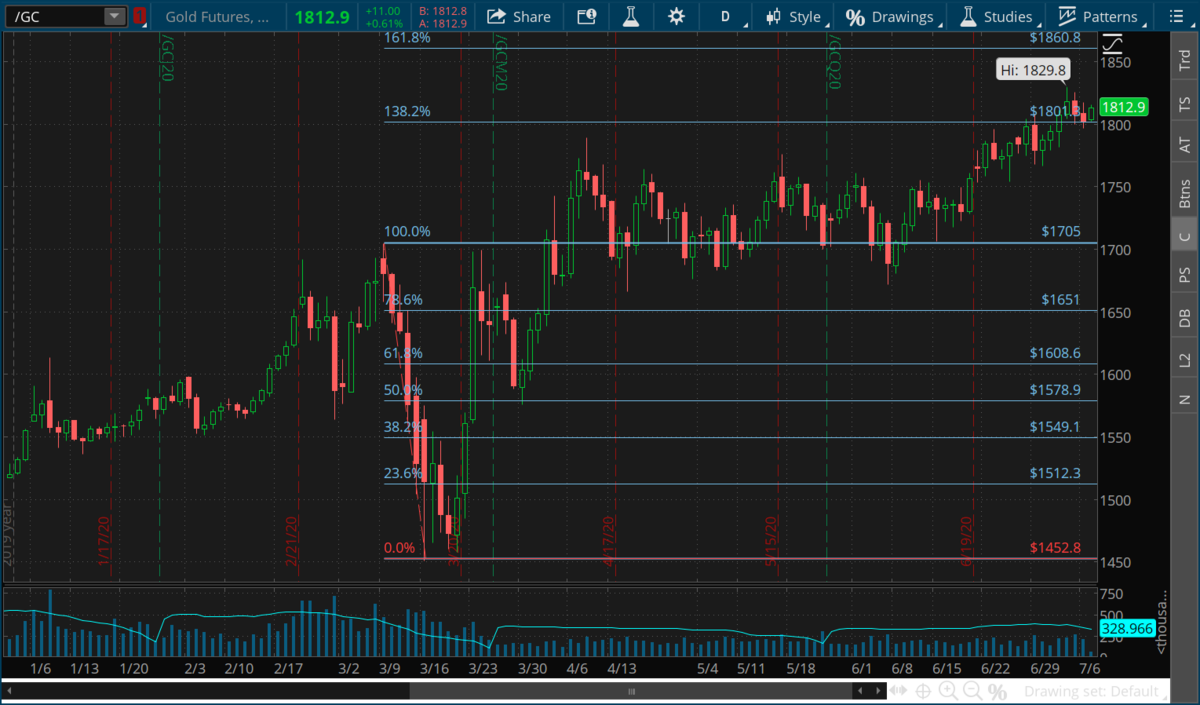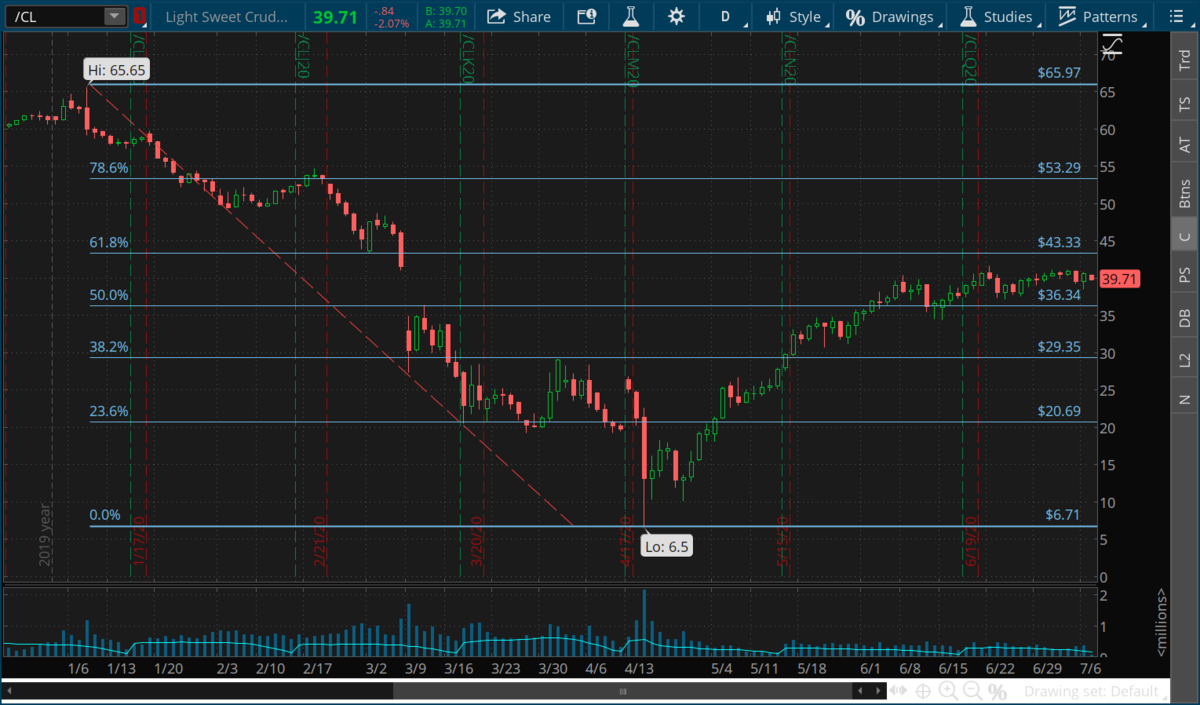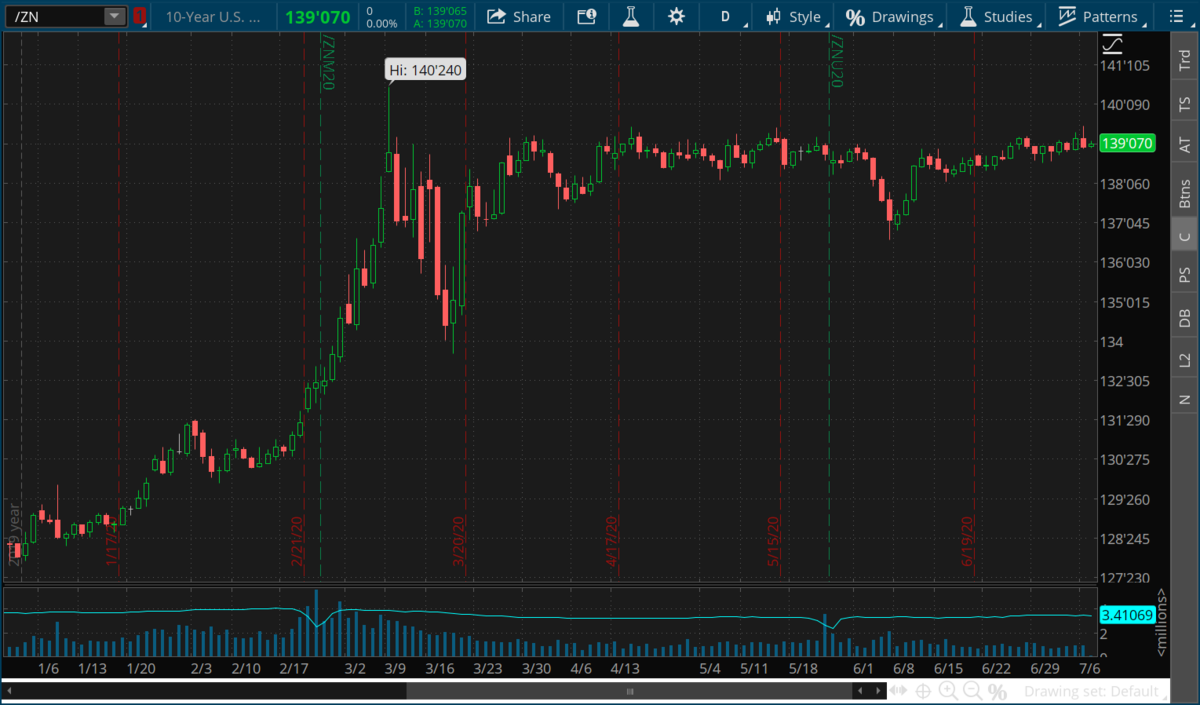 Banks kick off earnings season
Pepsi is already out with their numbers this morning and they are trading higher to kick off earnings season that may be one of the weakest ever with Coronavirus still raging across the country and the globe.

Earnings this week:
Tuesday - JPMorgan Chase, Citigroup, Wells Fargo, Delta Airlines

Wednesday - Bank of New York Mellon, PNC Financial Services, US Bancorp, UnitedHealth Group, Goldman Sachs, Alcoa

Thursday - Bank of America, Charles Schwab, Morgan Stanley, Johnson and Johnson, Domino's Pizza, Abbot Laboratories, Netflix, JB Hunt

Friday - Citizens Financial, BlackRock, Ally Financial, State Street
Netflix Earnings Thursday
NFLX looks to open above $560 this morning as it continues it's one way trade to the upside. Expectations will be sky-high when they report their numbers on Thursday.

In it's first quarter NFLX added 15.8 million subscribers, and they'll look to add an additional 7.5 million subscribers when they report later this week. As of its most recent report, Netflix has a total of 183 million subscribers who pay an average monthly fee of $10.87. NFLX over 100 million subscribers outside of the U.S. and does not hedge its foreign currency risk, which means a large portion of its revenue is affected by movements in foreign currency exchange rates. When the dollar appreciates against other currencies, it hurts the company's overall revenue. Since it last reported, the dollar has depreciated against other major currencies, which should provide a boost to total revenue and average revenue per user.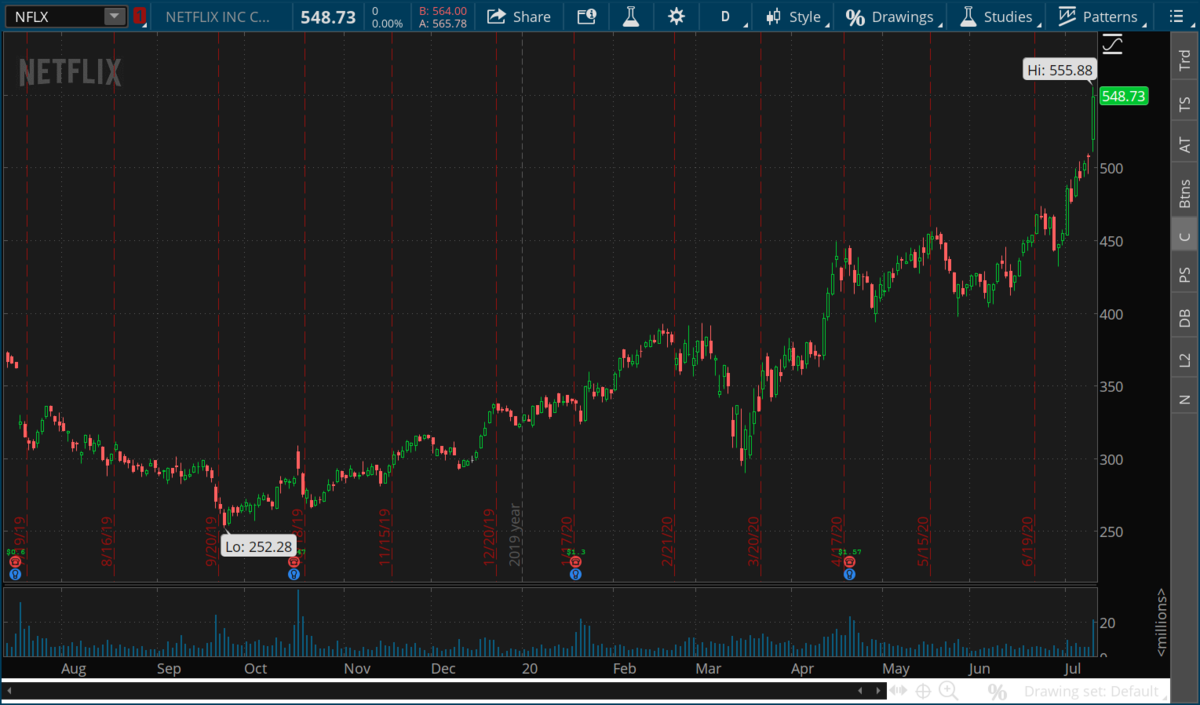 Disney reports earnings August 4th
Disney's streaming services has added tens of millions of subscribers while we all stay at home more often during the Coronavirus, yet their parks business, ESPN, and their movies have suffered dramatically. In the long run, I see the aggressive growth that Disney+ has achieved during this time delivering substantial value for investors, yet the drag on the stock continues as parks in Florida opened this past weekend and the state saw a record 15,299 new Covid-19 cases. We will look to build a long term position in Disney in the near future, and may also look for exposure to their earnings early next month.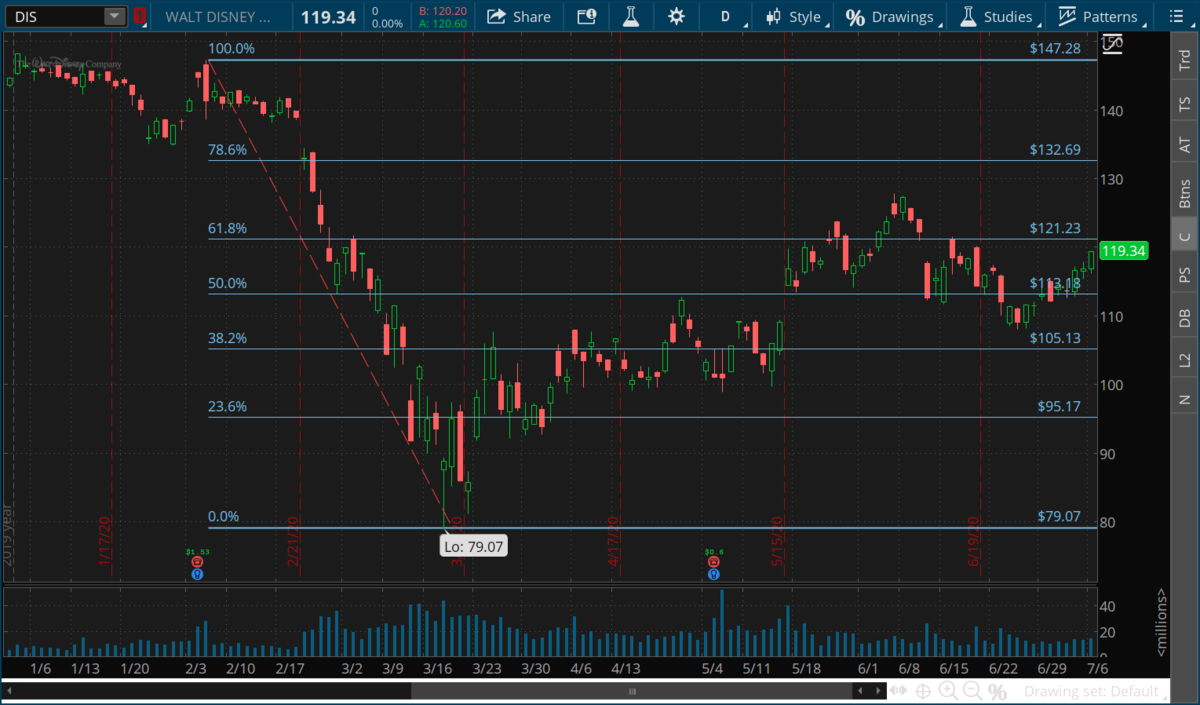 Uber earnings August 6th
Uber has some similarities to Disney, in that they've seen a portion of their business accelerate dramatically with their UberEats segment growth Uber just bought Postmates for $2.65B all stock. While travel, especially business travel, has been changed forever, Uber is a company that is well positioned to capitalize off of trends that will stay in place even once we have moved on from life under quarantine.

We will look to build a long term position in Uber in the near future, and will keep our eye on their earnings for a potential short term trade as that date approaches as well.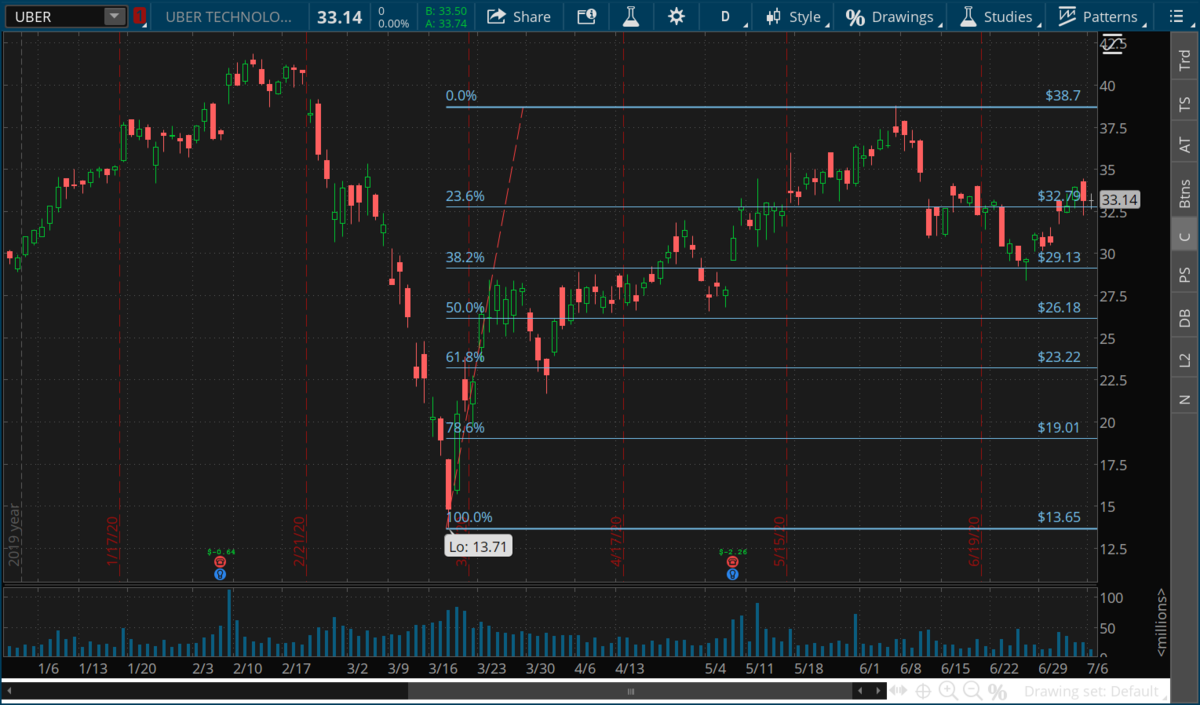 Cannabis Potential - Canopy Growth
Canopy Growth is one of the biggest cannabis companies in the sector, with more than 38% owned by Constellation Brands. Constellation has the ability to up their ownership to 55.8% assuming full exercise of all remaining warrants and full conversion of notes.

With a Presidential election less than 4 months away and huge support nationwide for federal legalization of cannabis, I see huge potential for the cannabis sector to rally in the short to intermediate future.

We will look to build a core position in CGC or STZ in the near future, while keeping our eyes on other players in the industry like ACB & CRON to name a couple.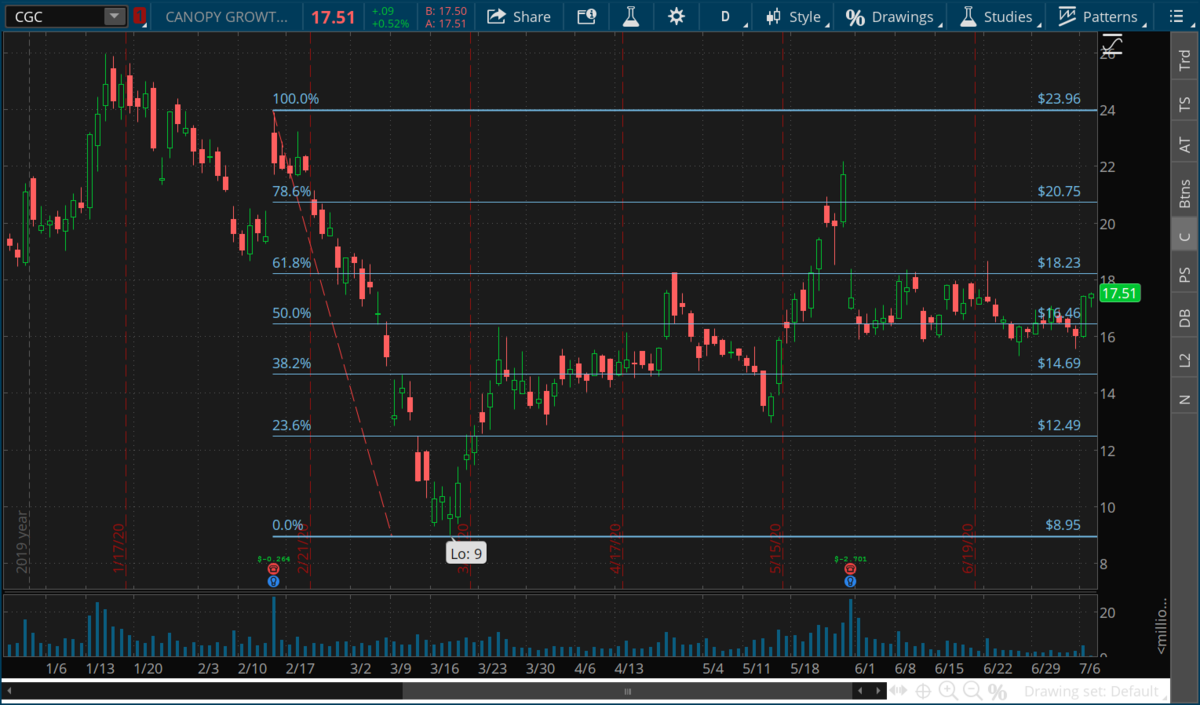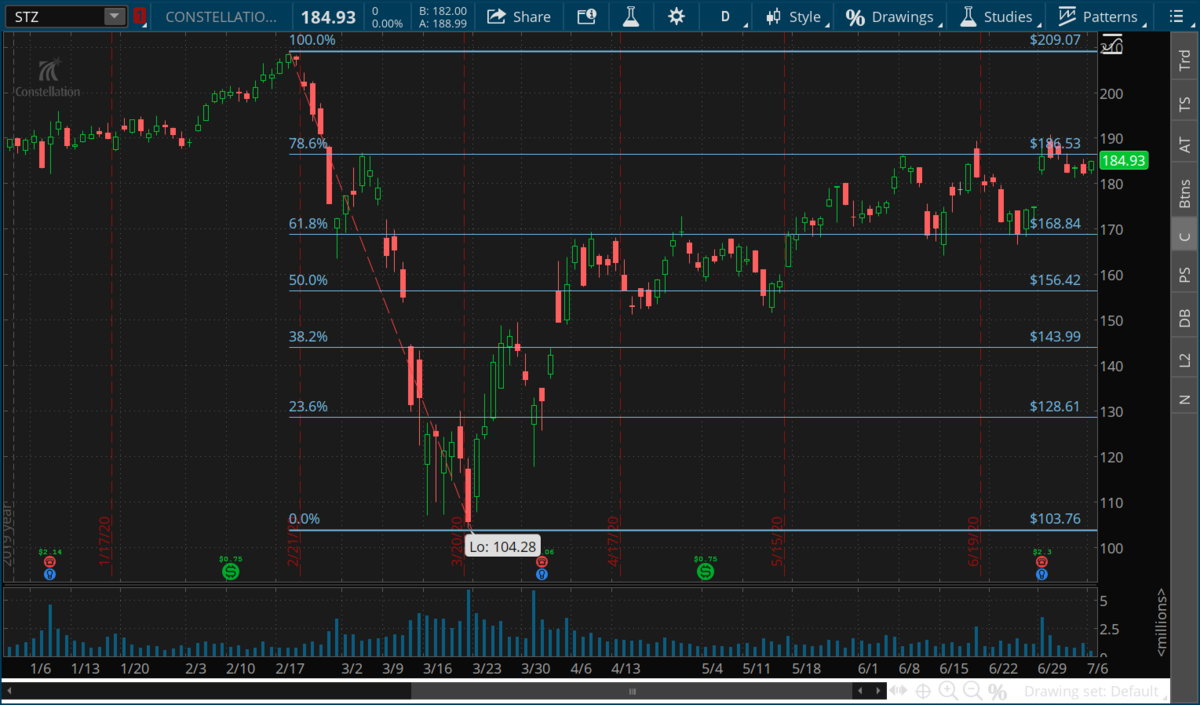 TSLA won't stop going up
Elon Musk controls about 20% of Tesla's stock, and his now $70.5 billion fortune makes him the seventh richest person on Earth.

I don't know how you technically trade a stock that goes from $350 to $1,650 in less than 4 months. The one thing I expect is continued volatility. TSLA is up more than $100 just from where it closed Friday.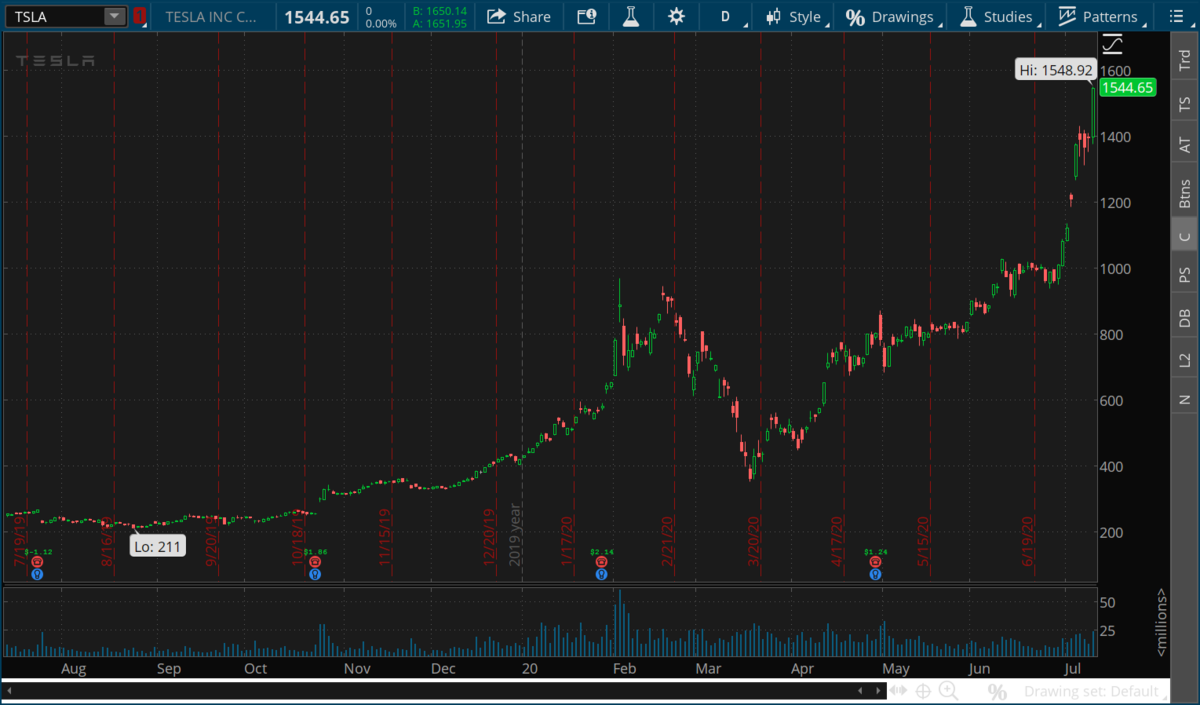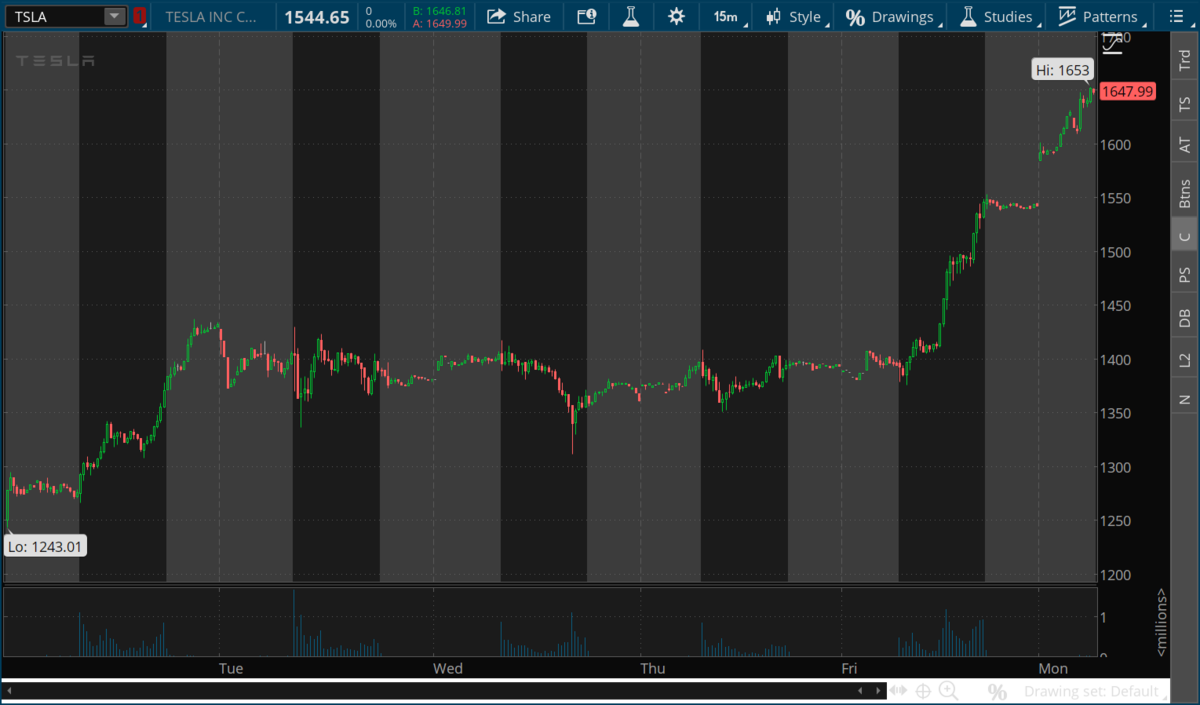 AMZN continues higher to start Monday
Elon Musk may be rising quickly on the list of the world's wealthiest, but he has a long way to go to catch Mr. Bezos who is now at almost $200 billion of wealth.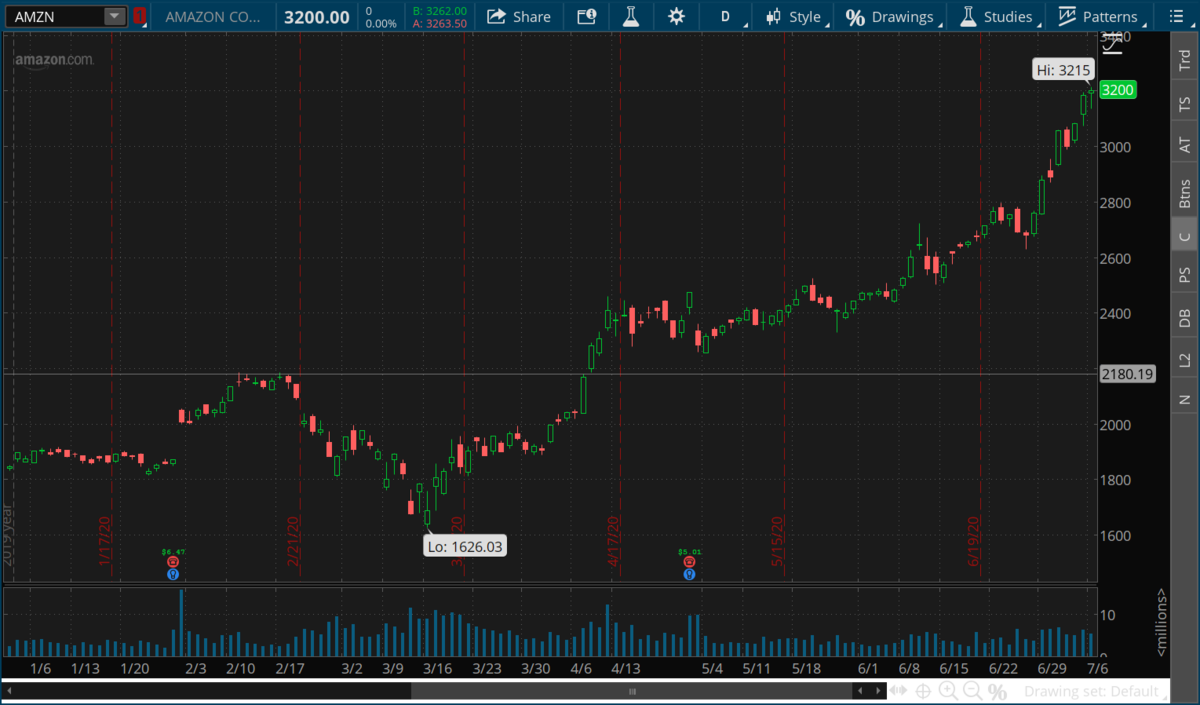 Stay tuned for more updates this week!
I will be updating subscribers each morning this week as we look to build some positions for our longer term portfolio, as well as focusing on what earnings are coming up and potential short term options or equity trades.

Thank you for the opportunity and I look forward to providing value with each report I publish. You can't control the outcome of any one trade, but by making consistent decisions based on risk/reward probability analysis you can position yourself for positive long term expectations and that is what I look to achieve with my Rocket Equities and Options Report. Stay tuned for more this week!