Rocket Trading Update 03-09-21
Trading Update
SFIX $73-$74 Credit Call Spread
Unfortunately, the SFIX trade moved away from us as I was sending out the recommendation so we were not able to get executed, and it traded dramatically lower after the bell, down more then 20% as they missed their numbers and provided no guidance.

Many times, these options trades can swing wildly in a fast market, and we don't want to get into the habit of chasing. I do my best to send out the trades I'm looking to make as fast as I can while clearly explaining things, and sometimes the market moves away from us before the email can go out.

I started writing the SFIX trade update when the stock was at $72 and within 15 minutes it had traded down to $70, and the risk vs. reward of the trade I was looking to make had shifted dramatically. The risk vs. reward of a trade where you are risking 55 to make 45, is dramatically different from a trade where you are risking 70 to make 30. In our first example, you only need to be correct just more than 50% to breakeven, where as if you had chased this trade and only collected a credit of $30 (yes it would have been profitable in this case), you would need to be right 7 out of 10 times to break even. Be aware of shifting risk vs. rewards when trading options and dealing with defined risks, because you are often also dealing with defined profits - and when you start chasing a trade you are taking from the defined profit portion of your trade and shifting it to the defined risk portion. It's not the same as shifting your buy point on an equity by a few pennies when you have unlimited upside potential.

DKS $72-$71 Credit Put Spread
DKS was a trade that also may have been tough to get executed - I was able to get a trade off at a $0.25 credit right as I sent off the update, but the $0.30 price point looks like it was not able to be executed.

DKS is out with their numbers this morning and is initially trading lower on strong quarterly numbers yet a miss when it comes to their guidance for the full fiscal 2021 year. DKS has bounced $3 off its lows already. We'll hold this for now and see how it plays out early today.

Stay tuned for updates!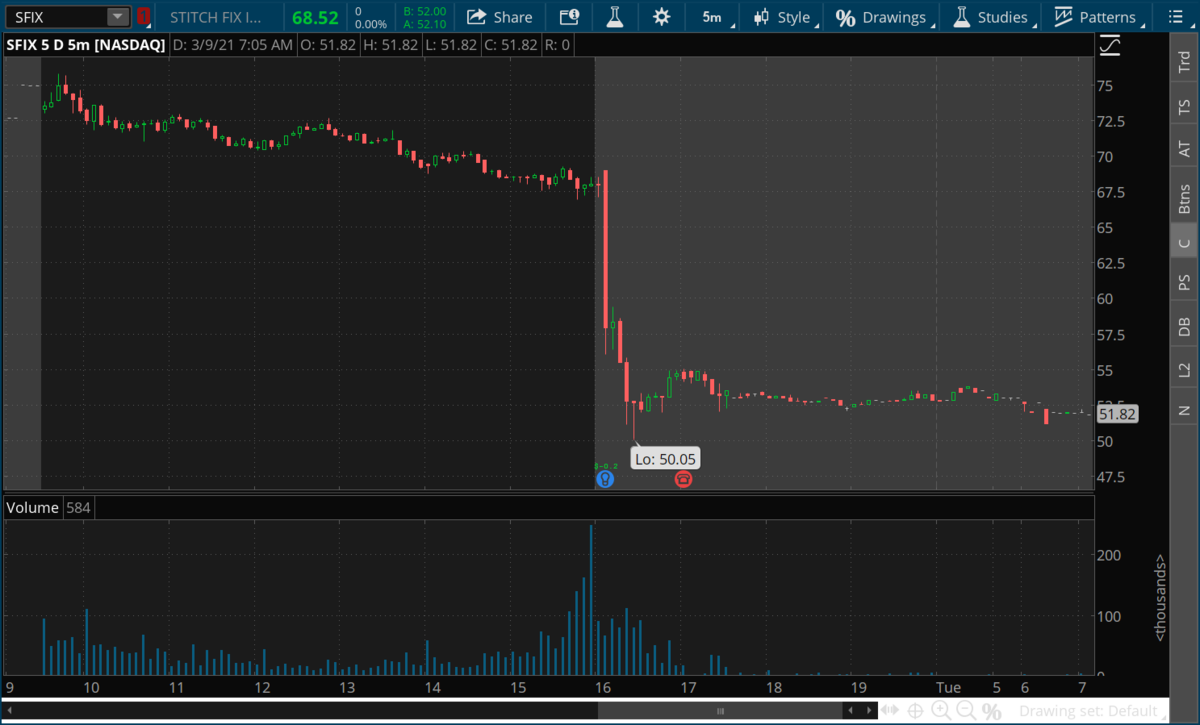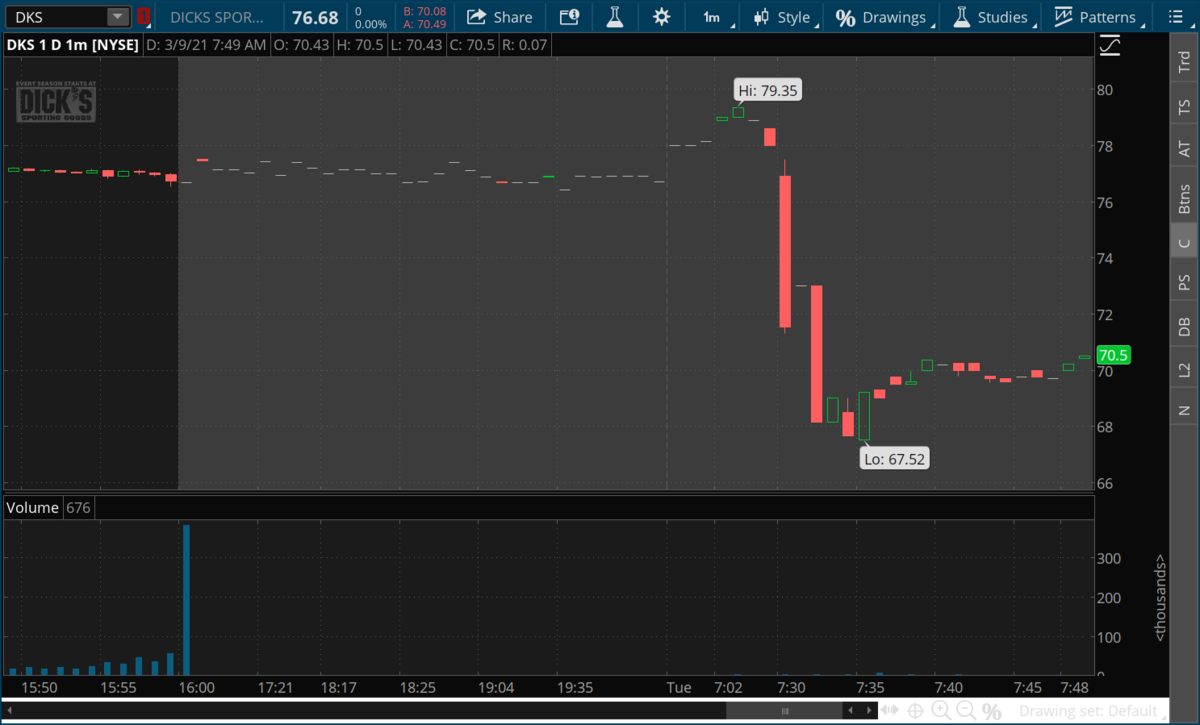 Disclaimer: Trading in securities such as stocks, options, indexes, currencies, and futures involve risk and should not be undertaken without due diligence and serious independent study. Options, stocks, currencies and futures trading, involve substantial risk. Subscribers may carry out their trading based on what they learn from "Rocket Equities & Options" however all risks of potential financial losses are the customer's responsibility. TFNN, Corp. will be in no way liable for financial losses resulting from trading decisions based on this newsletter. Past performance is no guarantee of future results. Reproduction in whole, or in part, is not permitted without prior written consent. Copyright 2021 all rights reserved.