Rocket Equities & Options Update 01-05-21
Tuesday Morning Update - January 5th, 2021
Markets have slipped back into negative prices this morning. The S&P Futures traded down 30+ points from 3,704 to 3,673 between 6am and 9am EST this morning.

The S&P has been consolidating near the lows of yesterday, and we will find out on the open whether it has another leg down in store. The VIX is telling us that the market is pricing in some serious insurance as we come into the GA election today.

DIS and UBER both pulled back pretty harshly yesterday, but this is just a demonstration of the volatility possible after the dramatic run higher we've had since the start of November. I pointed out the .382 retracements for each of these stocks in yesterday's letter just for this very reason. In the long term, yesterday's action means nothing compared to the bull run these stocks put up over the last 60 days or so, and is a natural move.

GA is voting on their 2 senators today, which will decide control of the senate.

Stay tuned for updates as the week progresses with volatility spikes possible with the GA election results incoming.

ES 15 min: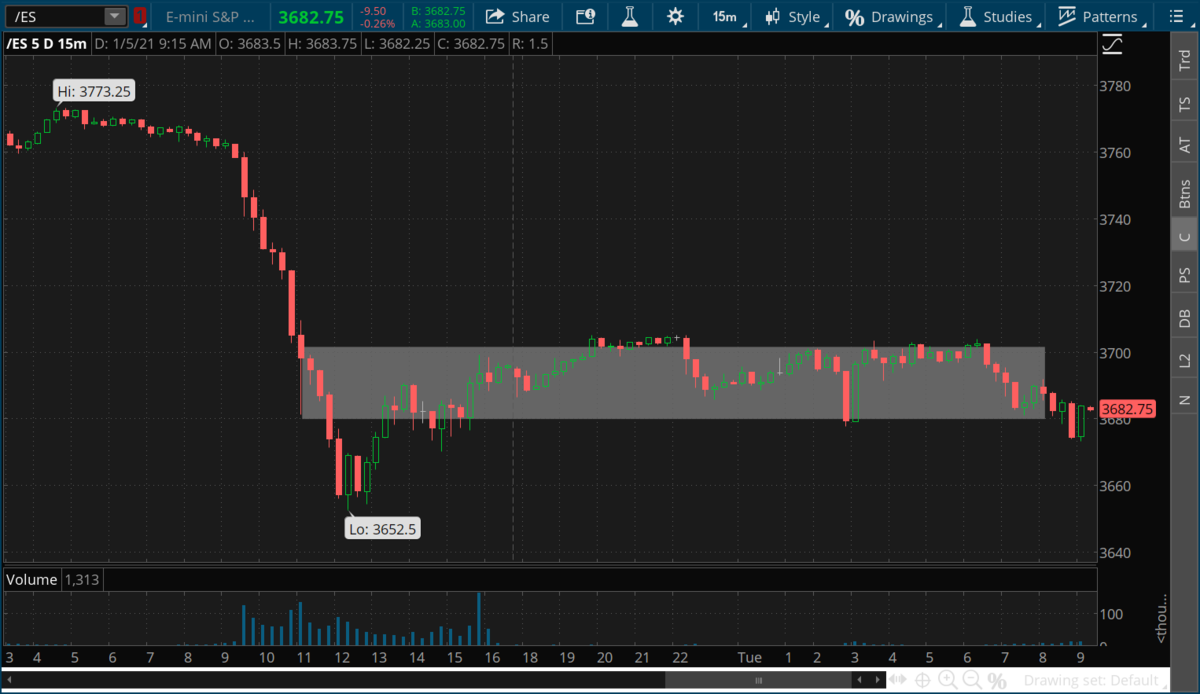 VIX elevated near yesterday's highs coming into the open.

VIX 15-min: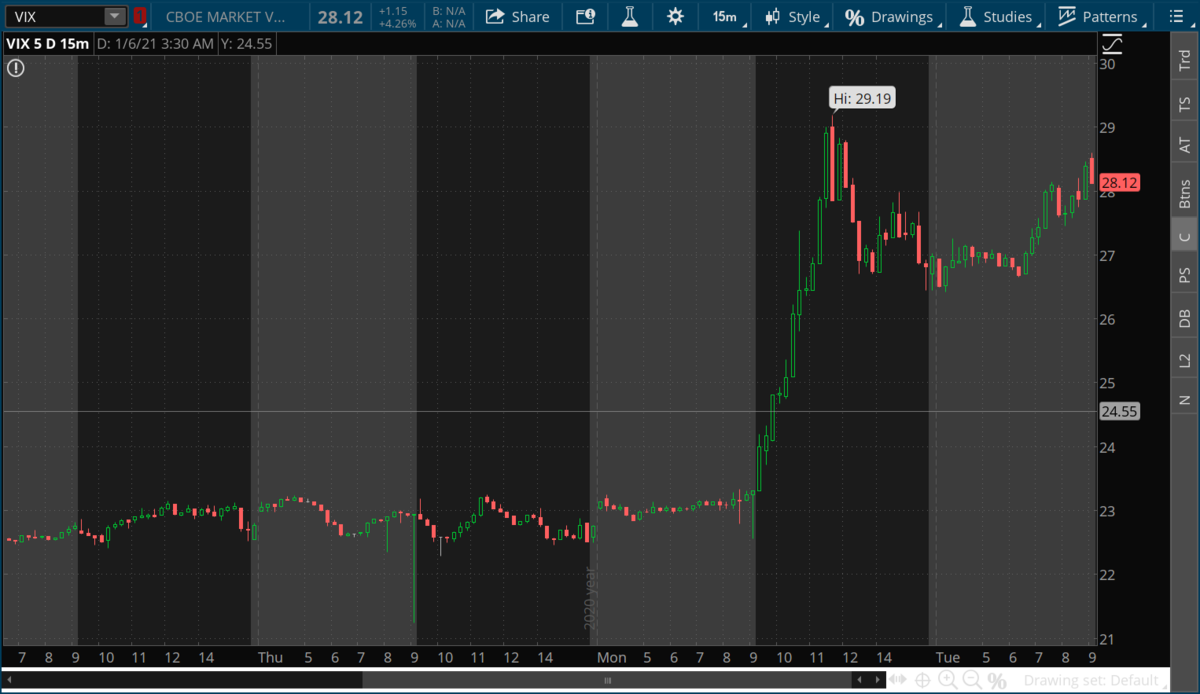 Disney traded almost $10 from high to low yesterday, which looks dramatic on a 15-minute chart, yet barely registers when looking at the daily because of the run it has had.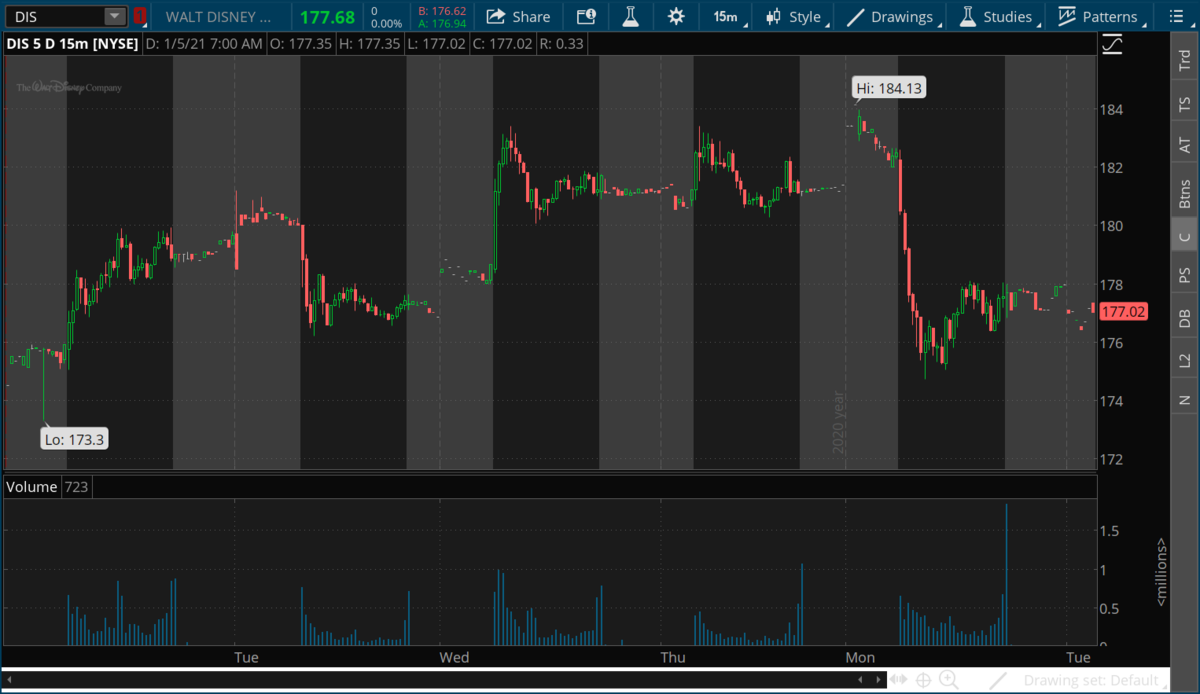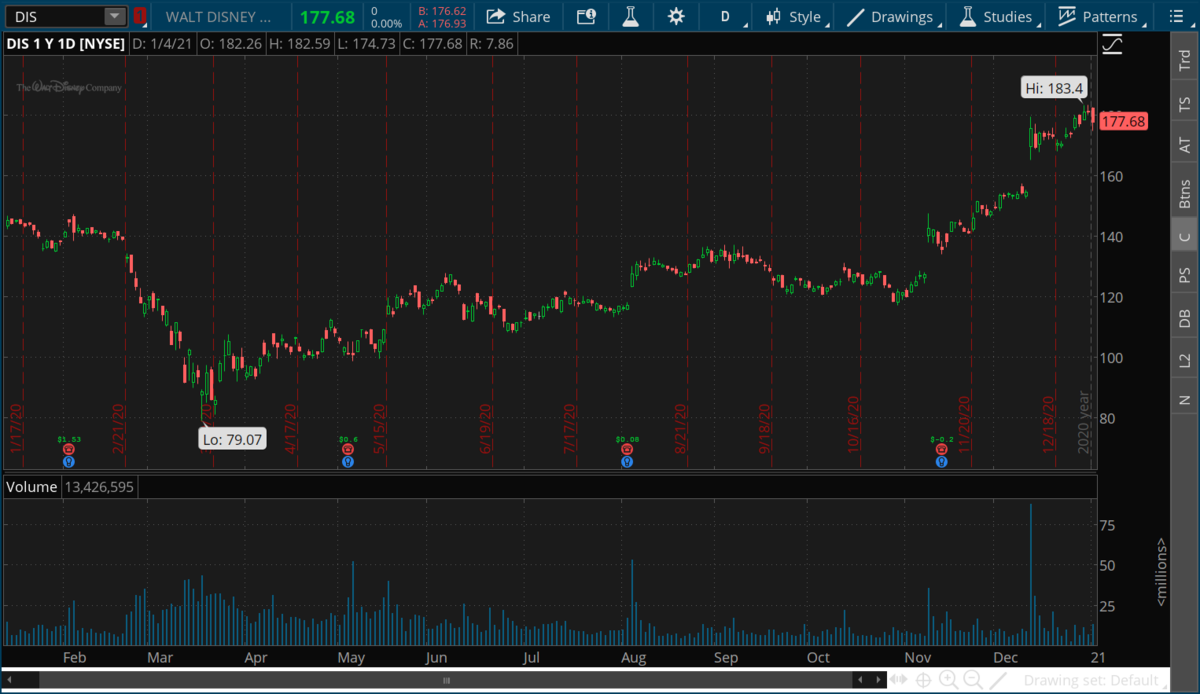 Uber traded lower yesterday. It remains in a consolidation between about $48 and $55.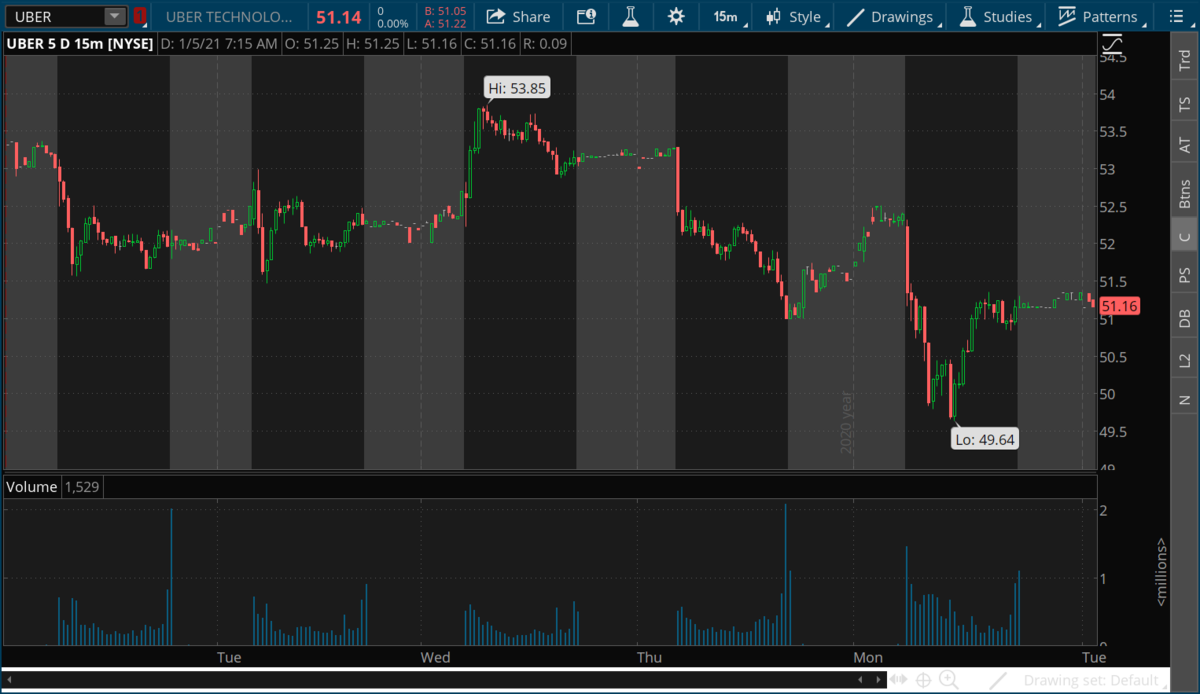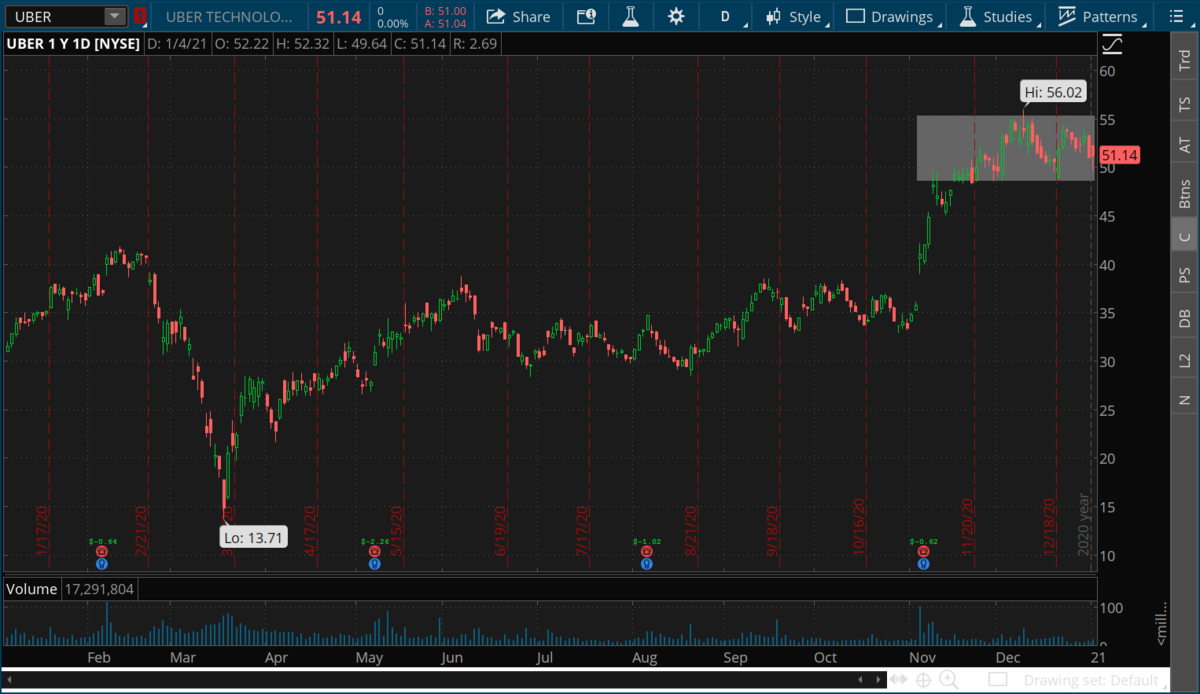 CRM traded lower yesterday with the market, and also on the news of Slack outages. CRM traded back above our $217.50 strike price quickly yesterday. This $217.50 to $220 area looks to be nice support for this equity. In the short term, if the market tanks then CRM will trade lower with it but long term this is an area of support and CRM looks to trade higher.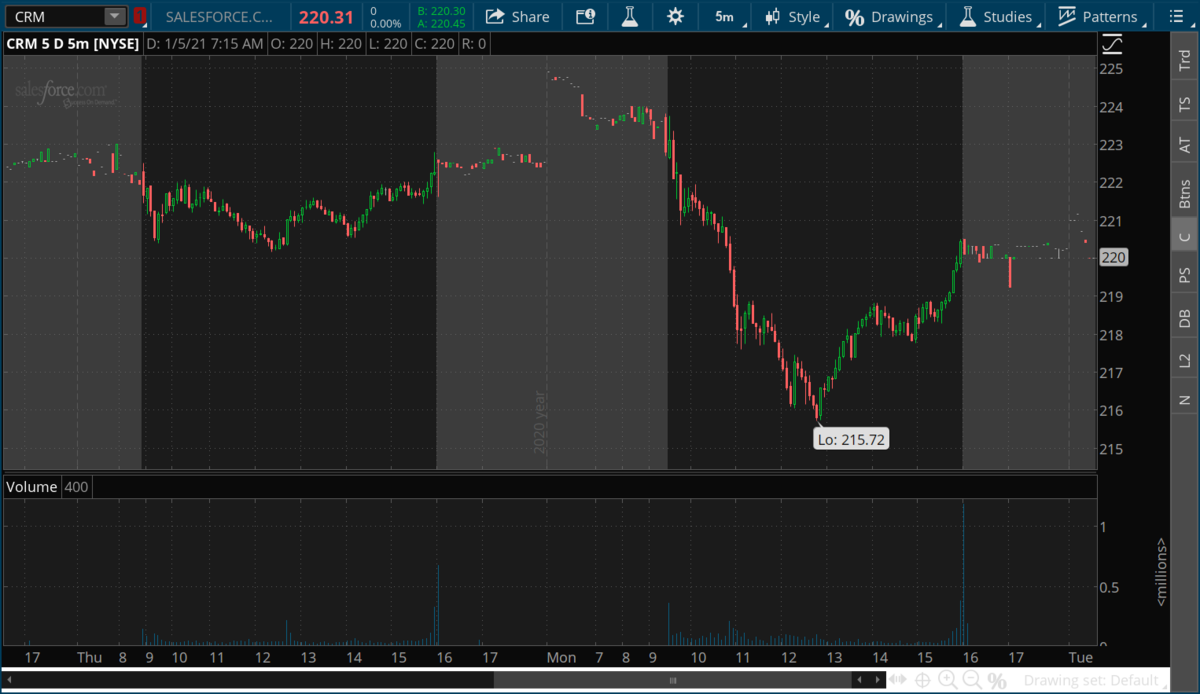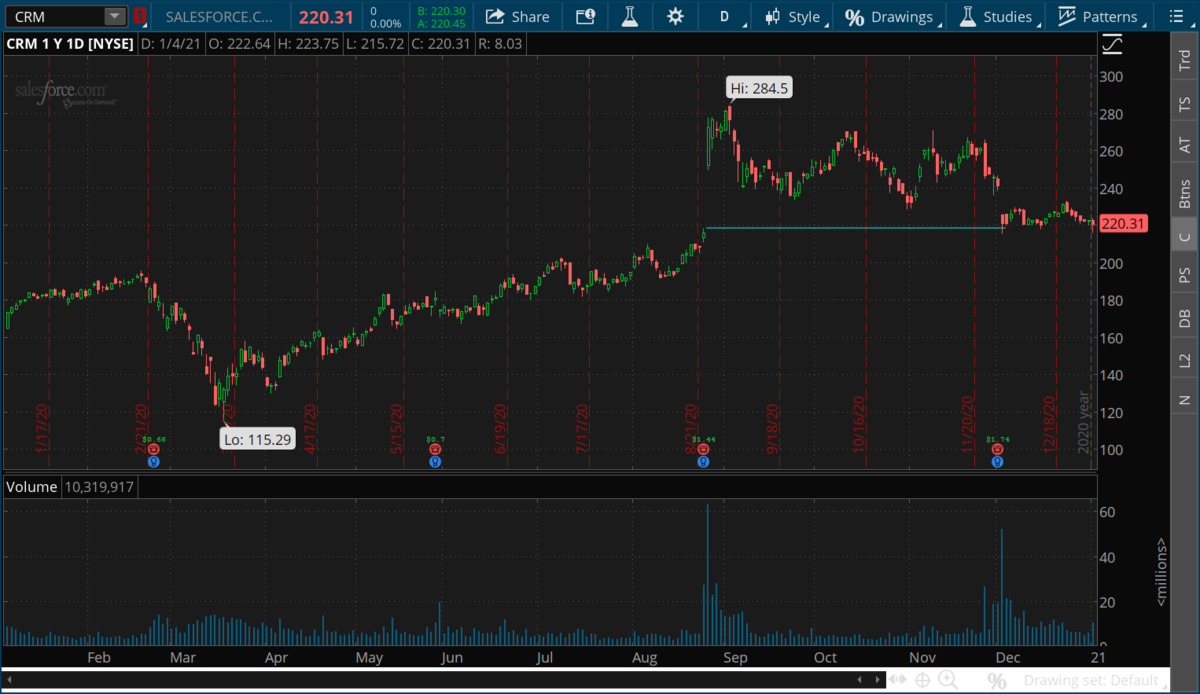 MCD traded lower yesterday and remains within its consolidation area: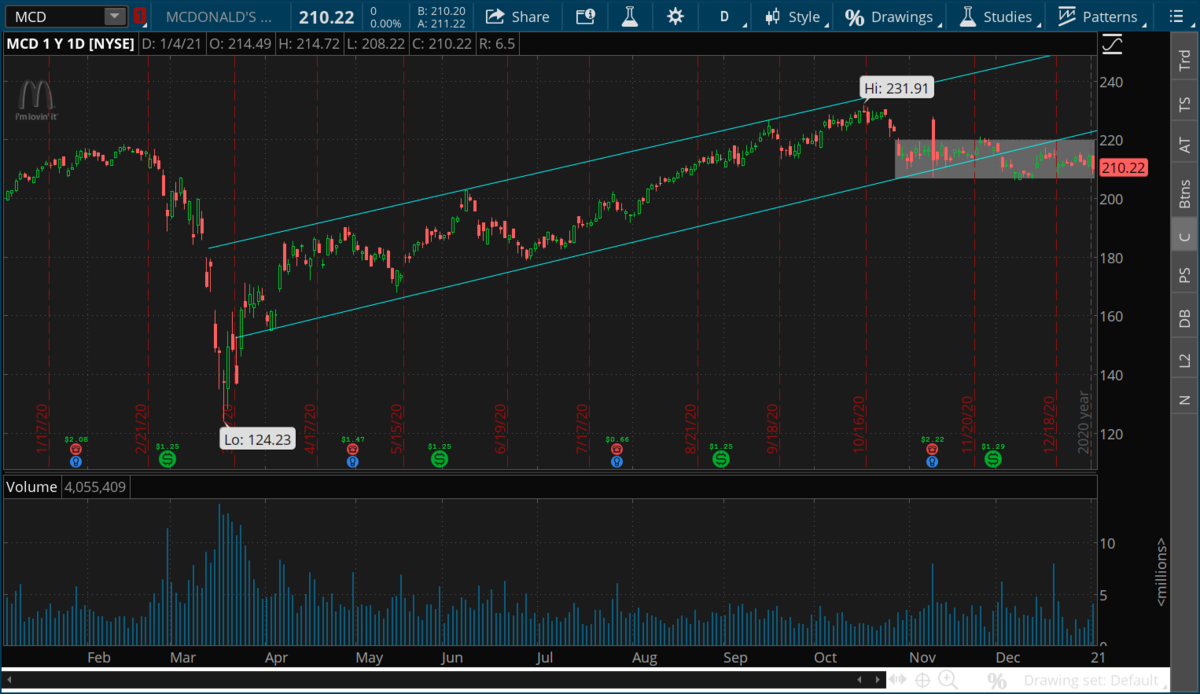 Options Trades:
None

Short Term portfolio:
None active

Long Term portfolio:
We sold a Jan 8th CRM $217.50 put for about a credit of $2.40. This should be a cash secured put, meaning you have the cash to buy 100 shares if assigned the equity, which we would then hold as a position in our long term equity portfolio. CRM is trading at $219.31.

Long half position in DIS at $118.63. Disney is trading at $176.77. Stop is $98.45.
Long half position in UBER at $31.50. Uber is trading at $51.06. Stop is $26.24.
Long half position in MCD at $216.91. MCD is trading at $210.03. Stop is $189.50.


Timer Digest Signals: S&P: Bearish Gold: Bullish Bonds: Bullish
Disclaimer: Trading in securities such as stocks, options, indexes, currencies, and futures involve risk and should not be undertaken without due diligence and serious independent study. Options, stocks, currencies and futures trading, involve substantial risk. Subscribers may carry out their trading based on what they learn from "Rocket Equities & Options" however all risks of potential financial losses are the customer's responsibility. TFNN, Corp. will be in no way liable for financial losses resulting from trading decisions based on this newsletter. Past performance is no guarantee of future results. Reproduction in whole, or in part, is not permitted without prior written consent. Copyright 2021 all rights reserved.