Rocket Equities & Options Report - New Trade NFLX 01-19-21
New Trade - NFLX Call Credit Spread $525-$530
Selling a credit spread about $20 above the market in NFLX from $525 - $530 that expires Friday for a $1.25 credit and $3.75 risked. NFLX has earnings tonight and is trading at $503.50.

Sell Jan 22nd NFLX $525 Call
Buy Jan 22nd NFLX $530 Call

Collect a credit of $1.25. Our risk is that NFLX trades above $530 on their earnings this week. We achieve a max profit if NFLX stays below $525 this week.

Options are pricing in a $30 move on earnings tonight, and the implied volatility of the weekly options is about a $33.76 move. We are risking about $3 for ever $1 in potential profit - and we lose if NFLX moves higher by only about $26 right now.

I will have more updates out each day this week discussing our equity trades as well as companies with earnings as the season picks up.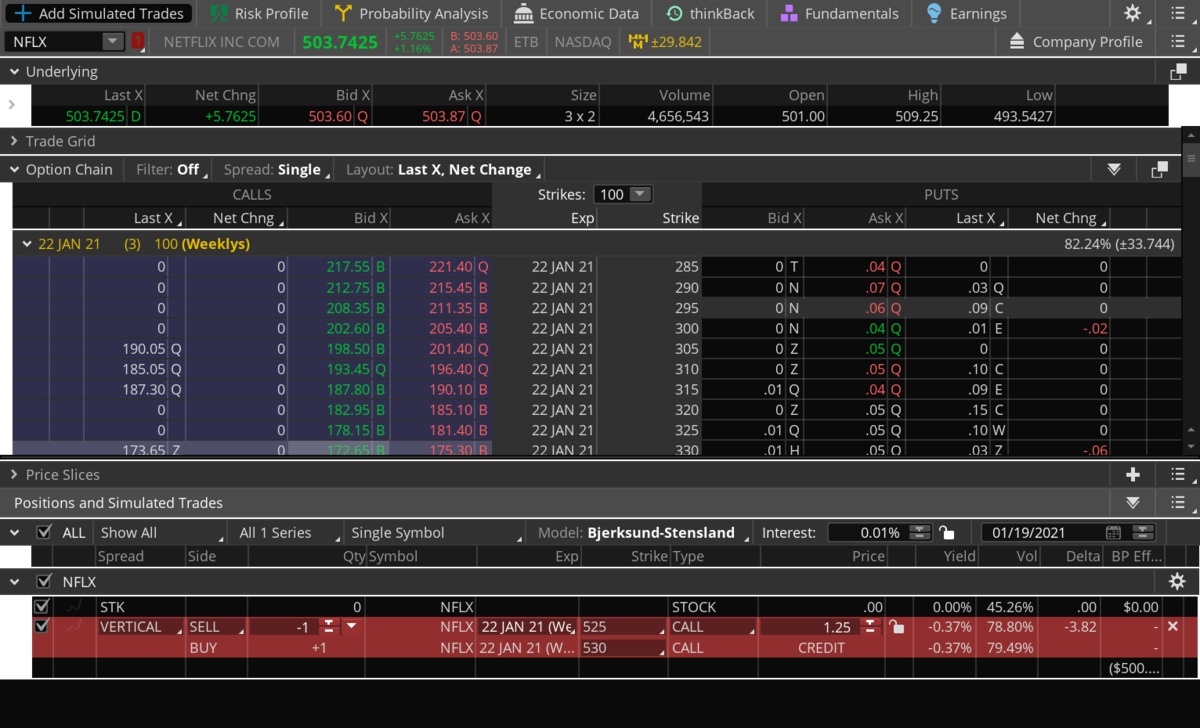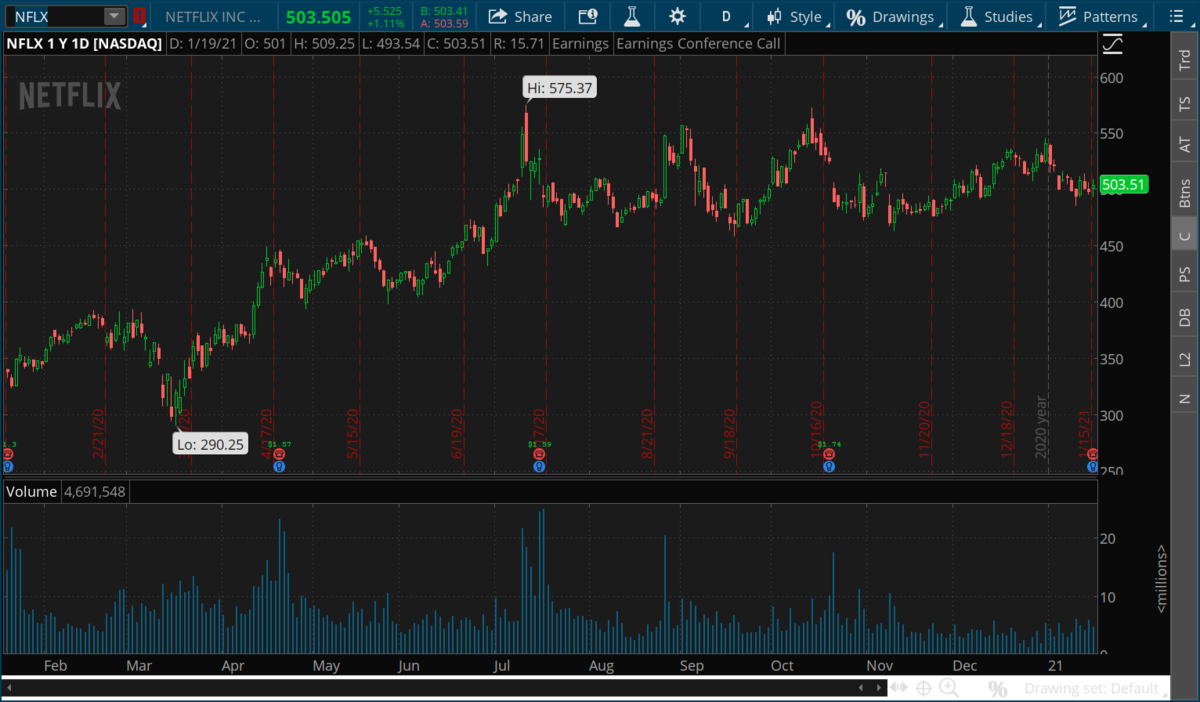 Options Trades:
NFLX $525 - $530 credit call spread for $1.25 collected ($3.75 risked). Expires Friday Jan 22nd.

Trades that expired Friday
$384-$385 SPY Jan 15th Call Credit Spread for $0.27 credit, expired worthless for a $0.27 or 36.99% profit.

$40 - $39 DAL Jan 15th Put credit spread for $0.25 credit, closed it at $0.10 or better Friday for a $0.15 or 20.00% profit.

Short Term portfolio:
None active

Long Term portfolio:
We are now effectively long CRM at $215.35. You can buy CRM here if you have not yet. CRM is trading at $216.60. Our stop is $193.64.

Long half position in DIS at $118.63. Disney is trading at $172.18. Stop is $98.45.
Long half position in UBER at $31.50. Uber is trading at $56.01. Stop is $26.24.
Long half position in MCD at $216.91. MCD is trading at $208.70. Stop is $189.50.
Disclaimer: Trading in securities such as stocks, options, indexes, currencies, and futures involve risk and should not be undertaken without due diligence and serious independent study. Options, stocks, currencies and futures trading, involve substantial risk. Subscribers may carry out their trading based on what they learn from "Rocket Equities & Options" however all risks of potential financial losses are the customer's responsibility. TFNN, Corp. will be in no way liable for financial losses resulting from trading decisions based on this newsletter. Past performance is no guarantee of future results. Reproduction in whole, or in part, is not permitted without prior written consent. Copyright 2021 all rights reserved.