Rocket Equities & Options Monday Update - New Options Trade 02-22-21
Monday Report - February 22, 2021
We talked about the rotation to the re-opening of the economy in our video that I posted for subscribers this Saturday, and we're seeing a continuation in that trend today with Disney up almost $10 or 5.3% as of about 1 pm EST, reaching a new all-time high today of $194.02

Airlines and cruise ships are up huge - the market is pricing in the nearing of the end of COVID. The NQ is down 1.78% mid-day. ZM is down 4.5%. The 10-year Note is yielding 1.35%. The rotation is here.

New Trade - Selling a HD Call Credit Spread from $280 to $285. HD is out with their earnings tomorrow. The market is pricing in about a $8.90 move on their numbers. The Feb 26th options are pricing in about an $11.41 move for the week right now. We will look to absorb some of the premium above the market from $280 - $285.

Sell a Feb 26th HD $280 Call
Buy a Feb 26th HD $285 Call

This should result in credit of about $1.75. Our max profit is $175 per contract pair. Our max loss is $3.25 or $325 per contract pair if HD closes above $285. This is a bearish trade, we want to see HD stay below $280 this week following their earnings, in which case we collect the premium as our profit. You can give this trade some room but don't get too far away from $1.75 for a credit.

Companies with earnings this week on our radar:

TJX with earnings before the bell Wednesday. NVDA with earnings after the bell Wednesday. LOW with earnings Thursday. CRM with earnings Thursday, among many others.

Stay tuned for updates!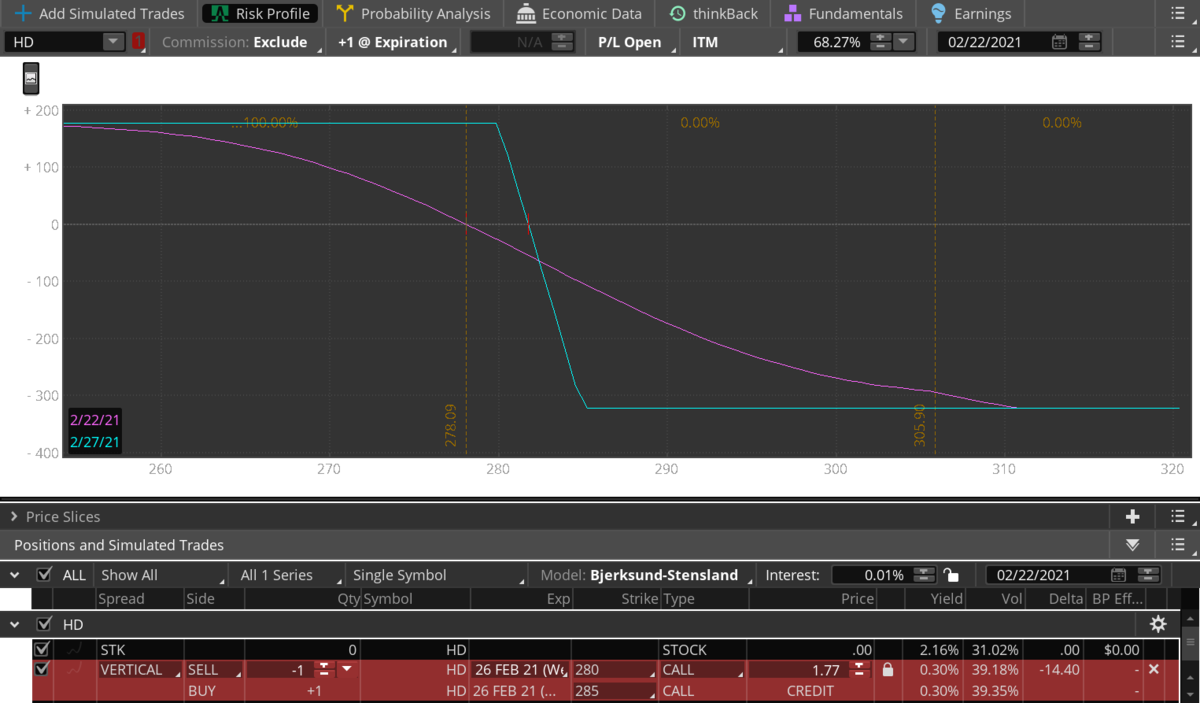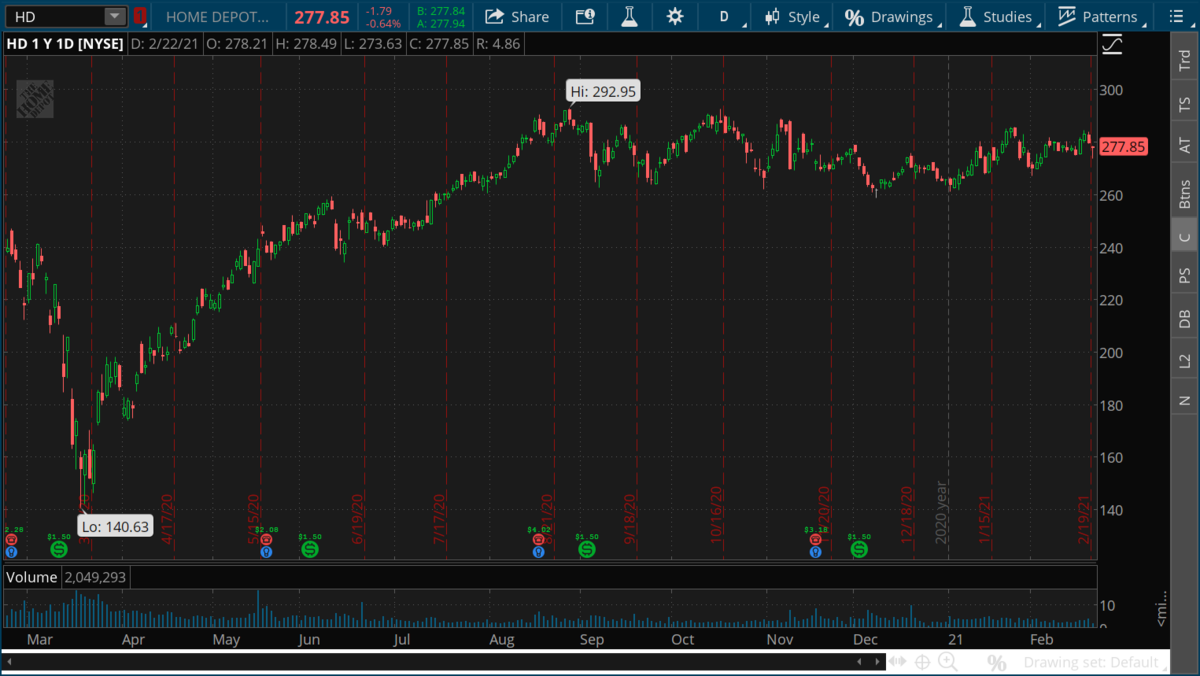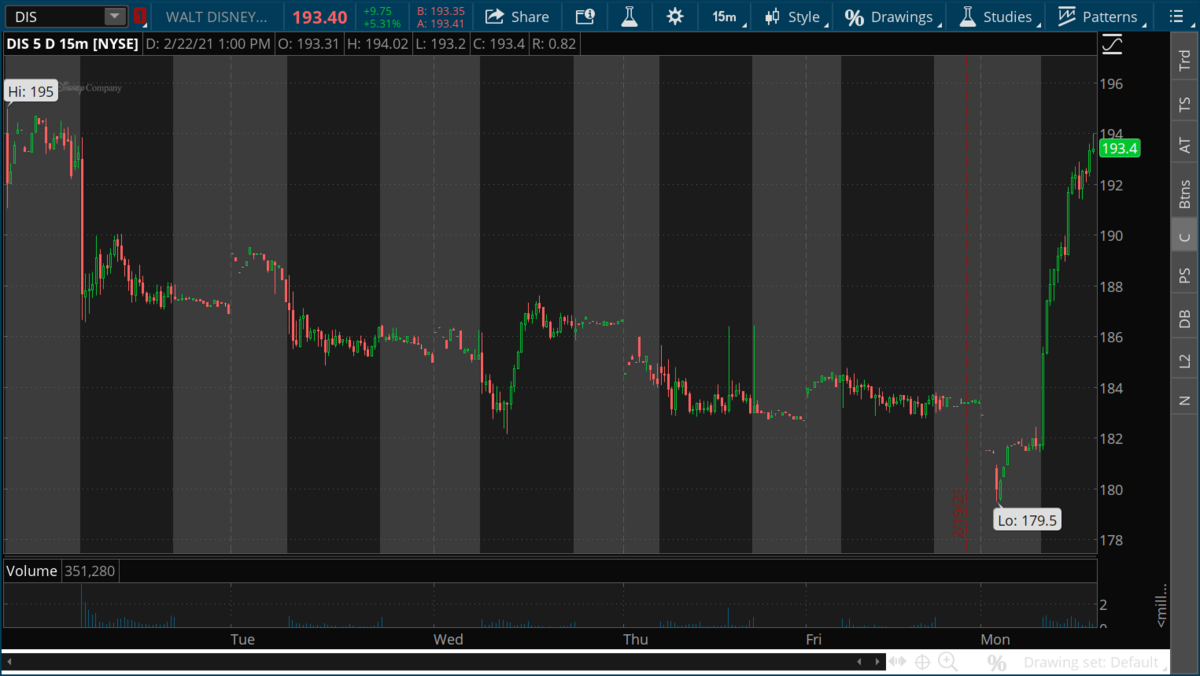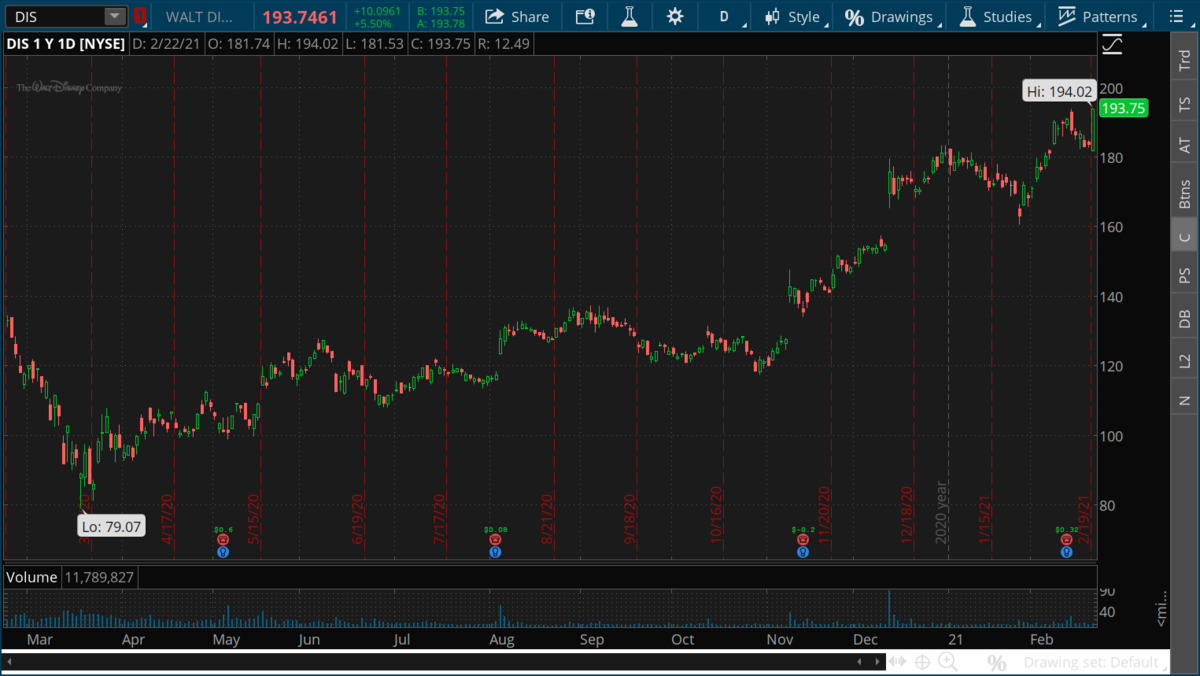 Options Trades:
Selling a Feb 26th HD $280 - $285 call credit spread for about $1.75. We are risking $3.25. HD is trading at $277.74.

Short Term portfolio:
None active

Long Term portfolio:
Long half position in WMT at $140.91. WMT is trading at $137.23. Stop is $125.31.

We are effectively long CRM at $215.35. CRM is trading at $243.08. Stop is $193.64. CRM reports earnings Feb 25th.

Long half position in DIS at $118.63. Disney is trading at $193.88. Stop is $98.45.

Long half position in UBER at $31.50. Uber is trading at $56.31. Stop is $26.24.

Long half position in MCD at $216.91. MCD is trading at $212.54. Stop is $189.50.
Disclaimer: Trading in securities such as stocks, options, indexes, currencies, and futures involve risk and should not be undertaken without due diligence and serious independent study. Options, stocks, currencies and futures trading, involve substantial risk. Subscribers may carry out their trading based on what they learn from "Rocket Equities & Options" however all risks of potential financial losses are the customer's responsibility. TFNN, Corp. will be in no way liable for financial losses resulting from trading decisions based on this newsletter. Past performance is no guarantee of future results. Reproduction in whole, or in part, is not permitted without prior written consent. Copyright 2021 all rights reserved.