Rocket Equities & Options 03-01-21
Monday Report - March 1st, 2021
We had quite the pull back last week with few equities being spared the carnage.

CRM pulled back to its area of support yet again, we will look for it to hold the lows it made from our entry on January 15th, along with its high volume low from December 2nd. CRM has a lot of support right at this level.

WMT also pulled back sharply last week. WMT is now back to its breakout area from August, which had some huge volume. Some positive news over the weekend, as WMT lured two senior Goldman Sachs bankers to help lead a new fintech startup as they try to get into the banking business.

"Omer Ismail, the head of Goldman's consumer bank, is making a surprise exit to the fintech, according to people with knowledge of the matter. The world's largest retailer made a splash last month after disclosing plans to offer financial services with an independent venture in a tie-up with investment firm Ribbit Capital without offering much detail.

David Stark, one of his top lieutenants at Goldman, will join him in the new venture, the people said, asking not to be identified as the moves haven't been announced. Ismail, in particular, offers rare credentials. He's credited as one of the key architects behind Goldman's push into Main Street, seeing through the growth of Marcus into a billion-dollar business in five years.

The departures are a setback for Goldman, which had just entrusted Ismail and Stark with bigger roles. Ismail formally assumed control of the consumer bank at the start of the year. But he's been tied to it ever since Goldman's merchant bank set up the side project several years ago." - Bloomberg News.

Stealing Goldman's top 2 guys in their consumer banking division is no small feat - these are the types of moves you want to see that can take WMT from a $367B company to much higher levels. Keep your stop in WMT at $125.31. If this market really sells off then everything could tank lower.

MCD pulled back to its lower area of support with volume, we want to see it hold this area.

DIS continues to trade with strength. We now have 2 separate ABC formations taking place. The next stop is $224 - $226 area.

UBER pulled back sharply last week on the re-opening trade, as their food delivery business may suffer when the economy opens back up, but I see continued strength higher for UBER as their ride sharing business is set to accelerate on the re-open as well. Just look at the chart of LYFT to see the expectation for how ride sharing will accelerate in the months to come.

We have a big week of retail earnings coming up:

Monday: Zoom Communications (ZM) after the market close

Tuesday: Kohl's (KSS), Target (TGT) before market open; Nordstrom (JWN) after market close

Wednesday: Dollar Tree (DLTR) before market open

Thursday: Kroger (KR) before market open; Broadcom (AVGO), SmileDirectClub (SDC), Costco (COST), The Gap (GPS) after market close

Stay tuned for updates!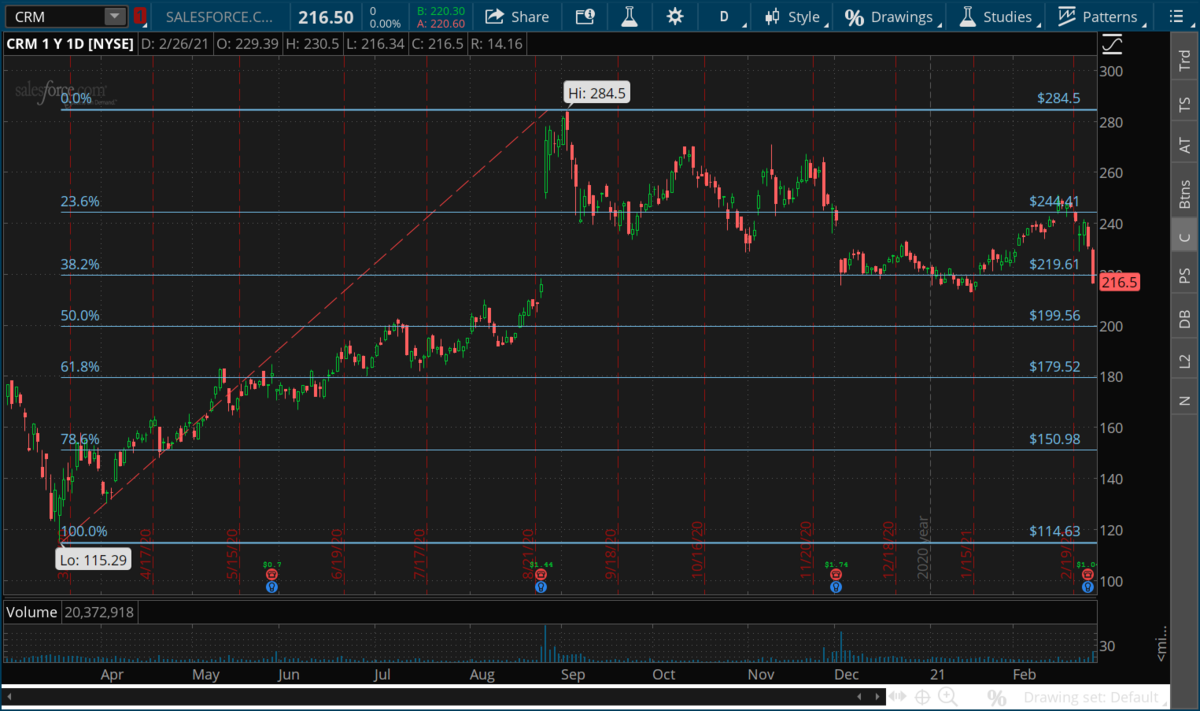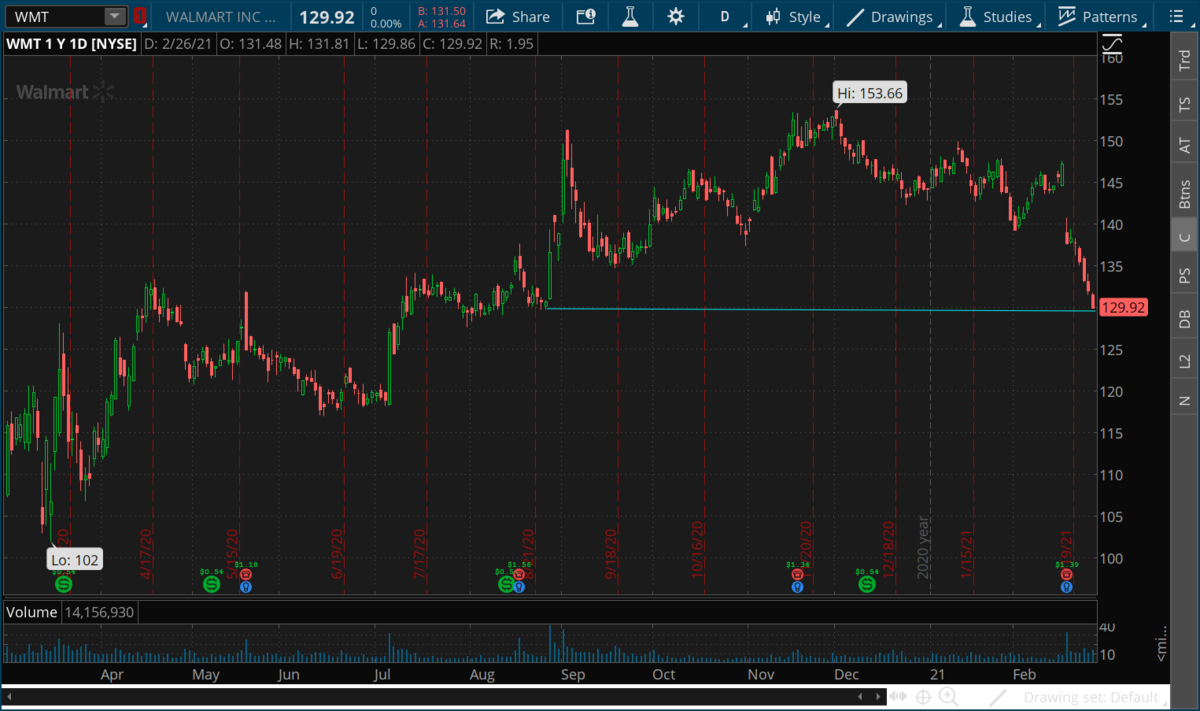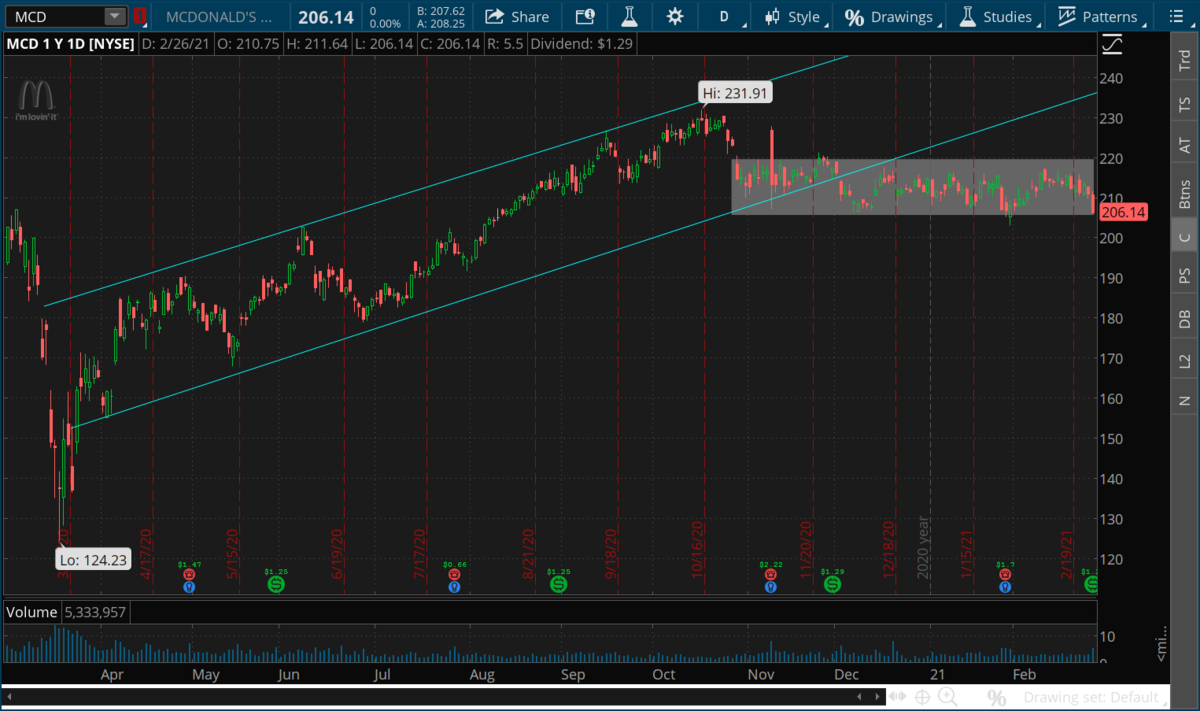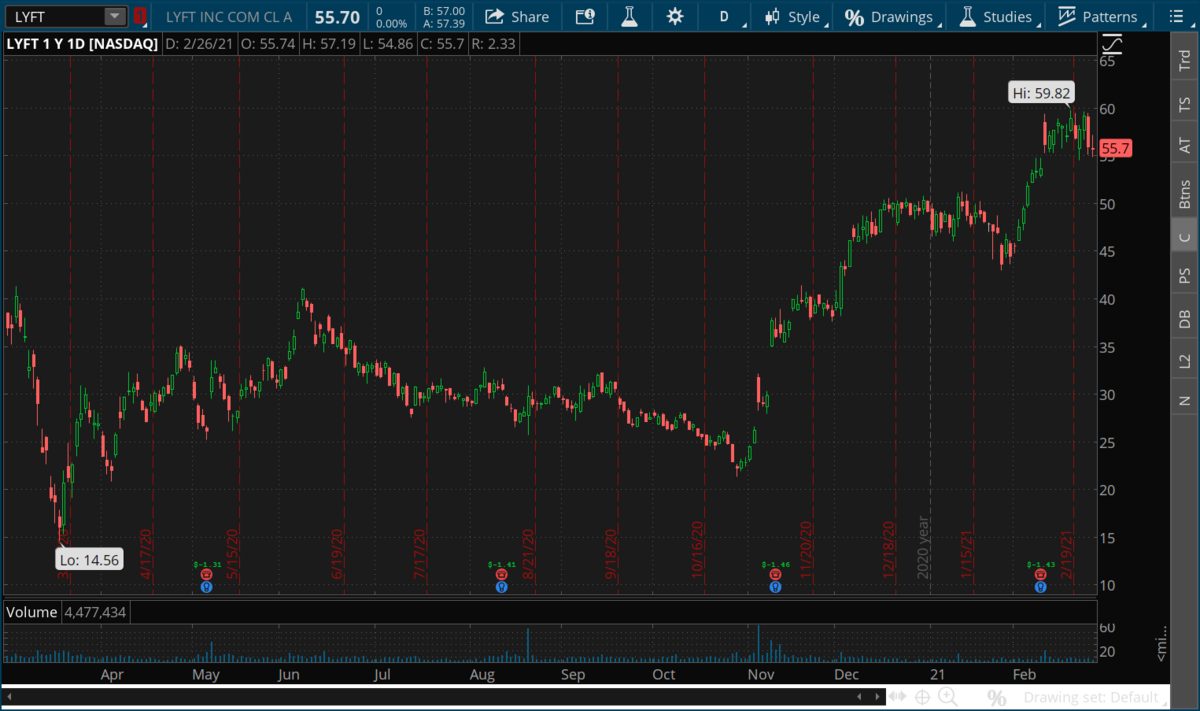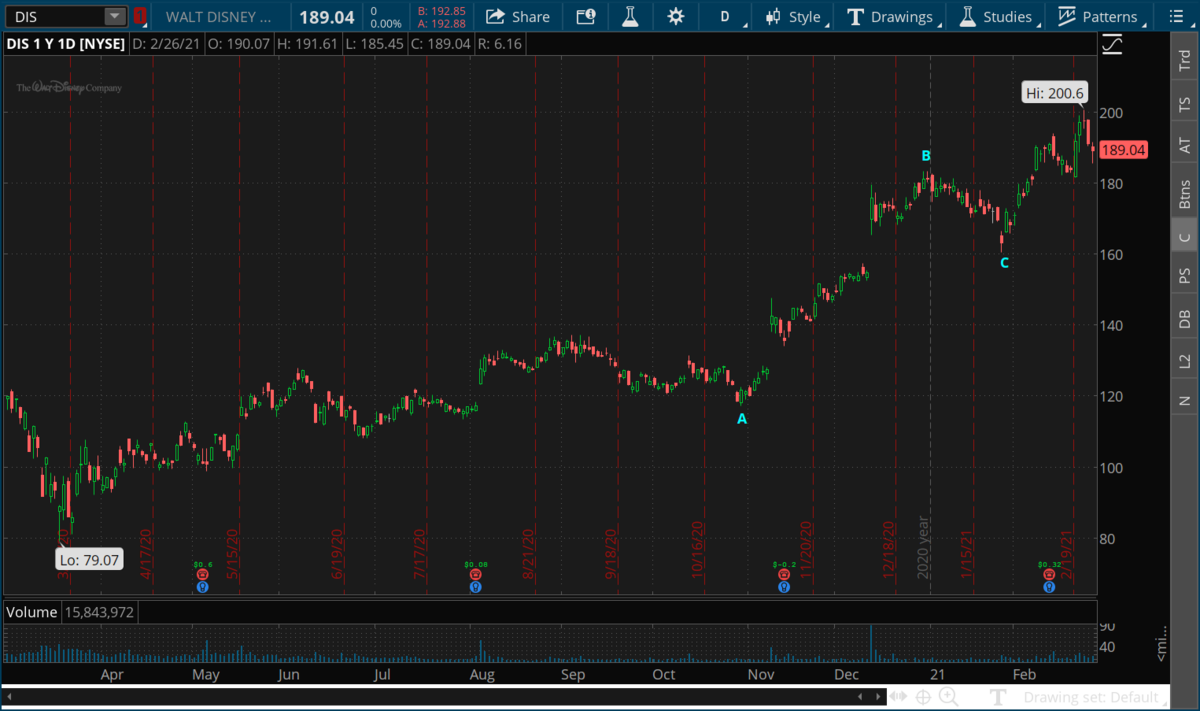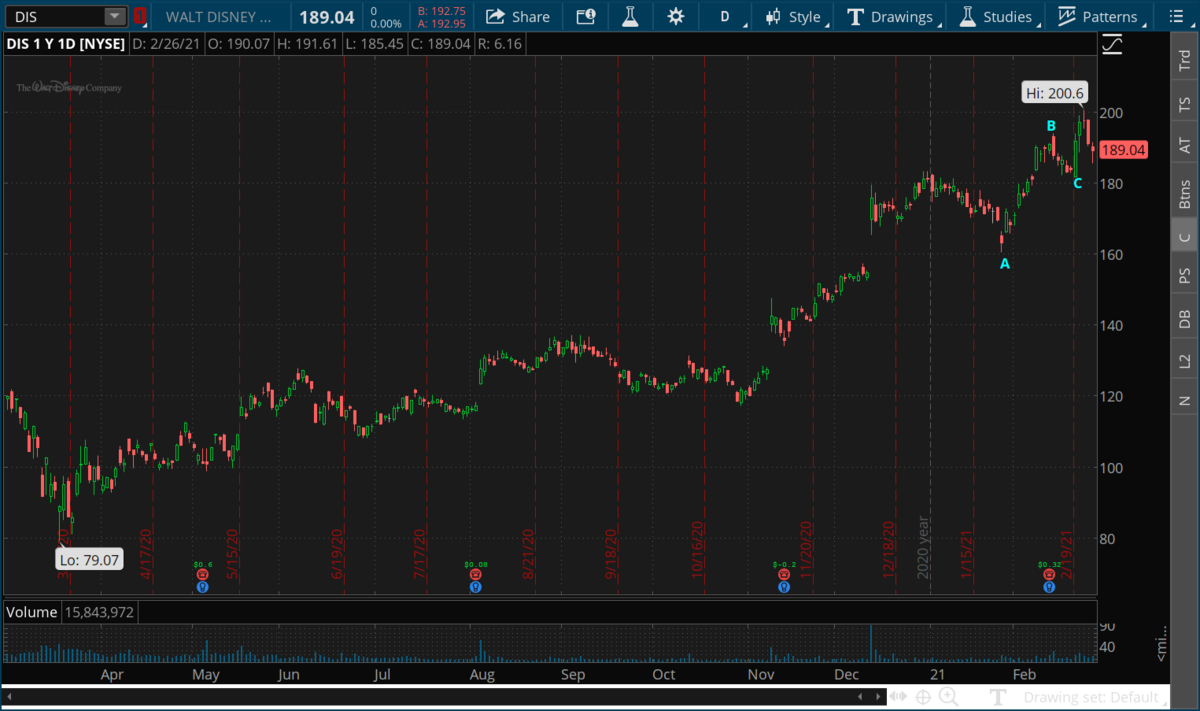 Options Trades:
Sold a Feb 26th HD $280 - $285 call credit spread for about $1.75. This trade expired Friday for a $1.75 or 53.85% profit.

Short Term portfolio:
None active

Long Term portfolio:
Long half position in WMT at $140.91. WMT is trading at $129.92. Stop is $125.31.

We are effectively long CRM at $215.35. CRM is trading at $216.50. Stop is $193.64.

Long half position in DIS at $118.63. Disney is trading at $189.04. Stop is $98.45.

Long half position in UBER at $31.50. Uber is trading at $51.75. Stop is $26.24.

Long half position in MCD at $216.91. MCD is trading at $206.14. Stop is $189.50.
Disclaimer: Trading in securities such as stocks, options, indexes, currencies, and futures involve risk and should not be undertaken without due diligence and serious independent study. Options, stocks, currencies and futures trading, involve substantial risk. Subscribers may carry out their trading based on what they learn from "Rocket Equities & Options" however all risks of potential financial losses are the customer's responsibility. TFNN, Corp. will be in no way liable for financial losses resulting from trading decisions based on this newsletter. Past performance is no guarantee of future results. Reproduction in whole, or in part, is not permitted without prior written consent. Copyright 2021 all rights reserved.