Rocket Equities & Options Trading Update 03-11-21
Trading Update
DKS $72-$71 Credit Put Spread
DKS was a trade that also may have been tough to get executed - I was able to get a trade off at a $0.25 credit right as I sent off the update Monday afternoon, but the $0.30 price point looks like it was not able to be executed.

DKS is trading right within our spread between $72 and $71.

Place an order to close this options pair trade for a $0.30 debit. We will need DKS to trade a bit higher for this to get executed, but get your order in at the open and we'll see if we get executed today. Stocks are higher today yet again looking for a positive open across the board.

DocuSign (DOCU) with earnings after the bell tonight. Options are pricing in a $17.60 move by expiration tomorrow for a stock trading at just above $212, so almost an 8% move in either direction priced into the premium. Stay tuned for updates!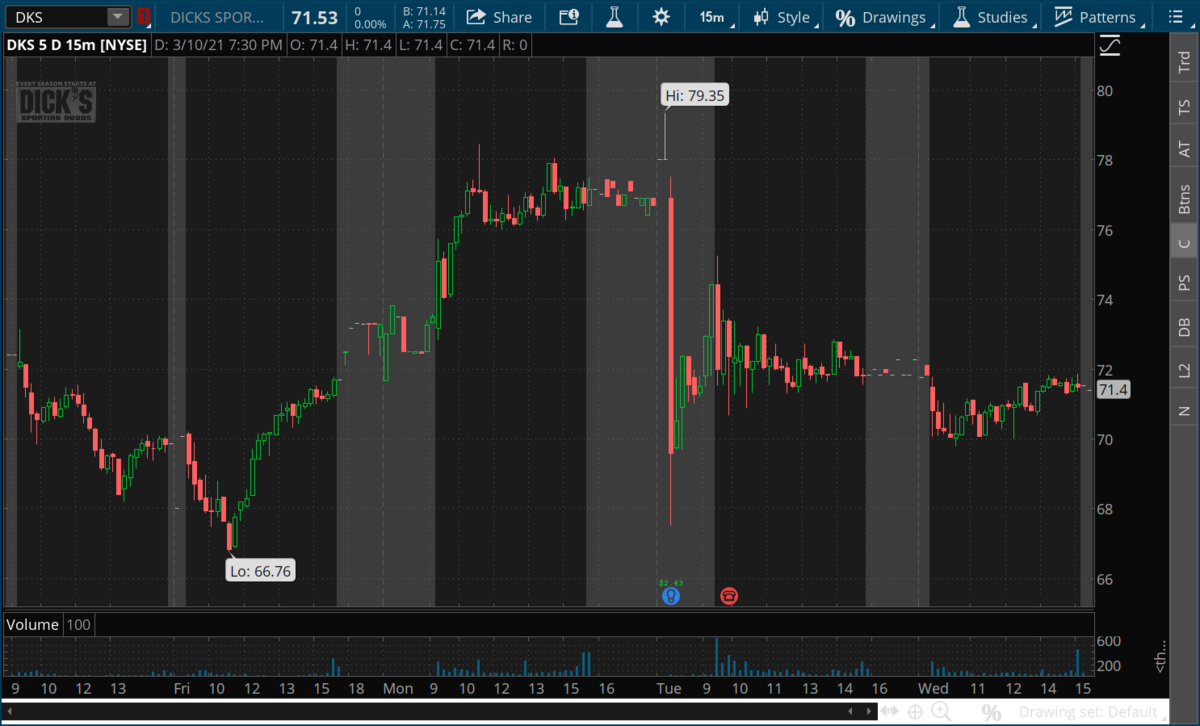 WMT Accelerates Higher With Volume
WMT traded nicely higher yesterday on the hells of the $1.9 stimulus deal passing congress and moving toward President Biden's desk. With $1400 checks going out to individuals making less than $75K and families making less than $150K, WMT looks to benefit from increased demand in the coming months.

Technically, WMT bounced nicely off its 50% retracement from it's entire move from the March lows. On Monday's update we said that we wanted to see WMT get back within its bar from August 27th, which was above the $130.90 price point. WMT got back above that level quickly and did so with volume of almost 15 million shares traded yesterday, which is a nice level of volume, not quite as much as we would have liked to see but almost as much as we were trading at the lows of last week.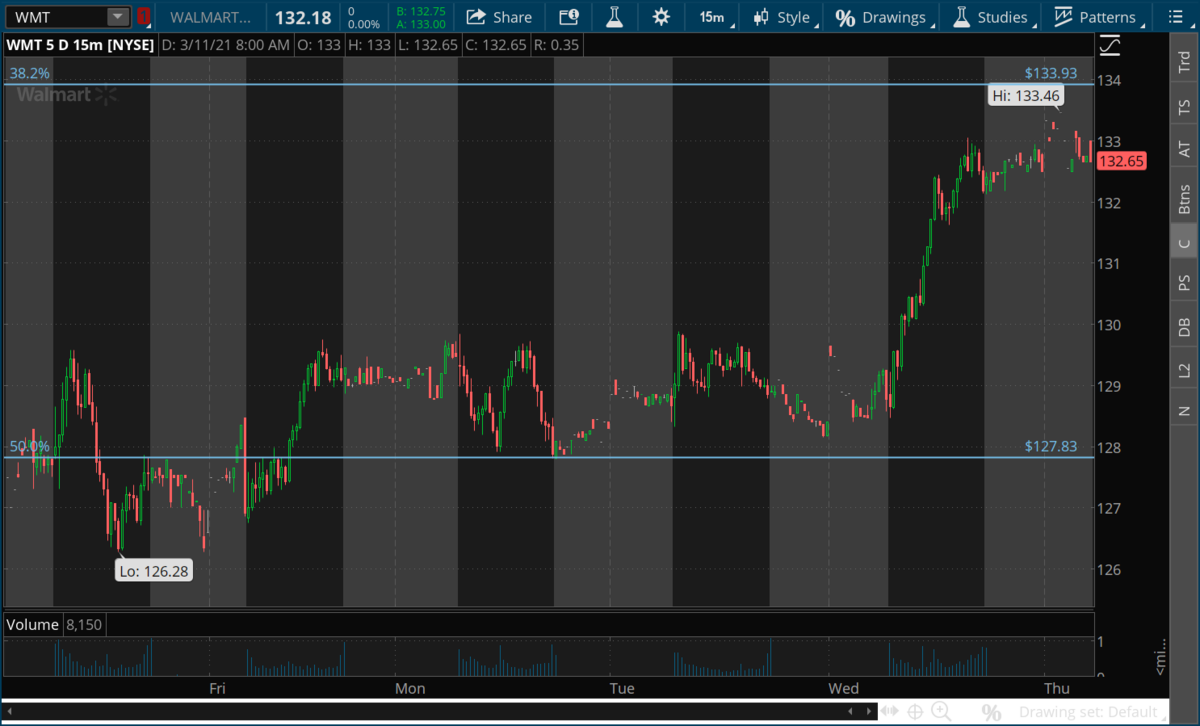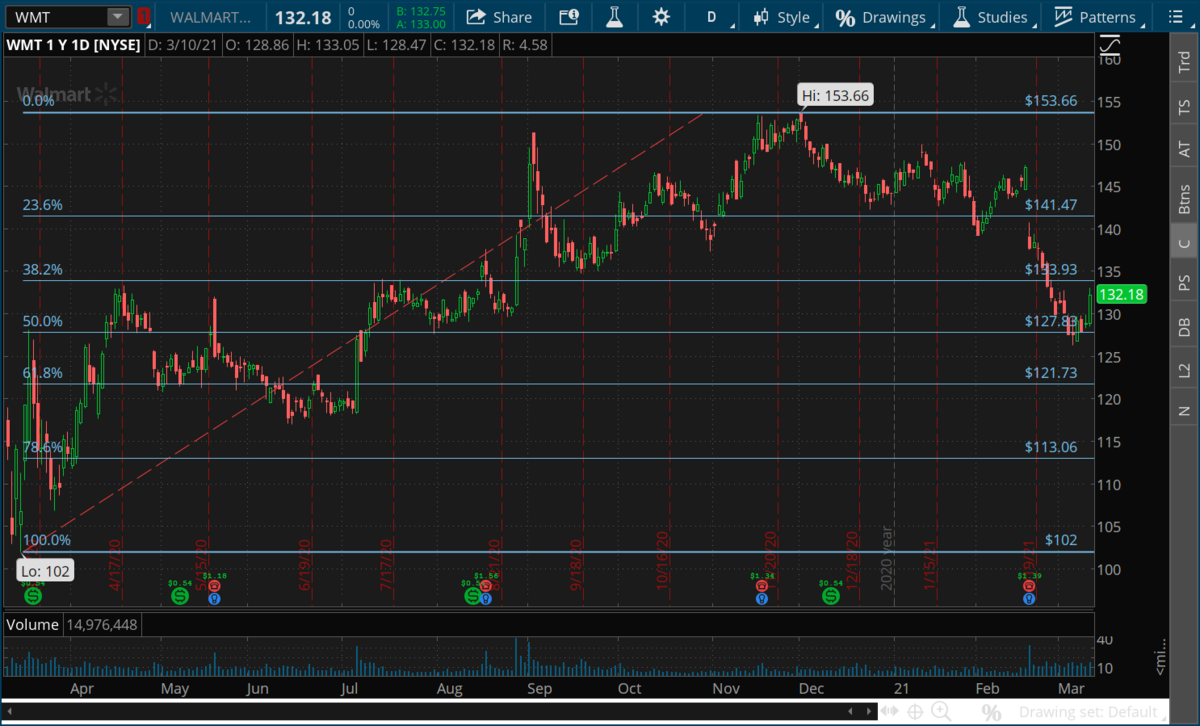 MCD Trades Higher
MCD traded higher by almost $5 yesterday, closing just within the body of the candle from November 9th. We want to see MCD trade above the $216.85 price point, which is the high from December 18th that had large volume.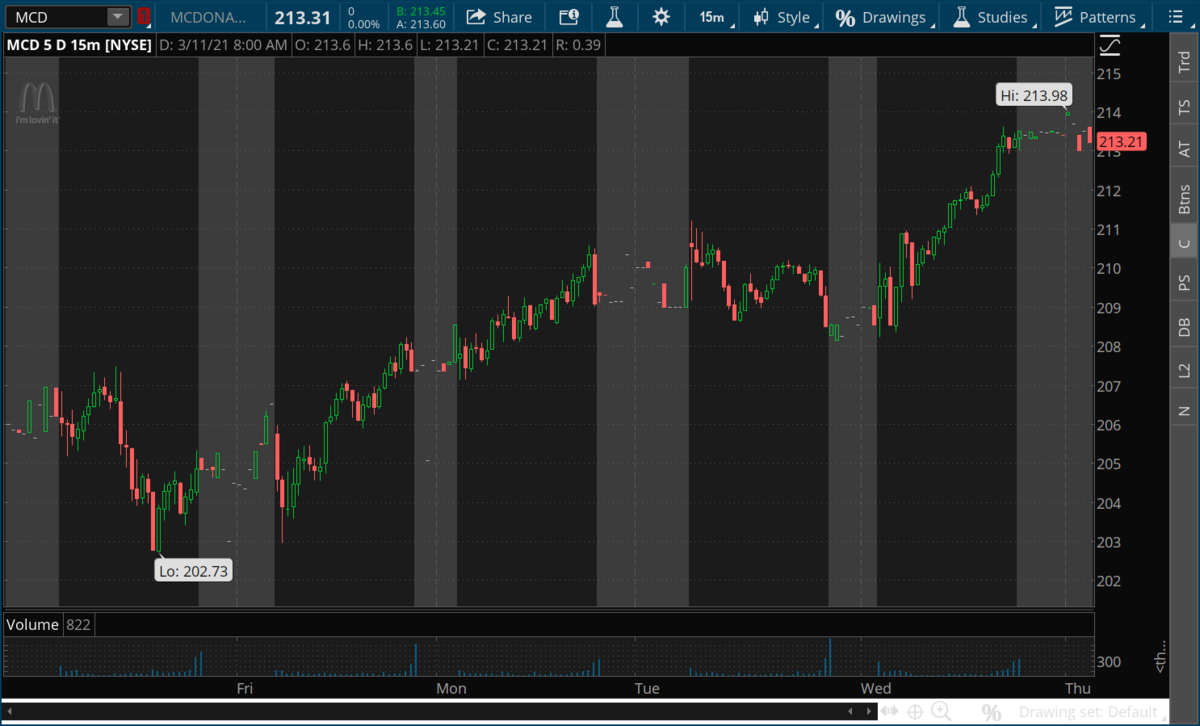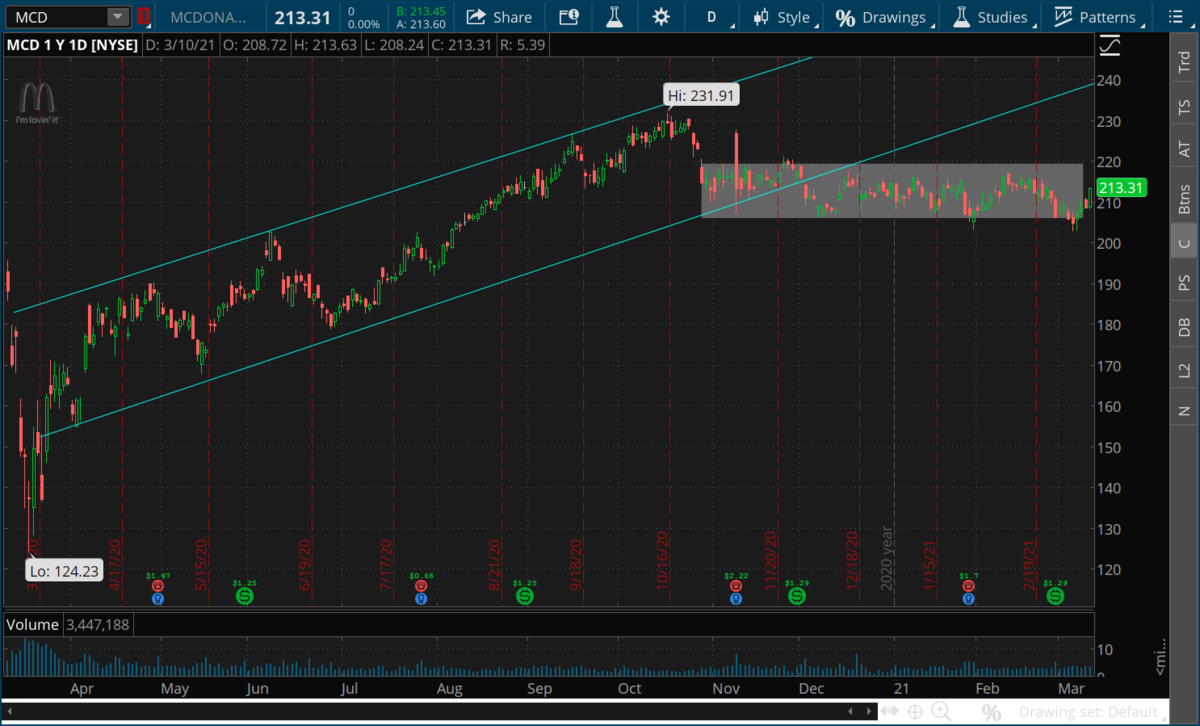 CRM Bounces Higher
CRM has bounced higher with the market this week, also reaching almost its 50% pullback from its entire run higher since the March lows. CRM is trading above $215 pre-market this morning, which gets it into its barn from December 12th. Next stop is $226, which is the high from that day's trading bar.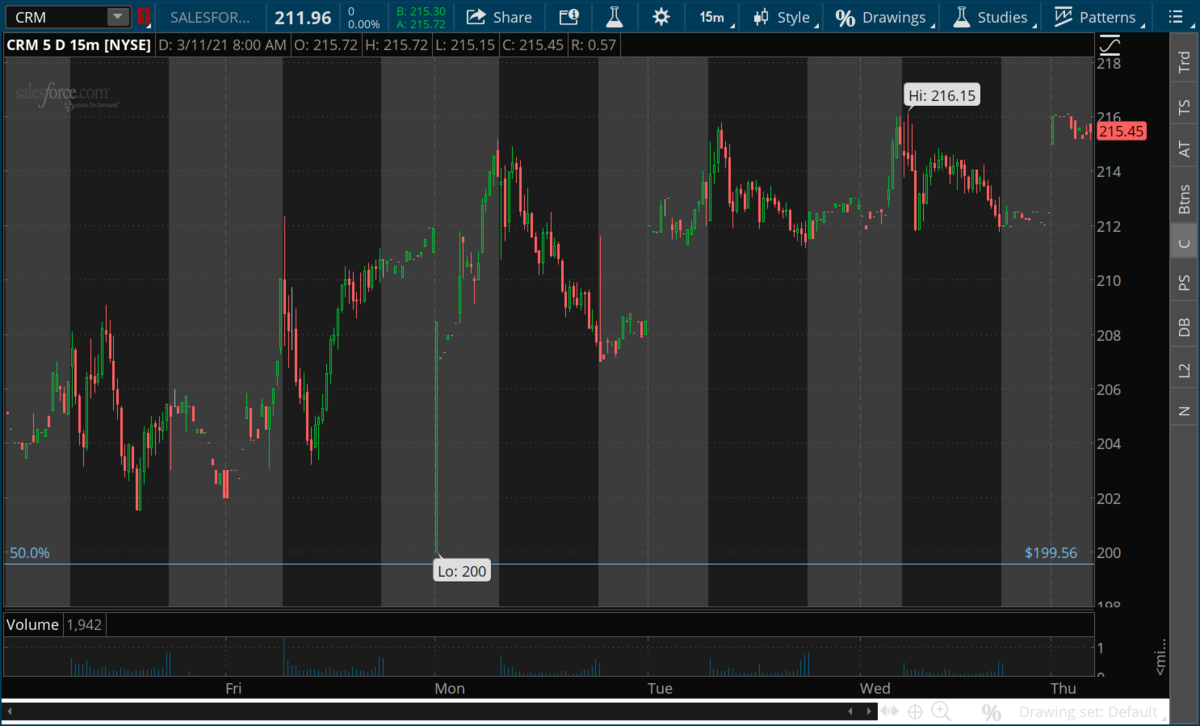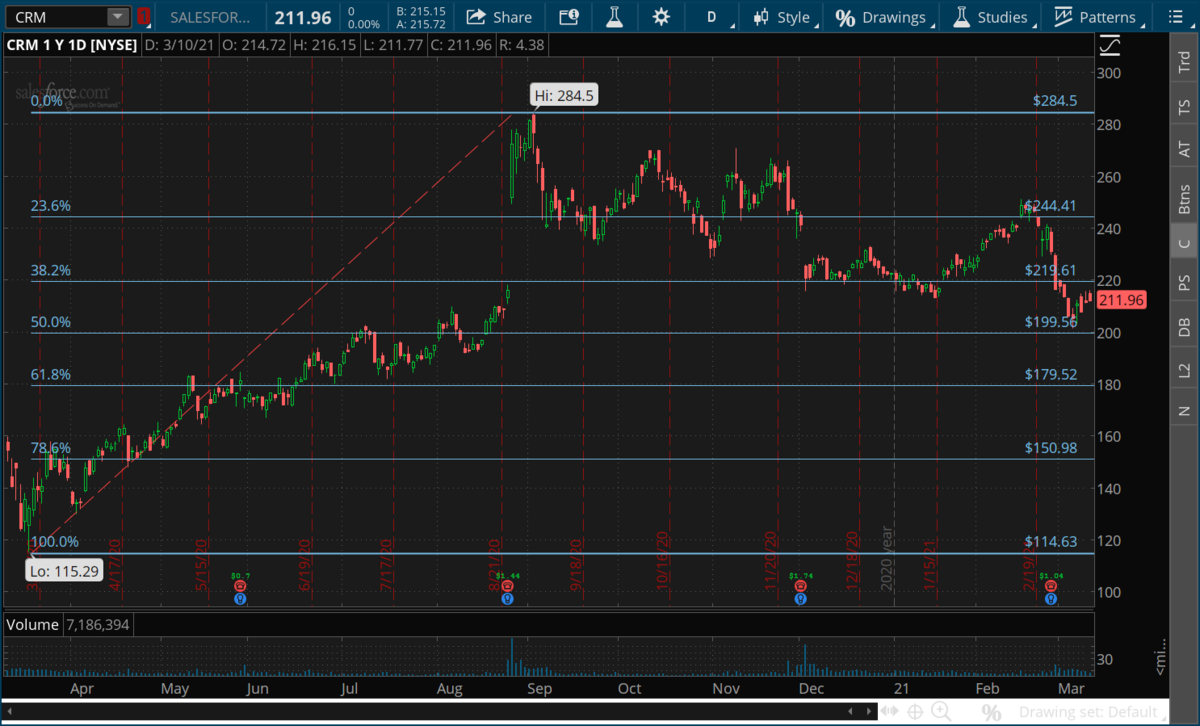 Uber Making a Run for Highs
Uber continues to trade higher, making a run for its all-time highs of $64.05 made February 11th.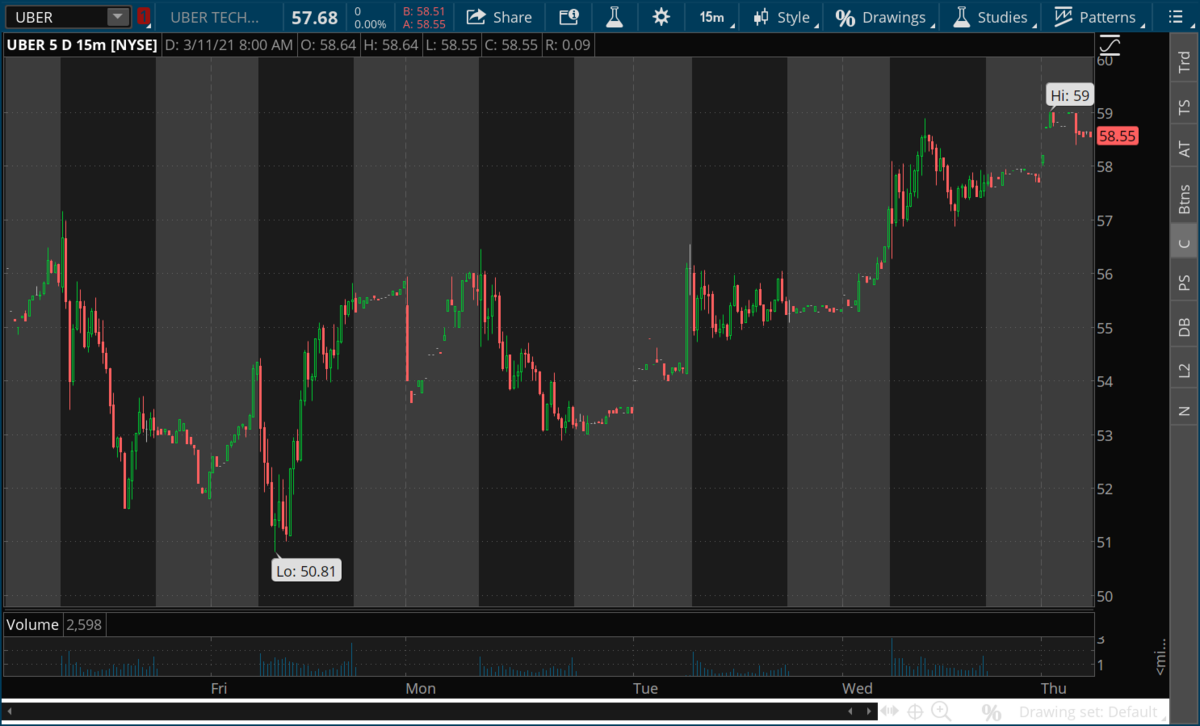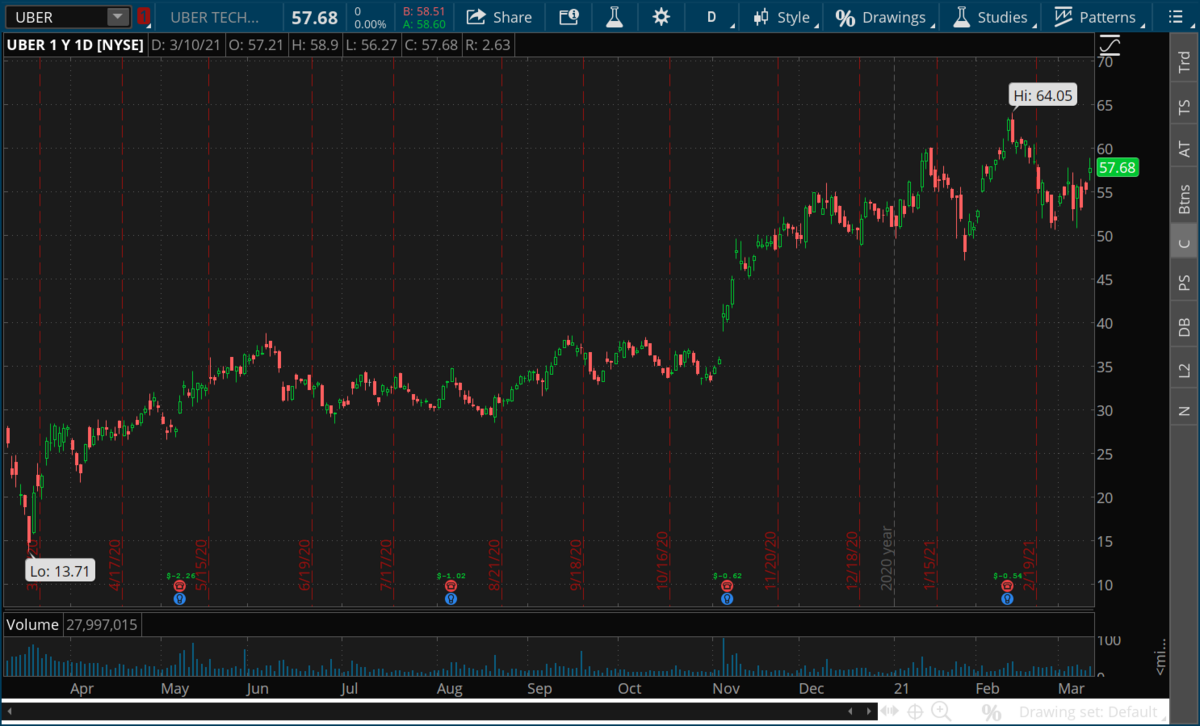 DIS Consolidates Near Highs
DIS continues to trade nicely near all-time highs. Look for DIS to continue to trade higher as their parks open back up at full capacity and movie theaters get back to some form of normalcy over the next 3-4 months. Next stop for DIS is $226.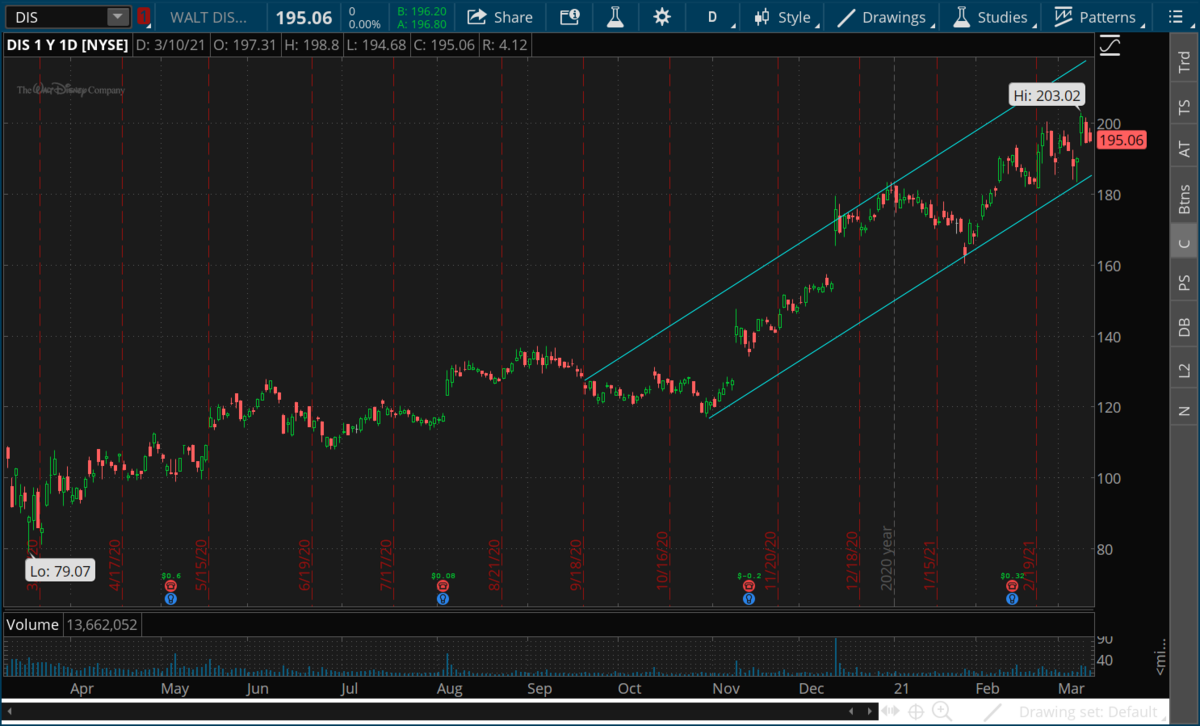 Options Trades:
Sold a DKS $72-$71 Credit Call Spread for $0.25. Place an order on the open to close this trade at a $0.30 debit. We will need DKS to trade a bit higher to get executed. DKS is trading at $71.53.

Short Term portfolio:
None active

Long Term portfolio:
Long half position in WMT at $140.91. WMT is trading at $132.18. Stop is $125.31.

We are effectively long CRM at $215.35. CRM is trading at $215.55. Stop is $193.64.

Long half position in DIS at $118.63. Disney is trading at $196.20. Stop is $98.45.

Long half position in UBER at $31.50. Uber is trading at $58.55. Stop is $26.24.

Long half position in MCD at $216.91. MCD is trading at $213.31. Stop is $189.50.
Disclaimer: Trading in securities such as stocks, options, indexes, currencies, and futures involve risk and should not be undertaken without due diligence and serious independent study. Options, stocks, currencies and futures trading, involve substantial risk. Subscribers may carry out their trading based on what they learn from "Rocket Equities & Options" however all risks of potential financial losses are the customer's responsibility. TFNN, Corp. will be in no way liable for financial losses resulting from trading decisions based on this newsletter. Past performance is no guarantee of future results. Reproduction in whole, or in part, is not permitted without prior written consent. Copyright 2021 all rights reserved.