Rocket Equities & Options Report 03-15-21
Monday Report - March 15th, 2021
Markets finished last week right near all time highs almost across the board, except for the Nasdaq which has pulled back a bit with rising yields.

Tomorrow starts a 2 day meeting with the Fed, and a rate decision and press conference Wednesday afternoon. The Fed last updated their projections in December, at which point in time they had their 2021 economic growth at a median estimate of 4.2%. The market is expecting them to update their forecast to about 5.8% growth for 2021, meanwhile Goldman Sachs is calling for a 7.7% increase in the same period, and most economists have that number above 7%. It's gonna be quite a balancing act for the Fed to update their growth estimates while Powell tries to calm fears of the Fed raising rates sooner than expected.

DIS made an all time high last Monday at $203.02. Disney continues to trade with strength and volume at highs. Disney's next stop is $226 which would complete the large AB = CD formation. AMC is up almost 26% today on new of theaters opening back up in California.

CRM traded mixed last week. CRM has shown nice support at about the $205 price area, which correlates to the breakout area from August of last year. We want to see CRM get back above the low made on Feb 26th of $216.34, which had large volume. This correlates closely to the low from December 2nd, which is at $215.63. We want to see CRM accelerate back above both those price points with volume.

WMT traded with strength to the upside last week on the heels of the $1.9 trillion stimulus deal passing and Americans already receiving stimulus payments. WMT is now back above its breakout area from August 27th, which traded almost 40 million shares. WMT is also back to its .382 retracement from its entire run from the March lows in the market. The $135 price area in WMT acted as support back in September, and we may see that area now act as a bit of resistance. The $140 area also correlates to a couple of gaps on a daily basis that could provide some resistance. WMT is perfectly positioned to benefit from the stimulus bill passed, while providing some exciting growth prospects through their goals of starting a 'bank of Walmart'. WMT is now up more than 5.5% from the lows made just 6 trading days ago. WMT also has a dividend yield of 1.63% right now at this price level.

MCD traded nicely higher last week, and has continued that run today up more than 2.2% on the session so far. MCD now is approaching the upper boundary line of its recent consolidation. We want to see MCD make the run to the higher range of its consolidation with volume. MCD is also now up more than 5.5% from the lows made just 6 trading days ago. You can see how every equity in this market is vulnerable to the volatility when it begins, even strong companies with solid dividends. MCD has a dividend yield of about 2.43% right now at this price level.

UBER traded higher with strength last week. UBER had pulled back a bit recently on optimism of the market opening back up, potentially hurting their food delivery business, but as I stated in last week's letter I saw this pullback as overstates, and the market corrected higher last week. Uber's food delivery business may take a bit of a short-term hit as we overcome COVID, but their ride sharing business is about to explode and the chart is pushing all time highs rightfully so. Next stop for Uber is its high of $64.05.

The VIX is approaching the lower boundary that its been at since COVID began, but don't expect volatility to go anywhere in this market. The next spike is probably right around the corner. We are still massively under employed with almost 10 million jobs to make up as we come out of lockdowns. The expectations over the next few months will be grand as the market looks for a jobs rebound in the service sector especially, and has priced in a strong consumer showing with savings and stimulus as the wind beneath their wings. It's almost time for expectations to become a reality, and that should provide some nervousness as the next few months proceed.

Earnings coming up on our radar:

Tuesday: Lennar (LEN), Fuelcell Energy (FCEL) before the market open; CrowdStrike (CRWD) after the close

Wednesday: Cintas (CTAS) before the market open; Five Below (FIVE) after the close

Thursday: Dollar General (DG), Accenture (ACN) before the market open; FedEx (FDX) & Nike (NKE) after the close

Stay tuned for updates!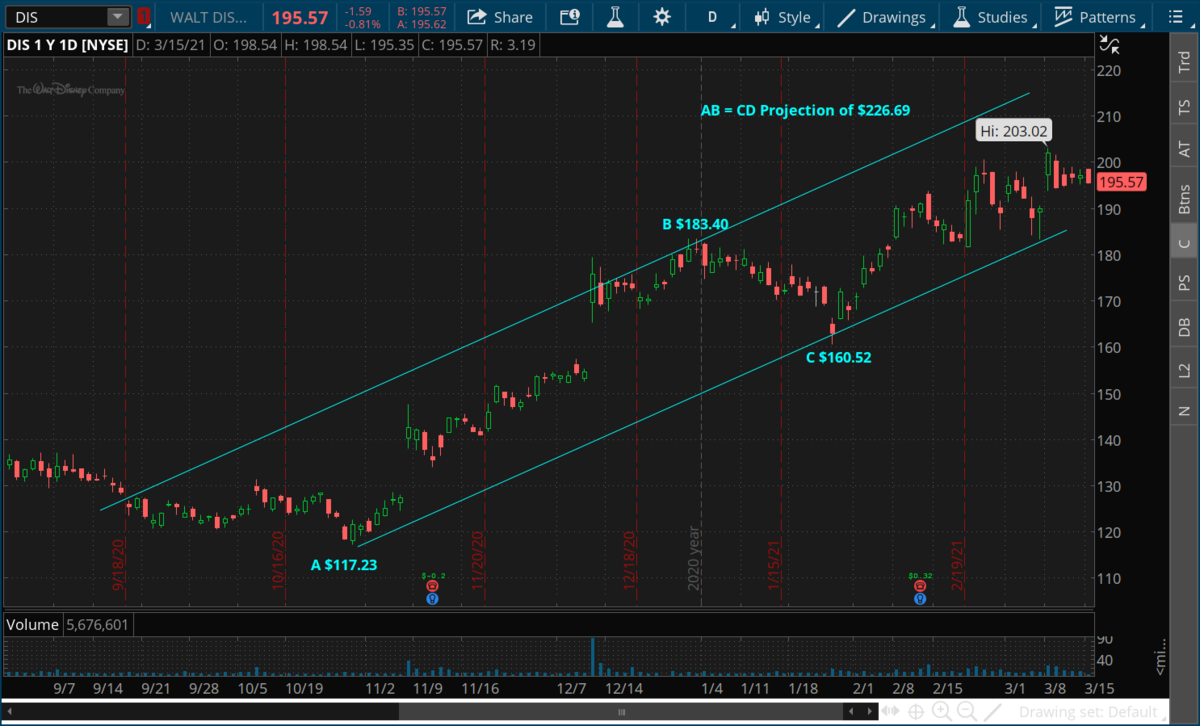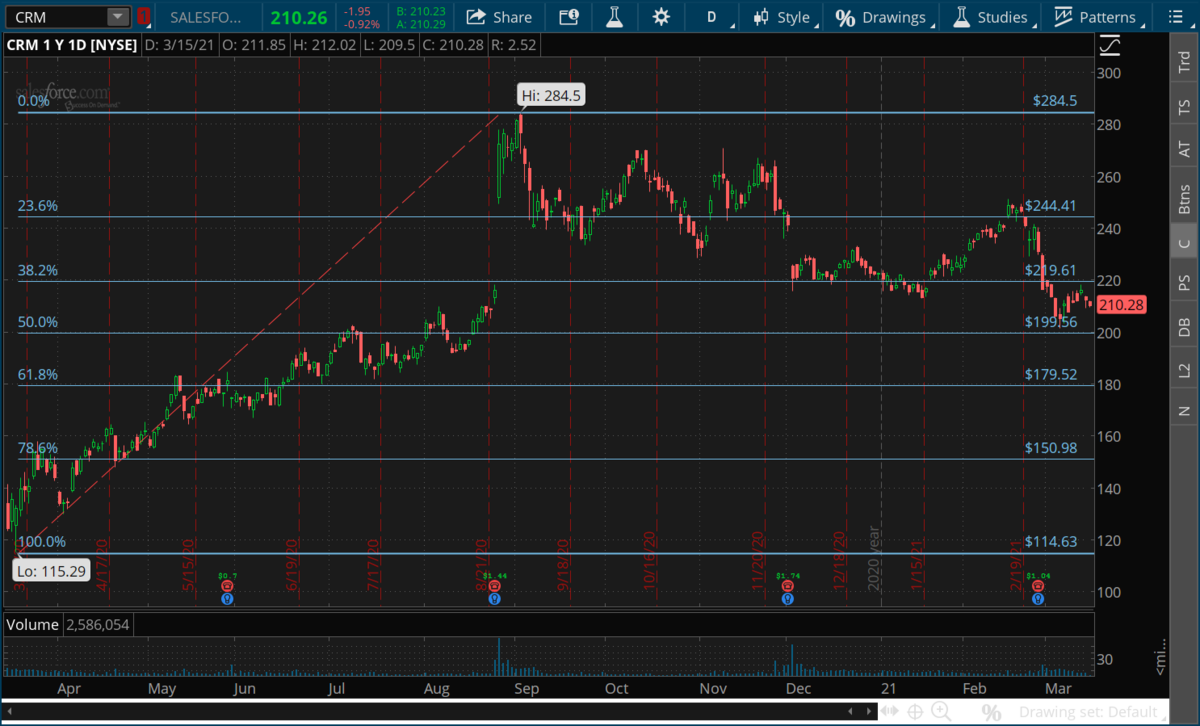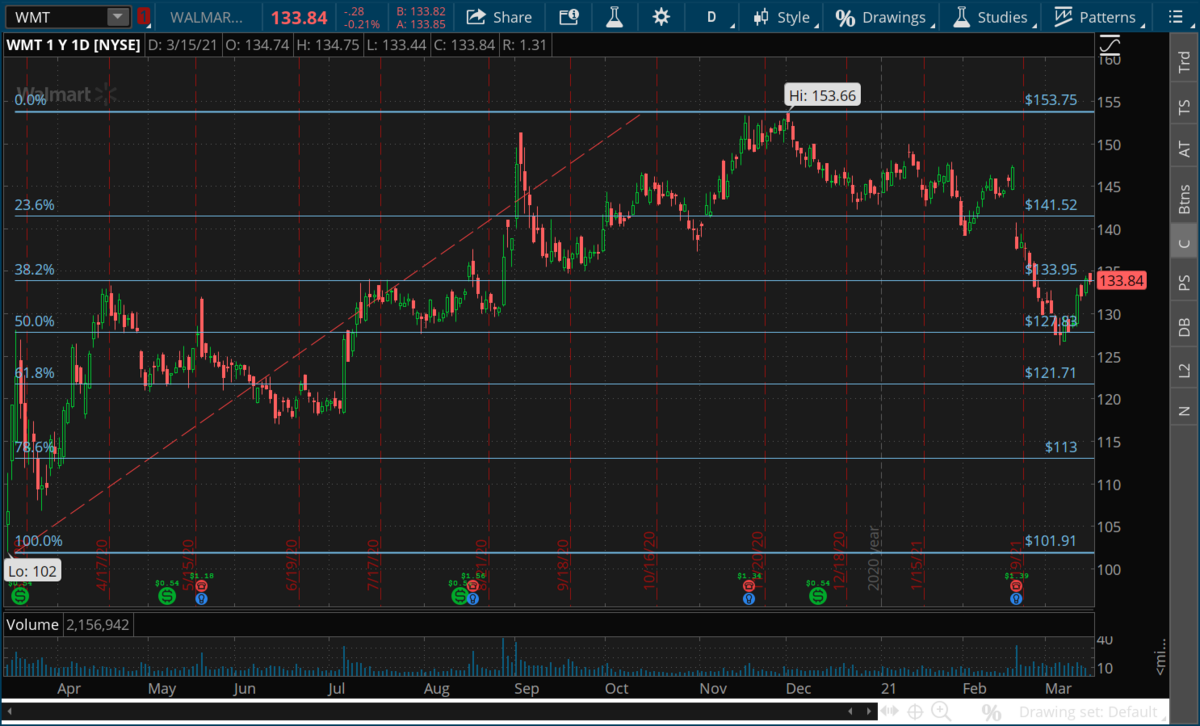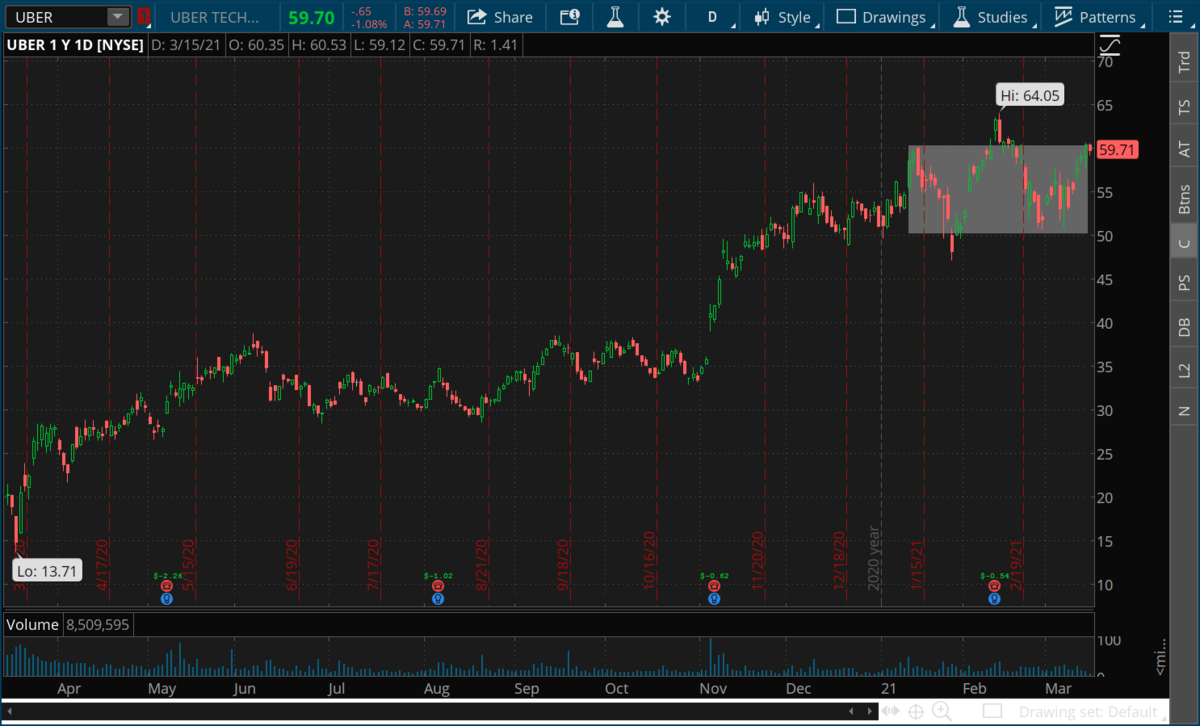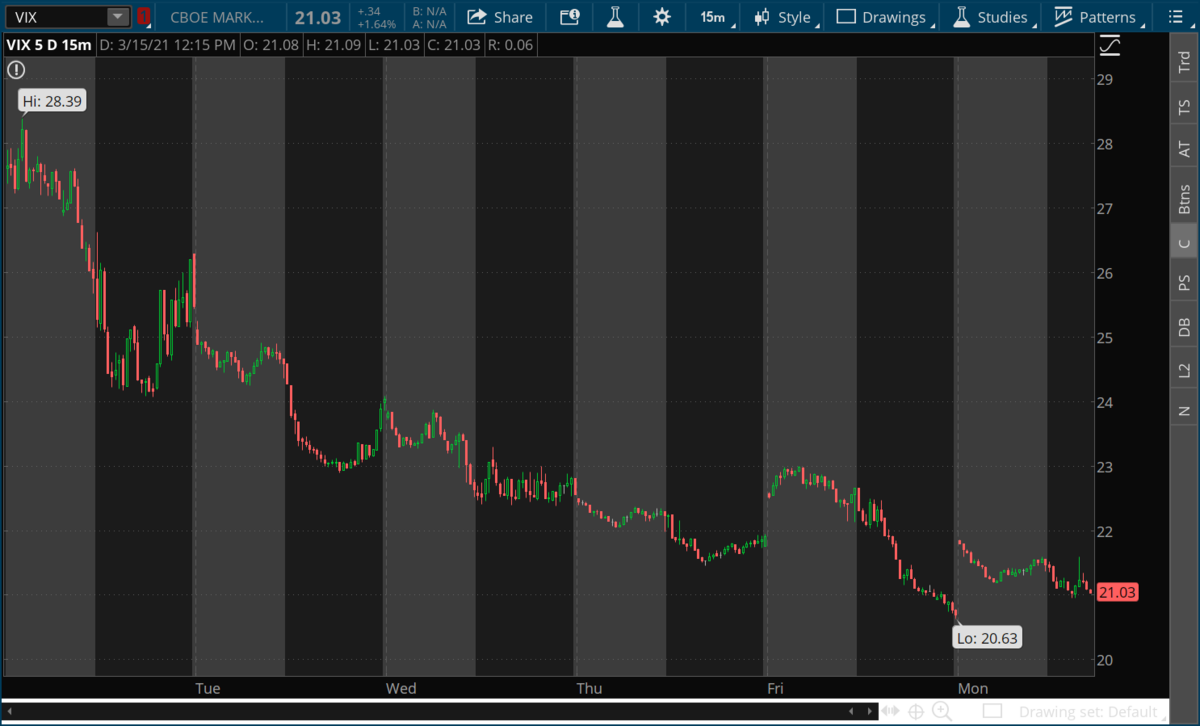 VIX daily approaching lows post-COVID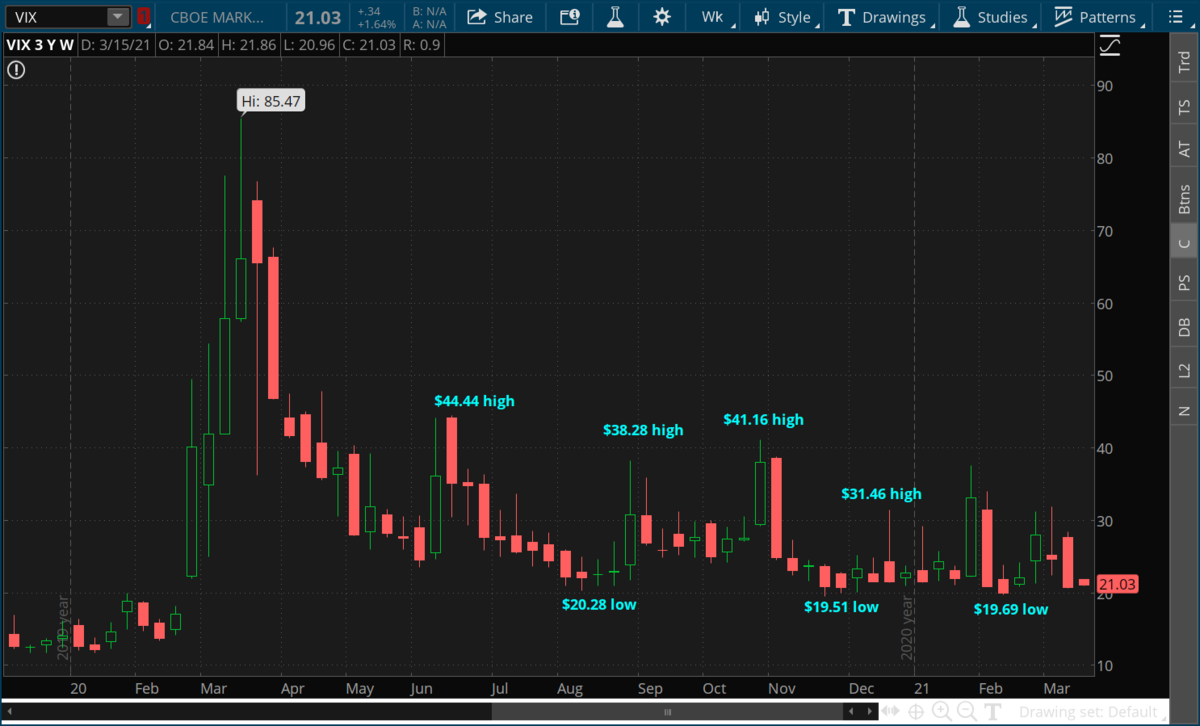 10-Year Note Daily Price Chart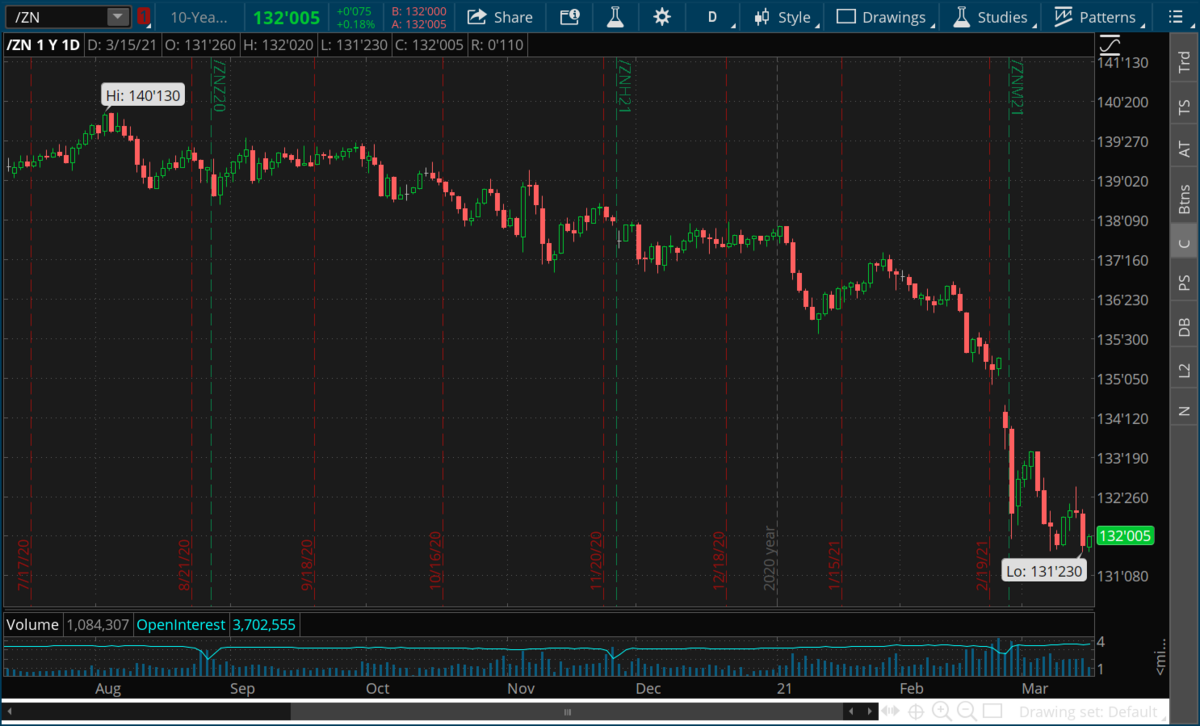 10 Year Note weekly chart back to the highs from 2019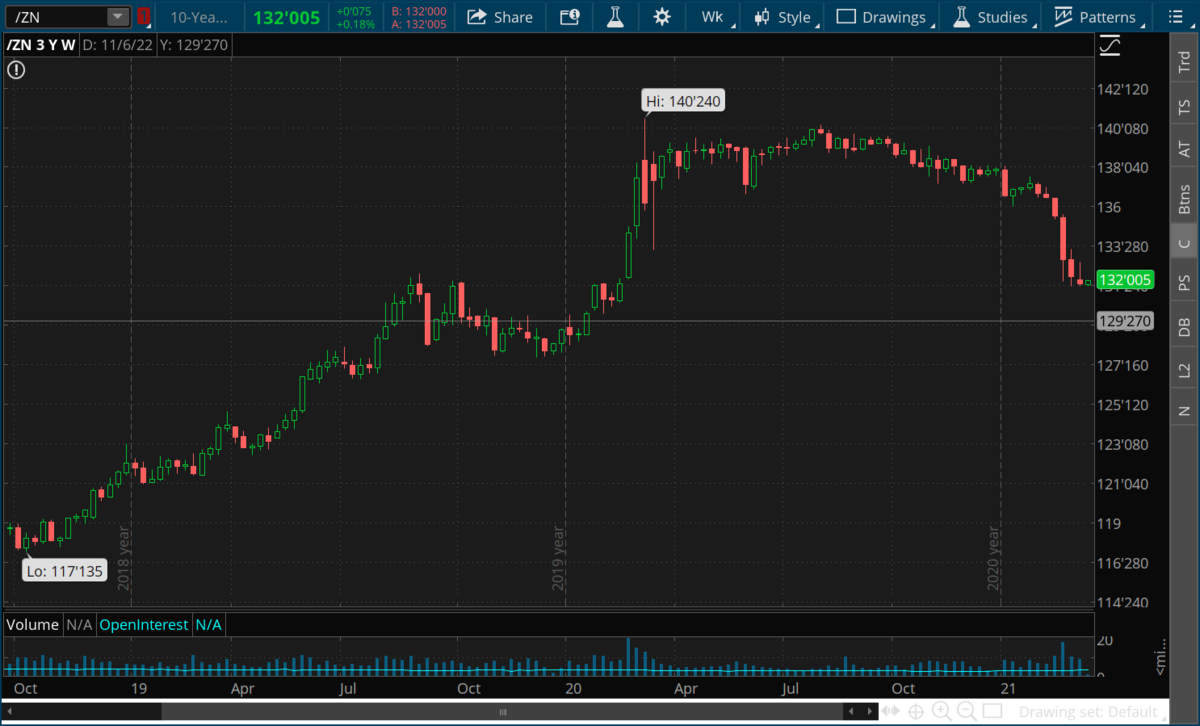 Options Trades:
Closed out a DKS credit put spread for a loss of $0.05 on $0.75 risked for a 6.67% loss.

Short Term portfolio:
None active

Long Term portfolio:
Long half position in WMT at $140.91. WMT is trading at $133.15. Stop is $125.31.

We are effectively long CRM at $215.35. CRM is trading at $211.20. Stop is $193.64.

Long half position in DIS at $118.63. Disney is trading at $195.61. Stop is $98.45.

Long half position in UBER at $31.50. Uber is trading at $59.70. Stop is $26.24.

Long half position in MCD at $216.91. MCD is trading at $217.15. Stop is $189.50.
Disclaimer: Trading in securities such as stocks, options, indexes, currencies, and futures involve risk and should not be undertaken without due diligence and serious independent study. Options, stocks, currencies and futures trading, involve substantial risk. Subscribers may carry out their trading based on what they learn from "Rocket Equities & Options" however all risks of potential financial losses are the customer's responsibility. TFNN, Corp. will be in no way liable for financial losses resulting from trading decisions based on this newsletter. Past performance is no guarantee of future results. Reproduction in whole, or in part, is not permitted without prior written consent. Copyright 2021 all rights reserved.