Rocket Update 03-18-21
FIVE Credit Call Spread $200 - $205
Five Below beat on earnings with strong guidance going forward, and traded higher after the closing bell. We'll have some work to do on this trade to try and salvage some value.

I was able to get the trade off last night at about a $1.60 credit with $3.40 risked.

If you're in this trade then the goal is going to be to close out the position sometime today if we get a move lower at all.

Place an order to close out this trade for a $2 debit, which would result in a small loss for this trade. We collected a $1.60 credit upon initiating this trade.

We will need FIVE to trade to about the $202 to $201 price range to get executed. We've seen many times previously that even when a stock trades higher overnight on earnings, that does not mean that trend will hold once the market opens.

FIVE had strong numbers. I don't expect a major sell off, but get your order in on right at the open so that if we get any spikes lower we have the chance to get executed.

FedEx and Nike with earnings after the bell tonight. We are looking at possible trades on both equities. Stay tuned for updates!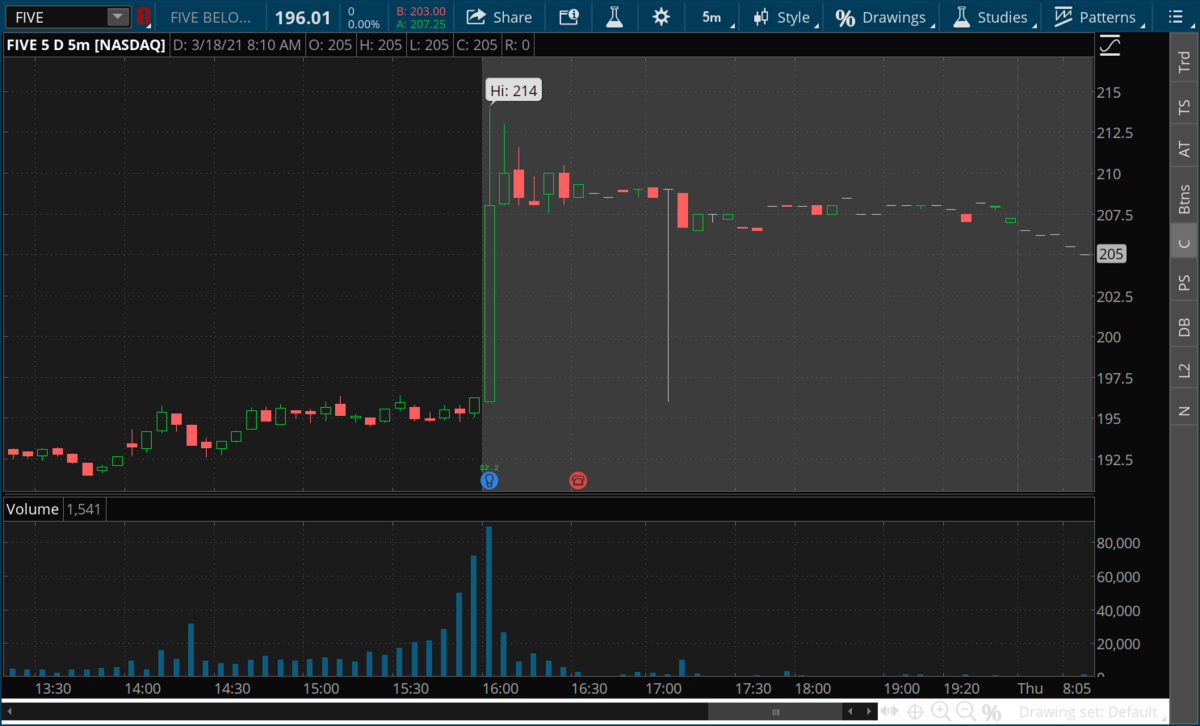 Disclaimer: Trading in securities such as stocks, options, indexes, currencies, and futures involve risk and should not be undertaken without due diligence and serious independent study. Options, stocks, currencies and futures trading, involve substantial risk. Subscribers may carry out their trading based on what they learn from "Rocket Equities & Options" however all risks of potential financial losses are the customer's responsibility. TFNN, Corp. will be in no way liable for financial losses resulting from trading decisions based on this newsletter. Past performance is no guarantee of future results. Reproduction in whole, or in part, is not permitted without prior written consent. Copyright 2021 all rights reserved.