Rocket Equities & Options - August 5, 2020
Disney Trades Higher on Earnings Beat and New Streaming Service
We will be closing our option trade in Disney after the open to book the profits.

Disney revealed that they have reached 100 million streaming subscribers when you combine all their brands including Disney+, Hulu, and ESPN.

Disney+ has more than 60 million subscribers as of Monday.

Disney posted adjusted EPS of 8 cents vs a loss of 64 cents expected.

Revenue of $11.78 billion vs 12.37 billion expected.

Disney traded lower initially on the release of their numbers, yet the news on the conference call that they will be releasing "Mulan" on the platform for $29.99 in the US beginning Sept 4th, along with launching a new general entertainment streaming service next fiscal year under the Star brand it acquired from Fox, sent shares charging higher.

The new streaming service will offer content Disney already owns from ABC Studios, Fox Television, FX, Freeform, 20th Century Studios and Searchlight. The service will be fully integrated into Disney+ in many markets, and distributed under the Star brand.

This morning, analysts are already upgrading the stock. Credit Suisse upgraded it from Neutral to Outperform and raised its price target from $116 to $146. MoffettNathanson raised their target to $118 from $111. Rosenblatt maintains their buy with a raised price target of $145.

Let the market open first, and then close both legs of the bull call spread in DIS that we initiated on Monday. Disney is trading up almost $8 right now as of 8:10 am EST, at $125.15.

We had initially bough the $120 call and sold the $127 call expiring Friday for a net debit of about $116. So you will be selling the $120 call and buying back the $127 call, which expire Friday Aug 7th, to close our position.

We will maintain our half position as part of our long term portfolio of investments. If you're not in DIS yet within the long term part of our portfolio it's still not too late. If you plan to hold Disney as an investment for the years to come, then even at $125 you can still initiate a position or at least a partial-position. DIS is still not even back to their early June highs of around $127. Disney will be dramatically higher in the next few years, and I think we've seen the start of that run last night. We got a nice start to our long term position. And we will close our option trade after the open and book the profits.

Stay tuned for more updates. Uber earnings tomorrow, and we will be watching that stock closely as we're already up a decent amount.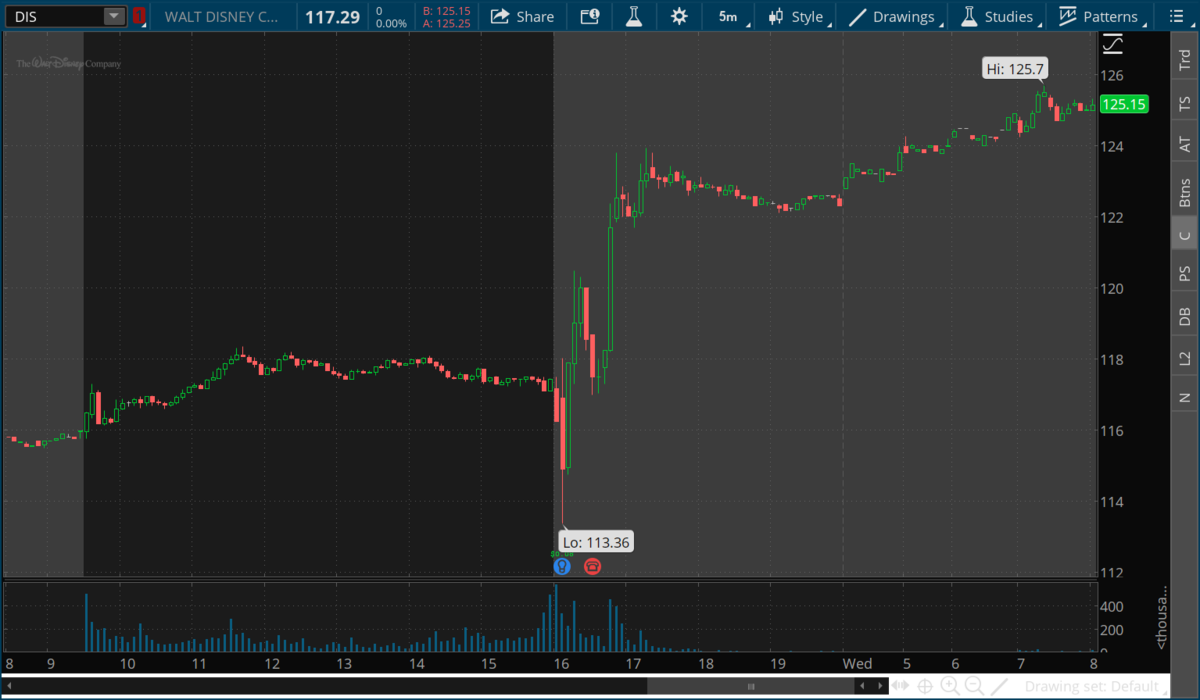 Let Disney open first, then close our option trade.
Disney will open at about $125, as it approaches its highs from early June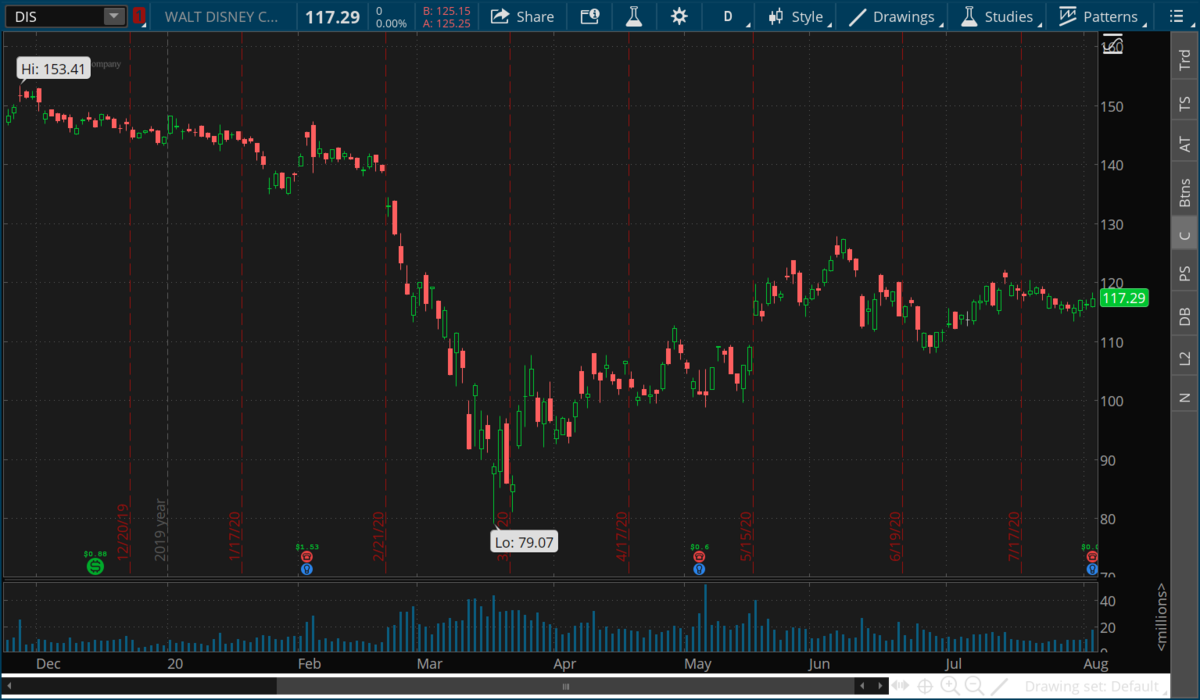 Uber earnings tomorrow after the bell