Rocket Equities & Options - August 19, 2020
TGT & LOW report record quarters - TJX trades lower
Target's sales online and at stores open for at least a year climbed by 24.3% during the quarter ended Aug. 1 — an all-time high for the retailer. Target's curbside pickup service jumping by more than 700%. Target said they attracted 10 million new digital customers and picked up $5 billion in market share in the first half of the year.

Target is trading dramatically higher this morning, above our max loss position. We need TGT to trade back below $146 by Friday. WMT traded dramatically higher on their earnings initially as well, before pulling back to negative prices by the end of yesterday's trading.
Adjusted EPS: $3.38, vs. $1.62 expected
Revenue: $23 billion, vs. $20.09 billion expected
Same-store sales growth: 24.3%, vs. 7.6% expected, according to a StreetAccount survey
Lowe's also had a record quarter, as expected. Lowe's said its second-quarter revenue surged 30% as consumers shifted their spending to home improvement projects. Lowe's website sales soared 135% as the pandemic pushed more customers to shop online. LOW is trading higher, but below our $165 ceiling in our Iron Condor.
Adjusted EPS: $3.75 vs. $2.95 expected
Revenue: $27.3 billion vs. $24.27 billion expected
TJX same store sales for only stores open dropped 1-20%. TJX does not expect to declare a 3Q dividend, and has suspended their buyback program. TJX lost 18c/share vs a loss of 10c/share expected. TJX is trading dramatically lower this morning.

We will let all of our trades open today - expect another update in the first 30 minutes of trading.

We may close out our TJX put after the open to lock in the value, while letting our TGT & LOW trades play out today.

Short Term portfolio:
TGT $130-$146 Iron Condor
LOW $152.50 - $165 Iron Condor
TJX $56 - $59 straddle

Long Term portfolio:
Long half a position in DIS at $118.63. Disney is trading at $129.54 Stop is $98.45.
Long half position in UBER at $31.50 or better. Uber is trading at $29.58. Stop is $26.24.
Long half position in STZ at $180.50. STZ is trading at $174.73. Stop is $164.05.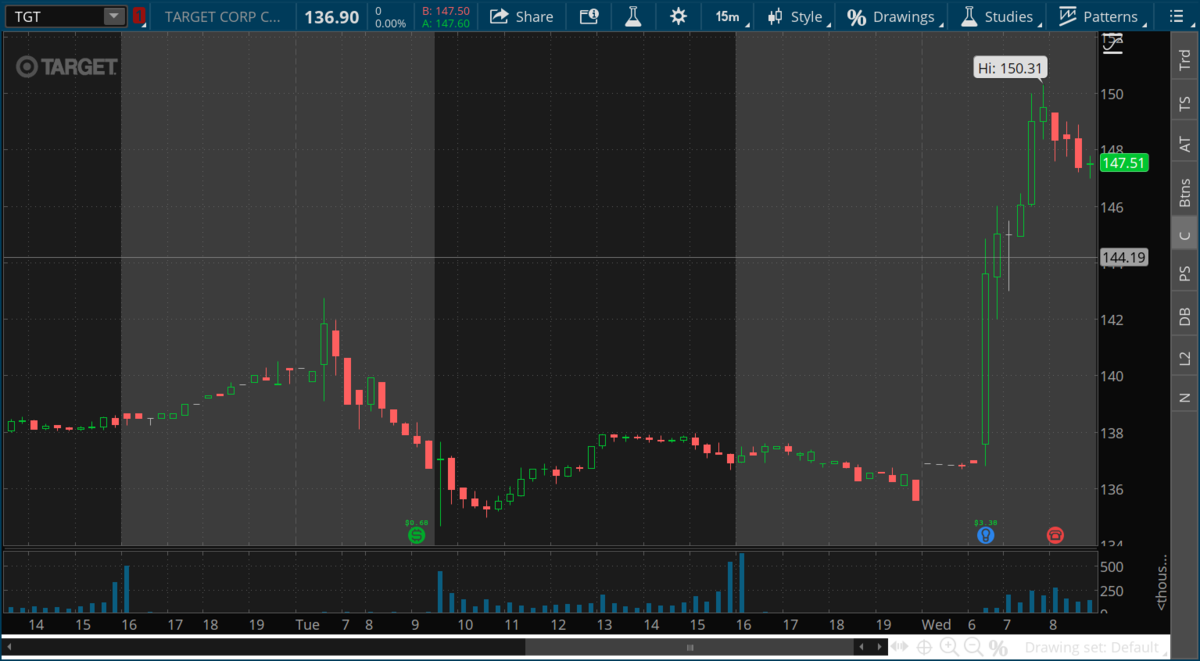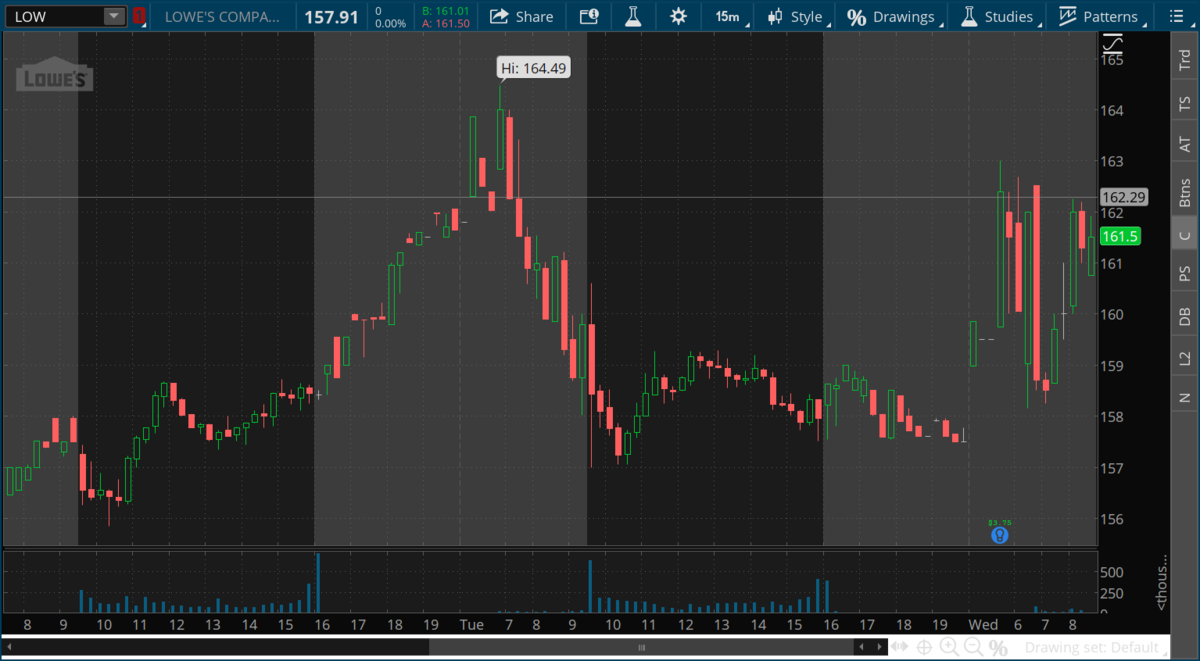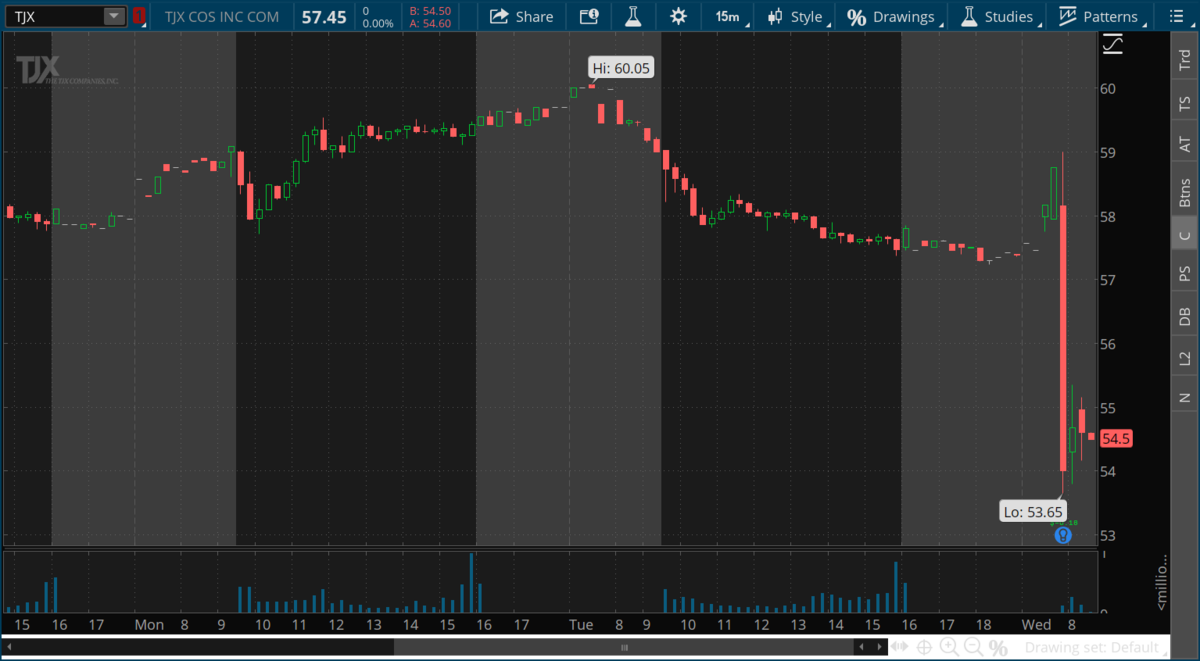 Disclaimer: Trading in securities such as stocks, options, indexes, currencies, and futures involve risk and should not be undertaken without due diligence and serious independent study. Options, stocks, currencies and futures trading, involve substantial risk. Subscribers may carry out their trading based on what they learn from "Rocket Equities & Options" however all risks of potential financial losses are the customer's responsibility. TFNN, Corp. will be in no way liable for financial losses resulting from trading decisions based on this newsletter. Past performance is no guarantee of future results. Reproduction in whole, or in part, is not permitted without prior written consent. Copyright 2020 all rights reserved.