Rocket Equities & Options - September 8, 2020
New Options Trade - WORK
Sell a call credit spread in Slack Technologies (WORK).

Slack has earnings tonight and they are in a very competitive space. They tanked hard on their numbers last quarter and it would be very hard to surprise to the upside and trade higher, especially with the market so volatile and down so much over the last few days.

Slack has an expected move of almost $5 priced into it right now ahead of earnings, so we will look to absorb some of that premium from the $32.50 to $34.00 range. WORK is trading at about $30.00 as 12:30pm.

Sell Sept 11 $32.50 call in WORK - it's trading right now at about $1.74
Buy Sept 11 $34.00 call in WORK - it's trading right now at about $1.40

Set your order as a pair with a limit order of $0.34. You might not get executed, but we don't want the trade below that price level as the risk vs. reward is not worth it in my opinion. You should be able to receive a credit of $34 per contract pair, and you will be risking $116. Our max loss of $116 is realized if WORK closes above $34.00 on Friday, which is definitely possible, so keep your risk vs. reward in check.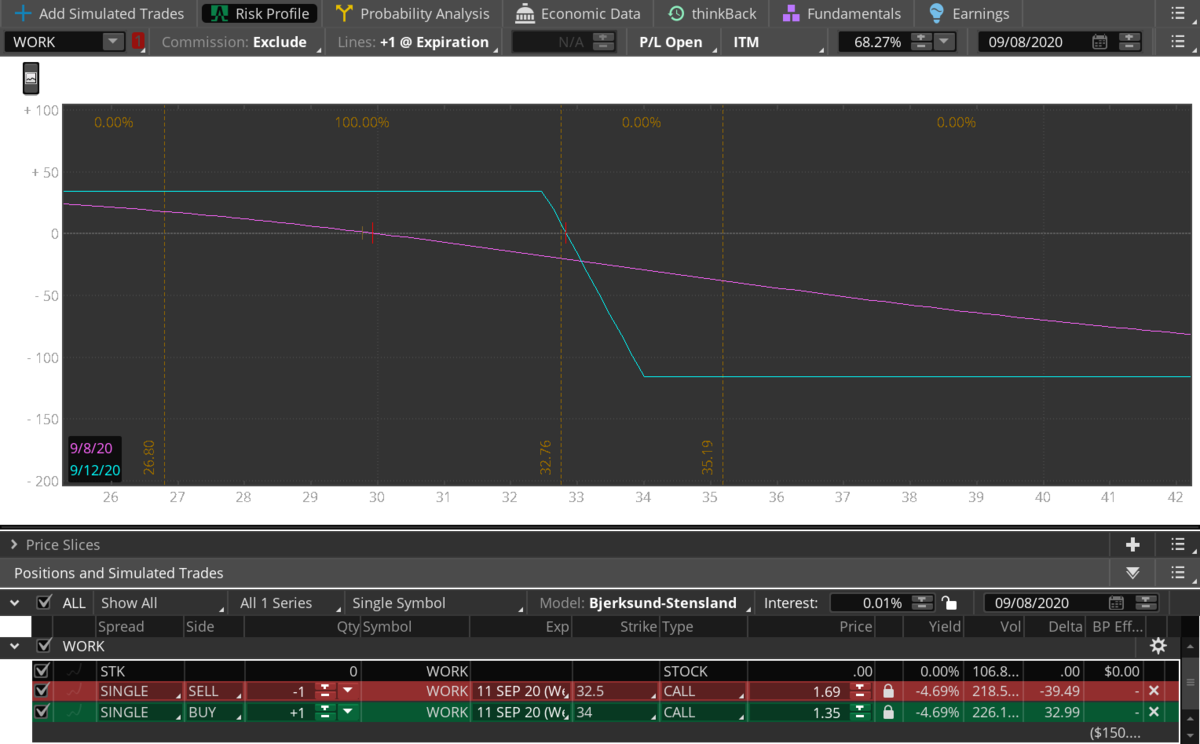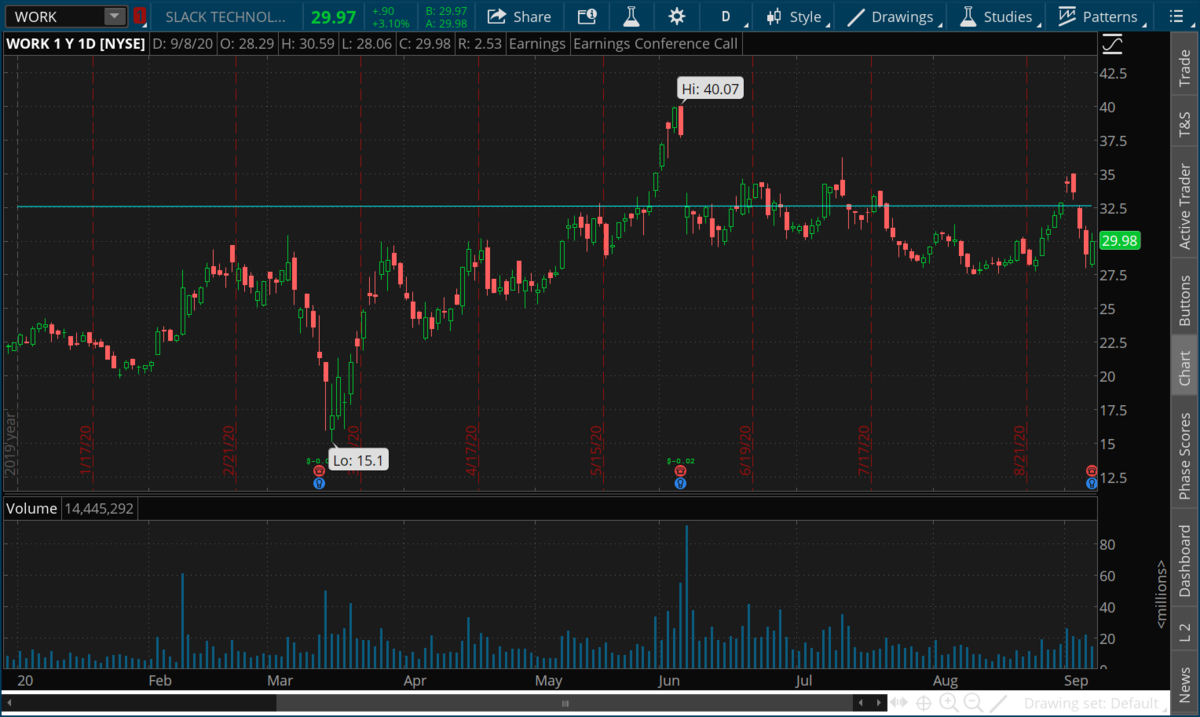 New Options Trade - LULU
Iron Condor $350 - $370 range. LULU has earnings after the bell today.

Sell Sept 11 $370 call in LULU - it's trading at $14.65
Buy Sept 11 $385 call in LULU - it's trading at $9.30
Sell Sept 11 $350 put in LULU - it's trading at $14.80
Buy Sept 11 $335 put in LULU - it's trading at $8.90

Place a limit order of $11.00 combined for the 4 leg trade. You want to execute this trade all at once - but be sure to enter a limit price, and the bid/offer can be wide in some of these pairs and with a 4 leg trade you can't just be buying on the offer and selling on the bid or you'll get crushed on the spread. Go for the middle of the bid/offer spread of the combined 4 legs, which right now is just over $11.00.

We are selling a call about $10 above the current market, and also selling a put $10 below the current market. And we are capping our losses at $15 in either direction.

We are risking $400 in this trade for a max profit of $1100 if LULU expires between $350 and $370 as of Friday. LULU is currently trading at $360.00. We realize our max loss if LULU expires above $385 or below $335 on Friday. LULU has almost a $34 move priced into the stock for earnings tonight and we will look to absorb some of that premium.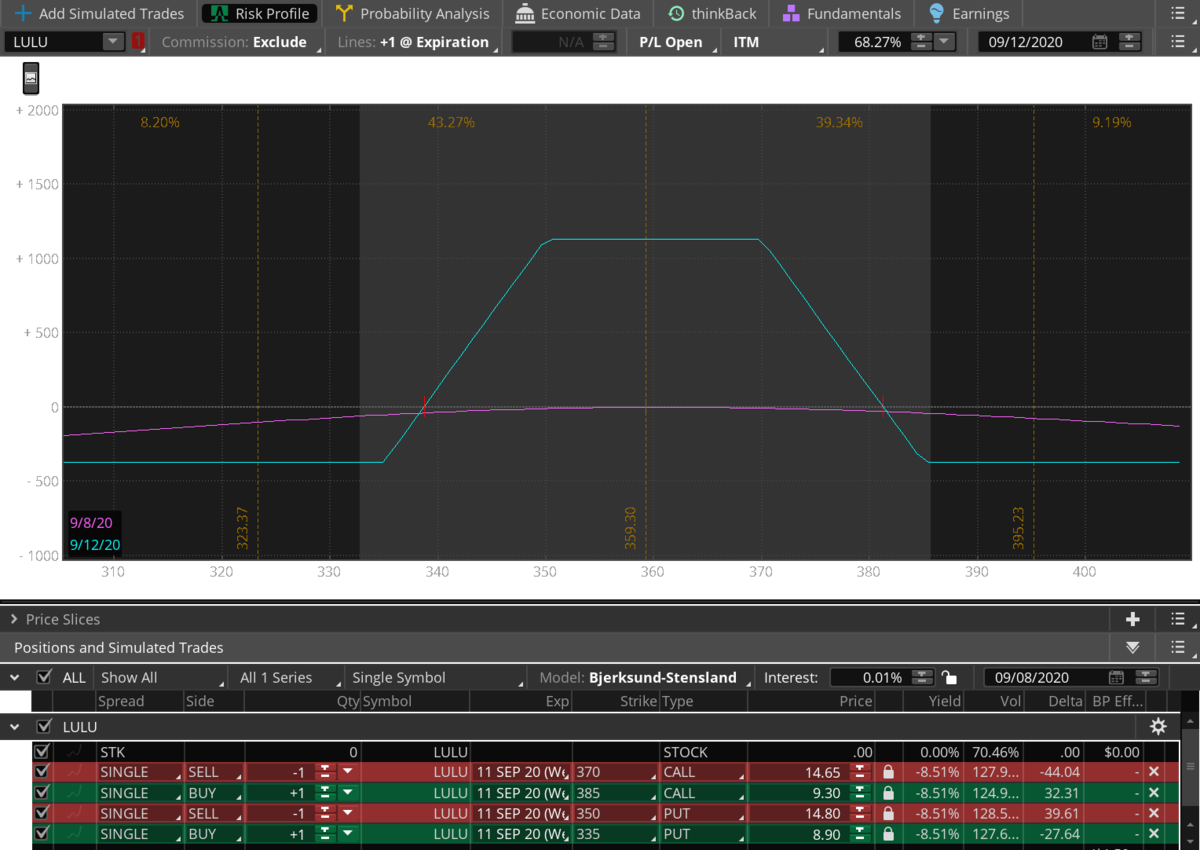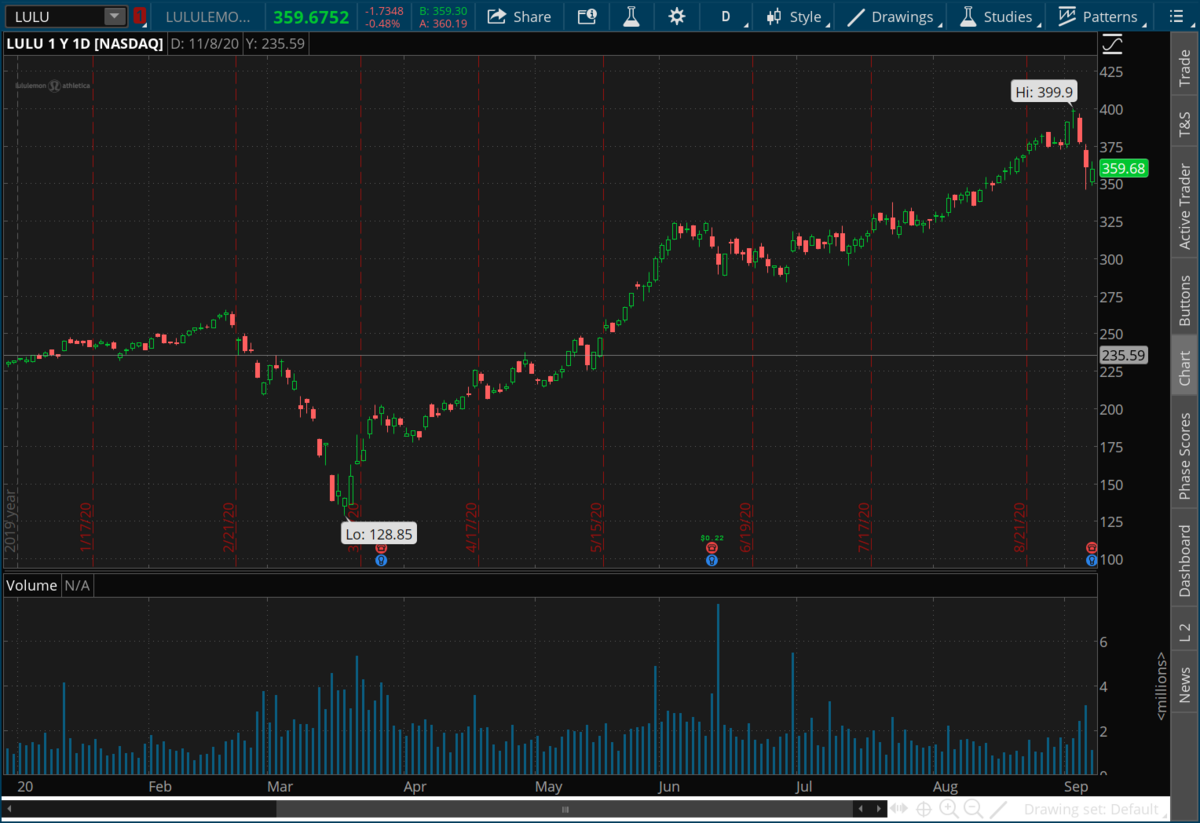 Disney
DIS continues to behave relatively well. Deutsche Bank upgraded Disney to "buy" from "hold." Disney's streaming app also saw a sruge over the weekend with the release of their original movie "Mulan".

Downloads of Walt Disney Co.'s streaming app rose 68% over the weekend, a sign that its release of "Mulan" helped drive demand. In addition to the surge in downloads, consumer spending on the app climbed 193% compared with a week earlier, according to preliminary data from Sensor Tower Inc. and Bloomberg.

Disney is charging higher today with volume.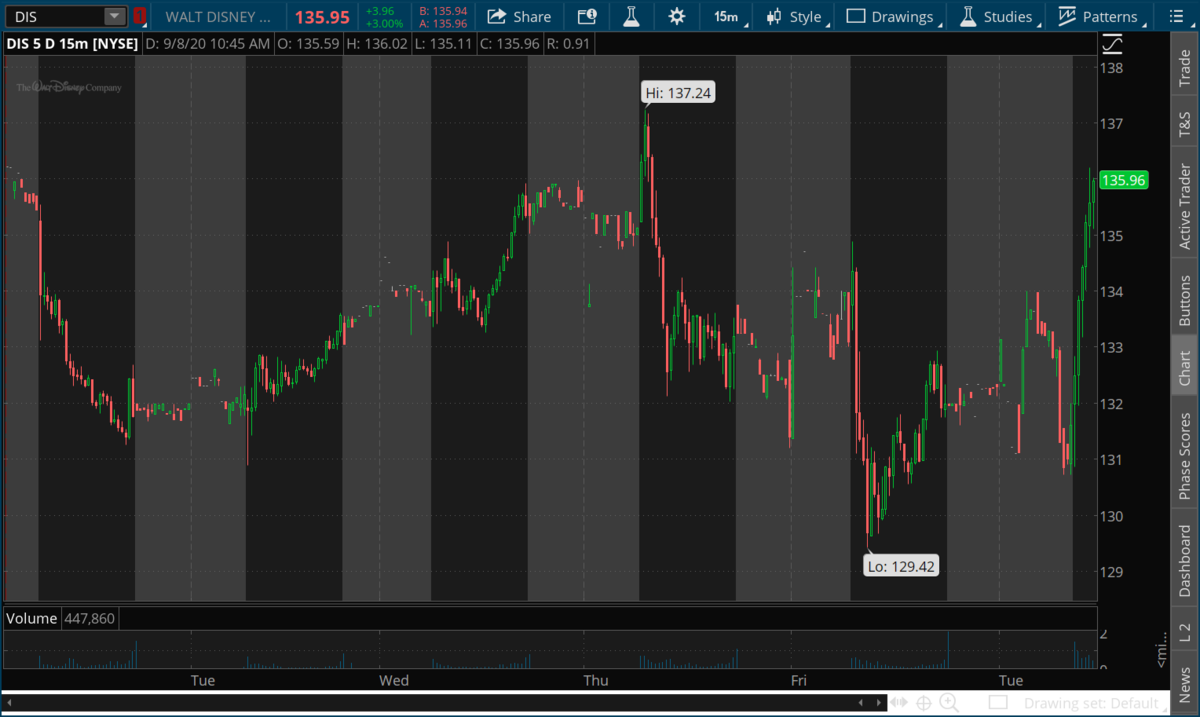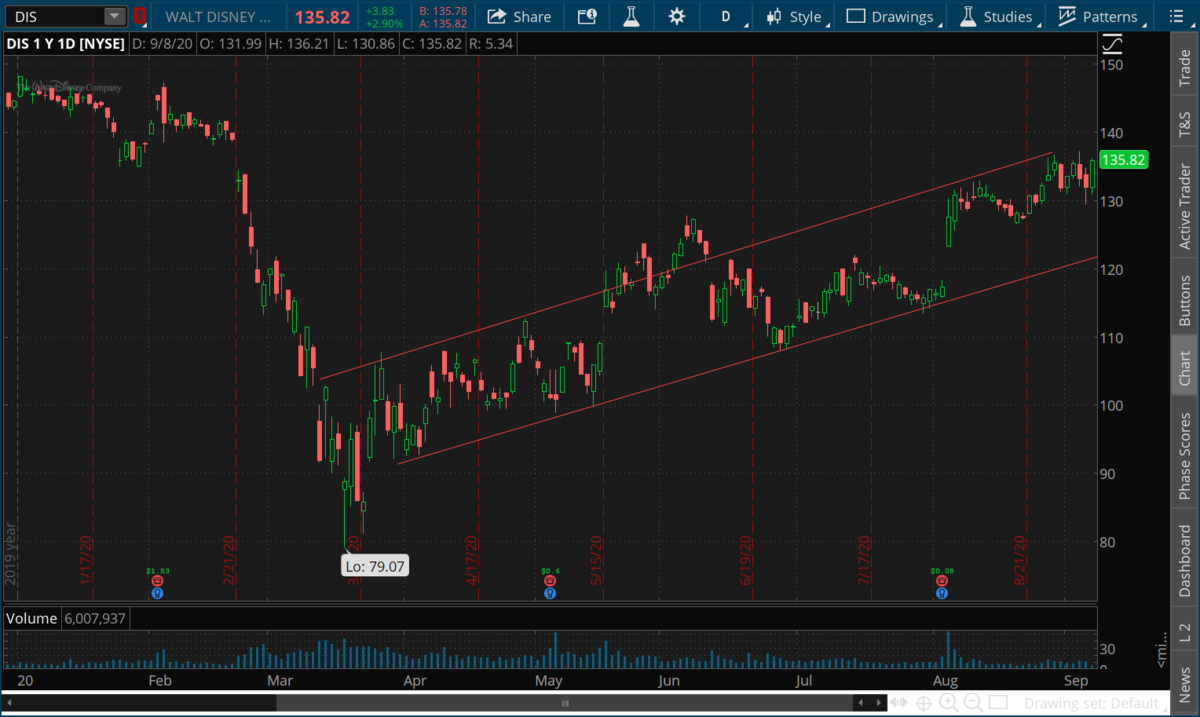 Uber
UBER traded lower last week but is still trading nicely near the top of its range. Uber is charging higher today with volume and no real news. We will want to see it break out of this area with volume and conviction.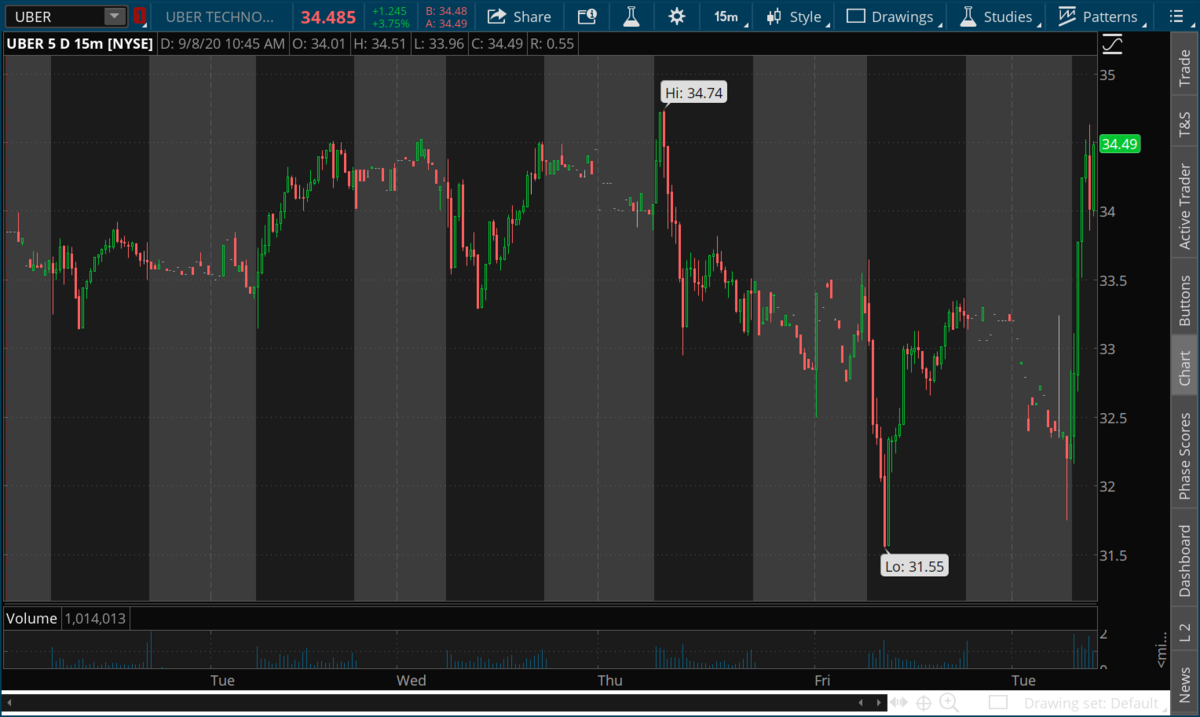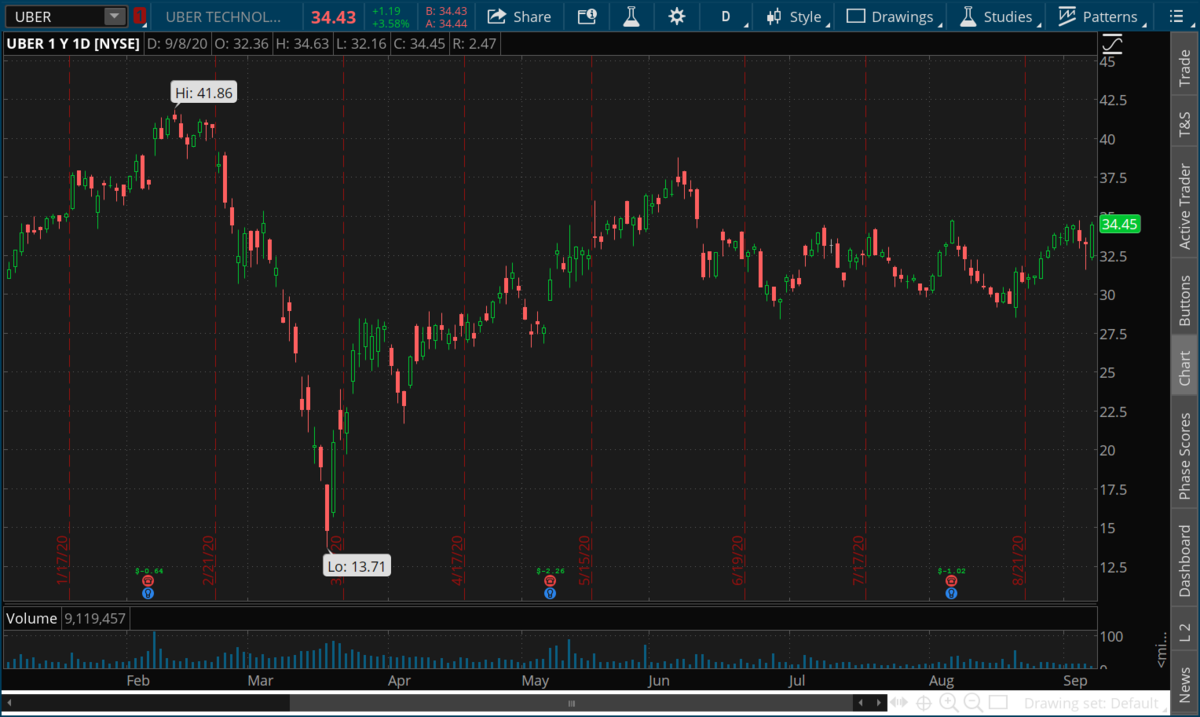 Constellation Brands
STZ has been trading with a lot of strength over the last couple of weeks and I like the price action as it has now broken back within its higher trend channel. STZ also has a considerable position in CGC, which provides exposure to the cannabis sector, while profiting off of its strong portfolio of beer and wine brands including Corona, Modelo, Pacifico, Kim Crawford, Meiomi, Ruffino, Estancia, Mark West, among others.

Constellation is the largest beer import company in the US, measured by sales, and has the third-largest market share of all major beer suppliers. - source wikipedia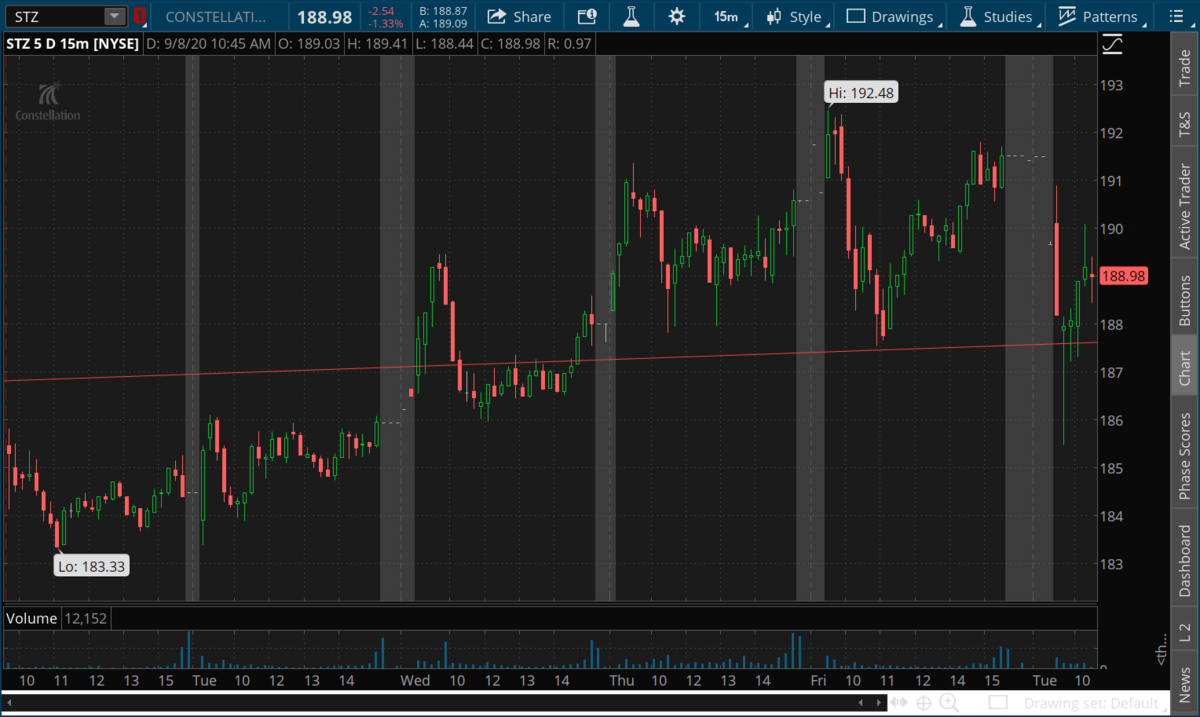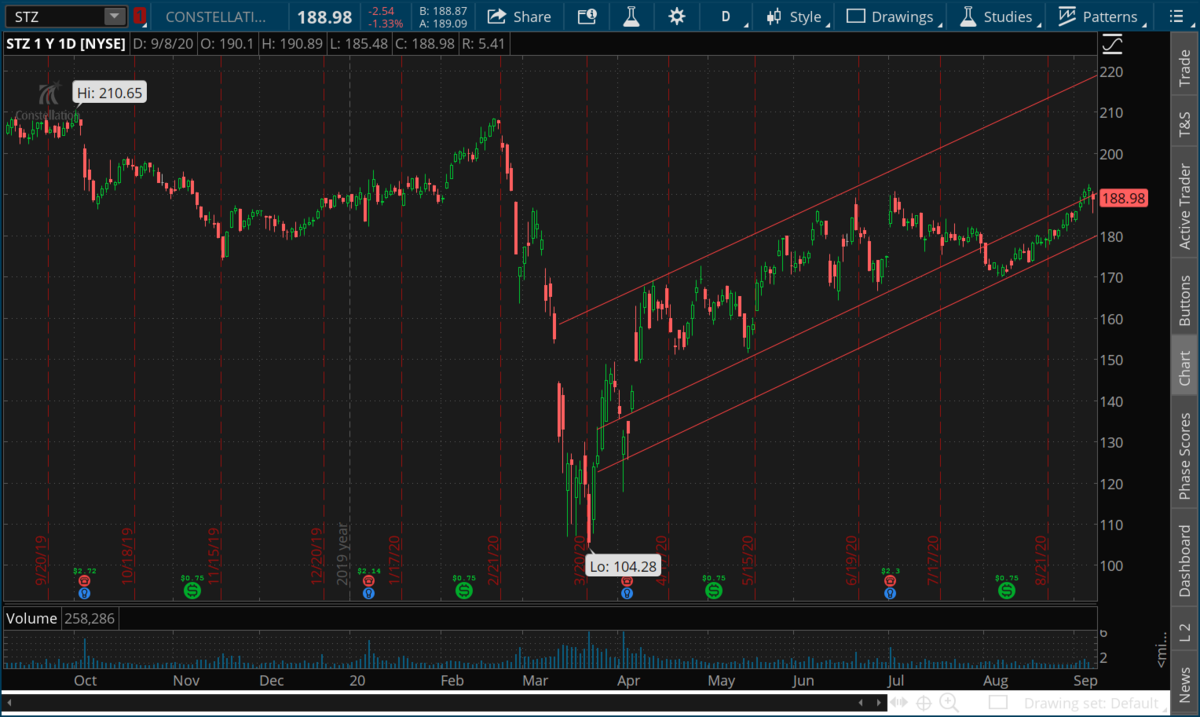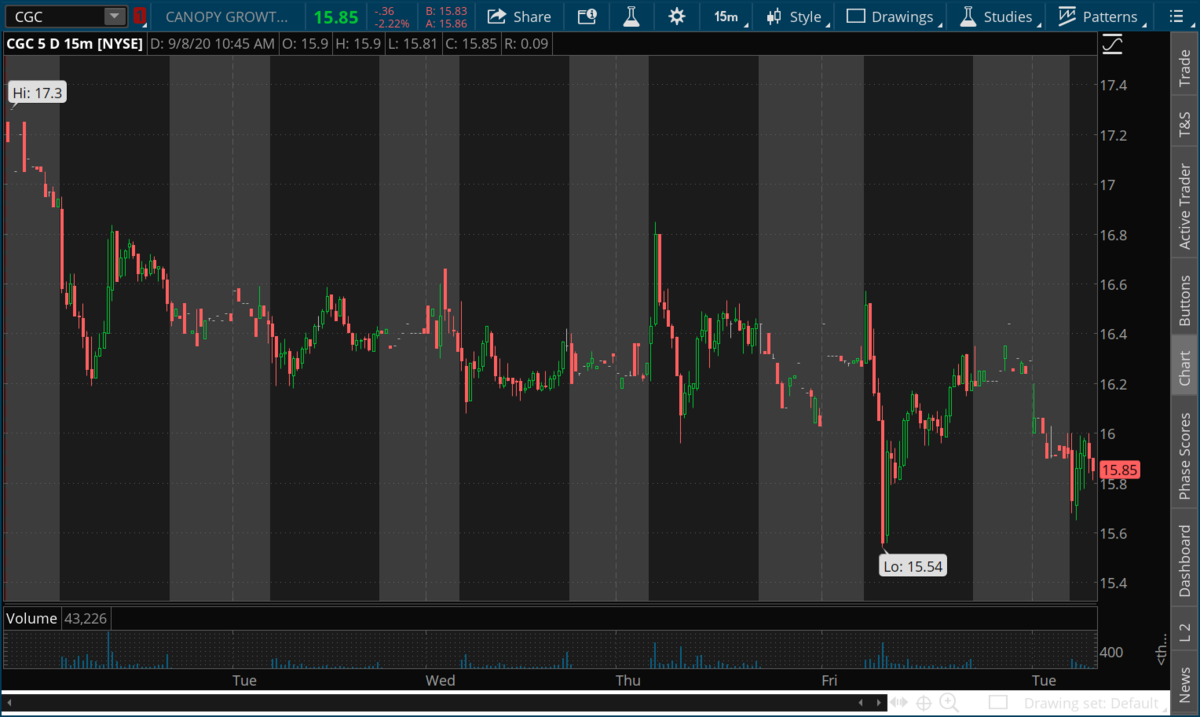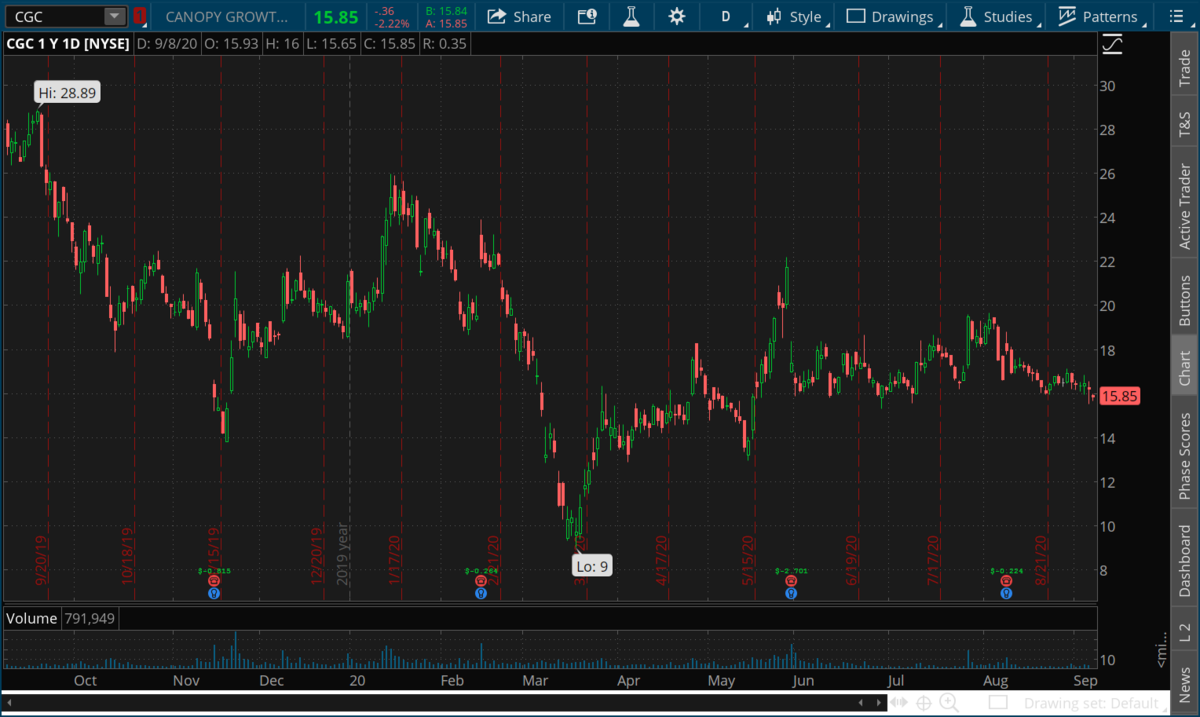 New Options Trades Today:
LULU $350 - $370 Iron Condor expiring Friday
WORK $32.50-$34.00 credit spread expiring Friday

Short Term portfolio:
Long CGC at $16.90. The stop is $15.24. CGC is trading at $15.81.

Long Term portfolio:
Long half a position in DIS at $118.63. Disney is trading at $135.78. Stop is $98.45.
Long half position in UBER at $31.50 or better. Uber is trading at $34.27. Stop is $26.24.
Long half position in STZ at $180.50. STZ is trading at $188.66. Stop is $164.05.
Timer Digest Signals: S&P: Bearish Gold: Bullish Bonds: Bullish
Disclaimer: Trading in securities such as stocks, options, indexes, currencies, and futures involve risk and should not be undertaken without due diligence and serious independent study. Options, stocks, currencies and futures trading, involve substantial risk. Subscribers may carry out their trading based on what they learn from "Rocket Equities & Options" however all risks of potential financial losses are the customer's responsibility. TFNN, Corp. will be in no way liable for financial losses resulting from trading decisions based on this newsletter. Past performance is no guarantee of future results. Reproduction in whole, or in part, is not permitted without prior written consent. Copyright 2020 all rights reserved.