Rocket Equities & Options Monday Update 09-21-20
Monday Report - September 21, 2020
Markets are trading lower this morning as we come into the open with the S&P Futures down about 60 points. Europe was down about 3% across the board overnight.

The passing of Supreme Court Justice Ruth Bader Ginsberg over the weekend is a loss for our country regardless of political ideology, and adds to an already divisive election, which will make it even more difficult for any compromises that would be needed for any type of fiscal stimulus. Volatility has started to appear in the past couple of weeks, and I think it will be here to stay for at least the next few months as buyers and sellers try to navigate the choppy waters as we currently sit just 43 days until the presidential election.

We have almost pulled back 61.8% from the move higher that began in June in the S&P500. The high from June is 3,231.50, which we are well within reaching and will be the next level of possible support.

We are near the end of the quarter, yet we have the most divisive election in recent history taking place 6 weeks from tomorrow, with voting already having begun in some states. Volatility is beginning to spike higher, and I am scanning the markets for our next trade. Stay tuned for updates this week!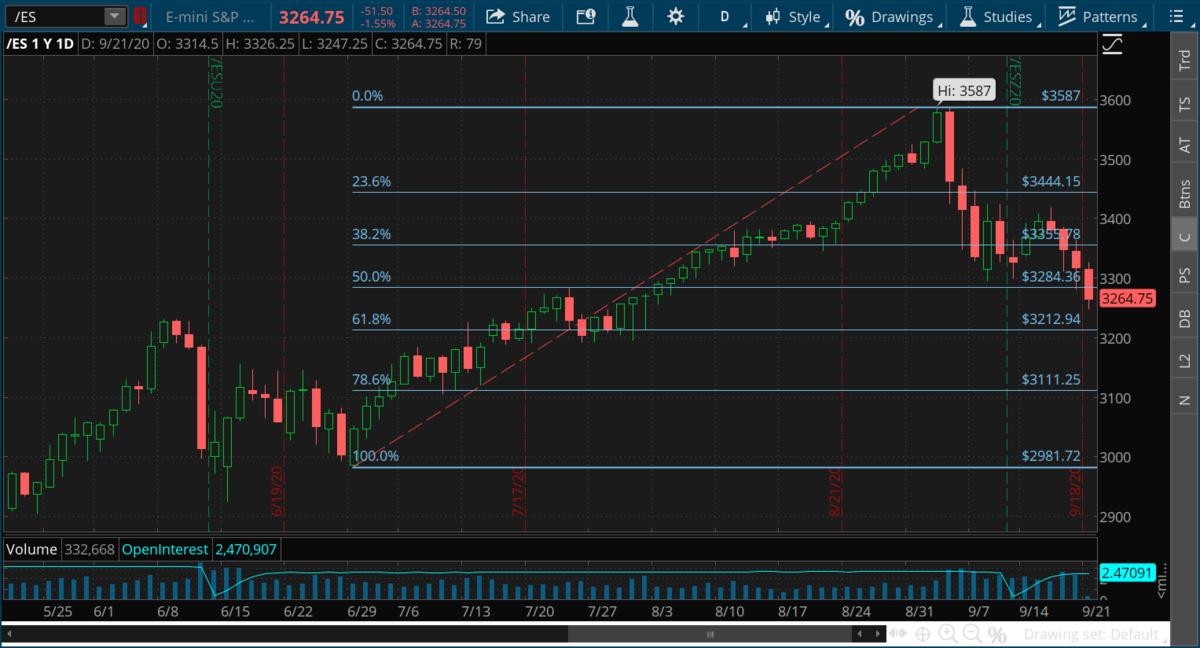 VIX trades above 30 briefly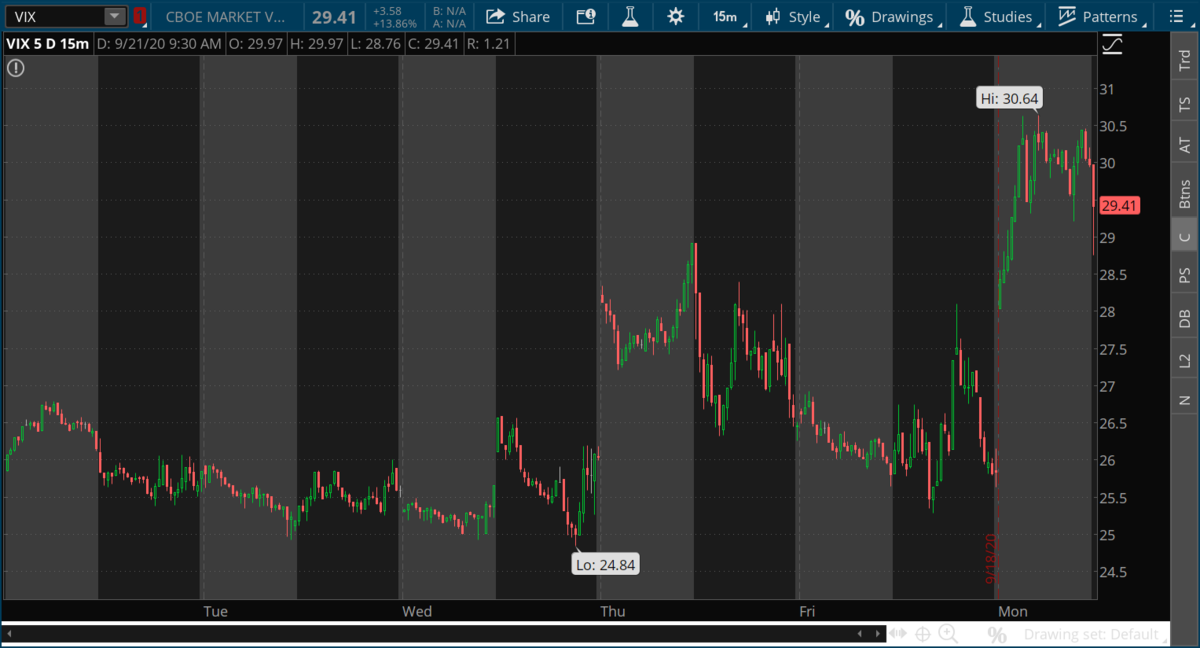 Disney
Disney pulled back on light volume last week. Disney remains well positioned to trade higher as the economy begins to open back up over the next 6-12 months in a post-covid world. Disney is trading lower with the market this morning, but is still well within its up-trend channel on a daily basis.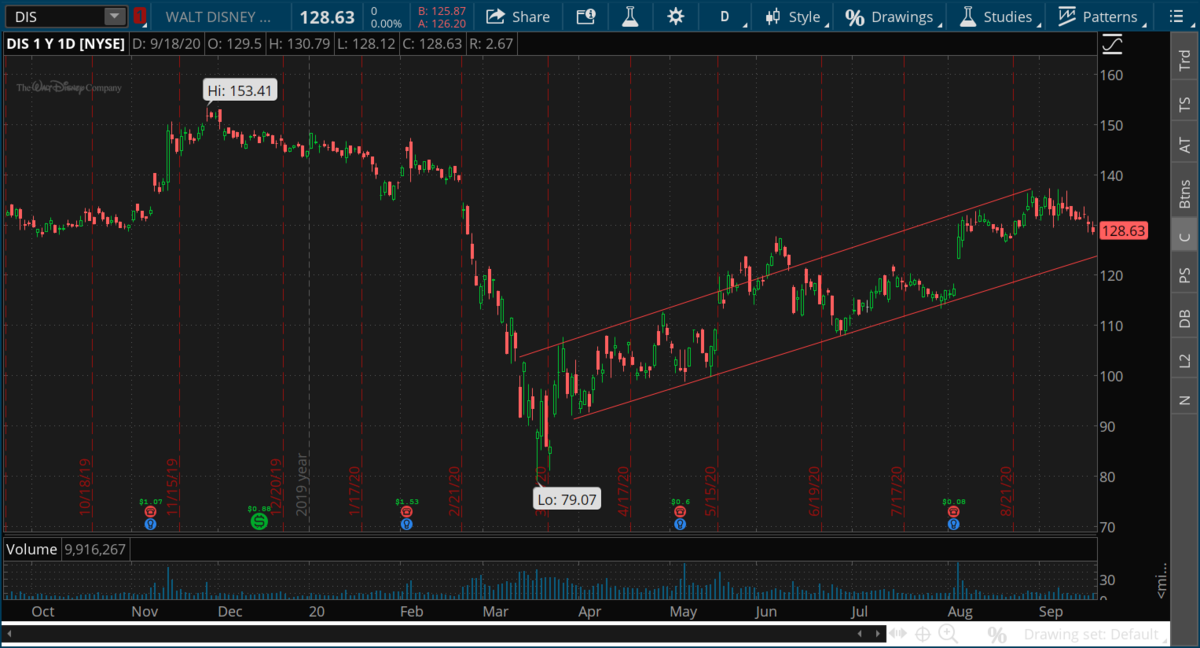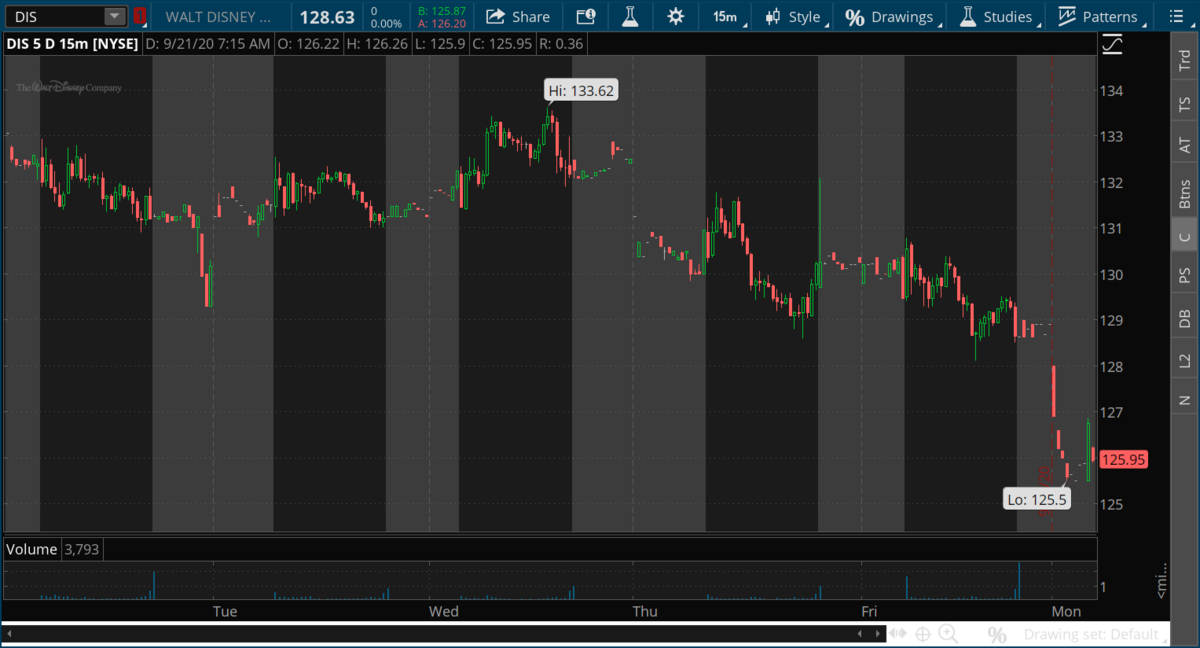 Uber
Uber came within pennies last week of reaching its June highs, before trading lower with the market. Uber has a similar dynamic to Disney, in that a portion of their business is accelerating a time when their core business model has suffered from the pandemic shut down. The next stop is the high from June of $38.78.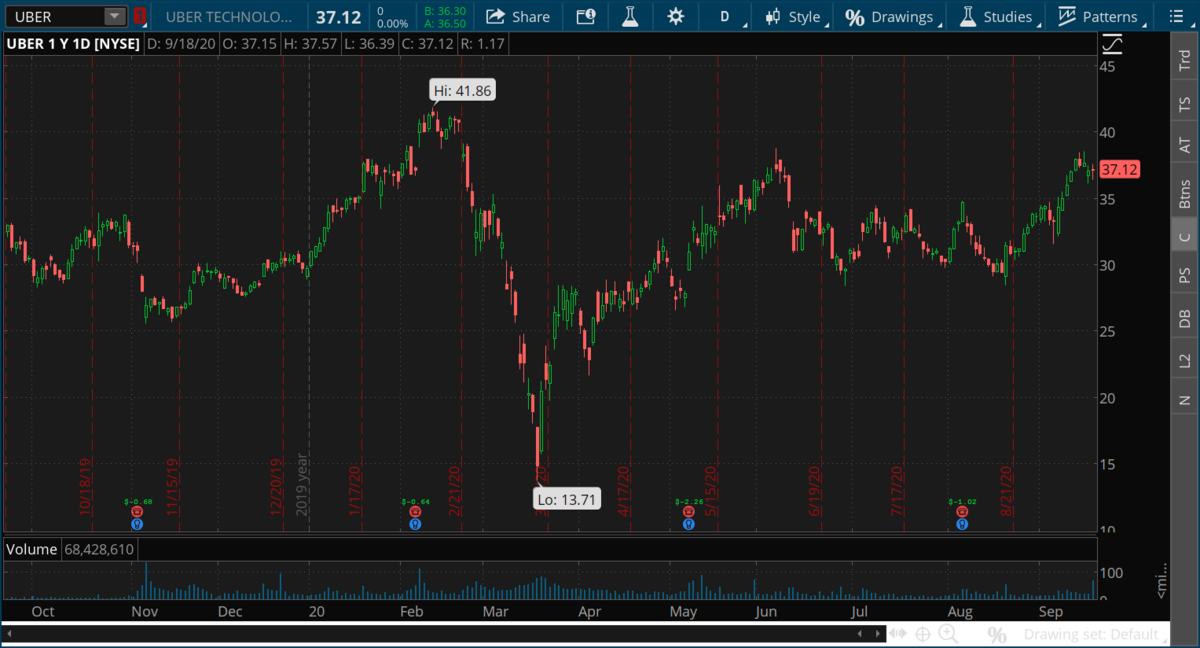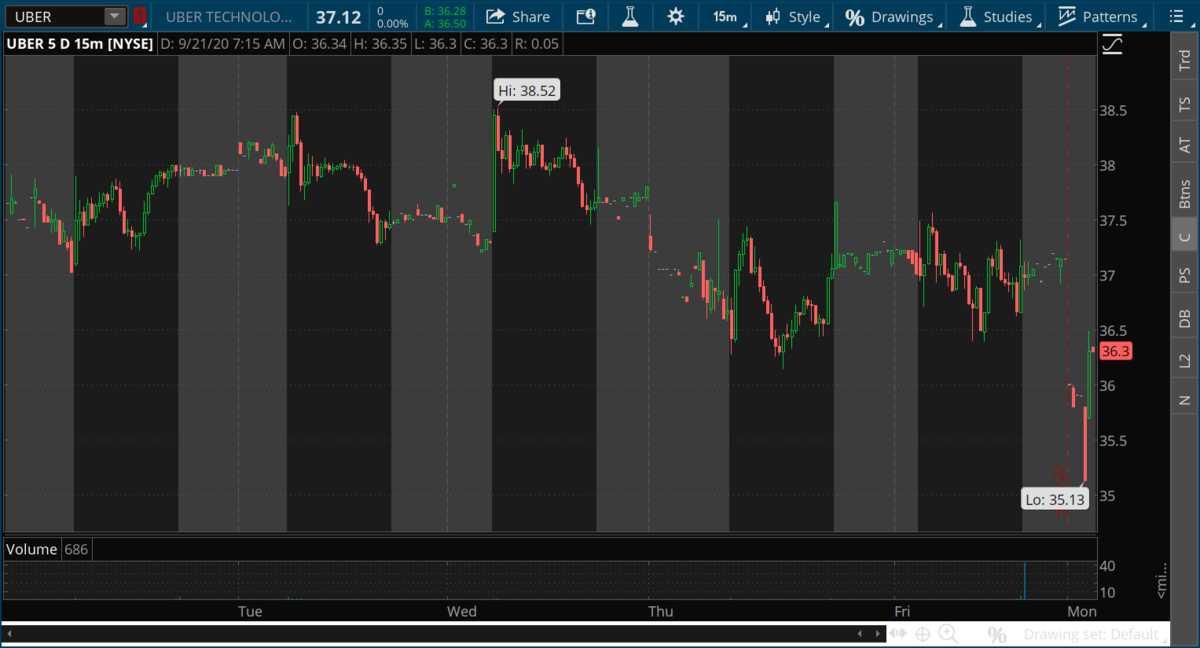 Constellation Brands
STZ pulled back with light volume. Constellation's strong portfolio of beer and wine continues to perform well, and the chart is well positioned to trade higher. Their investment in CGC could also prove worthy in the years ahead.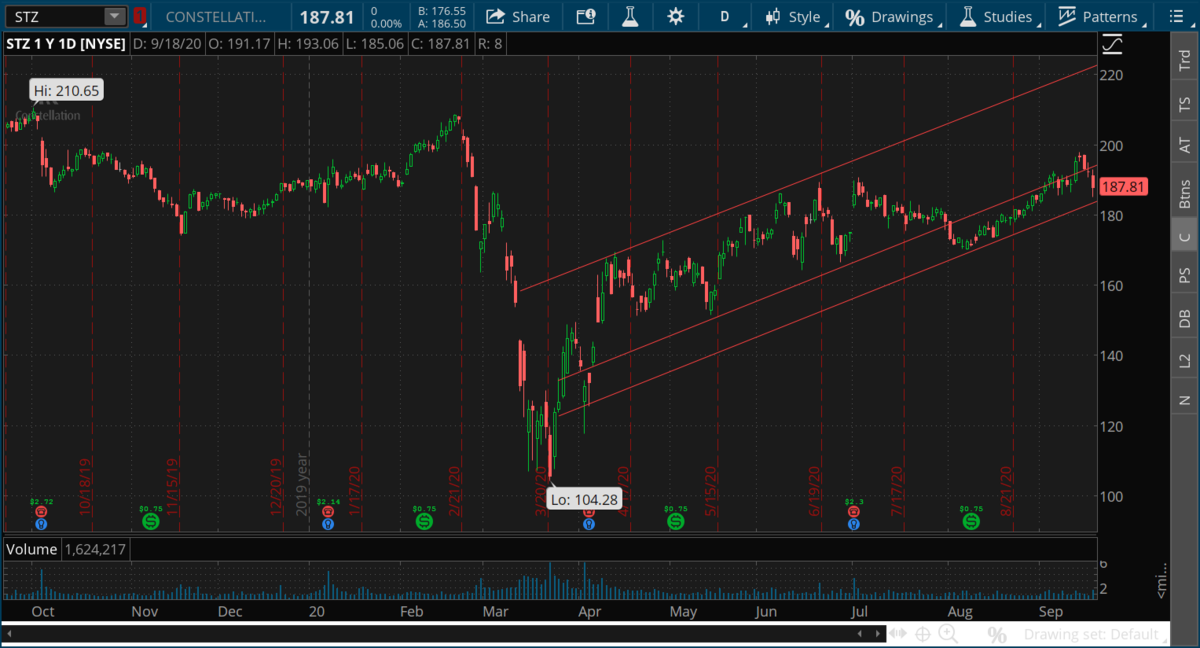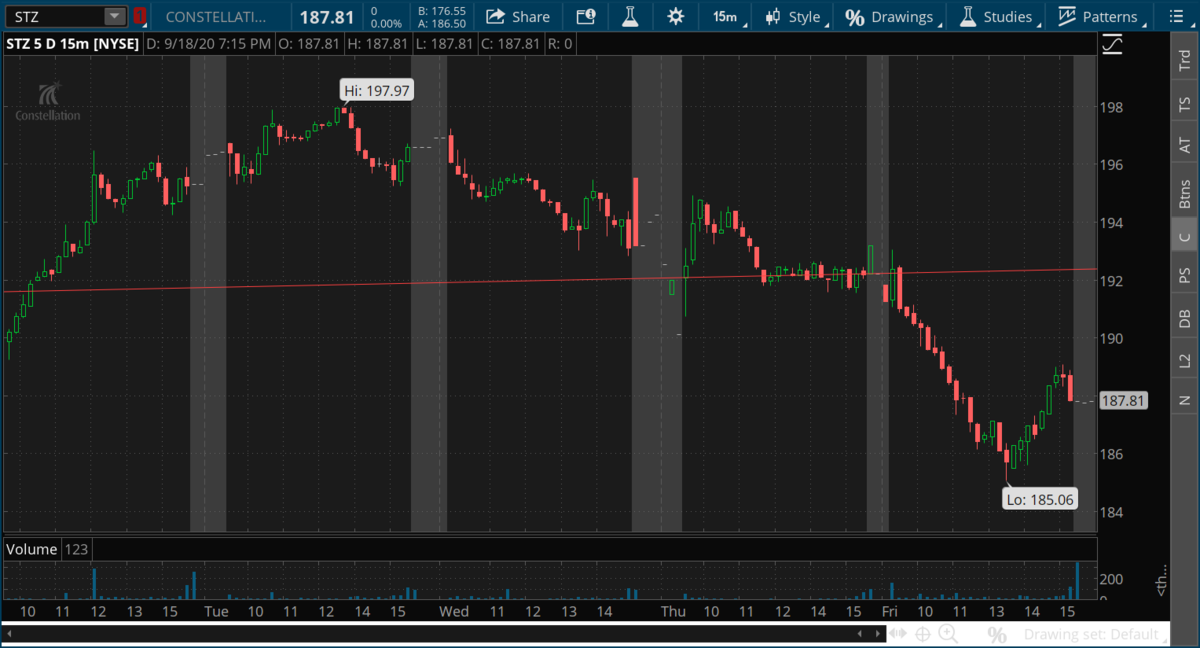 Canopy Growth
Canopy traded lower with light volume. Keep your stop in place at $15.24. If the market really accelerates lower we could get stopped out this week as CGC can trade with some volatility.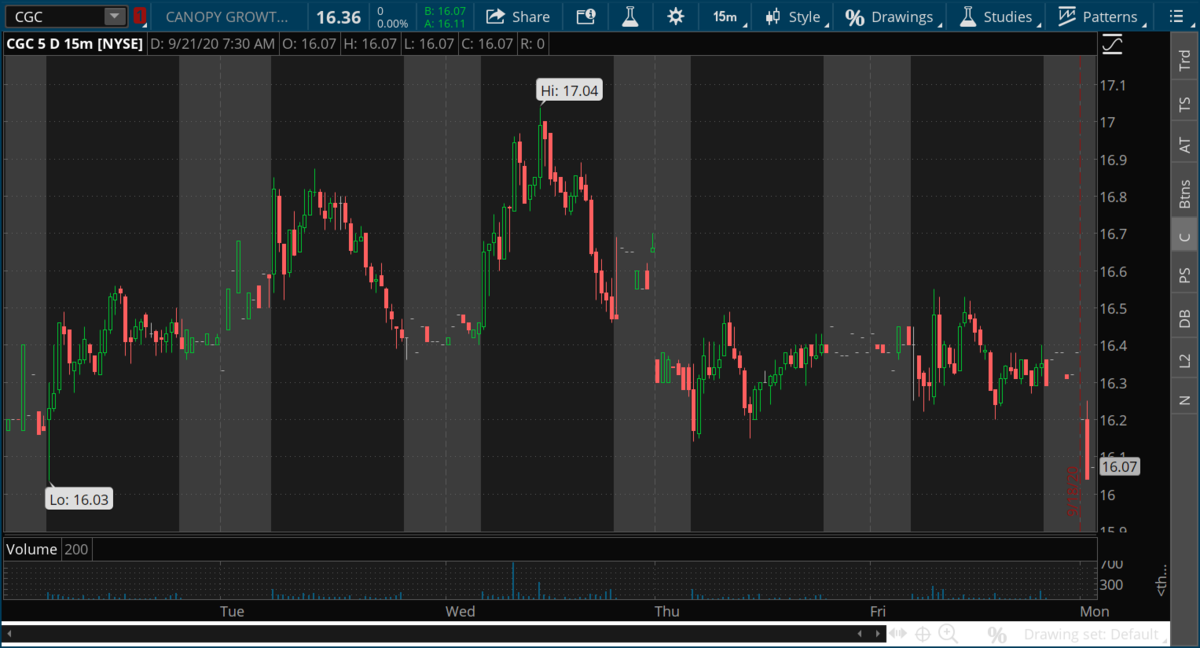 Options Trades:
FED $265-$270 credit spread expired Friday for a $0.50 or 11.11% profit.

Short Term portfolio:
Long CGC at $16.90. The stop is $15.24. CGC is trading at $15.86.

Long Term portfolio:
Long half a position in DIS at $118.63. Disney is trading at $125.80. Stop is $98.45.
Long half position in UBER at $31.50 or better. Uber is trading at $35.80. Stop is $26.24.
Long half position in STZ at $180.50. STZ is trading at $182.60. Stop is $164.05.


Timer Digest Signals: S&P: Bearish Gold: Bullish Bonds: Bullish
Disclaimer: Trading in securities such as stocks, options, indexes, currencies, and futures involve risk and should not be undertaken without due diligence and serious independent study. Options, stocks, currencies and futures trading, involve substantial risk. Subscribers may carry out their trading based on what they learn from "Rocket Equities & Options" however all risks of potential financial losses are the customer's responsibility. TFNN, Corp. will be in no way liable for financial losses resulting from trading decisions based on this newsletter. Past performance is no guarantee of future results. Reproduction in whole, or in part, is not permitted without prior written consent. Copyright 2020 all rights reserved.