Rocket Equities & Options 09-24-20
Market Update - September 24, 2020
Markets: Indices have been trading with increased volatility. We have the VIX trading briefly above 30 this morning as we sit exactly 40 days from the presidential election. Interactive brokers raised their margin requirements yesterday
(Click here to read)
on fears of volatility around the election. You have swing states like Pennsylvania, Wisconsin, and Michigan, that cannot begin counting ballots until election day; meaning there is a real possibility that we will not know the winner of the election on election evening as is usually the case. We have more people voting by mail this year than in any election before, including the president, and myself. Of the almost 2 million mail-in and absentee ballots requested in Pennsylvania through Sept. 17, 67% were from Democrats and only 24% from Republicans, according to the Department of State
(Bloomberg news)
.
When you combine the fact that we have swing states not able to count ballots until the election day, the fact that many mail in ballots are most likely to favor Biden in those states, and a President that will cry foul and fraud if those mail in ballots change who has the lead in that state, as investors you better be prepared for the volatility that seems inevitable. This has nothing to do with politics. As traders, we need to be prepared for expected outcomes, and the only thing I'm currently sure we can expect is uncertainty - and the market hates uncertainty.
We are scanning the markets for possible trade set ups to capitalize off of an election season that will be like nothing I've seen in my lifetime... stay tuned for updates! Earnings season is wrapping up over the next week and begins again early next month.
Canopy Growth
:
CGC traded down $1.44 or 8.98% yesterday as the entire cannabis sector sold off. Aurora came out with their earnings on Tuesday night and they were abysmal - the stock sold off almost 30% yesterday.
We got stopped out of our short term equity position in CGC at $15.24 for a $1.66 or 9.82% loss. CGC is trading at $13.99 this morning.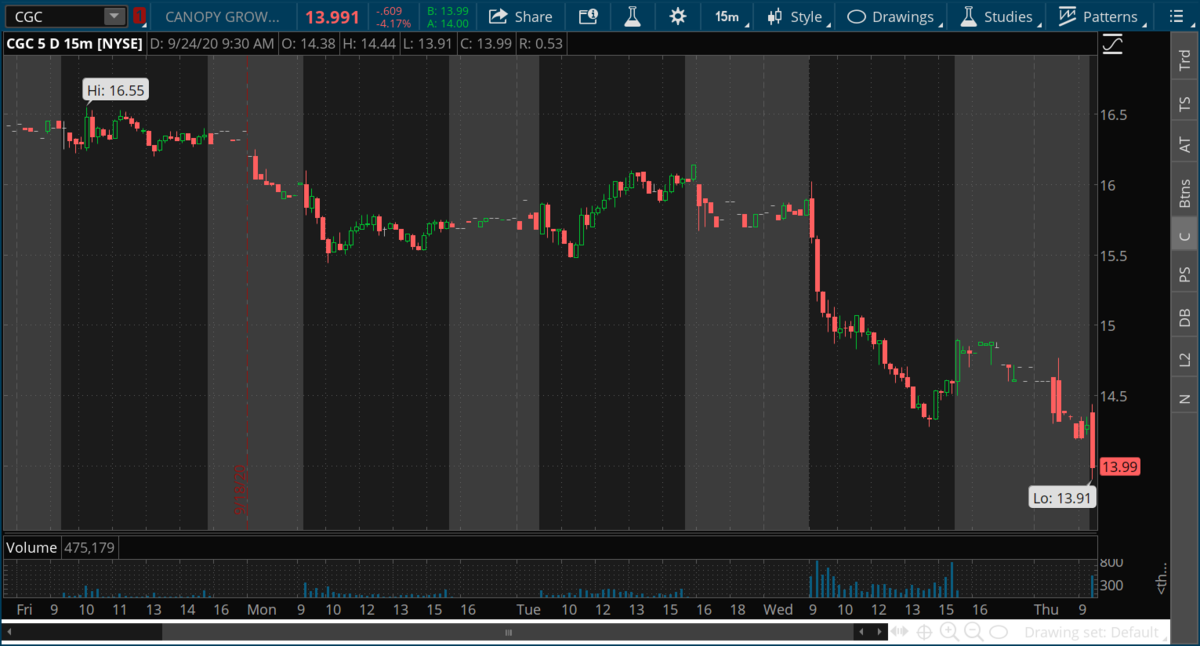 Disney
Disney traded sharply lower yesterday with the market and on news that they have delayed some of their movie released further out into 2021. It's not surprising that Disney is still facing some headwinds when it comes to their core business of movie releases and amusement parks. Disney has slipped below it's uptrend channel. We will look for Disney to get back into that channel. Disney is trading at $121.11.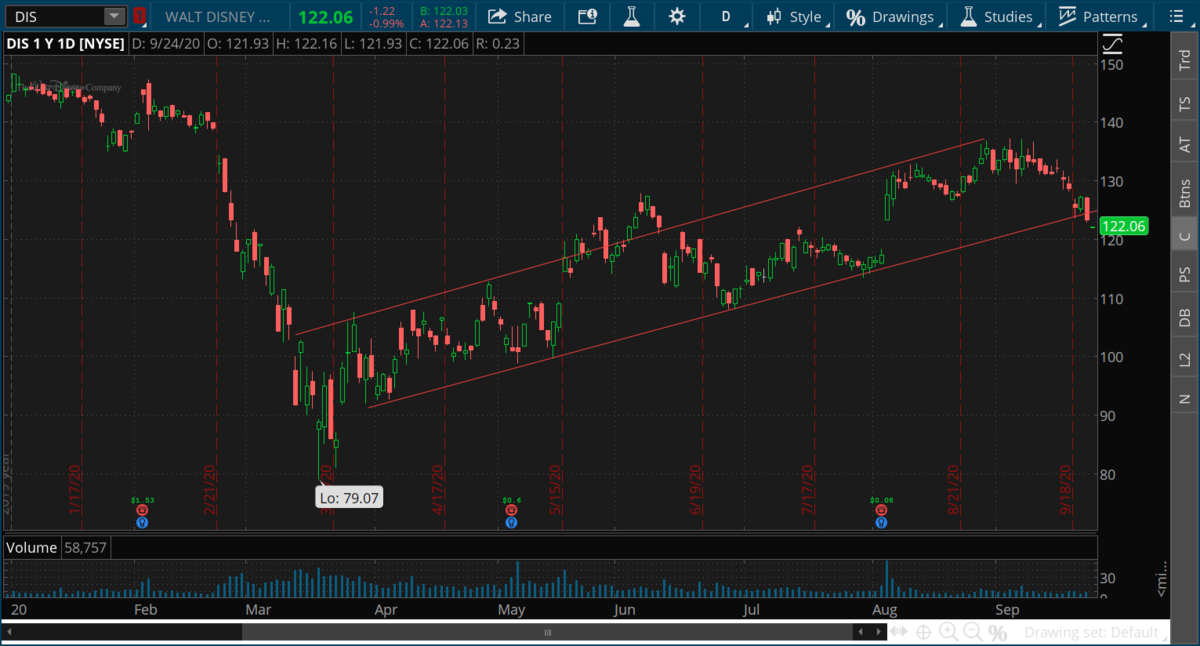 Uber
Uber has pulled back with the market over the last few weeks yet still is behaving well. This pull back has been on relatively light volume.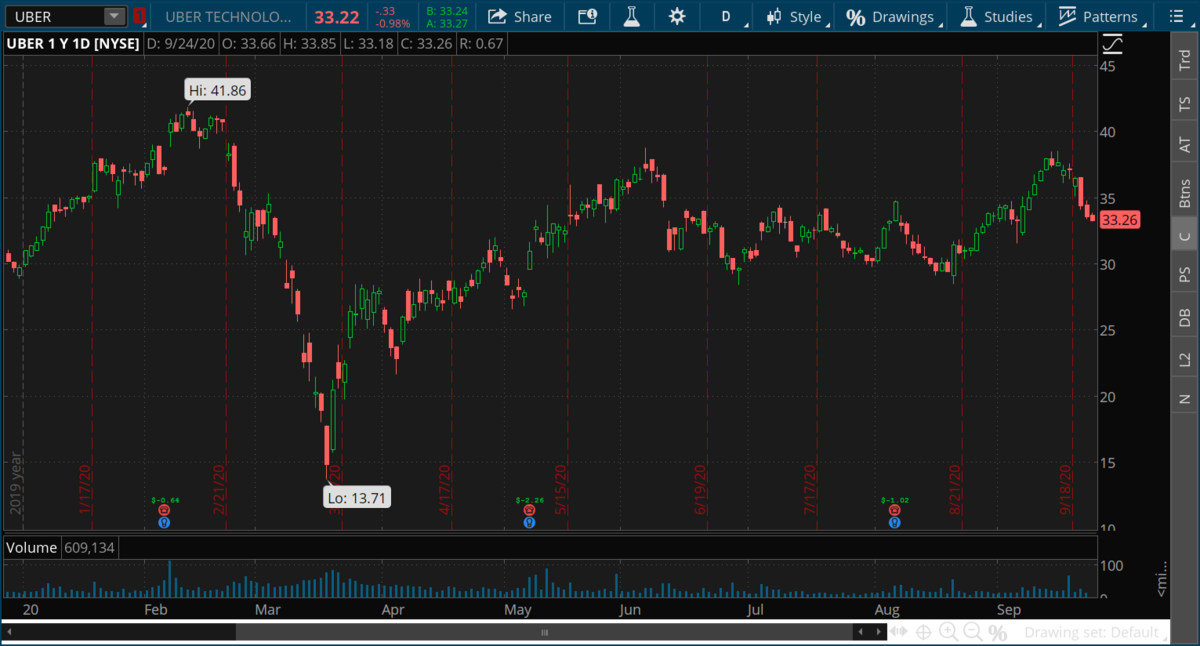 Constellation Brands
STZ traded lower yesterday with the market sell off. We want to see STZ get back above $182.04, which is the low from its high volume day of July 1st for their last earnings. STZ announces their earnings a week from today, October 1st.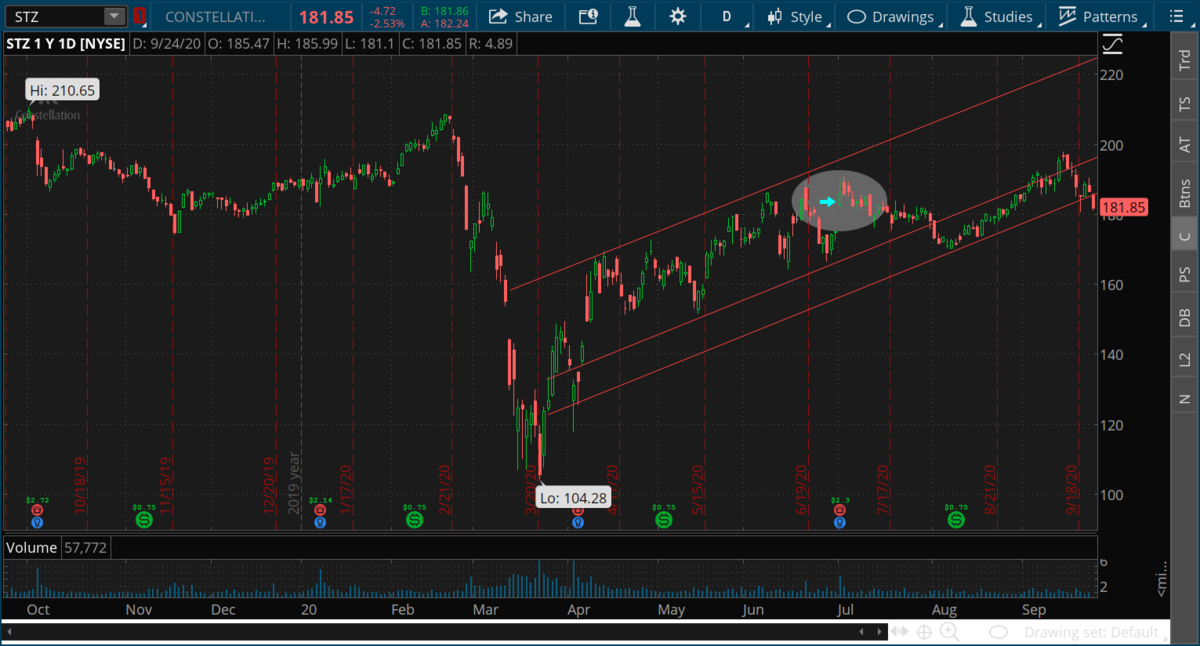 Options Trades:
None

Short Term portfolio:
We bought CGC at $16.90 and got stopped out at $15.24 for $1.66 or a 9.82% loss. CGC is trading at $13.99.

Long Term portfolio:
Long half a position in DIS at $118.63. Disney is trading at $122.22. Stop is $98.45.
Long half position in UBER at $31.50 or better. Uber is trading at $33.00. Stop is $26.24.
Long half position in STZ at $180.50. STZ is trading at $181.85. Stop is $164.05.


Timer Digest Signals: S&P: Bearish Gold: Bullish Bonds: Bullish