Rocket Equities & Options Report 11-02-20
Monday Report
As of 2 pm EST, the S&P is positive 10 points at 3,275. It's given up almost 50 points from its intra-day highs at 3,323 around 10:15 his morning.

We have the election tomorrow, of course. We have earnings season still in full swing. We get non-farm payrolls for October on Friday as well. We could have some trades prior to eleciton evening depending on how the market behaves. I'm expecting fear and selling going into election evening, followed by buying to begin Wednesday trading. A lot will depend on the election results, and how that can impact stimulus in the short term.

Stay tuned for updates this week!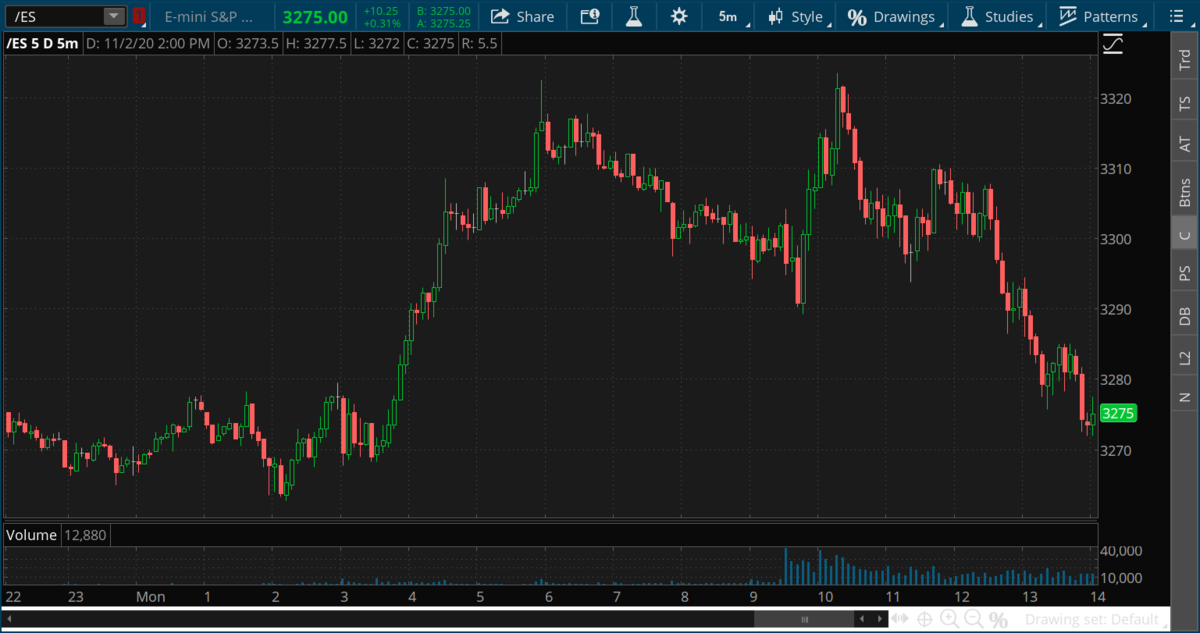 MSFT & AAPL
MSFT & AAPL are two of the strongest stocks you can own in a long term portfolio. They are both approaching their September lows, which are also .382 Fibonacci retracements. We are looking at both of these equities as they approach the .382 for long positions either for our short term or long term portfolio.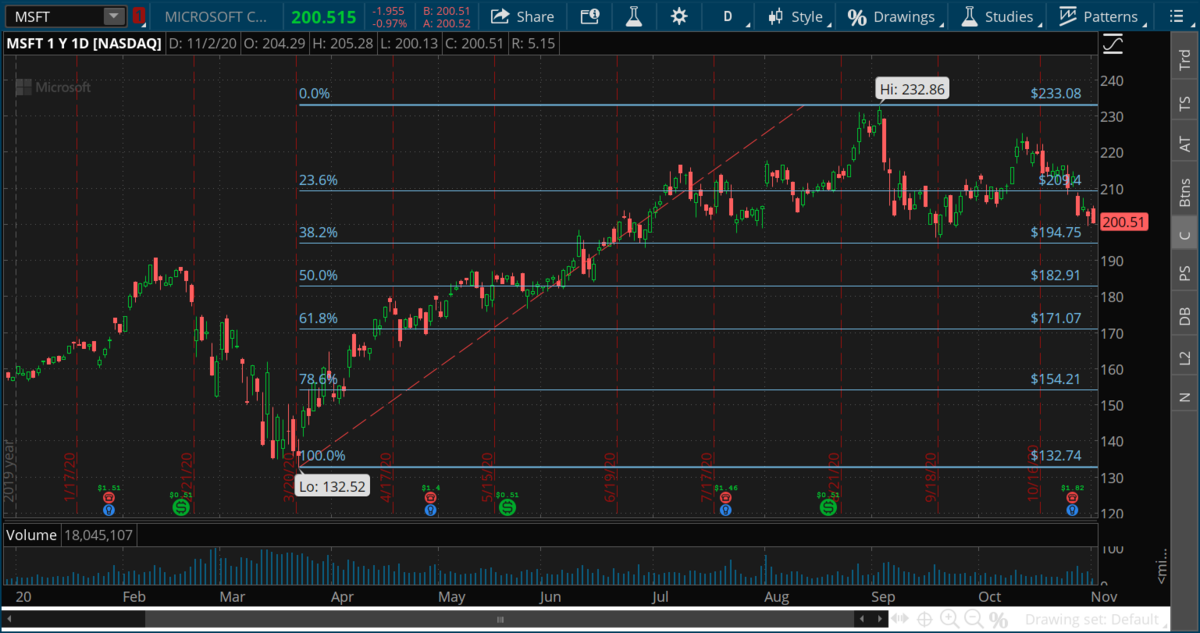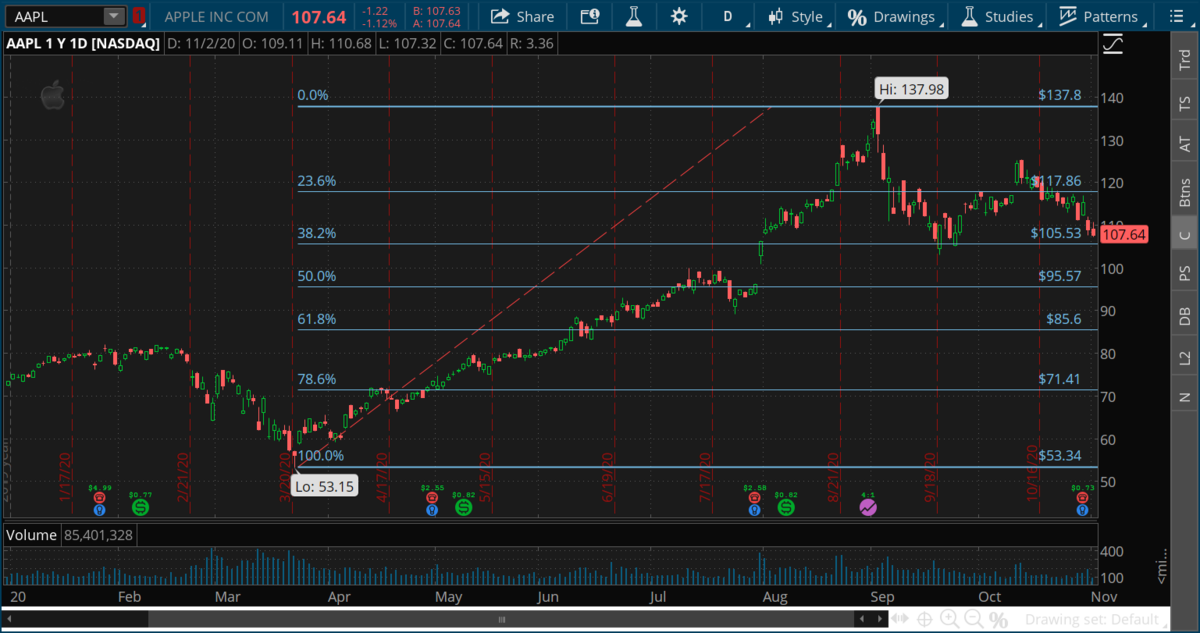 CRM
Salesforce is approaching an area of confluence from $227 to $220, which is the .618 of the move its had since the start of August, and the .382 from its entire run high from its March lows. We will look to add CRM to our long term portfolio as it approaches the $227 area. CRM is a Dow component and a strong cloud company that's poised for future growth.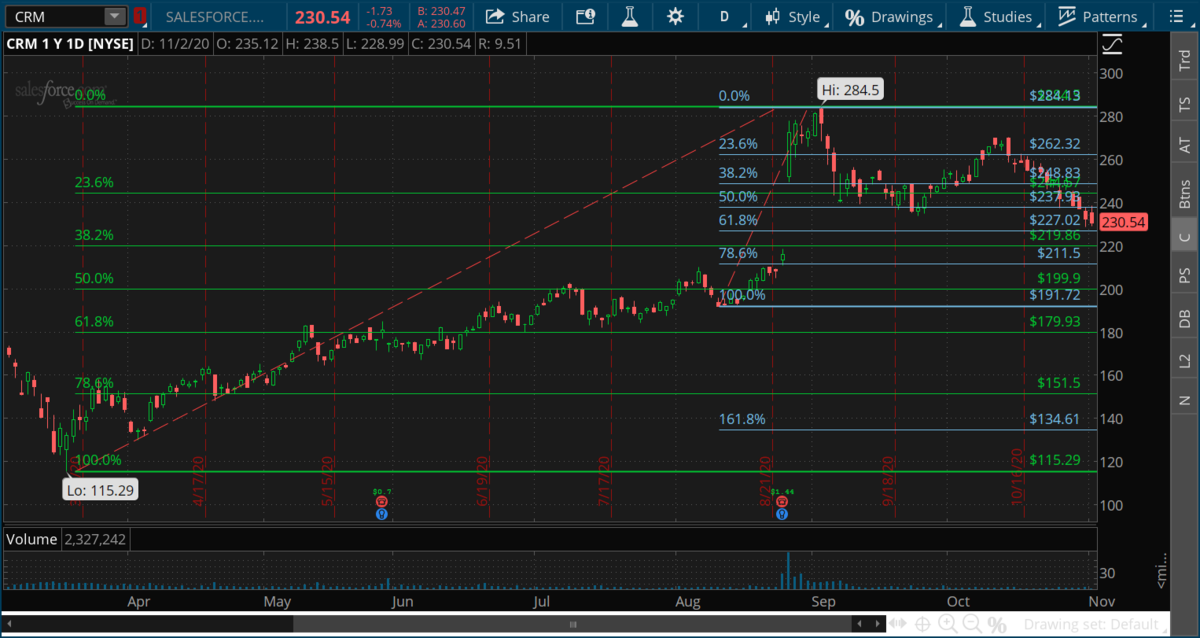 AMZN
I'm looking for AMZN to retrace to the $2819 area for possible entry.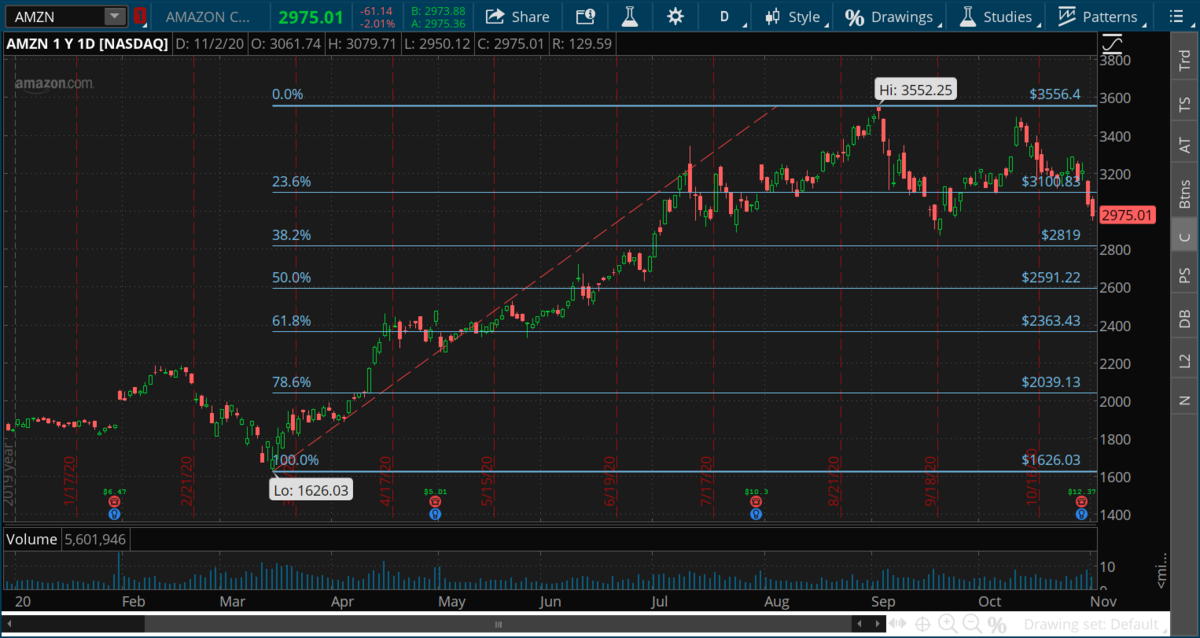 10 Year Note Yielding 0.838%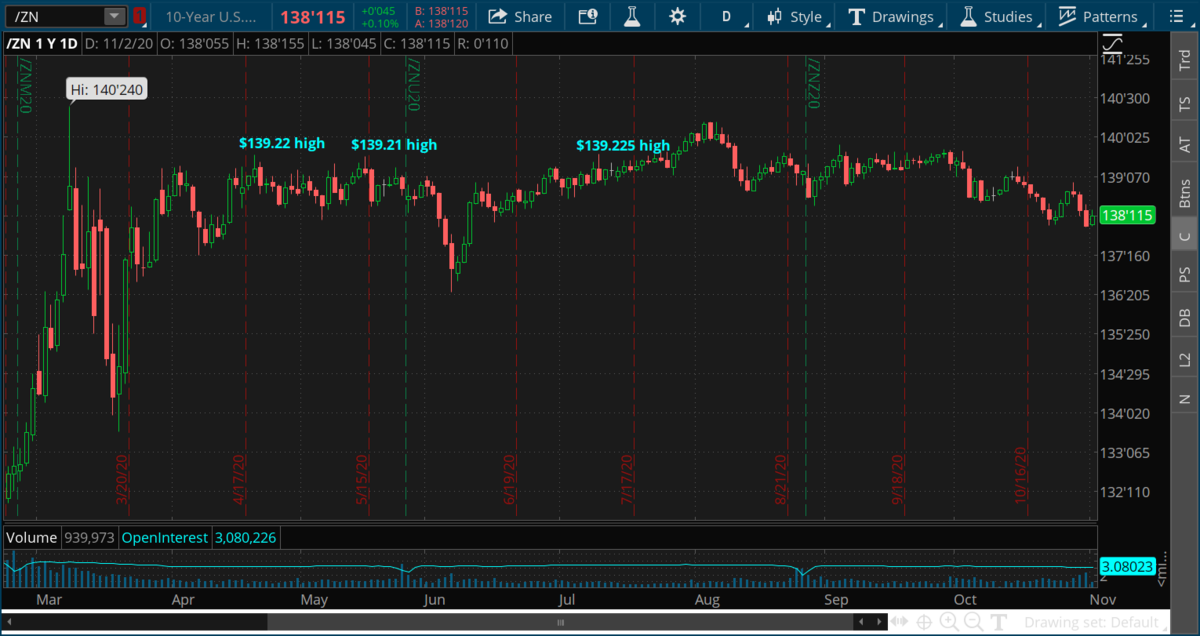 Gold
Gold traded to $1859.20 last week almost reaching its .382 area of $1847.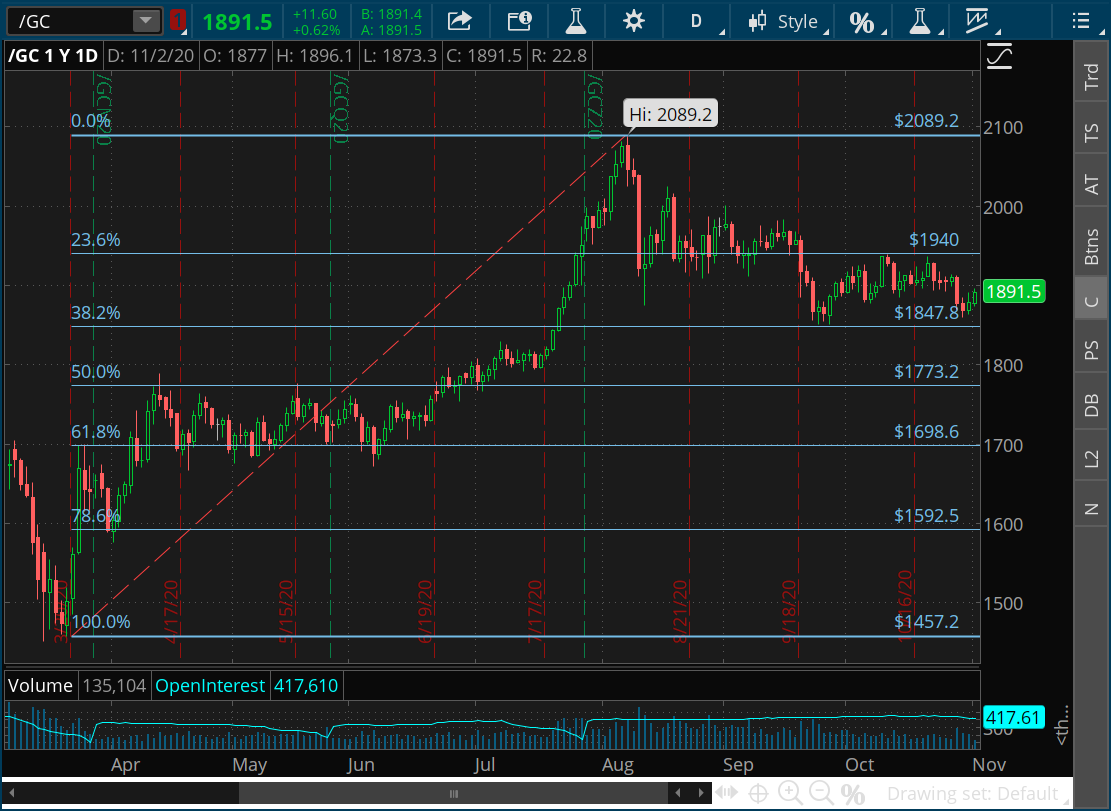 VIX hovering just under $40 on election eve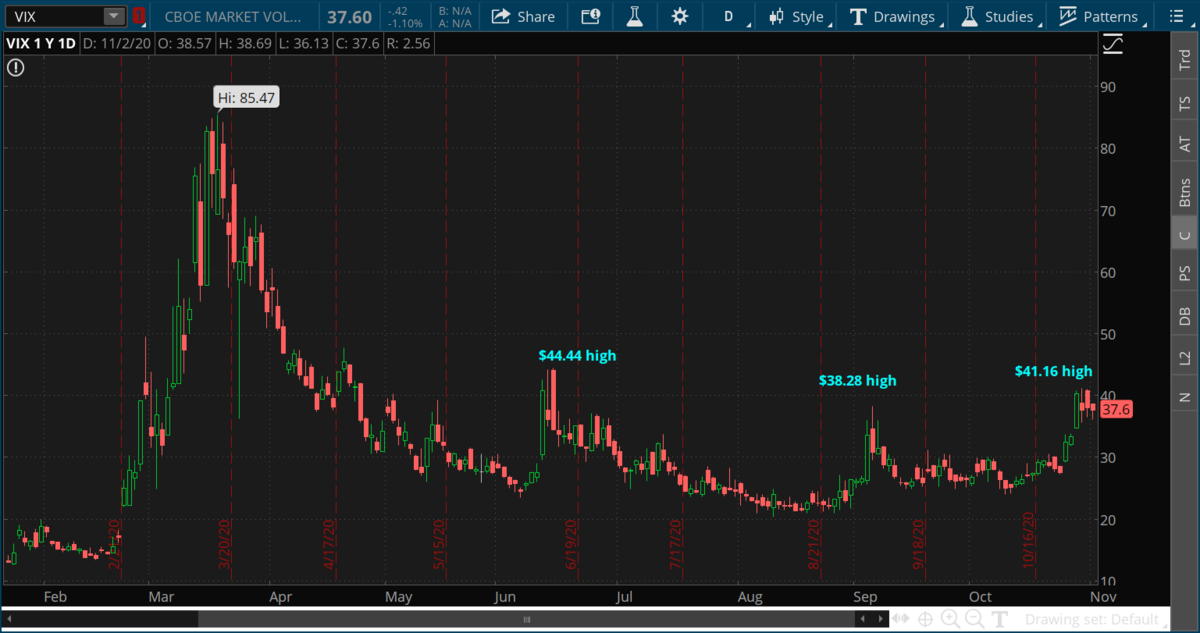 Bitcoin breaks $14,00 for first time since January of 2018
Uber
UBER continues to consolidate between about $32 and $38. Tomorrow will be a big day for UBER and LYFT with their ballot initiative in CA deciding whether their employees in the state can be designated as contractors. Uber is trading higher today with light volume.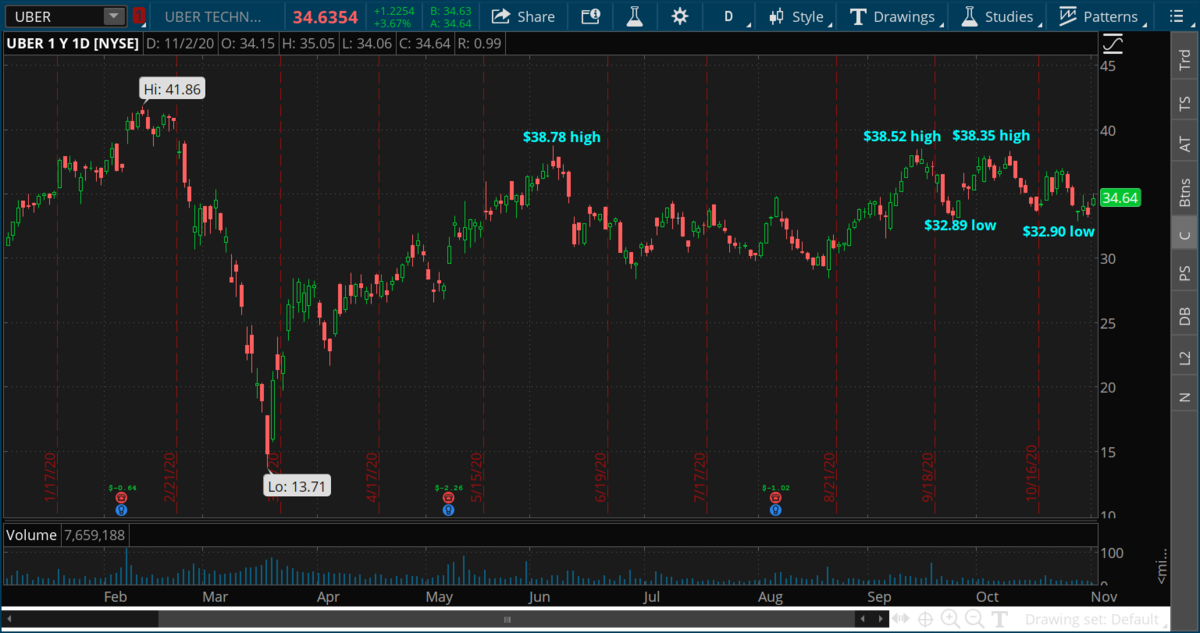 Constellation Brands
STZ traded lower with light volume. We got stopped out of STZ last week at $164.05 for a $16.45 or 9.11% loss. Pot stocks are trading higher today, which is giving STZ a boost higher.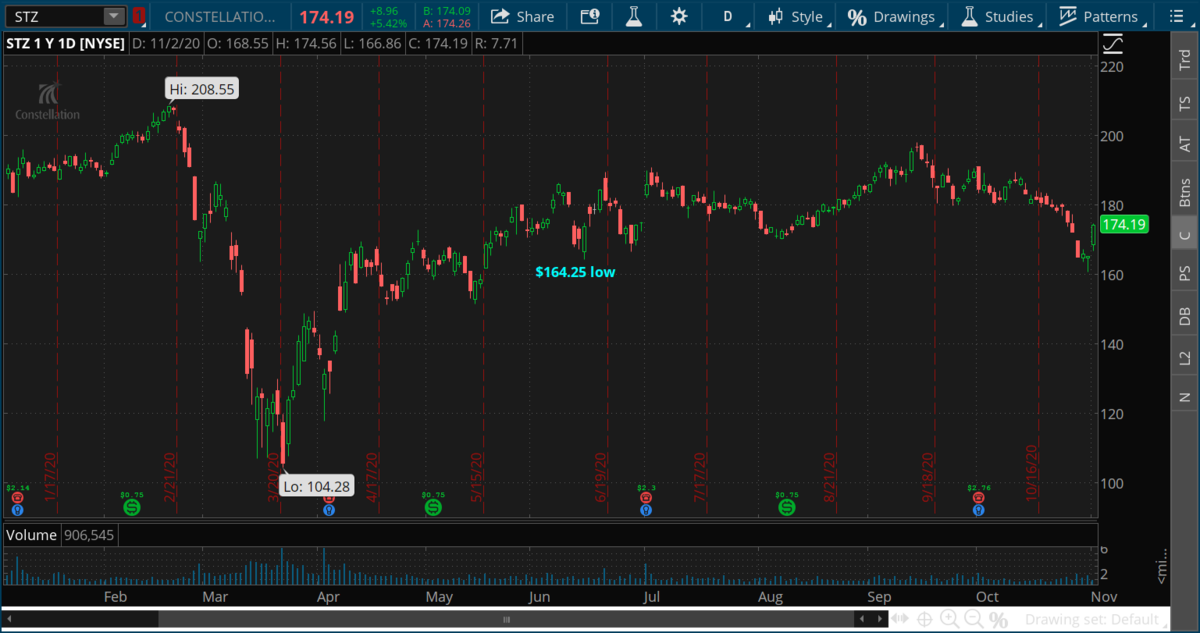 Disney
DIS traded lower last week as COVID cases have spiked across Europe and the US. We want to see Disney trade back inside its up channel. Disney continues to struggle in the short term during this pandemic and their share price shows that, but I expect Disney to rebound quickly once the prospects of a viable vaccine become available look for DIS to get ahead of the world opening back up and trade higher on their gains made in direct to consumer streaming.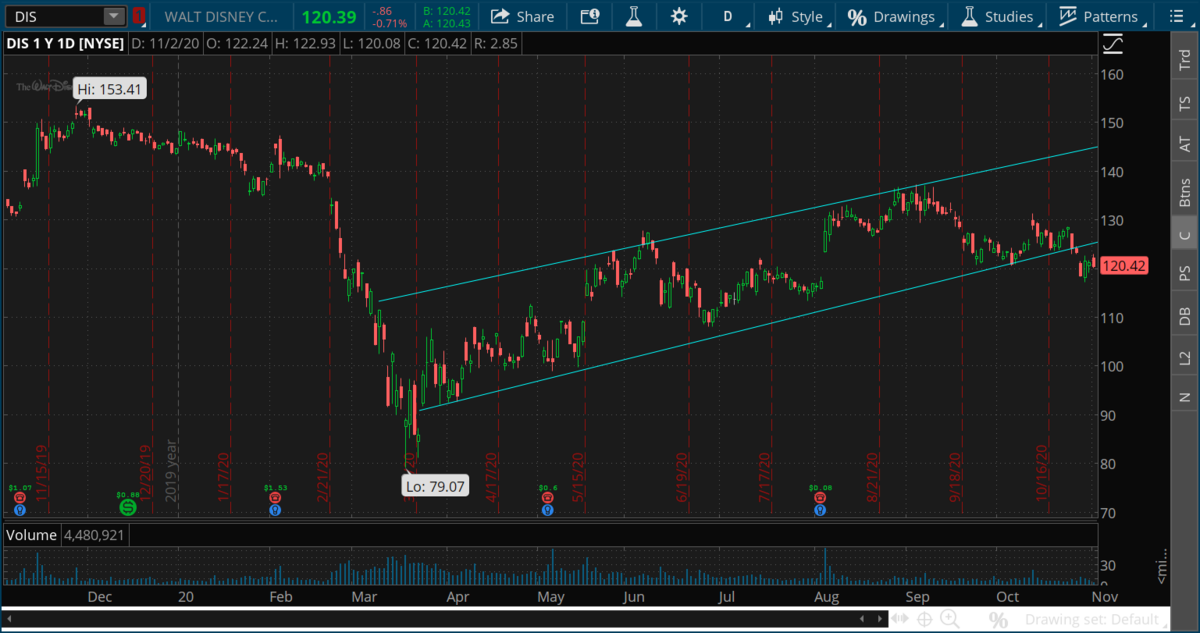 Earnings this week on our radar:

Wednesday:
After the close - Expedia (EXPE), Fitbit (FIT), Qualcomm (QCOM),

Thursday:
After the close - Roku (ROKU), Peloton (PTON), Uber, (UBER), Square (SQ)

Friday:
Before Open - CVS Health (CVS)
Options Trades:
None

Short Term portfolio:
None

Long Term portfolio:
Long half a position in DIS at $118.63. Disney is trading at $120.44. Stop is $98.45.
Long half position in UBER at $31.50 or better. Uber is trading at $34.50. Stop is $26.24.
STZ - Stopped out of STZ last week at $164.05 for a $16.45 or 9.11% loss.


Timer Digest Signals: S&P: Bearish Gold: Bullish Bonds: Bullish
Disclaimer: Trading in securities such as stocks, options, indexes, currencies, and futures involve risk and should not be undertaken without due diligence and serious independent study. Options, stocks, currencies and futures trading, involve substantial risk. Subscribers may carry out their trading based on what they learn from "Rocket Equities & Options" however all risks of potential financial losses are the customer's responsibility. TFNN, Corp. will be in no way liable for financial losses resulting from trading decisions based on this newsletter. Past performance is no guarantee of future results. Reproduction in whole, or in part, is not permitted without prior written consent. Copyright 2020 all rights reserved.