Rocket Friday Morning SPY & UBER Update 11-06-20
Friday Update - November 6th, 2020
We have 2 active options trades that expire today.

We have an SPY put spread from $349 to $345.

The SPY is trading at $347.70 as of 7:25 am EST, so we have about $1.30 of intrinsic value right now. The SPY traded as low as $345.77 last night. We have over 2 hours until the open, with non-farm payrolls still to come this morning, so lots of volatility still possible before 9:30 am.

We also have an UBER call spread from $42.50 to $44.00.

Uber is trading at $41.25 - so we is out of the money by about $1.25.

We may see some fast markets today, as we have non-farm payrolls at 8:30 am EST, along with election results still coming in. I don't expect the market to fall apart today, but I do expect some swings as we move through the day.

SPY $349 - $345 put spread trade:
If we get any good negative action in the SPY then we will look to close out our SPY trade - don't wait for an update if we get a good move down in the market, just close out the SPY put spread at whatever price you're comfortable with. I don't want you to feel the need to wait for an update - manage this options trade and look for the opportunity to exit with a nice profit if given that chance. I will send out updates when I make any moves, but we could get some big swings on the open; don't wait for me if give the chance to lock in a nice profit.

Some info on how our SPY trade is priced: We have a $4 range in the SPY for value, from $349 to $345, every point is worth $100 for our contract. If the SPY is trading at $347, our spread would be worth $2.00 or $200 per contract. As the SPY goes below $347, the value of our spread will rise above $2. And as the SPY trades above $347 our spread drops to below $2 in value. Our breakeven in this trade is the SPY closing at $347.75 today if we hold through the close, as we paid $1.25 to initiate this trade.

Uber $42.50 - $44.00 trade:
Uber came out with earnings last night; they lost $0.62 vs a loss of $0.65 expected with revenue of $3.13 billion vs. $3.20 billion expected. Let Uber open and see how it trades, this may be a complete loss as Uber needs to close above $42.50 today to realize any value. We will look to exit this trade this morning if we get a move higher in Uber at all.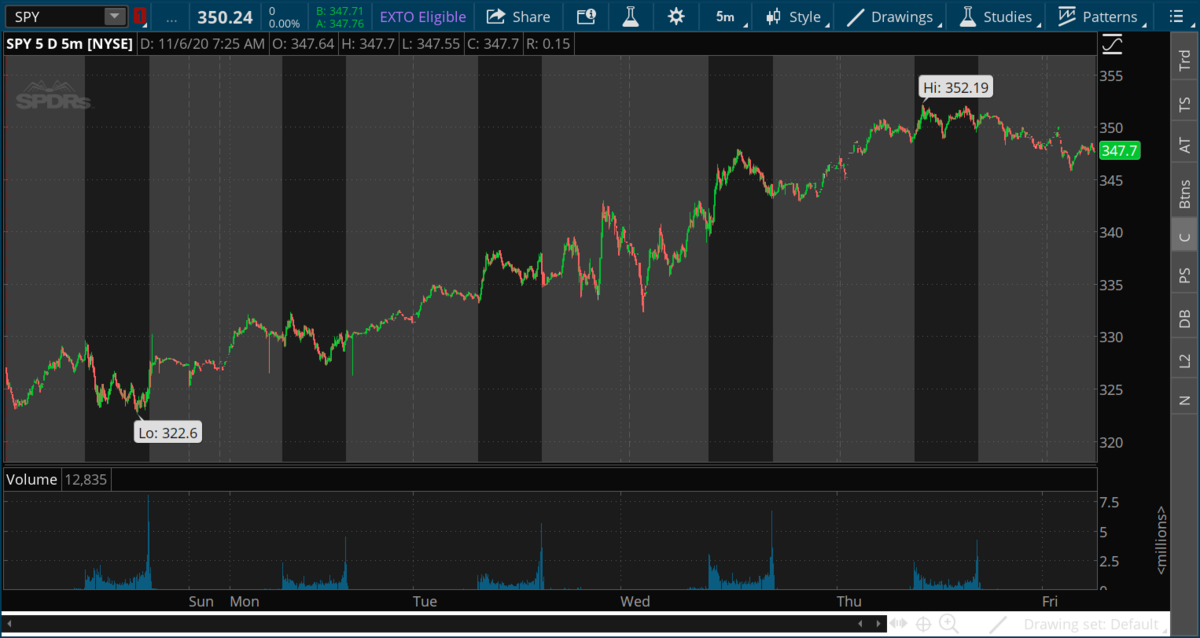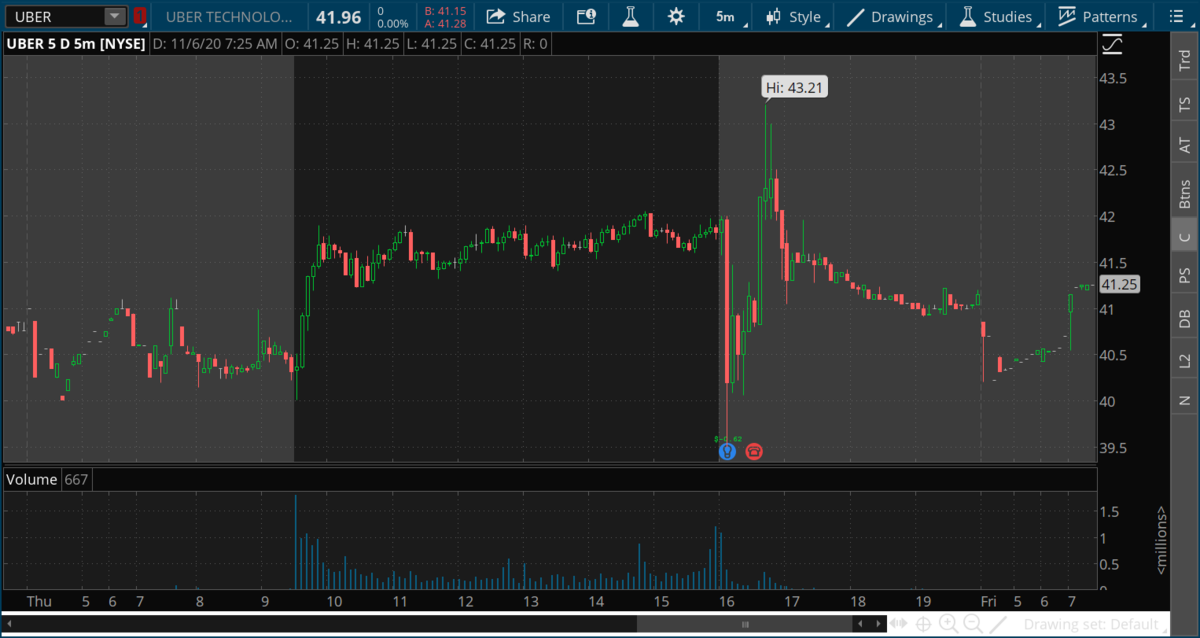 Disclaimer: Trading in securities such as stocks, options, indexes, currencies, and futures involve risk and should not be undertaken without due diligence and serious independent study. Options, stocks, currencies and futures trading, involve substantial risk. Subscribers may carry out their trading based on what they learn from "Rocket Equities & Options" however all risks of potential financial losses are the customer's responsibility. TFNN, Corp. will be in no way liable for financial losses resulting from trading decisions based on this newsletter. Past performance is no guarantee of future results. Reproduction in whole, or in part, is not permitted without prior written consent. Copyright 2020 all rights reserved.