Rocket Tuesday Update 01-20-21
Tuesday Update 01-20-21
NFLX crushed it last night to the upside and our credit spread trade looks to expire for a loss. Anything can happen once the stock starts trading at 9:30am, but I'd be surprised if it makes it anywhere back near the $530 to $525 range. Losses are part of this business - sometimes it can be tempting to ramp up the risk when you are only making $125 per contract and you have a 75% chance of success (as was the case in the NFLX trade), but I prefer to actually always plan for the worst in order to assure that you are managing your risk appropriately. We had 2 credit spreads for a profit last week that combined for about a 57% profit, and now we have a loss to start this week at -100%. We will make lots trades in this newsletter over the weeks and months to come, there will be more losses and more wins along the way - you've got to plan for both.
The mentality of trading is something that I could spend an entire newsletter writing about. The losses often hurt more than the wins feel good, and this is especially true when you are risking $3 to make just $1. The most important piece of advice I can give you is to make sure you keep your risk at an appropriate level to make sure the losses are factored into your trading. It's imperative that you are able to move on to the next trade - and if you are too highly leveraged in any one trade then a loss could force you to take a much needed break from the market to clear your head at a minimum. Loss aversion is something I've spent a lot of time studying.
A quote from Wikipedia: "Loss aversion
is the tendency to prefer avoiding losses to acquiring equivalent gains...Loss aversion implies that one who loses $100 will lose more satisfaction than another person will gain satisfaction from a $100 windfall... Humans are theorized to be hardwired to be loss averse due to asymmetric evolutionary pressure on losses and gains: 'for an organism operating close to the edge of survival, the loss of a day's food could cause death, whereas the gain of an extra day's food would not cause an extra day of life (unless the food could be easily and effectively stored)'".
The more aware you are of the mental battles we must struggle with as traders, the greater chance you have of overcoming them with rational thought and analysis. Losses always hurt, but they hurt far less when you plan for them accordingly and approach them as a necessary part of this business as a trader in the market.
One a positive note, our Disney shares are trading higher this morning on the heels of NFLX earnings.
We have Alcoa (AA) and United Airlines (UA) after the bell tonight - and we'll be looking at IBM and INTC after the bell Thursday for a possible options play as well. Stay tuned for updates this week!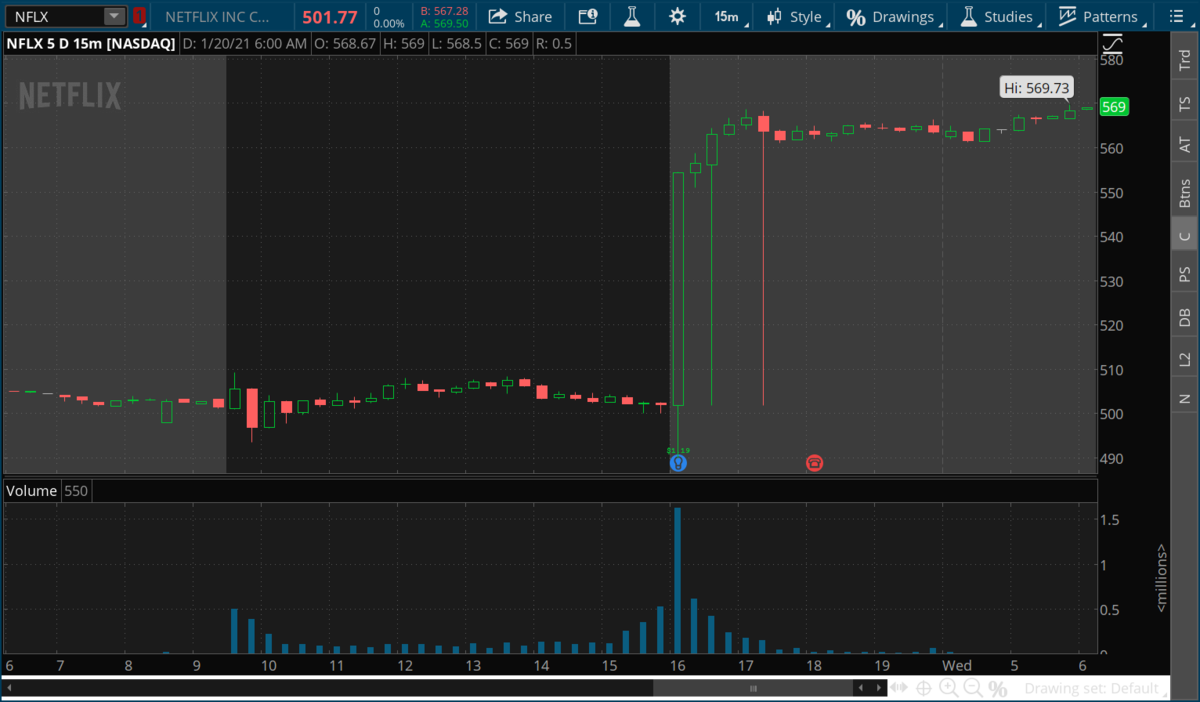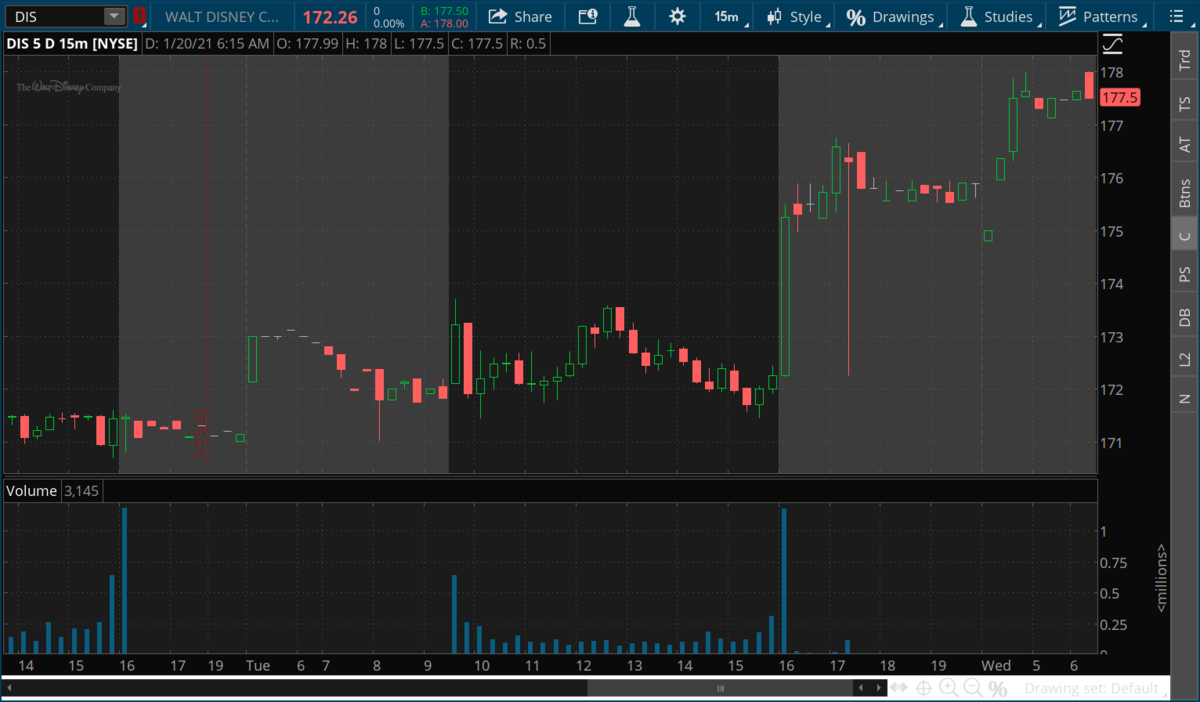 CRM traded nicely higher yesterday and has continued higher overnight last night. This is a strong cloud company with a bright future that is now a part of the Dow30. CRM filled its entire gap from August and now looks to trade higher.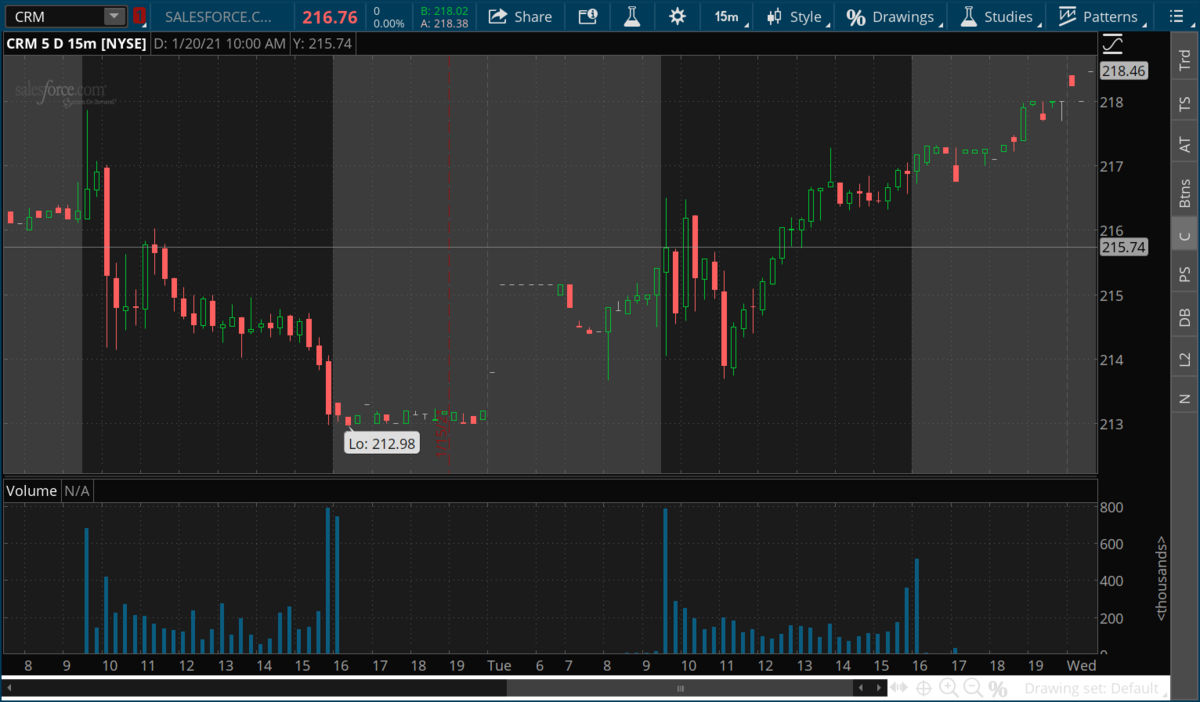 MCD continues to consolidate - they have earnings next Thursday January 28th. MCD has a dividend yield of about 2.5% at this price.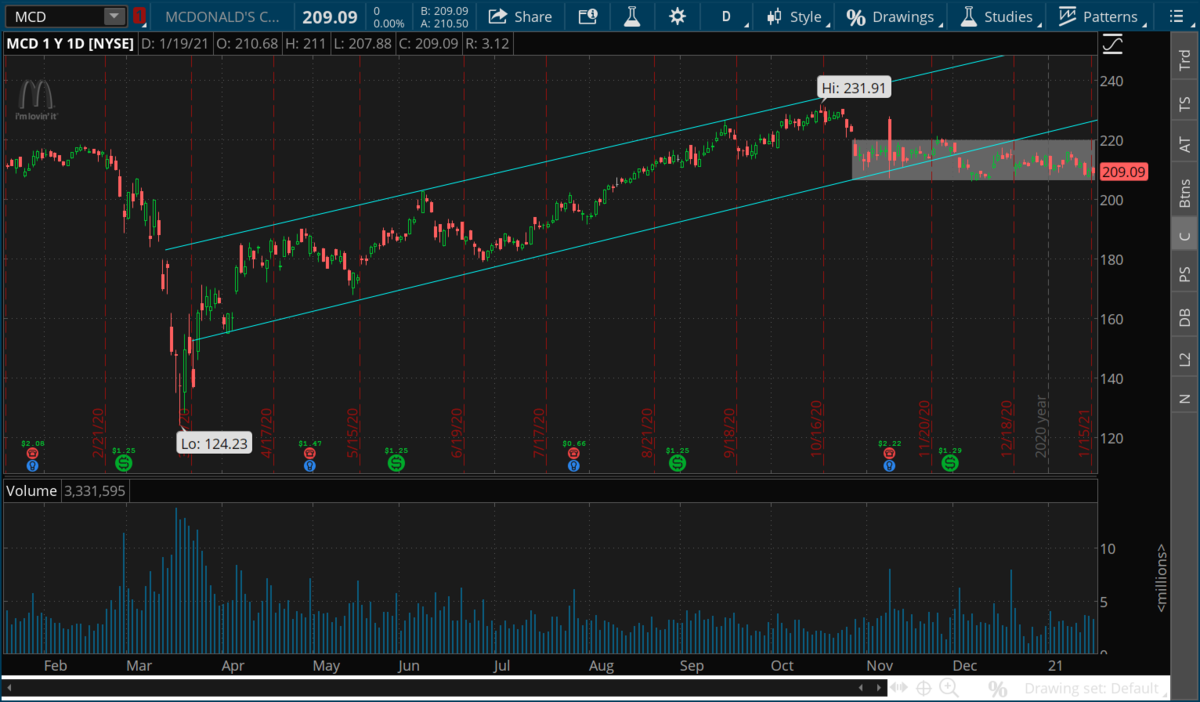 Uber has pulled back to the top of its recent consolidation. It would be nice to see this bounce from this area as it tests the top of its consolidation and has pulled back on lighter volume.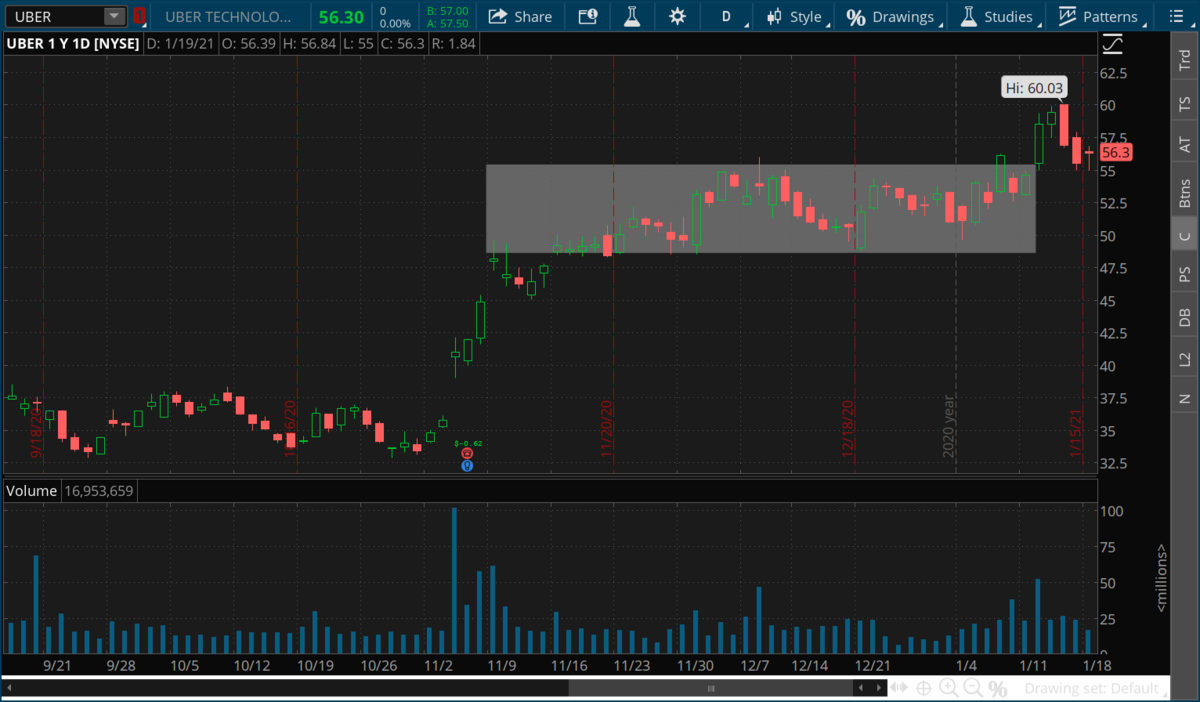 Options Trades:
NFLX $525 - $530 credit call spread for $1.25 collected ($3.75 risked). Expires Friday Jan 22nd. NFLX is trading at $569.

Short Term portfolio:
None active

Long Term portfolio:
We are now effectively long CRM at $215.35. You can buy CRM here if you have not yet. CRM is trading at $218.20. Stop is $193.64.

Long half position in DIS at $118.63. Disney is trading at $176.05. Stop is $98.45.
Long half position in UBER at $31.50. Uber is trading at $57.00. Stop is $26.24.
Long half position in MCD at $216.91. You can buy MCD here if you have not yet. MCD is trading at $209.09. Stop is $189.50.
Disclaimer: Trading in securities such as stocks, options, indexes, currencies, and futures involve risk and should not be undertaken without due diligence and serious independent study. Options, stocks, currencies and futures trading, involve substantial risk. Subscribers may carry out their trading based on what they learn from "Rocket Equities & Options" however all risks of potential financial losses are the customer's responsibility. TFNN, Corp. will be in no way liable for financial losses resulting from trading decisions based on this newsletter. Past performance is no guarantee of future results. Reproduction in whole, or in part, is not permitted without prior written consent. Copyright 2021 all rights reserved.