Rocket Update - 03-02-21
ZM Update - March 2, 2021
ZM traded higher last night on nice earnings moving against our options trade.

I sent out the recommendation last night at about 3:45 pm EST knowing that it's tough for many subscribers to be available last minute to make that trade, but the opportunity presented itself and I was making the trade for myself so I wanted to share the information.

We sold a $427.50 - $435.00 credit call spread and collected about $2.50, with $5 of net risk if it closes above $435 as of Friday. ZM is trading about $441 this morning after spiking to $458.19 last night.

The Nasdaq was up more than 3% yesterday, and ZM was up almost 10% yesterday.

The methodology goes like this: I realized that with the way this market is trading, we could easily get a pull back in tech stocks today or later this week which could weigh on ZM regardless of their earnings last night, and with a 10% pop coming into their numbers it would be a tough task to trade higher - especially considering the fact that the economy is beginning to factor in the progress of the vaccine, and ZM may face some serious headwinds over the next couple of months as we all look forward to seeing our friends and family in-person vs. over ZM meetings. We were just trading at $356 in ZM as of Friday. If ZM closes above $427.50 Friday that would represent more than a 17.5% pop this week alone. $427.50 also correlates to the high made on December 21st.

I am a big believer in the long term in ZM, they are a profitable company with a strong future and they are growing rapidly, but anytime you trade higher by 10% going into earnings you have some large expectations to live up to.

ZM had almost a $40 move priced into the options, and that's after charging higher by almost 10% coming into earnings. We will see what this does on the open. Our position will still have some premium priced into it with almost 4 full trading days until expiration - so we will look to exit this trade possibly today depending on the action.

Stay tuned for updates!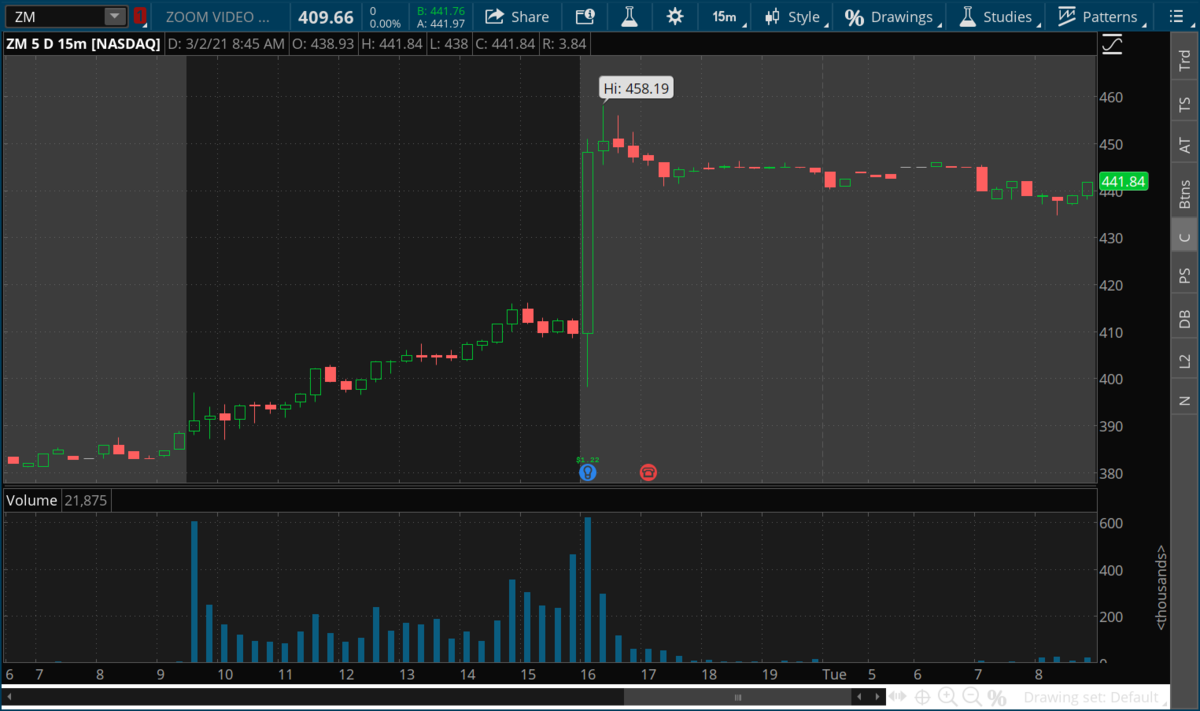 Disclaimer: Trading in securities such as stocks, options, indexes, currencies, and futures involve risk and should not be undertaken without due diligence and serious independent study. Options, stocks, currencies and futures trading, involve substantial risk. Subscribers may carry out their trading based on what they learn from "Rocket Equities & Options" however all risks of potential financial losses are the customer's responsibility. TFNN, Corp. will be in no way liable for financial losses resulting from trading decisions based on this newsletter. Past performance is no guarantee of future results. Reproduction in whole, or in part, is not permitted without prior written consent. Copyright 2021 all rights reserved.