The Tiger Forex Report 11-14-22
The Tiger Forex Report – Week of 11/14 – 11/18/2022
DXY Bears are in control. Lower Yields this week keeps the USD under pressure.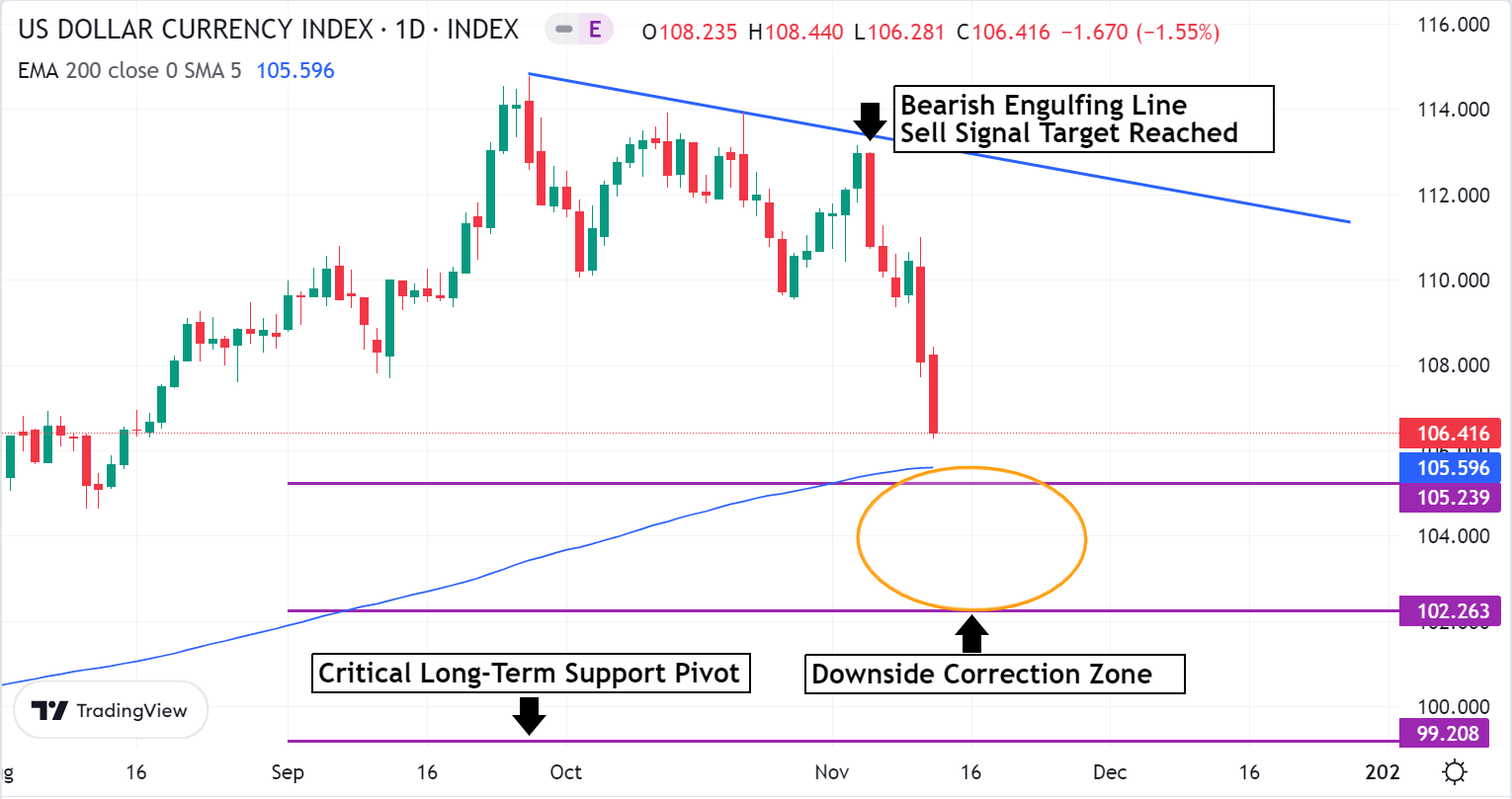 Crude Oil is winding up for a Breakout. A challenge of Resistance is expected.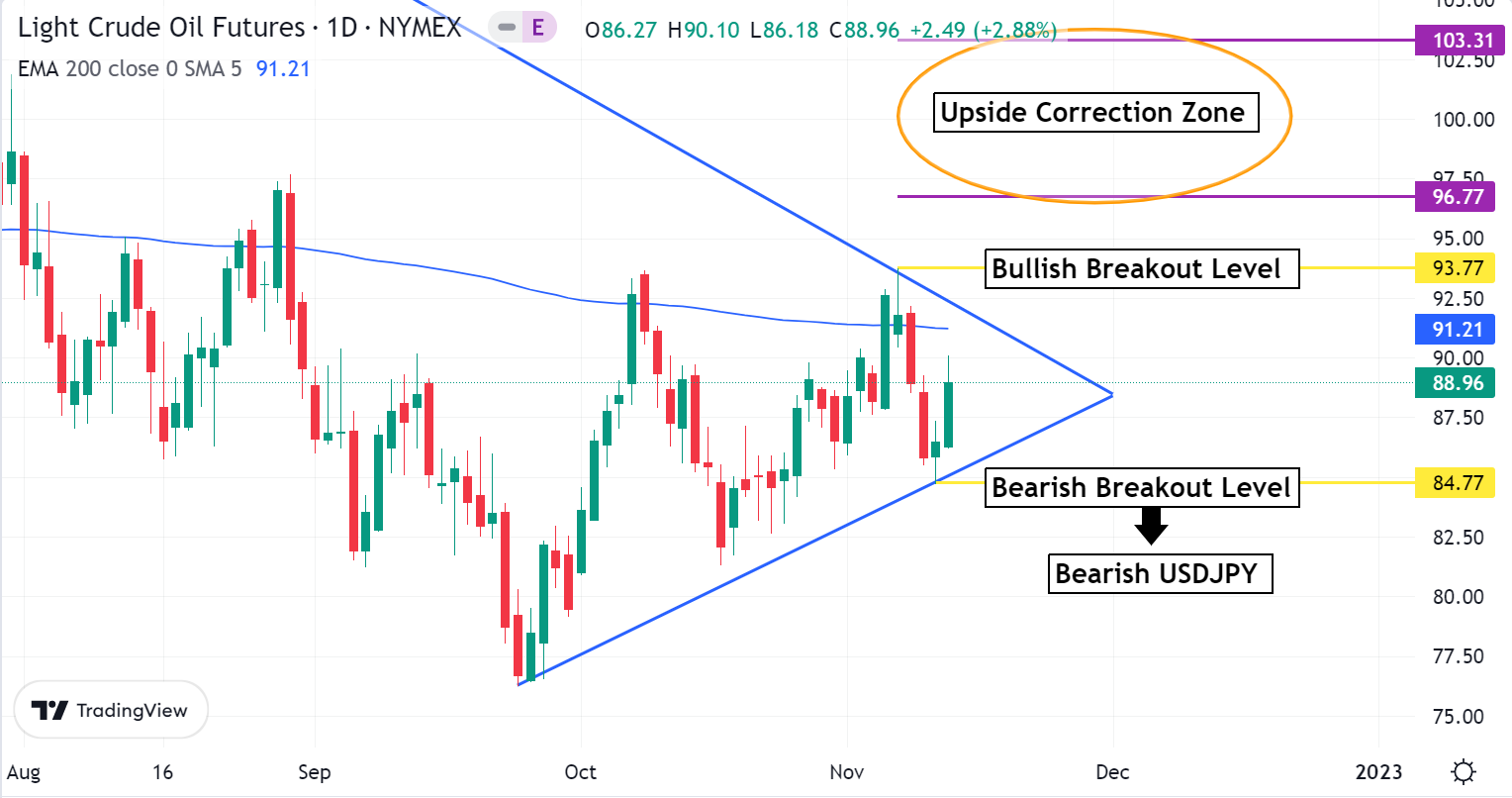 30yr T-Bond Bulls exploded off the CPI. I smell a Bull trap, and the Fed is not done Raising rates.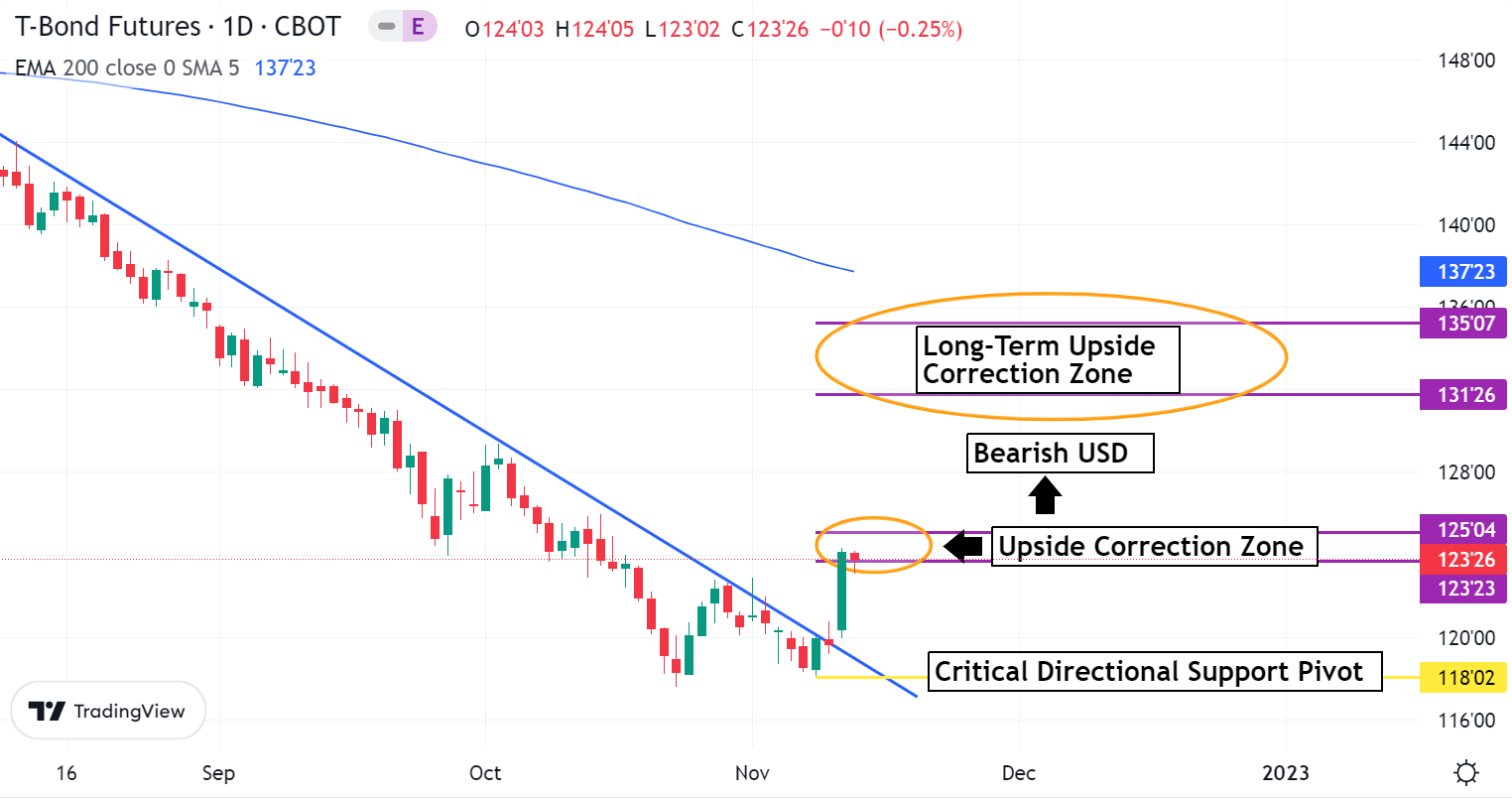 EURUSD Weekly Outlook: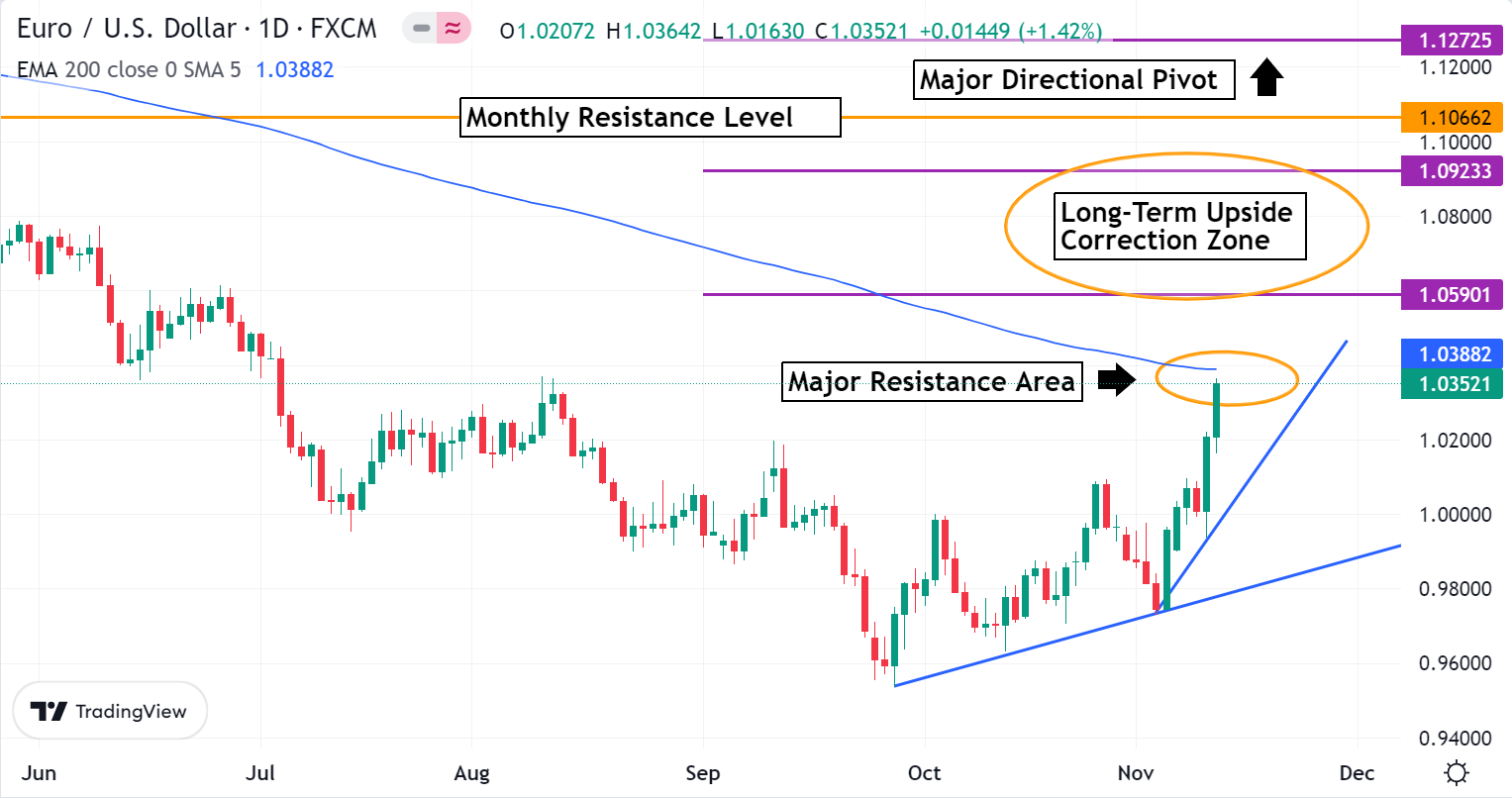 EURUSD Bulls have rallied up into a key resistance area. If the Bulls can sustain a positive trade early in the week, then an extended leg higher targeting the 1.0590-1.0923 long-term upside correction zone may occur. Make sure to watch yields. If the interest rates continue to rally then it is likely that the EURUSD will maintain a higher move high posture. 1.1066 level is likely to put a halt to an uptrend. Remember, the Fed has not stopped raising rates. Inflation is still a major issue.
If yields reverse gear then the EURUSD Bears are very likely to return. Wait for a valid Sell signal, and expect a pullback towards parity. Markets tend to go out like they come in. Volatility is not expected to go away anytime soon. A Close under parity is needed to confirm enough weakness to slam support again.
GBPUSD Weekly Outlook: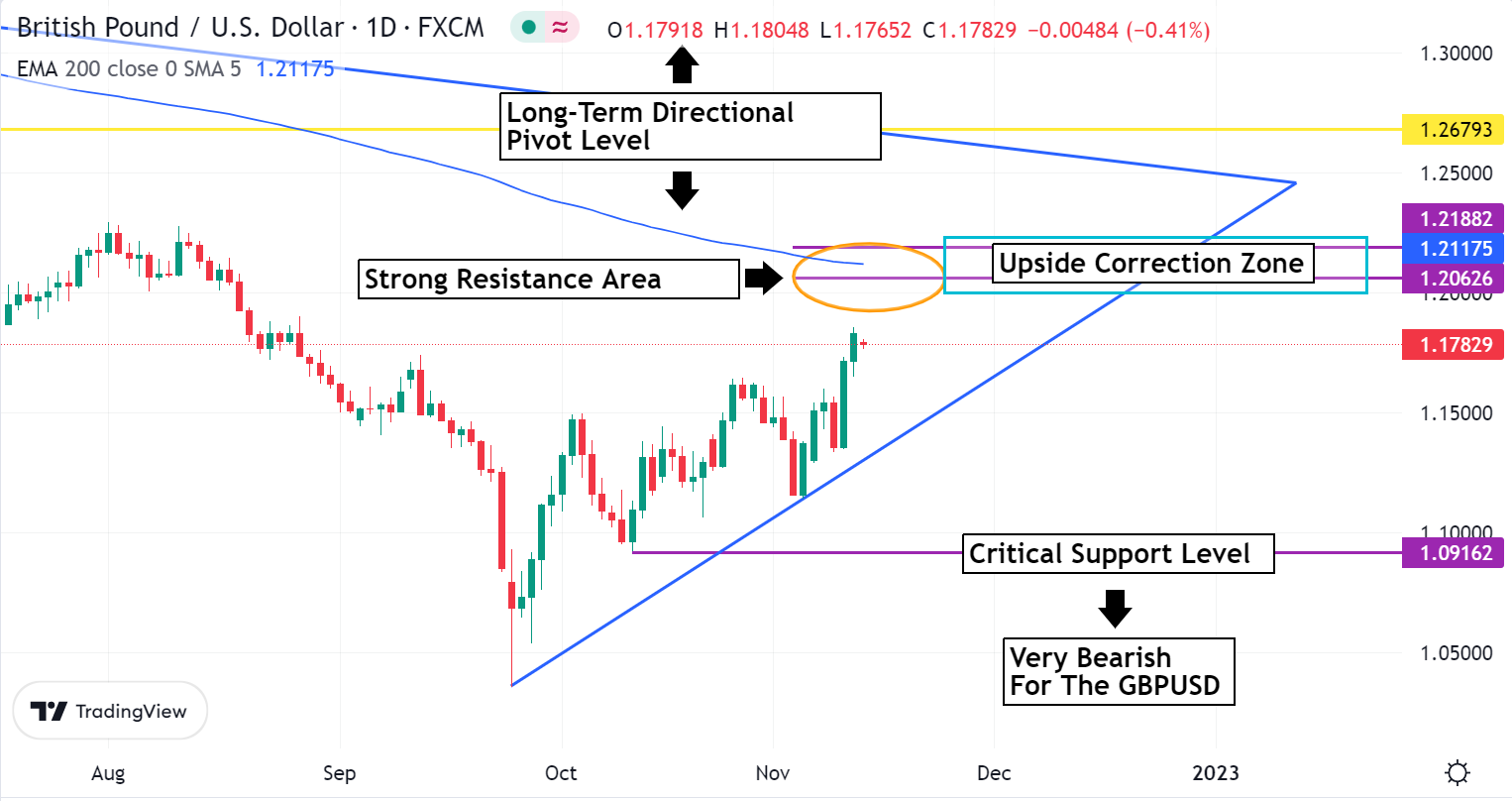 Upside momentum is intact in this Forex pair. Watch the yields. If yields drop, then it is likely to help fuel fresh buying in the GBPUSD. A run for newer move highs targeting the 1.2062-1.2188 upside correction zone is expected. Remember that the overall trend is lower, and the current rally is a correction. Only a Close above 1.2679 would confirm any true reversal of trend.
Wait for a Sell signal. The Bears are bucking up against strong momentum, but keep an eye on yields. A correction is due in yields, and this would help the GBPUSD Bears. Should this occur, then a break targeting the 1.1450 area is likely. Trading under 1.1450 aims the GBPUSD towards the 1.0916 level.
USDCHF Weekly Outlook: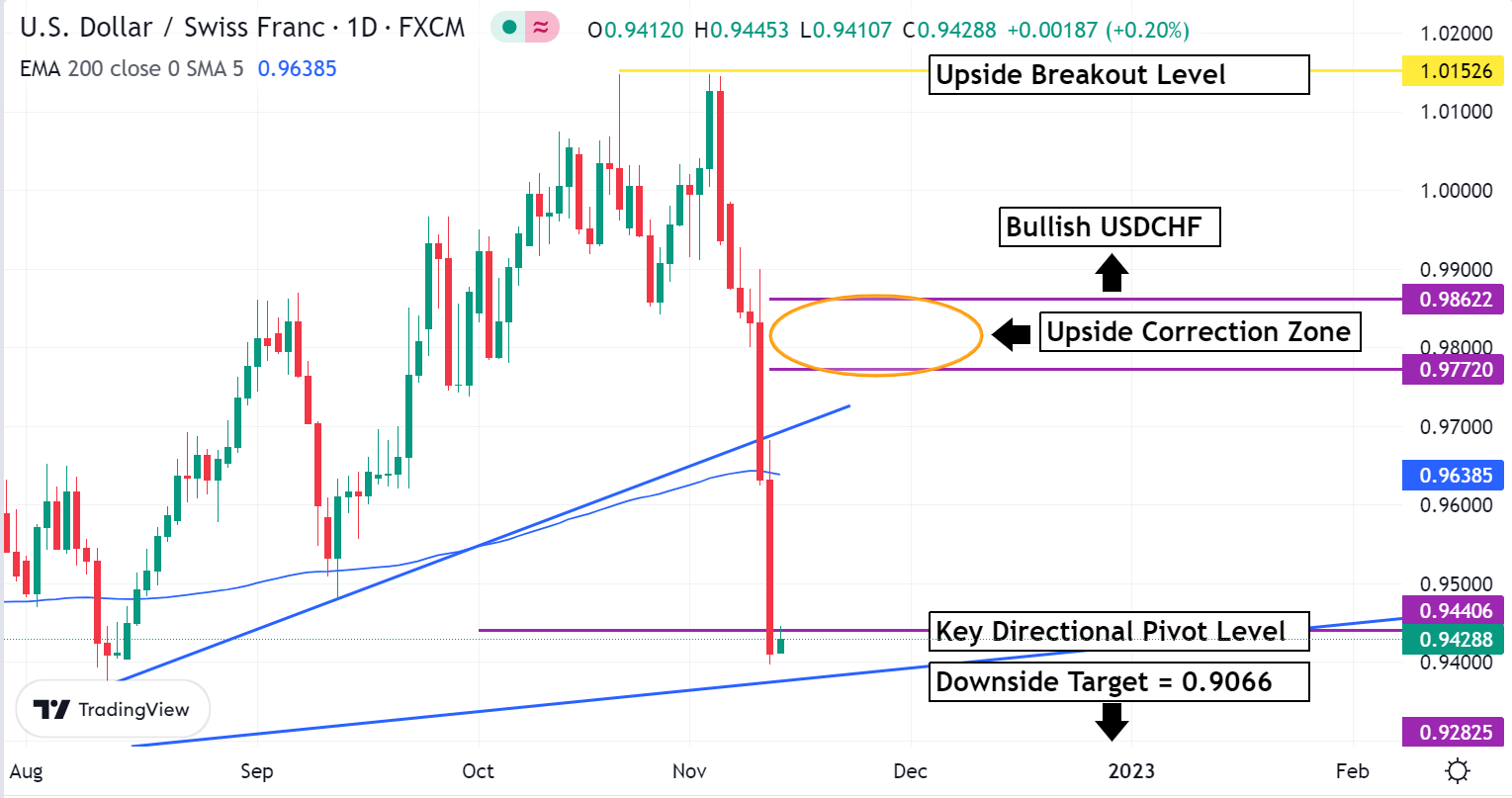 Wow! What a shellacking in the USDCHF market. The key directional pivot level should set the tone for the Bulls and Bears. Trading above here slows the slide and targets the upside correction zone. Volatility is high, and violent swings are expected to be the norm for a while. Only a breach of 0.9862 confirms any Bullishness for the market.
Below 0.9440 this market is back on edge looking over a cliff. If yields start dropping then the Bears should fuel fresh selling. 0.9066 is long-term downside objective. Of the European Forex crosses this market may be ready for a big wide range trade. This market is setting up to be a very difficult trade for the next few months.
USDJPY Weekly Outlook: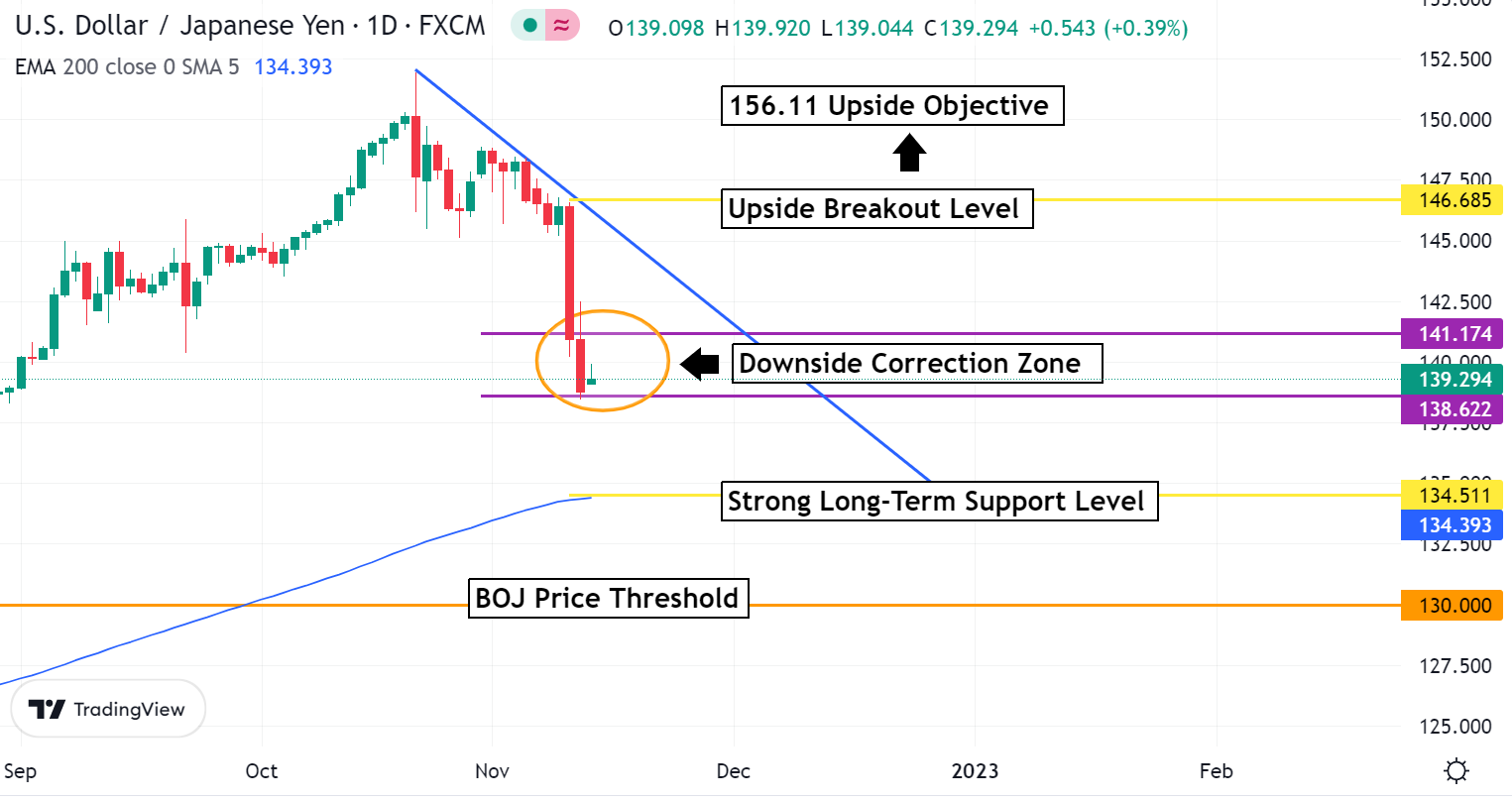 USDJPY Bears took advantage of the hit to the USD last week, and now the market is resting in our downside correction zone. Use caution trying to buy into this break. Wait for a signal. It has been a severe sell off, and a few days of digestion are likely. Only a failure from 138.62 confirms weakness and a lower trending market that targets the 134.51 support level. A large correction in yields is likely to press this market much below these lower levels.
A lift above 141.17 is required to get remotely Bullish this currency. Trading above here targets the 146.68 upside breakout level. This is the major hurdle for the Bulls. Sustained trading back above these levels gets the long-term trend back on track. 156.11 is the extended upside objective.
AUDUSD Weekly Outlook: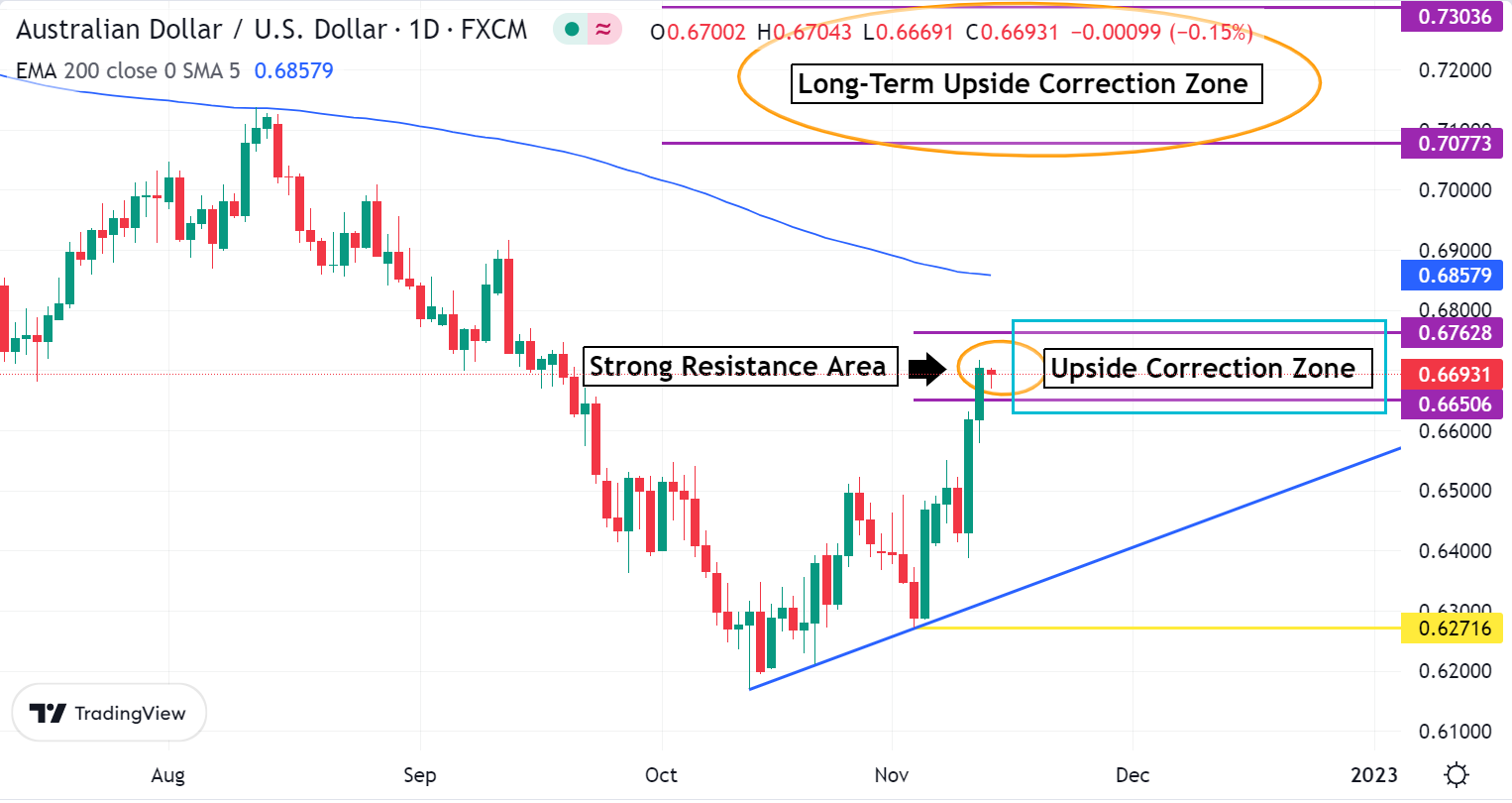 The AUDUSD Bulls hit our upside correction zone, and are now floating under strong directional resistance. As the Yields continue to ease then it is likely that this market will press newer move highs. If the market can get above the upside correction zone, then do not fight an extended leg higher. 0nly a rally back above 0.7077 would reverse the overall negative outlook for this Forex pair.
The current rally is viewed as a correction, and if Yields start to go higher the Bears will slam the AUDUSD hard. If this happens the Bears will have the 0.6271 level in their sights. Do not fight a break under this level. Trading back in this area sets the market to press new multi month lows towards 0.5944.
NZDUSD Weekly Outlook: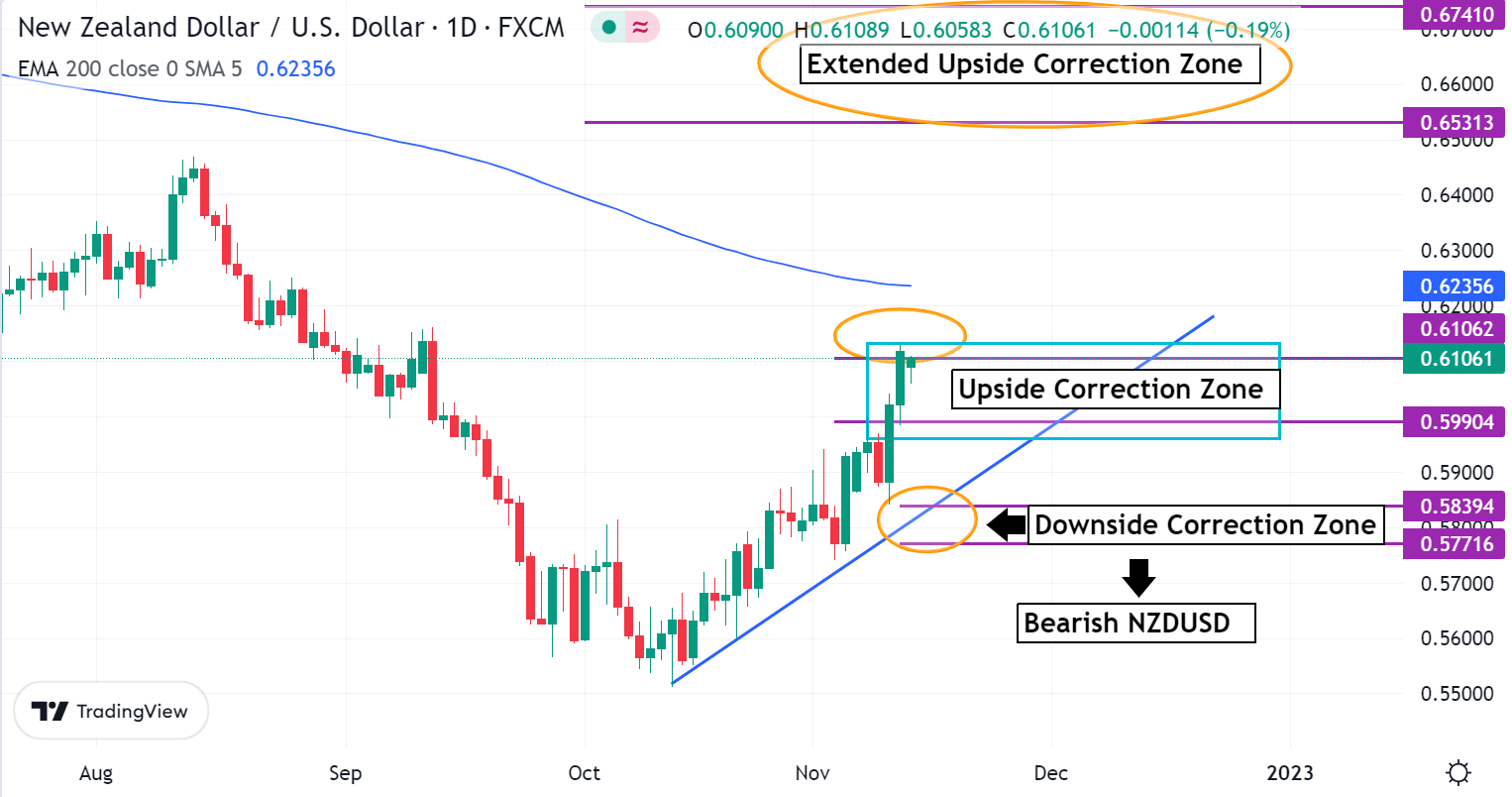 NZDUSD Bulls have really pressed the upside correction. Momentum is Bullish, but this market is ready to turn on a dime. Use the upside correction zone for direction. Trading above 0.6106 keeps the market poised for higher. 0.6531 is the blow off correction objective.
A break under 0.5990 pulls the rug out from under the Bulls and sets up a lower trade. The 0.5839-0.5771 downside correction zone is a viable sell off area to shoot for. Higher yields would drop the AUDUSD back towards this area. Use caution. If the market takes out 0.5771, then a new leg lower for the long-term downtrend is in order.
USDCAD Weekly Outlook: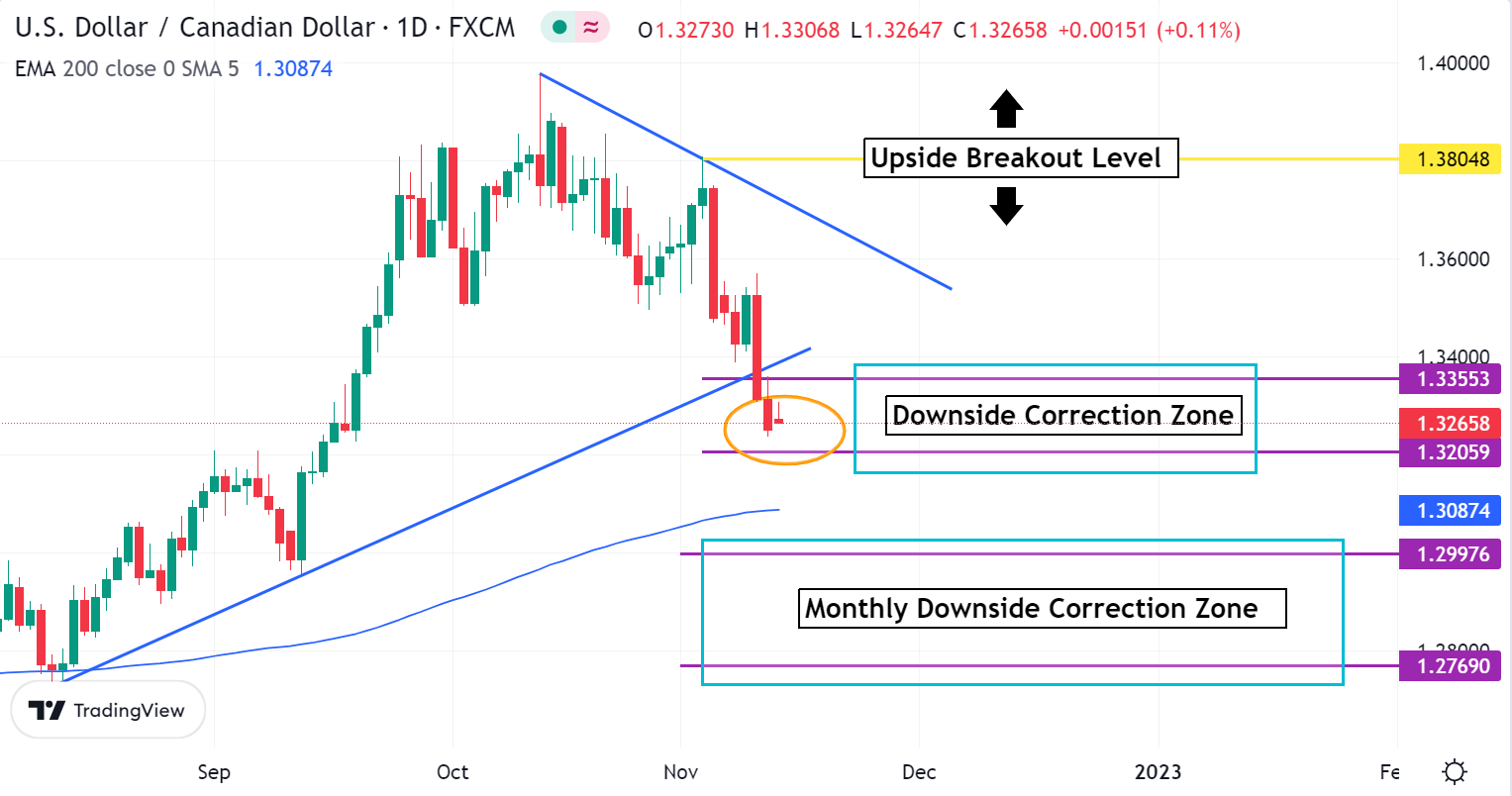 USDCAD Bears hit our downside correction zone. If a bounce is going to occur it is likely to happen here. Yields are still set for higher. Use them as your guide. Higher Yields should bring back fresh buying. 1.3804 is the level to shoot for. This is a strong directional pivot. Trading above here confirms the long-term trend is Bullish and newer move highs target the 1.4211 level.
Only a failure from 1.3205 confirms weakness. The 1.2997-1.2769 Monthly downside correction zone extends the Bearish weakness. This is about all that is expected from a slide. The Fed still is going to raise rates for a few more meetings. Until they stop it will be hard to press the USDCAD much lower than the 1.2769 level.