TAS Profile Scanner Download & Activation
Step 1: Install
No extra data or host platform is required. Simply install the scanner software from the "Download Link" button and follow the on-screen instructions.
DOWNLOAD TAS PROFILE SCANNER
Step 2: Launch
After downloading, you'll launch the scanner from the new shortcut icon on your desktop. Look for the familiar TAS triangle logo and click to launch (see login help below).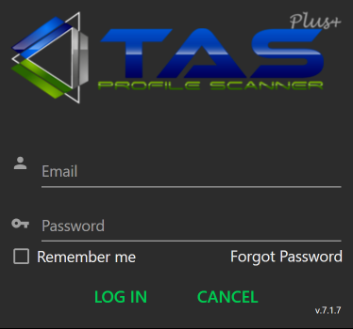 HOW TO LOGIN
After you subscribe to The TAS Profile Scanner, you'll receive an email with your login credentials. An active subscription is required. If you did NOT receive this email or have forgotten your login, select the "Forgot Password" option on the login screen to have your information emailed to you again.

PASSWORD NOT WORKING? If the password recovery email does not include a password (empty field), you are likely not activated. If the password doesn't work, your access period may have expired already.

STILL NEED LOGIN HELP? Create a support case by emailing Help@TASMarketProfile.com.

Looking to reach TFNN about your subscription status? Email us at sales@tfnn.com